Social Media Aggregator For Any Website
Sync your social media feeds and hashtag campaigns to your website, with one line of code.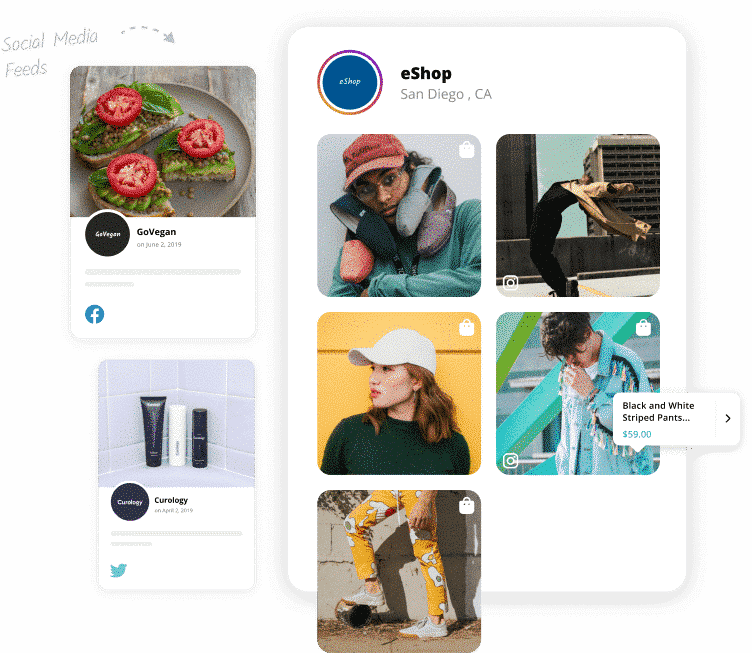 What is a social media aggregator?
A social media aggregator collects and curates content from your favorite social media platforms into a single feed that you can embed anywhere on your website.
Plug & play our social media aggregator and save resources by syncing the same social media content with your website too, automatically, without any manual editing.
A social wall with your latest and fresh social media posts enriches your website's look and provides more authentic content that has a proven potential to boost engagement.
By embedding social media content on your website, you have the opportunity to reach a larger audience, thus creating a new channel for acquiring more followers.
Types of social media aggregation
Our tool approved by major social media networks to collect social media content from your business profiles or mentions by other users and display them on any website.
Instagram aggregator

Our approved integration with Instagram can generate posts published on your Instagram account, specific hashtag or account mentions.

Facebook Aggregator

Direct integration with the Facebook platform that gives us the option to fetch Facebook Page posts and Page mentions..

Youtube Video Aggregator

Create a video feed from your Youtube channel and embed it on your website.

Twitter Aggregator

Fetch Twitter hashtag or mention posts and embed an entire Twitter feed on your website.

Vimeo Video Aggregator

Create a video feed from any Vimeo video and embed it on your website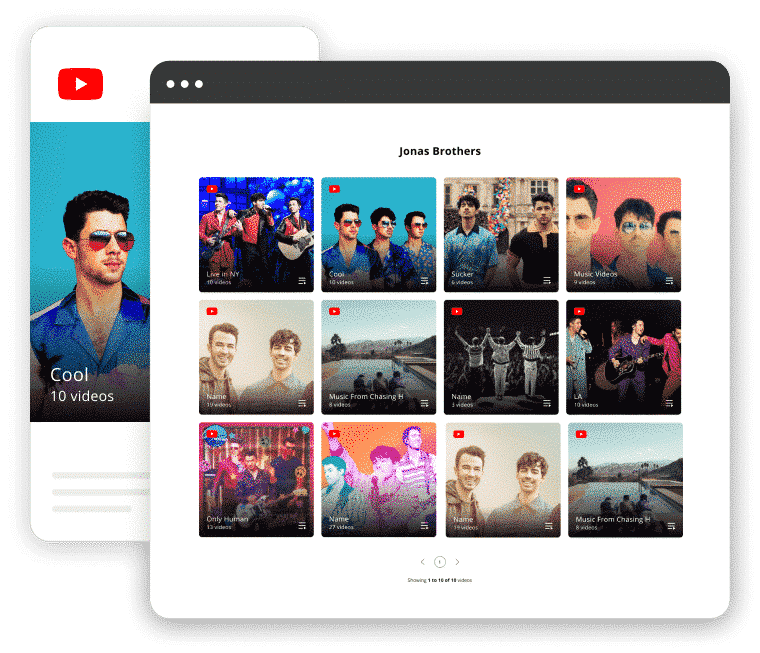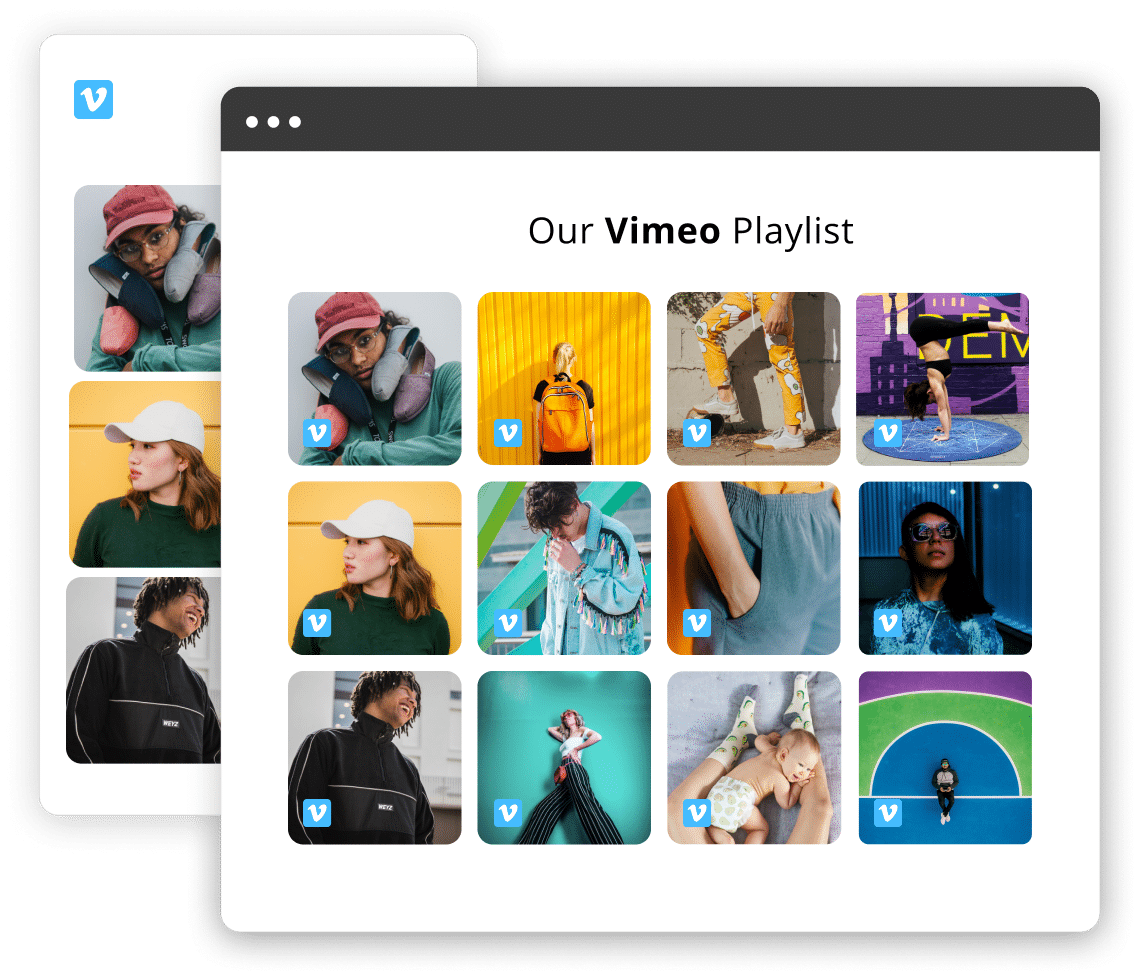 Sell on-site with real visual social media marketing
Shoppable feeds

Display an entire UGC social wall and tag photos with your products thus creating a social e-commerce experience on your website.

UGC products slider

Create social media slider widgets on your product pages to visually enhance the product usage in the context you post on your social media networks.

Combo social wall

Display all your social networks activity in one widget with all your Facebook, Twitter, or Instagram posts. Perfect for a live event showing activity on multiple social platforms.

Product slideshow

Create a unique slideshow or carousel widget for your product pages including photos from Facebook, Instagram or Twitter.
Expand the reach of your hashtag campaigns
Reach a bigger audience with your hashtag campaigns extending their presence from social media platforms to your website. Curate social content with few clicks, display real-time posts, sync automatically, and include buy buttons to re-invent the shopping experience.
Social Media Wall Curation
Manage the posts that will display in your feed and make sure you filter content that does not fit your brand.
Manage the posts that will display in your feed and make sure you filter content that does not fit your brand.
Add multiple Instagram hashtags to create feeds from multiple sources. Create a combo feeds by merging your Facebook and Instagram posts.
what you will get
Social Media Aggregator Tool Features
Display your social media feeds in a slideshow, slider, grid, carousel, or masonry widgets. Mobile-friendly, fully responsive, fits on every display: tablet, mobile, or desktop.
Instagram & Facebook @Mentions
Monitor, generate and embed the social media posts that other users published by tagging your brand's social media channels like Instagram account or Facebook page.
Use a variety of settings, filters or even the Custom CSS features to fully style your social media feeds according to your website design, look, and feel.
Advanced moderation tools to pin latest posts, filter feeds by negative keywords, organize by date or even add ordering by priority of posts.
Embed feeds on multiple websites or domains using one account. Also create multiple widgets from multiple social platforms.
Youtube and Vimeo Video Feeds
Video feeds will sync automatically on your website, creating full video playlists or channels from your Youtube and Vimeo accounts.
Join 40.000 websites that use EmbedSocial to sell more
Choose your plan to start right now
* What are sources?
The number of sources indicates the total number of Facebook Pages, Instagram or Twitter Accounts or Hashtags. Example: 1 Facebook page = 1 source or 1 Instagram hashtag = 1 source.
Need help?
Frequently asked questions about EmbedFeed
To get started, sign up for a free trial and follow the steps below:

Connect your social media accounts
Customize and moderate your feed
Copy & paste the embed code in your website

Yes, the system is designed to support multiple social media pages or accounts that you can connect in the same account and start generating feeds. Check our pricing plans and choose which plan suits the number of pages and accounts you have.

Yes, you can turn on or off automatically adding new media to your feed.

Yes, you can use multiple templates or a custom CSS editor to make your social media feed s to fit your brand and website design.

Additionally, you can enable localization options to make sure it fits your language.

EmbedFeed currently supports English, German and Japanese language. With this, you change the language of your feed

EmbedSocial integrates and works with all major content management platforms and web builders, such as WordPress, Squarespace, PageCloud, Joomla, Wix, Weebly, Shopify, Magento, Open Cart and all platforms that provide an option to embed third-party iframes or javascript codes.
Yes, you can literally handpick which photos show in your feed published on your website. The moderation options are various, which means you can filter only posts posted after certain dates or posts that include certain words.

Yes! EmbedSocial provides options to add custom 'Buy' buttons in the feed posts that when clicked can navigate the web visitors to the checkout page where they can buy the selected product.

You can enable Google Analytics tracking of the feed with entering the Google Analytics ID shown like this example: UA-XXXXXX-YY

Yes! EmbedFeed is GDPR-compliant and complies with the policies of each social media network you plan to curate content from.

Yes, the widget will stop showing on your website but you can come back and activate your account any time.