Including a YouTube playlist on your website is a great way to keep visitors engaged and watching more of your videos. It can also help you increase your SEO ranking, as Google favors websites that are rich in content. This text will show you how to automatically embed your playlists on your website with EmbedFeed by using a simple code.
EmbedFeed has direct integration with the YouTube API that enables users of the platform to sync their YouTube playlists with their websites automatically.
You will no longer need to copy/paste the codes available in the section when you click the share button below each individual video on YouTube.
No more manual management of your YouTube videos for your website and no coding skills are required. There are a few options to embed Youtube videos: embed a YouTube channel, embed a YouTube playlist, and also the option to embed a Youtube video that is tagged with a specific hashtag.
Steps to Embed YouTube Playlist with EmbedFeed
Important: Before you start, login into the EmbedFeed platform. If you are not here yet, register for a free trial, and you are ready to go! Once you have an account on the platform, follow the steps below on how to embed a YouTube playlist :
Step 1: Go to Sources and click 'Add source'
Step 2: Choose 'YouTube' from the social media networks list, and next choose the YouTube playlist option, and in the provided input field, enter the link of your YouTube Channel, choose the playlist you want to embed, and click 'Create source'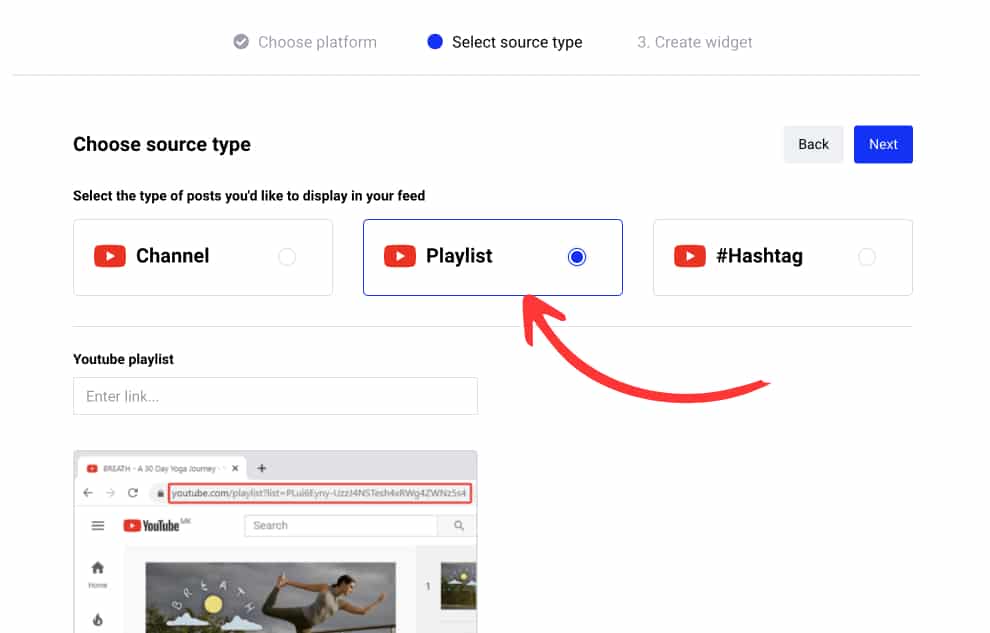 Step 3: Next, choose the layout of the widget you want to create and click 'Create widget' as shown below: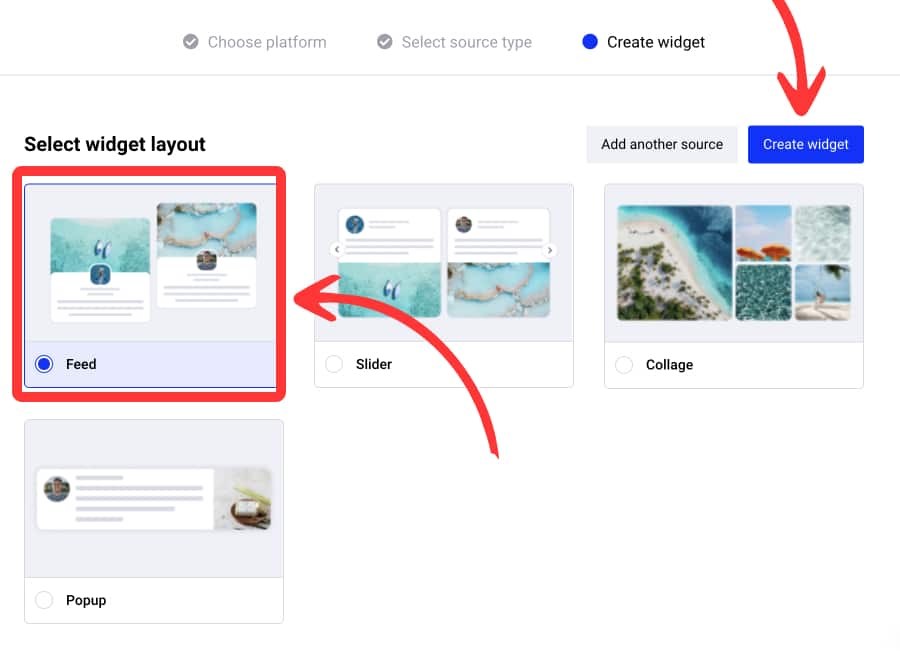 Once the YouTube Playlist videos are generated, you will be redirected to the YouTube playlist widget editor
Step 5: In the widget editor, you can use more options to customize the widget or moderate the videos that you want to appear on your website. Once finished customizing, copy the top-left code (as shown below)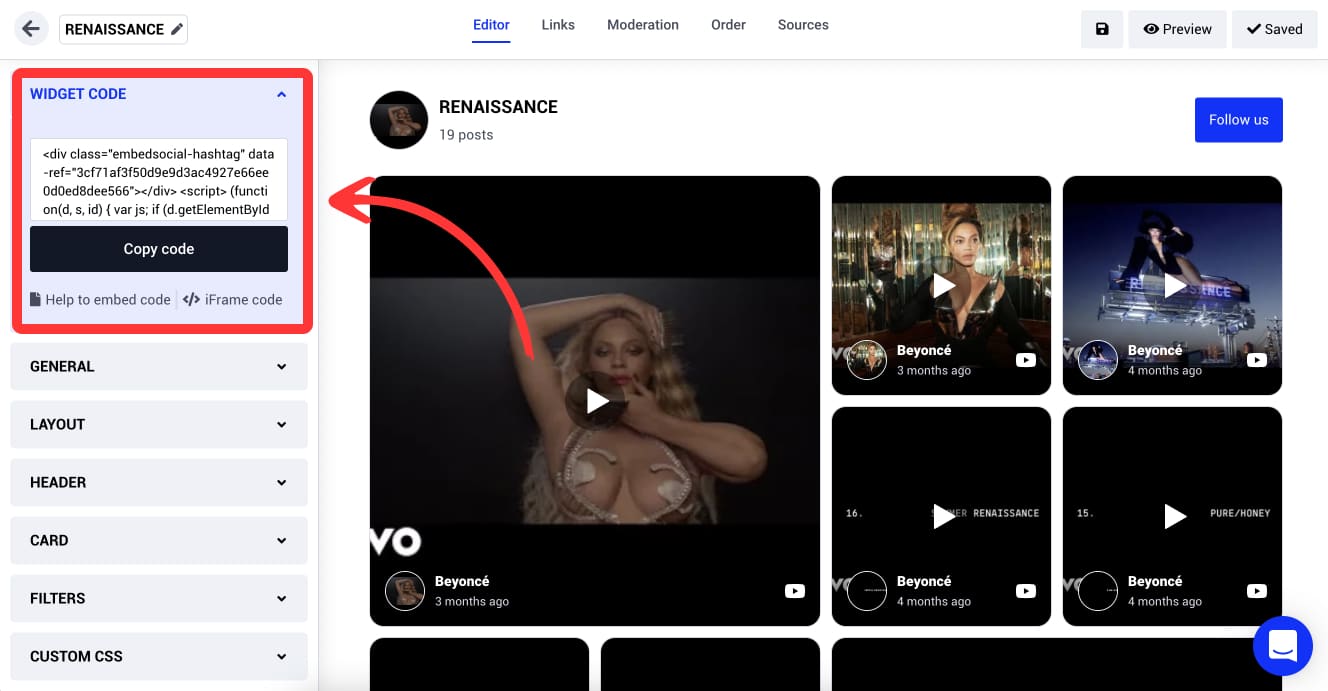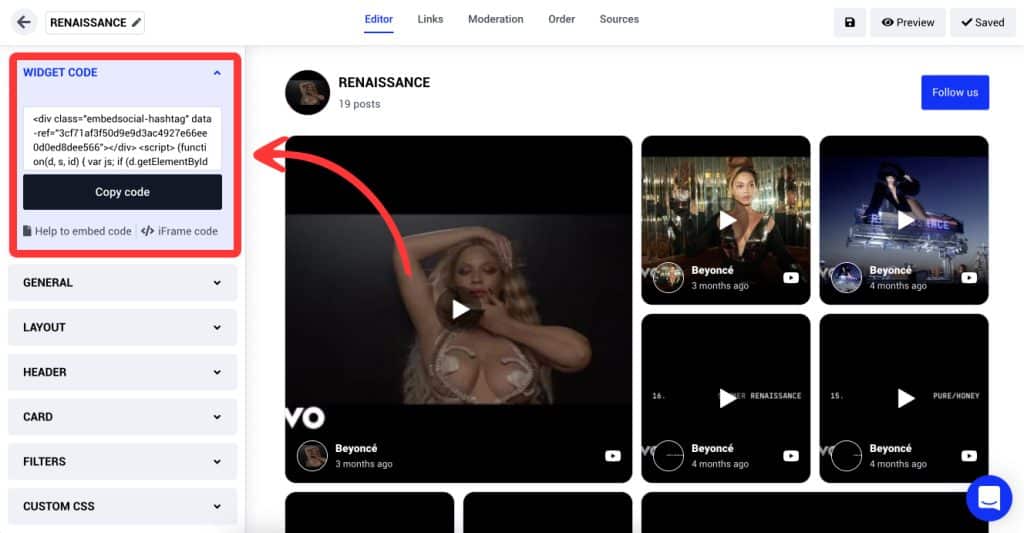 Step 6: Paste it into your website's page HTML code body section (where you want the widget to appear).
See below for options on how to embed the code in a WordPress page.
To view the embedded video content, the users must click on a particular video that appears in a popup with its full description generated from the video post on YouTube. Additionally, EmbedSocial provides an option to change the lightbox mode into a vertical layout, which will allow users to browse through multiple videos easily: Here is an example: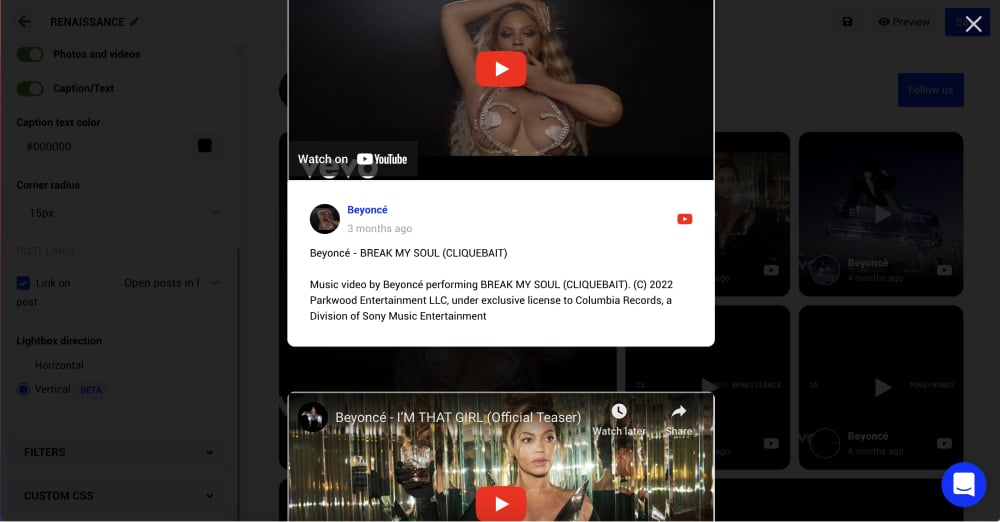 The format is the same as the YouTube player, with all its player controls and the options to allow fullscreen.
Now you will have a YouTube video widget that will sync every time you add a new video to the selected playlist on YouTube.
Expand your YouTube videos' reach automatically!
Try EmbedFeed and display all your YouTube videos on your website with just a few clicks.
All features included | Live support available
Embed YouTube video hashtag
This aggregator allows you to pull YouTube videos based on hashtags as well. Just follow these steps:
Step 1: Log in to your EmbedFeed account
Step 2: Choose "Sources" from the sidebar menu and click "Add Source"
Step 3: Choose "YouTube" from the social media platforms list, choose "YouTube hashtag," and type the hashtag you want to use. Click "Next"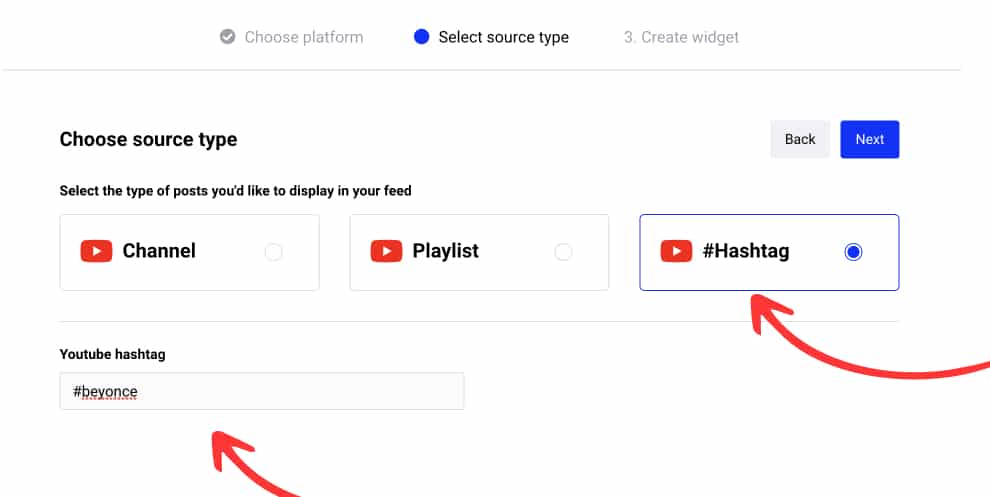 Step 4: Customize your feed widget (Choose a template or customize with CSS)
Step 5: From the share options, click "Copy code" and paste it into your website
Please note: If you use other web platforms, such as WordPress, Wix, Shopify, or Squarespace, please follow their instructions on embedding third-party HTML, iframe, or Javascript codes.
3 Ways to Embed YouTube Playlist in WordPress
Embedding a YouTube playlist on your WordPress website carries many benefits.
Videos are super engaging and fun, and one of the most popular ways promotions about products or services are shaped.
Having one on your website or even a whole playlist can be seen as an attractive website design but also as a source of information for your product or service. That's why many website owners reach for the implementation of videos.
Here're a few ways to embed a YouTube playlist on your website.
1. Embed YouTube playlist with EmbedFeed
Once you have your EmbedFeed Youtube embed code (shown above in step 5), follow these steps to add the code to your WordPress page:
Open the WordPress page editor and select the area where you want to display the playlist
Click on the plus icon and select Custom HTML block (you can also use a shortcode, so instead of an HTML block, choose the shortcode block).
Paste the code in the block
Click Publish or Update
Note for Older WordPress versions: If you are using an old version of WordPress, you will need to open the page and click on the Text option (not the Visual) in the editor, where you will only need to paste the code.
Customize your YouTube Playlist widget
Those of you who want to make sure your YouTube widget fits your web page branding can use a variety of options available in the Settings panel.
Additionally, if you navigate the Moderate tab, you can manage which videos to appear or remove from the live feed.
Demo of embedded YouTube Playlist
Once you paste the code, the embedded playlist widget will immediately appear on your website.
Check our Templates Library and the full YouTube playlist demo.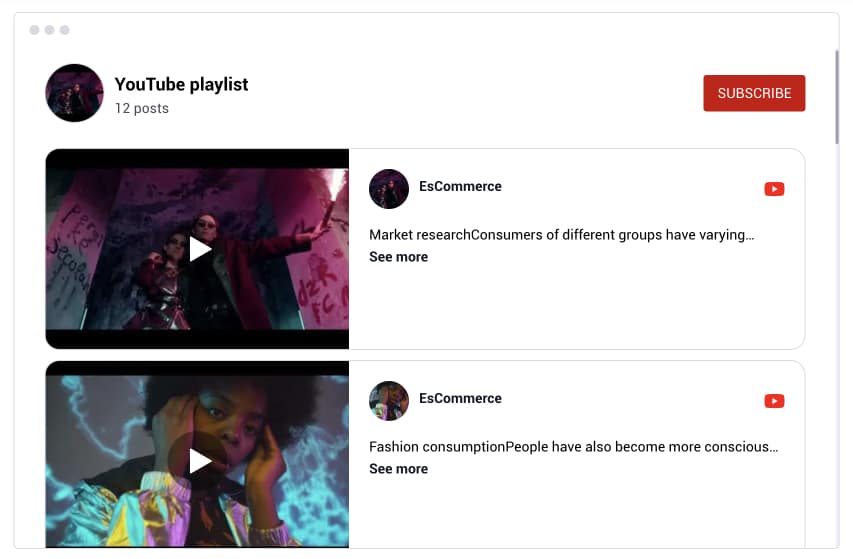 Add more related videos to your YouTube Playlist
To keep your playlist updated and relevant to your audience, a good idea is to continue adding related videos to your playlist.
To do this, go to your YouTube account, select the YouTube playlist you want to embed, and then follow the steps:
Step 1: Click the 3 dots icon and click 'Add videos'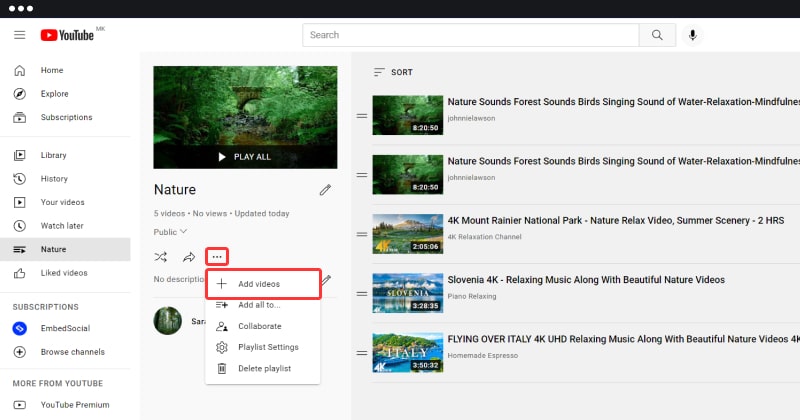 Step 2: Search for your topic and handpick the videos and click Add videos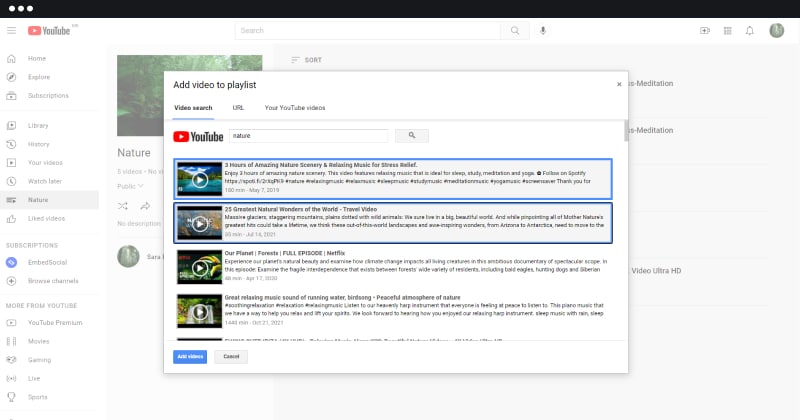 Additionally, the platform automatically checks for new playlists, so you do not need to know the playlist id or manually add the playlists.
Every time you create a new playlist for your YouTube account, EmbedFeed will generate it and if you need to embed it, follow the same steps above.
2. Embed YouTube playlist with shortcode
Shortcodes are meant to ease the process of adding different features to your WordPress website. In the case of embedding code to display YouTube widgets, the EmbedFeed platform provides a WordPress Plugin that users can install in order to use shortcodes for better code organization.
Note: The actual Javascript works completely with WordPress, but the shortcode is a smaller code that, for some users, makes it easier to use.
Before you start using the shortcodes, you will need to install the EmbedSocial WordPress plugin.
Step 1: First, you need to copy the video shortcode from your widget editor. To find the shortcode, click on 'Help to embed code' and that click on WordPress Shortcode. Finnaly click 'Copy code" as shown below: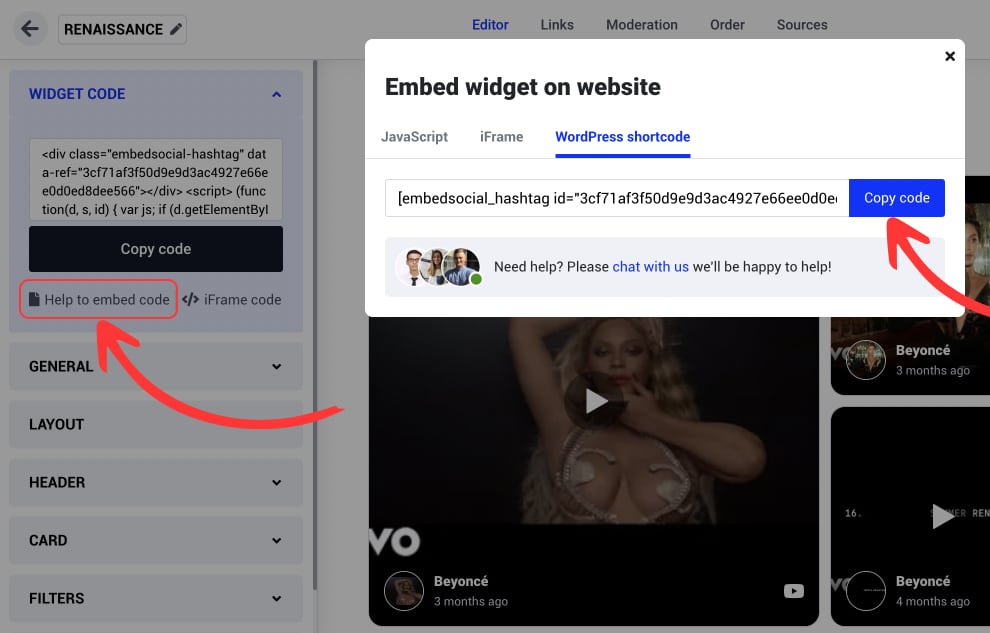 Step 2: Once you have the code, get back to your WordPress page and click the plus button/icon. Search for Shortcode and select it. In the input area, paste the shortcode you got for the widget.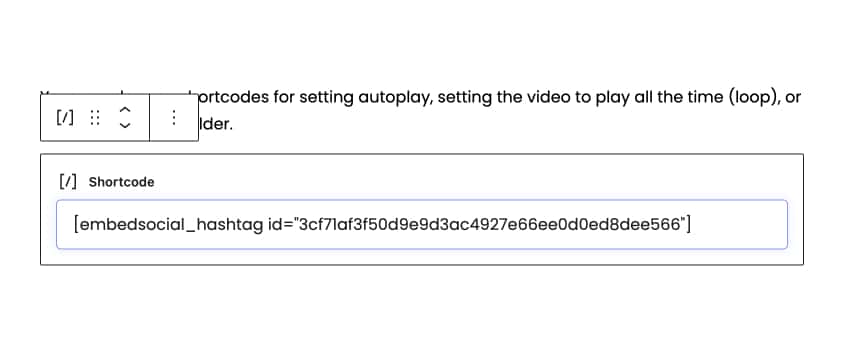 After you are done, click preview to see what the video will look like once you update your website.
3. Embed YouTube playlist with an iframe tag
Embedding a YouTube video with an iframe tag is super simple; they are an ethical way of presenting content that doesn't belong to you.
To embed a YouTube playlist with an iframe tag, follow the steps below:
Step 1: First, copy the widget iframe from your EmbedFeed widget editor. To find the iframe, click on 'iFrame code' option located just below the widget code. Finally, click 'Copy code" as shown below: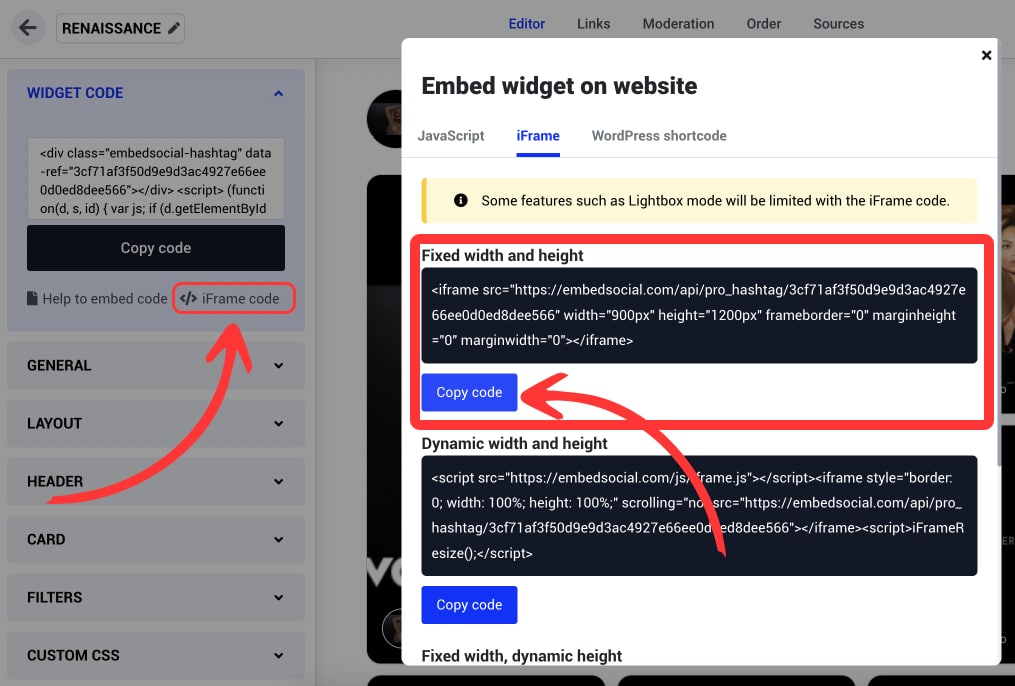 Step 2: Open the WordPress page where you want to embed the iframe code and click the +/plus icon to add a new block. Search and select the HTML block where you will need to paste the iframe code:


Moreover, an iframe can allow you to add more options regarding how you want to present the videos on your website.
If you are more tech-savvy, you can use different URL parameters for functions like height and widget of the widget.
Do more with EmbedFeed: Embed Your YouTube Channel.
The YouTube embed options by EmbedFeed are extended to allow you to embed your entire Youtube Channel.
Check the full knowledge base tutorial on the link below:
Read more: Embed YouTube Channel on any website >
Conclusion
Embedding YouTube playlists on your website is a fun and engaging way for your website visitors to get all the needed information about your business.
Use one of the mentioned options to embed educational, promotional, or fun videos to provide visitors with a better and more interesting experience.
Expand your YouTube videos' reach automatically!
Try EmbedFeed and display all your YouTube videos on your website with just a few clicks.
All features included | Live support available