Creating high-quality, authentic content in today's digital landscape has become an increasingly costly marketing challenge that many brands struggle to navigate effectively.
Thankfully, social media gives marketers an avenue of free content creation that is both authentic and speaks to their brand's value.
We're talking about user-generated content, of course.
We reveal the methods marketers use to harness the benefits of their UGC campaign and motivate their customers to deliver engaging UGC regularly.
Embed user-generated content on your website automatically. Start a free trial today >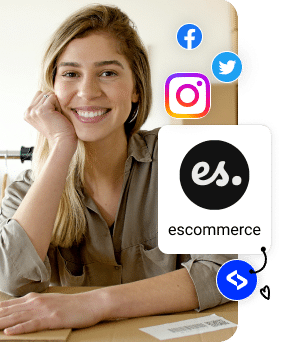 Collect social proof & user-generated content with the #1 UGC platform
Try EmbedSocial and automatically collect, monitor, and display UGC on any website.
All PRO features | Cancel any time.
7 Ways to Find and Collect UGC Content
Now that you understand the importance of collecting quality user-generated content from your loyal fans across all social channels let's see just how you can accomplish that task.
Where should you start? What are the best strategies to get UGC from real users? Below, we cover 7 excellent methods to find UGC and use them to produce engaging content!
1. Collect UGC from tagged social media posts
Let's start with the simplest and most used UGC-collection method: scooping all user-generated content from social media accounts, pages, and posts where you're mentioned.
However, unless you make it a habit to encourage users to tag your brand all across social media, you won't be doing a lot of UGC harvesting. Remember: this seemingly irrelevant practice helps you spread brand awareness and track and gather UGC that features your products/services.
If a user shares a photo or video of their purchase, offers an honest opinion, and mentions your brand or product in the caption, that's your cue to ask whether you can collect and share the UGC.
For example, here's how the beauty brand PURITO re-shares user-generated content: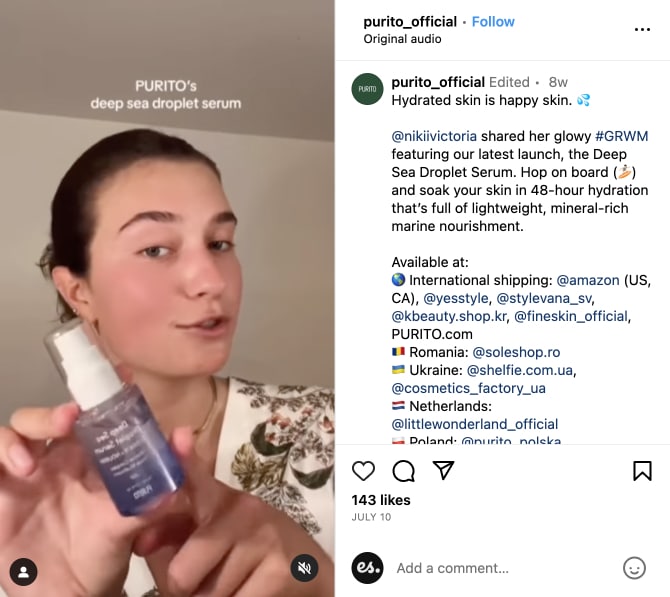 If you navigate to Instagram's search section and type in PURITO, you'll see hundreds upon hundreds of posts published by everyday consumers mentioning the brand. In this case, there's literally a wealth of UGC PURITO can utilize to boost its social media marketing strategy: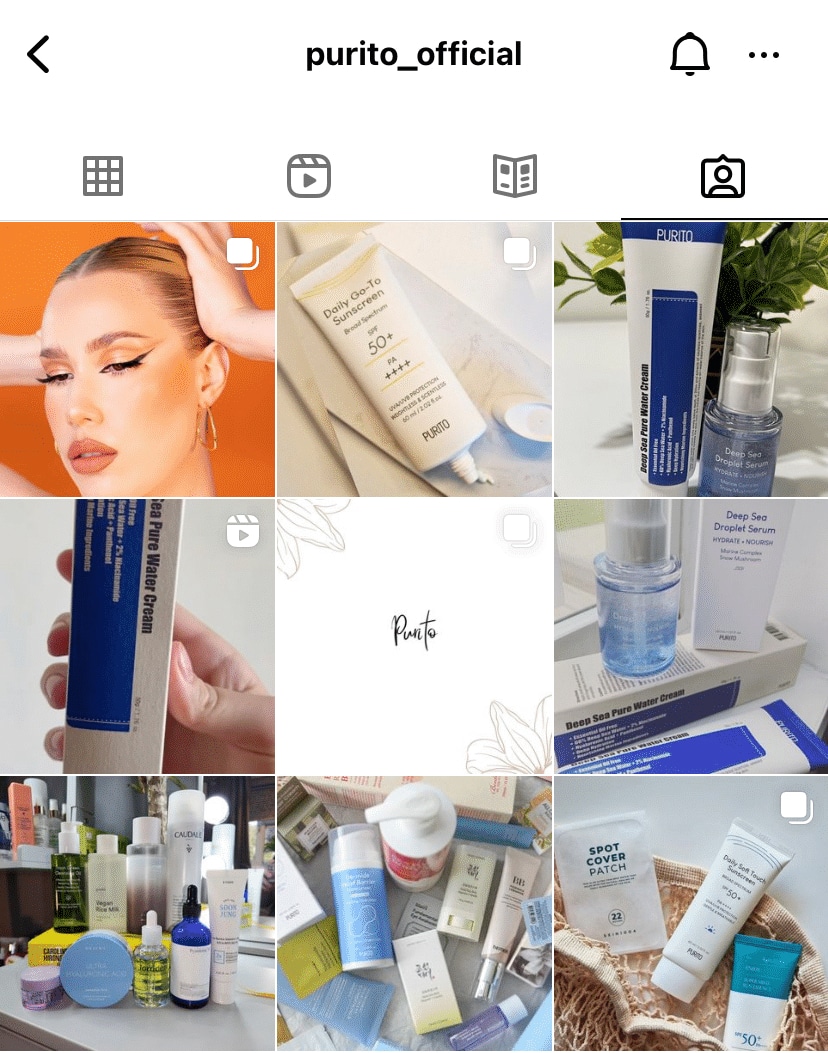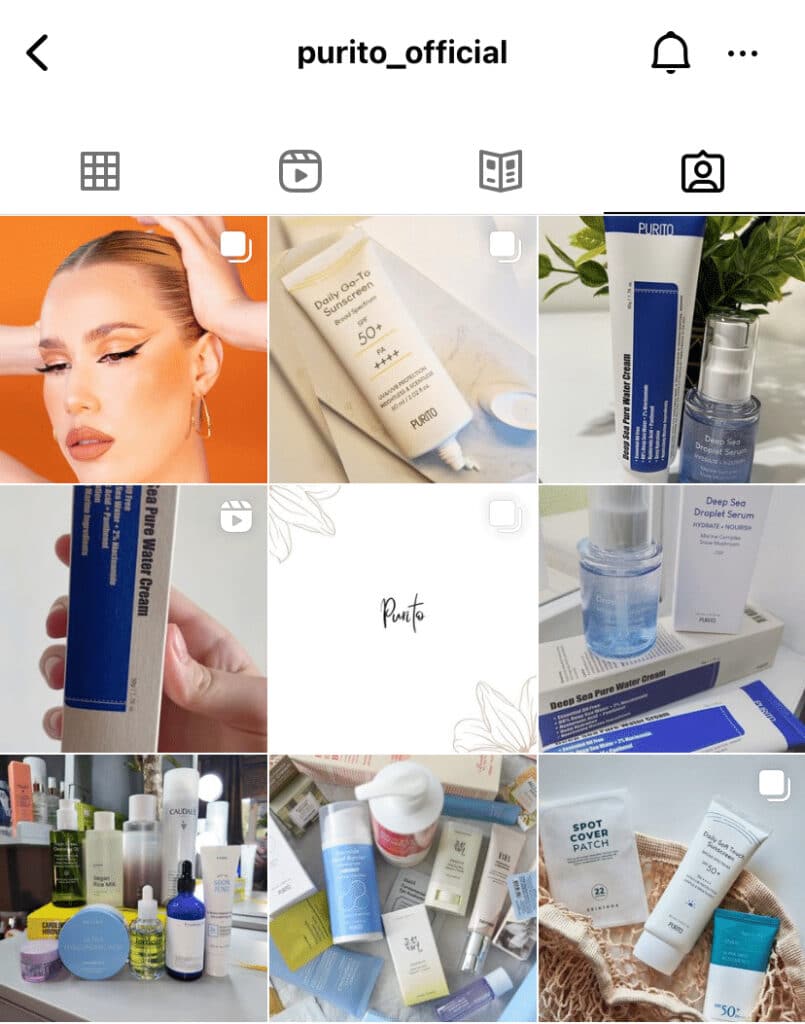 How do you collect Instagram mentions?
Now comes the best part. You can collect all of the content that mentions your brand on Instagram and Facebook, too.
You will need a social media aggregator with API integrations with the platforms to do this automatically and in real time. EmbedFeed is one of the most robust social media aggregator tools and is powered with features to collect posts that mention your account. The best is that once you collect the mentions, you will be able to create a UGC widget for your website and provide social proof.
Here is how to collect mentions from Instagram:
Step 1: Start a free trial for EmbedFeed
Step 2: Go to Sources and choose Instagram.
Step 3: Choose 'Mentions' and connect with Facebook to pull your Instagram accounts. Choose the Instagram account and click Next. All are on the same page.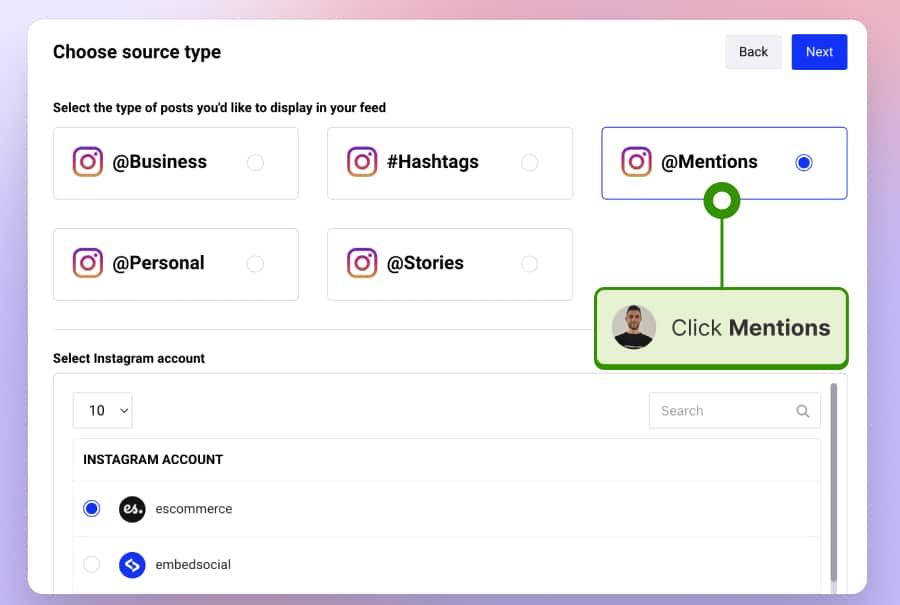 Step 5: Choose a template and click "Use this template.'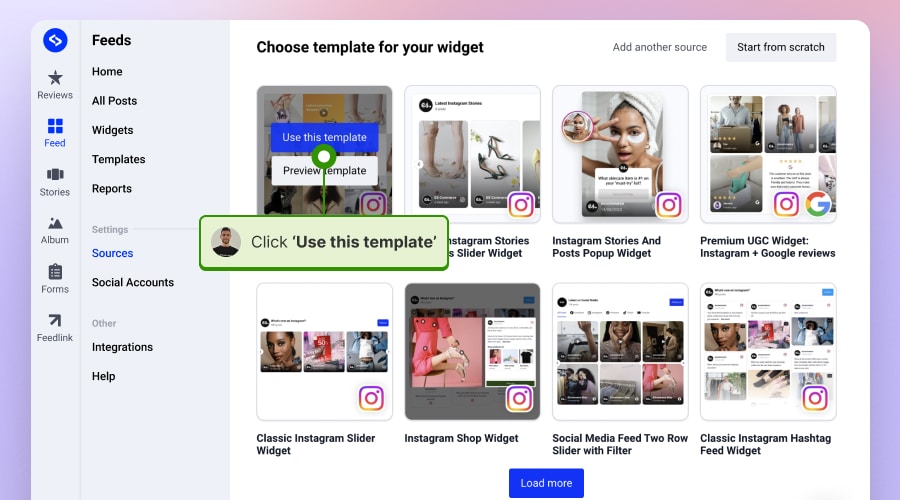 Note: In case you don't want to create the widget, you can stop at this step and see the pulled posts in the left-hand 'All posts' menu.
Sounds cool, right? Sign up below to try it out.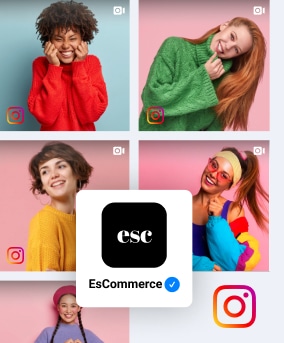 Show social media wall on your website automatically!
Try EmbedFeed and display Instagram, Facebook, YouTube, Pinterest, TikTok, and Vimeo feeds on your website in seconds.
All PRO features | Cancel any time.
2. Collect UGC through email
Another way to get fresh posts for your user-generated content campaign is to leverage the power of email marketing. Yes, it's still as effective when properly employed!
Shortly after users complete a purchase with you, send out a post-purchase email requesting feedback from them, asking them to share their thoughts and include a photo or video.
For example, here is an example of the email template to collect reviews with EmbedReviews: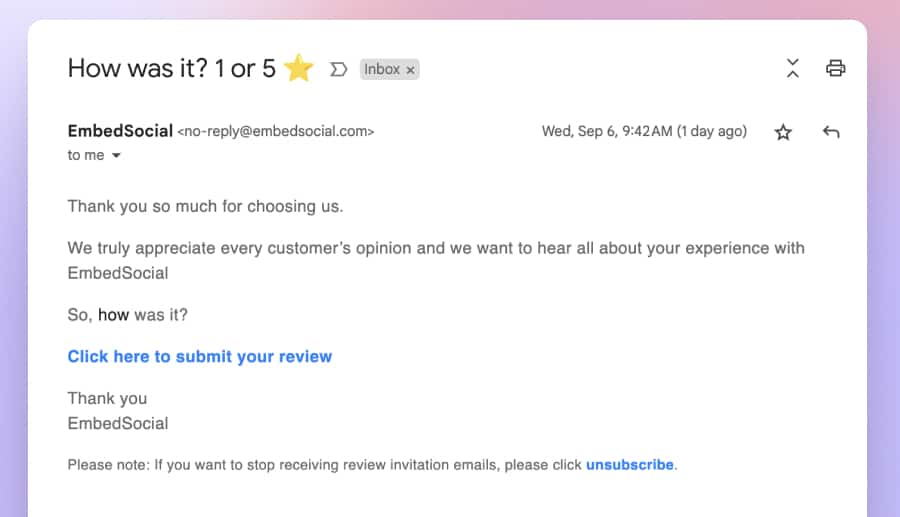 Best of all, you don't even have to type in unique emails to collect valuable user-generated content through email. There's software that does that: the EmbedSocial: Verified Reviews app for Shopify automatically asks for reviews once the customer makes a purchase through your store.
As you can see from its interface, it's quite simple to use: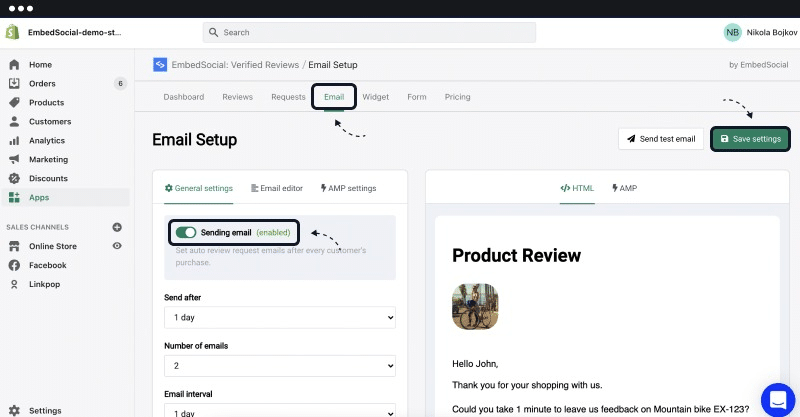 3. Collect UGC with QR codes
A smart, fast, and engaging method to collect UGC is with QR codes.
No, it's not complex at all! You only need to create a UGC collection page and generate a QR code that leads to its URL. Then, you can put the QR code wherever you please: in your emails, on your website, on product packaging, or even on physical business cards!
For instance, let's consider this British coffee and tea brand that puts its eye-catching QR codes on its cups. Pulling out your phone and navigating to the URL takes a second. Then, you'll be immediately prompted to point your phone at it, open the link, and write in your thoughts: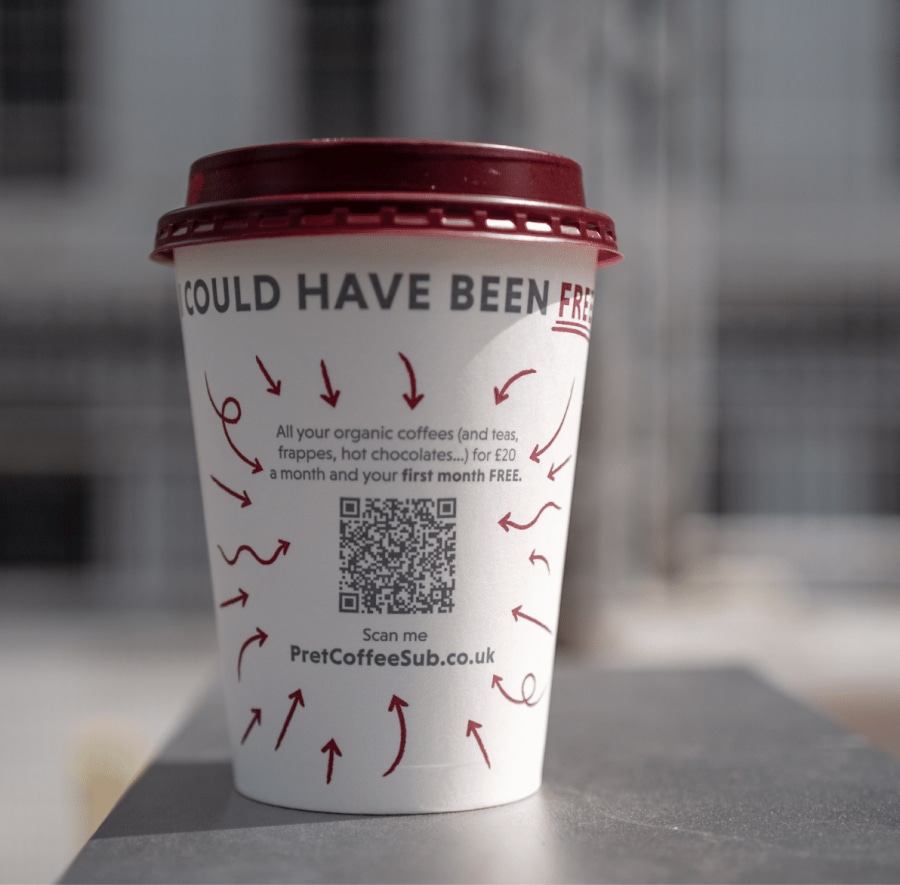 They even sweetened the deal with a "special offer" for those who share their opinions.
4. Collect UGC via SMS
In addition to email, you can also ask for and receive feedback and content via SMS. However, SMS is an older form of communication, and you need your customers' numbers to get what you need.
Thankfully, if you have an SMS database, your chances of obtaining quality UGC are excellent—customers do not voluntarily share their phone numbers, after all!
However, once you have what you need, you must manually upload it. You can speed up the process by subscribing to a UGC platform that will manage most steps in the process.
For example, EmbedReviews allows you to send an SMS with a link to a form where customers can submit their experience with your brand. Here is an example of the form: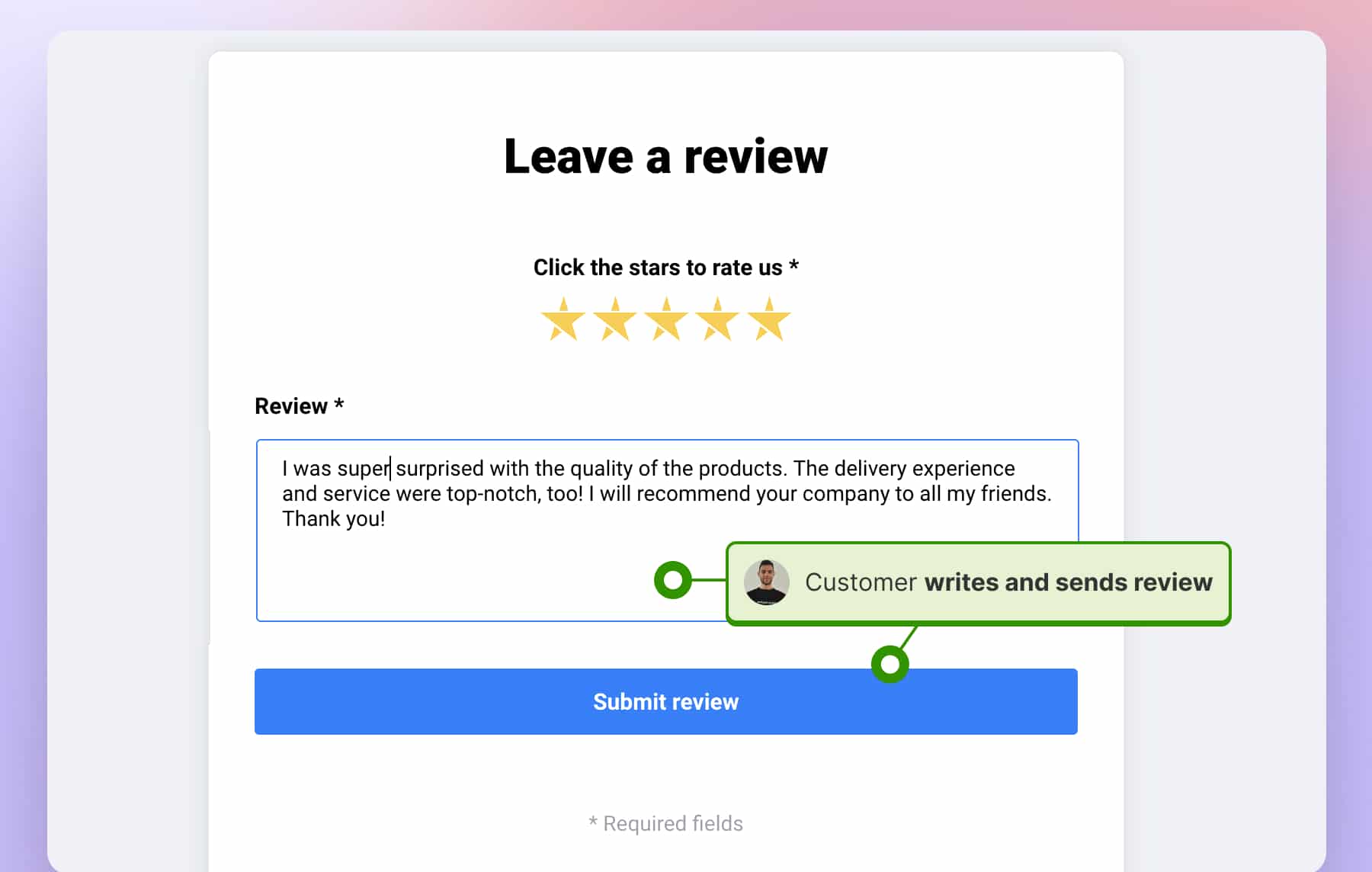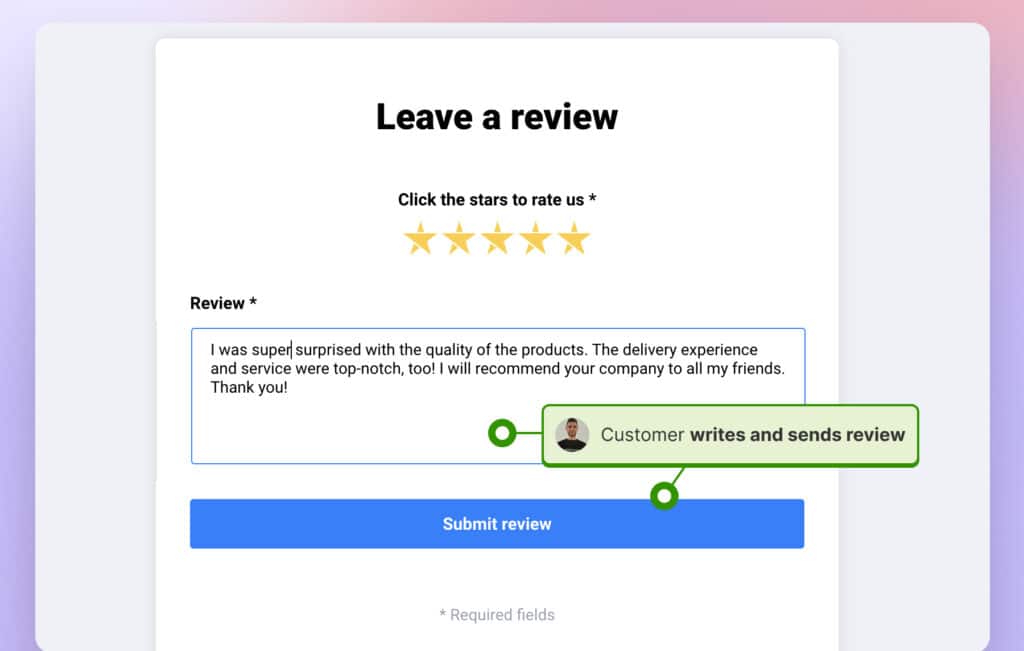 Note: Timing is everything when gathering UGC via SMS. You should send out your message right after a customer makes a purchase or when the product or service is delivered to them.
5. Collect UGC through your website
Here's a distinctive and incredibly smart approach (because you'll own this authentic user-generated content forever)—collecting UGC straight through your own website.
Create a simple review form that includes all relevant fields (name, role, photo, and a text box). Customize it per your industry and your UGC needs and embed it onto your website. Remember to keep it simple, user-friendly, and quick to fill out! You shouldn't waste your visitors' time!
You can easily do this with the reviews widgets by EmbedSocial, where you will be able to embed the submitted reviews and the 'Leve a review' button to open the form for collecting UGC.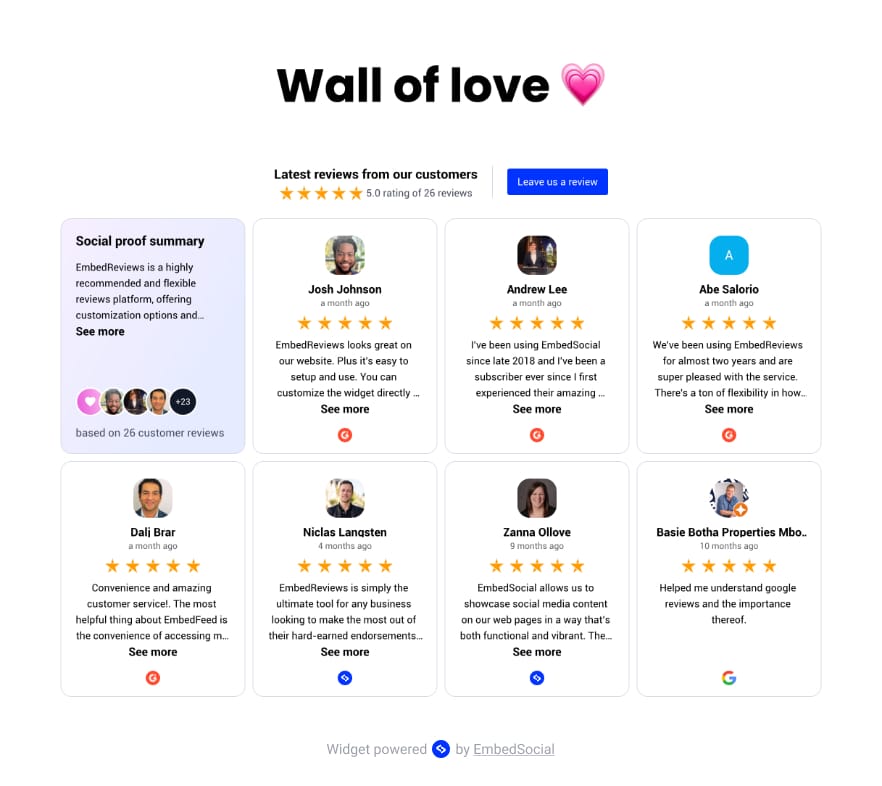 Extra tip: if you already have fresh user generated content across different review platforms, such as Google or Facebook, you can always use a quality reviews management platform to upload, filter, and display all those reviews on your website in a customizable widget.
6. Collect UGC via hashtags
Collecting user-generated content is also possible by creating social media hashtags that your satisfied customers will use to tag and promote your products or marketing campaigns.
Unique hashtags create a buzz for your brand across social media and spur the public into action with their gamification features. If you also implement a rewards system, such as a giveaway or the promise of a website feature, you'll guarantee your success.
That way, you'll get a rich stream of already categorized UGC and boost your sales numbers, and at what cost? You'll maybe have to cover the minor giveaway costs.
As an example, take a look at Calvin Klein's "#MYCALVINS" campaign, which invites its users to share their looks across social media using the aforementioned hashtag. The brand then proceeds to pick the best entries and showcases them front and center on their website:
Now comes the best part.
You can collect all of this content by using a social media aggregator.
To get started and automatically collect all the content from Instagram posted by other users using a hashtag, try EmbedFeed.
It is the most robust Instagram aggregator that will help you generate all UGC from Instagram and embed your Instagram feed on your website containing the social proof published by your customers on Instagram. Sounds cool, right?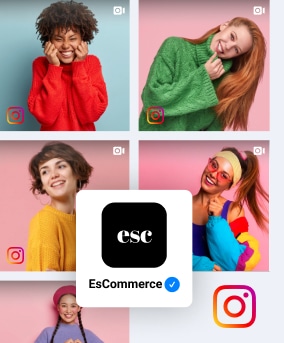 Show social media wall on your website automatically!
Try EmbedFeed and display Instagram, Facebook, YouTube, Pinterest, TikTok, and Vimeo feeds on your website in seconds.
All PRO features | Cancel any time.
7. Collect UGC from your brand contributors
If you've implemented an inexpensive influencer marketing strategy, you'll be able to harvest some of the best UGC you could get your hands on straight through your UGC creators!
Your product advocates, customer evangelists, and other influencers also know the type of content that will work well with their supporters, so you won't have to spend time and energy generating posts. Then, they'll leverage their fame and respectability to draw attention to your brand.
Pro tip: Set up an operational system that will help you collect this influencer content in a more structured and organized way. You should also go a step further and implement a content calendar to help you stay in control of the content creation process.
Let's explore the UGC posted by The INKEY List on their official Instagram page. A quick glance reveals their core strategy: collecting UGC through influencers: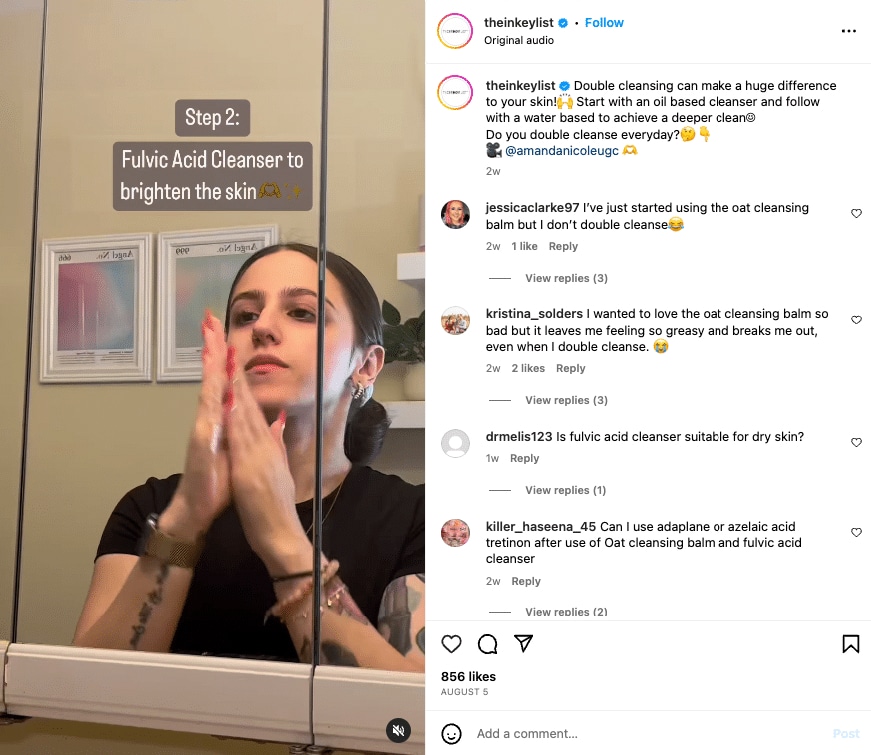 How to Inspire Creators to Generate More UGC?
In most cases, inspiring creators to generate more user-generated content (UGC) involves engaging with them and providing incentives, encouragement, and recognition for their contributions.
However, to motivate creators, you first need to understand who they are and learn about their genuine interests and experiences so you know how they can relate to your brand.
This approach will cultivate a sense of ownership for both creators and brands. The outcome? Heaps of original and compelling content that will engage audiences all over the globe.
Let's dive into our six effective strategies to get more branded content:
1. Ask them for new content in your social media bio
The first and simplest way to encourage creators to generate user-generated content is by writing an engaging social media bio that calls out for new and unique content submissions.
Let's take the NA-KD e-commerce fashion brand as an example. In their bio, they wrote a short yet effective statement calling customers to take action. They also included two unique branded hashtags that will inspire their followers to submit fresh content regularly.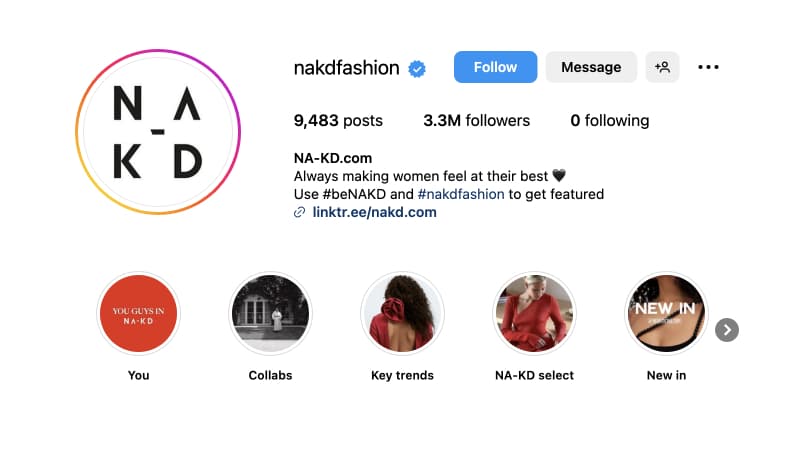 If you dig further, you'll see that one of their hashtags has even generated half a million posts they can reuse. This example vividly illustrates the immense benefits of a good UGC strategy.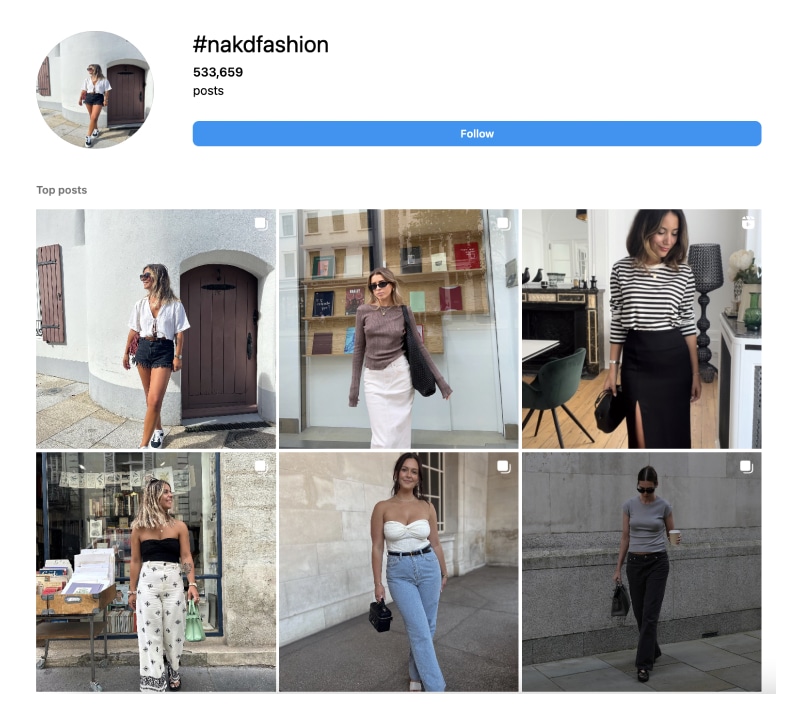 2. Organize contests on a regular basis
The second strategy, which demands a little bit more structure and time, is organizing contests.
Here's a list of things you need to think about when arranging one:
Decide the type of UGC you want to collect: Think of different formats and purposes, plus product uses, reviews, "how-to" posts, seasonal challenges, etc.);

Choose a prize for the top contestants: Think about what would make your biggest fans and brand advocates happy; after all, they'll produce the best content for you;

Determine the contest particulars: how long will it last? What are the rules? Which social media platforms will you use? Who can participate? How is the winner picked? etc.;
As an illustration, review the dance contest organized by the cosmetic brand COSRX under the hashtag #SnailDanceChallenge, which asked contestants to post a video of them dancing on their TikTok channel and add several hashtags. The reward? A year's worth of products!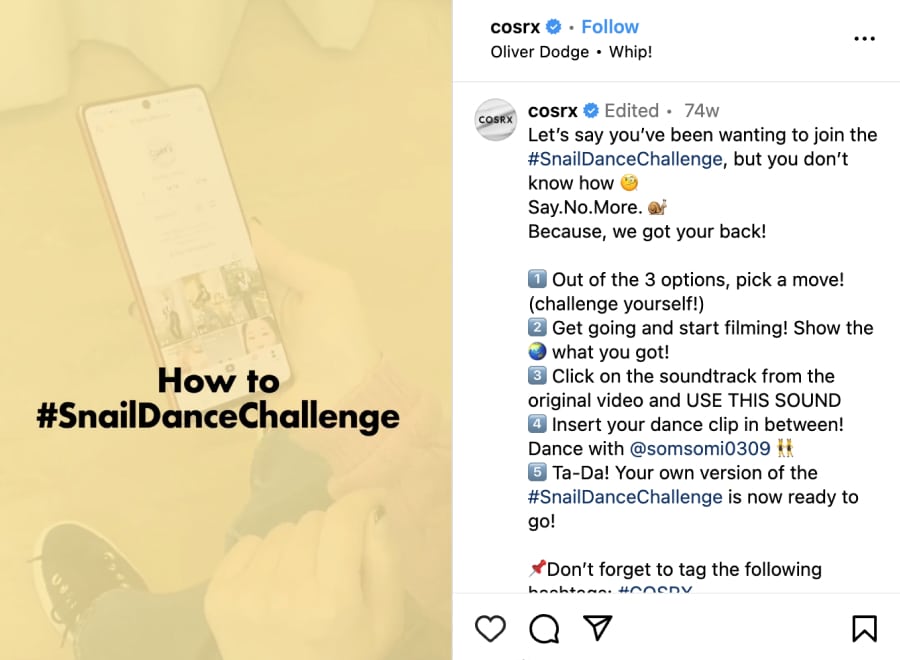 The results were thousands of branded videos that the company could freely use: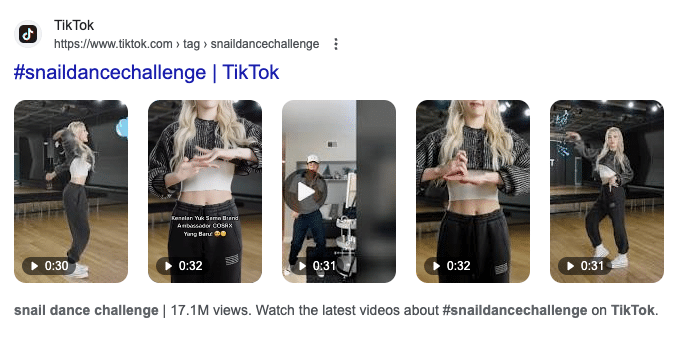 GoPro thrives on a similarly bold UGC strategy that echoes their renowned action cameras made for bold customers who dare to venture into the unknown. You will rarely find more exhilarating and authentic content as the one captured by GoPro's adventure enthusiasts: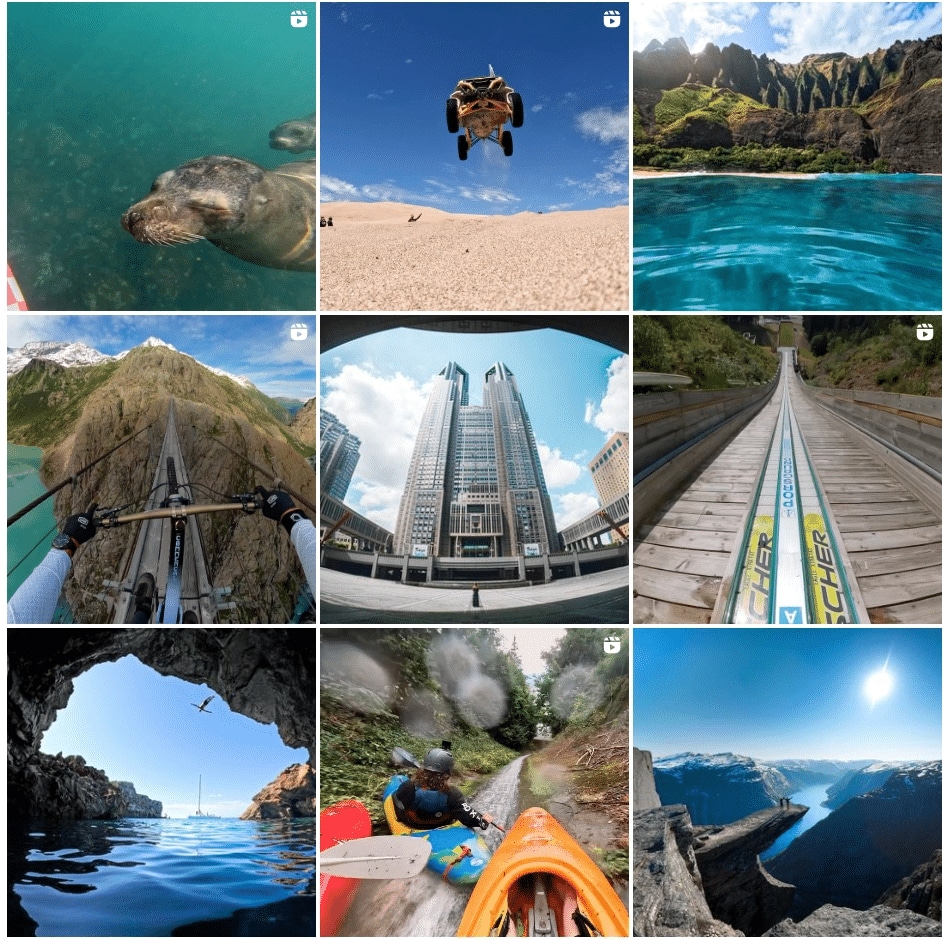 Did you know that almost all videos posted on GoPro's social media are user-generated?
One of GoPro's latest UGC campaigns meant to showcase its products and transform its customers into enthusiastic brand advocates is the #GoPROAwards, which will ultimately reward a total of $100,000 rewards for the wettest GoPro photos + videos of the summer.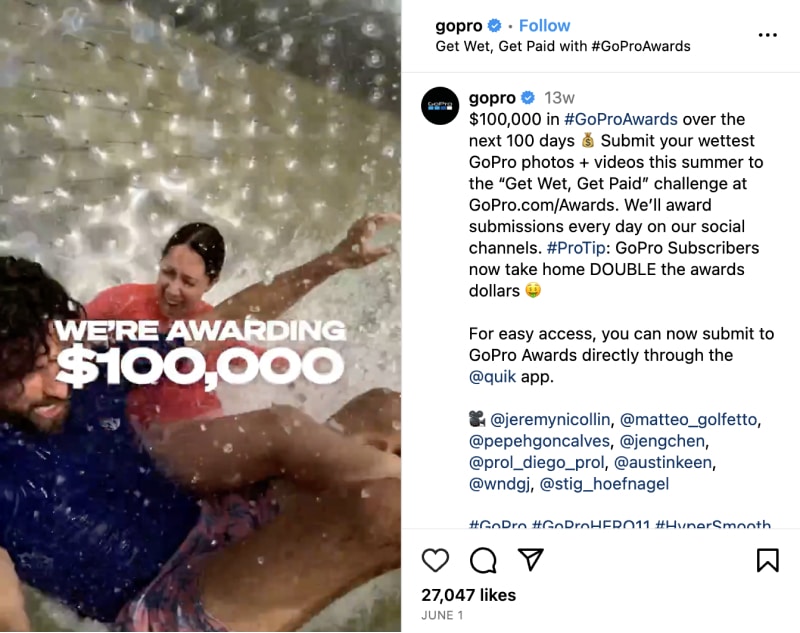 3. Run social media giveaways
Running giveaways is another simple way to encourage more UGC creation.
While they are similar to challenges, giveaways do not come with strict entrance criteria, meaning participants are more willing to provide you with their UGC. In most cases, you can ask them to like and comment with the content you need for the chance to be selected.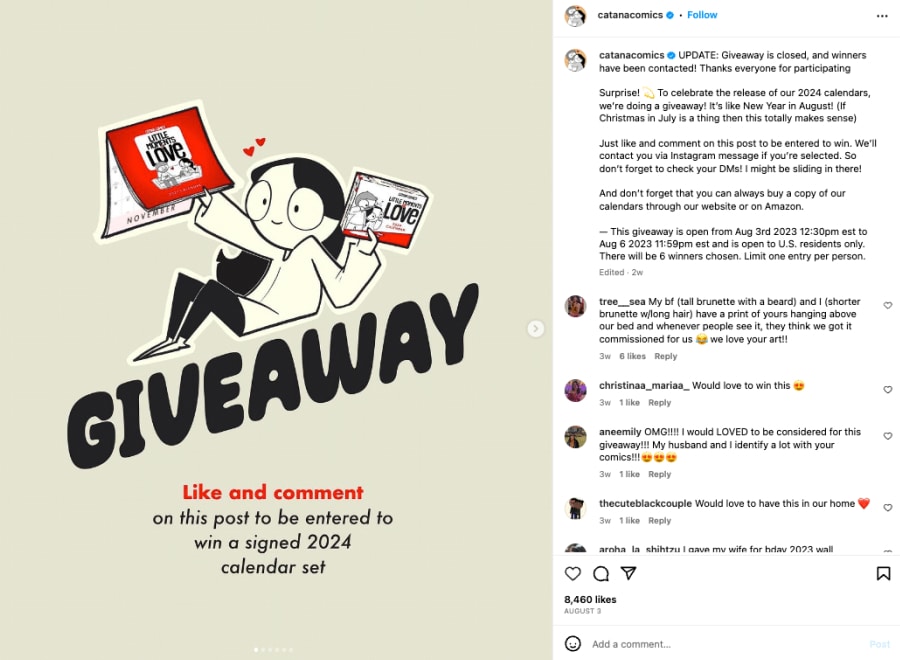 4. Hold in-person events
Organizing and hosting in-person events falls on the high-effort, high-impact end expected to yield a lot of authentic and quality social media posts mentions, and recommendations.
You could organize various events, such as new product launches, workshops around a theme, and seasonal meetups. Regardless of the event, make sure you invite influencers who will create content and buzz by sharing posts and stories on their social media.
Note: When you organize the event, pay attention to details, and make it an exclusive affair! Additionally, prepare individual gifts for all invited high-profile influencers.
For example, in the Instagram story highlights of MY:TIME, a watch brand, we see a repost of an influencer sharing the setting of an in-person event they were attending. This event hosted more than fifteen influencers who all received valuable jewelry and watches.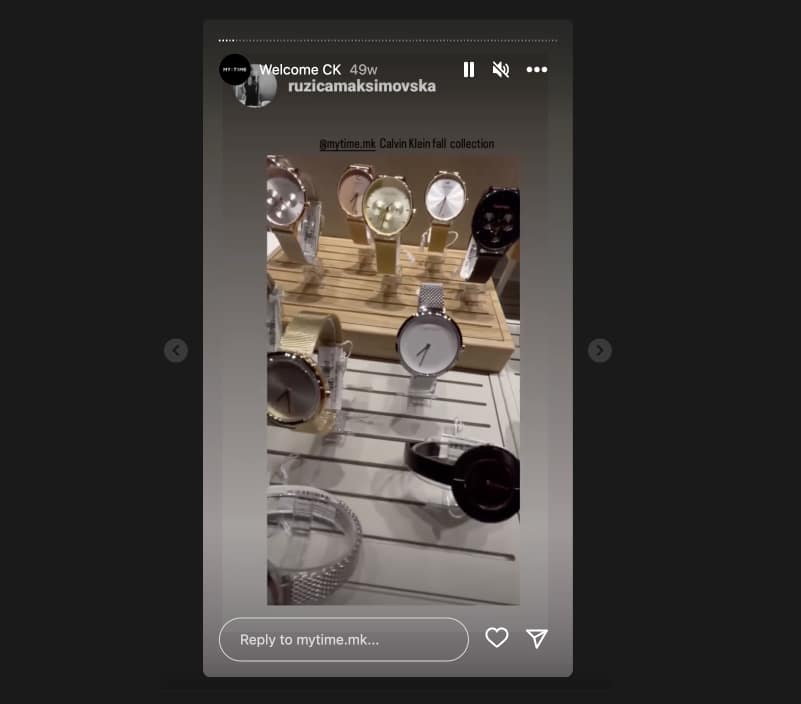 5. Organize influencer campaigns
While we talked about collecting UGC from your influencers, you first have to develop and launch such a campaign, which will require time, effort, and funds.
Fortunately, this strategy is a low-effort yet high-impact one. After all, brands often reward their ambassadors with products if they convey their message in an authentic way.
Needless to say, they can reach a huge audience and spread the benefits of your products and services to potential customers to whom you have no access. Let's consider Zalando again, an e-commerce company operating in the fashion industry that goes all-in on UGC posts: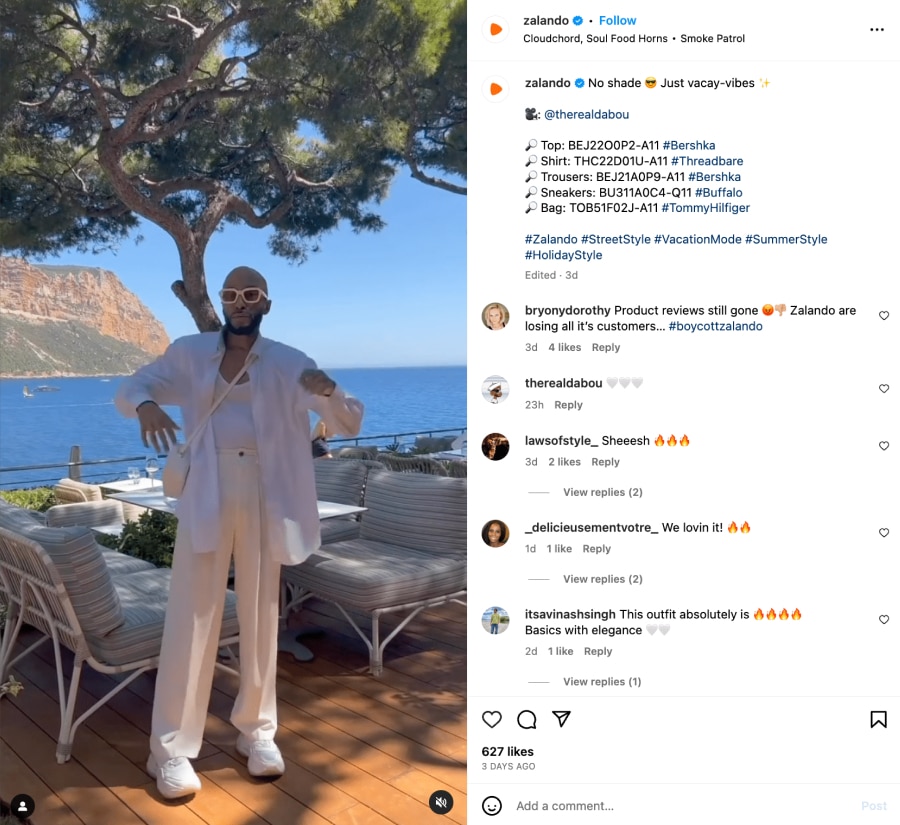 Additionally, via its bio, Zalando constantly encourages customers to create and post new content using the unique Zalando hashtag #zalandostyle.

6. Hire UGC creators
Last but not least, you can always hire an influencer to work as your UGC creator. Do your research and pick a brand ambassador whose personal beliefs resonate with your brand.
While this approach is a more involved (and more expensive) one compared to the rest, you'll know that you can rely on a steady stream of professional UGC. And in addition to their creativity, they'll also bring in their audience, meaning higher reach, engagement, and conversion rates.
Check out the posts of digital creator Valeria Lipovetsky made in collaboration with Vital Proteins: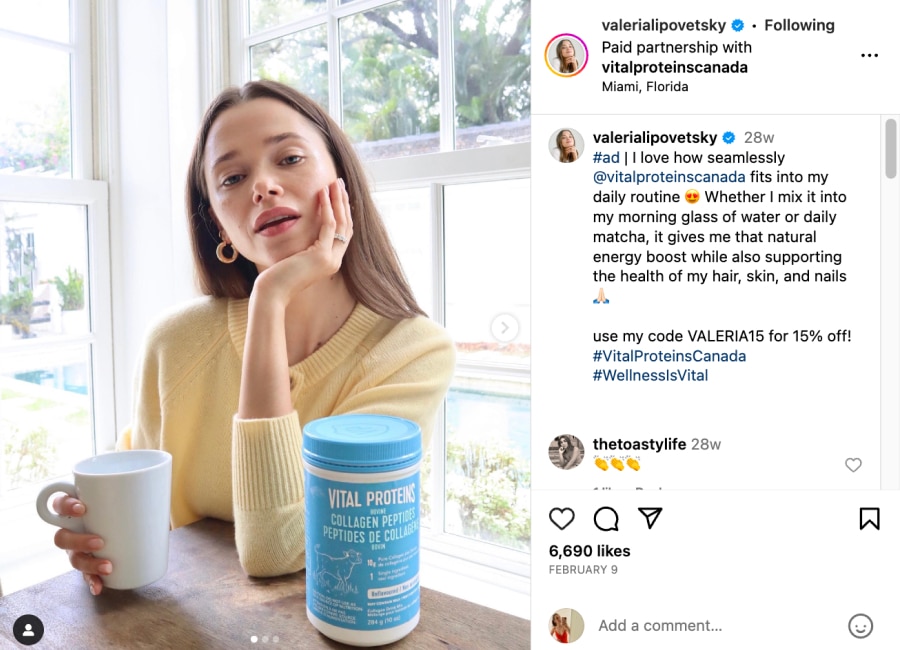 Why You Should Collect User-Generated Content?
Before diving into how to collect UGC, let's start by exploring why user-generated content (UGC) has become an invaluable marketing tool for businesses and brands worldwide:
UGC boosts authenticity and credibility
The best way to boost your brand's credibility and relevance is by utilizing UGC created by genuine users for their own communities. After all, relying on unsolicited and authentic content fosters trust among your customers and resonates powerfully with potential customers.
You also establish a strong social media presence since you involve relatable people in your marketing campaigns who wholeheartedly share their real experiences with your product.
Is there a better way to reinforce your brand's reliability and trustworthiness? Just go through these 20 amazing UGC examples to take stock of their marketing power!
UGC for budget-friendly content creation
Creating original and outstanding content that "moves the needle" to drive your business growth is resource-intensive. This is where user-generated content comes in!
In reality, you can rely on UGC to provide a steady stream of genuine content for free!
Obviously, this cuts your content creation costs and helps you showcase your products in real-life scenarios, thus building trust and pushing your customers to complete the buyer's journey. Everyone wants to build a relatable and trustworthy connection with a brand!
That's what we call a 'win-win' in the marketing world.
UGC supercharges audience engagement rates
Another major reason why you should collect and employ user-generated content is the prospect of creating and cultivating a loyal community around your brand and products.
"How does this help me foster higher engagement rates?" you might wonder.
When people belong to a community of like-minded individuals, they feel free to share their thoughts and experiences enthusiastically. Such exchanges will, in turn, fuel their need to start interacting with your brand. Before you know it, you'll start getting tagged across various social media channels, engaged in the comment sections, and re-shared by all your supporters.
As you can see, you would be indirectly creating brand advocates who are deeply connected with everything you do, and they'll operate in an ecosystem where customer engagement flourishes organically, thus delivering a profound impact on your brand's reach.
How UGC Improves Your Marketing Strategy?
We already covered the various benefits of UGC; however, it's worth reiterating that user-generated content can have a transformative influence on your marketing campaign strategy.
After all, by showcasing genuine testimonials, reviews, photos, and videos created by real customers, you fuel your UGC marketing strategy and reap the advantages listed above. Moreover, connecting with your followers on a deeper level helps you convert them into customers.
Even more, user-generated content proves your brand's ability to evoke genuine customer enthusiasm and satisfaction, thus solidifying their trust and loyalty.
As UGC becomes an integral part of your marketing strategy, it sparks organic word-of-mouth, fosters brand community, and amplifies brand visibility and engagement. This dynamic approach leverages genuine customer experiences to drive growth and success in your business.
Conclusion
While using UGC to promote your brand is a superb cost-effective strategy to boost your reach and your sales, you still have to put in the work to motivate your customers to create content before you collect it from your channels and use it to create a compelling UGC campaign.
All of the strategies we outlined above will help you navigate the world of UGC and collect quality content to connect with your audience genuinely and positively.
You can even encourage your customers to create UGC by utilizing prompts in your social media, organizing in-person events, or getting help from influencers.
Armed with these insights and practical examples, you have everything you need to gather and use your UGC across social media to elevate your brand to the next level!
Embed user-generated content on your website automatically. Start a free trial today >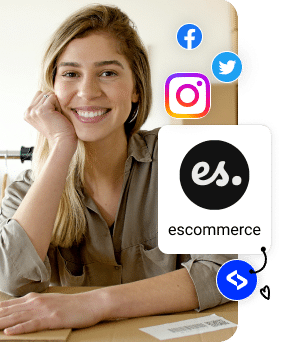 Collect social proof & user-generated content with the #1 UGC platform
Try EmbedSocial and automatically collect, monitor, and display UGC on any website.
All PRO features | Cancel any time.
FAQ
Is user-generated content credible?
According to a 2023 State of Social & User-Generated Content report, authentic user-generated content is trustworthy, especially when published by influencers. Brand-published staged UGC is also credible since it involves creators with first-hand brand experience.
How to collect UGC for free across social media channels?
Most UGC collection methods are free of charge or cost an insignificant amount, including but not limited to creating branded Instagram hashtags, leveraging social media mentions, utilizing email marketing, searching for organic customer content, and others.
Can you get UGC on Threads?
Collecting UGC from Threads is very similar to the methods implemented on other social media. For instance, you can ask for it, create a contest or a challenge, request product tags, offer collaborations, incentives, featured spots, and more.