The business world is abuzz with talk of social media monitoring.
Why? Because businesses of all sizes realize the importance of being where their customers are – and for many, that's on social media.
Whether you're the marketer in charge of the company's online reputation or you're a solopreneur who has to do everything by yourself, knowing what is said about your brand is crucial to your business's success.
And because this is the digital age, there's no need to go on foot and analyze manually every single mention of your or your competitors' brand. They have tools for that now.
Let's start from the beginning, shall we?
What is social media monitoring?
Social media monitoring is the process of tracking and analyzing conversations on social media channels to help you better understand your customers, competitors and industry.
It can provide valuable insights that can help you improve your marketing strategy, product development, content creation, customer service, and more.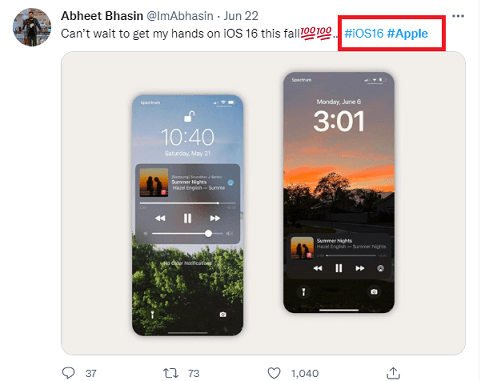 Why social media monitoring matters
Social media monitoring is a valuable tool for businesses. It allows them to track what is being said about them online, and it can help them to identify any potential problems or issues.
It can also help identify any positive feedback about a company or brand, which can later be used to promote and market the business.
Social media monitoring can also help you to identify potential advocates for your brand and create relationships with them.
By actively engaging with your audience online, you can foster positive sentiment about your brand and create a loyal following.
Now let's take a look at the best social monitoring tools out there:
Hootsuite Insights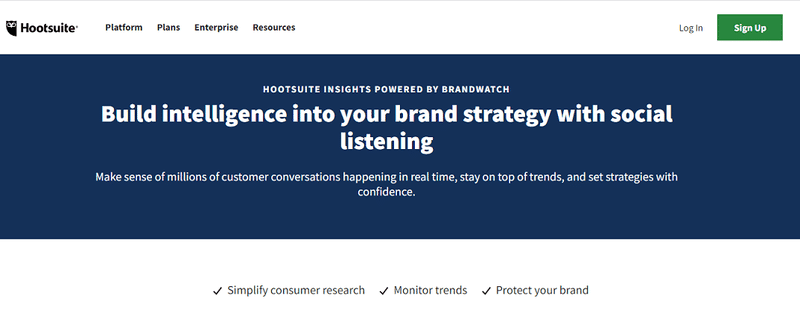 Hootsuite Insights allows you to measure the performance of your social media campaigns and track the performance of your competitors' social media campaigns.
It's suited for all major social media platforms: Tik Tok, Facebook, Instagram, YouTube, Twitter, LinkedIn, and Pinterest.
They do have a free plan, but it's quite limited in features:
managing up to 2 social media accounts
scheduling up to 5 posts for publishing
self-support through an online help center and FAQs
Integration of basic apps from their own app directory
The free plan is great for testing the waters, but if you're looking for something more serious, you can choose from their paid-plan options:
Professional starts at $49/month: 1 user, 10 social accounts, scheduling unlimited posts, accessing messages in one inbox
Team starts at $129/month: 3 users, 20 social accounts, scheduling unlimited posts, accessing messages in one inbox
Business starts at $739/month: 5 users, 35 social accounts, scheduling unlimited posts, accessing messages in one inbox
Enterprise – customized: 5+ users, 50+ social accounts, campaign planning
Mention

Mention is a social media monitoring tool that allows you to track mentions of your brand or keywords across social media platforms, blogs, news websites, and forums.
Their free plan includes:
Twitter and Instagram
News, forums, blog, video, and all other websites
1 user
3 social accounts
1000 mentions
The paid plans start at $29/month up to $199 for ProPlus, and a customized plan for teams and agencies.
Here's what people are saying about Mention:
"A social media monitoring tool that will help you keep an eye on each and everything that's being mentioned on the web.
Now tell me how great is that! It is great at what it does, you can track your desired mentions or results and you will be notified of each and everything."
Sprout Social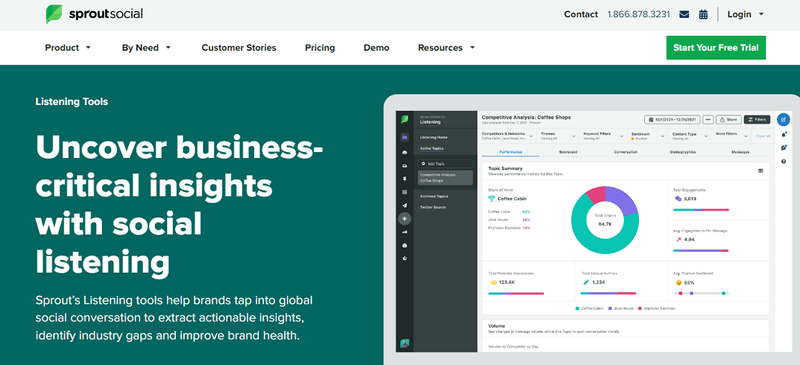 Sprout Social is a social media management and analytics platform that allows you to manage all of your social media accounts in one place.
Their social media monitoring tool is a part of the platform that allows you to track mentions of your brand or keywords across social media platforms.
It supports all the major platforms like:
Twitter
Instagram
Facebook
Reddit
YouTube
The web
Core features it includes are:
Audience analysis
Consumer research
Influencer recognition
Sentiment research
Campaign analysis
Competitor comparison
Trend identification
Their pricing starts at $99/month. There's no free-plan option, but they do offer free trials.
Keyhole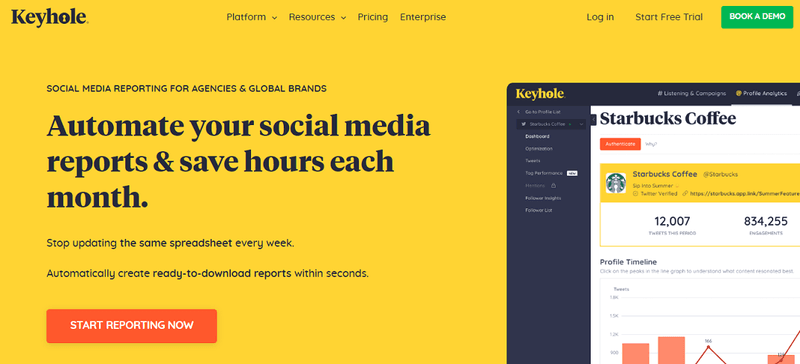 Keyhole is a social media monitoring tool that allows you to track hashtags and keywords on Twitter, Instagram, Facebook, LinkedIn, YouTube, and TikTok. It's best suited for:
Agencies
Enterprises
Nonprofits
Entertainment
Medias
B2C brands
eSport
All their plans are customized, so you'll want to book a demo with them to get an idea of how much it will cost you.
They do offer a free trial, though.
Their core features include:
Influencer tracking
Social media account monitoring
Hashtag analytics
Publishing and scheduling
Social media reporting
Hashtag and keyword tracking
Twitter historical data
Social media analytics
API
"The dashboard encapsulates a detailed overview of your entire campaign and mentions all details and KPIs that you need.
The metrics given on keyhole are unmatched and help us in setting KPIs and measuring results accordingly.
The layout is also very user-friendly, and everything is exportable, so that's wonderful."
Agorapulse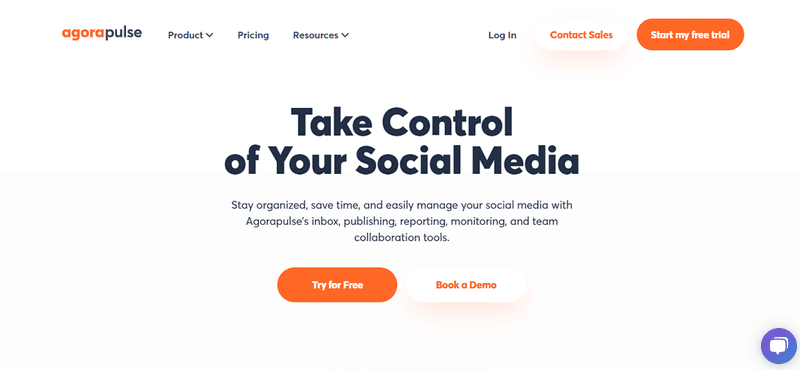 Another all-in-one tool for managing social media, Agorapulse is one of the favorites among marketers and agencies.
They offer a unified inbox which means you can manage all your messages, comments, and reviews in one place.
Scheduled publishing is one of their core features, together with social listening i.e. discovering trends and insights related to your brand.
They offer a free plan that includes 1 user and 3 social profiles with all of the major social media platforms included.
For the paid plans you can get 15-day free trial, and if you do decide on one of them, you get 20% discount for annual billing.
Paid plans are as follows:
Pro for small teams: 2 users, 10 social profiles, all major social media platforms – $79/month
Premium for agencies and growing teams: 4 users, 20 social profiles, all major social media platforms – $199/month
Enterprise: 8+ users, 40+ social profiles, all major social media platforms, social media ROI – custom pricing
Awario

Awario is a social media monitoring tool that allows you to track mentions of your brand or keywords across social media platforms, blogs, and news websites.
Like Mention, Awario helps you discover and track mentions of your brand across both social media and on forums, video sites, blogs, and all across the web.
This tool offers:
Non-stop monitoring
Powerful analytics
Any language, any resource, and any location
Social selling
New discussions in your inbox
Boolean search
White-label reports
and a couple of more.
They don't offer a free plan, but you can sign up for a free trial.
Paid plans are:
Starter – $24/month
Pro – $74/month
Enterprise – $249/month
"The filtering options were very helpful to keep mentions organized and easy to reference.
Additionally, the option to download mention data into an Excel file supported the analysis of the data captured by Awario.
After the initial learning curve, the software was also fairly easy to use.
The educational materials on Awario's website, especially related to using the Boolean searches, were very beneficial when first learning to use this software."
Reputology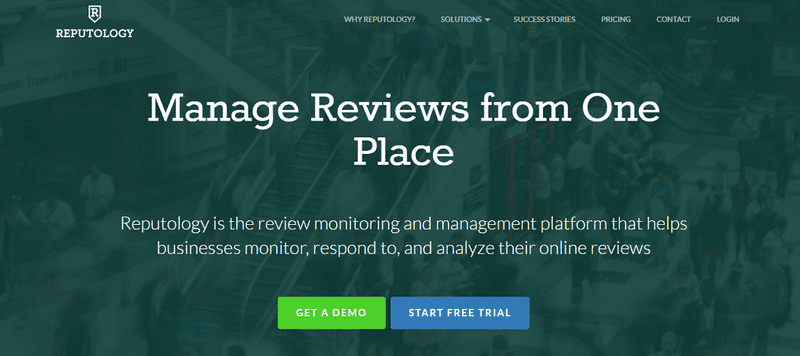 Reputology's best features include 24/7 review monitoring, customer feedback all in one place, and text analytics.
You can also measure performance through graphs, charts, and scorecards which makes it super easy to detect any changes in the performance.
They don't offer a free plan, but all of the paid plans include a 14-day free trial.
The plans:
Solo – 1 seat, $110/month
Professional – 3 seats, $180/month
Agency – 10 seats, $400/month
Partner – 25 seats, $2500/month
Bonus points for including White Label options for every plan at no additional charge.
"I really like how it takes information from many different sites and brings all information to me! I don't have to go to many sites to track the reviews and comments.
The data is put into charts that help the presentation to company executives. I am very excited to be using this product"
Mentionlytics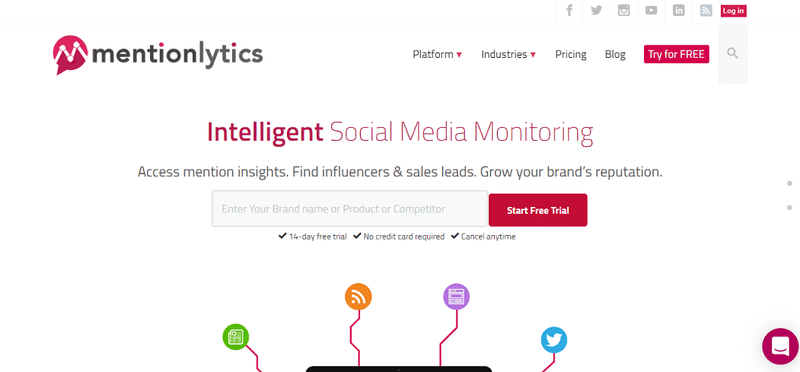 Mentionlytics is a tool that focuses on:
Social intelligence
Media monitoring
Review monitoring
Social media reports
Publishing
It's best suited for agencies, nonprofits, hospitality, financial institutions, web3, and crypto.
Not only can you track insights about your own brand but also about competitors.
They don't have a free plan, but all of their options (except the Agency version) come with a free trial. The plans:
Basic: 5 users, 10 social profiles, 10k monthly mentions – $49/month
Essential: 10 users, 20 social profiles, 30k monthly mentions – $99/month
Advanced: 20 users, 30 social profiles, 60k monthly mentions – $199/month
Pro: unlimited users, 40 social profiles, 100k monthly mentions- $299
Agency: unlimited users, 60+ social profiles, 200k monthly mentions – $450
"Mentionlytics gives me the feeling of being supported in my project at all times. The support is exemplary, and the implementation is extremely fast.
Even customized special requests were implemented immediately so that I have a report that is completely tailored to my needs.
When choosing an institute, it was crucial for us to find a provider that could not only deliver the tracking results as a dashboard, but that also allowed for a comprehensive export of the information.
Mentionlytics proved to be the optimal option here."
Brand24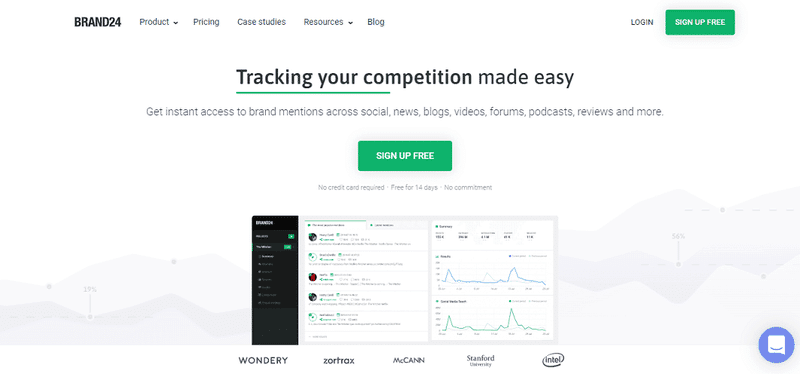 Brand24 was created for businesses of all sizes. It allows you to monitor all major social media platforms like Facebook, Instagram Twitter, plus websites, forums, or blogs that mention your name i.e. brand.
Their key features are:
Mentions feed
Discussion volume chart
Marketing analytics
Influence score
Sentiment analysis
Alerts
Data exporting
Filtering
Brand24 doesn't offer a free plan, but you can sign up for a free 14-day trial. If you sign up for the yearly billing, you get 2 months for free.
Otherwise, these are their monthly billing plans:
Individual – 1 user, 2k monthly mentions – $59/month
Team – unlimited users, 5k monthly mentions – $119/month
Pro – unlimited users, 25k monthly mentions – $179/month
Enterprise – unlimited users, 100k monthly mentions – $299/month
"I reviewed and tried several different brand and media reach & monitoring services, and Brand24 was the best.
They offer the complete toolkit for setting up your monitoring, especially tracking #hashtag mentions, which not many services do.
As a marketing agency, I especially valued the AVE to show my clients the dollar value of our social media and podcasting work.
The reports were both detailed and visual and can be customized. My clients loved them.
I also liked the ability to reclassify a mention as positive, neutral or negative because AI can get the sentiment wrong because of context."
Social Mention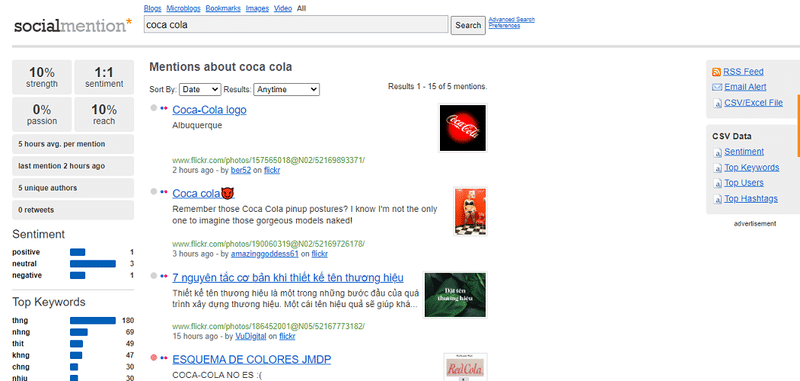 Social Mention allows you to monitor mentions of your brand or keywords across social media platforms.
You can also use it to monitor your competition and measure your brand's sentiment.
The best part is that this is a free tool, so anyone can use it without fearing that it will drain $$$ from your budget.
It operates as a search engine, and you can track alerts, trends, and API directly from the website.
The downside is that it probably doesn't create a library of searched terms as it doesn't require any type of registration or creating of an account.
EmbedFeed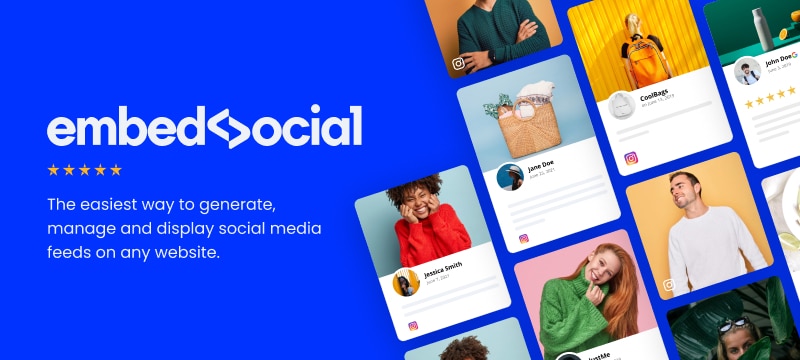 The primer function of EmbedSocial is to give users ability to generate embed social media feeds from various social media profiles. Additionally, EmbedFeed has the capability to aggregated posts that other people publish, by using a specific hashtag or the posts that mention users' profiles.
That said it is a simple yet powerful social media monitoring tool, that in just few clicks will allow you to fetch posts that your customers publish on social media by using a certain hashtag.
The main use case are Instagram and Facebook where EmbedSocial provides direct API integration with their platforms enabling seamless sync.
How to get started with social media monitoring (tips/steps)
The process can be simple and easy as long as you follow these few (and logical) steps.
Consider them as a blueprint for whenever you want to go on a new monitoring quest.
Step 1: Decide what you need
When you identify your goals, it will be easier to set the tool for specific searches.
Are you looking to improve your marketing efforts? Gauge customer sentiment? Monitor your competition? Identify potential leads?
Each goal may require different tools and tactics.
Here are some of the things you should consider when configuring the settings:
The name of the company or brand being monitored
The social media sites to be monitored
The language of the social media sites
The type of monitoring (real-time or historical)
The time period for monitoring
Step 2: Choose the most relevant keywords and hashtags
Keywords and hashtags are important for social media monitoring because they help you track the conversations that are relevant to your business.
You'll want to track both general keywords and those specific to your industry.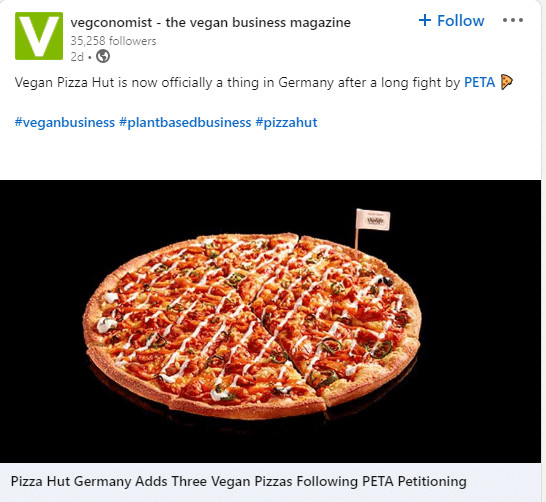 Step 3: Optimize the search results
As we said, there's a lot of noise out there, and sometimes even the relevant keywords and hashtags might not be of help.
So, make sure you refine those search results to weed out any spam or unrelated searches and focus on identifying trends and categorizing relevant results.
Step 4: Analyze and create your strategy accordingly
For example, not all social media channels are created equal. Some are more popular with certain demographics than others.
You'll want to track the social media trends and channels that your customers are most active on and shift your focus over there.
Sometimes, your social media monitoring report might show negative feedback from your customers.
Should this happen, you can use this data to improve anything that might have caused this negative trend.
The point is to use the information for adjusting and adapting.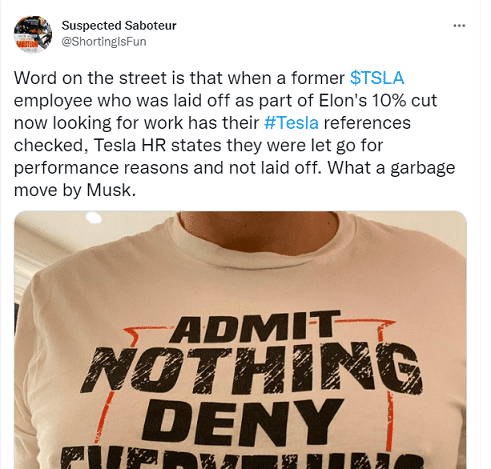 Step 5: Setup social media monitoring tool
Once you've defined your strategy, the hashtag, and the goals of your social media monitoring, the last thing you need is to set up the social media monitoring tool that will help you aggregate the content and data so you will be able to start your analysis.
In the following steps, we will show you how to set up EmbedSocial so you can aggregate all the posts from a specific hashtag and collect them into one platform for further analysis.
Before you start, create a free trial account to get the hashtag functionality.
Step 1: On the Sources page, click Instagram
Step 2: Next, click Hashtags and write the hashtag you want to monitor
Step 4: Choose a widget layout and click 'Create widget'
That's it.
Now you have all posts in the platform.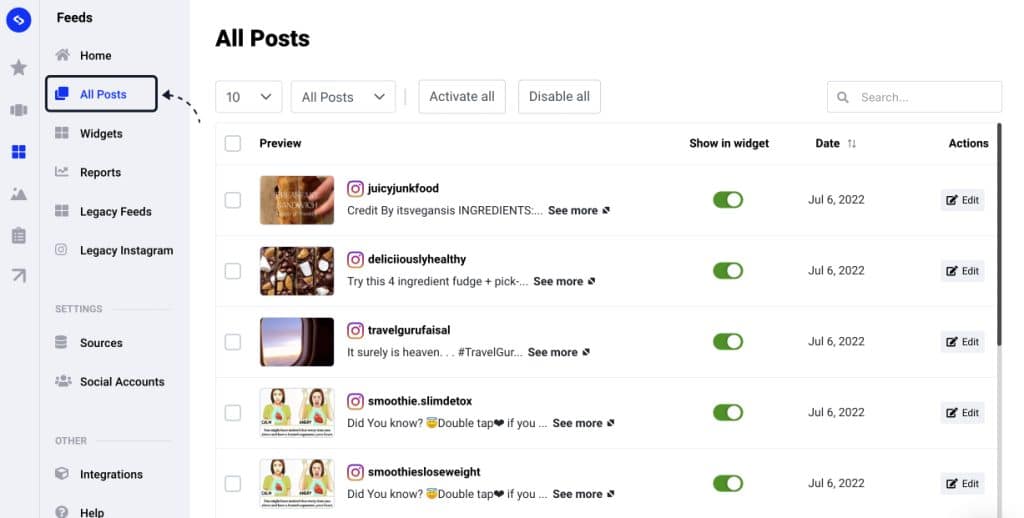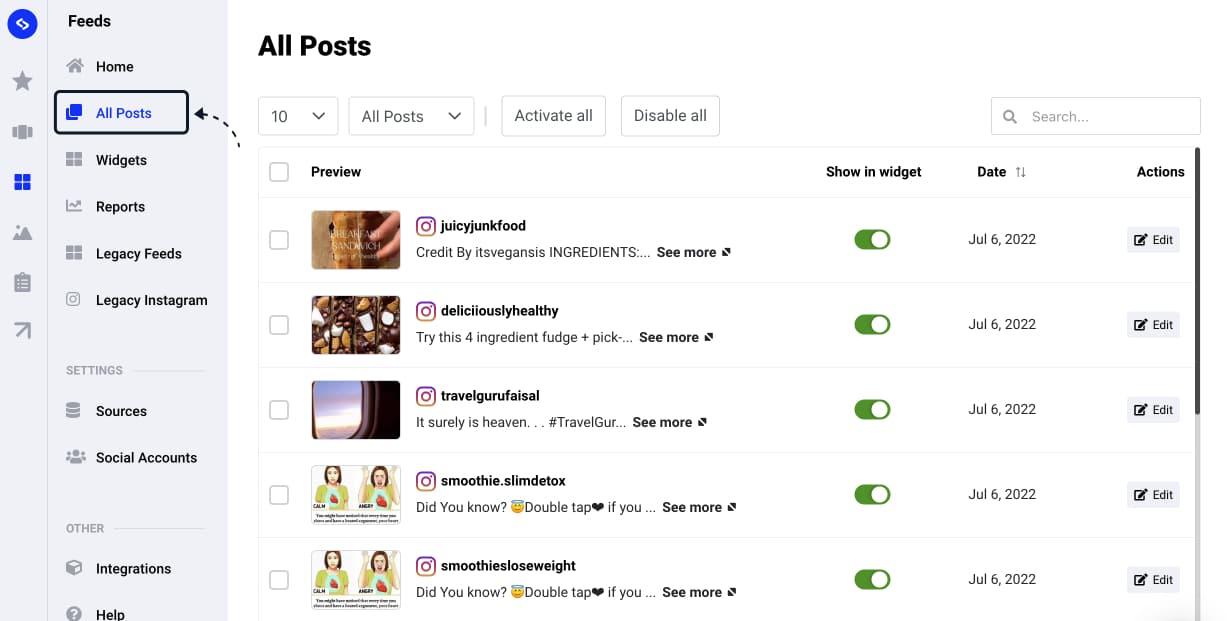 To view and search through the posts go to All posts and use the search option to find particular posts mentioning a keyword you are interested in.
FAQ about social media monitoring
What is a social media monitoring tool?
Social media monitoring tools are platforms that help you collect data about mentions of your brand on social media. They also track hashtags, keywords, and URLs that are relevant to your business.
What are the different ways to measure success on social media platforms?
The most important metrics you need to pay attention to are the engagement rate, the share of voice, reach, impressions, referrals, conversions, response rate, and response time.
Why do we need social media monitoring?
Social media monitoring provides relevant information from social media about your brand, like positive or negative feedback, and offers a better understanding of why or how people are talking about it. Having this information helps you improve your marketing strategy and strengthen your brand.
What is a social media KPI?
Media KPI stands for key metric indicator, and it's the metric that shows you if your marketing strategy is effective on social media.
What are the disadvantages of social media monitoring?
Social media are very crowded places, so it can be difficult to find the information you need quickly and easily. That's why you should focus on tracking specific metrics, so you don't get caught up in all the noise.
Key takeaways
As technology advances, it's becoming increasingly important for businesses to be aware of what's being said about them online.
Aside from the potential for dealing with and learning from negative publicity, social media monitoring can also provide valuable insights into customers' needs and preferences.
Companies that take the time to monitor social media channels are more likely to be successful in creating engaging content and building relationships with customers.
We hope this article helped you in deciding on the best social media monitoring tool for your business, so the only thing left for you to do is – to try it.
---
FYI: Embed Instagram widget automatically with the social media aggregator and UGC platform by EmbedSocial. Click below to try it for free: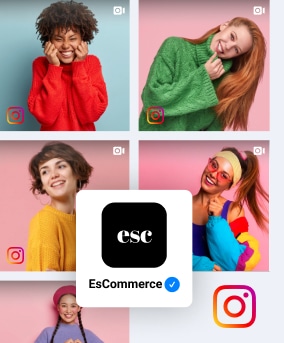 Embed Instagram widget on your website automatically!
Try EmbedFeed and display Instagram content from your feed, mentions, or hashtags on your website.
All PRO features | Cancel any time.