Facebook is basically essential at this point for businesses with online marketing strategies. Like an email checker, this social media is part of a digital marketer's arsenal of tools. It allows you to connect with customers, keep people up to date on products and services, drive traffic to your website, and notifications help increase click-through rates (CTRs). Facebook's review feature is integral to this.
Positive reviews can encourage others to purchase your products or try your service. In fact, 87% of people say a business needs a 3 to 5-star rating before they will use them.
Unfortunately, not all ratings will be positive. So, what can you do about negative feedback and reviews? Below are some options to consider when replying to negative Facebook reviews.
How to Handle Negative Facebook Reviews?
It's important that all feedback given is responded to, whether it's good or bad. Ignoring feedback will demonstrate that you have little regard for your customers and do nothing to placate those that are dissatisfied. On the other hand, a response shows respect and understanding of your customers' experiences.
Be patient and always have an understanding.
52% of customers expect to hear back from brands within seven days of giving a review, especially ones that are critical. Write a short, non-confrontational reply to show that you understand and sympathize with their poor experience.
To tackle the immediate response more effectively, you can use an Autoresponder for Facebook reviews and automate your reply. By doing this, you will never miss a review and will show your reviewers the importance of their actions for your company.
It is a fact that people can accept a reasonable delay in the response, but according to a Sprout Social study, they can wait for 4 hours, and most of businesses take more than 10 hours to respond.
That is why you need to consider setting your Facebook page to send notifications once you receive a review and setting up an autoresponder that will immediately reply with a custom message.
Once you receive a review, your focus must be on exceeding their expectations.
Offer to make things right and send a personal message proposing some token to show you are sorry: A discount on their next purchase can go a long way in making amends.
Reasons for Negative Facebook Reviews
There can be many reasons for negative Facebook reviews:
A misunderstanding of the service you provide
The products' capabilities were not as expected
A poor experience with customer service staff
What may be perceived as exorbitant prices for your product or service
With this in mind, we've compiled a few different examples so you can see how other companies are responding positively to negative reviews on Facebook.
Suggested Responses for Negative Facebook Reviews
True Taco received a 1-star rating from a disgruntled customer about poor service and bland food. The suggested response sympathizes and takes things out of the public sphere whilst offering to put things right at the same time:
"[Customer Name],

Thank you for your feedback.

I'm very sorry to hear about your experience. This is definitely not the standard of service we aim to provide.

I am sending you a private message now so we can resolve this issue for you as soon as possible.

Thanks!"
Kréme de la Kréme Nail Lounge received a mixed review on Yelp about their service, stating that although the experience was great, it was overpriced. Their response manages to address the client's concerns whilst also flipping the negative price into a positive point:
"Dear Cassandra,

So glad you enjoyed the cupcakes and liked our jewelry.

Yes, our prices are slightly higher than your usual nail salon. Our stainless steel implements are sterilized in an autoclave, that's the same machine a Dentist's office uses to make sure their implements are clean and safe."
Forest Grove Veterinary Clinic received some pretty damning comments in a poor review of their service, price and ability with a 1-star Facebook review. Their response directly addresses the customer's comments whilst also upholding their company values:
"Hello Jess,
We are sorry that you are unhappy with your experience at our clinic. Our number one priority is always for the pet's well-being.

Unfortunately, our animals are unable to tell us what is wrong with them. When an issue presents itself veterinary teams must use a process of elimination to figure out what could be causing the problem.

We understand this process can be draining emotionally and financially for a pet parent, which is why our veterinarians make recommendations for testing based on their experience, expertise and dedication to practicing a high level of medicine."
We suggest reading the rest of their response, which goes into further detail and strikes the right balance between sympathetic and informative.
Recommended Reading: Facebook Recommendations And Reviews System
Bury Negative Reviews with the Positive Ones
65% of people are more brand loyal, and 25% percent are less likely to go somewhere else or post negative things when their reviews are responded to. Furthermore, 50% of people claim they will leave a review for a business if requested.
Responses should include specifics of the feedback received. Include your business name and location to help it appear in search results (unlike with a negative review, you want this public), thank them, and include information about upcoming sales, promotions, or events for their benefit. This is a perfect example of a response to a positive customer review:
"Hi [Customer Name],

It's great to hear that you enjoyed [specific product/service mentioned]. All of us at [business name] were proud to hear your comments!

We've also passed on your review to [staff member's name if appropriate] and she/he's thrilled.

Next time you're at [insert store location] look out for our [feature/special/upcoming event]. Thanks for your feedback; we look forward to seeing you again soon!

Regards,

[Business name/Manager/Owner]."
Responding to positive reviews is a great way to encourage more of the same, and it will turn around the adverse effect of negative reviews.
How to Display Facebook Reviews on your Website?
Positive Facebook reviews can also be embedded on your company website to help convert visitors to customers faster.
By showcasing your customers' words on your website, it will show future prospects your transparency, past success with other customers, and willingness to share your experience by writing you a positive review.
How to Remove Facebook Reviews?
Unfortunately, you can't delete negative reviews from Facebook accounts, but there are other options:
Report negative or disrespectful reviews to Facebook's Community Standards. The review will be checked and removed if found to contradict Facebook rules. It's worth keeping in mind that low star ratings cannot be removed.
Disable ratings and reviews on your Facebook page. This is not generally recommended. Not only will you lose the negative reviews from your page, but all those positive reviews will be lost, too. It can also impair your SEO as the map will also disappear from your page.
Ban the reviewer from your page. Again, this is not highly recommended. However, dealing with a persistent troll is another matter. Under the "Settings" for your page, select "People and Other Pages". A list of people who Like your page, along with a settings icon to the right of each person, will appear. Click the settings icon for the reviewer, and select "Ban From Page."
All businesses receive negative reviews at some point.
How you handle them will make the difference between strengthening customer loyalty versus damaging your bottom line.
Hope this helps.
FYI: You can embed Facebook reviews widget automatically with EmbedReviews platform. Start a free trial and display your Facebook Page recommnedations now.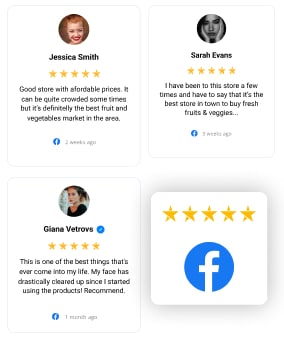 Embed Facebook Recommendations and Reviews on your Website
Try EmbedReviews, generate Facebook and Google reviews, and display a social media reviews widget on your website. Automatically and in seconds.
All PRO features | Cancel any time.