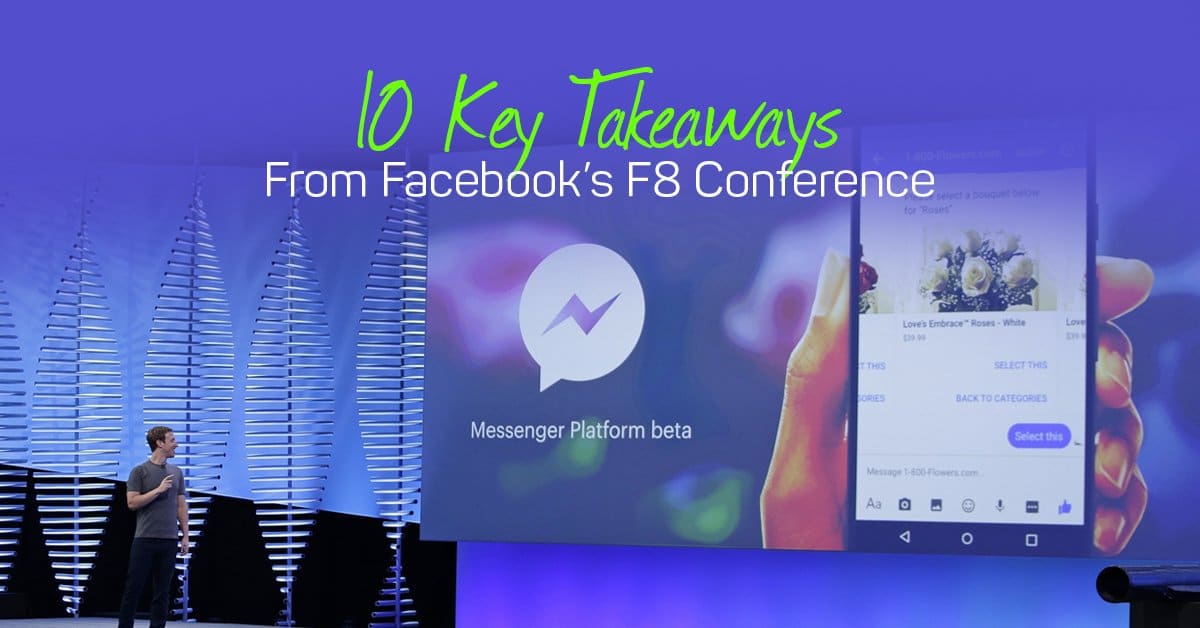 The F8 conference originated a decade ago when Mark was hosting hackathons to push the Facebook teams to think few steps ahead from their normal 8 hour work day.
And when Facebook hosts their F8 developer conference it is usually perceived as a developer momentum (it's origin and name confirms it) but marketers and business people MUST attend or follow the announcements with great attention. Why? Because as we know for the past years, Facebook has pushed the industries forward and become a leader who dictates the future trends, and you as a marketer or businessman must catch up if you want to compete.
Me as a marketer/tech nerd and a CEO of a technology company who personally attends F8 and follows their announcement for the past 7 years, will definitely urge you to bookmark this post where you will find the summary of the most important announcements and the START now links to developer documentation.
1. Push notifications
A very interesting topic for me and our EmbedSocial platform.
This is a very useful tool that originally was part of the Parse platform. Facebook has obviously decided to be a very good friend with mobile developers and help their apps retain and engage users. This re-defined tool can be accessed in the Analytics section of your app and is beyond powerful than just pushing notifications out there. These notifications are smart and you can connect them with the events or actions that users are making or not in your app
For example, you can create a push campaign, that will only engage users who have added a product to the shopping cart in your mobile app but have abandoned the checkout.
In short, below I've outlined the most important features available in the Facebook's push in-app notifications tool:
Create campaigns based on how people use your app – Running a sale or special offer? Are customers abandoning their carts? Schedule one-time or continuous campaigns to reach your audience with the right message at the right time.
Customize in-app notifications to get results – Customize your in-app notifications with photos, animated GIFs, buttons and more. Optimize the design and text to improve your user experience and increase clickthrough.
Useful links:
Push notifications documentation >>
Analytics for Apps Quickstart guide >>
2. Messenger platform – Chat Bots
The very expected enhancement of the Messenger platform is here. Facebook has just released their new Messenger API for building chat bots and with that a new direction of the future business trends and customer service.
Bots now live in Messenger and you can find them with a simple search in the Messenger app or you can use Web plugins, Messenger Codes, Messenger Links, or Messenger Usernames.
Bots can easily replace any form or lead generation page, and instead of boring the customer to death by fill in the same information all over again, you can have a bot guide him through a chat and get all the answers you need. Chatting and answering questions is a natural experience and native to everyone, as opposed to filling out form 🙂
I believe that you are aware of the benefits the bots can bring to your business, so will quickly jump at the things that the Messenger platform provides in order to build them:
Send/Receive API.This new capability includes the ability to send and receive text, images, and rich bubbles with CTAs.
Structured Templates. Choose how text, photos and CTAs appear and chat in the way that works best for you.
Wit.ai Bot Engine. Use artificial intelligence to identify what people are saying and create scalable, delightful experiences in an instant.
Before starting to build your first bot, please note this disclaimer from the Messenger policy:
The Send/Receive API must not be used to send marketing or promotional messages, such as sale or product announcements, brand advertising, branded content, newsletters or the up-selling or cross-selling of products or services.
Useful links:
Messenger platform documentation >>
https://wit.ai/
Once you build your bot, you will need to submit it for a review and get it approved by the Facebook team.
3. Account Kit:
I believe that you are already familiar with the benefits that the Facebook login button brings to your apps. It enables users to easily register, you will get authentication of the user and it is very easy to implement it.
To maintain these same benefits for the non-Facebook users or the ones that do not want to connect with their Facebook profile, Facebook is providing an Account kit that will enable easy login with just a phone number or email address. Here is a sample layout that the Facebook team provided:
With that said, you might expect greater user registration by eliminating the long registration process as a barrier to entry in your app.
Useful links
Account kit documentation >>.
4. Instant articles
Finally, Facebook made the Instant articles available to everyone. It is a concept of allowing publishers to post their articles in more engaging and sharable format. You can use Instant articles to preload your content in the Facebook app, and open it right away. This is very useful as loading times for mobile pages is way too long in today's fast paced lifestyle, simply the user don't want to wait 6-10 seconds for your page to load.
Personally, I really like this feature and when using the Facebook app, if an article has the sign for Instant article I'm more inclined to click and check it out.
I know that you are very excited to start using this new tool, but before you submit a batch of articles for review, use the Submission Checklist to confirm they are ready for review.
If your article feed is compliant with the Facebook community standards and content policies then you can start using this cool new feature. Follow the steps bellow:
Develop and submit your sample articles.
Begin publishing Instant Articles.
Once you activate the Instant articles for your Facebook Page, a new menu will appear in the Settings section of your page:

Please note that the Instant Articles will never post to your Facebook Page automatically, even after you are approved. Once your content is distributed to Facebook, there is a web-based Instant Articles editor (accessible via your Facebook Page) that can be used to manage your library, edit individual articles and publish manually.
If you want to dig deeper in the instant articles concept, try exploring the offerings provided by the Instant article partners. These are companies such as WordPress, Drupal that provide tools that will help you to publish, analyse and make the most out of the Instant articles.
For example, you can download the official WordPress plugin for publishing Instant articles. With the plugin active, a new menu will be available for you to connect to your Facebook Page and start publishing your Instant Articles. You'll also see the status of each Instant Articles submission on the edit page of your posts.
Useful links:
Quick start guide >>
Design Instant Articles documentation >>
5. Live API
With the Live API, media organizations can seamlessly incorporate Facebook Live into their existing broadcast setup and also create new ways to interact with their viewers. The Live API also makes it possible for device manufacturers to integrate Live directly into their latest video products.
The best example was showcased on stage by Mark, when a drone was Live and streaming the keynote. Imagine the possibilities for live streaming authentic and live coverage of everyday and special events directly from a drone 🙂
Or you can go Live not just by using your phone, but from you GoPro, your home camera, your drone and every camera you can think off.
For now there are only a small number of partners that can use this API, you can find them here, or you can apply to get access here.
Useful link:
Live API Documentation >>
6. Pages
More prominent call to action buttons and the page layout for mobile is tremendously improved. Furthermore, Facebook is making efforts to help developers use APIs to manage these call to action buttons and making the page more configurable for their clients.
A new page navigation design with tabs, where a business can add it's own services and customize it according to it's customer needs and wants.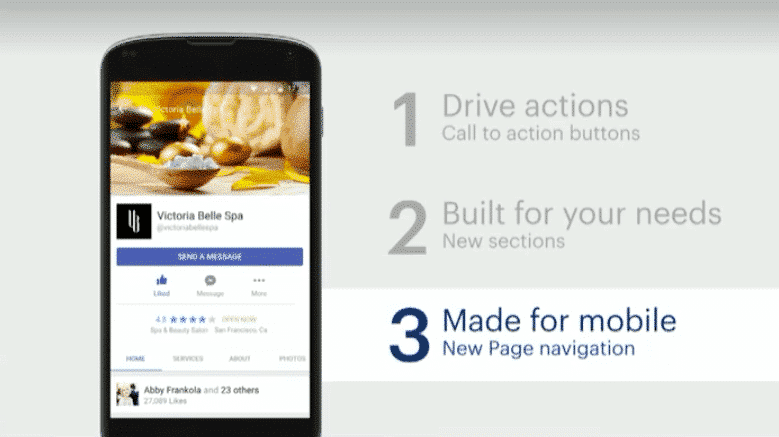 Useful link:
Video presentation .
7. Social plugins – Save button
The save button is an option to save articles and links from anywhere on the web in your Saved section inside Facebook. The save option is pretty useful for saving links when you come across them in your newsfeed, that you can later come back to, and not scroll up and down the newsfeed in order to find it. The save button will allow you to do the same for links, articles and videos outside of Facebook as well.
You can create a Save button for your website here.
8. Social plugins – Quote plugin
This is a very useful plugin when you want to share an article, now you can highlight a quote from the article in the story that will appear on your friend's newsfeed. This will give your friends or followers one more reason to click and read that story or article.
You can try this plugin right away on this post, just highlight some text and hopefully you will share it as well 🙂
Find how to implement it on your website here.
9. Sponsored messages
In a post by David Marcus, VP of Messaging Products, he mentions that they are testing sponsored messages – and building a new suite of controls and policies that his team is putting in place now and for the future development of the Messenger platform.
10. Facebook Marketing API – latest features in v3.0
The marketing automation is a very interesting topic for my team especially that Facebook help us to build solitions that can acquire customers in a programmatic, customizable, and scalable way. The Facebook team announced New Static Recommendations API that helps prevent the creation of sub-optimal, under-performing ads by providing recommendations for advertisers. Also a new Facebook Ads Java SDK is released and updates to the existing Python and PHP SDKs.
If your are more interested about the updates in the Facebook APIs, check out all updates introduced in the latest Graph API v2.6