Facebook Reviews Widget for Squarespace
Display your Facebook on your Squarespace website in a few clicks!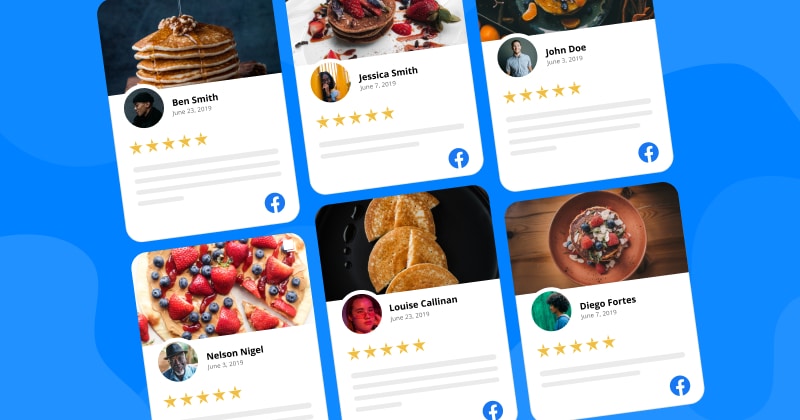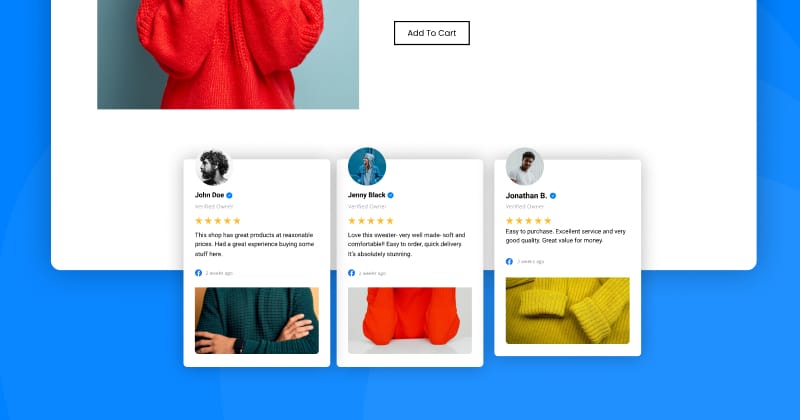 About EmbedReviews: an all-in-one reviews management tool
Customer reviews are the best form of social proof for your products and services, so it's crucial to utilize them in as many ways as possible.
One powerful way you can do this is to embed customer testimonials from your Facebook page directly onto your website.
Even if you're coding inept, we got your back!
EmbedReviews platform is a powerful reviews management tool that can capture, store, and display your reviews from Facebook.
We pull the reviews posted by your fans on your Facebook Page. All you need to do is choose from the wide range of modern ready-to-go widget layouts and try the customization and modification options to display social proof on your Squarespace website at a glance.
Showcase testimonials from happy users, attract potential customers, and convert them effortlessly, thanks to our advanced reviews generator.
Increases trustworthiness for your brand
Boosts user engagement and visitor's dwell time
Expands your Facebook reach a so do your followers base
Encourages more conversion and sales
Reviews widget designs that look great on every device and fit any Squarespace template
Advanced options to filter the reviews and prioritize reviews to be shown on the top of the feed based on the number of star ratings, comments, or likes
20 pre-defined widget layouts that are fully customizable
CSS editor for a complete makeover of the widget appearance
Option to add a 'Leave a Review' button anywhere on your website
Create multiple buttons for collecting reviews and place them on any website
Embeddable badges that show the average rating of your reviews
Automatically display the latest reviews on your website
An autoresponder that will post 'Thank you' cards to every new review posted on your Facebook Page
Respond directly to testimonials within the reviews widget without the need to signup to your Facebook account
Craft and send an email request to customers to generate more reviews
Add reviews manually – write the reviewer name, photo, rating, and message
Automatically import your reviews from other sources
Create a combo review feed with reviews from multiple sources: Facebook pages, Google location, Yelp, or option to submit reviews manually
Option to create Facebook Ads using the reviews collected from your customers
Alerts on Slack or email for upcoming reviews
Aggregated schema.org code that will display a star snippet next to the Google search results of your website
Option to export reviews data in a CSV file and import it into any CRM or email management system
No need to install or maintain a Squarespace plugin
How to embed Facebook Reviews on Squarespace
As mentioned, there is no installation required to use the EmbedReviews platform on your Squarespace website.
To get started, check out the steps below.
Steps to embed Facebook Reviews in Squarespace
Start a free trial for EmbedReviews and connect your Facebook page
Select the Facebook page from where you want to pull the reviews
Setup the layout and add customizations
Once done, copy the HTML code located in the top right corner
Log in to Squarespace and open the page where you want to embed
Click the plus + icon to add a new block and select 'Embed' block
Paste the provided code, click 'Set' and 'Save'
Along the way, if you encounter any issues with displaying your widget (it can happen to all of us), don't hesitate to reach out to our dedicated customer support team, and we will be happy to help you craft a superb social proof for your Squarespace website.
Start your free trial
Build trust to increase sales
Collect and show online reviews on your website right now.
All PRO features included Cancel any time