If you use Instagram to promote your brand, you may already know that this social network goes a long way to help you connect with your customers in a more direct and personal manner.
But what about those consumers who may not be familiar with your social presence? Can you have the same outcome using your website?
This is now possible with the EmbedAlbum platform!
We developed a simple tool that will help you automatically generate Instagram Photos from up to 15 sources and display them on your website in an eye-catching and fully interactive widget.
We have a direct integration with the Instagram API, so you can create an unlimited number of Instagram albums for your website in seconds.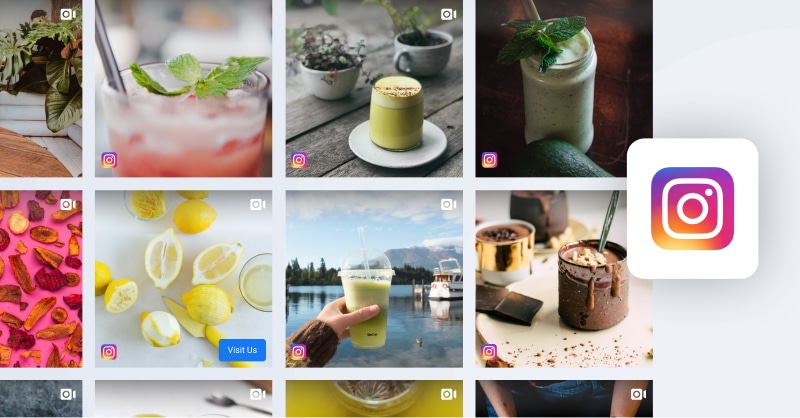 The benefits of showing Instagram photos on your website
Improves the user experience, engagement and average time on page
Displays your marketing campaigns in a modern and easily consumable format
Shows your products in a creative and familiar way
Boosts conversion when adding CTA buttons on your widget photos
Promotes your Instagram account and converts website visitors into Instagram followers
Embed your Instagram photos with fully customizable layouts
We developed a variety of layouts that look great on all desktop, tablet, and mobile devices. Fully customizable and interactive, they can adjust to every website branding and emphasize the uniqueness of your brand.
Customize the size of the photos, choose the number of pages, explore the pagination and custom padding options, try the lightbox experience, and fix your captions. The opportunities are endless.
The bonus? With just a click, you can connect the widget to your Instagram profile and see how your followers base will expand in a blink.
Custom CSS editor for your Instagram album widget
Our design options don't fit your website branding? No problem!
We made the EmbedAlbum platform so flexible that you can completely do a makeover of the widget look with our Custom CSS editor.
If you have no idea how to use the CSS option, or you may want us to guide you in the process, don't hesitate to reach out to us and we will do our best to help you create your desired widget look and feel.
How to embed an Instagram Photo Album on my website?
It takes less than a few minutes to craft your Instagram Photo widget. Just follow the steps below:
Start your free trial for EmbedAlbum
Connect your Instagram account
Choose a layout, explore the settings options or add CTA buttons
Copy and paste the provided code in the body section of your website to display the widget
Create multiple Instagram album widgets for every website you have
We won't limit you on the number of websites you can use to display an Instagram widget. No matter if you have one of ten websites, you can create an Instagram photo widget for all of them within the same account.
EmbedAlbum is developed to be a time and energy saver for marketing agencies that serve plenty of clients and businesses with several branches and different website domains.
How to embed Instagram photo album on WordPress?
It's easier than it sounds. Once you craft your Instagram album feed, just copy the shortcode we provide you with and paste it into the HTML section where you want the Instagram Album widget to show.
Download our official WordPress plugin to get started!
Need help?
Frequently asked questions about Facebook Album Widget
Have some questions on your mind? Feel free to explore the FAQ section or contact us on the chat icon below.
Yes! You can generate Instagram photos from up to 15 sources which is equivalent to the number of Instagram accounts you want to connect to the platform. The number of sources depend on the pricing plan you choose.

You have 10 fully customizable and responsive widgets at your fingertips:

Instagram Grid widget (2 different layouts)
Instagram Masonry widget
Instagram List Slider widget
Instagram Slideshow widget (with and without vertical thumbnails)
Instagram Carousel Slider widget (2 different layouts)
Instagram Different Size Photo Slider widget
Instagram Three Column widget

Yes! This is a perfect way to leave a unique fingerprint on the widget. Try the layouts, browse the settings and design options, or check the custom CSS editor for more advanced customization options.
Yes! If you are in the e-commerce industry, it might be a good idea to add shoppable CTA buttons to your photos. They will direct visitors to the place where they can buy the product that caught their attention.

Yes! You can display your Instagram Album on all the major CMS platforms and web builders we integrate with like WordPress, Squarespace, PageCloud, Joomla, Wix, Weebly, Shopify, Magento, OpenCart. Additionally, you can embed your widget on every platform that allows embedding javascript codes or 3rd party iframes.

Yes. Once you cancel the subscription, the widget will automatically be removed from your website. We can assure you that it barely comes to this point because you will witness the benefits of using an Instagram widget on your website in no time. 🙂
Browse albums widgets templates