Did you know that top brands are elevating their online presence and boosting their own social media platforms' reach with their Instagram feed embedded straight on their websites?
Below, we've curated a few Instagram feed examples that show just how exactly you can overcome the challenge of standing out in today's crowded digital landscape. They captivate visitors with their visuals and highlight the strategic advantages of such integration.
Get ready to be inspired as your website comes alive with Instagram's vibrant energy!
---
FYI: Embed Instagram widget automatically with the social media aggregator and UGC platform by EmbedSocial. Click below to try it for free: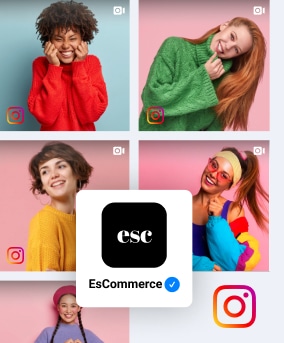 Embed Instagram widget on your website automatically!
Try EmbedFeed and display Instagram content from your feed, mentions, or hashtags on your website.
All PRO features | Cancel any time.
1. Embedding Instagram hashtag feeds
One of the best ways to implement an Instagram feed is to collect and embed all the posts centered around a unique hashtag. Why? Well, running a social media campaign via hashtags is extremely straightforward since you automatically segregate the content you need.
For example, check out how GivingTuesday—a global movement of generosity—has created a campaign around the hashtag #ordinaryextraordinarygenerosity, which they used to collect all the posts tagged by users and embed them into a hashtag feed on their website: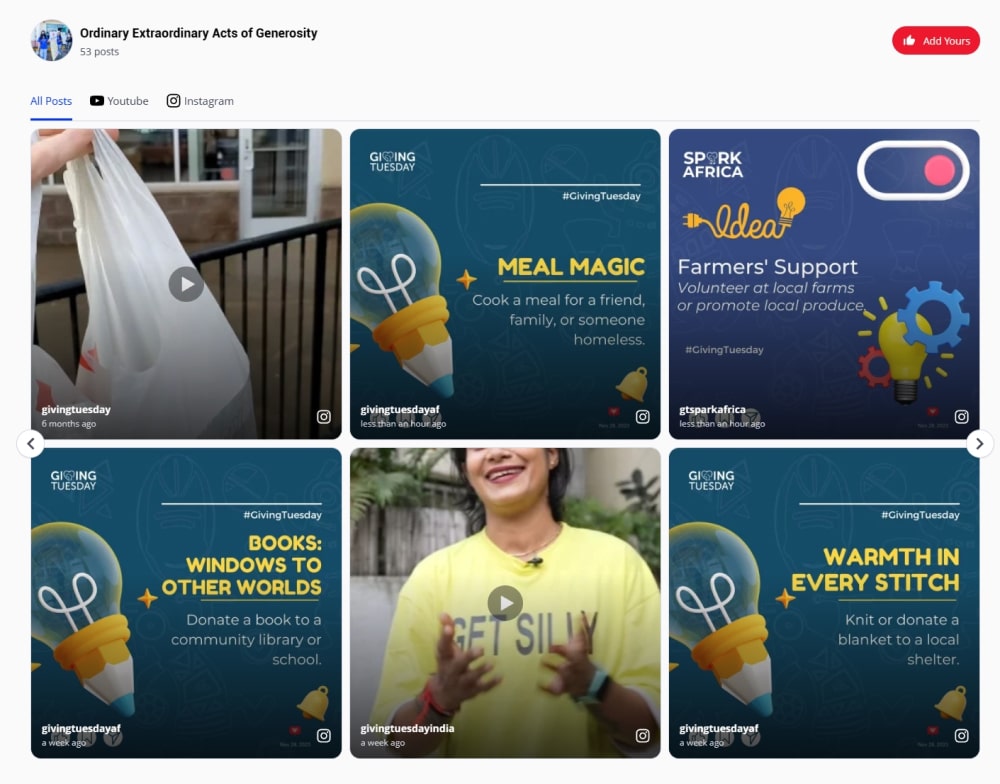 The brand doesn't even have to update its widget since it's set up to automatically pull and add every new post tagged with the aforementioned hashtag. In essence, they've implemented a self-sustaining marketing asset that will keep on providing benefits in the long run.
2. Display your best Instagram posts in grid widget
Do you want to create and embed an Instagram grid widget that resembles Instagram grids? You can easily do that by choosing the grid layout when creating your widgets.
For instance, William Paul Floral Design—an Atlanta florist—creates gorgeous floral bouquets that it showcases in an equally stunning grid widget embedded on the official site: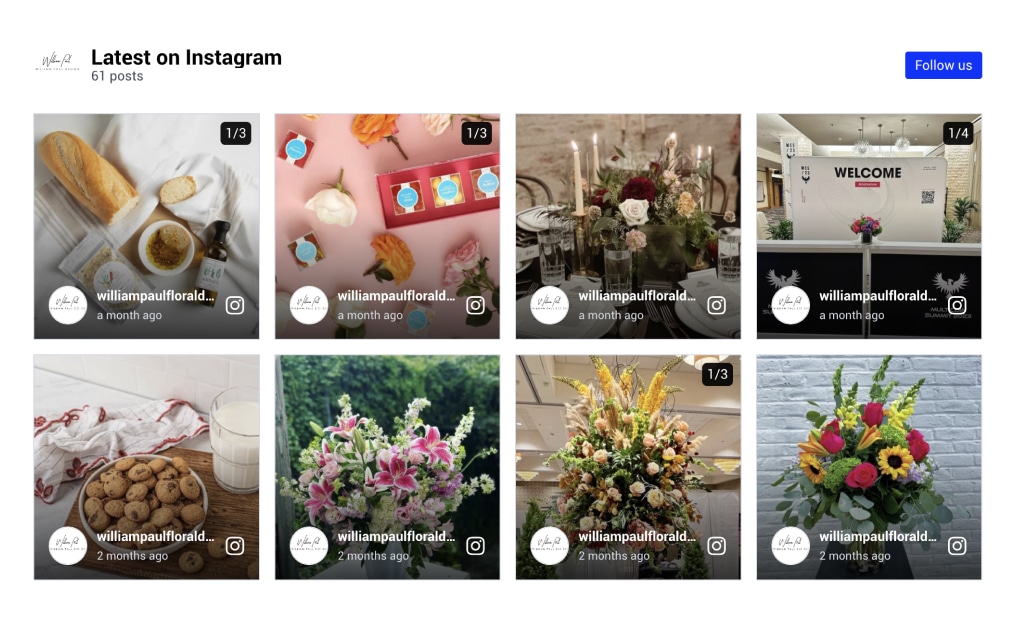 Arranging your UGC in a grid is a simple yet very powerful and orderly visual addition that offers equal importance to every single piece of its user-generated content. That way, your visitors will feel like they are browsing your offering straight from the Instagram app.
3. Displaying Instagram posts from business handles
There are certain brands that collect public feeds from business handles for several reasons, including but not limited to showcasing positive reviews of products and services, enhancing their website with related content from other experts, and keeping track of favorite influencers.
For instance, here's how a YouTube tech channel may incorporate an Instagram feed that includes public posts from Apple, Samsung, and Xiaomi: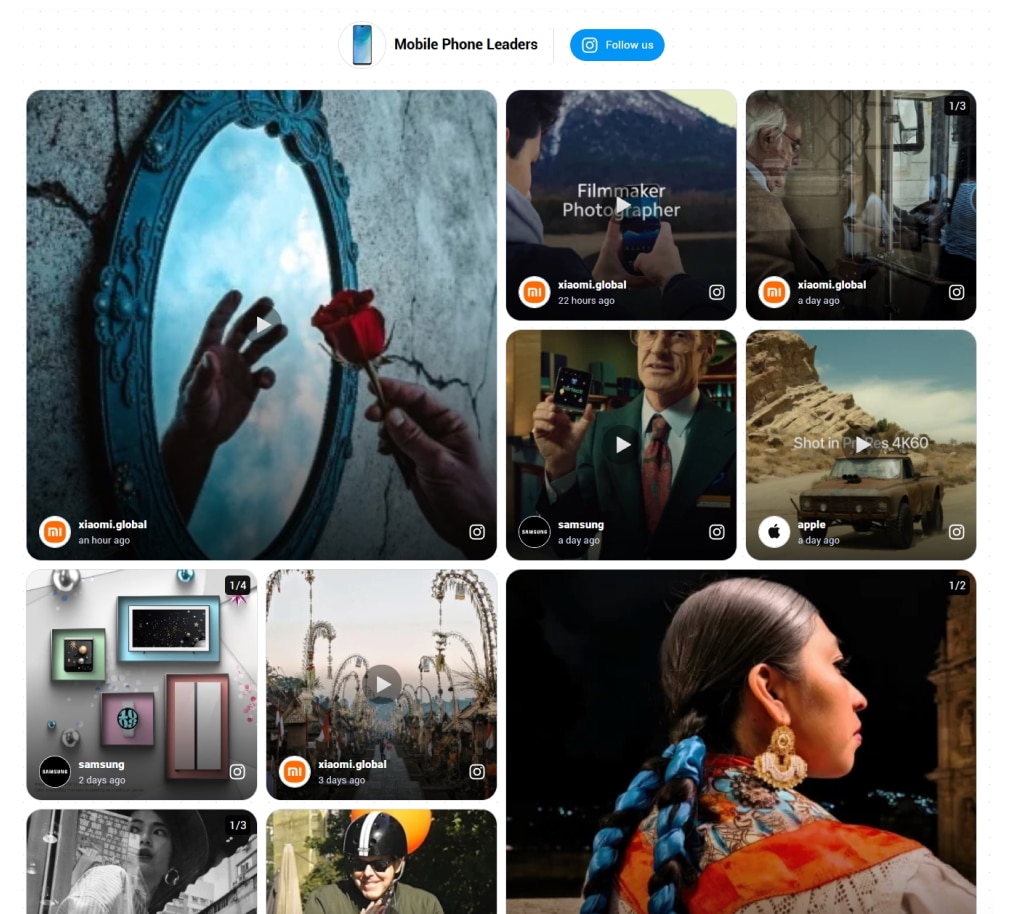 As you can see, this collage widget automatically embeds the latest posts of all three major brands posted on Instagram. That way, Instagram users and website visitors will immediately get all the latest information in one place without having to visit each separate page.
4. Instagram carousel feed
Are you looking for a great Instagram feed plugin that looks great across platforms? Look no further than the simple carousel feed that adjusts itself based on where it's implemented.
For example, Cologne's Centurions—an American football team based in Cologne, Germany, that plays in the European League of Football (ELF)—have strategically placed a carousel feed widget in the middle of their main web page that automatically slides through posts: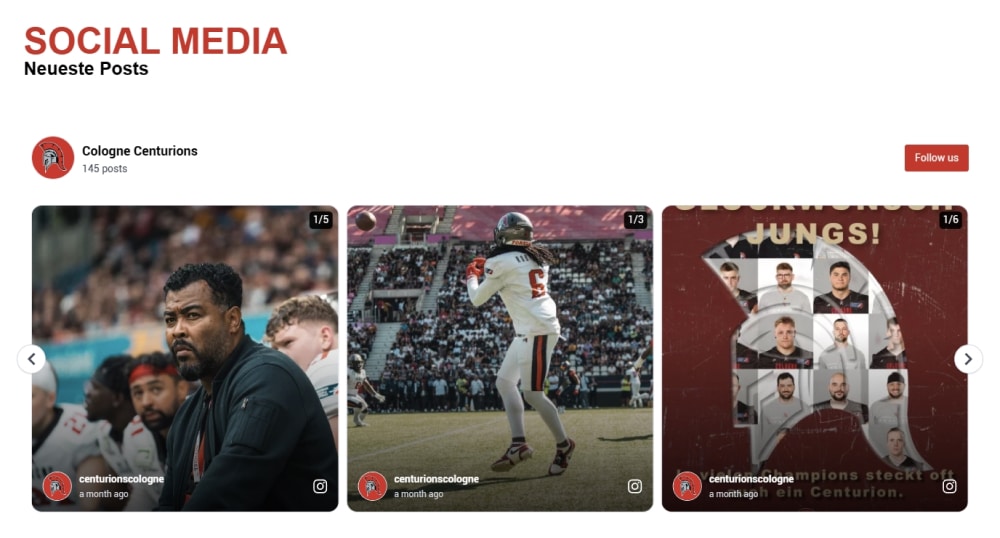 The best thing about this layout is that you can show as many posts as you'd like without taking up too much space on your website. Visitors simply have to swipe left or right.
5. Widget with Instagram mentions
One of the most important Instagram feeds that you can employ to track user satisfaction and interactions is the 'Mentions' feed.
As the name implies, it's a collection of all Instagram posts where your official handle has been mentioned using the "@" symbol.
In effect, that's how e-commerce brands primarily collect their UGC: satisfied customers show off their purchases and experiences and tag the brand or company on social media.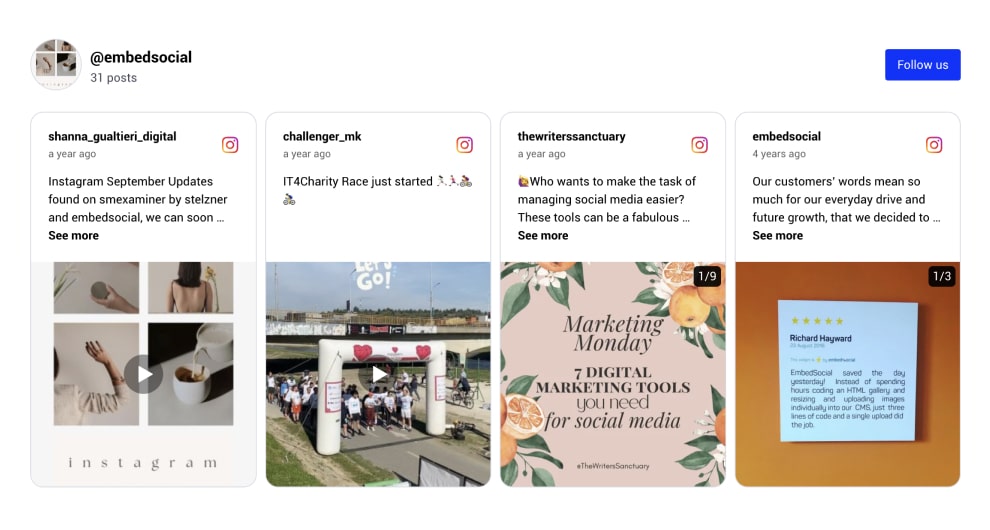 EmbedFeed has the functionality to directly generate all posts from your mentions and embed a widget with the Instagram posts from people mentioning your brand. Here is an example of an Instagram mentions feed with posts mentioning EmbedSocial on Instagram:
If you want to stay responsive and engage your audience, don't overlook the 'Mentions' widget—you won't find a better way to build social proof to boost your sales.
6. Dark Instagram collage widget
Want to introduce a bit of whimsy on your website and replace your standard grid-type widgets? Then, check out the collage widget—built to emphasize certain posts over others.
Check out how ASUS ROG—the world's most popular gaming brand, masterfully implements a collage widget featuring its latest innovative product on one of its microsites: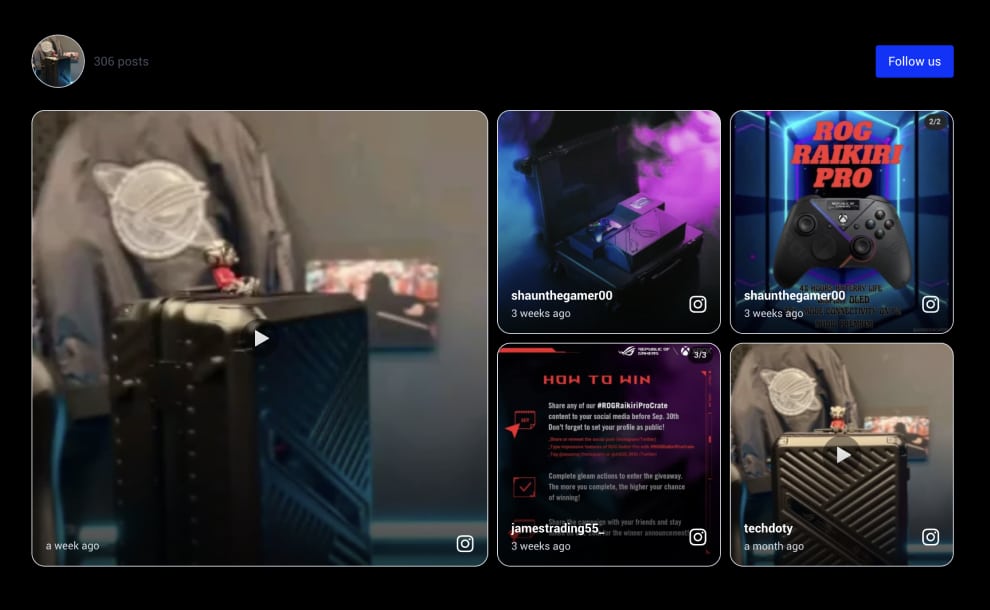 This specific widget was created to collect all the content created for the ROG Raikiri Pro Crate Giveaway, which asked participants to share their experiences on Instagram.
7. Instagram stories into one widget
Do you have some cool Instagram stories you want to show to the world? Well, some UGC platforms, like EmbedSocial, can help you do just that!
That's just what one German dance and nightclub called Laube does on its website. The brand has embedded a widget on its main site that includes its Instagram stories: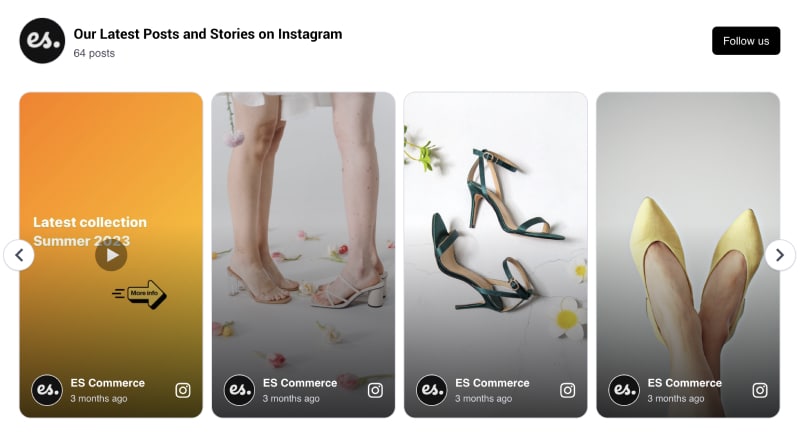 However, keep in mind that due to the limitations of the Instagram API, you may have to manually upload all previous stories since they disappear after 24 hours. However, all future stories will be pulled and displayed automatically as they go live on your account.
8. Instagram shop widget for e-commerce store
E-commerce brands love Instagram widgets for one specific reason: they can embed a shoppable Instagram feed on their websites by tagging their products and including CTA buttons!
That's what OrhtoMed—one of Canada's largest online brace stores—does successfully. The company has embedded the following shoppable widget straight on its website:
As shown, each post shows the product in action, and you can immediately navigate to the relevant product pages by clicking on the 'Shop' and 'Click to view products' buttons.
9. Instagram Reels in a masonry widget
You've definitely seen those extremely popular Instagram reels in a 9:16 format that you can scroll through for hours on end.
Now, you can grab your visitors' attention by providing the same experience—you can immediately build an inviting digital wall full of colors and sounds.
Here's how an online e-commerce shop could implement this masonry reel widget: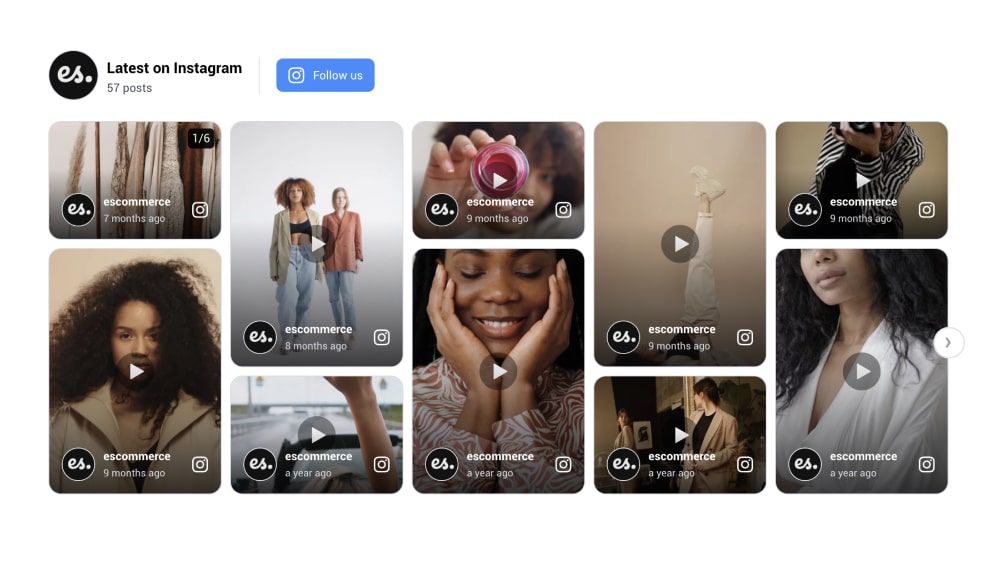 As demonstrated above, visitors will only see all your reels in a clean, straightforward design without additional prompts.
Video content is king, after all, and since it has become the storytelling medium of the new age, this type of social feed will become essential for any modern business.
At the end of the day, you want to engage your audience as soon as possible.
10. Instagram digital signage for physical presence
You can effectively utilize EmbedSocial to showcase your latest Instagram posts on a social media wall, which serves as digital signage in your offices or physical premises.
Here is an example of how our user displays this Instagram feed as digital signage on their office screens: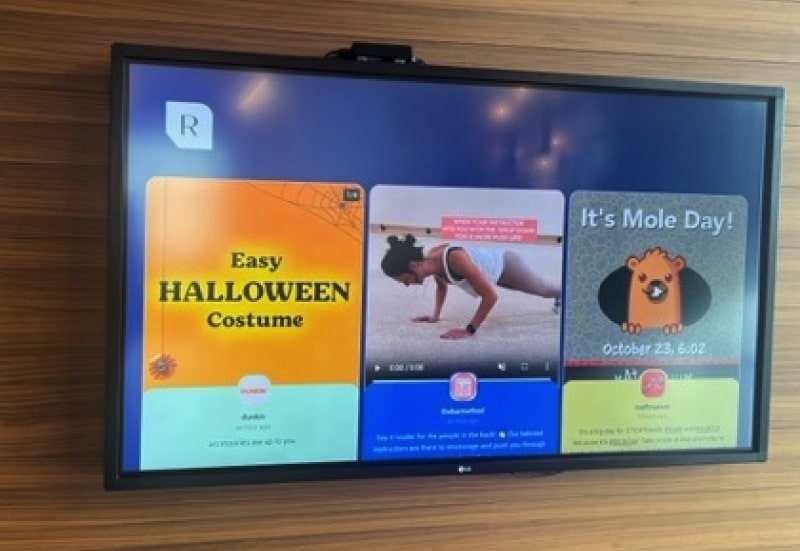 Build your Instagram widget from scratch with EmbedFeed!
So, how do you build all of these fantastic feeds?
The answer is simple: use a complete UGC platform like EmbedSocial.
However, the trick is to find a product that comes with a library of widget templates that can be adjusted per preference, which will ultimately save you a lot of time!
Check out a small sample of our fantastic pre-designed widgets:
Creating your own Instagram feed widget: Step-by-step process
Here's how to create a unique Instagram widget for all your content:
Step 1: Create an EmbedFeed account or start the free trial;
Step 2: Log into your account, navigate to the 'Sources' tab, and choose 'Instagram.'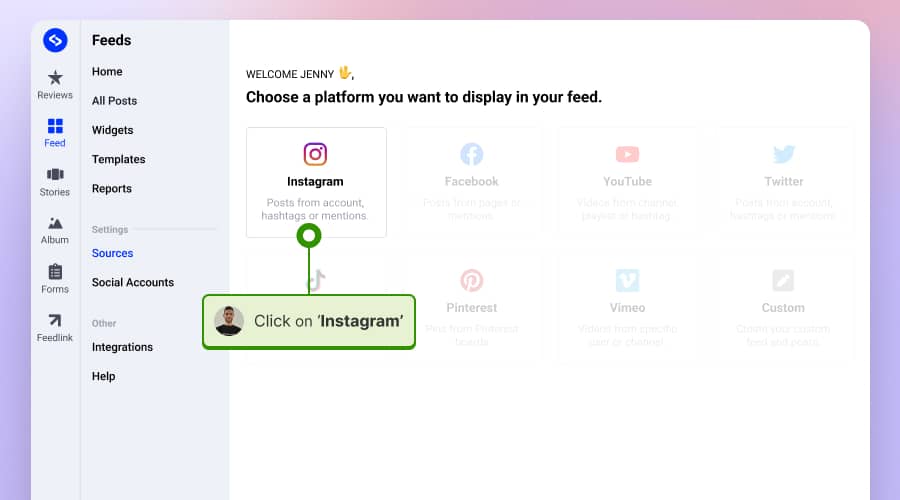 Step 3: Now choose the Instagram source type (hashtags, mentions, stories, etc.). In case you select Business, you will need to provide permission to your Facebook account in order to pull the Instagram accounts connected to your Facebook page. Once you select the Instagram account, just click 'Next'.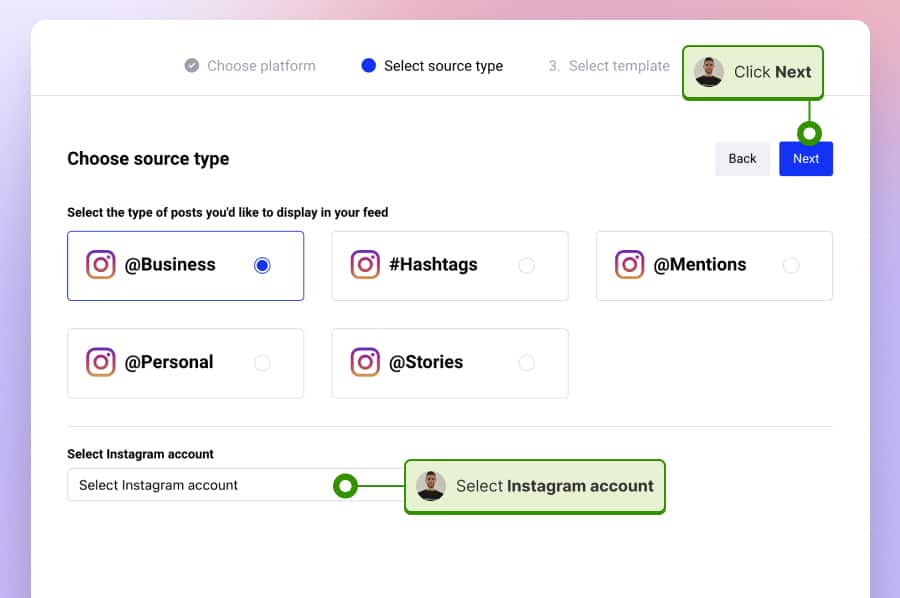 Step 4: Then click 'Use this template' to select one of our fantastic templates or build one from scratch;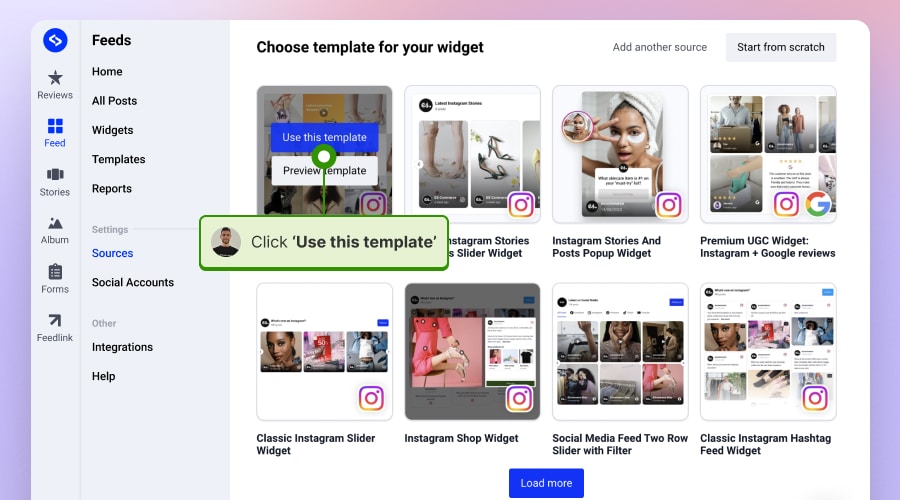 Step 5: Finally, you will be taken to the widget editor to make any changes you like. Once you are done, simply copy the code that you can paste and embed on your website.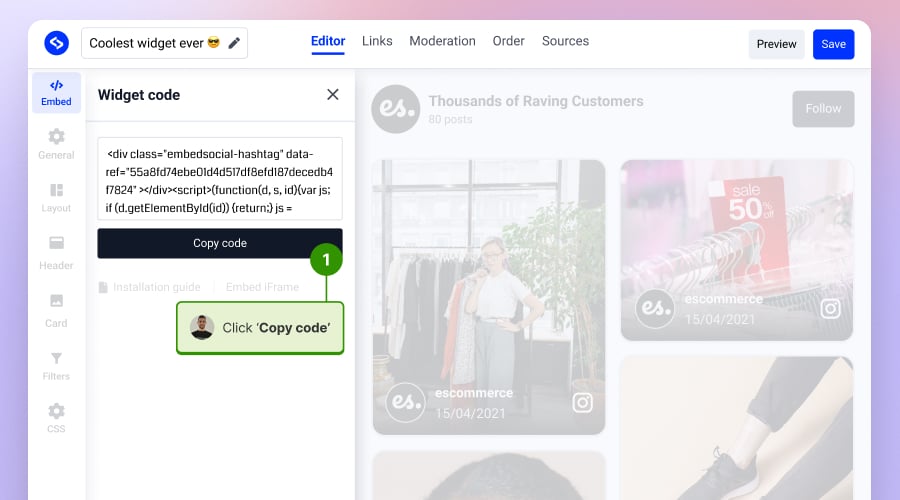 Your widget immediately pulls all your posts once you choose a widget template. Any changes that you make at this point will be immediately reflected.
You can change anything from moderating the posts that are shown to changing the widget design, adding CTA buttons, customizing with CSS, and much more.
---
FYI: Embed Instagram widget automatically with the social media aggregator and UGC platform by EmbedSocial. Click below to try it for free: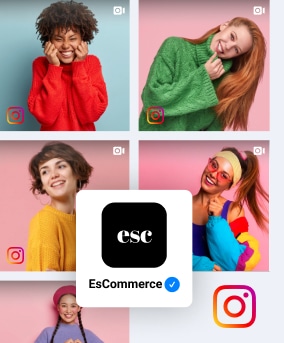 Embed Instagram widget on your website automatically!
Try EmbedFeed and display Instagram content from your feed, mentions, or hashtags on your website.
All PRO features | Cancel any time.
Why add Instagram feeds to your website?
Now that you've seen all the Instagram feeds on website examples you should be adding, let's check out the main benefits you'll reap by doing so.
Increased engagement
By embedding Instagram feeds, your website becomes more than just a static information source. It turns into an interactive hub, rich with visually appealing content.
This enhanced interactivity captivates visitors, encouraging them to spend more time exploring and engaging with your content, thus potentially increasing the time they spend on your site.
Social proof and trust
Displaying real-time social media content, particularly customer photos or reviews, on your website can significantly boost your credibility.
When visitors see authentic, user-generated content on social walls, it builds trust, showing that your brand is well-received and valued by real people.
Enhanced brand storytelling
An Instagram feed on your website provides a dynamic visual medium to tell your brand's story. This approach goes beyond the limitations of text-based content, offering a richer, more engaging narrative that captures the essence of your brand and connects more deeply with your audience.
Streamlined content updates
Automatically updating your website with your latest Instagram posts is an efficient way to keep your content fresh and engaging.
This automation saves time and effort, as there's no need for manual updates, ensuring that your website visitors always have access to the latest content.
Boosted traffic to social media
Integrating your Instagram feed into your website can serve as a bridge to your social media channels. It not only showcases your social media presence but also encourages visitors to follow your Instagram account, potentially increasing your overall social media engagement and reach.
User-generated content
Featuring user-generated content from Instagram on your website helps to create a sense of community around your brand.
It offers a platform for customers to share their experiences, providing authentic, relatable endorsements for your products or services.
Higher conversion rates
The power of visual content in influencing purchasing decisions cannot be overstated. When potential customers see your products in real-world contexts, used by others, it can stimulate their interest and inclination to purchase, leading to higher conversion rates for your business.
Conclusion
Integrating an Instagram feed into your website is not just a trend—it's a strategic move to enhance digital engagement and brand presence. Hopefully, the Instagram feed examples outlined above and our own feed widget solutions are just what you need to level up your Instagram game.
With popular UGC platforms like EmbedSocial, you can create everything from gorgeous Instagram carousels to nifty little badges that don't take up space on your web pages. Plus, you can embed anything from standard posts to hashtags, reels, and Instagram stories.
Ultimately, your website will become a dynamic, visually appealing, and interactive space that invites and converts visitors with its striking visuals and rich content.
---
FYI: Embed Instagram widget automatically with the social media aggregator and UGC platform by EmbedSocial. Click below to try it for free: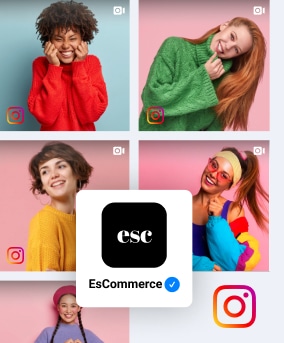 Embed Instagram widget on your website automatically!
Try EmbedFeed and display Instagram content from your feed, mentions, or hashtags on your website.
All PRO features | Cancel any time.
FAQs
Can you display an Instagram feed on a website?
Yes, you can! The only thing you need is a social media aggregator like EmbedSocial that will collect all your Instagram posts. Then, you typically create a feed widget and copy over the HTML code to your specific web builder.
Why add an Instagram feed to a website?
Embedding Instagram feeds on your website can direct Instagram traffic, encourage user-generated content, allow content moderation through a widget, add vibrancy to the website's user interface, and boost conversions and sales.
What shows up on your Instagram feed?
Depends on how you set up your widget. You can either have it show everything you post on Instagram, or you can moderate the content to only show what you want.
Related post

Continue reading and browse more examples of social media walls and feeds.