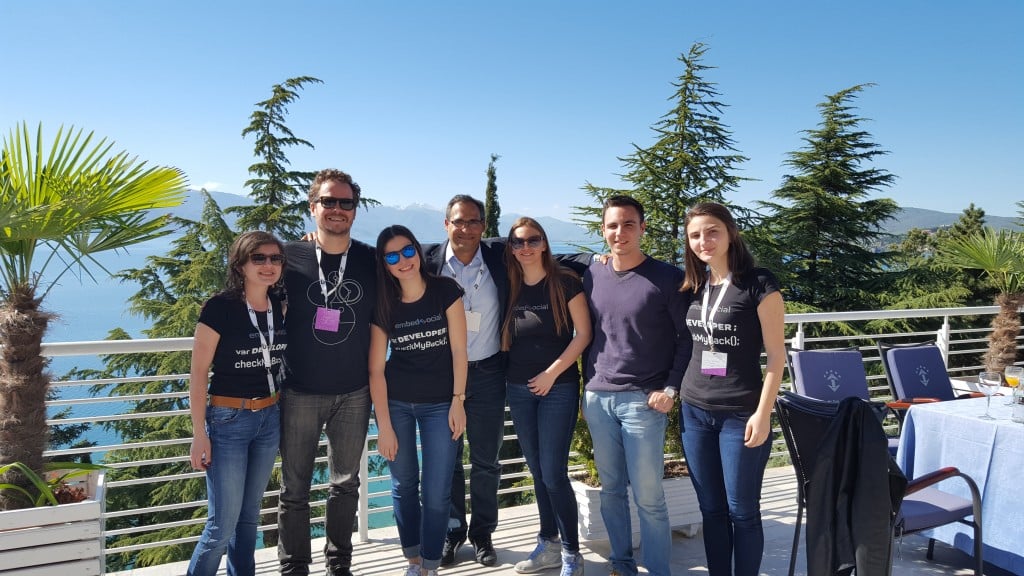 Codefest is an annual conference held in the beautiful Ohrid and a gathering of some of the most successful and smartest individuals, companies and institutions from Macedonia and the region. The idea is to bring all these major players of the tech industry in one place and with that help in the creation of new and innovative products and startups founded and run by the youth in tech with the guidance of some of the most influential people in this industry.
As David Passiak said in his speech "Technology is like training wheels for how we live", it has become a must for marketers to start attending and following everything that's happening in the developers world. Because as we've witnessed in the past few years, it's innovations in tech that dictate most of the future trends and as a marketer you must be up to date with what's happening if you want to compete. Read more about the F8 conference and you'll see what I'm talking about.
The first day of Codefest started with our team getting ready for the CF X – Business Expo. We choose to take part at the expo because it was not just a place where we could showcase our company and products but also a great place to look for talent for our current and even future job openings.
We had a chance to meet some really young and inspiring individuals that were already taking the tech industry by storm. There were some kids competing in the Coding marathon that was around the ages of 13-14 and even younger! Kids from elementary school are competing in a Coding marathon that lasts for 32 hours straight?! At elementary school, my biggest concern was if my crush liked me back 🙂
When all the setting up was done it was time to officially start the Codefest. I must say, as a Social Media marketer with limited knowledge (for now) in coding I was afraid I wasn't going to understand anything from the presentations, but to my surprise I have to say that I heard some of the best speeches and meet some of the smartest and coolest people so far.
The speeches and the panel discussions were all interesting and full of valuable information but for me those who stood out were Andrey Shtylenko, a serial entrepreneur, speaker and mentor for multiple entrepreneurship educational programs, author of several seminars and coaching programs on business development, business communication and talent discovery. He spoke on the topic of "Networking for Startup Founders: Strategic Use of Your Address Book to Grow Your Business", and some of the advice he gave we definitely put to good use right away.
David Passiak who is an author of two innovation books "Red Bull to Buddha" and "Disruption Revolution", with more than 10 years of leadership experience with startups, marketing and strategy, extensive background in enterprise SaaS, marketing with leading publishers and agencies and also experienced in working with C-level executives and on behalf of global brands. You could pick up his "big picture" outside the box thinking while he talked about the "Crowd era".
Lars Trieloff who is the director of product management at Blue Yonder, SaaS provider of predictive applications in retail. Prior to this, he was responsible for product management for Adobe Marketing Cloud and Day Software's content management platform. He is responsible for product roadmap, strategy, and marketing. With the great passion for creating products that will make work easier and help companies run better, he combines technological and business thinking into an outcome-oriented approach. Related to this, his presentation was about "An outcome-based approach to Product Management".
"A good outcome specifies how a quality that matters to the buyer changes." – Lars Trieloff
And Ivan Hernandez who is a marketing and customer experience strategist and business development consultant with several years of international experience in strategic consulting, advertising, marketing and media sectors. He is the founder of The Digital Loop, a boutique consultancy specializing in digital transformation, customer experience design and innovation strategy. Ivan gave a presentation on the subject of "Fly High: How to Create, Innovate and Lead at the Highest Level", backed up with some great ball juggling skills.
We streamed Ivan's speech through Facebook live video so you can check it out below:
"On the trapeze and in business, timing is everything"- Ivan Hernandez
Being surrounded by intellectuals, colleagues, clean air and the natural beauty of Ohrid, we couldn't ask for more, but sometimes luck gets on your side and you get a more than you expected.
With the new option available on our Facebook fan page, the Facebook live video, we weren't going to get away with just streaming a speech, we were set on doing an interview.
We got our minds set on interviewing Ivan Hernandez and David Passiak. For us, the hard part was actually doing the interview. Since it was a live video and it was our first interview ever, as rookies you can imagine how nervous we were.
Lights, camera, action! It all went smoothly as David and Ivan were so relaxed and open to answering any questions we had, that made the whole experience easy and fun for us. You can watch the full interviews here:
and here

and see for yourselves that luckily we didn't stutter, we didn't fall, and we didn't become a subject of an office joke.
When all of that was done and the camera wasn't rolling, we could finally sit down, get a cup of coffee and talk with them a little more. We were honored to meet and interview them, they gave us some really great insights and valuable advice that we will definitely keep in mind and try to put in good use.
The second day was the start of the coding marathon and for two social media marketers that was a bit of an unknown territory. So we left the developers be in their natural habitat and we went out to explore the town. Since everyone was so nice to us at the conference, we took it upon our self's to show them a good time in Ohrid. From drinking rakia, a traditional Macedonian drink, to eating ajvar and other traditional foods, to sightseeing around Ohrid and driving on a boat, we had to give them the ultimate Macedonian experience.
Spending the day with David and Ivan gave us an opportunity to teach them more about our culture and country but also gave us an even bigger opportunity to learn more about them and the excellent work they've done over the years.
It is without doubt that we learnt a lot that we'll definitely incorporate in our work and we definitely got some ideas that will be valuable to us in the future to come.
But sadly, all good things must come to an end, it was time for us to go back to Skopje. We were honored we got to meet so many amazing people and make relevant contacts that might even have a life changing impact on our careers or business.
Oh and let's not forget that we had the once in a lifetime chance to be in the SECOND selfie that Ivan Hernandez has EVER taken! 😀
At the,end I can say that I've learnt that you always have to be opened to learning new things, even as a marketer that doesn't know how to write code you can always learn new things at a coding marathon. Because what's also important are the connections, new experiences and new friends you are going to make if you are ready to embrace new things. Don't be afraid to get out of your comfort zone and jump into the unknown, just do it!
And yes I used Nike's slogan, but it's a good one! You don't have to be afraid that you'll fail, because you probably will and that's okay, you'll learn something along the way, try again and eventually get on the path of success.