Google Reviews Widget for Weebly
The simplest way to collect and display your Google Reviews on a Webbly website and boost customer trust in a few clicks.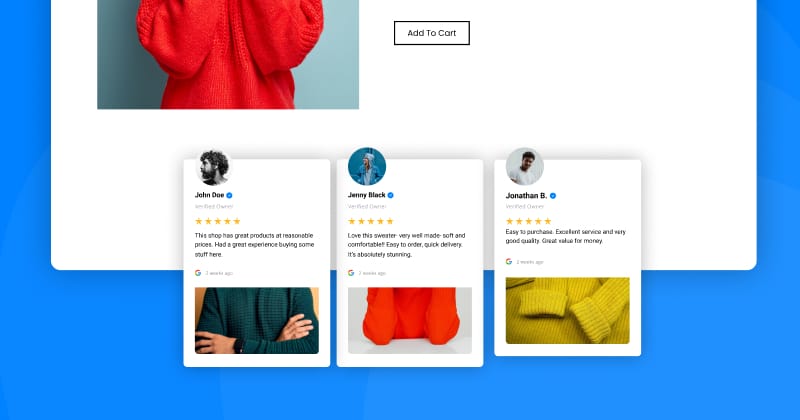 EmbedReviews is a complete review management system that automatically pulls the testimonials from your Google My Business page and displays them on your website in a form of beautiful and engaging widgets.
Combine online reviews from several different review sources such as Google, Facebook Page, Yelp reviews into one stunning widget.
Try the variety of pre-made layouts, advanced customization, and modification options, and create the widget and website experience that your customers deserve!
The code to embed Google reviews works with any website builder so you won't need to install anything in order to show the widget on your Weebly website.
Benefits for Weebly websites
Display social proof
Engage website visitors
Improve visitors' time spent on site
Encourage more conversion and sales
Save the time of manually embedding your reviews
Motivate customers to write new reviews
Google reviews features for Weebly
Fully mobile-responsive widget layouts
Advanced customization and modification options
Custom CSS option
Aggregated review stars schema option
Transform reviews into Facebook ads
Send email requests to get new reviews
'Leave a Review' buttons
Eye-catching Review Badges
Import reviews from 3rd parties
Combo feed with reviews from different sources
How to Google Reviews widget in Weebly
No installation is required to use the EmbedReviews platform in Weebly.
Just follow these steps to embed your Google reviews on a Weebly website:
Steps to add a Google reviews widget to Weebly
Set a free trial for EmbedReviews and connect your Google account
Create your reviews feed
Copy the provided HTML code
Login to your Weebly account
Click on the 'Edit Website' section
Select the 'Embed code' option and then 'Click to add custom HTML'
Paste the code you have already generated from EmbedReviews
Start your free trial
Build trust to increase sales
Collect and show online reviews on your website right now.
All PRO features included Cancel any time