Welcome to our comprehensive guide on how to embed Airbnb reviews' on your website. In the digital age, reviews are the lifeblood of any business, and Airbnb is no exception.
By embedding Airbnb reviews on your platform, you increase trust among your customers and add a social proof element that can significantly boost your business. Whether using WordPress or other platforms, the process is simple and easy.
This blog post will walk you through choosing, creating, and embedding a review widget from Airbnb to your account. So, let's start enhancing your customer experience with authentic Airbnb reviews!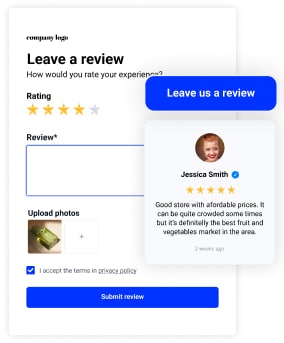 The easiest way to collect reviews and testimonials via AI review assistant, forms, SMS, or email
Try EmbedReviews, collect and display reviews widgets on your website. Automatically.
All PRO features | Cancel any time.
About Airbnb reviews
As you are already guessing, Airbnb reviews are feedback and ratings provided by guests who have previously stayed at a host's property. These reviews serve as a survey for guests to share their experiences, express their satisfaction or dissatisfaction, and provide valuable insights for both the hosts and potential guests.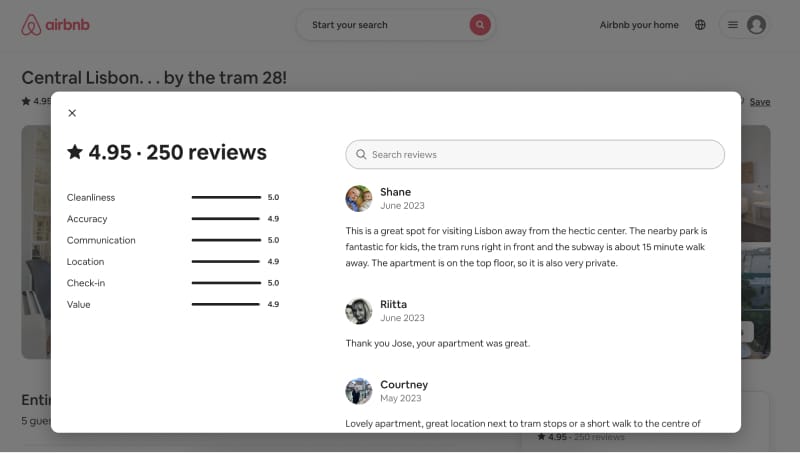 When guests complete their stay at an Airbnb property, they can leave a review and rate their overall experience.
The review typically consists of a written comment and a rating on a scale of one to five stars, with five stars being the highest rating. Guests can also rate specific aspects of their stay, such as cleanliness, the accuracy of the listing description, communication with the host and location directly on the Airbnb page.
Why are Airbnb reviews unique?
The review process is transparent and two-way; hosts can also review their guests.
Once a guest leaves a review, it becomes a permanent part of your profile as a host and will be visible to anyone viewing the listing. You have the ability to publicly respond to guest reviews, offering their perspective or addressing any concerns raised. I think that this feature is very useful for hosts to engage with their guests and new potential guests, demonstrating their attentiveness and commitment to their satisfaction.
In addition to being displayed on the Airbnb platform, you can showcase Airbnb reviews on external websites, Facebook, or other social media to bolster your online reputation further. This practice enables you to curate a positive image and build trust with potential customers beyond the Airbnb ecosystem, thanks to different widgets. You can integrate such widgets on many website builders or website cms, using embed code or similar to display all your reviews.
Why should you embed Airbnb reviews on your website?
The ability to integrate Airbnb reviews into a website refers to the practice of displaying guest reviews directly on your website or other online platforms outside of Airbnb. Instead of relying only on the reviews featured on the Airbnb platform, you can incorporate these reviews into your own web page and attract more website visitors. This can be achieved by using Airbnb's official widgets or third-party tools that embed reviews into websites or social media channels.
Having an Airbnb reviews widget offers several benefits to hosts:
1. Consolidates testimonials
By embedding Airbnb reviews on your website as a host, you can consolidate testimonials from multiple sources into a single location. This creates a comprehensive and unified representation of guest feedback, allowing potential customers to easily access and evaluate the host's reputation without navigating away from the host's website.
2. Extended reach
While Airbnb is a prominent platform, some potential guests may prefer booking accommodations directly through a host's website or other online channels. I recommend embedding Airbnb reviews on external platforms too, because you can reach a broader audience and engage with guests who may not initially visit the Airbnb website. This widens the exposure and increases your chances of attracting direct bookings.
3. Improved search engine optimization (SEO)
If you embed Airbnb reviews outside of the main Airbnb listing, you can contribute to better search engine visibility and ranking. User-generated content, such as reviews, is considered valuable by search engines and a powerful trust signal to Google's algorithm. By incorporating these reviews on your website, be sure that it can improve your website's SEO ranking, making it easier for potential guests to find you through online searches.
4. Differentiation from competitors
In a highly competitive market, embedding Airbnb reviews can help hosts stand out from their competitors – and believe me; there is a lot. By prominently displaying positive guest experiences and feedback, you can highlight all unique selling points as a host and showcase why you offer exceptional value compared to other hosts. This differentiation can be a powerful tool in attracting potential guests and increasing bookings, drastically boosting your hospitality business.
5. Personalized branding
Airbnb reviews on a host's website or social platforms can also benefit from customization and personalization. You can choose the reviews' design, layout, and placement to align with their branding and create a cohesive user experience. This customization will reinforce your unique identity and helps build a strong brand presence in the minds of potential guests.
Bonus Tip: Feedback for Continuous Improvement
Using Airbnb reviews, widgets will serve as a marketing feature on your website and provide you with valuable feedback to improve your offerings in the future. In my opinion, analyzing guest reviews will be helpful for identifying areas of strength and areas that need improvement. This feedback loop enables you to make necessary adjustments, enhance the guest experience, and ultimately receive more positive reviews in the future.
Options to embed Airbnb reviews on your website
In these tutorials, we will show you how to embed your reviews with the EmbedREviews platform and create a custom Airbnb review widget for your website. It is important to note that the platform currently doesn't automatically fetch the reviews, but you will be able to add ratings badges from your Airbnb listing manually.
How to display Airbnb Reviews using a CSV upload
By following a few simple steps, you can harness the power of your reviews and create an engaging display that showcases the positive experiences of your past guests with a simple CSV upload. Let's see how to transform your Airbnb reviews into a dynamic and compelling feature on your website. Use the Airbnb Help Center (https://community.withairbnb.com/t5/Help/exporting-reviews-to-excell-or-pdf/m-p/275883) as guidance from the community throughout the process.
Export reviews from Airbnb
At the moment, you don't have an explicit option to export the reviews from Airbnb. But you can ask to get your data by using this option.
The option to request your Airbnb data will provide you with tons of data as a host, including the reviews your guests provided.
To do this, follow these steps:
Step 1: Go to your Account > Privacy & sharing and pick the option Request your personal data as shown below: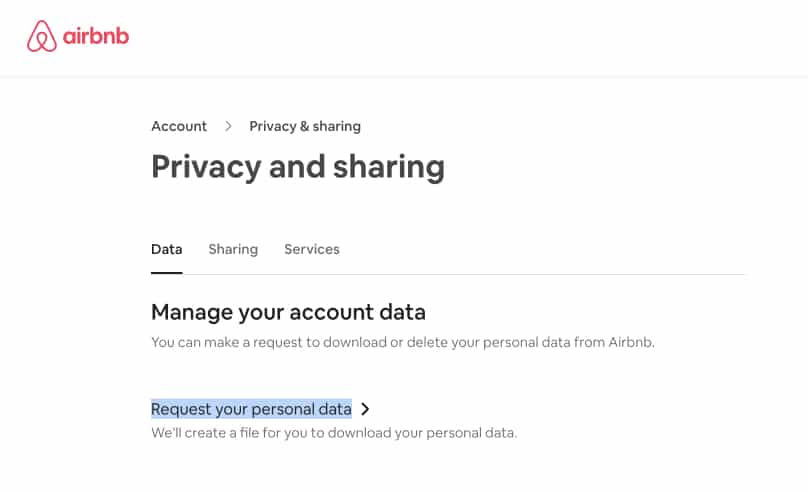 Step 2: Specify your country and reason for requesting access. Once done, click Request data.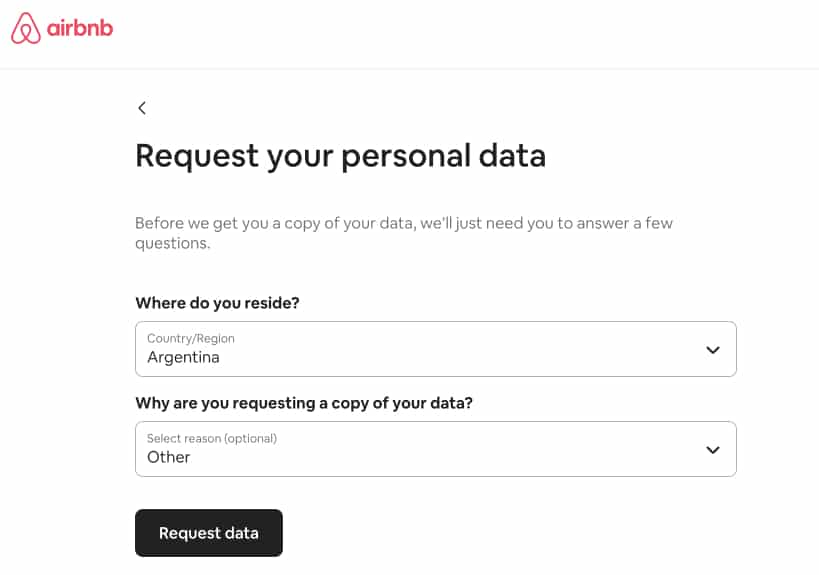 If, for some reason, the option to get your review data is not available in Airbnb, you can use a third-party system that integrates with the Airbnb booking system. Learn here how to export Airbnb in CSV with a third-party tool, or ask the EmbedSocial team to help with the export.
Request Import of Airbnb reviews in EmbedReviews

We offer a service to our PRO users to import their posts into the platform due to some current limitations in the Airbnb reviews export.

If you are interested, feel free to signup for a free trial and contact our team via live chat or support@embedsocial.com to help you with generating and importing your Airbnb reviews into your EmbedReviews account.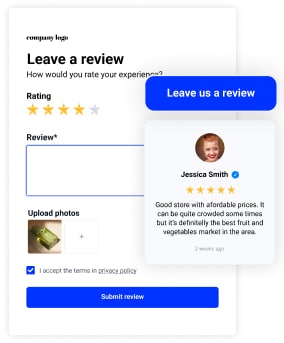 The easiest way to collect reviews and testimonials via AI review assistant, forms, SMS, or email
Try EmbedReviews, collect and display reviews widgets on your website. Automatically.
All PRO features | Cancel any time.
Import the Airbnb reviews to your EmbedReviews account
If you haven't already, sign up for an EmbedReviews account. Follow the registration process and create a new account or log in to your existing one. Once you are signed in to your EmbedSocial account, create a new widget specifically for Airbnb reviews.
Step 1: Click on the "Import Reviews" option in the menu and download the CSV template so you fill it in with your Airbnb reviews.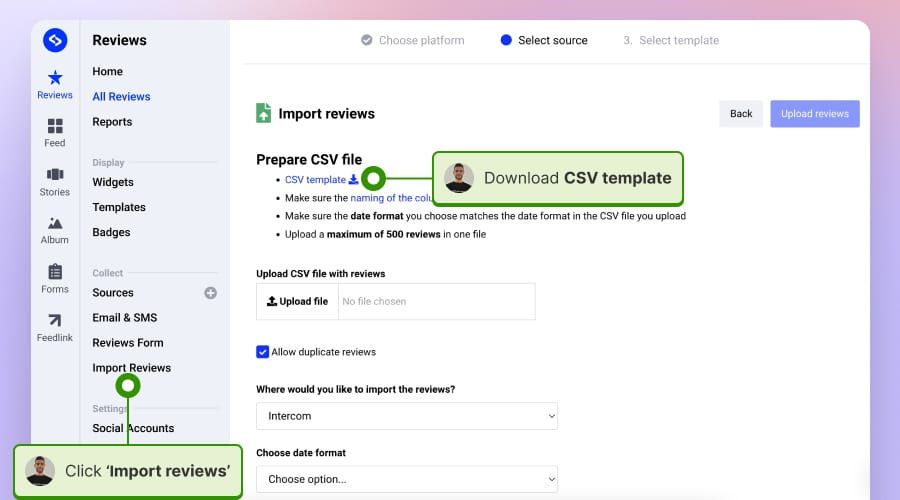 Step 2: Open the template in Google Sheets and include your Airbnb Reviews in the provided table format. Once you are done, export the file in CSV format.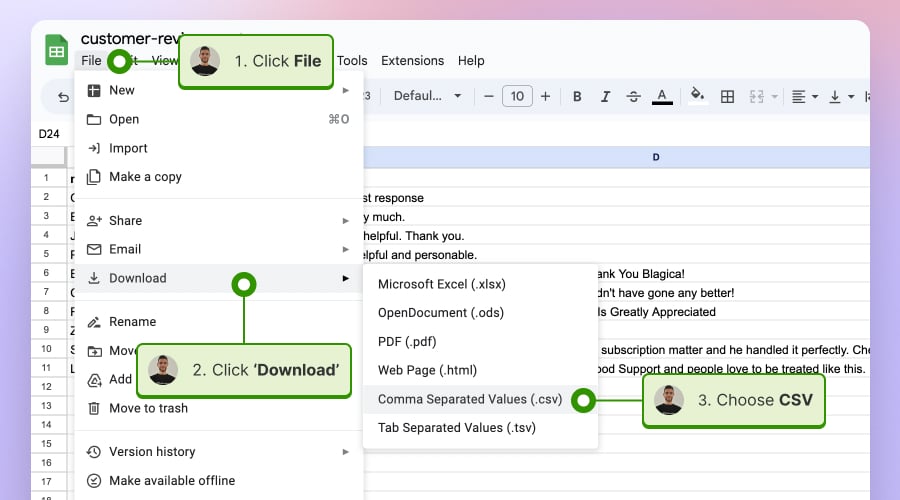 Step 3: Go back to the Import Reviews page in EmbedReviews, and choose to upload your CSV file containing the Airbnb reviews from your computer. Also, make sure to choose the source where to upload your CSV file and select the date format that you use in the CSV file.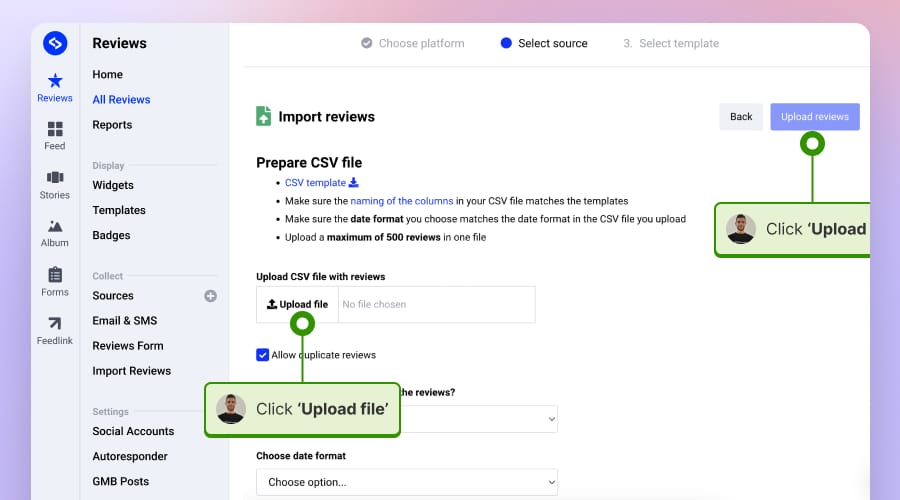 That's it! The uploading process is finished, and now you are ready to display all Airbnb reviews on your website using our reviews widget.
Below you can see how to create and customize the widget.
Create an Airbnb reviews widget
Step 1: From your EmbedReviews dashboard, go to the 'Widgets' tab.
Step 2: Click the "Create new" option and select the source of the imported Airbnb reviews.
Step 3: Once the widget is created, I recommend customizing your widget and editing its appearance. Choose the desired design, layout, and configuration options that you need.
Step 4: Once you are done customizing, you can navigate to the Embed tab and click Copy code so you can embed the widget into your website.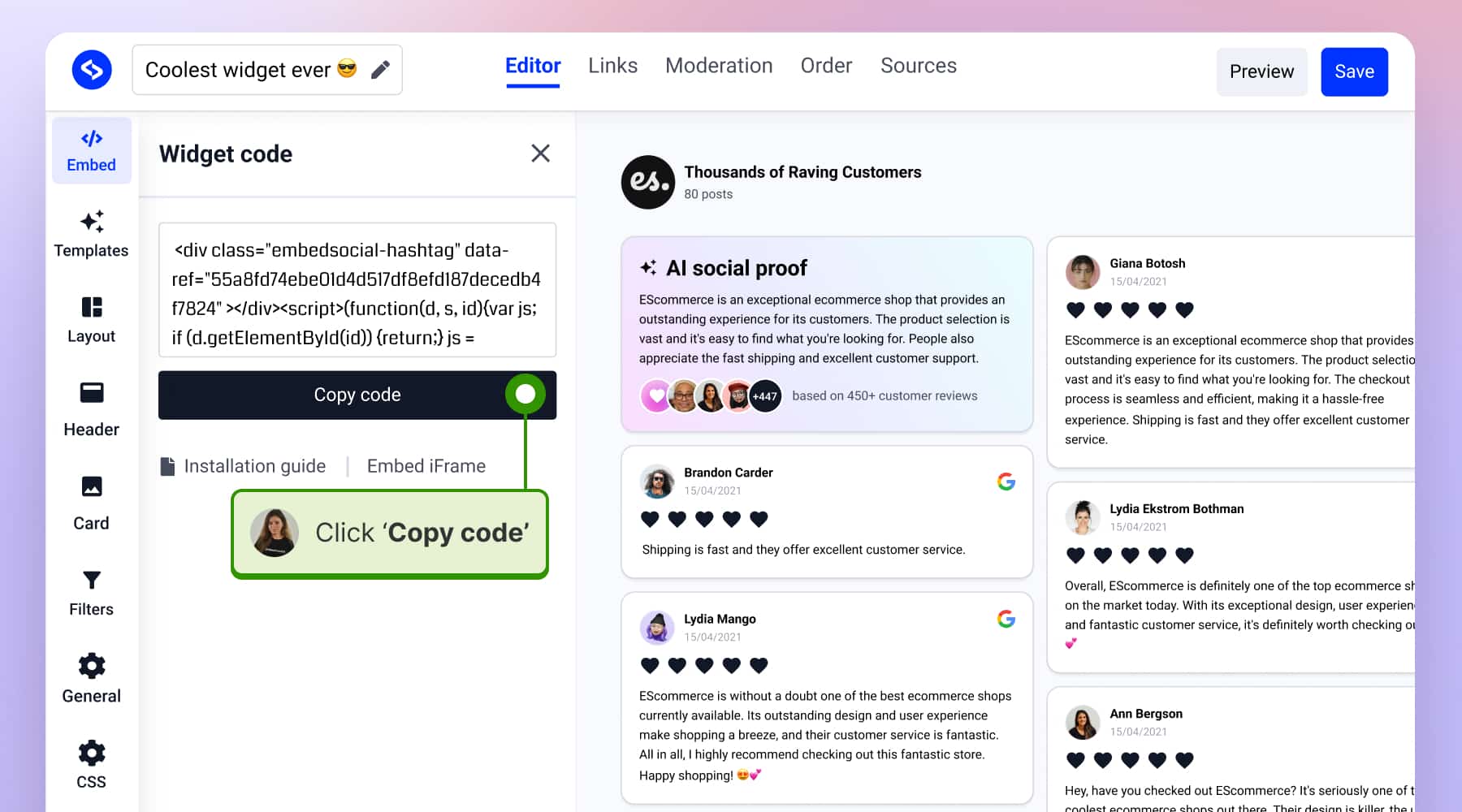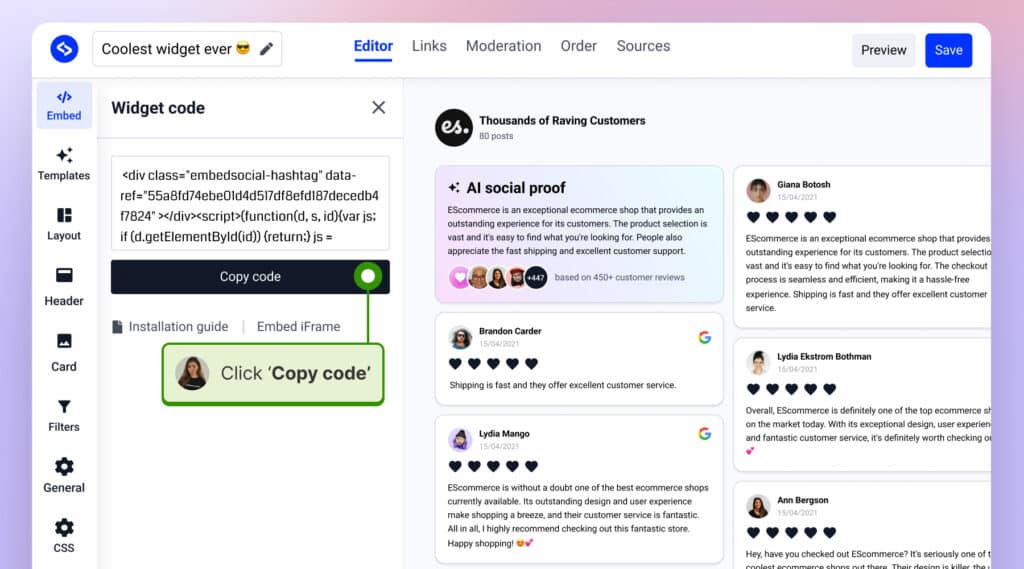 Follow some of the specific web builders instructions in the text below to learn how to embed the code.
Customizing Your Airbnb Review Widget
Customizing your Airbnb review widget allows you to seamlessly integrate it into your website's design and enhance the user experience. Here are some common customization options:
Theme and Layout: EmbedSocial offers a variety of themes and layouts. You can choose one that aligns with your website's aesthetic and decide how reviews are displayed, such as in a list, a grid, or a carousel.

Colors: Adjust the colors of the widget to match your website's color scheme. This could include the background color, text color, and rating color.

Fonts: Change the review text font to match your website's fonts.

Show/Hide Elements: You can decide which elements of a review to display. This could include the reviewer's name, profile picture, review text, and rating.

Customize pop-up: Choose to show reviews in a lightbox or use other settings to redirect users to the actual review on Airbnb.

Customize review request button: Make sure more guests leave a review on your Airbnb listing or, in general, by using a custom review form.

Size: Adjust the size of the widget so it fits perfectly on your webpage.

Filters: Some platforms allow you to filter which reviews to display based on their ratings or content.

Custom CSS: If you have knowledge of CSS, you can use it further to customize the look and feel of your widget.
Remember, customizing your Airbnb review widget aims to make it blend naturally with your website's design while still drawing attention to the valuable customer feedback it displays.
How to embed Airbnb Review widgets on different web builders?
The process of embedding Airbnb reviews on your website, no matter which platform you use, is nearly the same, and you have to prepare your widget for it. EmbedSocial has a master solution for it, where from your EmbedReviews account, you can create an Airbnb reviews widget by uploading your reviews in CSV file (as we saw in the previous section) and embed the widget code in your website. Here is a step-by-step process of how to do it on the different website CMS and website builders using its free version:
1. Add Airbnb Reviews on Shopify Website
Shopify is an e-commerce website builder that is mostly used by companies selling products. Anyways, in case you are a brand that at the same time sells products and has an Airbnb property, you might use Shopify for the checkout of the products and other pages to showcase your property. In that case, you will be able to embed Airbnb reviews with a review request button and show social proof on your Shopify website.
Go to Pages and click the page where you want to add the Airbnb reviews widget
In the description editor, click the code icon to switch to HTML editor
Paste the code here and click Save.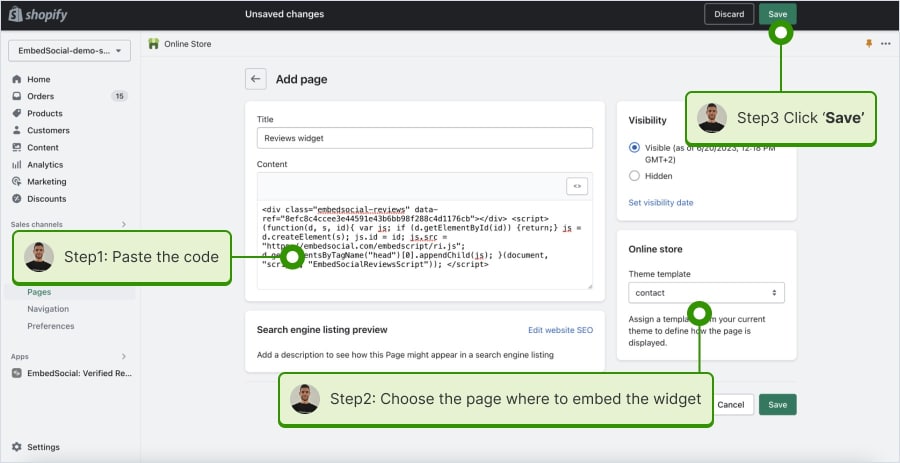 2. Add Airbnb Reviews on Webflow Website
Like other web builders, to embed an Airbnb widget in Webflow, you only need to paste the provided code from the EmbedReviews editor. To embed the widget, follow these steps:
Log in to your Webflow admin, head to the "Add Element"
Scroll down to the "Embed" option.
From here, drag and drop where you want to display the Airbnb reviews on your website.
Next, paste the provided code from your EmbedReviews widget to display Airbnb reviews to your visitors.
Click Save & Publish.
Add Airbnb reviews on Squarespace website
Step 1: Click Add Block and choose the Embed block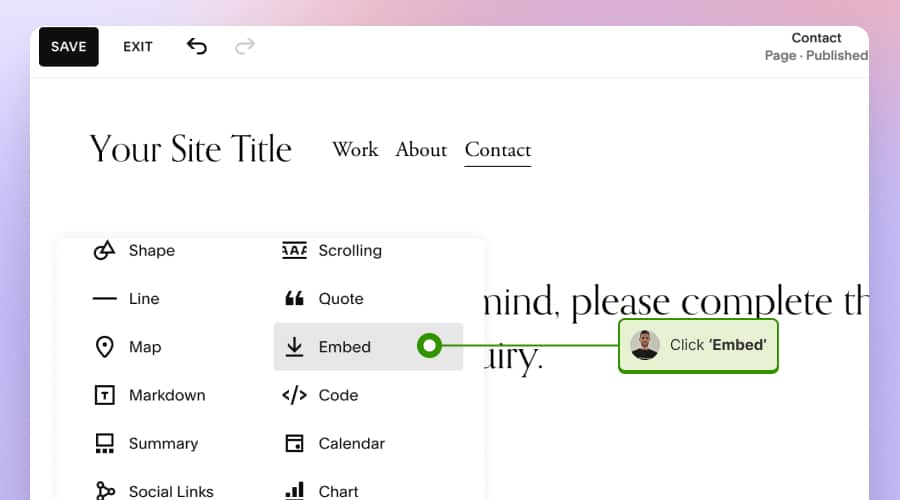 Step 2: In the small popover click Code snippet and paste the code of your widget
Step 3: Click Save and click the top right arrow to preview your new widget.
Add Airbnb Reviews on Wix Website
Once the widget is created in EmbedReviews, just follow these steps to add the widget's code to Wix: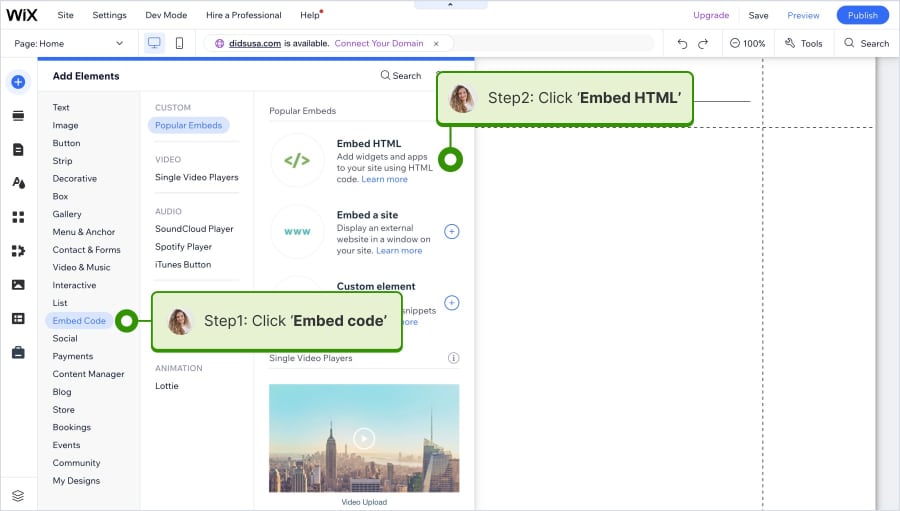 Log in to your Wix account, and in your dashboard, choose the site where you want to display the reviews by clicking on Edit Site.
Next, click on the plus icon from the left sidebar menu.
The HTML block section will appear on the website, so you need to paste the Airbnb widget code from EmbedReviews here.
Click on Enter Code and paste the code, so to finish, click on Update.
At the end, use the rectangle arrow to fit it to your Wix website proportions or leave it as it is.
Embed Airbnb Reviews on Weebly Website
Weebly is a web builder that has wide usage. Users that use Weebly to build their websites for the hospitality industry have the ability to embed reviews from other platforms like Airbnb. To do this, just follow these steps:
Log in to your Weebly account and access the Weebly Editor for your website.
Navigate to the page where you want to embed the Airbnb reviews widget.
From the menu on the left side, choose the 'Embed code' option and drag and drop the element to the section where you want to showcase your reviews.
Choose "Click to set custom HTML" on the box, then click "Edit Custom HTML".
A dialog box will open where you can enter the code for the widget. Paste the Airbnb reviews widget code from your EmbedReviews account.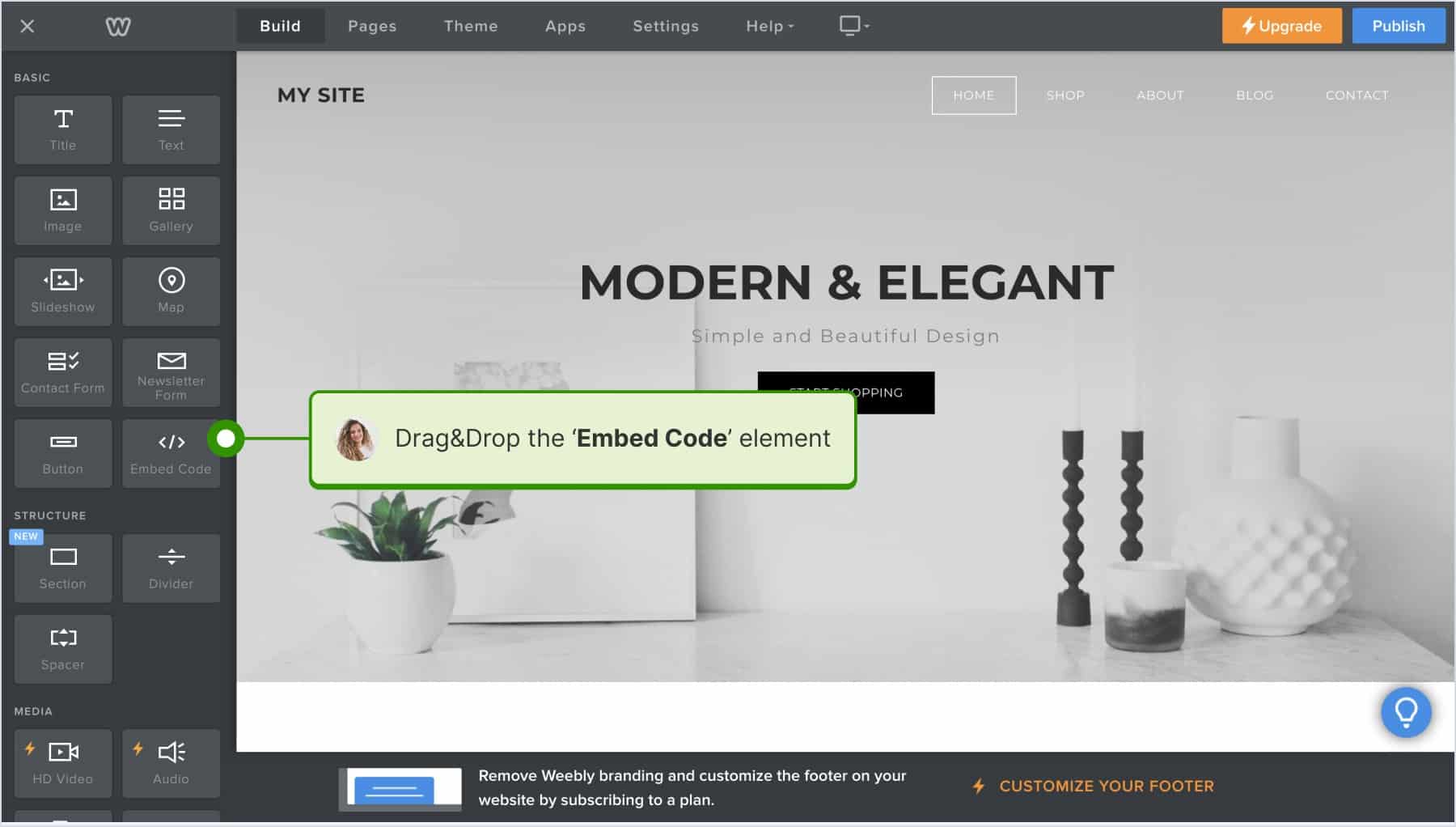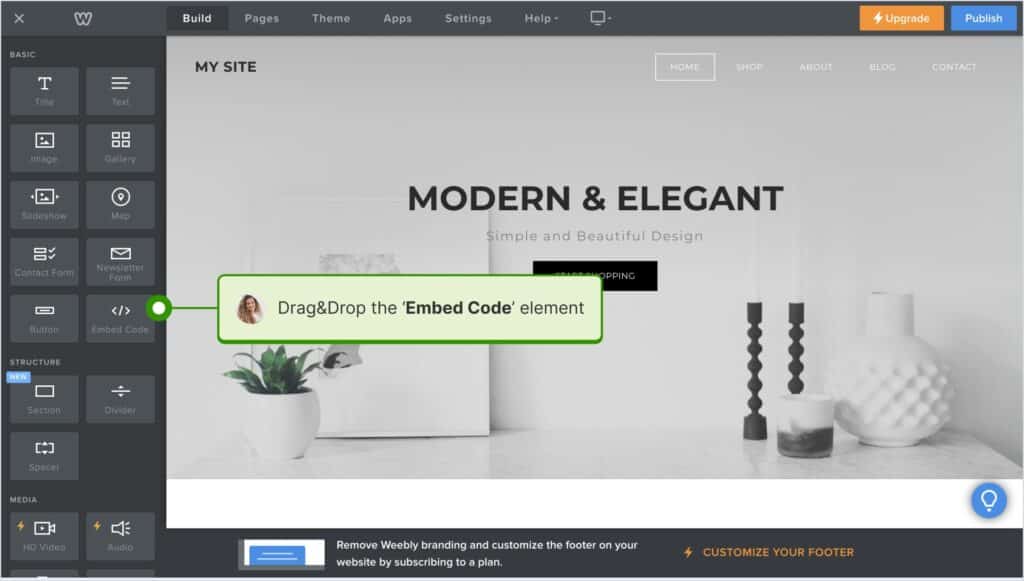 Add Airbnb Reviews on WordPress Website
WordPress is one of the most popular web builders, and Airbnb hosts use it to build their brands and showcase their properties for rent. Here are the steps to showcase Airbnb reviews on a WordPress website:
Log in to your WordPress admin panel, go to "Pages," and edit the page you want to show your Airbnb reviews.
When you are in, click the + plus button in the editor and choose the Custom HTML option.
Paste the code from your EmbedReviews widget and click Update or Publish.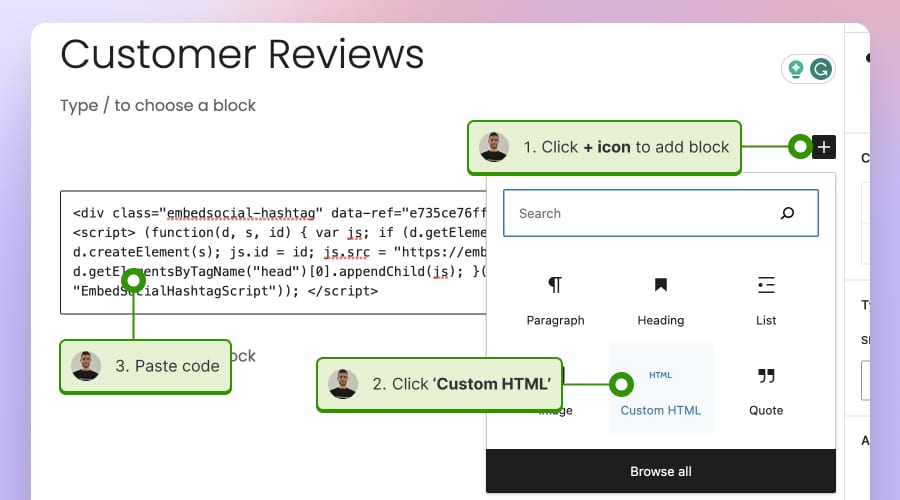 How to leave AirbnBn reviews
Here are simple instructions you can send to your guests to write an Airbnb review:
Login to your Airbnb dashboard and click the profile picture from the top right corner.
From the dropdown menu, click on Profile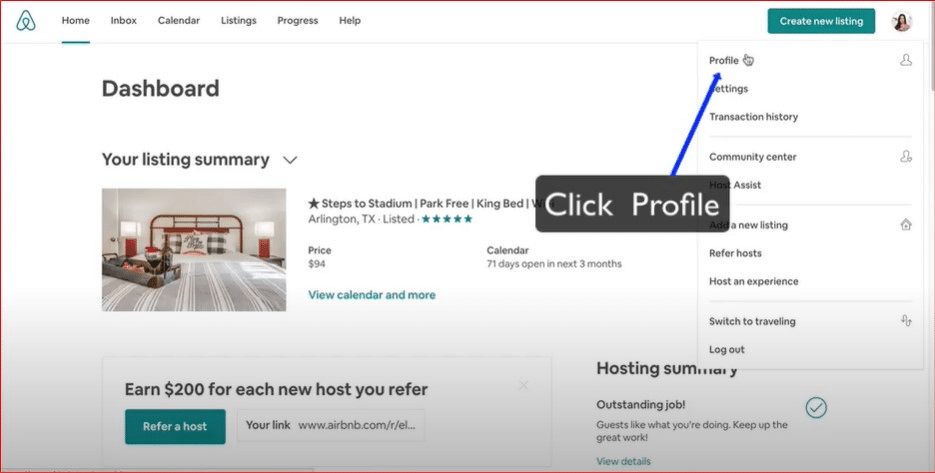 When you open your profile, click on the "Edit Profile" option.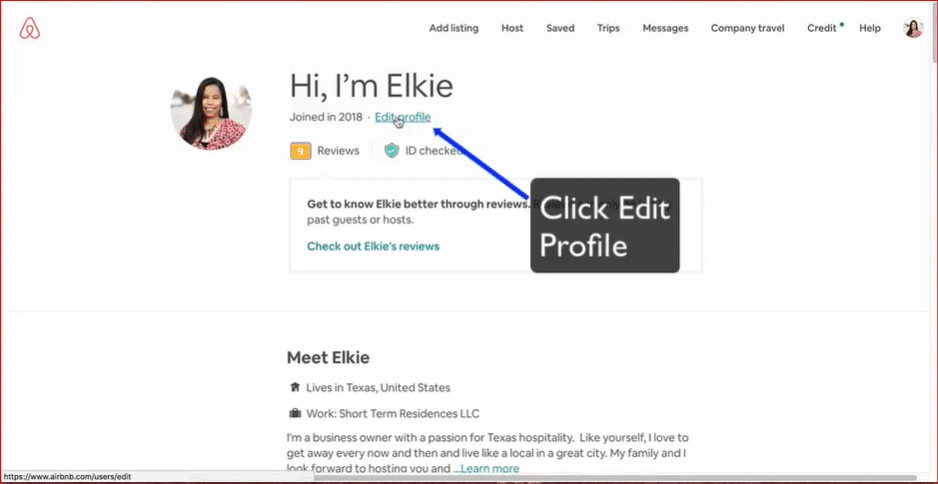 Next, click on Reviews from the right side.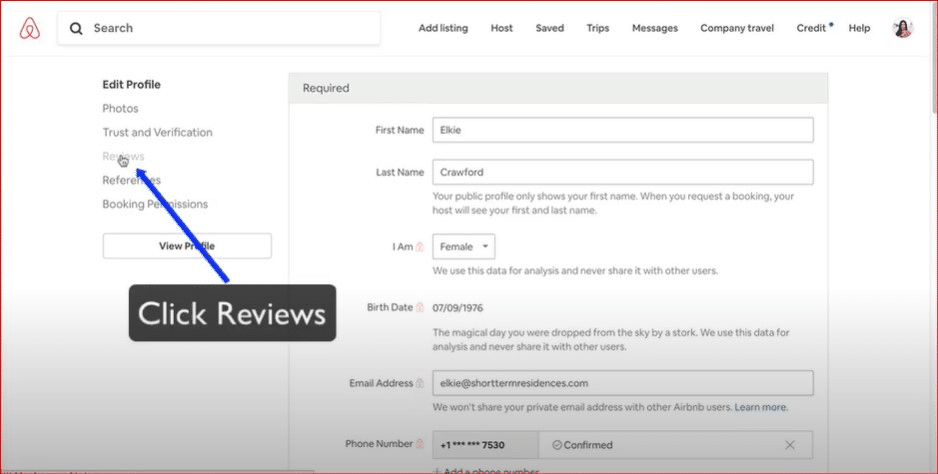 Then choose the "Reviews By You" option.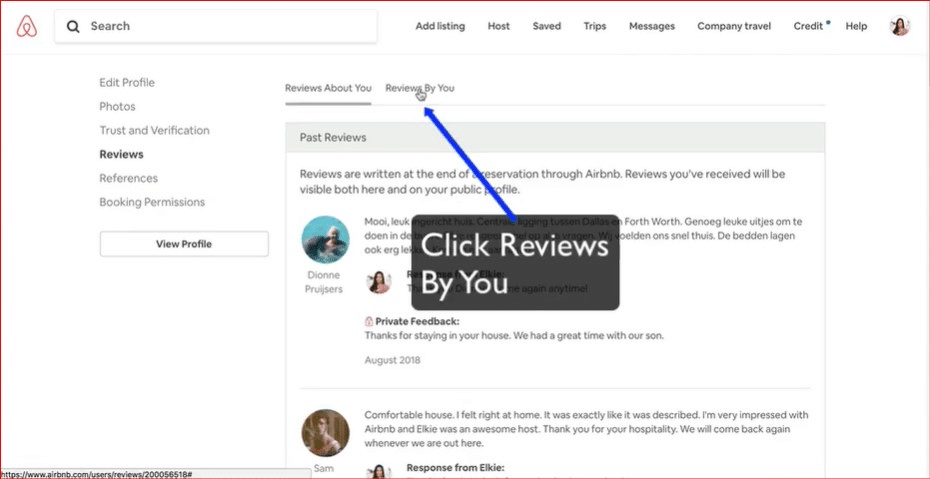 Here you will find your latest booking, or in other words, your pending review for Airbnb rental property that you've stayed in.
Write your honest opinion and click Publish.
Writing relevant and unbiased reviews on Airbnb is crucial to the platform's community.
As a host, guiding your guests on how to leave a review can help ensure that the feedback you receive is both helpful and constructive. Here are some tips:
Be Specific: Encourage your guests to be specific in their reviews. Instead of simply saying they enjoyed their stay, they could mention what they particularly liked about your place. Was it the cozy living room, the well-equipped kitchen, or the comfortable bed?

Be Honest: Honesty is key in Airbnb reviews. If there was a minor issue during their stay, it's better for them to mention it in the review. This helps you improve your service and makes the review seem more genuine.

Be Kind: While it's equally important, to be honest, to be kind is equally important. Encourage your guests to write their reviews respectfully, even if they're pointing out areas for improvement.

Provide Context: If your guests had a unique experience during their stay, such as attending a local festival or event, encourage them to mention it in their review. This can provide valuable context for future guests.

Recommendation: Finally, ask your guests to end their review with a recommendation. Would they recommend your place to other Airbnb users? This can be a powerful endorsement for your property.
You can also share the community standards for Writing relevant and unbiased reviews on Airbnb: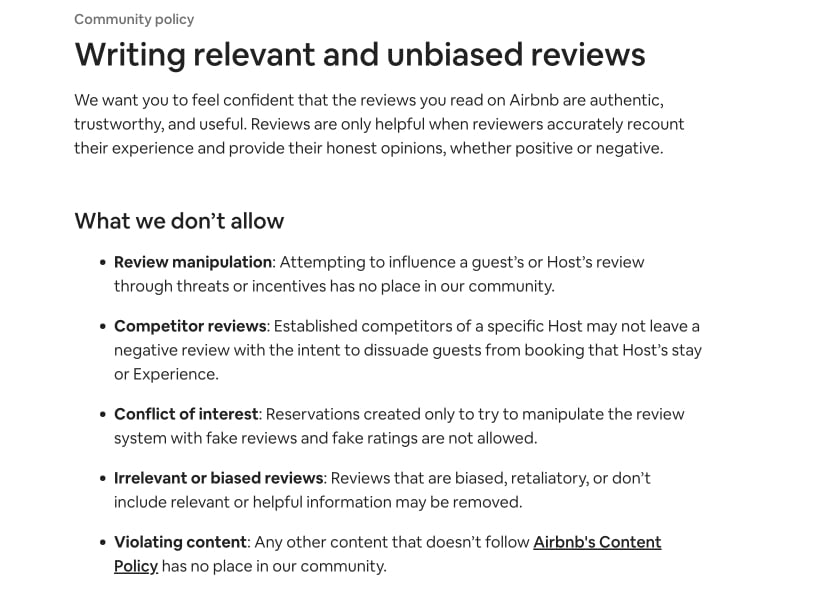 Conclusion
Embedding Airbnb reviews on your website can be a powerful tool for building trust, enhancing your online reputation, and attracting new customers directly from your home page. By showcasing the positive experiences of past guests, you create a compelling narrative that instills confidence in your offerings and adds ratings that are worth visiting. Through the step-by-step process of connecting with third-party review widgets such as EmbedReviews, you can easily display reviews on websites like Shopify, Webflow, Wix, WordPress, and others as a free tool with powerful integration.
If you are a vacation rental owner, a hospitality business, or just an ordinary Airbnb host, leveraging Airbnb reviews on your website can produce maximum efficiency for better success in the future. So, take the initiative, follow the integration steps, and unlock the potential of Airbnb reviews to raise trust, boost your online presence, and ultimately drive more bookings and conversions. Start embedding your reviews today and reap the rewards of showcasing the positive experiences of your guests on your own website.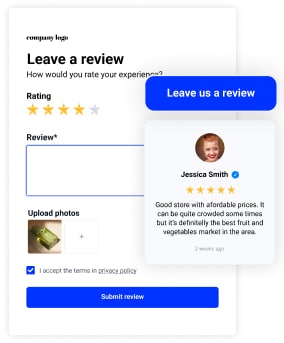 The easiest way to collect reviews and testimonials via AI review assistant, forms, SMS, or email
Try EmbedReviews, collect and display reviews widgets on your website. Automatically.
All PRO features | Cancel any time.
FAQ about Airbnb Reviews
Who can leave a review on Airbnb
Hosts and guests can only leave reviews for stays that have been booked and paid for on Airbnb.
Are Airbnb guest reviews public?
Yes, Airbnb guest reviews are generally public and visible to other users on the platform. They are intended to provide transparency and help future guests make informed decisions.
Where are the reviews on Airbnb?
The reviews on Airbnb can be found on the property listing page of each accommodation. They are displayed along with the overall rating, guest comments, and other relevant details about the host and the property.
Does Airbnb have widget?
Yes, Airbnb provides a widget that allows hosts to embed reviews from their Airbnb listings onto their personal websites or blogs. This widget enables hosts to showcase guest reviews and ratings to potential guests outside of the Airbnb platform.
Can you export Airbnb reviews?
You can manually copy and save the reviews or use third-party tools or scripts to extract the reviews from the Airbnb website. It's important to comply with Airbnb's terms of service and privacy policies when exporting or using guest reviews. It's recommended to refer to Airbnb's official documentation for the most up-to-date information on exporting reviews.
How much time do I have to write an Aribnbn review?
For stays, guests have 14 days after checkout to share their feedback. For Experiences, they have 30 days.
Can I edit my Airbnb review?
If you submit your review first, you may have up to 48 hours to edit it. But once the Host submits their review, both reviews are automatically published, and no more changes can be made.