Google Reviews Widget for Shopify
The easiest way to display your Google customers' reviews on a Shopify store with just a few clicks.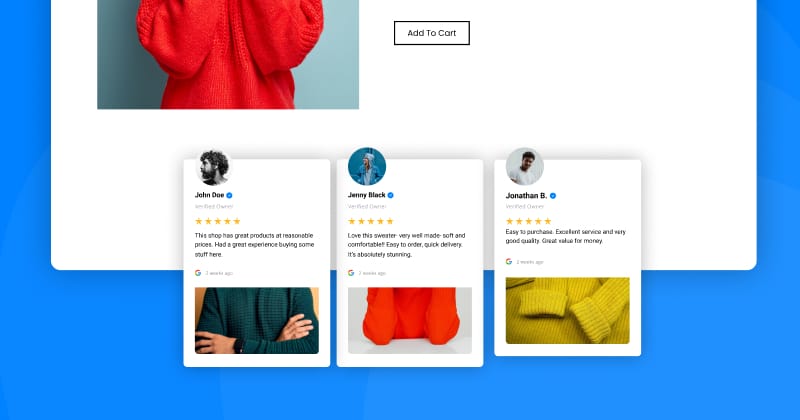 EmbedReviews helps you automatically collect the reviews you get on Google and show them on your Shopify store in the form of a modern widget that your visitors can't resist.
Show potential customers that they can trust you by displaying social proof on your Shopify homepage or an inner page. Our Review widgets for Shopify are fully mobile responsive, customizable, interactive, and look great on any Shopify design.
Try a combination of your Google location, Facebook Pages, Yelp reviews, or import testimonials from other review platforms, embed them in your Shopify store, and enjoy the boost in user engagement and conversions. No coding skills are required.
Benefits for Shopify stores
Display an immediate social proof
Save time and energy of manually adding your reviews
Get lower bounce rates and more time spent on your store
Improve your SEO efforts
Encourage more sales
Stimulate new reviews posting
Features for Shopify stores
Pre-made, fully mobile-responsive widgets that fit any Shopify design
Many customization options to craft the desired review widget
Custom CSS option to change the widget appearance
Add Review Badges and 'Leave a Review' buttons
Sort reviews by tags or keywords
Show only the reviews with a certain rating
Manually select reviews you want to be shown on your store
Send a review request emails to clients
Get an email notification for every new review
Respond to your reviews within the EmbedReviews platform
Transform your Google reviews to Facebook Ads
Show a star snippet next to your website on Google with aggregated schema code
Export your reviews info in a CSV format
Import your reviews data to any CRM or email management system
Combo reviews feed with testimonials from Facebook pages, Google location, Yelp, etc.
How to embed Google Reviews in Shopify
With EmbedReviews, you can display Google reviews from happy customers on your homepage, product pages, a separate page, or a combination of all of them. It's up to you.
To get started, here are the steps you should follow:
Steps to add Google reviews to Shopify
Start free trial for EmbedReviews and connect your GMB account
Create your reviews widget and customize it to fit your store design
Copy the HTML code located in the top right corner
Log in to your Shopify account
Choose 'Online Stores', select 'Actions' and click to 'Edit code'
Find the page where you want to display the reviews on
Paste the code from your EmbedReviews dashboard and click 'Save'
Looking for product reviews app for Shopify?
Install Verified Reviews
a full featured Shopify app for collecting and displaying product reviews on Shopify stores.
Start your free trial
Build trust to increase sales
Collect and show online reviews on your website right now.
All PRO features included Cancel any time