Your company will grow if you have happy and satisfied customers, right? But how to make sure that you keep your customers happy? How to understand what they like or dislike about your product or service?
It's very simple – Ask them!
It doesn't cost you anything to ask for customer feedback. But the valuable insights that you will get can be a game-changer and influence your next decision (and roadmap). At this point, you are probably wondering – what are the most effective methods to ask your customers for feedback?
It's easier than you think. In this guide, we will break down 8 easy ways to collect customer feedback, such as feedback forms or website feedback widgets, and encourage them to share their thoughts with you, along with some DO and DON'T you should have in mind.
What is Customer Feedback?
In simple terms:
Reasons to Ask Your Customers for Feedback
Here are some reasons why you should ask for feedback:
To learn what your customers like and don't like about your product or service;
To make your customers feel important and involved;
To show them that you care about what they have to say and respect their opinion;
Show your customer-centric culture in action;
To improve and shape your products or services to fit best their needs;
Improve customer retention and pricing plans,
To receive insights for further product development tasks for your roadmap.
In case you don't upset about what consumers have to say about you, here is a potential outcome: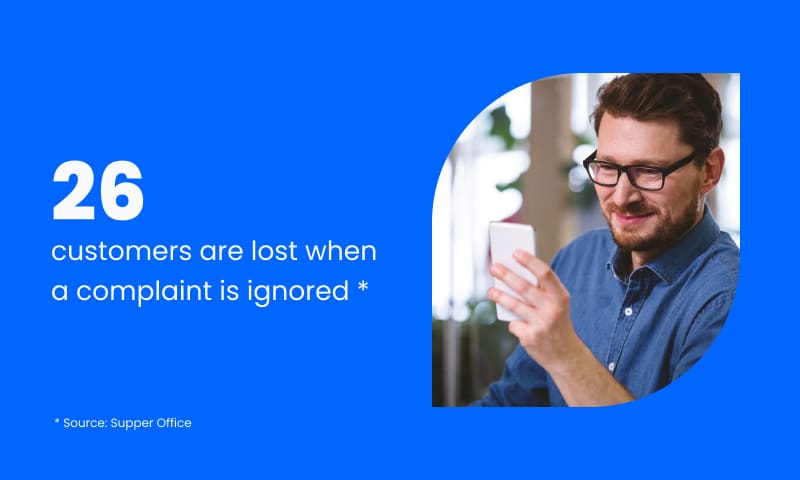 That's a high price to pay, right?
If so, continue reading as below we will list you the most effective methods to collect feedback.
Most Effective Customer Feedback Methods and How to Use Them
Ask for feedback on Live Chat Sessions
Ask for feedback while their experience with your company is still fresh. Live chats are a perfect place for this. Аfter a live chat session has closed, let the customer support team ask for feedback.
This can include basic questions about whether the chat experience was helpful.
The feedback data will also help you rate the effectiveness of your chat-support personnel.
Here in EmbedSocial, we use Intercom chat to communicate with our customers and we ask them for feedback at the end of the session.
This is how we do it:
We ask our customers for feedback after every chat ends. So, once the chat is closed, the customer receives a message to Rate the conversation and optionally, add a comment about their experience. The feedback we get from our users is valuable and it gives us insights on what we should do to improve the customer experience, and we can also see what makes them happy. Happy customers always ask to give us a positive review even before the chat ends.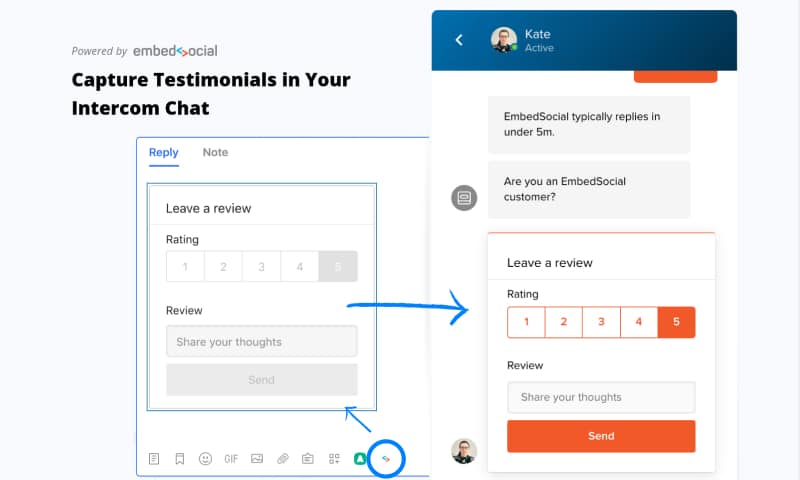 As Martina said, we pay close attention to both customer feedback and the quality of ours responses, as we try to address users promptly and with helpful information.
This helps us identify patterns of any recurring issues and find long-term solutions for them.
2. Dedicated feedback email
At least, add a dedicated feedback email on your website. If customers have any complaints, they can write their grievances via email.
It can look like this one: feedback@companyname.com
For greater impact, the email address should be highly visible on the website.
3. Use email surveys
No matter the response rate, email surveys remain one of the most efficient ways for gathering feedback from your customers.
It is a must channel for your new customers. So make sure to send them a satisfaction survey within 3 to 5 days of order confirmation.
Please note that repeat customers should not receive the online survey after every purchase, as they may get annoyed.
You can conduct email surveys by:
manually sending survey emails via your email editor
using AMP feedback form from VerifiedReviews to automate the sending part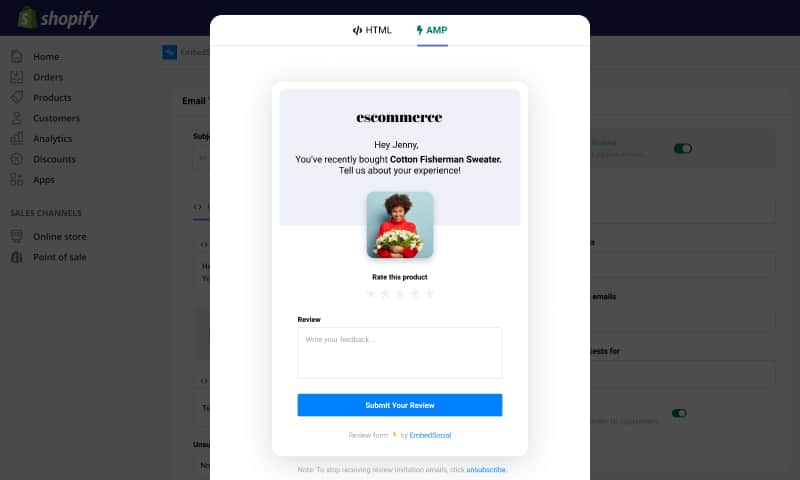 Click here to learn how to request customer feedback via email, automatically.
4. Create a dedicated customer feedback survey
Take this one step further and provide a dedicated feedback survey that you can send them via email.
Include all relevant questions related to feedback, but don't make it too long.
Take a look at these web feedback forms: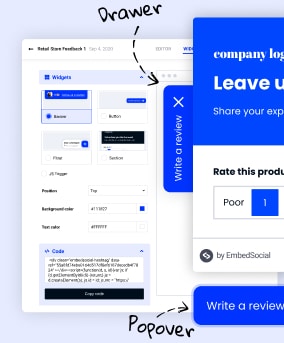 Build all your web forms for free
EmbedForms is the only form builder you will ever need to capture web leads, create surveys or collect feedback on your website.
Free forever | Live support available
They are simple and contain just enough survey questions to understand the complete user experience and not bother them with too many questions.
These survey templates can be found within our upcoming new feature – EmbedFroms. It's a tool that offers dozens of ready-to-use survey templates for every industry. They are fully customizable and provide numerous surveying options.
5. Embed feedback form on your website
Display a simple feedback form on your website that will consist of only the fundamental questions:
This is how it can look like: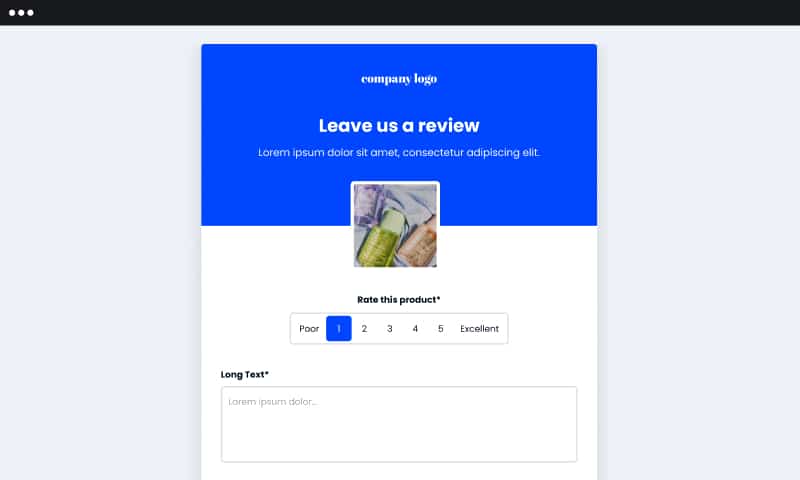 The feedback form below is part of the EmbedReviews platform.
It's a simple tool that helps you create feedback forms and send a unique link to the created form via email to your customers. Once you collect the feedback, you can show your customers testimonials straight on your website and update them in real-time.
6. Try SMS messages to ask for feedback
Having in mind that people hold their phones 24/7 next to them, asking your customers for their feedback via SMS can be your golden opportunity.
This is how an SMS review message looks like: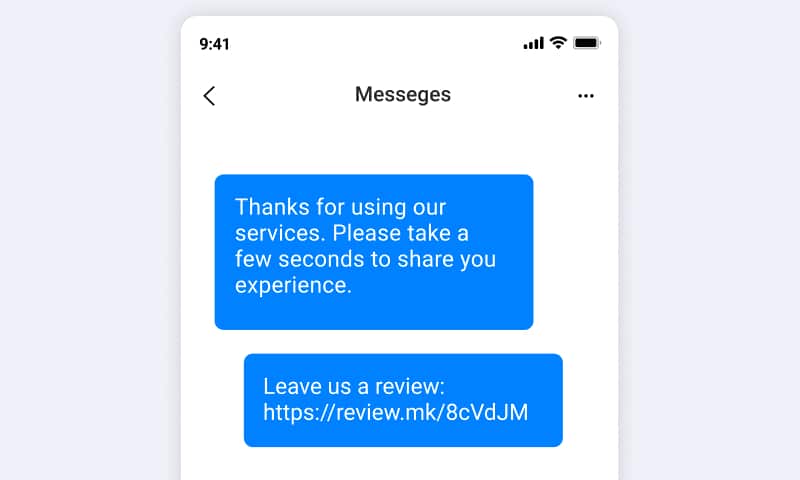 This is functionality within our EmbedReviews platform, developed to help our users reach their customers more efficiently and collect more feedback on-the-go.
Check out the complete step-by-step guide to Send SMS Review Requests And Collect Feedback Via Text Message.
7. Measure customer satisfaction with Net Promoter Score (NPS) and Customer Satisfaction Score (CSAT)
Net Promoter Score is a metric to measure customer satisfaction and predicts business growth.
You can calculate your NPS with an 0-110 scale to answer key questions such as: How satisfied are you with your experience in our company?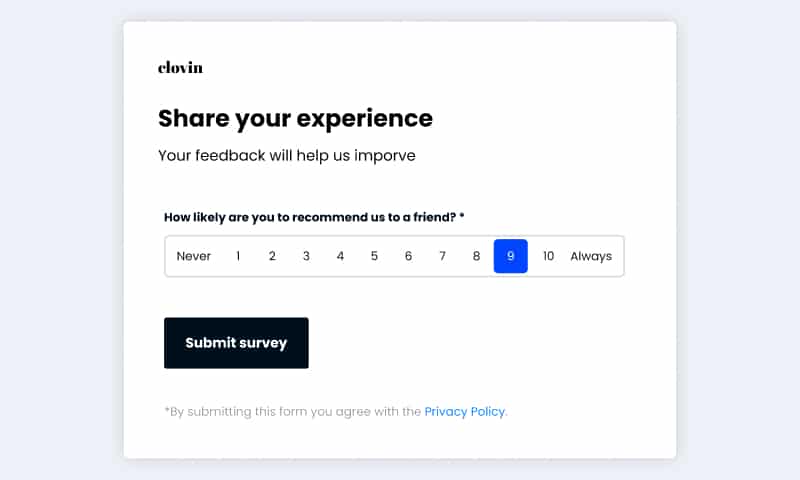 Respondents are sorted in the following way:
Promoters (score 9-10): loyal customers who will continue using your products or services;
Passives (score 7-8): generally satisfied but vulnerable to other competitive offerings;
Detractors (score 0-6): unhappy customers who can harm your name and spread some negative word-of-mouth.
Unlike NPS, in the Customer Satisfaction Score (CSAT) survey, you have a different scale when answering.
For example, if you ask: How would you rate your experience with our company?
The options for the answer will look like this: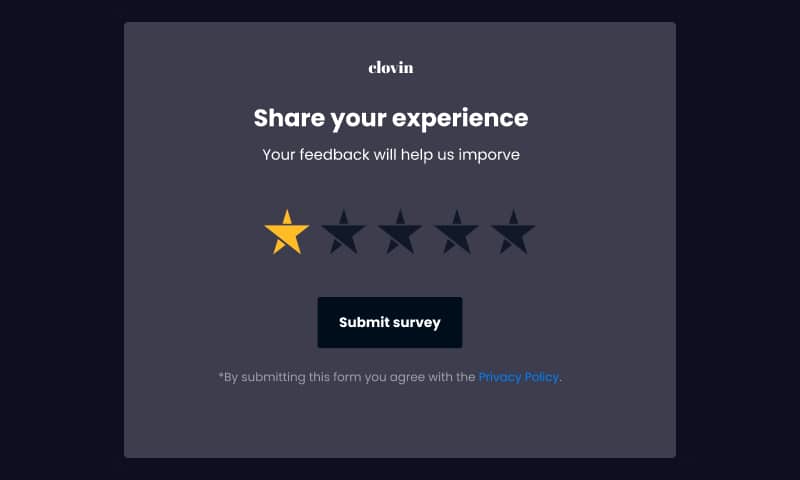 For better results, make sure to include both scoring options in every survey you create.
8. Monitor social channels and Google mentions
Social media networks such as Facebook, Twitter, LinkedIn, etc., can be a priceless resource for gathering customer feedback.
Although social listening is not a direct way to collect feedback from your customers, it's a must to improve user experience and quickly respond to any issue or pain points that might arise.
For example, here at EmbedSocial, we use Google Alerts. Next time someone mentions us, we get a notification and can immediately act upon it.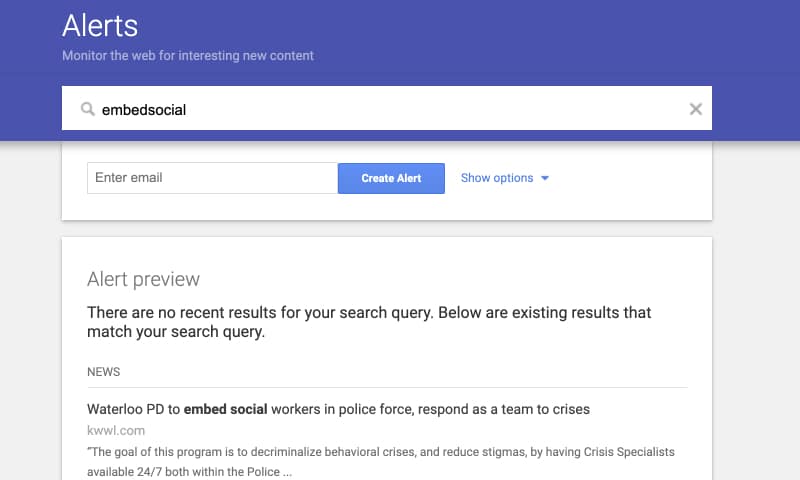 Timing is everything. As negative comments tend to spread rapidly, make sure to handle social media comments promptly and address potential issues.
Check out some tips on how to improve your online reputation management and create an A+ online presence.
10 tips to encourage customers to give you feedback
If you are still doubtful that your customers will be willing to give you feedback, consider applying the following tips:
After every interaction with a client, ask them to give you online feedback about their experience;
Automate the process of asking for online reviews after purchase (like shown above);
If no response, follow up one week later to ask them to share their shopping experience;
Send thank-you emails to customers regularly to increase customer loyalty. If they reply, thank them for their feedback and asks them to share their opinion about your brand;
Send a personal message or video to the customer, thank them for supporting you, and ask if they would like to leave you a review;
Continuously educate your customers on how important customer surveys are to your business;
Engage and reply with users who have already written reviews, so those who didn't leave you online reviews, will feel encouraged to do that;
Respond to negative feedback ASAP, try and resolve the issue;
Share reviews on your social media platforms to motivate and encourage customers to review your new products;
Offer incentives like coupon codes or discounts for provided feedback.
Collecting Customer Feedback DO and DON'T
To sum up, here are some takeaways to consider when collecting feedback from customers: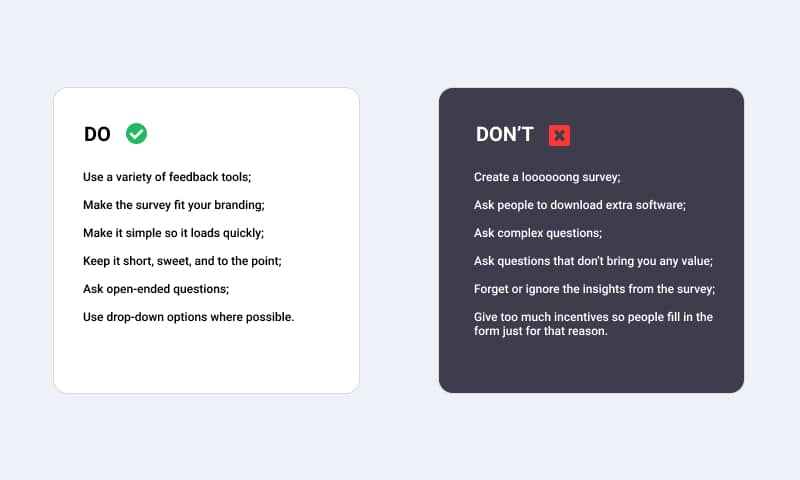 DO
Use a variety of online and offline feedback tools;
Ensure user-friendly survey with simple navigation that loads quickly;
Make the survey complements your corporate branding;
Keep it short, sweet, and to the point;
Ask open-ended questions;
Use drop-down options where possible.
DON'T
Create a long survey and make them have to scroll down the page to complete questions;
Make them download extra software to complete the form;
Ask complex questions;
Ask questions that don't bring you any valuable information;
Ignore the results and the insights from the survey.
How to act upon your customer's feedback
After you gather customer feedback, what next?
To be proactive and act upon it!
Use the ''feedback loop'' to make adjustments and improve how your business works.
Here are several ways on how you should act on customer feedback:
If your customer tells you that you have done something wrong, acknowledge the mistake and ask how you can make it up to them;
Ask people, "what else can we do to make your experience better?";
Display reviews from happy customers on your website as testimonials;
Create a feature request board where you will list all the received ideas and discuss them with your product team;
Use feedback to motivate the team and improve team morale.
Over to you
Are you ready to collect feedback?
There is a lot you can get from collecting feedback data and absolutely nothing to lose.
All you have to do is just ASK!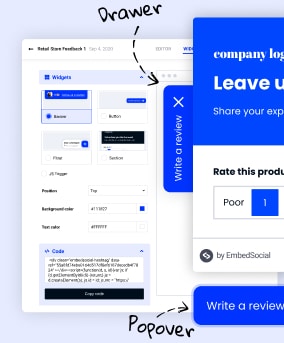 Build all your web forms for free
EmbedForms is the only form builder you will ever need to capture web leads, create surveys or collect feedback on your website.
Free forever | Live support available