The online world is a breeding ground for negative sentiment. The internet can be a nasty place, from angry customers to disgruntled employees. This is where online reputation management software comes in.
Online reputation management software is designed to help businesses and individuals keep a close eye on their online reputation. The software can help identify any potentially harmful content online and provide steps to take to mitigate the damage.
To help you choose the right software for you, we've compiled a list of the best online reputation tools out there.
Have a look.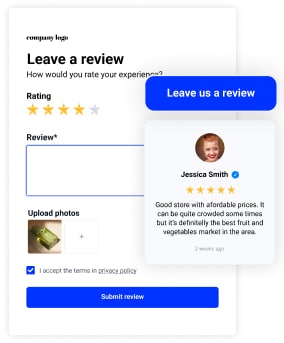 The easiest way to collect reviews and testimonials via AI review assistant, forms, SMS, or email
Try EmbedReviews, collect and display reviews widgets on your website. Automatically.
All PRO features | Cancel any time.
Why use online reputation management software?
It's no rocket science, really: Name one brand that isn't interested in building a reputation as a thought leader in its niche and enjoying authority and integrity like the Queen of the UK; may she rest in peace.
A good reputation is a not-so-secret weapon to the brand's overall success. In other words, people reviewing you in the online world means:
Better marketing
A good reputation is one of the best marketing tricks you can pull from your sleeve. Why? Because it will cost you nothing in terms of marketing your brand – a good reputation is a marketer itself.
When your name is associated with positive feedback from customers, they will be more than happy to share that experience with others. To be perfectly honest, they will do the same with the negative experience, but then you'll have to spend more on fixing the problem.
Better ranking
A not-so-well know secret is that search engines' algorithms favor brands with good online reputations. This means that the better your reputation, the bigger your chances of appearing at the top of the search engine.
It's all an indexing game when it comes to ranking brands online, so you better make sure Google finds you reputable enough to show you in the top search results.
Better social proof
This one is closely connected with the previous passage. The more you show up in search engines, the more people will have the opportunity to find you and give you a review.
As a business, collecting social proof and customer feedback should be one of your top priorities. Whether that proof is positive or negative, you can always use it to learn from it and adjust your business strategy.
Stronger brand authority
A good reputation builds strong authority. The more trust people have in your brand, the more likely they will buy from you. To build this authority, you better pay attention to what customers say and how they respond to any content you may have distributed online.
Better conversions
Pure logic, right? The better the customer's experience with you, the greater number of conversions. And conversions mean any type of action that will lead your potential customer further down the sales funnel.
This can include the number of downloading freebies from your website, signing up for your newsletter, the open rate of your emails, and, of course, the percentage of sales.
Better profit
Lastly, this is what it all comes down to. You're going through all this effort with the ultimate goal in mind – making a profit. Or better yet – increasing it. Statistics say that only one additional star on Yelp can increase your profit by 9%.
Using online reputation management software can help you reach this goal, provided you do a great job listening to what customers are saying about you. Use this tool to encourage customers to praise you when you do a great job publicly, but also tend to the negative feedback in the most professional manner.
Must have features for online reputation management
There are many online reputation management software programs on the market, but how do you choose the right one for your business? Here's a list of features you should pay attention to before deciding on the tool:
Review requests

Competitor analysis

Sentiment analysis
Feedback management
Analytics
Marketing options
Email alerts
Integrations with third-party tools
SEO Schema code
Solid customer support
Ease of use
Now let's get to that list of the best tools for managing online reputation:
EmbedReviews – Social media reviews display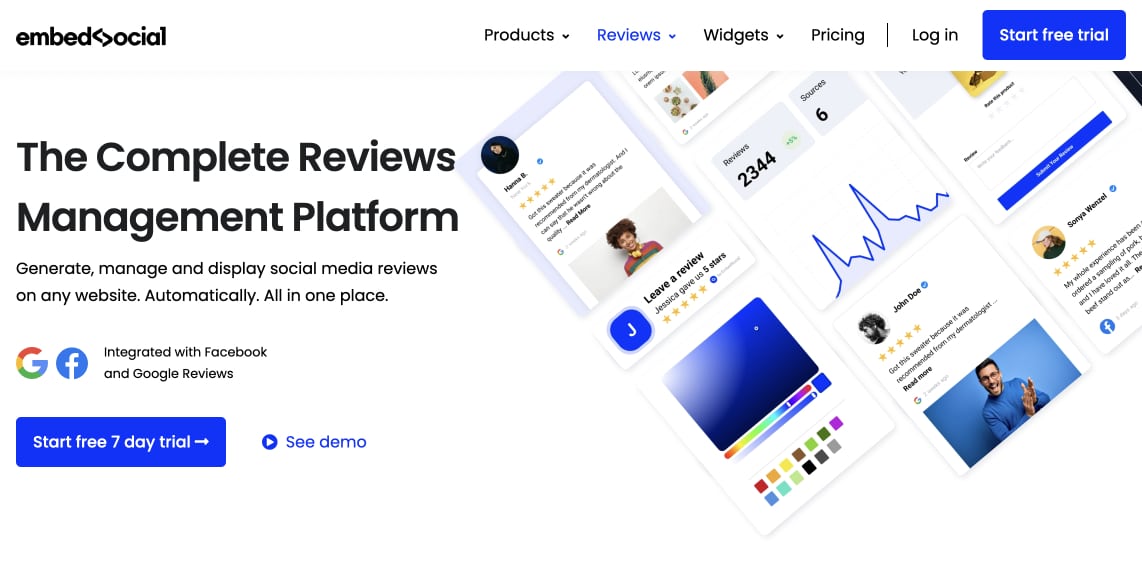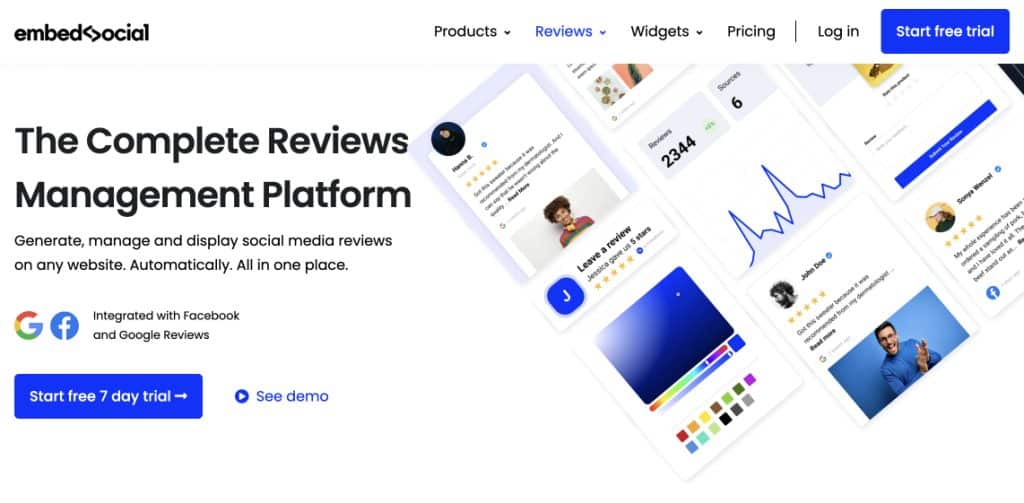 EmbedReviews is one of the top review collection providers with the end user in mind. Its main function is to automatically aggregate online reviews from platforms such as Google and Facebook and help you embed them on a website. Without any coding skills needed.
This software mainly focuses on growing your brand through customer advocacy and trust. It places social proof on your website with real-time reviews from actual customers to help of prospective customers read authentic reviews and make faster purchasing decisions. EmbedReviews work with all major web builders like WordPress, Shopify, Wix, Squarespace, and others, which doesn't require any additional apps or plugin installation.
The main features are:
Automatic Google reviews
Collect and display Facebook reviews
Collect reviews via SMS
Create custom reviews forms
Reviews pages
Schema codes
Analytics and insights
Reviews management with tags
Modern reviews widgets
Full customization of the widgets
Integration and APIs
Easy to use and setup
The most popular pricing plans are:
PRO – for taking reviews and UGC to the next level: 29€/month for 2 social media sources
Agency – for larger brands or agencies having more locations or websites, 99€/month for 15 social media sources
All of their plans come with a free 7-day trial and a money-back guarantee.
Brand 24 Online Monitoring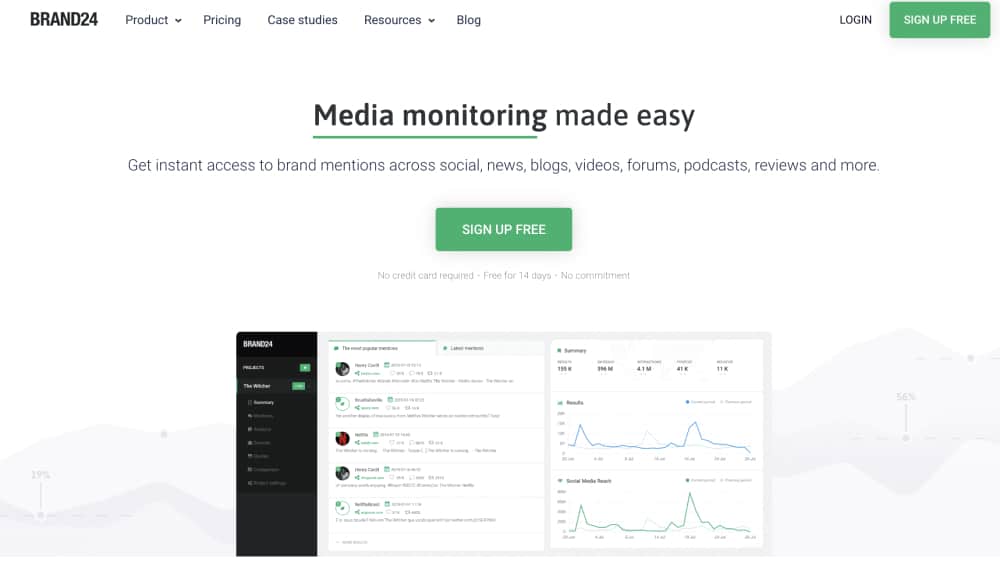 Brand24 is an online reputation management software that is great for all business sizes, and this is the main reason why it's considered to be the best for most. It gives you access to any brand mentions on social media, forums, podcasts, videos, blogs, news, reviews, and a few more.
The features it offers are as follows:
Mention feed
Discussion volume chart
Marketing Analytics
Influence score
Sentiment analysis
Alerts
Data exporting
Filtering
Slack integration
Brand24 works on a project-based strategy which means you can follow more than one brand or specific campaigns of one brand. This online reputation management tool starts working at the same moment when you launch your project and collects as much historical data as possible from the last 30 days.
As for the pricing, they offer 4 paid plans (calculated yearly):
Individual $49: 3 keywords, 2K mentions/mo, 1 user
Team $99: 7 keywords, 5K mentions/mo, unlimited users
Pro $149: 12 keywords, 25K mentions/mo, unlimited users
Enterprise $249: 25 keywords, 100K mentions/mo, unlimited users
You can always, however, start with a free 14-day trial and see how you like it.
ReviewTrackers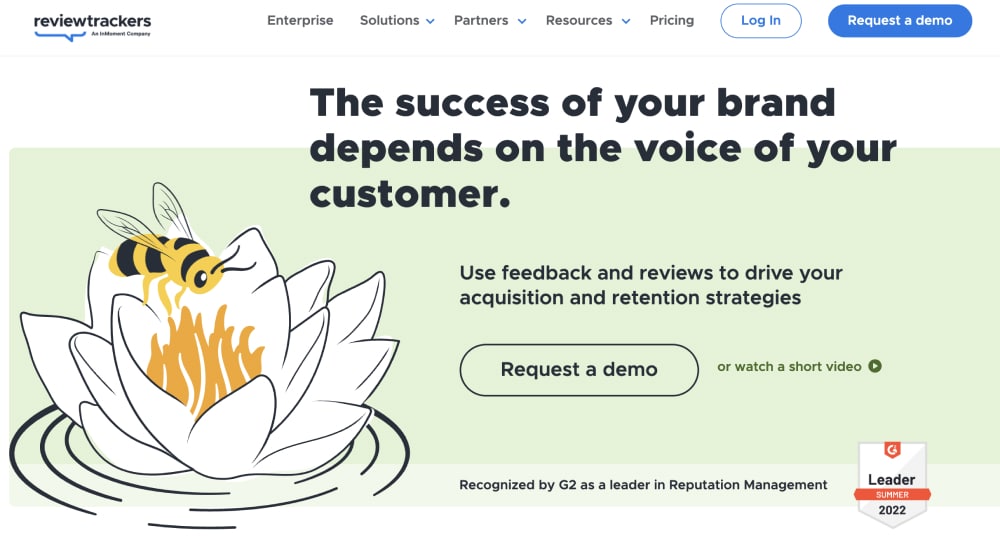 Reviews Trackers is an online reputation management software recognized by G2 as a leader in reputation management. Its specialty is aggregating and analyzing online reviews from all the big review sites and helping businesses with multiple locations interpret customer insights for better local SEO and overall operation optimization.
Its features:
Reputation management
Customer experience analytics
Monitor social + reviews
Local SEO
Competitor analysis
Local listing management
Acquisition
Retention
And add-ons:
Employer brand monitoring
Software brand monitoring
App Store monitoring
When it comes to pricing, these guys have come up with something interesting: The more you track, the less you pay. To see the pricing for your customized number of locations for tracking, you need to enter that number in the calculator. It looks like this: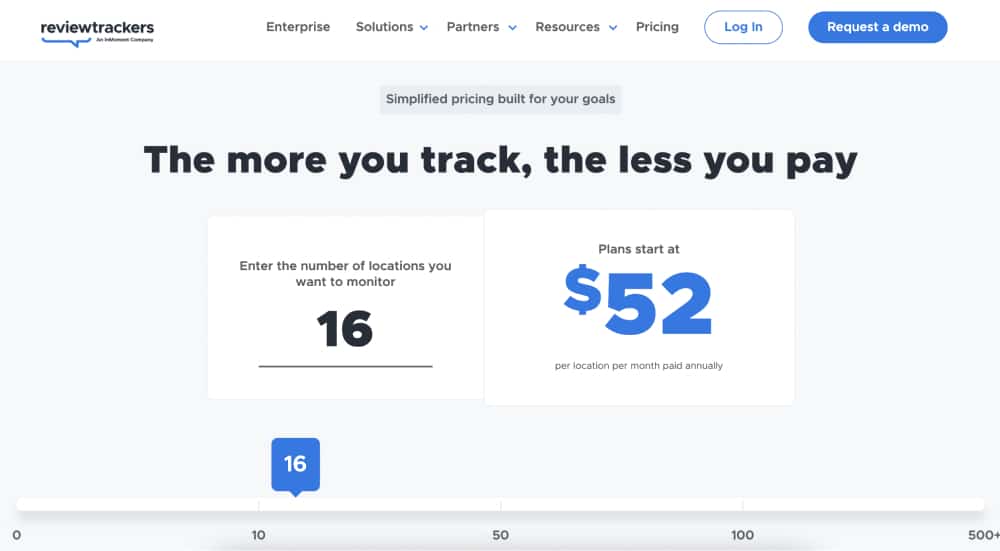 From what we saw on their website, there is no free trial, but there is the option for booking a demo.
"It's so efficient having all of our reviews funnel into one central space. We also appreciate being able to filter specific types of reviews focusing on keywords we choose".
Brand Mentions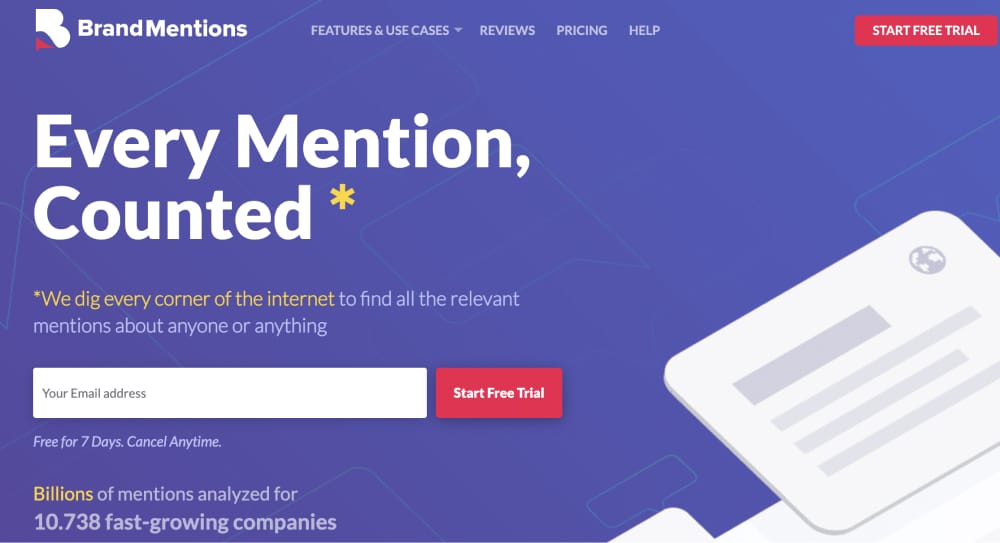 Another one of the favorite online reputation management software, BrandMentions, combines brand monitoring and social listening to discover mentions or reviews of your brand on various platforms and websites.
This tool's main features are:
Brand monitoring
Reputation management
Competitor spying
Media monitoring
Business intelligence
Sentiment analysis
White labeling
Resellers and agencies
Real-time notifications
Web and social listening
You can also use this tool to acquire and retain customers, as the software tells you where to promote your products and services and where to find customers.
Their pricing:
Enterprise/Agency – $499/mo, unlimited projects, 150 keywords, 10 years of historical data, unlimited shareable dashboards
Company – $299/mo, 10 projects, 50 keywords, 1 year of historical data, 10 shareable dashboards
Growing business – $99/mo, 3 projects, 15 keywords, 6 months of historical data, 1 shareable dashboard
The good news is you can try all of their plans for 7 days for free, and you can cancel anytime.
"Easy setup, simple interface, data is displayed in an easily consumable format, nice white label reporting with the plan I'm currently on. I've discovered website mentions I probably would have never found without Brand Mentions. I can also track which influential users on social platforms like Twitter have interacted with my account through retweets or replies".
Mention – Tracking Online Mentions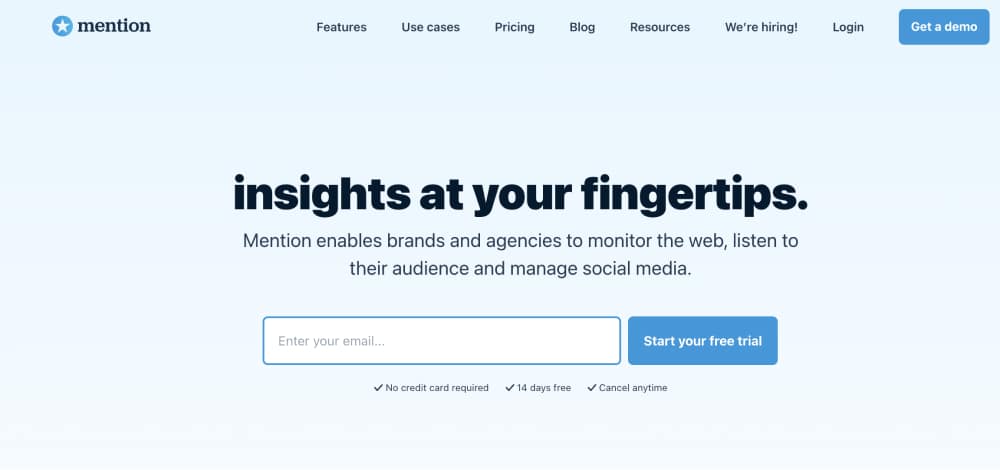 Mention is a tool that does an especially good job when it comes to tracking mentions of your brand across websites and social media channels. You can use it to analyze posts on Facebook, Twitter, Instagram, Pinterest – all the greats, and you can actually filter conversations to see which topics are trending. This is the best online reputation management software if your focus is on social media.
Mention's features include:
Alerts
Social listening
Media monitoring
Analytics
Measuring your marketing and PR impact
Ease of use
Overall functionality
Boolean Search
Precise reporting
Reduce noise
Content creation based on relevant insights
Competitive analysis
Brand management
When it comes to their pricing, these are their yearly plans:
Free – for individuals just starting: 1 alert, 1000 mentions, 3 accounts, 1 user
Solo – for entrepreneurs and individuals: $24/mo, 2 alerts, 5000 mentions, 5 accounts, 1 user
Pro – for marketers and small businesses: $83, 5 alerts, 10 000 mentions, 10 accounts, unlimited users
Pro Plus – for growing businesses and skilled professionals: $166, 7 alerts, 20 000 mentions, 15 accounts, unlimited users
Company – for teams and agencies: customized pricing, 10+ alerts, 100 000+ mentions, unlimited accounts, unlimited users
You can get a demo only with the Company plan, while all the other plans offer a 14-day free trial.
Birdeye – Local Reviews Management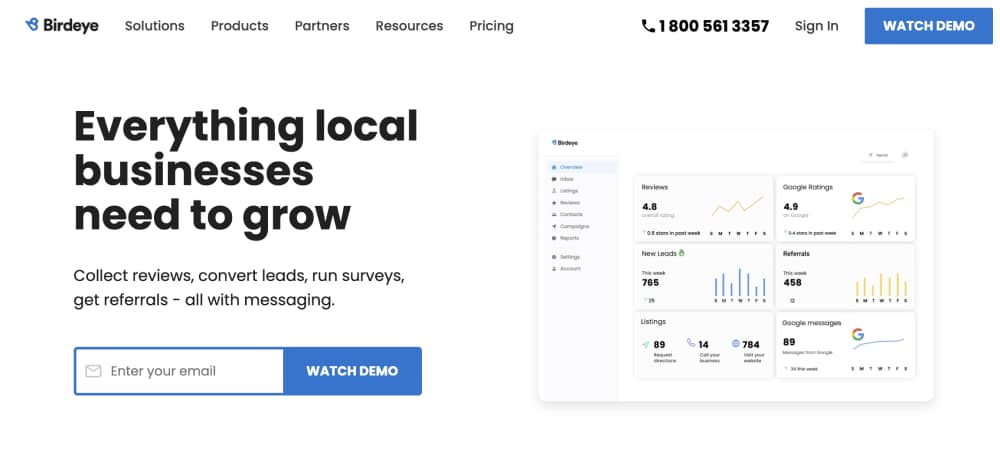 Birdeye is an all-in-one customer experience and reputation platform trusted by over 90 000 businesses. Its main weapon is using customer feedback for acquiring and retaining customers while building a great brand reputation. We're talking about connecting with customers, capturing ratings, and analyzing sentiment across multiple channels such as social media, review sites, and surveys.
As they say, Birdeye is a platform that closes the loop between customer experience and reputation management; this is their greatest asset. The software's features include:
Customer feedback
Competitive intelligence
Analytics
Corporate reporting
Centralized dashboard
Social networks monitoring
Social media management
Digital media monitoring
Notifications
Network directory
Real-time updates
Reputation management
SEO
Online reviews
To see their pricing, enter your company's details in their pricing configurator: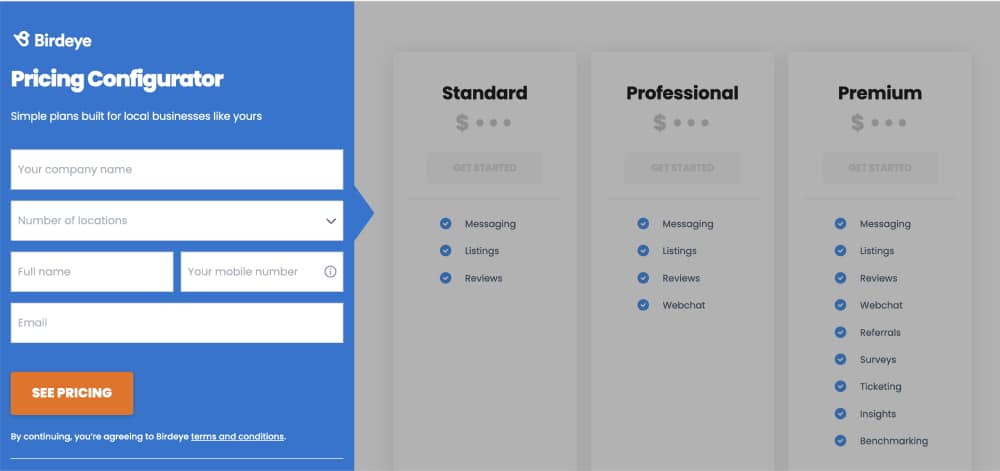 Reputation – all online feedback platform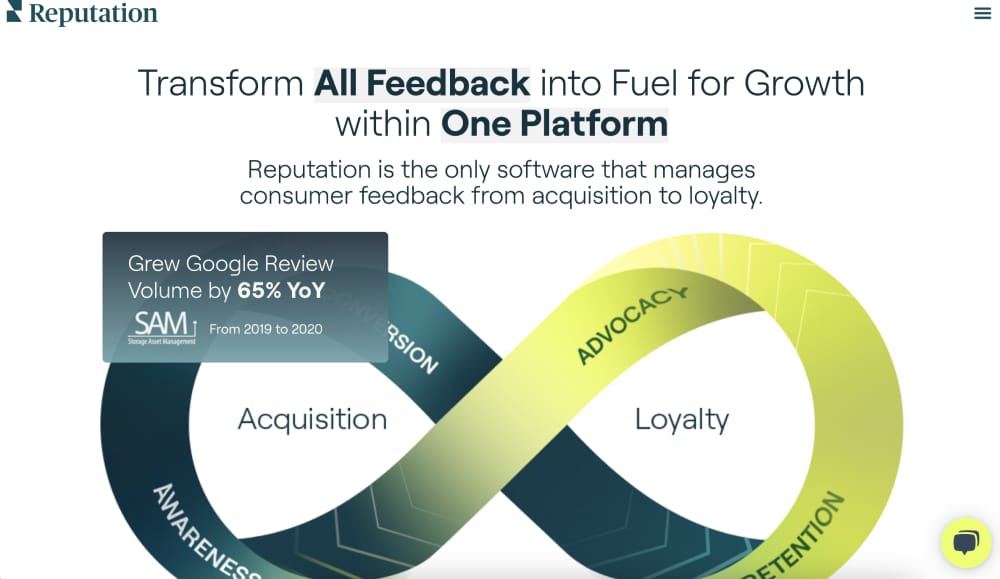 Reputation is considered the industry leader in its niche, and this online reputation management software best suits large businesses with multiple locations. It's another all-in-one platform that allows you to collect feedback from likes, comments, surveys, listings, reviews, and even clicks.
Companies such as Google, Salesforce, Amazon, Facebook, Nissan, BMW, and many more trust Reputation and the category of their own making – Reputation Experience Management. What differentiates this tool from the rest is that it offers a reputation score for your brand so you can make double down on the things you're doing right and adjust the things that are doing, well, not so great.
Here's a summary of this tool's features:
Social publishing
Social engagement
Customer feedback
Competitive intelligence
Sentiment analysis
Corporate reporting
Dashboard
Social networks monitoring
Social media management
Digital media monitoring
Team workflow
Surveys
Reporting
Analytics
Easy to use
Great support
They haven't given any pricing information on their website, but you can get a demo when you fill out their online form. Here is what one of their user is saying:
"I love that they centralize all of your reviews in one place, and you can respond to them right then and there as well. being compared to competitors, I think it's much easier to find your way around and be more efficient".
Buzzsumo – Brand mentions and competitor monitoring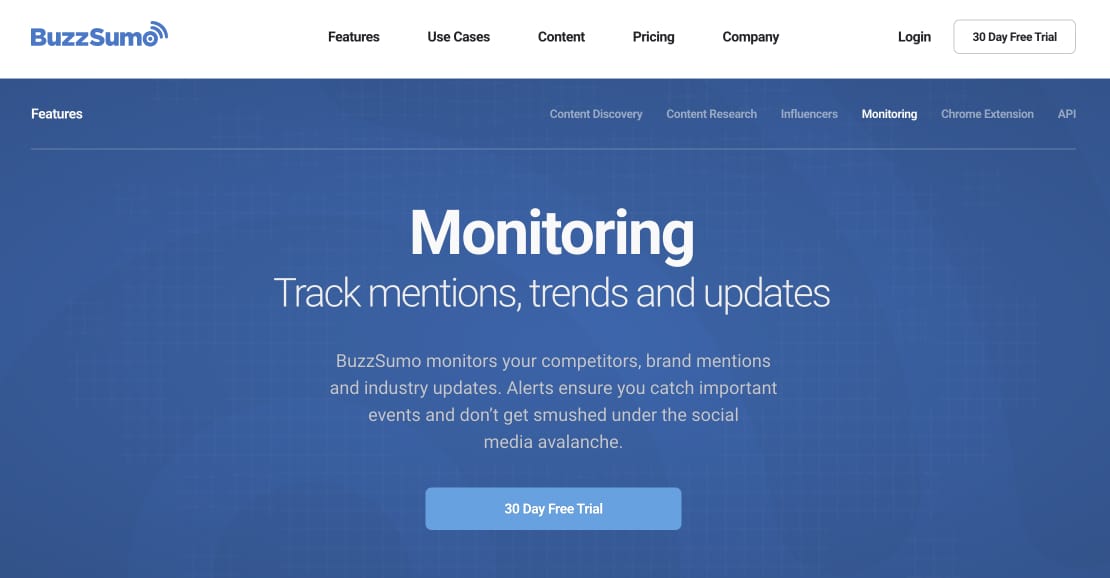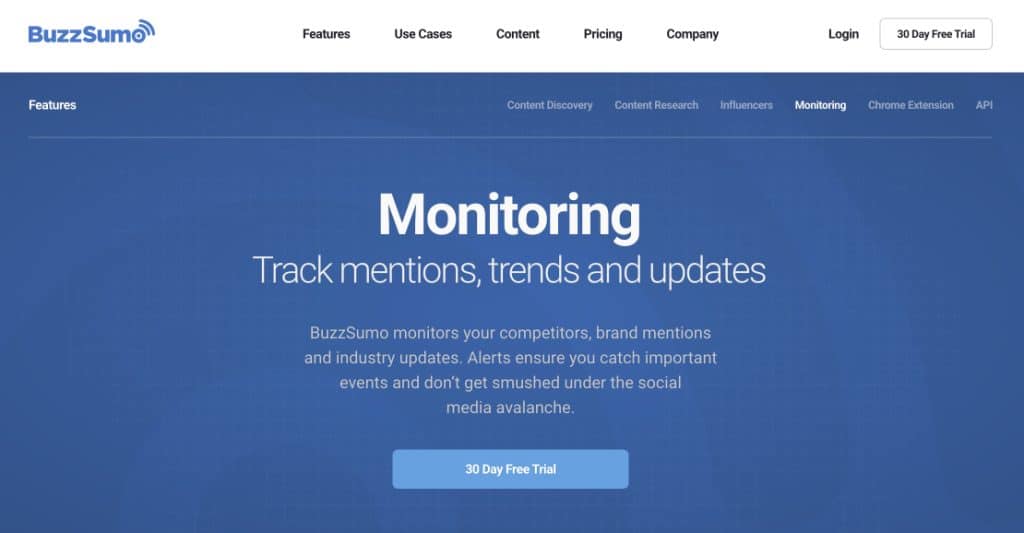 As you can see from their homepage, Buzzsumo as a tool works slightly differently from the rest of the tools on this list. Their main focus is discovering content that performs best and using that data to help you navigate your own content for better brand success.
Although its basic purpose is content marketing, businesses in any niche use it for the content data it provides – especially data on engagement on social channels like Facebook, Reddit, Twitter, and Pinterest. You can use this tool for:
Brand mentions
Competitor mentions
Crisis alerting
Keyword mentions
Post-performance
Reports and visualizations
Influencer identification
Social reporting
Analytics
Report exporting
Easy to use and setup
As for the pricing, all of their plans come with a 30-day free trial.
Reputology – reviews management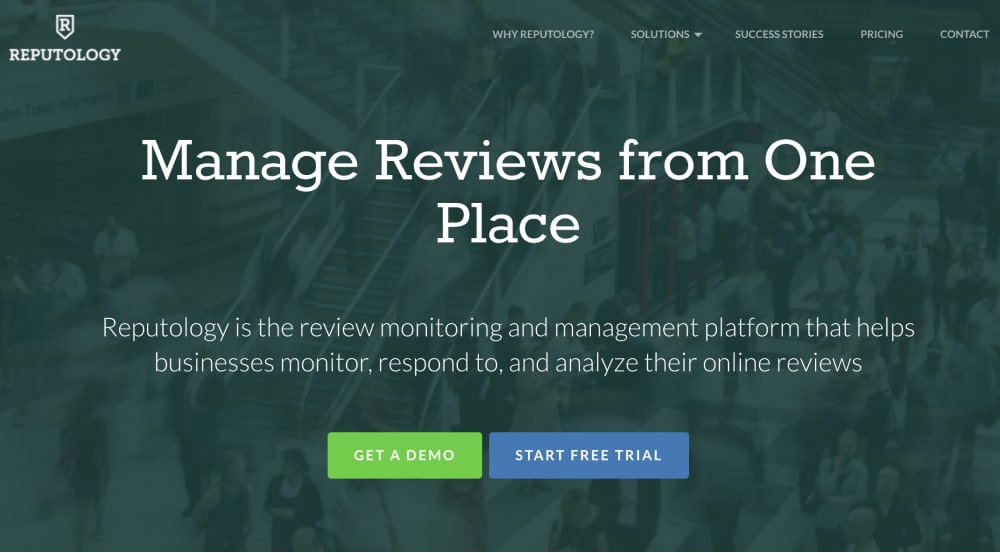 Reputology is a reviews management software focusing on capturing customer feedback and using it to scale the brand's reputation and profit. It works well with small to mid-sized to large businesses because it relies heavily on the business's location.
Their customer base is quite diverse, proving how good this tool is for any type of business – from marketing agencies, hotel chains, automotive groups, healthcare organizations, etc.
Here are its features:
24/7 review monitoring (Google My Business, Facebook, iPhone App Store)
Quick responses from the platform
Single dashboard
Keeping tabs on the managing of reviews
Customer sentiment analysis
Measure performance
Identifying the root cause of customer complaints
Analytics
Easy to use and setup
Easy data organization suitable for presentations
Real-time updates
Customized email alerts
Workflow tool
Competitive benchmarking
Automated feedback collection
Integrations with all major apps
Their pricing plans all come with a 14-day free trial period. You can see some of the plan options here:
Solo – for single location business owners and marketers: $110 per seat/mo, 1 seat
Professional – individual marketers, consultants, and small agencies: $60 per seat/mo, 3 seats
Agency – for small to mid-sized agencies, local SEOs, and multi-location businesses: $40 per seat/mo, 10 seats
Partner – for larger agencies, franchises, brands, and enterprises: $25 per seat/mo, 100 seats
Chatmeter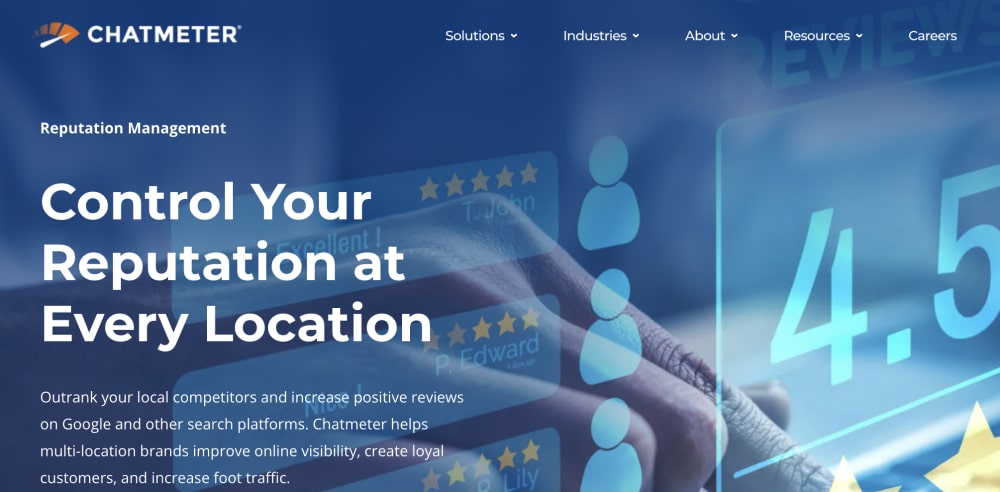 Best suited for chains and franchises, Chatmeter is an excellent online reputation tool for leveraging listing and social media management, local pages, analytics, and a few others.
Here are some of Chatmeter's features:
Business intelligence
Competitor analysis
Omnichannel integration
Secure user access
Reputation management
Listing optimization
Data-driven CX insights
Social media publishing
Analytics and Reporting
Dedicated success manager
Real-time customer sentiment
Full-service review response
And here is what one customer has to say about this tool:
Their website does not give pricing, but you can book a demo through their online form.
FAQ about reputation management software
What is an online reputation management tool?
The online reputation management tool is software brands use to monitor online customer reviews, improve negative feedback, and promote a positive experience with the brand.
What are the key elements of reputation management?
The key elements of reputation management include: monitoring social media, responding to feedback shared on reviews sites, and displaying reviews on your website as social proof for your potential customers.
What is ORM?
ORM means Online Reputation Management.
What are the types of reputation management?
Reputation management deals with reputation attacks, public relations, social media, SEO, online reviews, spam bots, and content removal.
Key Takeaways
No one wants a negative reputation, especially online. Luckily, plenty of great online reputation management software options will help you to discover and promptly respond to any risk to your reputation.
The trends in online reputation management dictate for any your company to constantly improve its reputation, solidify the existing one, or even start building it from scratch. And as you see, plenty of tools will help you achieve this.
Choose the one that best suits your needs and see your reputation transform into a kind even the Virgin Mary would be envious of.
FYI: You can embed Google reviews widget automatically with EmbedReviews platform. Start a free trial and display your Google reviews now.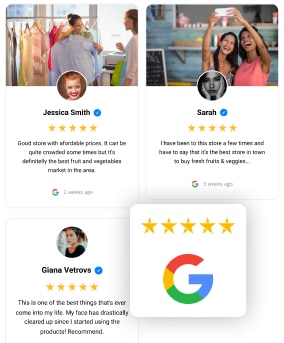 Generate & embed your Google Reviews.
Try EmbedReviews, generate Facebook and Google reviews, and display social media reviews widgets on your website. Automatically and in seconds.
All PRO features | Cancel any time.