We are happy to announce a major release this month of our entire platform.
Our remote work is enabling us to respond quickly to our customer requests and ship more features.
In these release notes, we wrap up what we have been working on for the past few weeks and we would love to hear feedback from our users.
If you are new to EmbedSocial, feel free to sign up for a trial and see our products in action and for all our current users to continue reading to check what we've released this month.
Okay, let's dive in!
Reviews settings redesign
As you probably know, we recently launched an entire re-design of our reviews and testimonial widget layouts, as requested by our customers.
After the new layouts, we figured out that it would be nice if we can go one step further and improve the design of the Setting menu too. In the way, we also rearranged the drop-down menu and made it easier to copy the code.
We hope that this upgrade will make it easier and more intuitive for users to navigate throughout the settings section and customize the widgets faster.
And we didn't stop here.
Additionally, we improved the Instructions section, which you can activate by clicking the links just below the code.
This section is dedicated to new users mostly in order to enable them a quick and easier way to understand how and where to embed the widget in their specific CMS or eCommerce platform.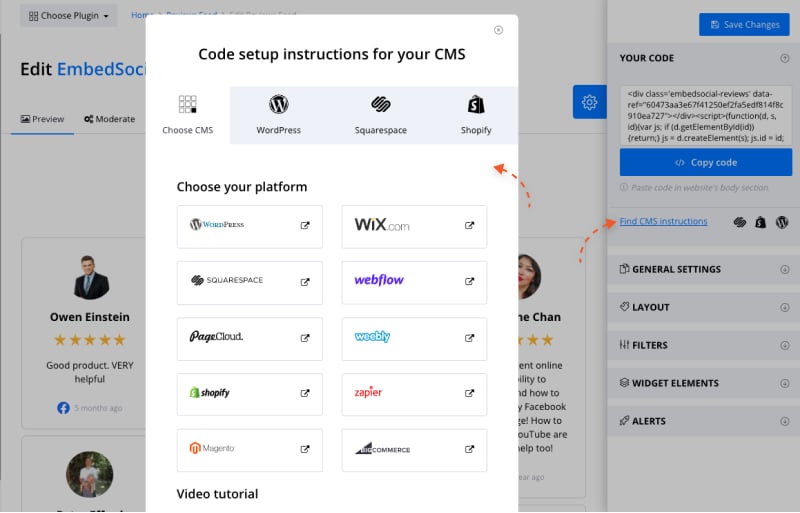 Activate 'Leave a review' button in the widgets
Recently, to help customers collect reviews directly from their websites, we developed a 'Leave a review' button that can be added anywhere on the website. And customers had to generate and add the button manually.
Now, we decided to go with a shortcut.
Along with the Page layout, we included the 'Leave a review' button in our Table widget layouts which will soon be rolled out to all layouts.
And that's not it. You can choose where a click on the button will direct users:
Facebook reviews page,
Google reviews page or
EmbedSocial review collect form.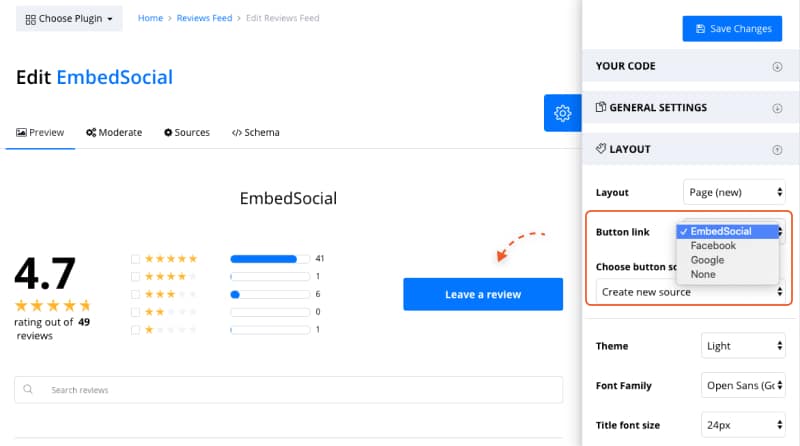 This functionality can make the collect reviews process more effortless because users don't always go that extra mile and visit your Facebook profile or Google account to leave a review.
And now, they can do that directly in the widget on your website.
How great is that?
Select multiple sources for reports
If you are a data-driven marketer, you have probably noticed that we used to have the option to download only individual reports from a Source. 
With the latest release, we save you some time and energy by adding the option to select multiple sources and download them at once instead of doing that individually.
To include multiple sources for your report, just click on the drop-down bar below 'Sources' and include as many sources as you need.
Click on the link https://embedsocial.com/admin/reviews_reports to pull up as many reports as you want in a matter of seconds.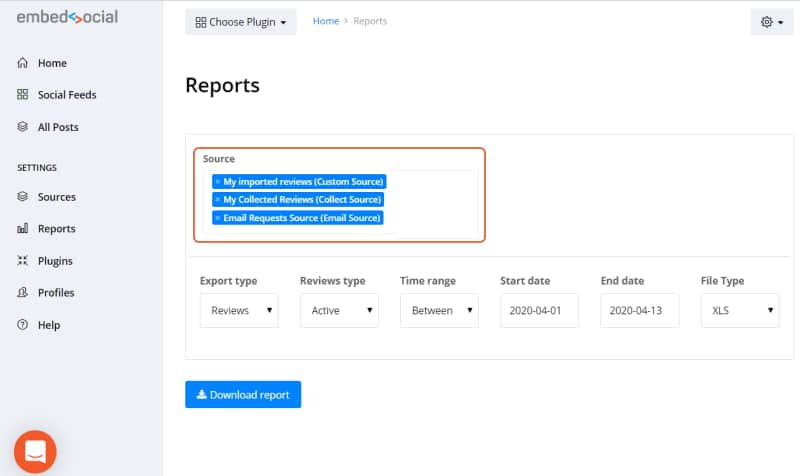 New features in EmbedFeed
Filter feed by negative keywords
With the number of available posts that you can generate, wouldn't it be nice if you could filter some posts out by keywords you don't want to be included?
You are already familiar with the 'Filter by Keyword' option that you can find in our menu under 'General settings'. So, to make the filtering process more effective, we upgraded this option for EmbedFeed to help you filter posts by negative keywords.
To start using this option, just include the minus sign '-' in front of the keyword(s) you want to exclude. And for multiple negative keywords, use the 'comma' sign to separate them.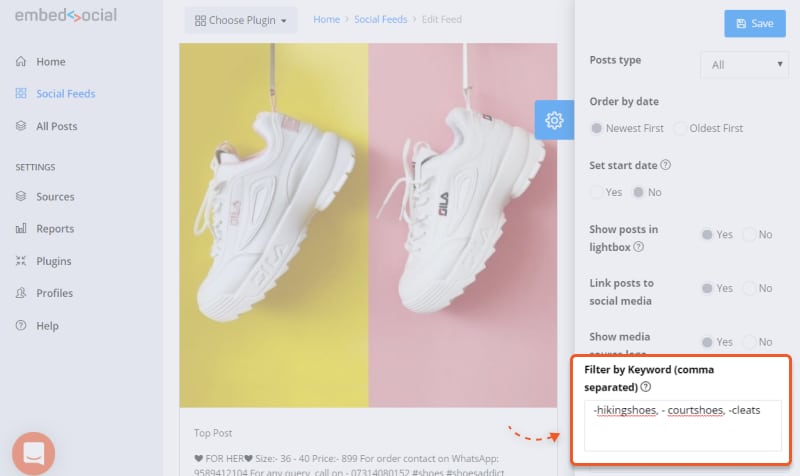 Note: This functionality was previously enabled in EmbedReviews (and works the same way as described above).
New features in EmbedStories
Upload video stories
To meet our customers who want to showcase their video stories in a widget, we added the option to upload custom video stories as well.
Similar to image stories, video stories can be included in Galleries and Highlights. 
With this release, you can literally create a fully interactive and customizable story widget that will include not just the generated Instagram stories but also story slides with custom photos and video uploads.
To upload a story video, follow the steps below:
Login into your EmbedStories account
Navigate to 'All Stories' option from the menu
Click 'Upload Story'
Upload your Video stories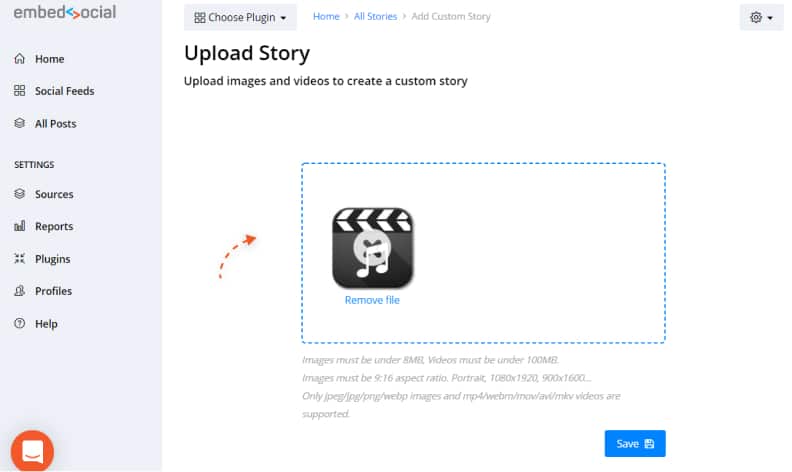 Please note the requirements below before uploading the video:
Video story requirements:
Video size: under 100MB
Video formats: mp4, MOV, WebM, AVI, Mkv
Videos aspect ratio: 9:16
Note: Before you proceed to upload a video story, take a moment to review the detailed instructions on how to embed an Instagram story and Instagram highlights on any website.
New features in EmbedAlbum
Clean image caption from hashtags and mentions in the Instagram feed
If you've been using the EmbedAlbum widget, you are probably familiar with all the hashtags and mentions from the original Instagram, Facebook and Twitter photos that are displayed to your picture when displayed in a lightbox.
Well, several users suggested we exclude the hashtags and mentions from their EmbedAlbum widget upon their request.
So, we decided to leave this option open for future customers who think that removing these image attributes will fit their brand design better.
If you think this option can be beneficial for you, no worries – we will do this manually for you.
To do so, please contact support@embedsocial.com with the EmbedSocial login email address of the user and let us know which feed you want to have its hashtags and mentions removed.
Send us your feedback
After all, your feedback means a world to us!
Drop us a line to let us know how you like the new changes and what should be done next.
In the meantime, as we work towards new useful features as an addition to the EmbedSocial platform, more exciting product updates are coming.
Stay tuned!