One day working on a project for one of my clients, I got fed up with uploading photos on our website and then again on our Facebook page.
So I got up and started nervously pacing around the office while the photos were uploading.
I asked my team "Why am I still doing this, wasting time when it looks like we can get the photos from our Facebook page and add them to our website automatically?"
And that's how EmbedSocial was born.
Since this was my first SaaS business, I naively thought it would be easy to transition from a service-based company to a product company.
After all, we all had 10 years of experience in digital marketing and we've worked with brands like McDonald's and Microsoft.
We were already helping thousands of website owners increase conversion rates, cheaper, faster and seamlessly by using social proof, without any tech skills required.
How hard could it be?
The problem: Running the only SaaS business in a small, poor country in the heart of the Balkans isn't that simple.
The solution: Create an advisory board with experienced SaaS advisors.
But our local search ended quickly. Everybody nearby works in the outsourcing business and we couldn't find anyone that had worked in the SaaS space.
But an opportunity arose.
We had a chance to travel to Berlin to attend TechCrunch Disrupt.

And one cold December evening while we were there, everything changed.
Here is what happened.
Our agenda for the evening: a quick stop for gluhwein at the Christmas market and a meetup about scaling a business organized by a local consulting agency.
The topic was very attractive for us since it's not something we talk about where we come from (Macedonia, if you're wondering).
We arrived on time and as always, we sat in the front row, excited about the upcoming talk.
But then…
2 girls step up and start to push some buttons on the TV in front of us.
After a few seconds, we've realized that it's an event live-streamed from San Francisco.
Huge bummer…
We gave it a chance, it was really bad, and we decided to leave.
Feeling like we hadn't achieved our daily quest for new knowledge, we quickly browsed Eventbrite and saw that there was a similar event starting in 10 minutes.
A few U-Bahn stops later, we arrived at The Family.
A shabby chic interior, tapestries on the floor, a mirror from your grandma's living room…are those feathers, really?!
And then we saw the logo.
There was something extraordinary in it.
You can't help but admire the vision behind the art this place was showcasing, their desire to set themselves apart.
We loved it.
After a few minutes, the presentation started. It was awesome! A real story from a founder who had actually scaled a business, followed by a very rich debate.
In the end, the organizers briefed the audience about The Family and its mission.
"Not an incubator."
"Not an accelerator."
"Not a VC."
"Bootstrap as long as possible."
"We believe in family, forever."
"Custom, one-on-one mentorship to help you scale."
"Educate entrepreneurs — because it is all about mindset."
"Build an infrastructure to empower them — because it's all about scalability."
"Provide privileged access to smart investors — because ambition goes together with money."
Principles that immediately resonated with our beliefs.
We are not a startup that gets turned on by ping pong tables or vintage game consoles. We're too old for that (just kidding).
We're a startup that wants to LEARN how to scale.
We want to connect with the right people who can guide us to make our mission sharper, our strategy clearer.
You know, those people who have actually DONE it!
We were growing organically but we knew that we were at a crucial point where we needed help in strategy and accelerating growth.
And just like that, after a brief chat with Emilie and Lou, The Family seemed like the perfect fit for our next journey, as our team was actively looking for experienced SaaS advisors.
We went back home to our SaaS-deficient country, and did extensive research and brainstorming about our future strategy and whether or not joining The Family matched our plan…
And ok, this exit screen on their website strongly influenced our decision 🙂
After a few days, we started the application process. Just before Christmas, we were IN.
20 days later we were on a plane to Paris, going on a weekend gathering in a Château with our new family.
We didn't know exactly what to expect.
But it became clear quickly. We met great people, I shared some knowledge bombs (see photo below), we learned new things from founders coming from all over Europe and, of course, enjoyed great Burgundy wine.
With just those two days, everything made sense.
We had meetings with people who actually listened and understood, dedicating themselves to helping us scale quickly.
Our goal was suddenly clearer, and the steps needed to get there were real.
To give you a sense of the overall experience, a gif from one of our fellow Family members, Florian: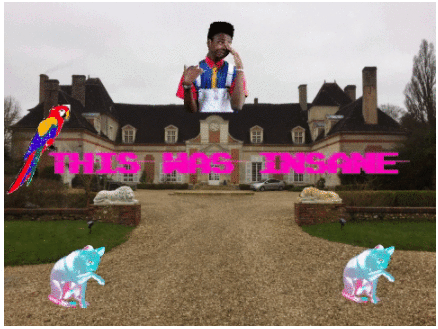 Things move fast in The Family. Thanks to our amazing mentor, Balthazar, we've already made some bold decisions and launched a bigger upgrade of our platform. He has a sharp understanding of the path to success and he really seems to enjoy the ride of turning a small Macedonian business to global success.
As he says:
"I invest in your ability to pinpoint problems in large markets, quickly bring a product to market and flawlessly execute on the business."
Joining The Family has encouraged us to think bigger, faster and more efficiently.
Rather than taking the local road, we decided to take the fast lane of the highway.
Two months later we had doubled our revenue, launched EmbedStories, the first platform for Instagram Stories, set up operations in Japan and started hiring more people.
We are excited about the coming months and hope our story will inspire more founders.
There is always a way – just keep on looking.
That's what entrepreneurs do.
###
Nikola Bojkov
CEO at EmbedSocial