We are truly, really, I mean… really excited!
Finally, after a few months of development, we are happy to announce that EmbedSocial is coming to your Zapier account.
For everybody who is not using Zapier, here is a quick, short, but cool explanation of what Zapier is:
Zapier is a platform that helps apps talk to each other.
In other words, Zapier helps your favorite apps integrate and exchange data in order to make your life much easier.
For example, if you are using Google Sheets to store your customer data, you can create a new column, 'Testimonial,' that will fill in with the integration with EmbedSocial.
Getting started with EmbedSocial + Zapier
This initial integration with the EmbedSocial platform includes the review functionalities provided by the EmbedReviews product. The basic zaps that you can make with this integration are the following options:
Send review information to other apps.
Collect and store reviews from other apps in EmbedSocial
To get started and get early access using the EmbedSocial app in Zapier, just click to get early access >>
Please note that you will need to have an EmbedReviews account in order to provide the permissions required when creating the zaps. For those of you who are not familiar with this, Zapier works with Zaps, which refers to the process of connecting two different apps to communicate data with each other.
The main benefit of EmbedReviews integration is the automation and time-saving in collecting, saving, or displaying customer reviews.
At the moment, EmbedSocial provides 1 action and 1 trigger that are described in the following text:

EmbedSocial as a Trigger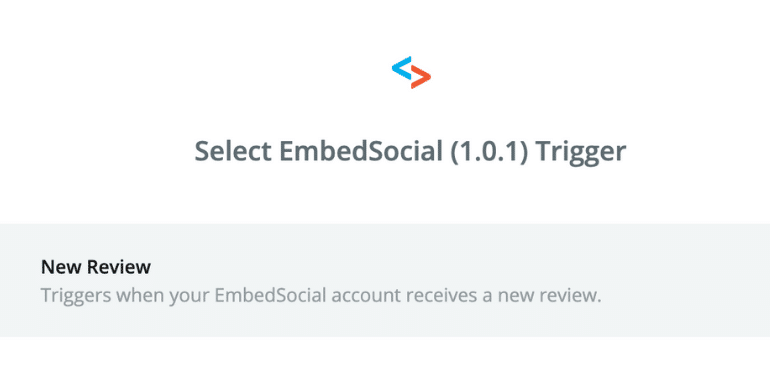 When creating a Zap the first step is to choose a trigger. So, when choosing EmbedSocial as a trigger you can select a 'New Review' received in your EmbedSocial account to be a trigger for the action part of the zap. Below are a few Zap examples that you can create when EmbedSocial is a Trigger. ​

Zap 1: Create a ticket for negative reviews collected by EmbedSocial from Facebook or Google in your support app, such as Zendesk, so your support team can reach out to the customer and solve the problem.
Zap 2: Collect customer testimonials, at the same time and automatically, in EmbedSocial and record the customers' credentials in your table app or CRM app where you collect customer data such as HubSpot,
Zap 3: Get notified in Slack once you receive a new review. You can select a Slack channel or some of your teammates to be notified when someone leaves you a review.
Ready to create your first EmbedSocial trigger Zap?
Here are the things you can do, and a few use cases that you can utilize in creating your first Zaps with EmbedSocial.
EmbedSocial as an Action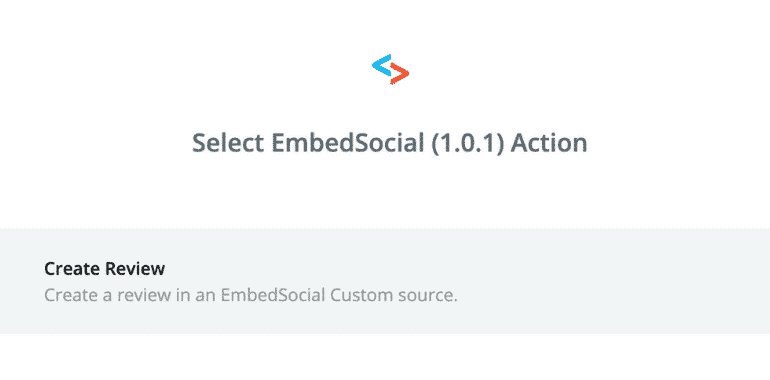 On the receiving end of the Zap, EmbedSocial has an action option – 'Create review', which means that if something happens in the trigger app of your zap to create a review as an action in your EmbedSocial account.
To make this more clear, just check the zap ideas below: ​
Zap 1: Create review inputs in any form you send via apps such as Google Forms, Typeform, or JotForm and save them in EmbedSocial as your one place for storing customer reviews. This means, that you can use any form design app to collect the data and save this data in EmbedSocial. By doing this you are able to have all your testimonial collection activities synchronized and streamed directly into one place – EmbedSocial being your storage for all your customer testimonials.
Zap 2: Use the RSS by Zapier app to sync an RSS reviews feed on other review systems with EmbedSocial.

Interested to use EmbedSocial as an Action?
Hope this integration with Zapier will help you automate your marketing processes and also better organize your customer information.
For any inspiration and Zap ideas, you might need, feel free to chat with our customer success team.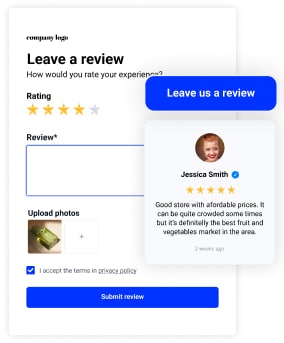 Collect reviews and display testimonials wall of love widgets
Try EmbedReviews, collect and display reviews widgets on your website. Automatically.
All PRO features | Cancel any time.