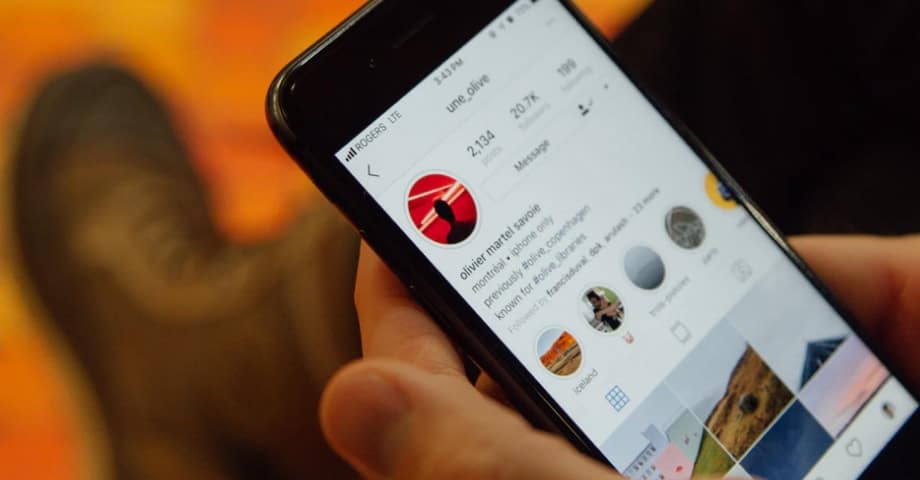 Instagram stories disappear after 24 hours.
And if you do not save them or archive, you will end up losing all the hard work you've put into creating your beautiful Instagram story.
To avoid this, and make sure you never lose an Instagram story, here are a few methods that you can use in order to save your Instagram stories.
Here are the 5 methods on how to save and download Instagram stories:
Let's break down each of these methods and how to use story downloader tools in practice:
1. Save stories in a web-based app
If you want to make sure your Instagram stories are saved in a web-based app, and reachable anytime, we suggest you try EmbedStories.
It is a professional tool for Instagram stories, that can automatically download and save your Instagram stories.
Here are the benefits that EmbedStories provide:
Save all elements of the Instagram story, such as photos and videos
Create a gallery from multiple Instagram photo stories
Embed and display your Instagram stories on any website
Create different web widgets and story sliders that have a specific embeddable code and can be showcased on different websites
Archive and save IG stories from multiple Instagram accounts that you manage
And here is a step-by-step tutorial on how to use EmbedStories as your Instagram Story downloader and archive all your Instagram stories in a web-based app:
Log in to EmbedStories or create an account
Connect your Facebook account
Allow the system to get your Instagram accounts
Click 'Select source' next to the account from where you want the system to fetch the Instagram stories
That's it.
Once you finish the steps, the active story from the selected Instagram account will show in the 'My stories' section.
The best, you will be able to embed them in amazing slider, popover or grid widgets directly on your website.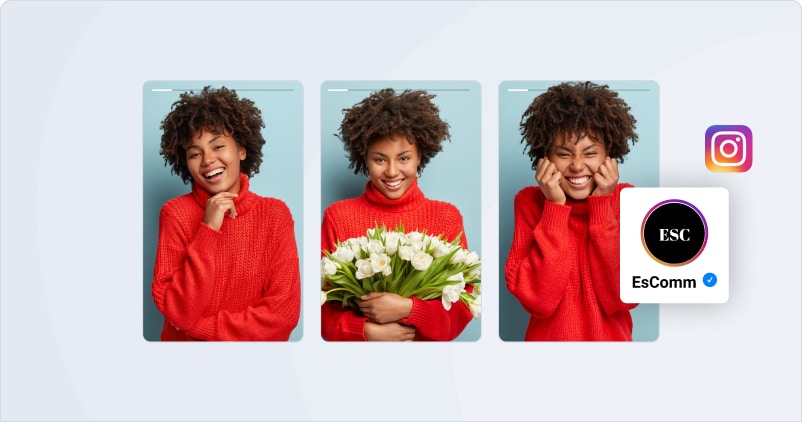 And every time you post stories, EmbedStories will fetch them and save in your account, automatically syncing the widgets displayed on your website.
Try Our Instagram Stories Platform
Generate and save your Instagram stories so you can use them later.
Using EmbedStories is perfect for agencies or people who manage multiple Instagram accounts.
It will save you tons of time and money to capture all the stories you post, analyze, and possibly use in the future again.
Additionally, it allows you to create and embed Photo stories widget with any photo that fits the story format or Video stories widget, with any vertical videos you take on your phone.
Using Instagram story tools for marketers can help them get their Instagram marketing game to the next level.
2. Archive stories in your Instagram app
This is a great option provided as a setting in your Instagram app.
It allows you to activate an Archive option that will automatically save all stories you publish on Instagram.
To active this option follows the steps below: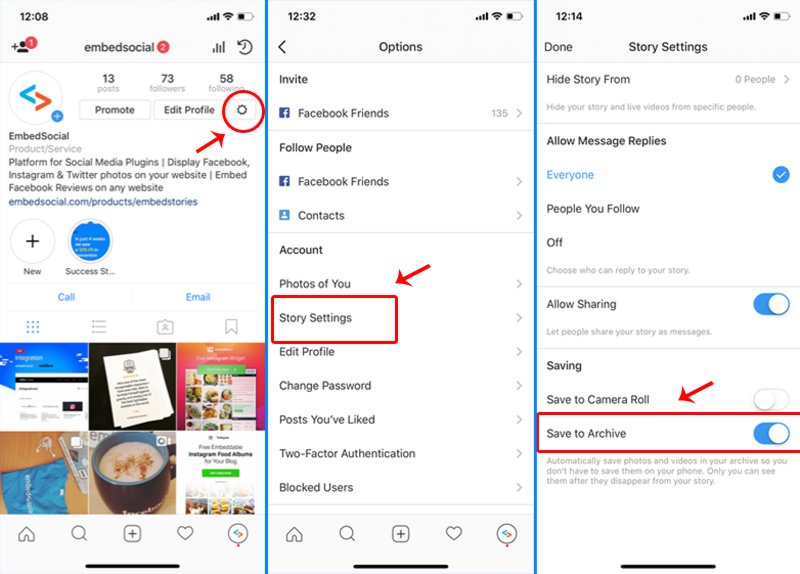 Open your Instagram account and click on the 'Settings icon'
Click on 'Story Settings'
In the 'Saving' section activate the options 'Save to Archive' (Android) or 'Save to Camera Roll' (iOS)
That's it. Now every time you post an Instagram story it will be saved in the Archive section.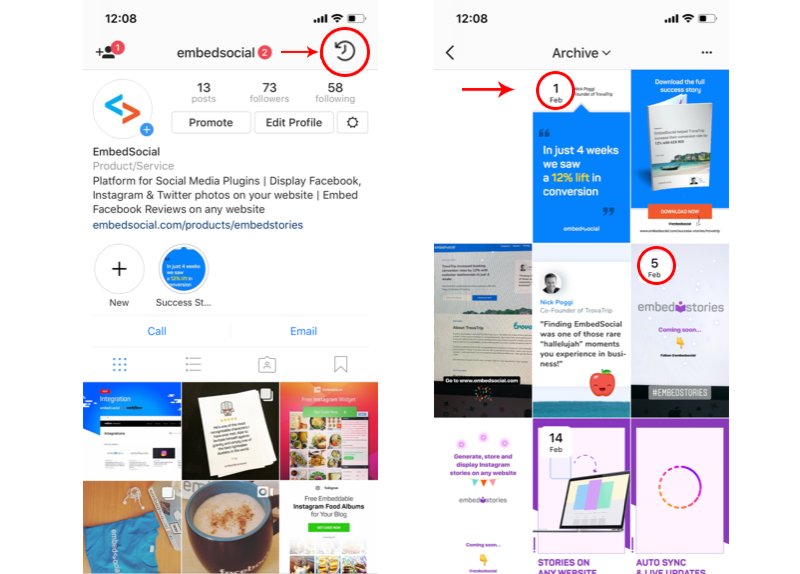 To access this section and view the saved stories, follow the steps below:
Open your Instagram account and click on the 'Archive icon'
The Archive screen will pop up where you will find all stories categorized by date
Now your Instagram stories are saved forever in your Instagram account.
One of the greatest benefits of saving Instagram stories in Archive is the future possibility to repost or re-use these stories to create Instagram Stories Highlights.
3. How to download Instagram stories on iPhone
If you do not want to save every story to your Camera Roll, you can choose to save a particular story manually.
To do this, follow the steps below:
View your active story
Click on the 3 dots at the bottom of the story and tap 'Save'
Select 'Save Photo/Video' to save the individual photo or video stories, or
select 'Save Story' to save everything from your story as a single video
This method is very simple but requires you to manually download each of the stories once they are published.
The format of the story that you will download is a vertical video.
4. Save stories in 'Highlights'
This is a recent upgrade of the Instagram stories, and it allows users to create Highlight sections on their Instagram profile from the stories after they've disappeared.
The sections can be viewed by other people and work similarly like Pinterest boards.
The idea behind Instagram Stories Highlights is that you can create themed highlights where you can save and publicly store stories or posts that you think are worth the attention.
The benefits of having highlights for businesses are the following:
Easy access to categorized posts and stories
Highlight specific products or collections
Highlight customer testimonials
Add Highlight with the FAQ section about your business
And lots of more applications that you can try and use on your Instagram profile.
Here is how to save an Instagram story in Highlights: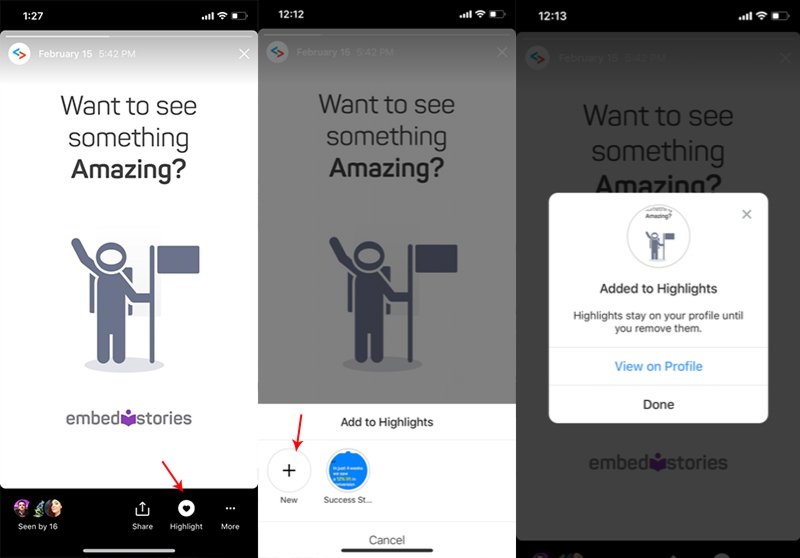 Open the active story or go to your Archive and click on the saved stories
Click on the Highlight icon at the bottom of the story screen
Choose a Highlight category or just 'Add new'
That's it.
Now your story will appear in the Highlight right below your details in your Instagram profile page.
You can also create Highlight of the archived stories by simply following these steps:
Go to your profile and tap the + icon in Stories Highlights below your profile details
Tap to select the story or stories you want to add to highlights, then tap Next
Choose a cover photo and enter a story name for your highlight, then tap Add
You can add more photos or videos to your highlight at any time by tapping Edit Highlight.
How to save entire Highlight in one video
This one of the most required options that are already available in the native Instagram app.
To save the entire Highlight with a single click, follow the steps below:
Go to your profile and click on a Highlight
Click on the people photos in the bottom left corner or just swipe up
Click on the top bar download icon (as shown below)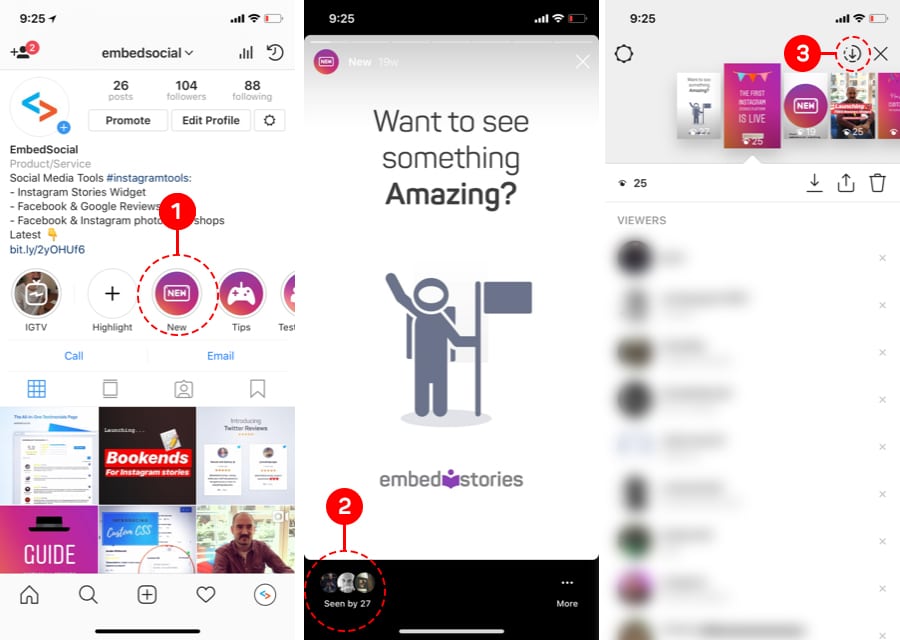 The entire Highlight will be converted into one video and saved in your phone Camera Roll.
That's it.
How to embed Instagram Stories Highlights on your website
As mentioned above, the EmbedStories platform can easily help you organize your generated Instagram stories in groups similar to Instagram Highlights (no need to download the Instagram highlights).
This unique feature will provide you with a code to embed these Highlights on your website.
This is how the widget will look like in action:

If you think this feature will level up your Instagram marketing strategy, check out our step-by-step guide on how to Embed Instagram Stories Highlights on any website.
Widget with Instagram Stories Highlights on your website
Generate your Instagram Stories and create galleries similar to Highlights for your website.
5. Share and save story as a post
With this option, you can share stories on your Instagram feed and basically save them in your account.
To do this and share an Instagram story as a post, follow the steps:
View your active story
Click on the 3 dots at the bottom of the story and tap "Save"
Select Share as Post
That's it, the story photo or video will appear in your Instagram feed and can be seen in the feeds of your followers like any other Instagram post.
Bonus: Save other peoples' Instagram stories
Please note that there is no official Instagram API option to save other people's Instagram stories. But, if for any reason you want to save someone's Instagram story than you might try these methods.
Instagram story saver
Look for mobile apps in your Google Play Store or Apple App Store for an Instagram story saver app that can fetch your friends' Instagram stories.
Make a screenshot of an Instagram story (Not recommended)
You can always take a screenshot and save a photo of the story but this is just a caption of the story format and it will not work if you want to save videos. Unless you use a video capture app.
Also, you might ask does Instagram notify screenshots of stories?
Yes! If you make a screenshot of stories posted by other people, Instagram will notify them that you've made a screenshot.
Hope this guide helps you do more with Instagram stories.
Ready to make the most out of your Instagram stories?
EmbedStories makes it easy to capture, save, and embed Instagram stories on any website!
7 days free trial · Easy setup · Cancel any time