I am a power user. There I said it
If I find an app that really helps my business, I truly become its best friend. Recommend it to friends or write a post like this one so other people can discover the app's value and help their businesses.
Recently, I went on a spree to find new SAAS tools that will become part of my marketing stack.
Where is the best place to discover new and hot tools?
Product Hunt, of course 🙂
So, I used their new recommendations service and posted this question:
If you have your own recommendation, you can post it here.
I really did not have any expectations, and just wanted to receive direct experiences from the Product Hunt's users. So, let's see what they recommended:
Marketing stack recommended by Product Hunt users

First and foremost! Every company needs a swag. Yes, this type of product or service is a must for every marketing stack. Great swag can really make a difference, and your clients will enjoy getting one for free 🙂
Thanks Frank for recommending Startup Threads:
"Makes the process of shipping t-shirts and thank you packs to customers simple, humanizing your brand and amplifying your word of mouth advertising"
Next recommendation is Buffer. It gained most of the up-votes and that is well deserved.
My team at EmbedSocial is a power user of Buffer and will agree that the tool helps most of the digital managers to save time whilst managing trillions of social media accounts *.
* If someone from Buffer is reading this, please solve the posting to Instagram from your desktop app or work with their team to finally allow you to do so 🙂 Thanks.
For this recommendation, Trish Carey wrote: "ease for the team to add & update posts and plan ahead"
I believe that most of you are familiar with Hootsuite and as you probably know, it solves the same problems as Buffer.
You can choose which one is more suitable for your needs.
In my opinion, If you want to have a simpler solution also for your Facebook ads, then you might consider HootSuite who recently bought AdEspresso, one of the simplest and most useful tools for bulk Facebook advertising.
Next is HotJar Insights.
For this product, I will probably need to write another post and explain its major impact on my everyday job and the help we get to understand our website visitors onboarding.
This recommendation was posted by Magdalena Joveska and this is what she said about HotJar: "Excellent tool for monitoring user behavior on your website."
Recommended by Ryan Hover himself. This is what he wrote:
"Definitely Tweetdeck. If you're running an early or medium-stage startup, you should be monitoring all mentions of your brand or site. I have a column for any Product Hunt mention, which helps me monitor sentiment, see what people are sharing, and discover new PH community members to chat with. "
This product was suggested by Jakub Rogalski, their actual Community Manager and this is what he pointed out.
"I'd say a dedicated social media monitoring tool would be a nice addition to every marketer's toolkit. Despite some minor drawbacks like limited historical data, I think there's still plenty of data you could benefit from thanks to our tool. While it's impossible to reply to mentions directly within the dashboard, you can be easily redirected to the source of the mention by clicking the "Engage" button. One of my personal favorite features is the Slack integration that streamlines all the mentions the tool picks up into a selected channel."
I agree! Every company needs to monitor their social media and have their hands on a great product that can help them do this.
I definitely love this recommendation by Shena Garg. Just read here comment and you will immediately want to include this type of product in your marketing stack:
"Analytics are the food for marketers and Mixpanel gives data that marketers can use in strategy. Without data, marketing is rarely strategic in the long run, and hence little rewards."
Latergramme was suggested by Hary Mahesh I have not seen it before but it looks promising with great UI. I've just started the free plan and the posting to Instagram is similar like Buffer, it requires a mobile app and you can schedule the post through the desktop UI but you will need the app to post on Instagram.
The perfect tool for automating Instagram with a visually-oriented interface. Both the web and mobile tool (iOS and Android) that allows you to schedule your posts from your media library, manage your scheduled posts on a list or calendar format, and preview your feed with the scheduled posts in it – perfect for making sure you are staying on the theme 🙂
Well, ok .. I was expecting more self-promo recommendations and I accept them. Brave suggestions of the app's founders mean they are confident with the benefits that their product brings to their users and I am open to giving them a go. Here is the suggestion by Victor Iryniuk for his product NetHunt CRM:
"You can manage your clients and leads and Gmail and send them email marketing campaigns (newsletters, promotions emails, etc) without additional payments."
Related to self-promo recommendations, I invite you to get a trial or check out the demos of our EmbedAlbum app that will help you manage and sync all your social media photos and galleries with any website.
Apps for user-generated content are the trend for the marketing stack of 2017, and tools like EmbedAlbum will help companies showcase their offerings through the eyes of their customers.
Additionally, if you are looking to display customer reviews, why not consider Facebook Reviews? My team is preparing a launch of the EmbedReviews plugin so you are invited to apply and get exclusive access.
If you are interested, start a free trial.
Another brand monitoring software is Awario. It's SaaS for entrepreneurs and marketers to keep track of social media conversations and web (news, blogs) mentions.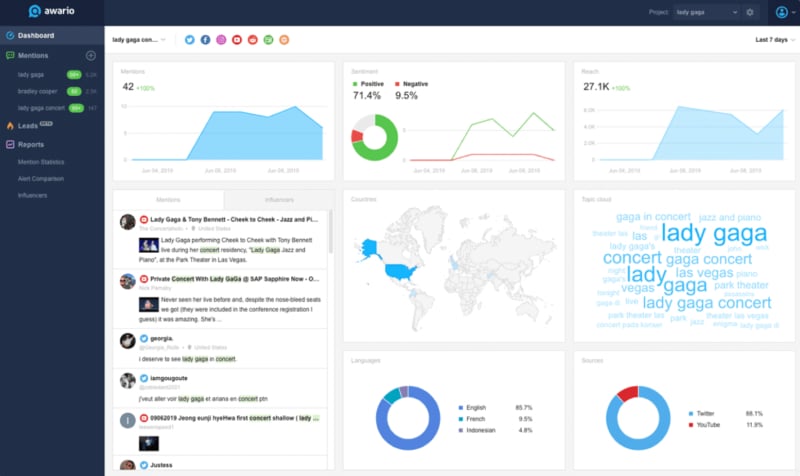 Awario monitors mentions (keywords) of your brand and your competitors. The number of keywords is pretty much unlimited (if you do not reach the technical limit of 50K chars per query).
The tool looks for mentions across Facebook, Instagram, Twitter, YouTube, Reddit, News and Blogs, and the web at large. Awario alerts is an entity you are monitoring which can contain hundreds of keywords each. You can have up to 3 alerts with the Starter plan and 15 with Pro.
The Boolean search (available in the free trial and all plans) is a flexible way to set up your mention alerts so that you can get precisely the results you want.
For most of the social media, Awario supports, it lets you interact with mentions (like, comment, share, etc.) in-app without you going to the original social media post and logging in to different accounts back and forth. 
Test social media monitoring for free during 7 days of trial.
Sentiment analysis is a great bonus in the tool. The feature ensures that you get to know how people react to your marketing campaign, event, product launch, feature update, blog post in real time. Ongoing social media sentiment analysis makes sure you know if people are positive or negative about it and if you should stop immediately, change something, or keep going.
All the analytical data are collected in the customizable report, which provides you with information either solely about one brand or several brands in comparison.
Last but not least, the Product Hunt user Aiyman Hadi recommended the product OptinMonster, and he wrote about the product this recommendation:
"Quick way to capture leads on your site. The tool is very easy to use and track!"
Next up in fair self-promos is EngageBay. This is a new product (2017) and has seen fast growth in the marketing and CRM products space. Sreedhar Ambati, the founder and CEO of EngageBay, says:
"This is undeniably the world's most affordable all-in-one marketing and CRM software, with sales, customer service, SMS marketing, telephony, and even Live Chat and Help Desk integrated. EngageBay integrates with many popular business apps like Zapier and Plivo, but you can manage all your work from within EngageBay itself."
From my side, I guess I can safely say that I was really impressed with their free plan for up to 15 users with lifetime validity. That's rare!
Conclusion
So, the conclusion of this experiment is:
The users still recommend apps that help boost their social media presence and help them automate their social media marketing efforts. Furthermore, there is an interest in analytics tools and web onboarding apps. And in my opinion, in 2017 we will need to see more solutions for utilizing user-generated content.
If you have any other SAAS tool that you believe is a must for every marketing stack, feel free to write it in the comments below.
Embed user-generated content on your website automatically. Start a free trial today >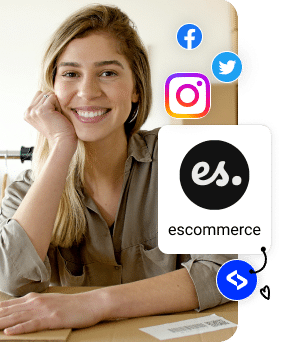 Collect social proof & user-generated content with the #1 UGC platform
Try EmbedSocial and automatically collect, monitor, and display UGC on any website.
All PRO features | Cancel any time.