Have you ever wished you could scrub embarrassing college photos from Facebook? Or some negative review from a customer when you were just starting your small local business? It happens to all of us.
As we increase our online presence, especially during Covid-19, we have come to figure out that they may be some downsides when it comes to all that fuss of social media sharing.
The worst part? We may have just a little control of the way we appear on the internet.
Yes, not just you as an individual, but your online business reputation is at stake every day.
Take a look at these wise words by Warren Buffet:
"It takes 20 years to build a reputation and five minutes to ruin it. If you think about that, you'll do things differently."
Luckily, doing things differently when it comes to managing your online reputation is now easier than ever.
In this guide, we will show you what online management reputation is, how it works and some bulletproof strategies that will boost your positive reputation and minimize the impact of negative comments in a nutshell.
Let's dive in!
What is online reputation management, and how it affects your business?
Online reputation management (ORM) happens when you actively monitor and react to your brand's mentions on websites and social media.
Nowadays, people do it mostly to address any bad reviews or false comments.
According to the official definition of Wikipedia:
At this point, you might wonder: Well, isn't this the same with Public Relations (PR)?
Close, but not the same.
Although PR and ORM have the same purpose – to portray your company in the best possible light, PR is an external work that uses advertising and media relations to do this.
On the other hand, online reputation management is more of an internal thing because it's most of the company's time handled by employers.
Before we proceed, let's explore what the main benefits of a good reputation are.
How a good online reputation helps your business
We won't dive deep, list the benefits that a business can have from maintaining a good reputation:
Highlights the strengths of a business
Builds a positive brand image
Help to counter negative comments from customers or competitors
Increases the trust of your future customers so they will choose you over your competitor
Establishes your brand as the primary source of whatever you provide as opposed to your rivals
Before you go lucky guessing whether your online reputation is fantastic or it's variable, answer the questions in the section below.
They serve as the main factors that determine your online reputation to see where you stand:
What are the factors that determine your online reputation?
Do you have dedicated customer service that answers customers' questions promptly?
Are there many places where your customers can review your products and services online?
Do you respond to positive reviews, even star ratings?
How do you handle negative reviews to solve your customer's problem and improve your product or service?
Do you maintain an active presence on social networks?
Do you have a social media marketing strategy?
Do you actively request reviews from your customers?
Do you track your brand mentions on Google, Yahoo, or Bing?
Do you track your brand mentions on your social media profiles?
Do you display your customer reviews obtained on Yelp, Google, or social media platforms?
How do you handle negative search results?
If you have answered 'yes' to most of these questions, you are on a good way to having an A+ online presence.
However, working on boosting your brand presence is something that can always be improved!
We prepared for you strategies that can help you improve your online reputation management effectively.
All of them are at the touch of your fingers and can do wonders for your brand. All you need to do is give them a shot.
6 strategies to improve your online reputation management strategy
Below you will find several strategies that can help you enhance your online presence.
Make sure to give all of them a thought – you can never know what may 'save' your brand if you don't try them, right?
1. Answer your customer questions promptly
Did you know that many times a negative comment or review is posted after the customer has been waiting for a more extended period of time to receive an answer to their question?
Negative feedback can be easily avoided if you just have dedicated customer service agents that can tackle all the customer complaints.
For example, here at EmbedSocial, we have four customer service representatives that rotate in shifts in order to respond right away to all the customer queries.
As a result, our customer satisfaction rate has grown up to 95.4%, and it keeps on improving.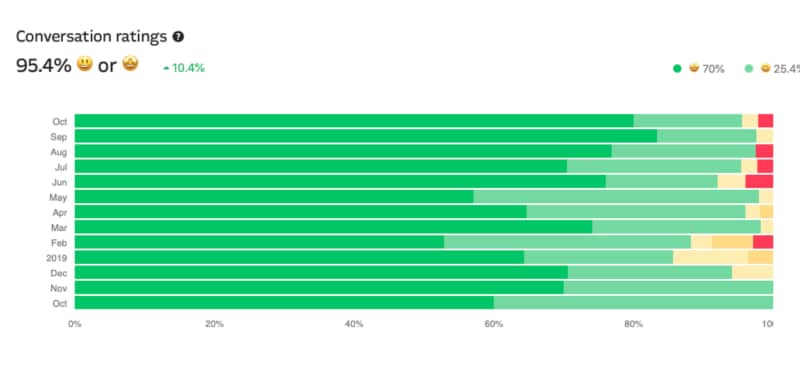 The rule of thumb is: Never undermine the importance of customer service to your business. They are the people that can retain your customers and extract more value from them.
2. Address negative feedback with empathy
We have all been there. It is tempting to erase negative content from customers, but don't dare to do that!
Hate to break it to you, but you cannot delete your Facebook comments, report them.
This statistic by Bright Local says it all: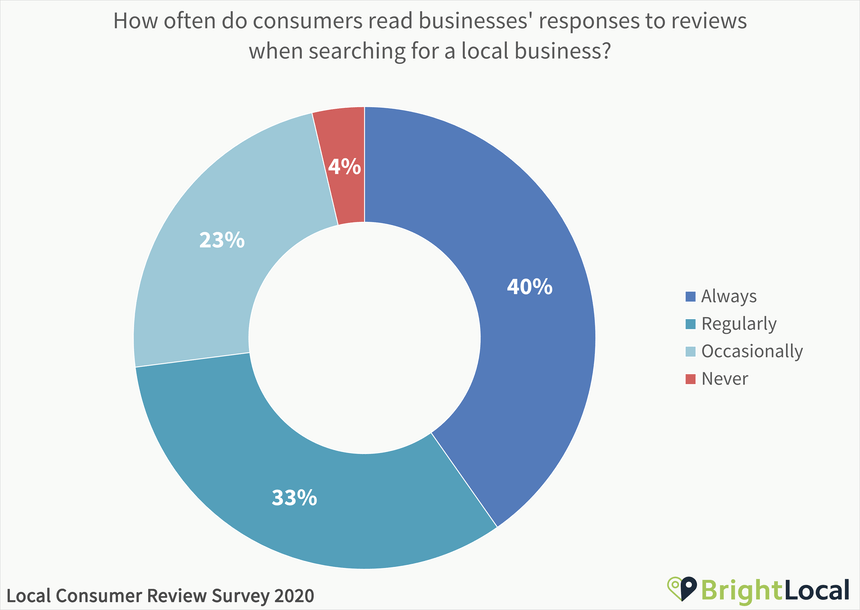 Although it sounds like you are in a trap, you can quickly turn the situation in your favor.
Addressing your negative customer reviews is a way to show customers that even if they have some issue with your company, you will be there to take care of it.
As our friends Jay Patel, online reputation influencer and founder of Bizrizer says:
Encourage customers to provide feedback on their experience. Address negative feedback in public (like a reply to negative Google feedback so others can see it). Be consistent with customer experience. Respond quickly and thank them for pointing out the issue. Negative reviews identify where the business has room for improvement. Now you have found the problem so fix it. I will focus on collecting more positive reviews to keep my reputation high as an average.
This is an example of how our team has handled a bad comment and turned it into positive content:
[example of bad comment we've received and how we have handled it]
For more tips on how you can deal with negative online reviews, please take a look at our guide on How to Respond to Negative Facebook Reviews.
3. Collect and show reviews on your website
What is a better way to encourage receiving new reviews than showing them on your website?
You can do this manually or use review management tools like EmbedReviews. We developed this tool to help you acquire and display testimonials hands-free in just a few clicks.
Take a look at the options EmbedReviews gives you for collecting online reviews:
Fetch reviews from different digital marketing channels like Facebook pages or Twitter, review sites like Yelp, or your Google locations in real-time.
Embed collect forms in your website so your visitors can submit their feedback for your business directly there
Set up review request emails to ask and collect customer testimonials automatically.
Upload entire lists with reviews you already have using a CSV template
Using our official Zapier integration helps to collect reviews from other apps you already use
For the purpose of our product pages, we collect the reviews on a particular product we've received on our social media channels and Google account, and we embed them on our website.
This is what it looks like: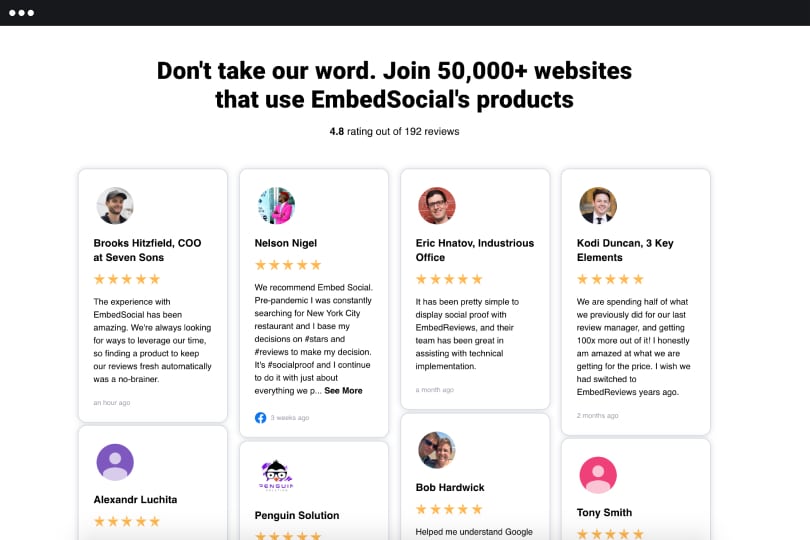 This way, customers that will land on this product page can read the experiences of other people like them and, based on that, decide whether this product can solve their pain point or they should move to the next tool (competitor).
However, when displaying customer testimonials, there is nothing to lose. You will gain the trust of your potential customers and get some more sales on autopilot.
4. Stay on top of the Google search results
Ideally, when you search your company name and the most relevant keyword around your brand, you want your company page to show up on Google's first page, preferably as a first result.
Search engine optimization (SEO) is definitely one of the approaches that will help your brand stay visible. Google algorithms rank higher companies that have business reviews over those with no customer feedback at all.
SEO can also be an essential tool to minimize the visibility of negative online content and press associated with your brand.
Despite the tools, improving our search engine results can't be possible without an SEO expert with an analytical mind and attention to detail.
Mihail Angelov, SEO Manager at EmbedSocial
Thus, don't save money on SEO experts (both in-house and freelancers). They would not just make your company more visible but will also help your business scale.
5. Make your online reputation management on autopilot
You can manually go through websites and social media platforms on your own, or you can automate this process using monitoring tools.
One of the most straightforward monitoring tools you can try is Google Alerts.
It works very simply:
You enter your brand name in the tool, and
Once your company is mentioned, you receive notifications of media and news stories that talk about your company
You can quickly respond to the content if necessary
We have set an alert for 'EmbedSocial', and this is how it looks when we get mentioned: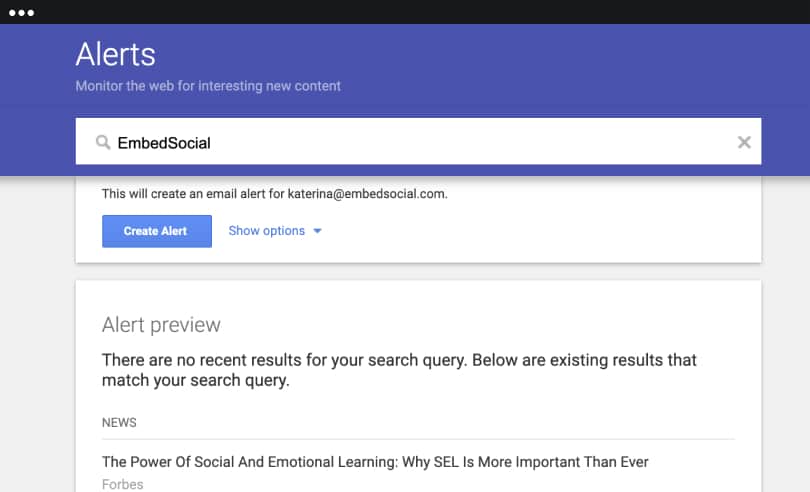 6. Hire an online reputation management company
There are so many online reputation management services that can enhance your brand's online reputation to a great extent (both online and offline).
Hiring an Online Reputation Management (ORM) service comes with a lot of plus points. It builds online trust between you and your customers and can help you tackle or remove all sorts of inappropriate content. It can also be a cost-effective solution.
Yes, there are a lot of benefits of hiring online reputation services. Before you go ahead and do that, please ensure that you are hiring the right ORM service provider. After all, it's your reputation at stake.
7. Try online reputation management software
In case you believe maintaining an online reputation is too much work for you, and you are not quite should if you want to hire a service to do the job instead of you, try EmbedSocial's online reputation software.
It will help you to:
Generate third-party reviews in one place, on autopilot – such as reviews from Facebook and Google
Receive and respond to reviews from one single platform
Create live widgets that will sync reviews on your website
Hand-pick or moderate which reviews to display on your website
And much more. It's worth the investment of 62x. Don't take our word. Check out our customer success story.
To wrap up
Hope that this guide showed you how crucial it is to maintain your online reputation, whether you are a small business owner or a large corporation.
After all, your brand name is only as good as your reputation. Make sure to have that in mind at any time.
I will leave you with a quote by Bernard Kelvin Clive:
"In a digitally connected world, a byte of data can boost or bite your brand."
Let's embrace that!
FYI: You can embed Google reviews widget automatically with EmbedReviews platform. Start a free trial and display your Google reviews now.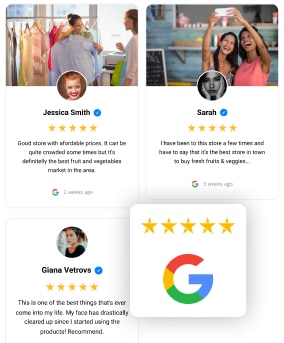 Generate & embed your Google Reviews.
Try EmbedReviews, generate Facebook and Google reviews, and display social media reviews widgets on your website. Automatically and in seconds.
All PRO features | Cancel any time.