Short videos, fancy pictures, interactive stories, and live streams – All of these Instagram features are more than enough for millions of Instagram users to hit success on the platform and make a ton of money. Popular Instagram content creators use social media as a primary channel for building active audiences and fans. Instagram is not only a platform for influencers and brands but for all creative people ready to bring something new and showcase their work.
In today's blog post, we'll list the top 10 Instagram creators and their main attributes for becoming famous. The list will consist of only Instagrammers who started from rock bottom, no celebrities or famous people who were popular before making an Instagram account. So, fasten your seatbelt and get ready for this Instagram-related journey starting right now: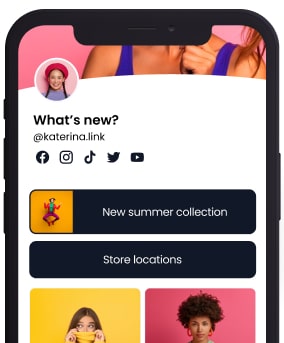 Forever free link-in-bio page with your own .link domain
Get Feedlink and build a complete social microsite for all your important links.
All PRO features | Cancel any time.
An impressive idea to hold cardboard signs with fun but real messages – Seth Philips turns this into massive popularity on Instagram. Seth Philips, a content creator behind the Instagram account @dudewithsign, creates content thanks to his witty messages and opinions about everyday life incidents. Currently, he has over 8 million followers on Instagram and is considered one of the most popular influencers focused on picture-based content.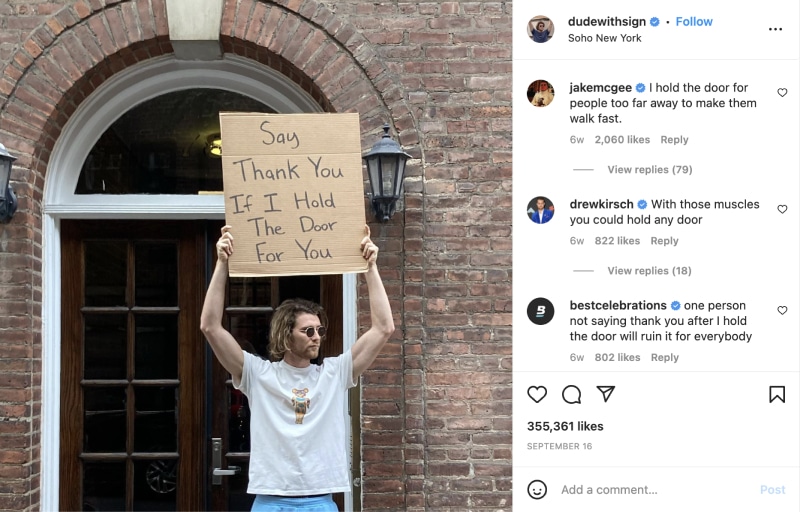 How did he become successful?
Seth a.k.a "Dude with sign" became so successful on social media because he posts real and everyday people's situations in the form of protesting with cardboard signs. That's how Seth opens an opportunity for people to tell their opinion about it and start a discussion in the comment section. He demonstrates creativity in uncovering people's funny, sad, problematic or embarrassing situations while bringing awareness of getting people back on track through his messages. All of this is crucial for his success on Instagram, making millions of people interested in this content daily.
Health and fitness are among the biggest niches where Instagrammers start personal blogs and give the audience healthy lifestyle tips. That's the case for Joe Wicks, a fitness trainer and content creator behind the @thebodycoach Instagram account. At this moment, Joe has around 4.5 million followers interested in his healthy lifestyle reels and photos.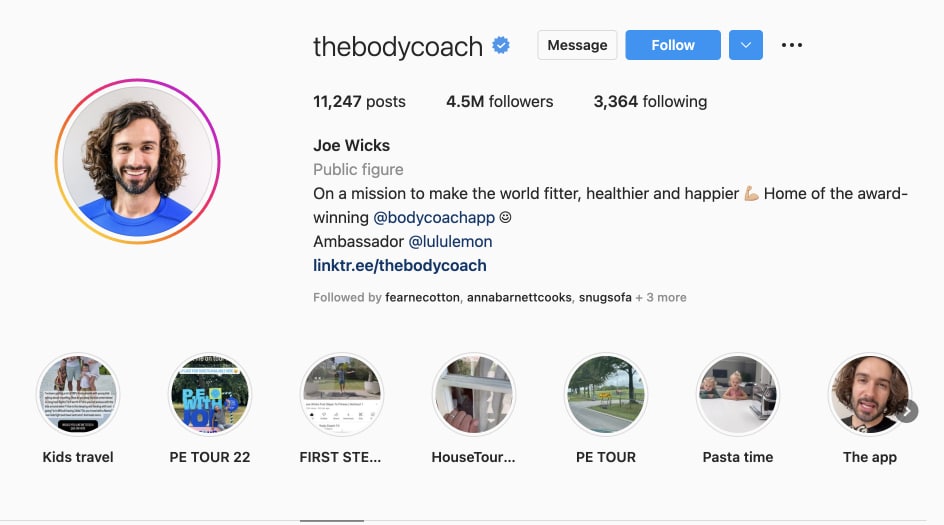 Why is he successful?
It's worth mentioning that with his eagerness to make all people fitter and healthier, Joe's mission is supported by millions of people worldwide. They seek a better physical look and life transformation found on Joe's profile. His content is based on nutrition and healthy meals, training tips and tricks, and proven results of satisfied clients from his fitness program. All of this helps him successfully spread the message of living a better life with healthier habits.
Everyone loves pets, and it's astonishing how fast pet profiles grow on Instagram. We have JiffPom, the pomeranian dog with nearly 10 million followers on the list. The owners of Jiff are still unknown to the public, but they post funny and cute reels, photos, and IG stories of Jiff's everyday life.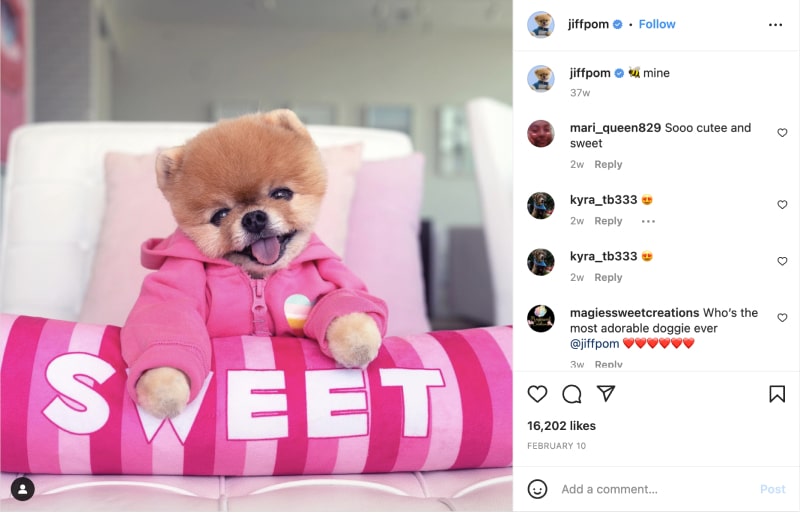 Why is Jiff the most popular dog on Instagram?
How can it not be when millions of dog lovers enjoy interacting with its adorable everyday moments? Some attributes that differentiate @jiffpom from similar Instagram accounts are the originality of the posted content and consistency in bringing fresh and unique content. The Jiff's clothing line makes it even more interesting for the audience and more different than the other dogs on Instagram.
4. Nabela Noor (@nabela)
Nabela Noor is one of the best Instagram content creators in the home design and beauty industry. On her Instagram account known as @nabela, she challenges society's beauty standards with her lifestyle brand, Zeba. Currently, she has 2.3 million followers and successfully handles her mission to "redefine beauty one post at a time."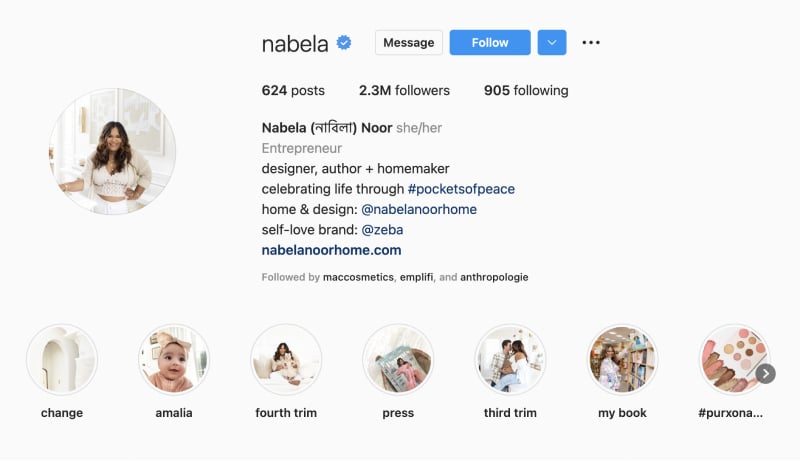 Also, she is partnering with NARS Cosmetics, Sephora, GlamGlow, and Anastasia Beverly Hills.
Why is she successful?
Nabela mainly focuses on video-based content and pictures from home designs and her family. She also shares modern home interior ideas through her brand @nabelanoorhome, demonstrating creative ideas to her audience for a better home full of love. She is definitely one of the most successful female influencers on Instagram, thanks to her authenticity and willingness to create consistent content in her niche for the audience.
Dancing is a great way to fix your mood and boost your positivity during the day, but it's a perfect niche for content creators to hit success on social media. Charli D'amelio is one of them, having over 49 million followers on Instagram thanks to her catchy dancing moves on popular songs.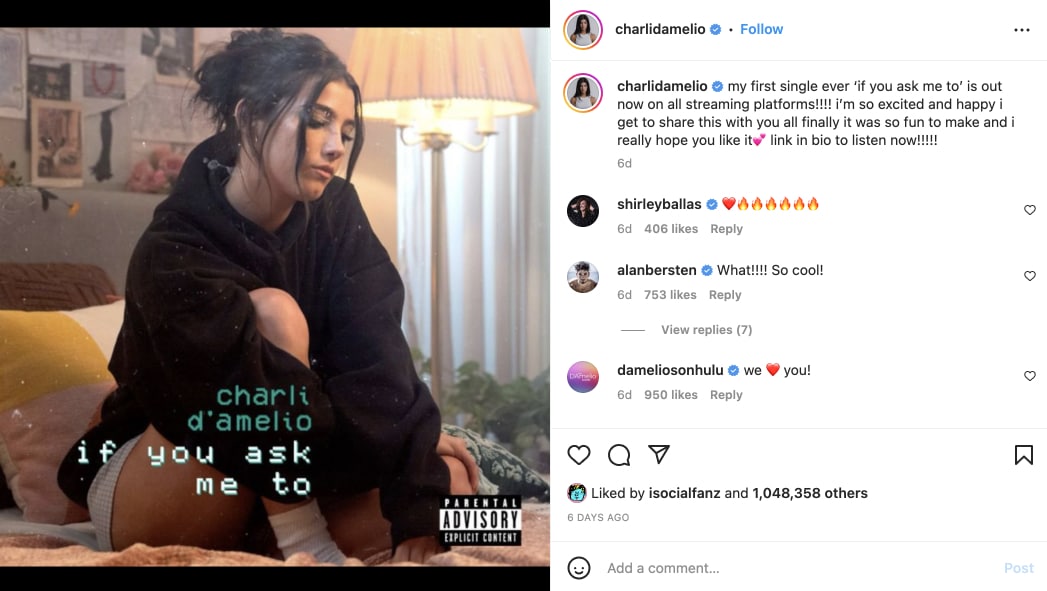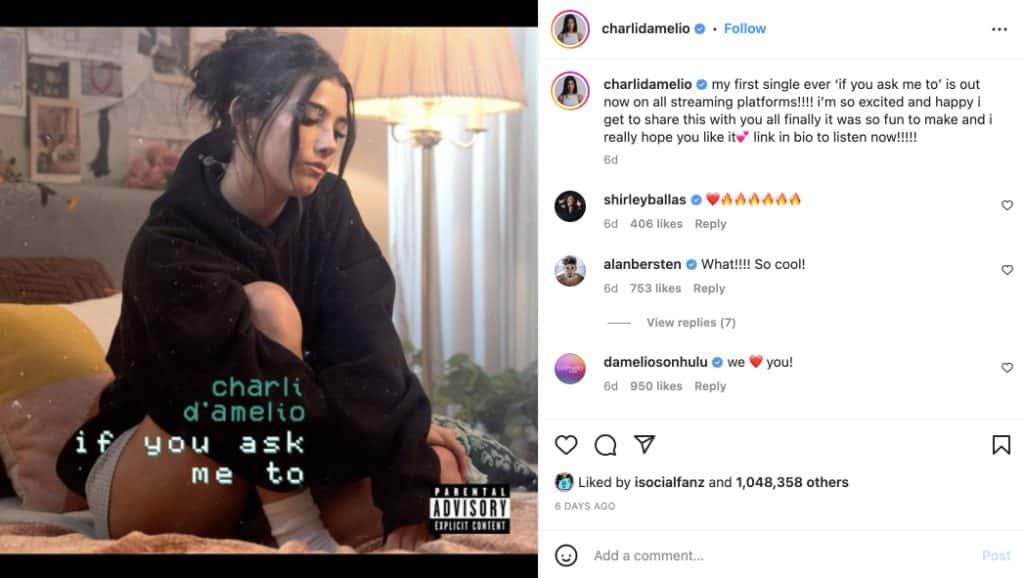 How did she become successful?
Primarily, Charli became popular on TikTok, recording short videos with attractive dances that millions of other content creators copied. When Instagram invented the reels feature, Charli continued with her dances on Instagram, spreading positivity to her audience burning the dance floor in front of a camera. Charli D'amelio and her dancing are clear examples of shaking your followers, catching their attention and building an army of people who want to dance like you.
Make-up and beauty is a billion-dollar industry where millions of make-up artists and influencers show their skills on Instagram. Nikkie de Jager definitely takes a big piece of the cake, having 16.6 million followers on her profile @nikkietutorials.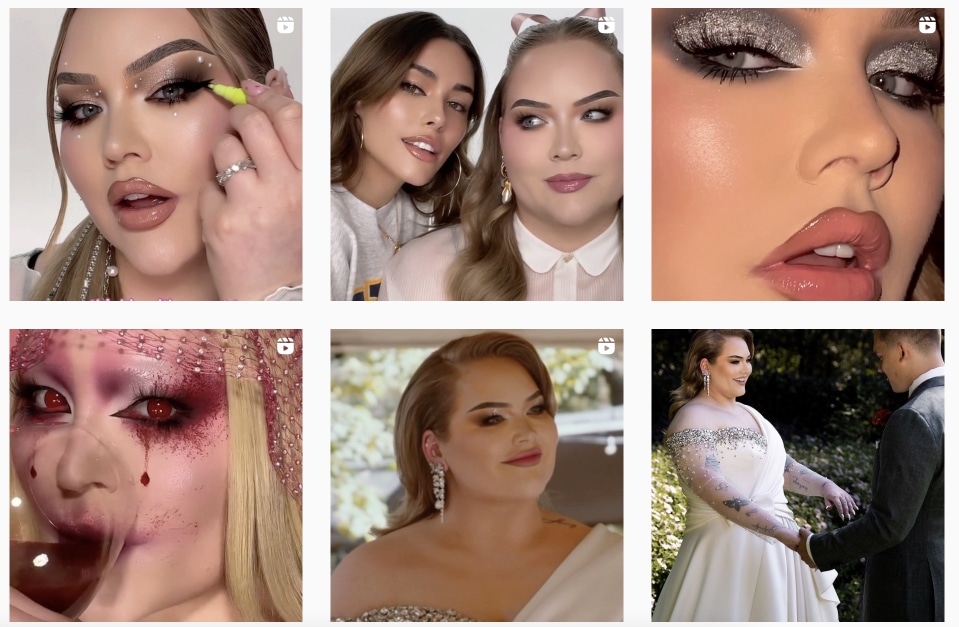 Why is she successful?
Nikkie's success as a make-up influencer is due to her step-by-step make-up tutorials and facial transformations. She also creates educational and theme make-up reels, making her an original content creator who shares creativity and artistic skills with the audience interested in beauty content.
Ema Chamberlain is a clear example of how the love of fashion and modeling can become a content occupation on Instagram. Looking at @emachamberlain Instagram bio, over 16 million followers are looking for seasonal outfit ideas and fashion pieces that Ema showcases in her photos.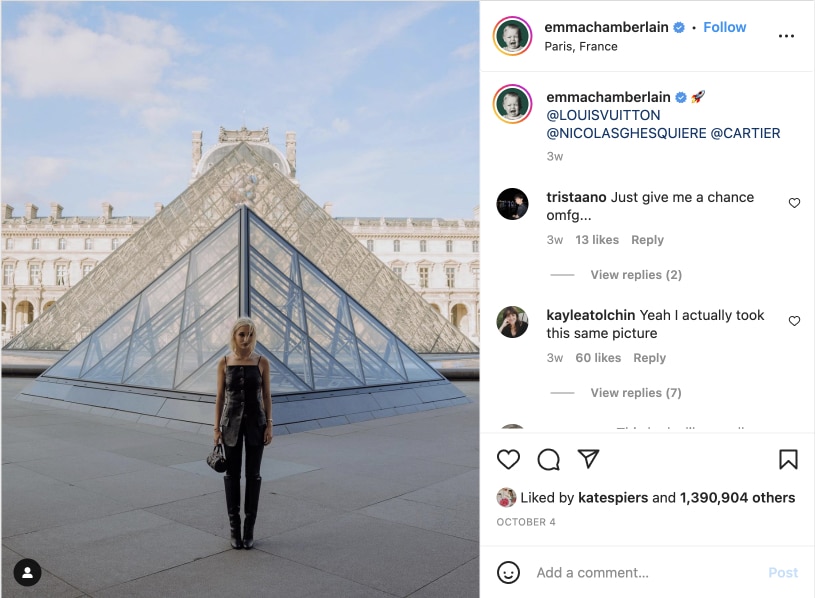 Why is she successful?
Ema hit success on the social media platform as a fashion blogger thanks to her charm, great-looking body form, and talent for modeling. As a cherry on the top, she often poses in different locations worldwide, making her a glamorous lifestyle and travel blogger in a bundle with her fashion outfit ideas.
8. Jimmy Donaldson (@mrbeast)
Coming in at the number one spot is YouTube powerhouse – Jimmy Donaldson, also known as @mrbeast on Instagram. Known for viral stunts and challenges, from spending 50 hours buried alive to eating the world's largest pizza slice, Donaldson knows how to keep his 20 million followers and 100 million YouTube subscribers entertained.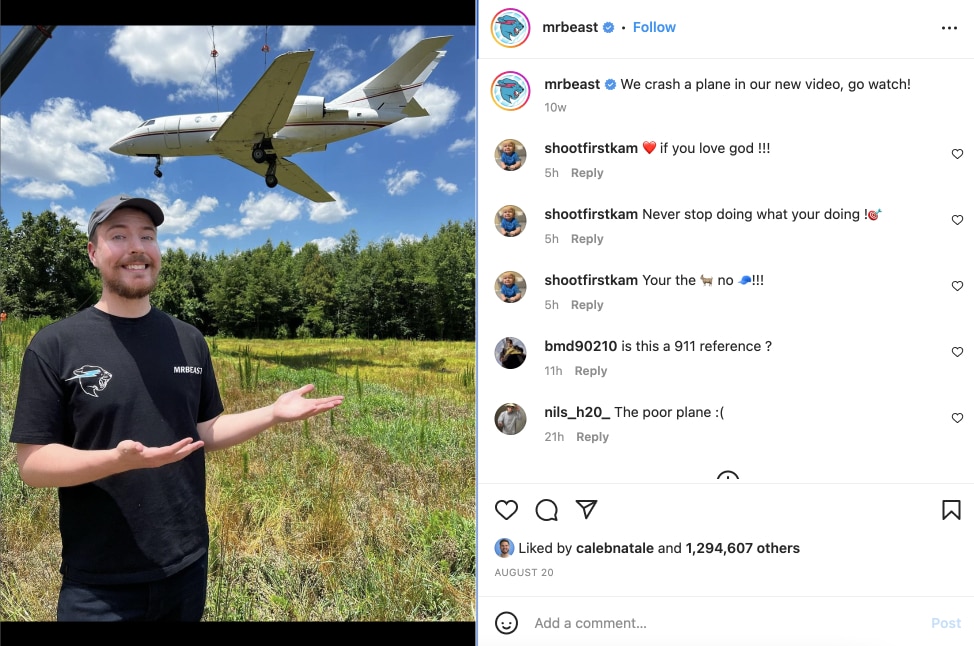 How did he become successful?
The critical factor to success on social media here is making your audience want more of your content and enjoy something never seen on the internet. Mr. Beast is a king for it, thanks to his mind-blowing content ideas, massive giveaways, and doing many unique things that others will probably don't.
9. Nusret Gokce (@nusr_et)
Cooking, having an elegant lifestyle, and having fun are the main ingredients in Nusret's success story on Instagram, known as @nusr_et. At this moment, Nusret counts over 48 million followers on his profile, creating engaging videos of preparing dinner for many celebrities and putting salt in their food with a specific movement of his hand.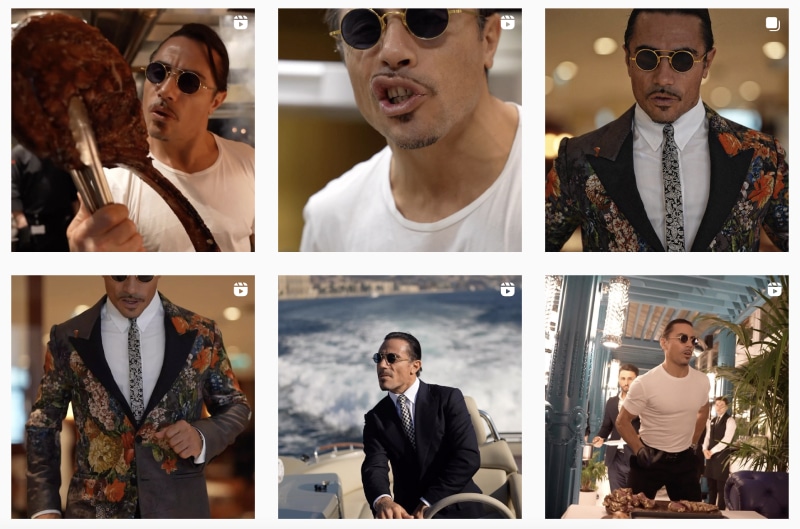 How did he become successful?
Giving a classy note during his cooking and preparing meals for famous people worldwide made him recognizable, and his reels went viral on social media. His uniqueness and accessibility to the guests who ordered his food converted into Instagram Reels is a clear example of how everyone can hit success on Instagram and provide something never-seen on the platform.
10. Zachary King (@zachking)
Do you believe in magic and illusion? Over 24 million people do, making Zach King one of today's most popular Instagram influencers. Zach is for sure one of the most exciting content creators on the platform, creating funny reel videos based on illusion and inexplicable course of events.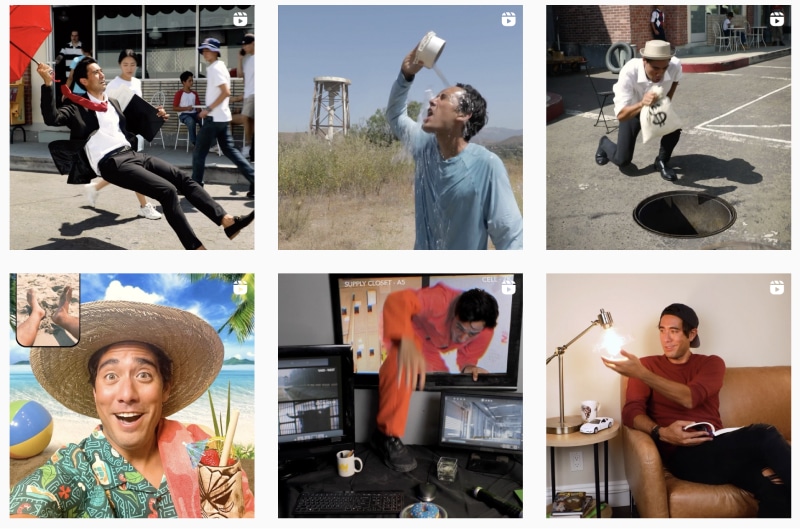 The profile @zachking is like a goldmine for masterpiece illusion videos and perfectly mixed events that will blow your mind. That's a crucial thing for Zach's success – creating original content that will confuse all people but keep their attention till the end at the same time. Original ideas and funny ways of interpreting them are the main factors to consider if you want to be alongside big players in the entertainment niche.
Main Attributes For Being a Successful Instagram Content Creator
1. Good Management Skills
Beyond cultivating their large following and growing their profiles, influencers must develop an authentic relationship with their audience. It is a daily part of their job to manage all the answers to their followers' questions, hold competitions, and maintain healthy communication with everybody. Many influencers don't respond to messages and comments because they are busy and have thousands of them in the DM. Still, one of the main attributes of being successful is to be communicative with your followers and take them as a part of your success.
Joe Wick and Nikkie belong to the group of creators with good management skills. Joe interacts with her followers, who are his potential fitness clients, while Nikkie shares make-up tutorials and reactions to make-up videos from other creators, indirectly going into communication with them.
2. Authenticity and Uniqueness
How often do you browse social media feeds or blogs for content inspiration? Perhaps you're an influencer wanting to connect with your target audience, but you aren't sure whether you should just be doing what everyone else is doing.
Authenticity is a crucial element you need here to be recognizable among other Instagram influencers and to stand out from the crowd. Be aware that often you will get asked by the brands and clients to "match the tone" of a competitor they saw on Instagram. The point is to establish your voice and instantly become a more credible, authentic, and trustworthy content provider in the eyes of your target audience.
Successful content creators not only practice making their personal voices heard, but they also infuse every piece of content with it. And, when it comes to Instagram content, they know the importance of how their personal voice adds value. In other words, they know how to use their signature niche-related focus in specific fields to ignite interest, which is the case for all influencers we mentioned above in the list.
High authenticity and uniqueness are the skills mentioned by many content creators in the above list, which are crucial factors for success on every social media. So, don't try to be the other guys when you create content. They're already there. Instead, be yourself unless you can be better and the best in your chosen field.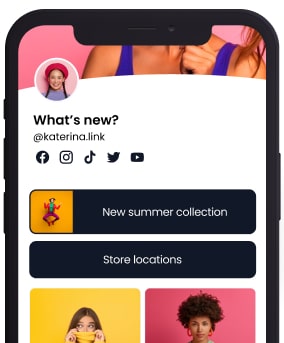 Forever free link-in-bio page with your own .link domain
Get Feedlink and build a complete social microsite for all your important links.
All PRO features | Cancel any time.
3. Building Trust
Much like authenticity, maintaining trust between the influencer and the audience is strictly necessary, and good influencers are keenly aware of that. Your followers need to trust you to "do what is right."
Trust is not only central to the influencer and audience relationship. It's a necessity for this trust to extend to the customer relationship as well and make some profit as an influencer. That means providing audiences with transparency around sponsored content, being fair in product reviews and content, admitting one's mistakes, and selectively approaching sponsors who fit with their audience and their needs.
Building trust is another crucial attribute that is included in every creator's success from the list we provided. Mr. Beast, for example, does this by surprising his followers with never-seen challenges and giveaways before. Nusret Gokce is another creator who posts content with many famous people in his restaurants. That's how he builds curiosity among the viewers to meet him and enjoy his food somewhere in Dubai or Istanbul.
4. Passion For Creating Content
Influencers and audiences are bonded by authenticity but fuelled by passion. It is impossible to fake passion, just as it is impossible to fake authenticity. Influencers are role models for their followers, and their energy and efforts are recognizable. Whether they create content in fashion, woodworking, home decor, or cooking segment, influencers allow people to watch relatable content and pursue their creativity right before them.
Influencers show passion, excitement, and creativity, which is infectious to their target audience. Their shared passion can be encouraged as they follow along, ask questions, share stories, and even receive encouragement.
The best influencers can convey their passion equally in sponsored and original content. Their love needs to extend to both their followers and their brand partners. Instagram creators can't succeed without a passion for their field, and it is hard to reap the benefits of genuinely authentic content if your supporters don't share a genuine interest or passion in your work and creativity.
5. Somewhat image and video design skills
Using tools for visual effects, image, or video editing is a plus when starting with influencer marketing as an Instagram influencer. And as we all know, many viral videos and funny videos are not professionally edited but it is great to build an artsy edge when making your Instagram reels or videos for a YouTube channel.
If you don't have much experience with images or videos or any animation skills, start with some basics and then move on to more complex concepts. So learning some video editing tutorials is something you can start with.
6. Being able to use analytics
Data is critical for any marketing strategy, and Instagram analytics tools can show you whether your influencer marketing campaign is working. With insights that show you the influencer's reach, engagement rate, and estimated impressions, you can show your boss or client whether the money spent on an influencer is worth it.
There are a ton of great Instagram analytics tools out there, but one of our favorites is Insights by Mention.
FAQs about Instagram Content Creators
How to become a successful Instagram content creator?
There are millions of influencers on Instagram with huge audiences and popular content. To be better than them, you should focus on creating never-seen content on Instagram, bringing fresh energy to your niche, and keeping your audience's attention with every content piece on your feed.
Why is it important to become an influencer?
Successful content creators on Instagram enjoy different benefits from many points of view. For example, they have massive audiences, an incredible digital asset necessary for any business. Also, you can organically and easily reach thousands of people when promoting specific products or brands, so it's much easier to drive traffic and increase profit respectively.
How many followers do I need to become an Instagram content creator?
Just sign up for an Instagram creator account and start creating original content. You should get no specific number of followers count; you can begin your journey with less than 1000 followers on Instagram.
Who is the most popular Instagram content creator?
There are thousands of them, but one of the most popular Instagram content creators are Zach King, Mr. Beast, Charli D'amelio, Khaby, Hasbula, etc.
Hot to get paid as an Instagram content creator?
Instagram content creators usually get paid for partnering with specific brands relevant to their niche and interesting for their audience. Also, many influencers sell their own product line, promote their services, do affiliate marketing or get paid for masterclasses and premium video tutorials.
What type of content is easy to start creating?
If you are not sure what type of content to start creating, think about the topics you are passionate about and knowledgeable in. Also, consider what kinds of content would be interesting and valuable for your target audience. When in doubt, start with creating educational and entertaining content that will help your audience learn more about your chosen topic. For example if you are in fashion you can start with a fashion blog or create social media posts like a lifestyle content creator.
Key Takeaways
To become a successful digital creator, you must strive daily to create quality content and incorporate essential habits to develop great content. Consider the above habits to inspire your digital marketing strategies and content creation process. Go the extra mile to delight your target audience by becoming the pro you're meant to be, taking into consideration the following key takeaways from this blog post:
Instagram content creators should be original, unique, and trustworthy source where people can find relevant content they love to see.
Focus on your target audience to get specific content never-seen-before. That's how you build trust among them and grow your Instagram account with lightning speed.
No matter your sector, become an Instagram content creator that consistently brings fresh content to followers and effectively increases engagement rates daily.
Don't be just another influencer on Instagram. Strive to stand out from the crowd and bring something new on the platform to amaze millions of people hungry for consuming recent trends.
Hope these great examples can inspire you and help you enter the world of content creation.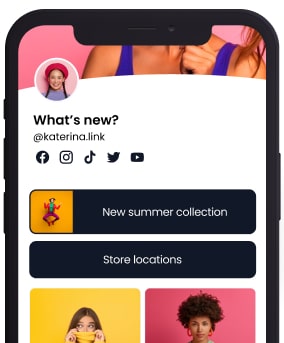 Forever free link-in-bio page with your own .link domain
Get Feedlink and build a complete social microsite for all your important links.
All PRO features | Cancel any time.