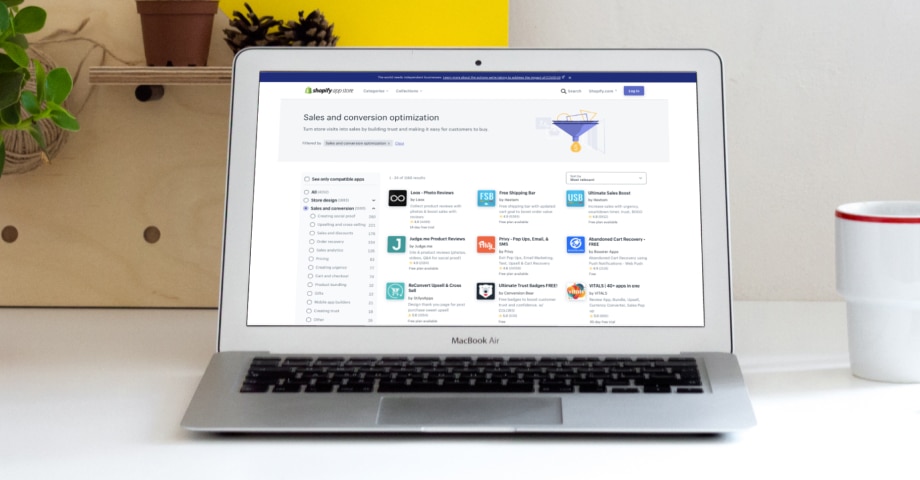 If you are in the e-commerce industry, you probably know that driving traffic to your Shopify store is just half of the battle and having the best Shopify apps possible a must.
It's not even about keeping them more time on your website.
It's all about making them push as much BUY buttons as possible so their order value is the highest.
Conversion with that highest possible order value is the most wanted goal of all your eCommerce efforts.
But achieving this is a mix of a different combination of efforts. And the removal of friction is probably the most worth strategy.
And a simple as ONE extra click in the purchasing journey can add up a friction that might turn down the customer from entering his credit card details.
Or just an extra second your customer needs to figure out what you offer drastically increases the chances that the customer will get irritated and move on to the next store (your competitor).
To avoid this scenario from happening, you need to optimize your e-commerce store for conversions.
Here are some eCommerce tactics you should consider incorporating into your Shopify store:
Cart abandonment reminders
Social proof notifications
Product testimonials and photo reviews
Referral program
Loyalty program with product discounts and coupons
Personalized product recommendations
Online store optimized for organic Google search
Fast page loading speed (the faster – the better)
Engaging product page formats
Optimized product search performance
Effective email marketing strategy
Pleasant and fast checkout experience
Upsell & cross-sell opportunities
Luckily, if you use an eCommerce platform like Shopify, you can do much of the above just by installing an app.
The Shopify app store has hundreds of apps to grow your e-commerce store.
At the same time, these apps can address your low engagement, conversion, and bounce rate headaches.
So, which of the apps you should go for?
We tested some of the most popular Shopify apps and summarized our findings below:
Here is a list of the best Shopify apps to grow your conversions in 2020 that proved worth trying:
Continue reading to learn about our experience testing each of these apps.
1. Push notifications app: PushOwl Abandoned Cart Pop‑ups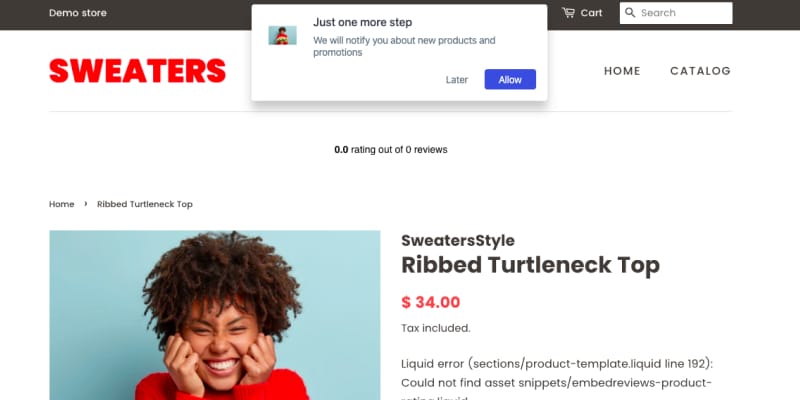 Free Trial: Forever free
Price: Business Plan starting at $19 per month based on impressions (push notifications delivered)
Best Used For: Cart abandonment recovery, customer retention, upselling products
If you are like most of the Shopify store owners – heavily dependent on your website as a sales channel, you have probably considered that in their hunt to check more items as possible, customers often hop from one brand to another.
The result – they abandon even the best discounts in their cart to look for some other better deals.
And, all that bouncing from your website leaves you with low conversion rates.
Is there anything you can do about this?
Yes, of course!
As email is slowly becoming spammy, setting up a web push notification on my Shopify store seemed like a reasonable alternative.
It grabs the attention of visitors as they arrive on the store and while browsing (without using their email or any other lead details).
So, I dedicated myself to try and install the Abandoned Cart Pop‑ups by PushOwl , a browser-based push notification tool through the Shopify App Store.
Here is my experience.
My main fear was – I am new to push notifications, so I may mess up something or push notifications to the wrong people.
But, once I opened the app, I was surprised to see how simple and intuitive this marketing app is for using.
Actually it is really easy to rely on marketing automation to automate redundant tasks with a push notification campaign. You just select the type of campaign you would like to send (regular or flash sale campaign), segment (subscribers) you would like to send the campaign to, sending options and then, proceed with designing your notifications.
You can choose from the dozens of push notifications types such as discount notifications, abandoned cart reminders, FOMO notification, product promotions, you name it.
The app shows me how the notification would look on Android, Mac, Windows 10, Windows 8, and older so I could clearly see the final output. Great, right?
I decided to go with 'product promotion' notifications.
And that's not it. They have a really simple, yet practical dashboard where you can track your marketing campaign performance like impressions, clicks, and revenue generated.
Cause I am so new to this push notification thing, I decided to contact the CMS and get some basic instructions. Got an instant reply from Rammez, the customer support at PushOwn.
He explained to me that I need to have at least 25 subscribers to my store to get started with the push notifications campaign (people who will tap 'allow' on the small prompt asking if they want to subscribe).
So if you ever want to use push notifications for Shopify, here is a summary of my experience with PushOwl Abandoned Cart Pop‑ups and an answer to our main question:
How can push notifications increase your Shopify conversion rate?
Send abandoned cart reminders that can really bring back customers
Save time and costs to bring back loyal customers by automating web push notifications such as: price drop, back in stock, shipping, welcome, flash sales
Up-sell notifications to customers who bought a similar product
Use smart and automatic campaigns and integrate with other apps to streamline your entire customer notification process
In addition to push notifications, one of the very interesting concepts for enhancing your Shopify apps store towards conversion is using social proof.
Continue reading to find out which are the best apps in this category.
2. Verified Reviews by EmbedSocial based on AMP Email technology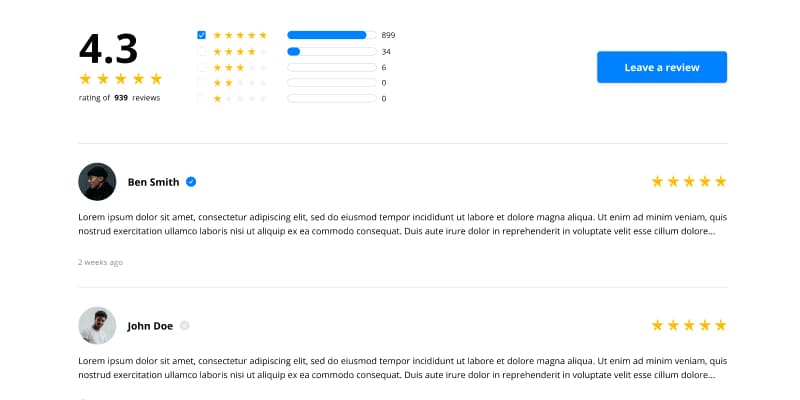 Free Trial: Forever free plan for shops with up to 100 orders/month
Price: Pro plan starting at $9.99 per month for up to 200 review orders included
Best Used For: significantly increase the number of customer reviews and show them. on every product page.
When purchasing a product online, we always have the challenge of not having the physical interaction with it: to inspect, hold, touch, taste or try on the product we want to buy.
So that is why people rely on outside opinions to make our final decisions: 84% of customers trust online product reviews more than they trust commercials.
How can we use this to our advantage?
Here comes the power of social proof and previous customer experiences.
Luckily, there are many different ways we can use social proof to convert visitors into customers.
Customer reviews are considered to be one of the most effective ways to help customers make a decision and feel confident about their choice.
So, in my efforts to show visitors that I am credible and people trust my brand and enjoy buying from my store, I installed the Verified Reviews app by EmbedSocial.
It is a standalone Shopify app that uses AMP technology to help you significantly increase the number of reviews from verified customers.
AMP Emails increase the number of reviews collected due to the embedded collect from within the Gmail inbox.
Furthermore, all these customer reviews will be synced automatically with each product page and displayed in modern reviews widgets.
Why Verified Reviews is the best Shopify app to increase your conversion rate?
Automatically remind customers to submit their product reviews and photos via email
Send interactive AMP emails with product and customer details
Send product review request form to all previous customers
Generate previous customer reviews from 3rd parties
Display collected reviews in modern widgets
And finally, it boosts trust and provides social proof on your shop that eventually leads to higher sales.
Since customers can sometimes be too busy to write reviews to products they buy, this app stimulates the same web-page-like experience in their inboxes with a responsive AMP email form.
The app sends smart email requests to all the previous customers who are verified by the app as real buyers through the Shopify orders system.
So, the next time a customer purchases something from me, they will automatically receive an email review form straight in their inbox so they can submit their testimonials and product images directly there (no need to login to Shopify neither).
I can also send the same review email form to all my previous customers or even import existing reviews from 3rd parties in a CSV format. Later on, I can also add them to my store too.
At the same time, to help customers shop with confidence, I can transform those reviews into stunning widgets on my website and customize them to fit my brand design.
And to check out my progress, I take a look at the dashboard that has every insight I need when it comes to email status, reviews collected, widget status, and many more.
When it comes to sales, let's not forget that every review counts, right?
3. Social proof app by Fomo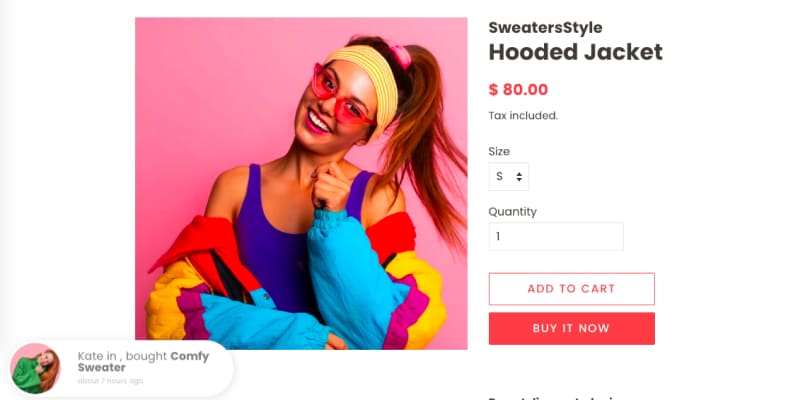 Free Trial: 14 days free trial.
Price: Paid plan starting at $19/month for 25K notifications monthly.
Best Used For: displaying instant social proof.
After seeing the value that reviews and push notifications to have, I decided to go one step further.
It was time to tackle the low conversion rate challenge. I needed a tool that will create a sense of urgency for my visitors and show prospective shoppers that other people trust my brand.
As species, we are risk-averse creatures. So, when we see a packed shop, unconsciously we hurry up to enter the place and see what we are eventually missing. But how to apply this in the online world?
To achieve the same effect on my store too, I installed Fomo.
This app that increases conversions with social proof notifications by creating an online equivalent of a busy store that people trust and what to purchase from.
How can Fomo app increase your Shopify conversion rate?
Displays recent orders, product reviews, newsletter sign-ups and any other customer behaviors on your storefront
Location detection to show relevant notifications to each of your online store visitors
Shows live traffic notifications – the current number of people shopping in the store
Brand friendly theme editor
Although at first, the dashboard seems complicated, once you check the 'Theme' option, you will realize how cool this app is. The best part – no coding is required!
As you can see, it's not an intrusive notification and it pops up really nice.
The Fomo app makes it so easier to see your progress through number lenses with a simple, yet effective dashboard with insights from your impressions, clicks, sales, engagements, conversions, etc.
And thanks to the Fomo integrations with Zapier, Mailchimp, and Instagram, I can even display notifications that include the number of product reviews, newsletter sign-ups, and many more.
4. Personalization recommendations app by LimeSpot
Free Trial: Forever free.
Price: Tier-based pricing based on your store's monthly revenue.
Best Used For: create personalized recommendations, upsell and cross-sell using AI
Customers feel special when they receive attention from brands (even in email formats as seen above). And one of the best ways to achieve this online is by personalization.
Personalized offers seem like a winning technique to attract new customers and retain old ones.
Why not give it a shot?
I needed an app that delivers personalized shopping experience to my online visitors, so I installed LimeSpot Personalizer by LimeSpot Solutions Inc.
It's a real-time AI-powered personalized platform that increases conversion rates, customer engagements, and transaction size across different sales channels.
How can LimeSpot Personalizer increase your Shopify conversion rate?
Real-time product recommendation
Upsell, cross-sells, you-may-like, post-purchase recommendations across the web, mobile, emails, and ads
Option to add multiple recommendations on every page you have (blog and 404 pages included)
A native visual editor that lets you customize the layout, design, content type, and the placement of every recommendation box on each of your pages
A/B/n testing and site-wide optimization
Real-time analytics to track your ROI
Once I installed the app and filled all the details the app needs to analyze my products better, Eric, their customer support, welcomed me with this article on how to set up LimeSpot app for the highest customer conversions.
It took me a few minutes to create my first recommendation box on my home page about the most popular items in my store this week.
A comprehensive analytics dashboard comes with the package.
5. Smart Search & Instant Search app by Searchanise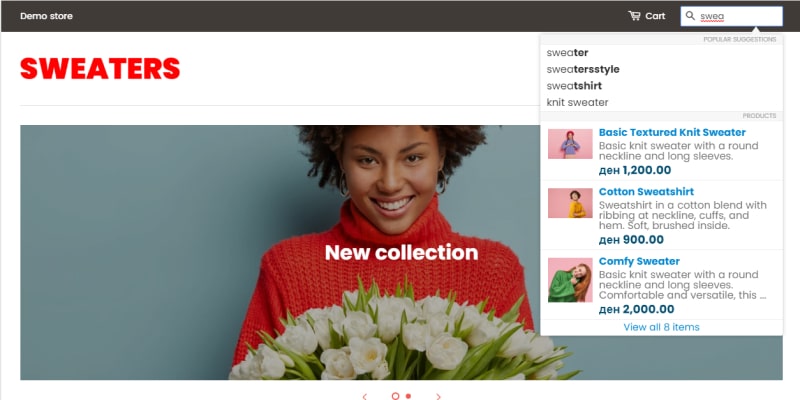 Free Trial:14 days free trial (free plan for up to 25 store items)
Price: Starting at $9/month for catalog size up to 500 items.
Best Used For: advanced search and product suggestions solutions
Another way to optimize your performance and eliminate the chances of your customers leaving without a purchase is to include personalized search suggestions.
So, the next time your customer searches for some item in your store, relevant suggested products will be shown as they browse.
To achieve this, I installed the Smart Search & Instant Search app by Searchanise, an instant and mobile responsive widget that shows the most relevant products in the search bar as my customer's type.
How can Smart Search & Instant Search app increase your Shopify conversion rate?
Advanced personalized CDN search with instant suggestions, autocorrection, synonyms, redirects, and stopwords
Advanced auto filters for relevant search results and collections
Customizable product labels and recommendation blocks
Real-time products sync and catalog indexation
Once you install the app, they organize a quick onboarding on how to use the app. In the meantime, all of the products in your store are being indexed.
You can go to your storefront and start searching for items immediately. And no coding is required – the search results page widget is automatically added to your store.
6. Orders and Shipping app by SendCloud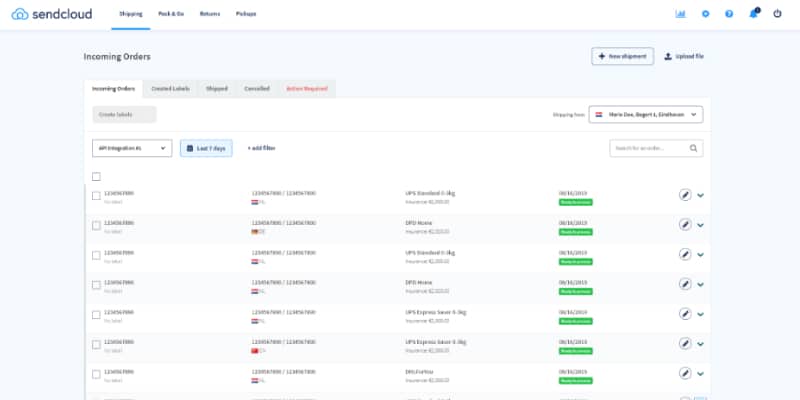 Free Trial: Free plan with the essentials
Price: Tier-based pricing based on the store size
Best Used For: Automate and streamline your shipping process
Checkout abandonment is obviously one of the highest contributors to low conversion rates.
And offering several shipping solutions (instead of just one carrier with one service) means your customers have more control over the way they wish their products to be delivered (speed, price, place of delivery, favorite carrier, etc).
This will empower the customer to continue with the purchase and complete the checkout process, ergo increasing your conversions.
In my search for an app that can streamline the shipping processes and save time and nerves, of course, I come across Sendcloud.
It is a Shopify app that helps to integrate multiple carriers and shipping methods directly into the checkouts.
How can Sendcloud increase your Shopify conversion rate?
Create custom tracking emails that include personal branding, promotional content, and links to their social media and as a result, increasing the conversion rates and the likelihood that customers will re-engage
Options to activate up to +25 international carriers and switch them with just a click
Return Portal that enables customers to quickly and effortlessly handle their returns by themselves As a bad return experience can turn a customer off from your brand, destroying the chance of repeat purchases, and this app can definitely minimize the chance for this.
7. AMP Stories app by ProductStories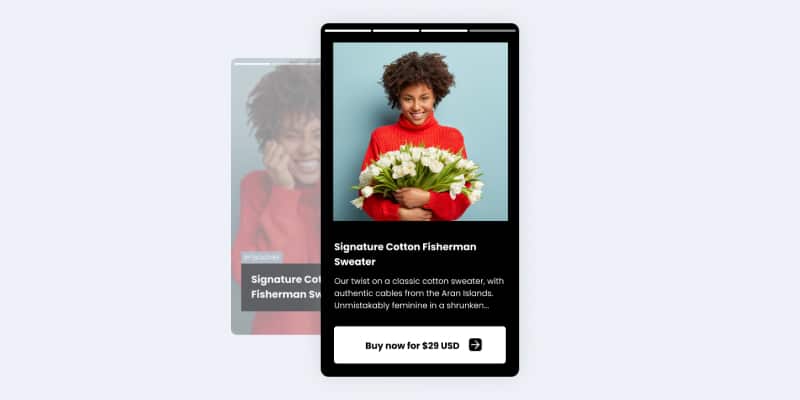 Free Trial: Forever free for small size Shopify shops with up to 10 active products.
Price: Basic plan for medium size Shopify shops with up to 50 active products starting at $29 per month
Best Used For: increase of traffic and conversions
SEO is a major organic channel to boost Shopify sales. And apps that can help to optimize the products display in Google search results are a must for every e-commerce store.
ProductStories app by EmbedSocial it is designed to do this and much more.
It's an e-commerce tool that creates AMP versions of product pages, shows your products in familiar Google Story formats, and allows your customers to shop directly from there.
How can ProductStories increase your Shopify conversion rate?
Shopify product pages convertor in AMP format and in Google Story format
Fast loading and SEO friendly product pages AMP format (3 times faster than a regular product page)
Shoppable product story format
Responsive and fully customizable widget design
As Google considers the AMP format as a credible SEO ranking factor, so once I convert my product pages in AMP Story formats, I can enjoy being positioned on the top of the mobile search results.
But how can I transform my product pages in Story formats? Would I need to do that manually, one by one, understand coding or?
Noup ..
Moreover, the ProductStories app does everything automatically. Once activated it converts all product pages in AMP format and also creates an AMP Google Story format.
And plus, it displays a widget on each product page that when clicked opens a responsive and fully customizable AMP widget.
ProductStories app makes it very easy to monitor results. I can keep track of my growth by analyzing conversions, traffic, and engagement rates.
This app is a ready-to-go solution and a powerful way for every Shopify user like me that wants to stand out from their competitors and boost sales by using the popular Instagram Story format.
Worth trying!
Feel free to contact the EmbedSocial team for more information.
8. Referral Program by ReferralCandy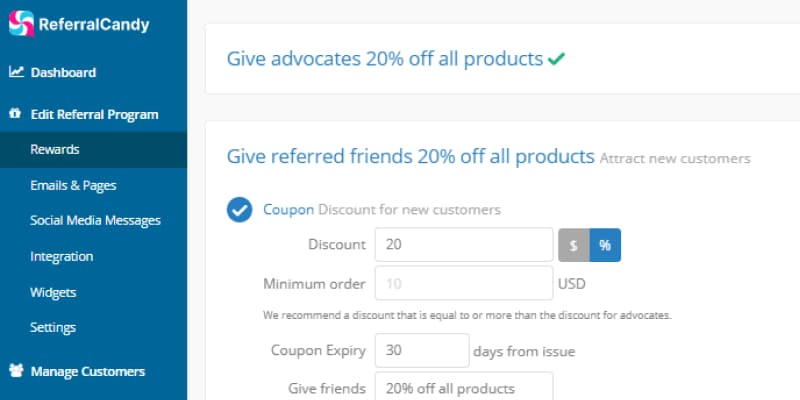 Free Trial: 30 days
Price: Premium plan starting at $49 /monthly
Best Used For: automate your referral program, award customers
Another powerful way to increase conversions is by building trust through word of mouth marketing.
And of course, the best recommendations are the ones from your closest friends, right?
Since I am not a fan of cold calling, reaching out to long email lists of prospects, or generating brand-new leads from scratch, to drive my marketing efforts further and reduce the sales budget, I realized I need to focus on those customers who are already satisfied with my products.
I needed a referral program!
My research led me to the Referral Candy Shopify app which had most of the reviews on the Shopify app store which led me to make a decision and give it a try.
So, I gave my imaginary advocates 20% off (see the image above) so they will recommend my products to their friend. (fair enough, right?).
It's an easy-to-use tool that can automate the referral process, boost sales, and increase customer loyalty and retention using the power of social proof.
This app also makes it very easy to set up 'Awards' like free samples or swag, to both, your product advocates and referrals.
To set up the reward for both your advocates and referrals, you need to include the following information: minimum order (in local currency) to receive a referral, coupon expiry, and to which Shopify products this discount will apply (all Shopify products or selected collections).
It took me seconds to do this.
After exploring the app, I decided to automatically invite customers to refer my Store to a friend via email (after they purchased something).
They give you easy-to-fill social media templates to make sure your referral links will stand out in the social media feeds.
If you are data-driven like me, you will find the Referral report section very useful.
All the insights about referrals such as emails sent, email views, purchases by referral customers, social media shares, sales due to referrals, cash rewards paid out, etc. are at your disposal.
As a summary check below my key findings:
How can Referral Candy app increase your Shopify conversion rate?
Provides ready-to-go themes for crafting referral emails, landing pages, pop-ups.
Many options to invite customers and promote your referral program (automatically after checkout or manually)
Templates to promote your referral program on social media
Referral widgets to display on your store (post-purchase pop-up, embedded sign-up page, cookie consent footer banner, etc.)
They say that those customers who participate in referral programs are much more likely to stay your loyal customer.
Let's never take that for granted 🙂
9. Spin To Win app by Secomapp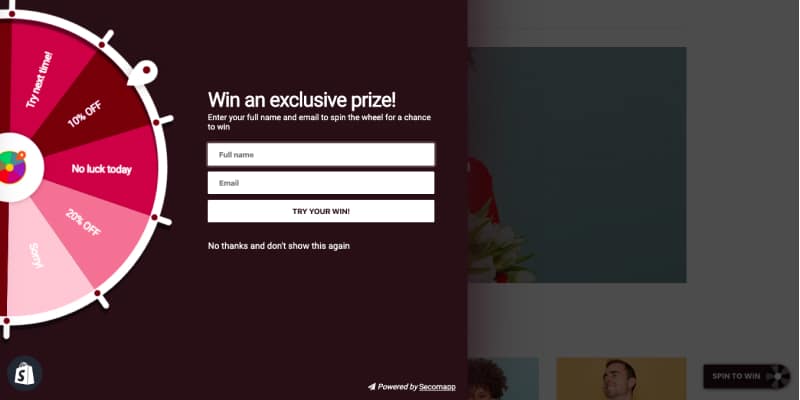 Free Trial: Available
Price: 9.99$/month for a professional plan
Best Used For: grow your email list and customer engagement
If you think that pop-ups are not working for your store, your customers are ignoring them, your lead generation is falling behind and that affects your conversion rates, you might consider the 'Spin to Win Marketing' concept and create a spinning wheel for the visitors on your website.
This concept is perfectly incorporated into Spin To Win app by Secomapp.
It' s a tool that can replace your pop-ups with an exciting wheel game.
Your customers can enter their email address, spin the wheel, and win a prize (discount) and then use it to buy items from your store.
And by keeping your customers engaged like this, you can increase repeat purchases.
How can Spin To Win app increase your Shopify conversion rate?
Spinning wheel that lets your customers spin and win discounts and prizes in exchange for their email addresses
Option to use the won discount in your shop directly
Customizable 10 wheel slices with different Coupon Codes
Customizable wheel with colors, effects, logo, add a claim, and consent checkboxes
They have a simple and intuitive dashboard to set up your campaign. It is very easy to create and customize 10 wheel slices with different Coupon Codes (unique and valid codes for one time only purchase).
Once I added the spinning wheel on my website and tried it, I got a free shipping coupon.
Next, you should just copy the given coupon. In parallel, while browsing, the coupon will show up as a small widget on the low right corner of your Store so your visitors will be reminded to use it.
If you are still wondering about spinning wheels, I suggest you give it a go. You may never know until you try it, right?
10. Discounted Pricing ‑ Discounts by Booster Apps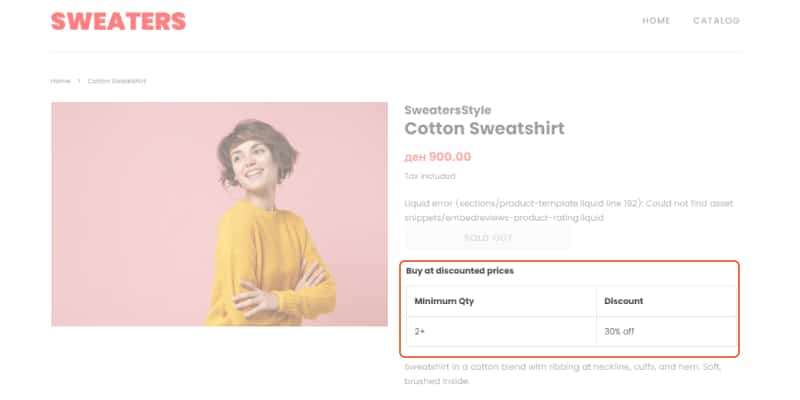 Free Trial: 7 days
Price: Basic plan starting at $19.99/month
Best Used For: offering discounted pricing and increase average order value
Speaking of discounts, wouldn't it be great if a customer can buy in bulk?
To improve customer experience and encourage them to add more items to their cart Discounted Pricing ‑ Discounts by Booster Apps is the Shopify app you should consider.
It's a really simple app that lets you set up different price tiers and increase sales.
How can Discounted pricing app increase your Shopify conversion rate?
Set volume discounts across collections and products
Quantity breaks discounts
Highly customizable discount campaigns offer
Use in combination with discount codes
The dashboard is really user-friendly and it allows you to fully create and customize your offer. It took me less than a minute to create my first discount campaign.
I applied a volume discount (buy 2 get 30% off) to some of my latest sweaters (see the image above).
11. Shop Pay by Shopify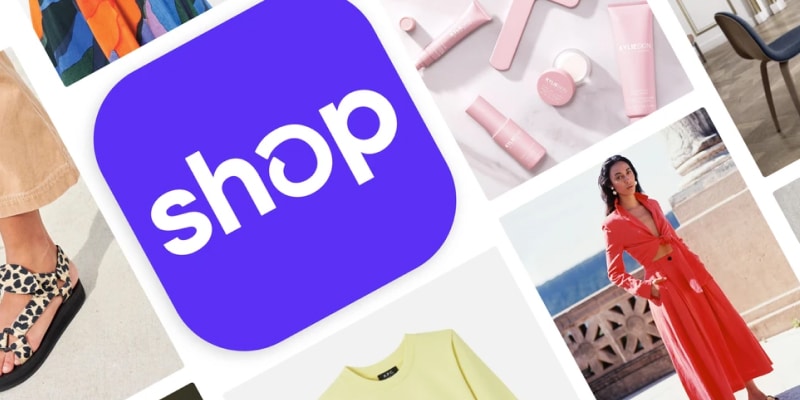 Price: Free
Best Used For: improve shop discovery and inventory management
To make all of the purchasing processes a pleasant and fast experience, Shopify recently introduced its latest Shop app. It works like a digital shopping assistant. It remembers your checkout details, tracks your orders, and shipping information.
How can Shop Pay increase your Shopify conversion rate?
Speed through checkout and offset delivery emissions (at the same time)
Get real-time delivery updates from cart to home in one place
Option to upgrade with personal product recommendations from your favorite stores only
You don't have to worry about a thing – the servers meet the payment compliance standards for vaulting credit card info and everything is encrypted.
The amusing part about this app is that it calculates the carbon that your product delivers releases (based on package weight, transportation method, delivery distance).
Next, the app translates that into the number of trees that we need to protect to eliminate the bad carbon emissions.
Note: You can download the app if you are eligible for Shopify payments, available only to stores in certain countries and regions.
Bonus Shopify Apps
No matter what kind of goods or services you sell online, Shopify is your reliable choice to build a scalable online selling store with remarkable built-in features.
Luckily, the Shopify app store never falls short of hosting thousands of intuitive apps that are simplifying store owners' lives.
Here are some great bonus apps that you can add to your Shopify store:
Dropshipping platform: Oberlo
Affiliate program apps: Refersion
Print on demand drop shipping: Printful
Wishlist app: Growave
Loyalty programs: Swell, Smile.io
SMS marketing: Privy
Don't limit yourself to the Shopify apps to do the job for you. Digital marketing strategies like Google ads, Facebook ads, Facebook messenger marketing, retargeting campaigns, search engine optimization, can play a very important role in promoting your e-commerce store.
To wrap up
With rising competition, it's tough to stand out.
Understanding customers and improving their online shopping experience can be even trickier.
Unlike in a physical location, in the online store, you can guess but may never know the reason behind the cart abandonment.
As an e-commerce business owner, the only thing you can do to increase sales is to test, test, test, and see what works best for our Shopify store.