The consumer decision-making process is a multi-step journey that individuals go on before making a purchase. It involves a series of behavioral stages, starting with problem recognition, then information search, the actual purchase, and culminating in post-purchase evaluation.
UGC has become a pivotal force in shaping these decisions as it provides authentic content, opinions, and experiences shared by actual consumers across social media, reviews, and forums.
All in all, UGC is a powerful testament to a product or service's value, adding a layer of credibility and relatability that traditional marketing channels often struggle to achieve.
Keep on reading as we explore its impact in real-life situations!
Embed user-generated content on your website automatically. Start a free trial today >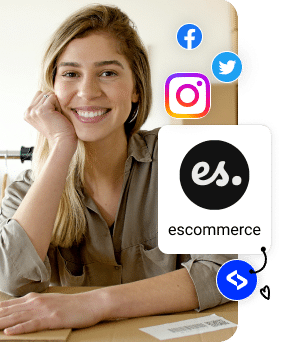 Collect social proof & user-generated content with the #1 UGC platform
Try EmbedSocial and automatically collect, monitor, and display UGC on any website.
All PRO features | Cancel any time.
Five stages in the consumer decision-making process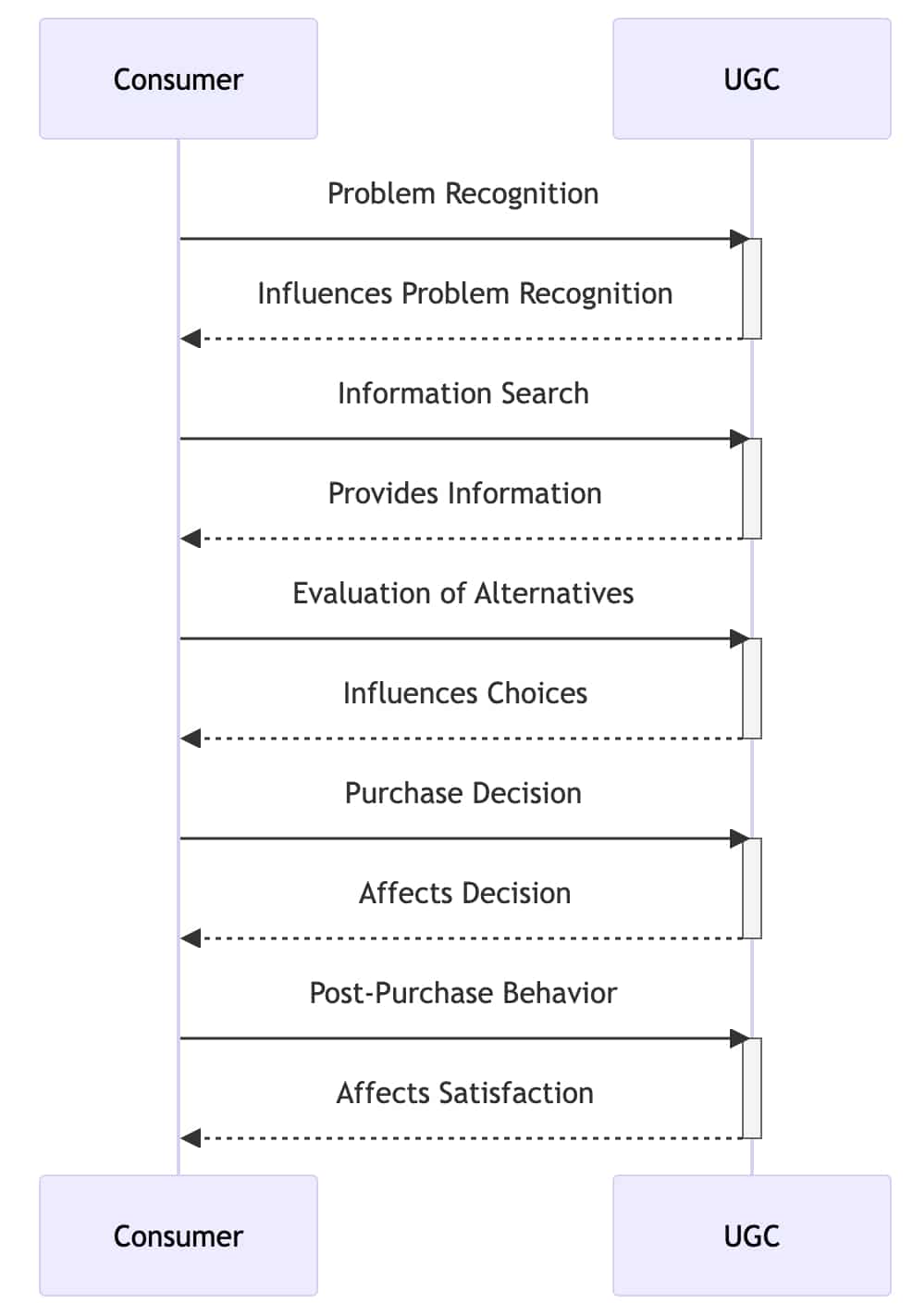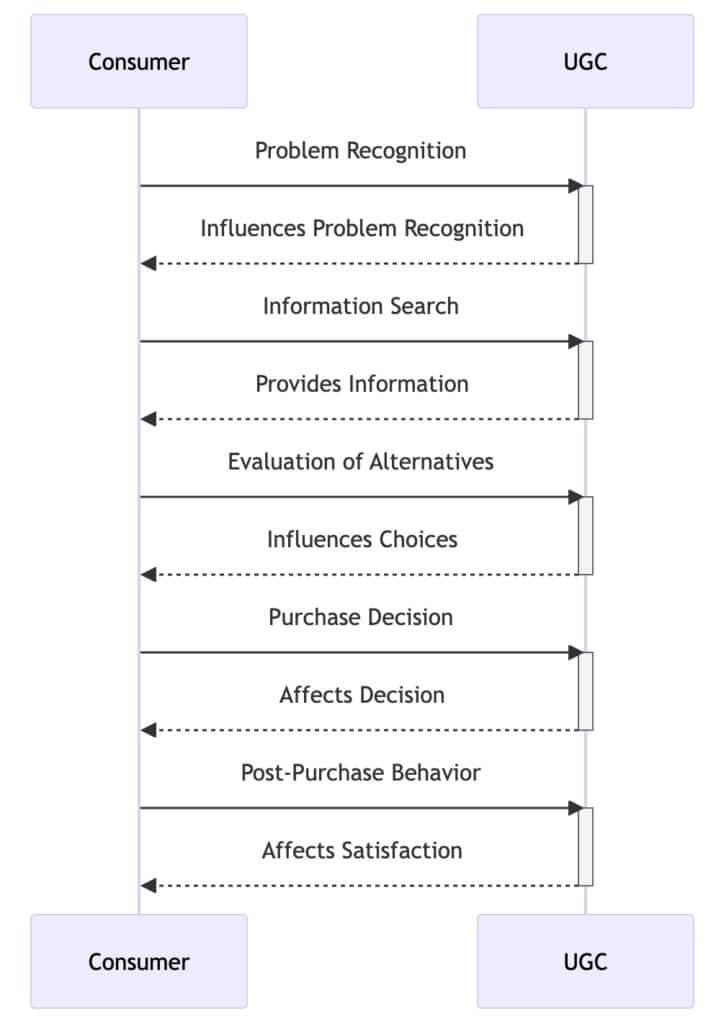 User-generated content has a real impact throughout all stages of the consumer decision-making process as it shapes perceptions and guides consumer choices. Let's see how!
Awareness Phase: Noticing a need or a problem
UGC can be a powerful tool for uncovering latent consumer needs and highlighting previously unnoticed problems. Through authentic reviews and experiences consumers share across forums and social media, UGC illuminates challenges that resonate with a broader audience.
For example, specifically targeted Instagram ads or promo posts by micro-influencers containing UGC of customers having a skin or weight problem can resonate with many people experiencing the same problem. Then, some inspired users will look into rituals, diets, and skin care products.
Such is the case of Facetheory, a skincare brand delivering innovative skin care products worldwide. They use Instagram to showcase the before-and-after images of customers who have tried their products and willingly posted about them across social media.
Here's how they do it in the form of UGC Instagram carousels: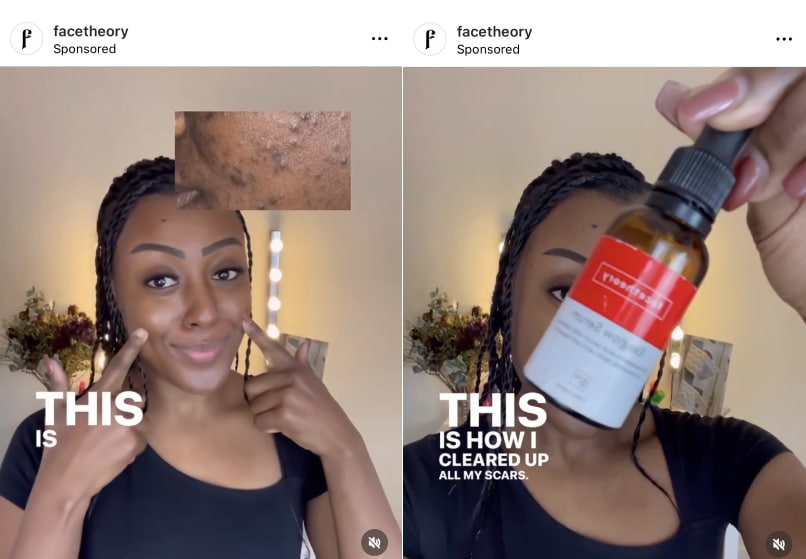 This is a good example of pushing a product to an audience that might not be aware of their problem's solutions but can easily connect with a real person who shares their experience.
That's why UGC is extremely important for potential customers who are embarking on the buyer's journey. When placed across the internet (especially social media), UGC marketing can attract heaps of curious customers who have certain needs or require a solution to a problem.
Consideration Phase: Evaluating several solutions
In the consideration phase, UGC becomes a valuable resource for evaluating different consumer solutions. UGC offers a wealth of real-world information and insights about products or services, providing a genuine perspective beyond conventional marketing messages.
In the information search stage, reviews and UGC visuals present authentic content of experiences, shedding light on product performance, features, and potential drawbacks.
For example, Amazon is a go-to platform for many consumers during the consideration phase when evaluating alternatives. The platform offers various features that facilitate comparison and evaluation. Here are some ways Amazon is used for this purpose:
Product Comparison Feature
Example: A consumer looking for a new laptop can use Amazon's built-in product comparison feature to compare specifications, prices, and features of different models side-by-side. In this feature, the interested buyer can see the average rating and number of reviews and read through to gauge the performance and reliability of various brands and models.
"Customers Also Bought" Suggestions
Example: A shopper looking for a camping tent may find the "Customers Also Bought" section helpful in evaluating alternative brands or tent sizes they hadn't initially considered.
This wealth of information equips potential consumers with a deeper understanding, enabling them to make well-informed decisions when choosing which products to buy for their needs.
Decision Phase: Choosing the best product for you
UGC is also crucial in the decision-making phase as it's often the social proof needed to nudge buyers over the purchasing threshold. After all, consumer-driven insights that testify to a product or service by showing real-life scenarios are a powerful sales tool anywhere.
The best online destinations for such information include the main social media platforms (Instagram, Facebook, TikTok), various forums (Reddit, Quora, product-specific forums), and reviews on Google or industry-specific review aggregators.
For instance, imagine a consumer looking to purchase a new camera. They might turn to YouTube and social media for specific product videos, where tech enthusiasts share detailed reviews, evaluate alternative products, compare prices, and unboxings, thus showcasing all the pros and cons of the product in question.
GoPro has the best examples for this use case since their entire marketing campaign relies on UGC—after all, their action cameras have been designed to be used by adventurers everywhere, who are more than happy to share their exciting lives with the world:

Example
The company actively encourages its customers to share their action-packed videos and photos on social media platforms using the hashtag #GoPro on Instagram, and they are receiving thousands of amazing photos of videos daily, which they can use for their marketing efforts.
By showcasing the experiences of actual GoPro users, the brand creates a compelling story that resonates with adventure seekers in the consumer buying process, who are more than eager to make their purchase decision right on the spot.
EmbedReviews is a product that can bring a brand's positive reviews to as many customers as possible, thus giving them all the information they need to consider a purchase.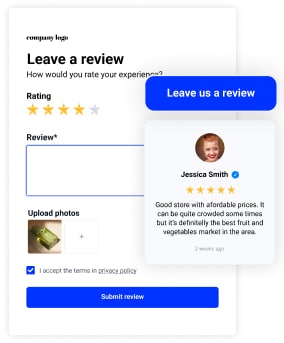 Collect reviews and display testimonials wall of love widgets
Try EmbedReviews, collect and display reviews widgets on your website. Automatically.
All PRO features | Cancel any time.
Purchase Phase: Becoming a new customer
Many brands and businesses use positive UGC as a powerful channel for conversion.
When potential customers encounter authentic content showcasing satisfied users, they become confident and trusting in the brand or product. Glowing reviews, enthusiastic testimonials, and captivating user-generated images or videos create a sense of reassurance and additional excitement.
For example, there's a plethora of YouTube videos hailing Apple's products, which are more often than not the tipping point for countless potential customers each year: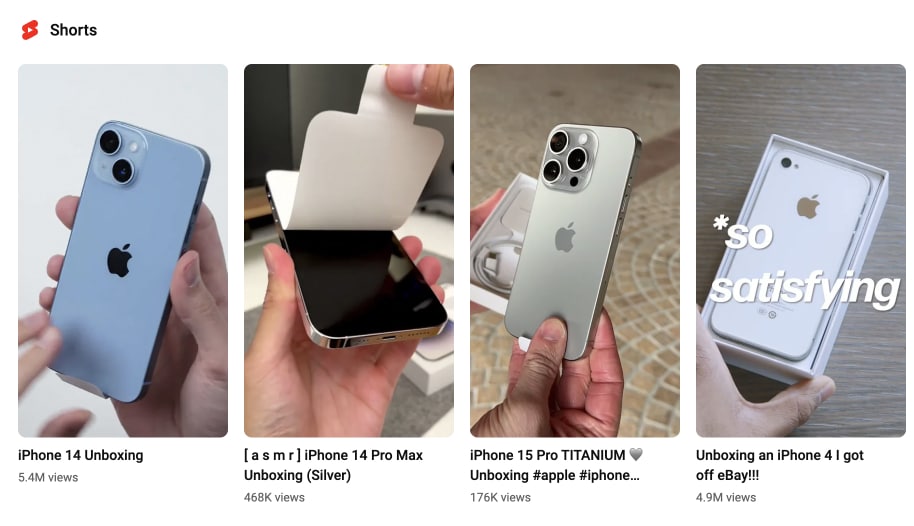 Remember, though: UGC is a double-edged sword, and content will undoubtedly be created to showcase the failings and disadvantages of buying a certain product. That said, brands should not overlook negative reviews since they provide an opportunity for improvement.
Engaging with negative feedback is smart: it addresses concerns and showcases a commitment to customer satisfaction. Moreover, it demonstrates a dedication to continuous improvement and customer-centric values when updating existing or releasing new products.
Once you fall in love with a brand's products, there's a career to be made as a UGC creator. Remember, most modern businesses have started relying on user-created content!
Advocacy Phase: Post-purchase evaluation
Last but not least, UGC also proves crucial for shaping post-purchase opinions and fostering long-term brand loyalty and satisfaction. In this phase, UGC takes the form of authentic customer stories that testify to the brand's quality and nudge potential buyers to consider a certain brand.
Utilizing influencers to spread the word is one such sales strategy, as it relies on social media celebrities promoting certain products and services they like.
For instance, look at Simeon Panda, a prominent fitness industry figure renowned for his dedication to promoting a healthy lifestyle.
As a respected bodybuilder and influencer with over 8 million followers, Panda successfully promotes quality supplements from specific brands in the fitness industry. Check out this example: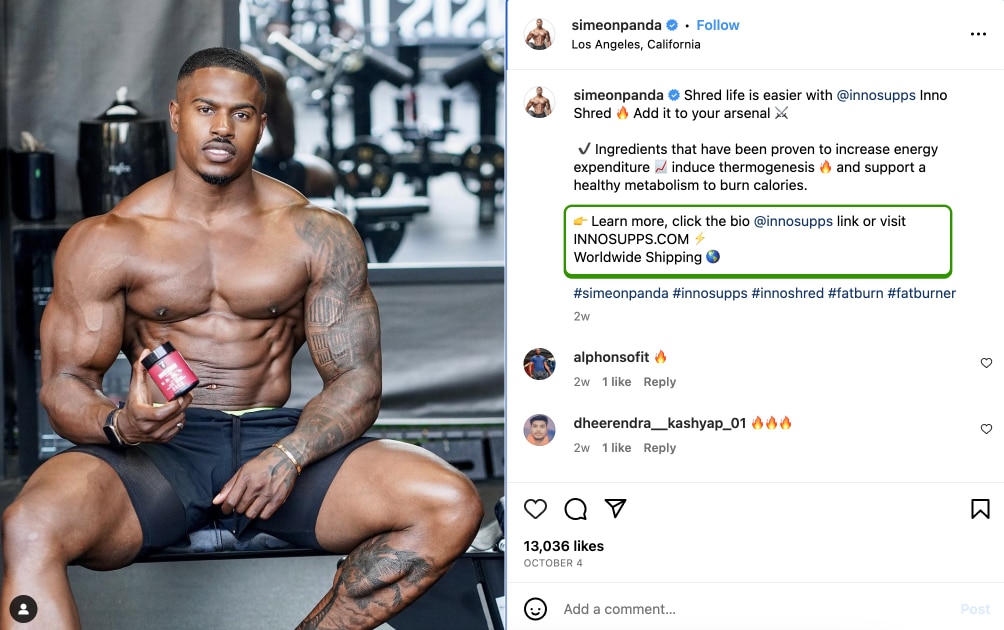 When customers feel valued and heard, they are more likely to advocate for the brand in their circles, thus driving repeat purchases over and over again. And if you ever encounter or collaborate with an influencer to speak highly of your brand, there are several ways to use that content!
UGC's Influence on Purchase Decisions: Statistics
If you're still not convinced, check out these five statistics showing the impact of UGC on buyers' purchasing decisions.
All these statistics are summarized in a detailed UGC statistics post.
1. 43% of online shoppers state that customer reviews are very helpful
According to a 2023 Statista survey about "Attitudes towards online shopping," most U.S. respondents pick "Customer reviews on the internet are very helpful" as an answer. 
2. Ads featuring UGC have 73% more positive comments on social media than traditional ads.
UGC statistics show that ads featuring UGC gain 73% more positive comments than traditional ads. Additionally, 31% of consumers believe that UGC ads are more memorable than traditional ones due to their genuine content.
These numbers also highlight the effectiveness of UGC in building a community around a brand and amplifying the positive sentiment associated with its products or services.
3. Social campaigns that use UGC have 50% increased engagement rates
This trust translates into 50% higher engagement rates as users are more likely to interact with brands that showcase content created by followers, friends, or family.
UGC brings authenticity and relatability that resonates deeply with audiences, and individuals who endorse or share their experiences with a brand foster a sense of trust and credibility.
4. 85% of the consumers find UGC more influential than brand content
A survey released by Adweek shows that 85% of consumers consider UGC more influential than brand-generated content, which speaks volumes about the power of authentic, consumer-driven experiences.
UGC taps into the collective wisdom of a community. When potential customers see others positively engaging with a brand, it creates a sense of belonging and encourages them to join in.
5. 84% of young users are more likely to trust a company if it uses actual customers in its ads.
Young adults want to connect with people who understand them: 84% of them are more likely to interact with brands that use authentic customers in their ads.
Zoomers value genuine experiences and real-life testimonials. When they see actual customers in the campaigns, it establishes a level of trust that traditional advertising methods may struggle to achieve, often resulting in positive opinions and brand engagements.
Read more:
Best practices for brands to leverage UGC
So, how can brands implement UGC to affect the customer's purchasing decision? Check out these five proven strategies:
1: Embed UGC on official websites
One of the most effective ways brands leverage UGC is by featuring it on their official websites, which immediately adds authenticity and creates a sense of community and trust for potential customers.
Brands usually create a dedicated section on their website where UGC can be showcased. This can include customer testimonials, reviews, images, or videos.
Here is an example of our 'Wall of Love' page with the latest testimonials by our users: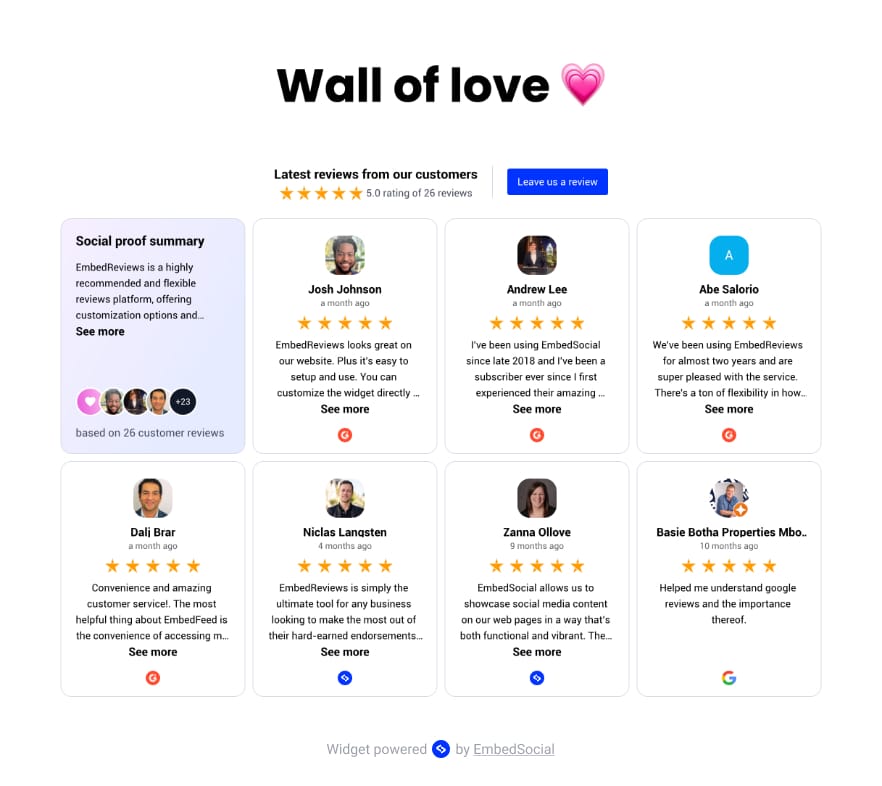 The above page showcases the UGC collected by this particular brand in the form of customer reviews and stories related to various Tesla products, including vehicles and solar energy solutions.
It's not even that hard to do if you have the right tools at your disposal!
For instance, EmbedSocial makes it incredibly easy to collect the UGC mentioning your brand online and embed it onto your website, be it reviews, testimonials, visuals, etc.
Embed user-generated content on your website automatically. Start a free trial today >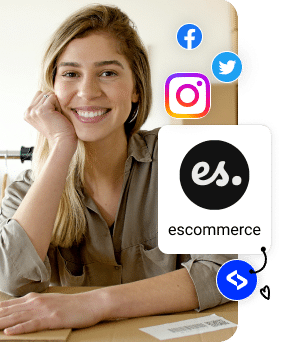 Collect social proof & user-generated content with the #1 UGC platform
Try EmbedSocial and automatically collect, monitor, and display UGC on any website.
All PRO features | Cancel any time.
2: Run UGC campaigns and contests
Brands encourage customers to create content by running UGC campaigns or contests. The incentives they provide include discounts, free products, or the chance to be featured on the brand's platforms, ultimately motivating users to share their experiences and creativity.
For example, e.l.f. Cosmetics created a catchy original song for their #EyesLipsFace campaign, encouraging users to showcase their makeup looks using the hashtag #EyesLipsFace. The campaign went viral, with millions of views and user-generated videos.
Here is how they advertised the campaign:
Do that thing with your eyes ? Let me see them lips ? Attitude and gimme face! ?" We got the beat, you've got the moves. ??

Now eyes, lips, face, dance your way to $250 worth of e.l.f. Cosmetics makeup + skincare products! Work your (s)e.l.f. confident moves for a chance to win! NO PURCHASE NECESSARY.

Begins 10/3 at 10:00 pm PST and ends 11/15 at 11:59 pm PST.

Open to U.S. residents 13+ years old (with parental/legal guardian permission where applicable). Each entry must include the hashtags #eyeslipsface and #Contest.

Limit 1 entry per day per person. Odds of winning depend on the number of eligible entries received. Void where prohibited.

TikTok contest rules
They managed to get 10.2 billion views for all the videos published using this hashtag.
3: Incorporate UGC in email marketing
Another practice brands use to leverage UGC is integrating it into email campaigns, thus providing personalized and relatable content.
Brands usually include customer reviews, testimonials, or user-submitted photos of their products to build trust, impact the consumer decision-making process, and drive conversions.
One clear example of this practice is the BigStuffed newsletter, which often features testimonials of people saying how unique are their stuffed animal toys.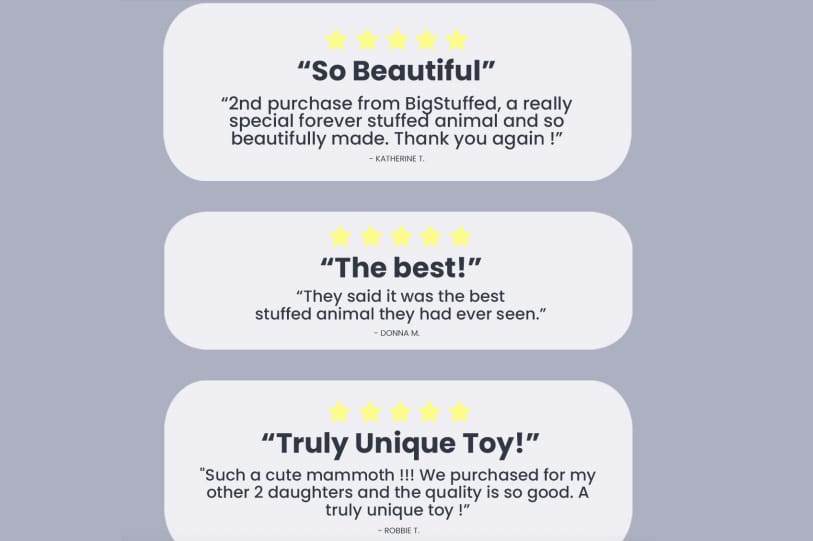 By emailing UGC of people wearing their clothes, Little Soho creates a more relatable and authentic connection with its subscribers.
It allows potential customers to see how the clothing looks in a real-life setting, which can be a powerful motivator during the purchase process.
4: Use UGC in Facebook ads
Utilizing UGC in Facebook or Instagram ads is a powerful strategy to enhance credibility and engagement. Brands can showcase authentic customer testimonials, photos, or videos to create compelling ad content.
Vivaia and its catchy Instagram ads emphasize the effectiveness of this method.
This renowned brand specializes in shoe bands, offering a stylish and functional alternative to traditional brands. By incorporating UGC in their Instagram ads, Vivaia leverages their satisfied customers' trust and influence to capture potential buyers' attention.
Here's one of their UGC Instagram ads that showcases a testimonial from a verified buyer of their product: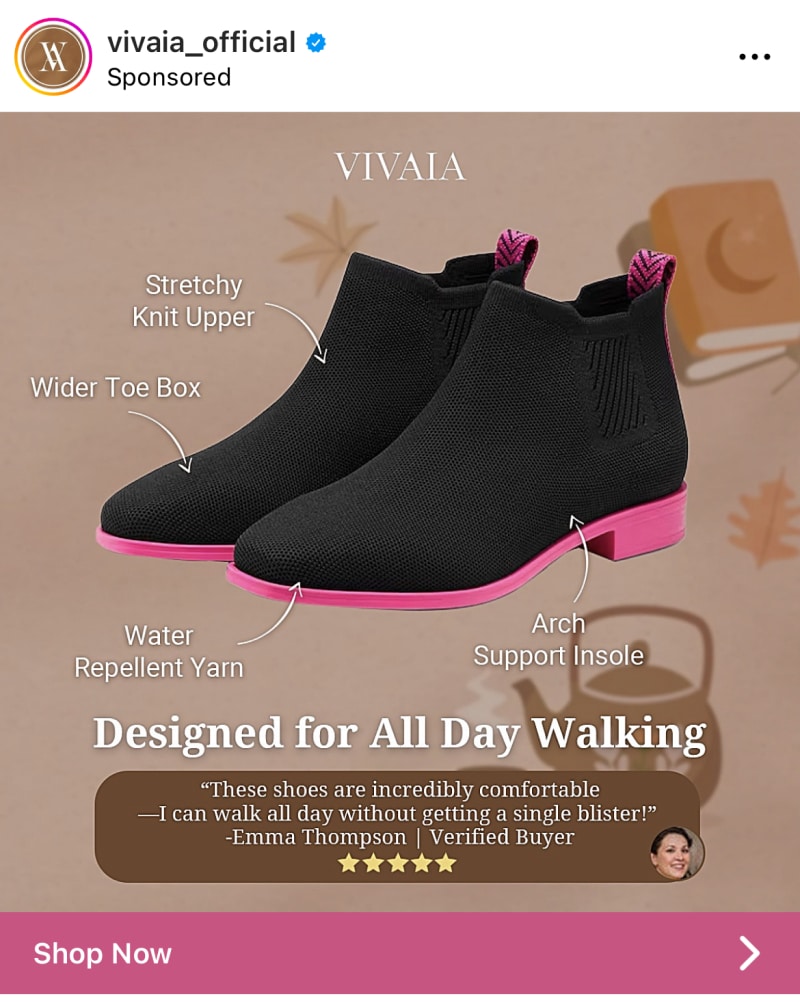 This practice capitalizes on UGC's authenticity and social proof, making it an effective tool in capturing the consumers' attention and stirring interest in the brand.
5: Embed UGC in e-commerce product pages
Integrating UGC directly into e-commerce product pages is a highly effective strategy for showcasing real-life experiences, reviews, and images from customers who have purchased said product, thus providing valuable social proof to potential buyers in the decision-making process.
Let's take Sephora as an example—a leading beauty and cosmetics retailer with thousands of make-up products in its store.
The brand has a dedicated section on its site where a consumer evaluates his or her purchase and can leave UGC content showing it in use.
Brands that sell with Shopify often use a reviews app like VerifiedReviews to collect and showcase product reviews.
The app's unique feature is the ability to send automated emails to each customer after purchasing.
Here is an example of UGC collected with VerifiedREviews with the reviews widget displayed on a product page: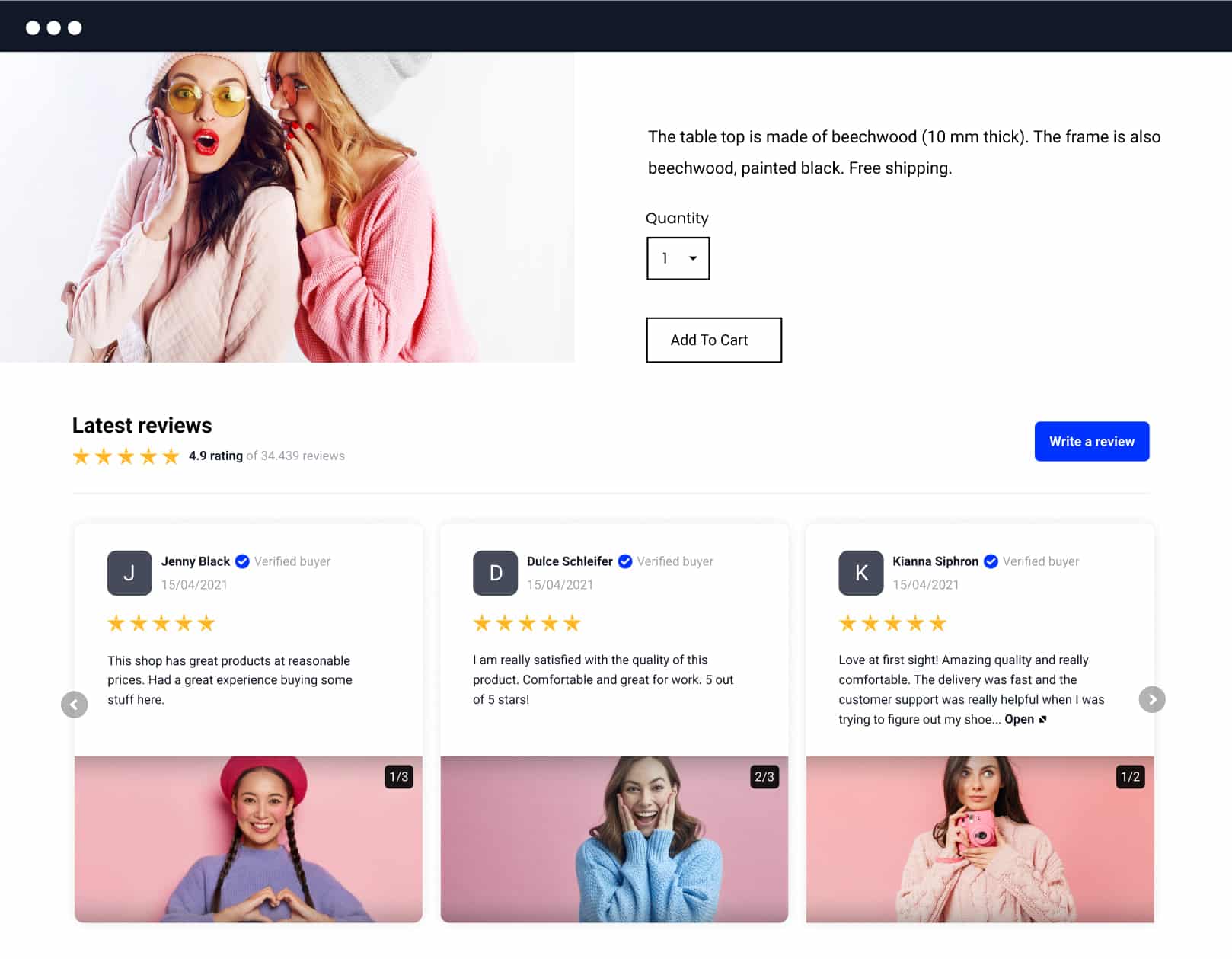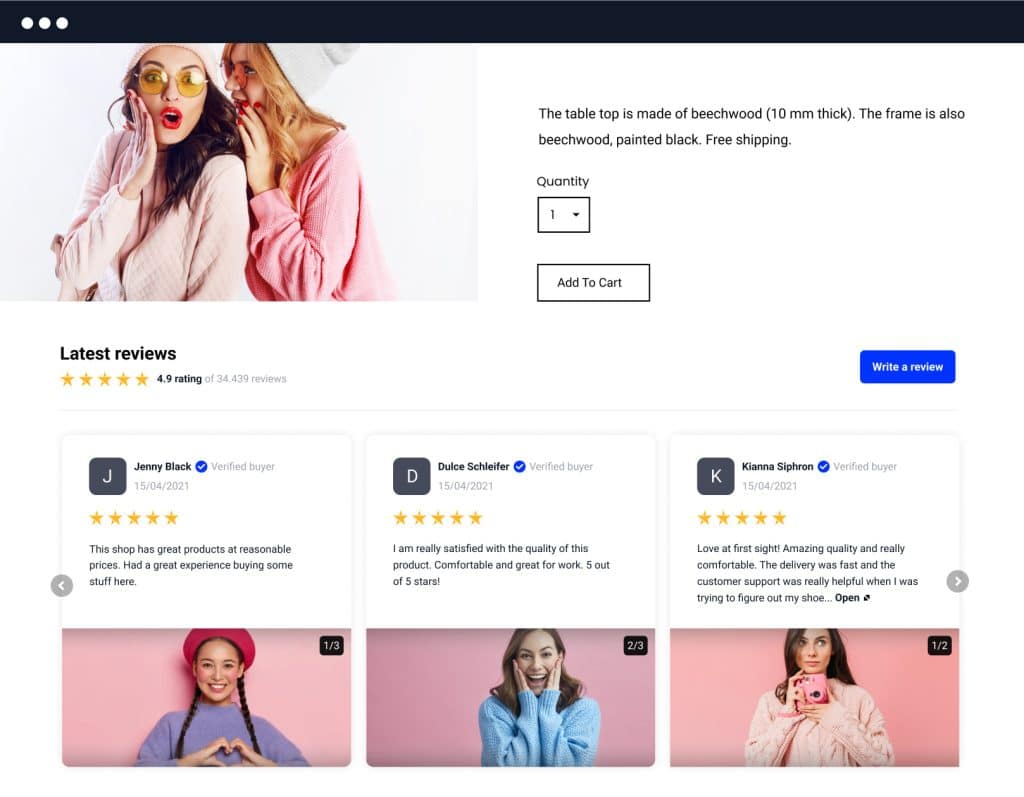 This practice builds trust and enhances the overall shopping experience with social proof, ultimately leading to better purchase decisions and conversion rates.
How to embed UGC on your website?
When your target market comes to your website, it usually means that they are in their final purchase decision phase. Meaning they are already interested and ready to make a decision.
Having real videos and photos from previous positive experiences shows current customer loyalty and lowers perceived risk in all the stages of buying a particular product.
To embed UGC on your website, the best what is to use a UGC platform that aggregates real customers' reviews, photos, or videos that they post of your brand on platforms like Facebook, Instagram, Google Maps, and TikTok.
EmbedSocial is one of the most robust platforms and provides tons of connections with social media platforms to generate posts, photos, and videos from your customers.
Here is how to display user-generated content effectively and help consumers decide to buy faster.
Step 1: Register for a 7-day free trial
Step 2: Go to Sources and connect a social media network that you mostly use. For example, if you are a local business that gets Google reviews, you can connect to Google, and also, if you have an Instagram presence, you can choose to connect with Instagram and pull mentions of posts from your brand.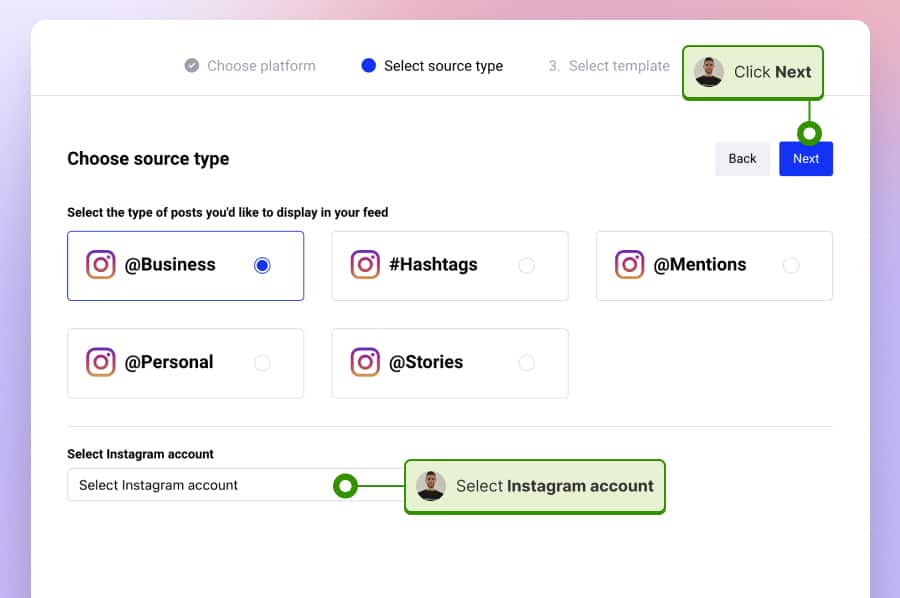 Step 3: Create the UGC widget and customize it to fit your branding.
Step 4: Copy the provided code and embed it into your website.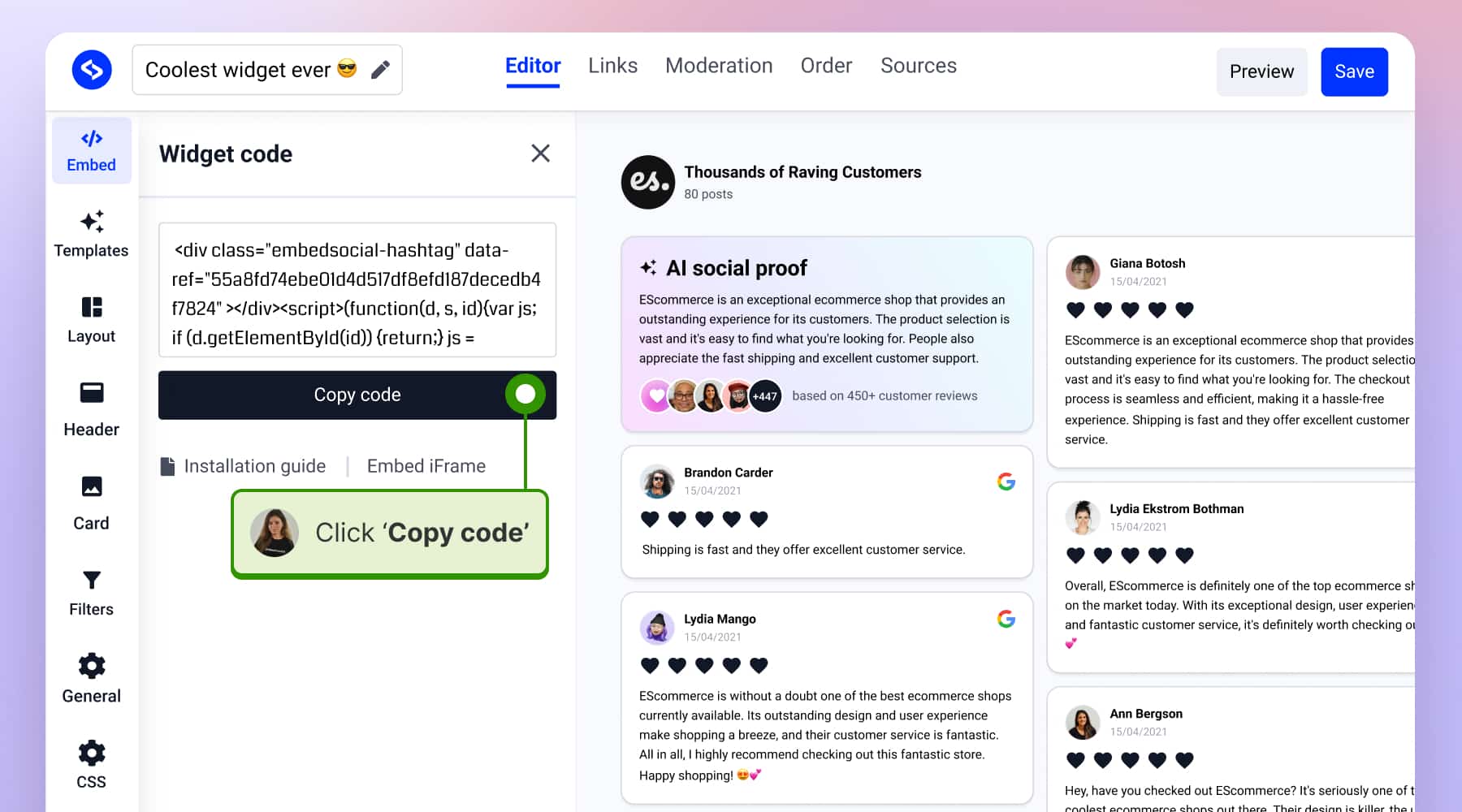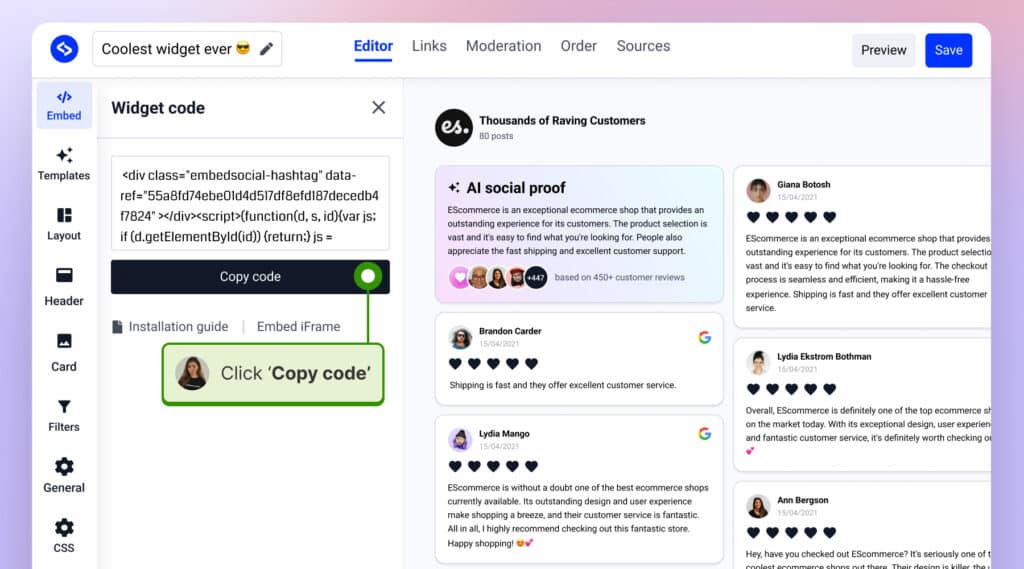 That's it. Now the Google reviews and your Instagram feed of customer's post-purchase experiences will display on your website.
To get started, try some of the pre-built UGC widgets.
Key takeaways
Using UGC in the consumer decision-making process is essential for modern businesses for several reasons, as revealed by the real-life examples outlined above:
UGC is crucial in the problem-solving process by showcasing relatable consumer experiences of products and/or services as solutions to real problems and needs;

UGC also serves as a valuable source of information during the research phase, providing authentic insights and testimonials from real-life customer experiences;

Consumers often compare and assess different products/services before purchasing by checking out related UGCs to find the perfect option for their wants and needs;

Brands must encourage UGC creation from their customers, monitor content for authenticity, and build a brand community. Resharing UGC on your official social media channels or websites builds a sense of belonging and makes customers feel important to your brand;

UGC reinforces satisfaction, builds trust, and encourages customer advocacy, leading to potential repeat business and referrals, making it important for any marketing strategy.
As you can see, brands boost consumer trust, loyalty, and advocacy by successfully integrating UGC into their marketing campaigns, which offers multiple returns down the line.
Embed user-generated content on your website automatically. Start a free trial today >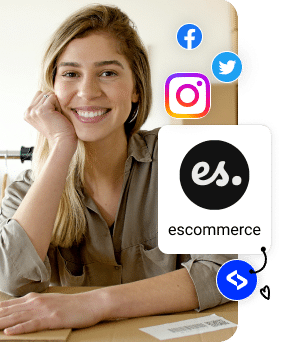 Collect social proof & user-generated content with the #1 UGC platform
Try EmbedSocial and automatically collect, monitor, and display UGC on any website.
All PRO features | Cancel any time.
FAQs
1. How does price affect consumer behavior and the purchase decision?
Price is a significant factor in consumer behavior and purchase decisions as it shapes the perceptions of value—higher-priced products are often viewed as of better quality. Budget constraints also come into play, as products must align with consumers' financial capacity. Some shoppers are more price-sensitive and quick to switch based on pricing changes.
Why is UGC considered more trustworthy than actual brand content?
Consumers take UGC as the more trustworthy source of information because it comes from fellow customers, making it less biased and more relatable and authentic.
How can businesses encourage customers to create UGC?
Businesses can encourage UGC by creating dedicated platforms or hashtag campaigns, running contests or giveaways, and actively engaging with customers on social media by reposting content related to the brand but created by their public.
Can UGC be used effectively in both online and offline marketing efforts?
Yes, UGC can be leveraged in both online and offline contexts. Online, UGC mostly comes as reviews, social media posts, and UGC campaigns. Offline, it can be showcased in-store, in print materials, and via word-of-mouth referrals.
What are some real-life examples of brands effectively using UGC in their marketing strategies?
Some notable examples include GoPro's use of customer-generated action footage, Starbucks featuring customer photos on social media, Airbnb's showcasing user-submitted images in its reviews, etc.