How to Create Embedded Form for Any Website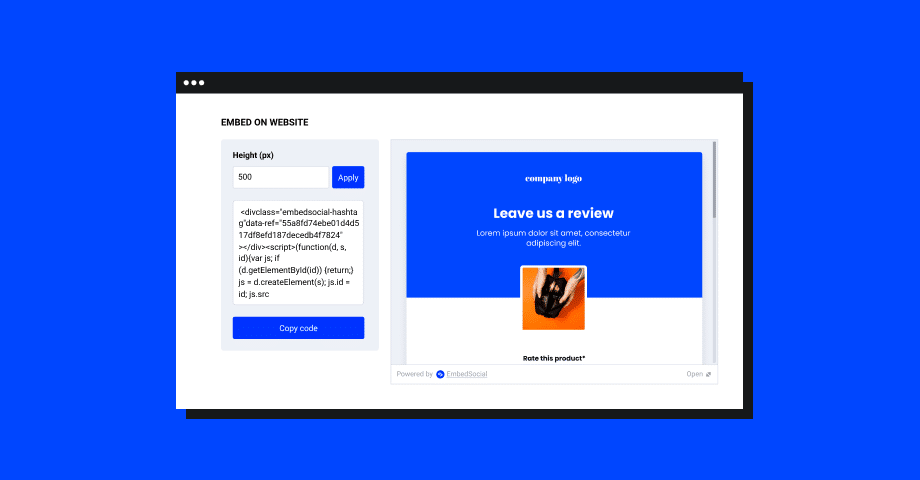 Embedded forms are one of the most effective and easy methods for collecting data. And embedding the code on your website shouldn't require calling a tech guy to do it.
So, If you're looking for a quick and easy way to do this right now, by yourself, here are the steps.
First, create EmbedForms account, and follow these steps:
Choose a form template or start from scratch
Configure form labels, checkboxes, or other input fields in the inline editor
Click 'Preview' to check the form in the preview pop-up and
Click 'Save' if you are ready with editing
To embed the form, click the 'Share' tab
Copy the provided code snippet in the left sidebar
Paste this code in your website HTML or CMS editor (such as WordPress or Shopify)
That's it.
Here is how the form will look like on your website:
Please, note we designed EmbedForms with the embedding functionality in mind, so you will get a high loading speed, responsive designs, and embeddable code that is simple as one copy/paste.
That being said, you won't be needing any HTML, CSS, or advanced JavaScript and styling code knowledge to implement EmbedForms on your website.
Bellow, you will find the tutorial on how to create and embed any form on any website:
Steps to create an embedded form
Here is how to start, create form and get an embeddable code to display the form on your website:
1. In the welcome popup, choose a form template or start form scratch
You can preview this template or go back and chose another form in the form templates library.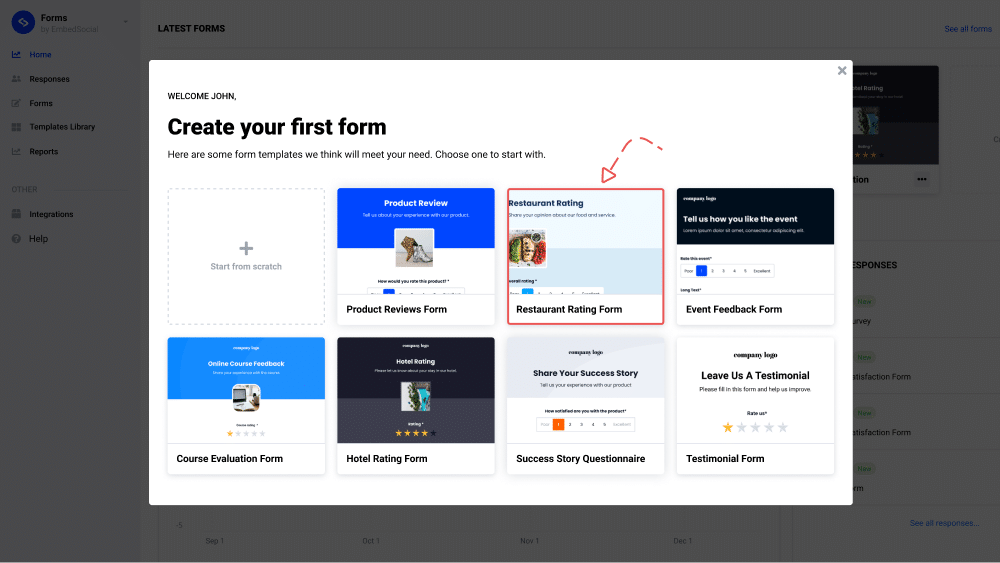 2. Setup and customize your form if needed, click 'Save' and click 'Publish live'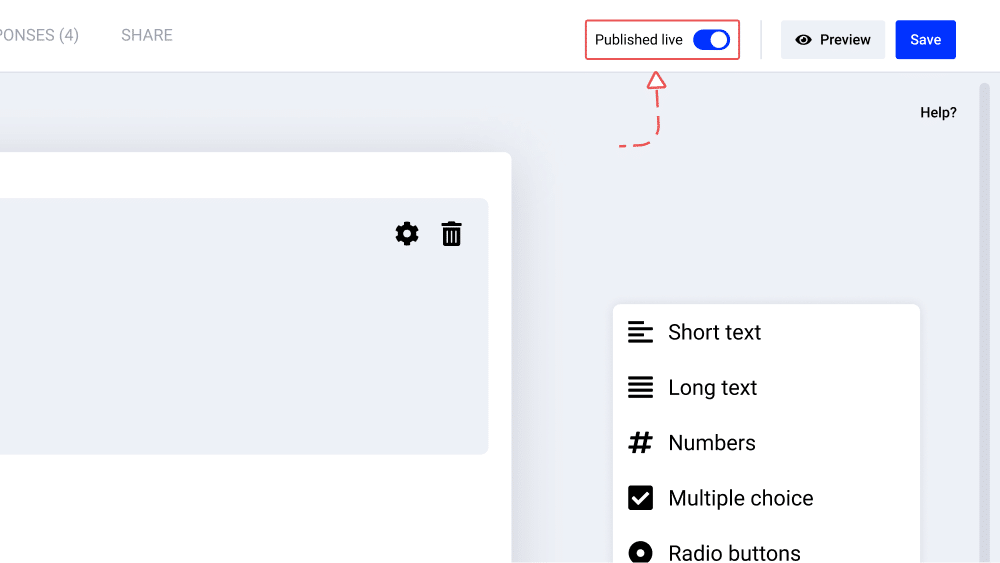 3. To get the form code, click the 'Share' tab and copy the provided code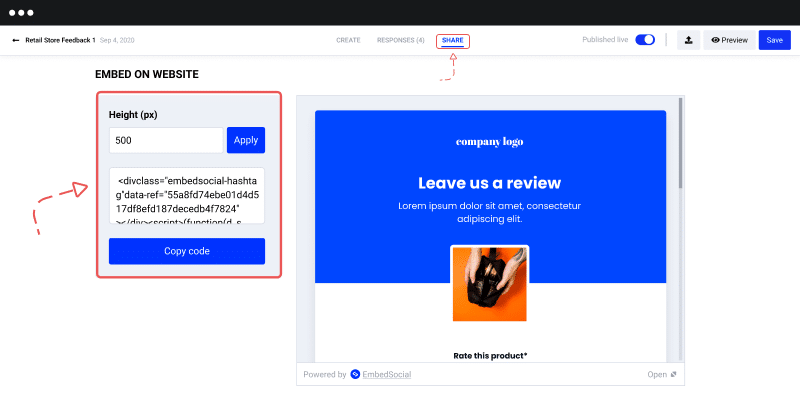 4. To embed the form just paste the code into the body section of your website where you want to appear
If you use WordPress check the instructions below. For other CMS or eCommerce platforms feel free to reach out to us for additional help.
The HTML code of the form can be embedded pretty much anywhere on your website. The key part is that they should be visible to everyone and presented at the right time. For instance, business owners usually ask for an opinion after a customer had some interaction with their business and the impressions are still fresh when it comes to feedback forms.
This means that if you are conducting a post-purchase survey on your e-commerce website, the best place to embed would be the thank you page, and it should be displayed a few seconds after the purchase is completed.
Embed form in WordPress
Note: EmbedForms works for any WordPress websites, and there is no need for installing additional plugins or widgets that may slow down your website. The steps apply to every form, whether it is a feedback form, sign-up form, registration form, or survey.
For creating an embedded form for WordPress you don't need to install any WordPress plugin. Just follow the same steps below and once you are ready to paste the code in your Page or post, just follow these steps.
First, log in to your WordPress site and open the page where you will need to embed the form.
1. Click the + icon in the editor and choose HTML block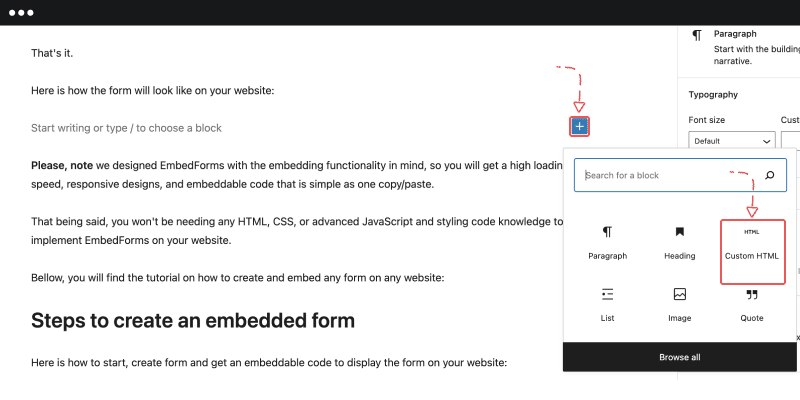 2. Paste the form code in the textarea of the block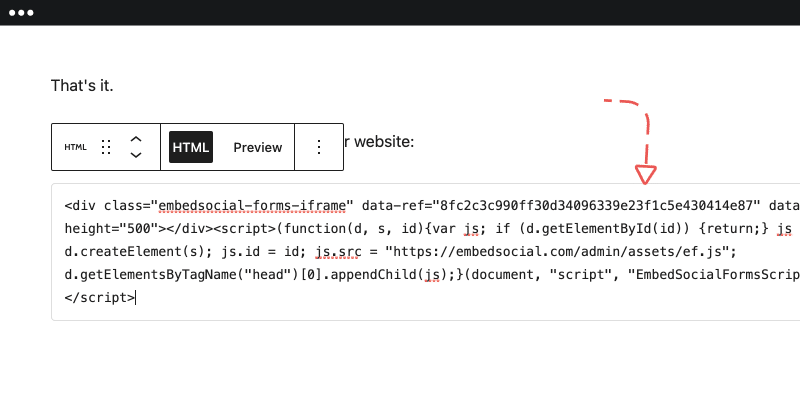 3. Click 'Update'
And that's it. This code works for any platform that supports JavaScript or iFrame embedding.
Do more with EmbedForms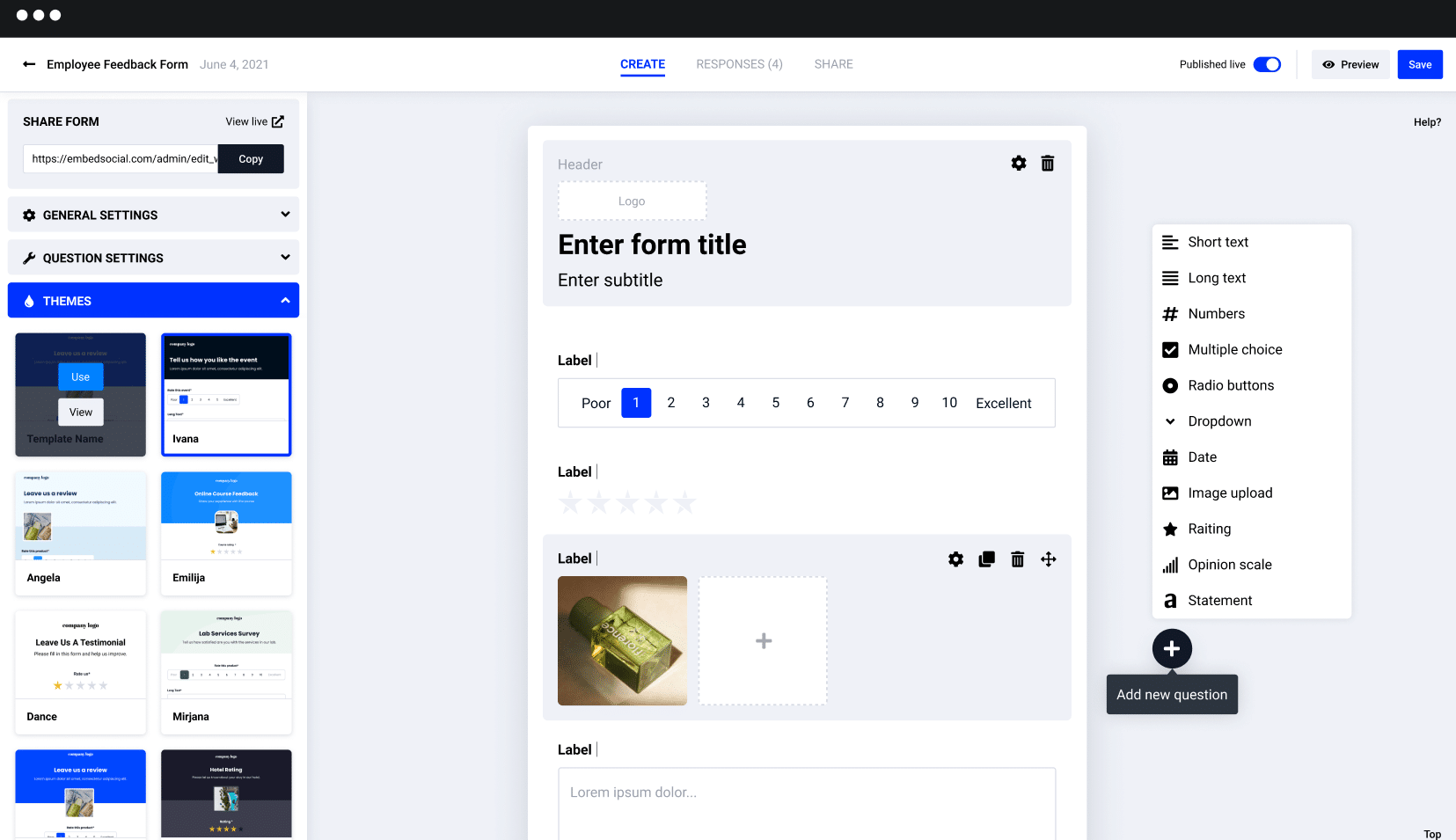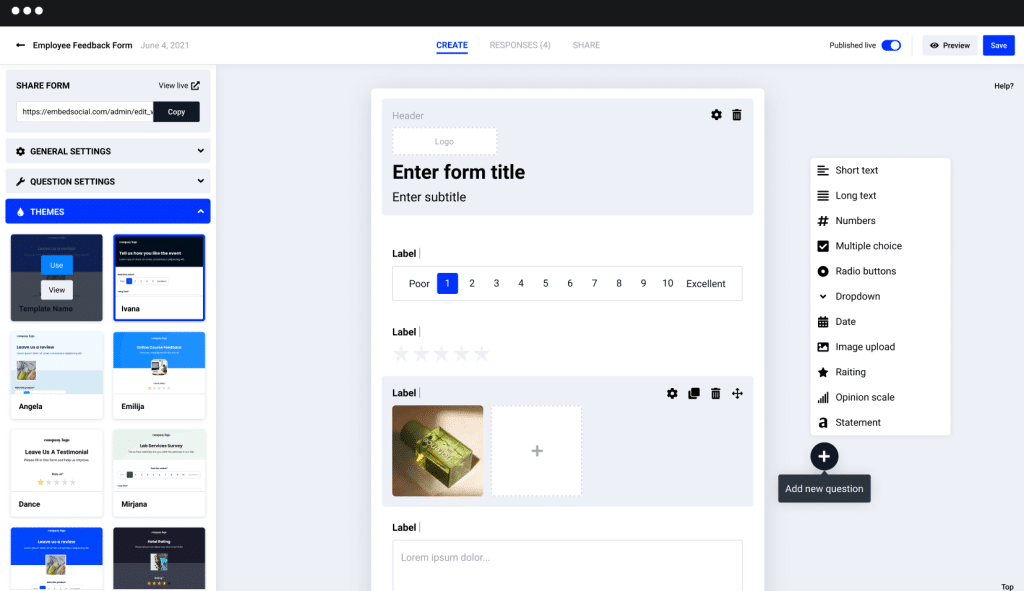 Here are more options you can use to make the most out of your embedded forms:
1. Customization options
Choose different form fields like radio buttons, paragraphs, drop-down menus, rating, opinion scales, etc., when you want to create a completely new form.
2. Email notifications
To turn on the email reminder, go to general settings and click on email notifications.
3. Thank you message
Add your thank you message by navigating on the general settings and writing down your thank you note.
4. Redirect link
Redirect your customers to a specific landing page by adding a link in the field for redirect after submit.
5. Export option
Export all form submissions in Excel, Google Sheets, or any other spreadsheet app.
Wrap up
Embedding a web form no longer requires advanced knowledge in code. The technical creation of the forms and the construction of the questions are now drastically eased by the automation of online form builders.
With EmbedForms, All you have to do is have a clear goal of what you want to learn about your customer, choose the suitable template, and copy-paste the code on your website.