You are an e-commerce store owner, right? Chances are you have worked hard to drive traffic to your website, from Instagram marketing to SEO.
However, not only should you drive traffic to your site, but you should also convert that hard-earned traffic into paying customers.
But what if you have invested time and money into creating a sleek website and a powerful marketing campaign for your online store but no one buys from your site?
That's where lead generation comes in. With the help of a user-generated content platform and a simple, yet effective lead generation form, you can attract potential customers to your products and boost your sales.
In this article, we will show you a few examples of lead generation forms and widgets to get you inspired.
But, before we go any further, let's make sure we are on the same page about what a lead generation form actually is.
What is a lead generation form?
A lead generation form is an online form that helps you generate quality leads.
In other words, it helps businesses convert web visitors, who show interest in the brand's products, into paying customers.
It collects email addresses and other kinds of data from website visitors.
Therefore, when creating a lead generation form, ensure that the form is appealing, attractive, distraction-free, and easy to respond to, but never forget to capture an email.
Why do you need lead generation forms?
Lead generation forms are a crucial part of creating a successful online business. Why? Because you need to get more leads in order to get more sales.
So, now, let's see how these forms can benefit your business:
Collect important information from prospects
You can collect important information, like contact info, needs, preferences, conduct a customer satisfaction survey, etc. And you can use that information to target potential new customers through programmatic online advertising.
Needless to say, you can also use it to customize the prospect's journey or even personalize their experience.
Build and grow your email list
Sending emails to your prospects reminds them that your online business is out there. Plus, it keeps them engaged with your business and informs them about your new products and offerings.
Target prospects who show genuine interest in your products
When those people respond to your lead gen campaign and give their attention to your brand, it means that you get a specific group of people that's relevant to your online business.
Next, you can try to nurture them and make them become active buyers through all the channels you have at your disposal.
By doing so, you can increase your conversion rates and generate revenue. This is where the effect of lead generation forms becomes apparent!
Types of lead generation forms
In today's digital era, lead generation, i.e., the process of attracting prospects and converting them into real customers, is simpler than ever.
And it goes without saying that effective lead generation forms increase user engagement and page views, reduce bounce rates, and ramp up sales.
But what are the most common and effective types of lead generation forms for e-commerce businesses?
The following types of forms are at the heart of most lead generation strategies for online stores:
Registration forms
This type of form enables those who are interested in your products to sign up for an account with your online business.
If you use this type of form, you will gather important information from those people and potentially turn them into actual customers.
Newsletter subscription forms
A newsletter subscription form is a type of form that helps you grow your email list and market your products to new subscribers.
And it should maintain consistent branding while clearly explaining how somebody would benefit from signing up.
Creative giveaway pop-up forms
Pop-up forms do not only serve as a tactic for collecting email addresses.
With a good giveaway pop-up form, you can market what you sell and inform your website visitors about your offers.
Lead magnet pop-ups
Lead magnets promise something of value to leads in exchange for their contact information.
Once you have the contact information of your website visitors, you can more easily convince them to come back to your site and make a purchase.
So, here are a few ideas for lead magnets for your online business:
E-books, infographics, or guides
You can use these types of lead magnets if you want to target people that are in the awareness and consideration stages of the sales funnel. For instance, if you sell natural skincare products online, you should inform your leads about the ingredients used in your products, the manufacturing process, etc. And you can use a short e-book for this purpose.
Free shipping
To make your website more engaging and actionable, use free shipping pop-ups on the page. You can ask potential customers to sign up for a newsletter or enter their e-mail address during checkout in order to receive free delivery with one item from your store!
Discount codes
A discount code is an effective means for you to attract new customers and get repeat customers. For example, you can collect Instagram email addresses by navigating your followers to your website, where a popup appears so they enter their info in exchange for the discount code. This way you develop and reinforce relationships with them.
10 effectice lead generation form examples
Now let's provide a few lead generation form examples so that you can better understand how to reach and convert the customers you need online.
We are not trying to say that you need to copy the following forms because every online store is different in some way or another.
We want you to check out the forms below and understand why they are so successful at converting leads.
So, just get yourself a cup of coffee and read on.
Example 1: BOOM! – Discount code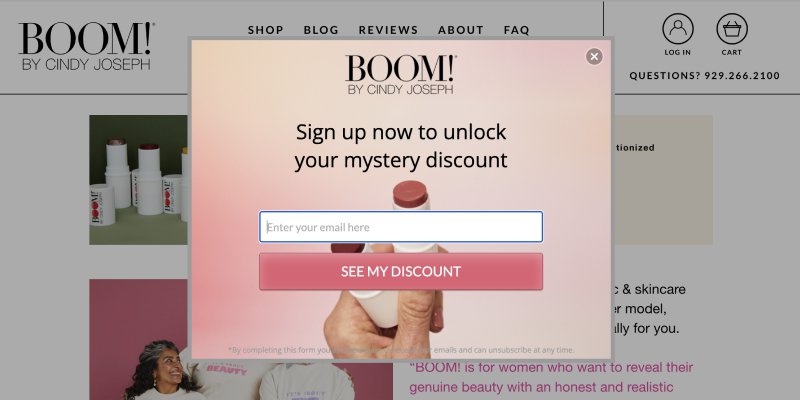 A discount code is a fantastic lead generation form for an e-commerce store since it acts as a powerful marketing strategy or an "unmissable deal".
As you can see from the image above, you need to enter your email address to see your discount. And the company uses first-person language in its form.
The personal touch has a positive impact on a website visitor's future experiences with the company.
Example 2: Yumble – Multi-step form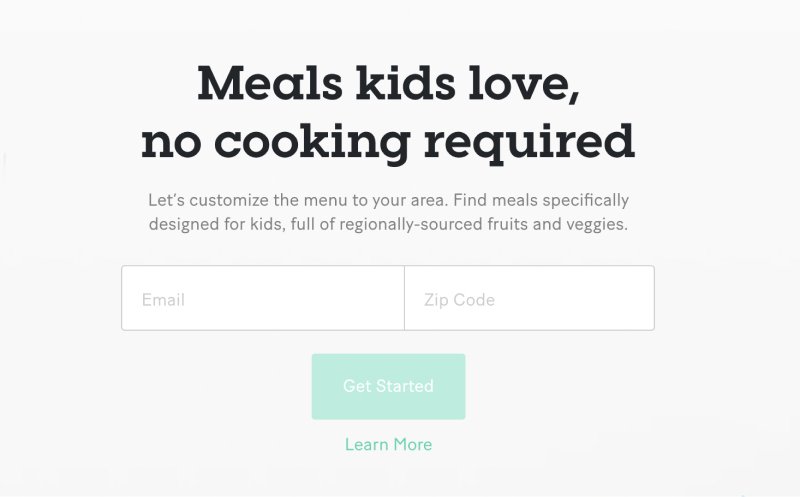 This is an example of a multi-step form by Yumble that collects the most relevant information from customers while keeping them engaged.
What's best about the form is that it is compelling and distraction-free, reducing the question overload for the visitor.
Example 3: EmbedSocial – Contact form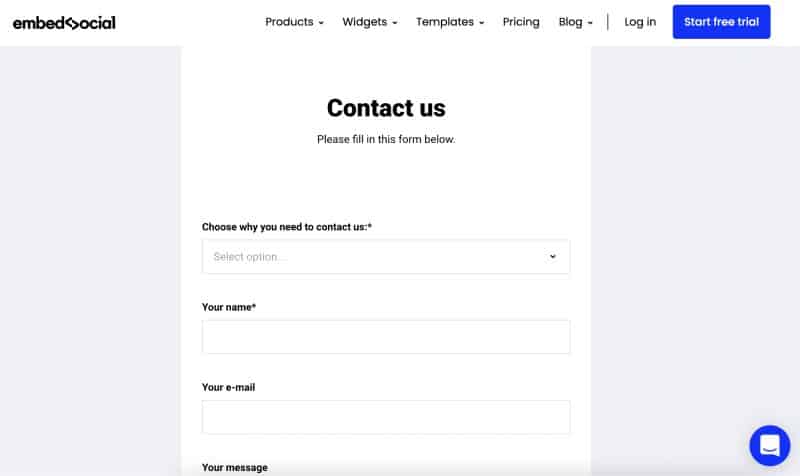 Contact forms are a pretty basic type of lead generation form used by online businesses. They include fields like First Name, Last Name, Email Address, Contact details, etc.
When creating this kind of form, you need to simplify the process for new customers to submit the message fast and easily.
Example 4: Hem – Newsletter pop-up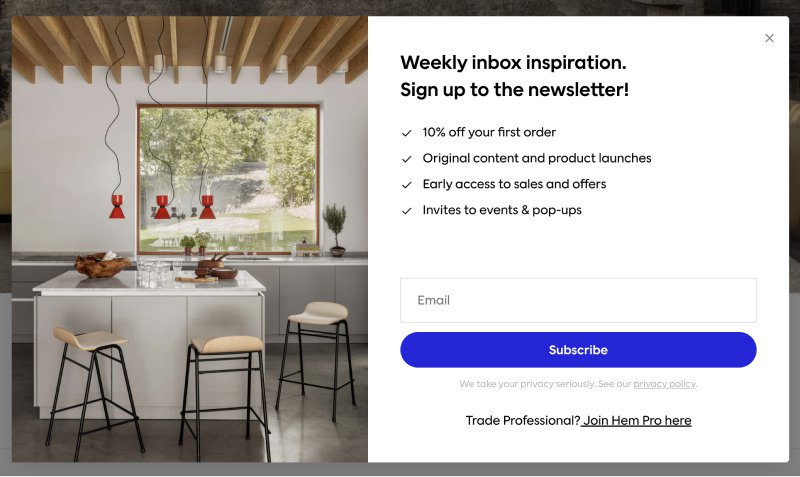 This newsletter pop-up is aesthetically pleasing with legible text, a stylish picture, and a clear CTA button. Plus, the colors are stunning. And they match the website color theme.
But what makes this Hem's lead generation form so fantastic?
The form is so amazing because it spells out exactly what a website visitor is getting. And it gives the visitor an additional reason to sign up – 10% off their first order.
Example 5: SwissWatchExpo – Giveaway pop-up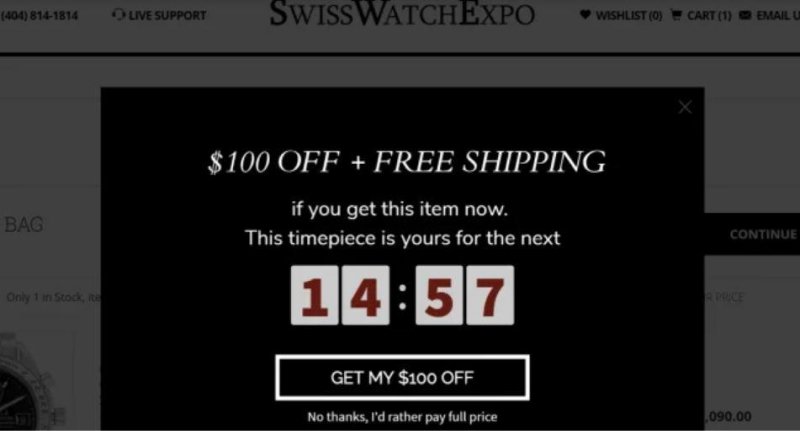 If you want to make your website visitors place their orders quickly, a limited-time offer is one of the most effective tools you can use.
With an eye-catching pop-up like this one, you can inform your visitors about your giveaway at the right time and ask them to hurry up.
What a great way to create urgency and increase sales!
Example 6: Cratejoy – Discount code & spin-to-win wheel pop-up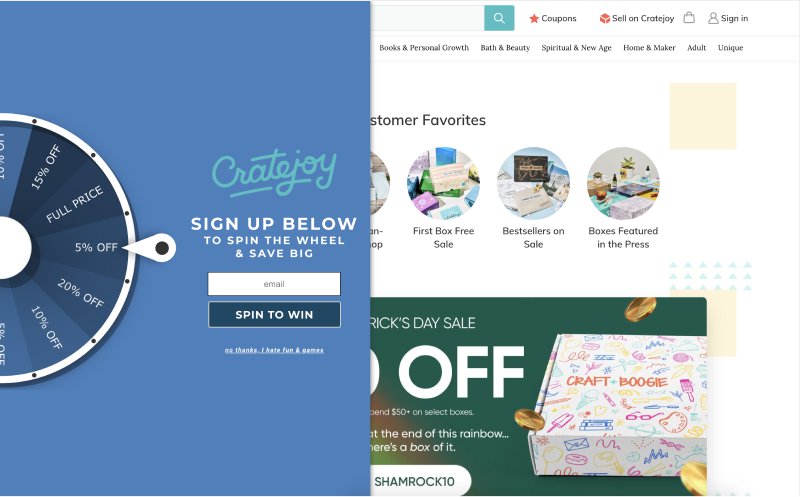 This is a very interesting type of discount code for e-commerce businesses.
Furthermore, the form has a catchy and original slogan and a discount wheel to grab attention and make it interesting for website visitors to opt-in to the company's marketing email list.
So, why not go beyond regular pop-up displays and opt for a spin-to-win wheel pop-up?
Example 7: Glossier's 'Let's take this to your inbox' popup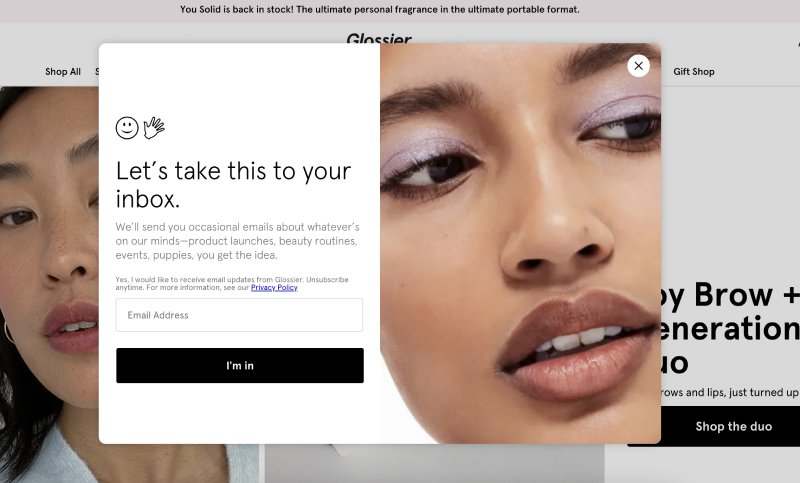 Glossier has an amazing D2C (direct to consumer) relationship and you can see that immediately once you land on their website. The newsletter popup triggers the first few seconds a visitor gets on the website, meaning they just want to take this opportunity and capture an email of the prospective customer.
This popup is a newsletter popup that informs us about their activity to send occasional emails about whatever's on their minds—product launches, beauty routines, events, puppies, you get the idea.
Example 8: ZALA – Gift pop-up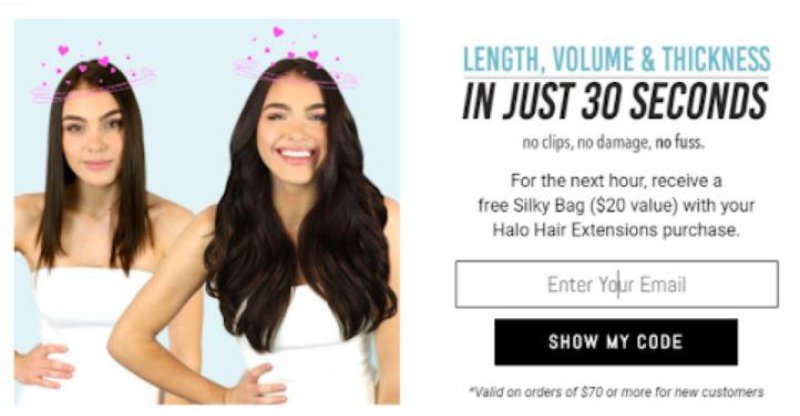 Online businesses with free gift campaigns tend to have greater customer retention. One such business is ZALA.
Namely, it has a form, i.e., a free gift email pop-up, which enables its website visitors to receive a free gift as long as they make a certain purchase within the next hour.
And you could easily adopt a similar strategy for your online store.
Example 9: Inkbox – Exit pop-up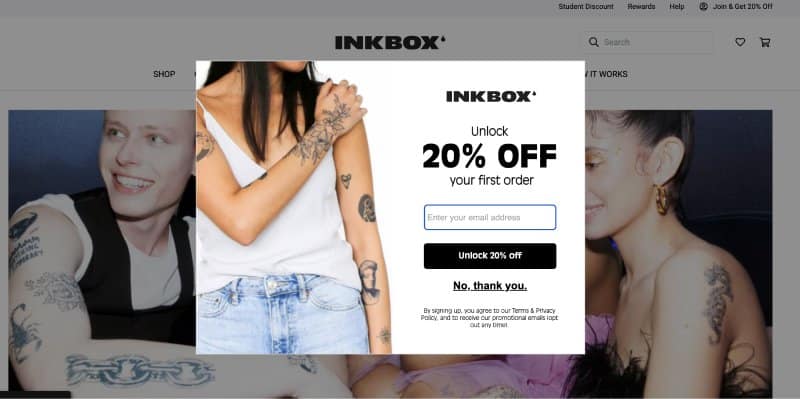 Inkbox is a great example of how you can use exit pop-ups on your website.
When a visitor shows signs of leaving the page (scrolls away to switch tab in the browser) a popup appears with a discount code at the same time.
Moreover, the company does so to create a sense of urgency and prevent shopping cart abandonment. As you can see, this lead generation form is not a standard deal-offer pop-up.
But if you decide to use such a form, it is advisable to make a special offer, discount or a limited time offer in return for your customers' email addresses. It is a sure-fire tactic to bring more leads.
Example 10: Indestructible Shoes – Exit pop-up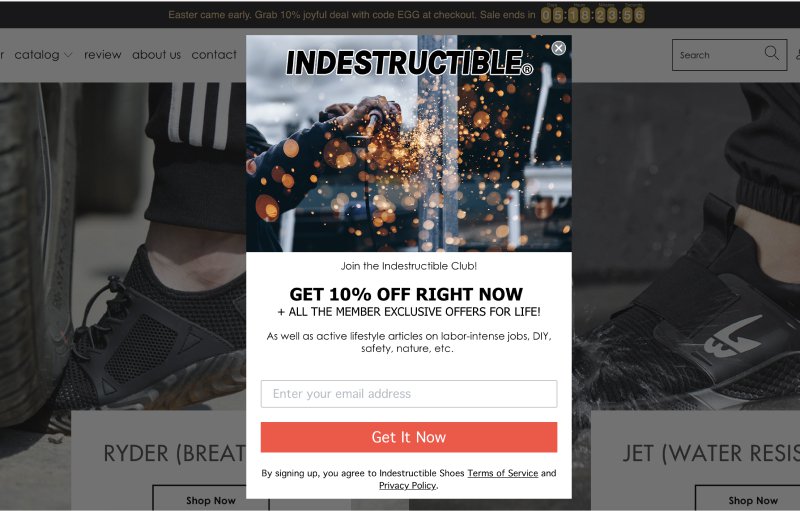 This is another brilliant exit pop-up with an unmissable design, inspiring visitors to subscribe. Its headline is interesting, specific, and attention-grabbing. And its CTA button is clear and direct so that more attention can be directed toward it.
List of tools for lead generation
Your lead generation campaign needs to have a clear strategy for targeting prospective customers as well as a great tool to monitor and execute your strategy.
These tools include software designed to help you capture leads automatically.
And here are some of the best tools to create effective lead generation forms for your e-commerce store:
1. WPForms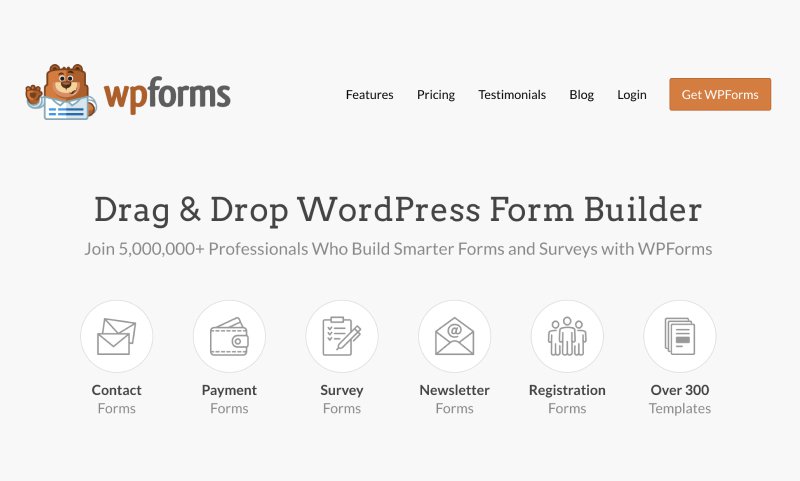 WPForms is an easy-to-use WordPress form builder. Additionally, it comes with 300+ pre-built WordPress form templates.
This means that you can build registration, newsletter, multi-step, and other types of lead generation forms for your online business in minutes.
But to use this form builder, you need to have a self-hosted WordPress site.
When it comes to pricing, it is not an expensive option, with prices starting at $39.50/year. Plus, you can get a 14-day money-back guarantee.
2. OptinMonster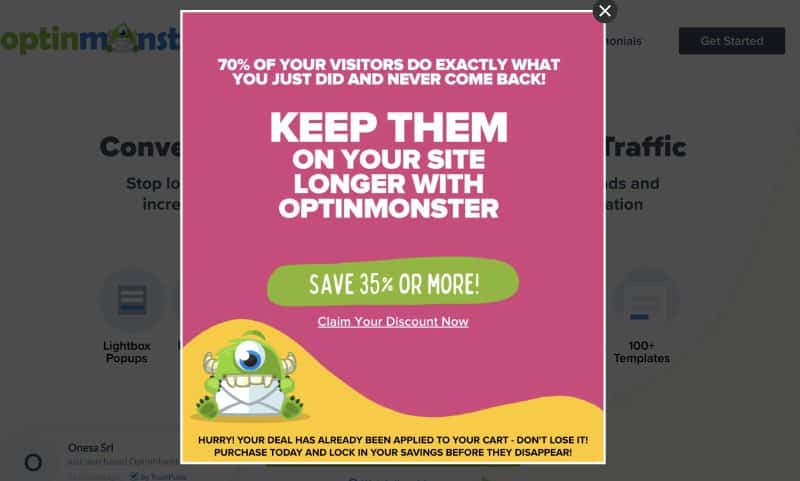 OptinMonster is another solid tool for converting your visitors into leads and customers. It allows you to build a lead generation form that can increase your conversion rate.
Moreover, the tool comes with 100+ appealing form templates (e.g., spin-to-win wheels, pop-ups, etc.) that can easily capture attention and information from leads.
And the price starts at $9/month for its Basic plan if billed annually.
Like with WPForms, you can also get a 14-day money-back guarantee with OptinMonster.
3. Unbounce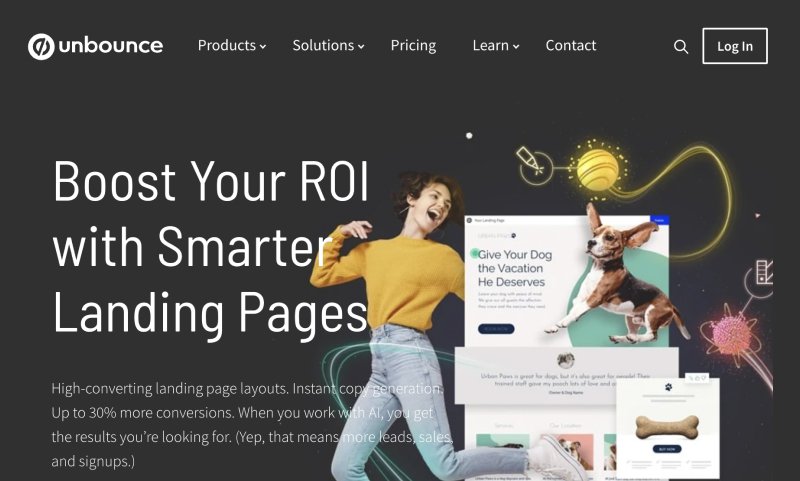 Unbounce is a powerful tool for creating high-converting landing pages and forms.
It is an advanced tool with all the features you need to prompt user action, increase engagement, and eventually convert visitors into leads.
With it, you can create and embed incredible lead generation forms and pop-ups when a visitor arrives on your pages, abandons your pages, etc.
Prices start at $90/month. But there is a free 14-day trial on the site.
4. EmbedForms
EmbedForms is a widgets plus forms builder that helps you build all your lead generation activities. From creating simple newsletter forms, to popup or popover widgets to effectively will capture leads on your website.
The product is completely free and the free version includes all PRO features, with the exception that all the free forms are branded and there are few limitations in the size of your monthly visits.
How to embed lead generation forms on WordPress or Shopify sites
Wondering how to drive sales with lead generation forms and personalized pop-ups on your WordPress or Shopify site? No worries – we have got you covered.
Embed lead generation form in WordPress
If you have a WordPress site and want to generate a consistent stream of qualified leads, then you need to learn how to add forms to your site.
One of the easiest ways to do that is by using the tools mentioned above. For example, you may want to start with EmbedForms because it is a WordPress lead generation plugin.
First, you don't need to install a plugin. EmbedForms – as its name implies is built to work on any web platform without the need to install any additional plugins.
This means you build all you from in EmbedForms's editor and once you are done, create a widget that has an embeddable code you will need to add to your WordPress page.
To do this, just add an HTML block and paste the form code. That's it the form will military appear on your page or blog post.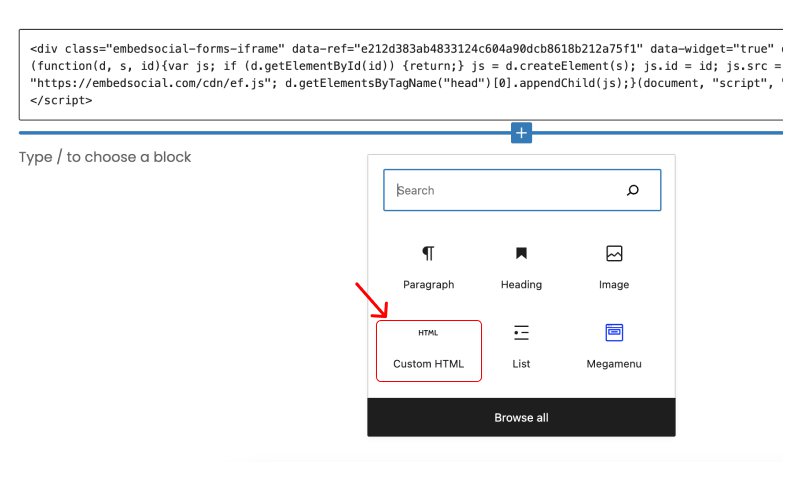 It is important to note that when a website visitor fills in your form, you will receive a notification email. And you can see all your responses back in your EmbedForms account.
Embed lead generation form in Shopify
Shopify is a popular e-commerce platform for building online stores. But it does not have a dedicated lead generation form builder.
So, in order to create an eye-catching form and embed it on your Shopify store, you can use third-party apps or tools like OptinMonster, Unbounce, etc., but also use tools like EmbedForms that will provide you an embeddable code without the need to install the Shopify app.
To do this we will show you a detailed step-by-step on how to create a floating button with EmbedForms that when clicked opens up a popup with a lead generation form – like a contact form. So here are the steps:
Before you start, you need to log in to your Shopify site.
Step 1: Go to Themes, click Actions and choose Edit code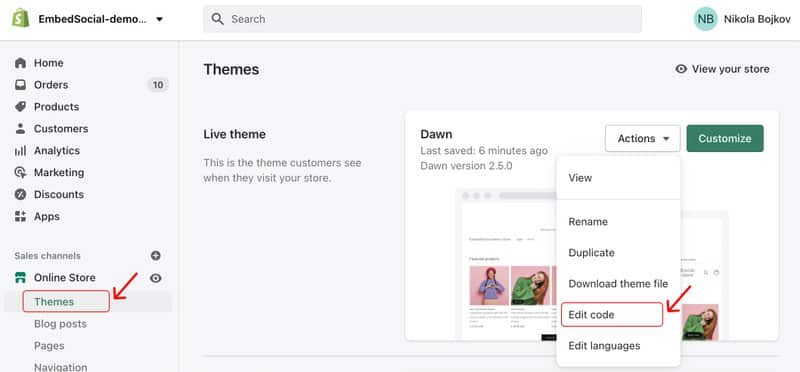 Step 2: Open theme.liquid code and paste the embeddable code from EmbedForms

Step 3: Click Save. And your form widget will be active on your website.
Once the widget is live, you can continue to edit or do some changes so it matches the look and feel of your online store.
You can change the colors, add an icon, and change the position of the widget.
Key takeaways
To sum up, a lead generation form is a web form where you ask your website visitors to provide their contact information to either receive an offer, discount, access to exclusive content or show their interest in further collaboration.
There are different form builders such as EmbedForms, to help you effortlessly create high-converting forms and capture more emails.
And we encourage you to use all of the above-mentioned examples as inspiration for your own forms that best fit you and your business goals.