We're excited to announce EmbedForms, an online form builder that significantly improves the data collection workflow with online forms.
At EmbedSocial, we fully understand and believe in the importance of collecting customer opinions and in nurturing relationships, so we went ahead and created an accessible yet dynamical web form builder.
"We developed EmbedForms as a response to user requests. And, we really wanted to exceed expectations and build more than just an ordinary forms builder. While developing the product concept, our main question was: how to make the best online form builder that can be used within seconds and still get you to an extraordinary result. And we believe we achieved this."

– Kate Bojkov, Co-Founder at EmbedSocial
With EmbedForms, anyone can create powerful forms in a few clicks. To achieve this fast user experience, we built an industry-specific form templates library that significantly eases the process of form building, whether it is a lead generation form, order form, feedback form, or application form.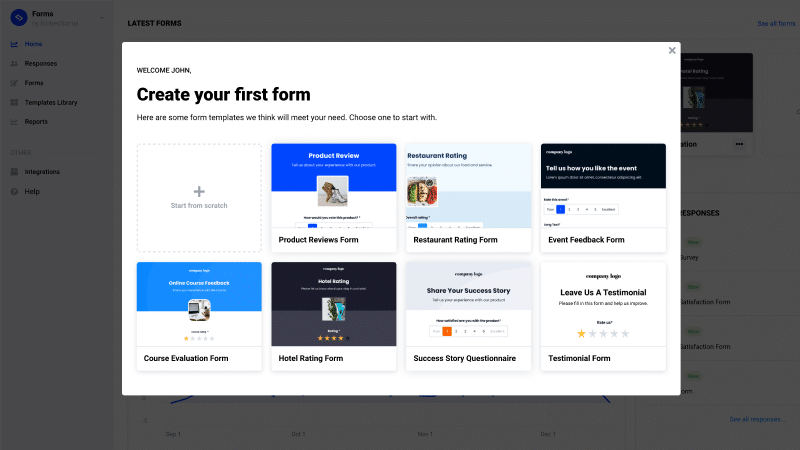 And that's not all.
Now marketers, small business owners, and researchers have full flexibility to:
create unlimited forms,
collect different types of data,
receive an email notification anytime someone fills out a form,
monitor the responses from an organized place, and
export the form data in Excel, Google Sheets or CSV format for further analysis.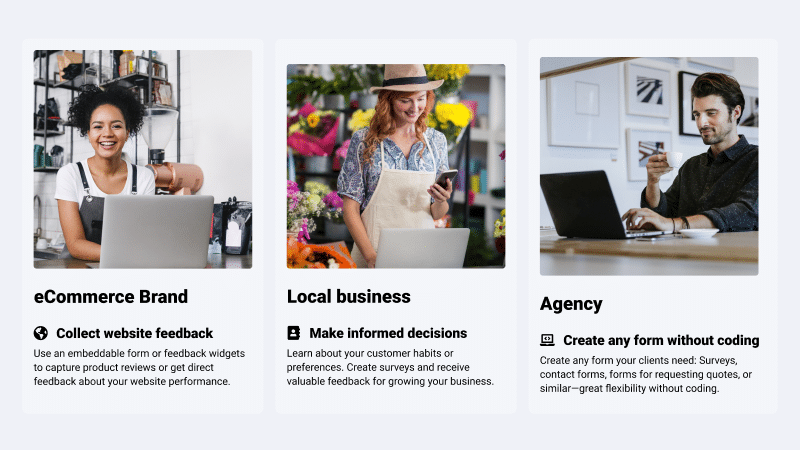 On top of that, you can upload the exported data in CRM apps, email marketing tools, or any other apps using Zapier or directly within the tools that provide user data uploading options.
Furthermore, we paid particular attention to the functionality of the form builder.
The built-in form editor allows you to:
easily change the field types,
use drag-and-drop to reorder fields,
apply opinion scale, paragraphs, email fields, multiple-choice questions, drop-down questions, and
even use a photo uploading component that will allow you to collect photos from your customers.
This way, users can create custom forms that will help them collect precise data.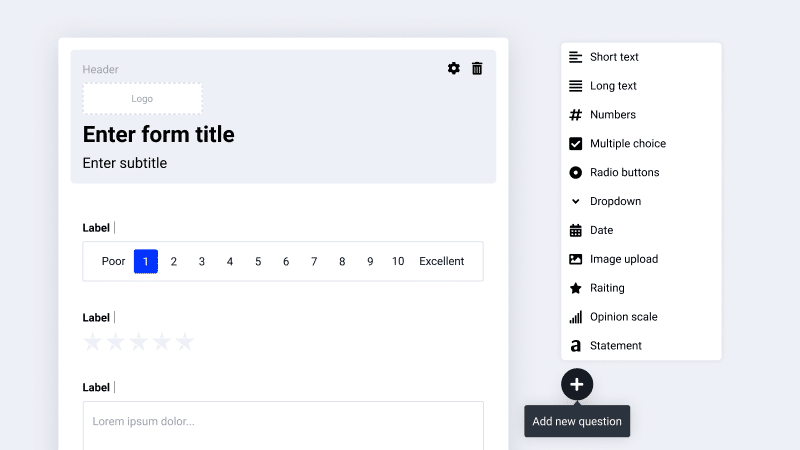 If you need to do more customization, EmbedForms also allows you to add your company logo, translate all the text within the form and change the overall look of the forms by applying some of the available 10+ professionally designed themes.
And of course, EmbedForms provides a powerful option to embed forms on any website with a simple embeddable code without any HTML and CSS knowledge or plugins required.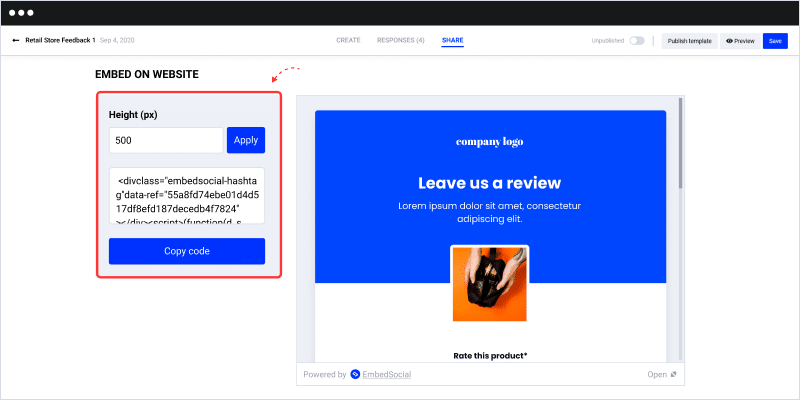 EmbedForms is an easy solution for all those who still use paper forms and for everyone who wants to automate the process of creating beautiful forms, save time, increase the form submission rates and get more respondents.
EmbedForms is available today with a special Unlimited $39/month pricing plan as an early access offer for all new users.
Frequently asked questions about EmbedForms
If you need detailed tutorial on how to get started, feel free to check our help center.
1. How can I start using EmbedForms?
Create an account for EmbedForms, choose a template, and start customizing your form. Read EmbedForms setup guide.
2. Where can I send and publish the forms?
You can publish the form on social media, email, send it via SMS or embed it on your website.
3. What type of forms can I create with EmbedForms?
You can create any type of form you want. We are also creating a library with contact forms, registration forms, and pre-made feedback forms. We will update it constantly and you are free to request a form template if you need one.
4. Do I need to know how to code?
Not at all! All you have to do is choose a template and start modifying the form according to your needs.
5. Can I show forms on my website?
Yes, the embedding functionality works on any website and you can show forms on landing pages built with WordPress or any other CMS platform that supports JavaScript or iframe codes.
6. Can I customize the form?
EmbedForms offer different options for customization. You can create your form from scratch or modify existing form field types, labels and text, apply a design theme, and similar.
7. Can I set reminders every time I receive a new response?
Yes, you can set up an email automation setting, where you can define an email address to receive notifications once a form is submitted.
8. Are the forms GDPR compliment?
We have this regulative in mind, and that is why we built a Privacy Policy setting that we urge all users to activate in order to add a link to their official Privacy Policy to inform users about their GDPR standards and how customer data is processed. Additionally, we suggest users use the radio button filed type to create an 'I agree with the terms' option, so customers and you as the form creator will be sure that the customers read and comply with your policy and terms.
Get Unlimited Access to EmbedForms
Signup for an early access and receive an unlimited pricing plan for all your needs.
7 days free trial · Easy setup · Cancel any time