KEY POINTS:
What is a feedback form – a basic definition to better understand the importance of gathering customer feedback
How to create an online form in few easy steps using EmbedForms
Examples of customer feedback form template that every business should implement in their workflow to make informed decisions in the future.
Understanding your customers' needs and expectations is a fundamental step towards building an excellent customer experience.
Luckily feedback surveys can help us gather important customer information, making the customers feel valued and appreciated in the process.
Survey creation isn't easy, though; it's more of an art form than anything else. That's why we've pulled together some great examples.
This article will show you how to easily create online forms with the forever free forms builder EmbedForms and will help you gather precise information and improve customer experience. 
What is a feedback form?
Feedback forms or feedback surveys are a straightforward way to gather any information from your customers.
They are basically a list of questions intended to pull out the most important data that can help you improve your business.
They can be online or on paper as well if you're more old-school.
Feedback forms have the capacity for collecting data and valuable insights about how people feel the businesses have treated them in terms of products, services, etc., which is why business owners rely heavily on them when it comes to making strategies on every level.
Here is one example for customer feedback questions:
"Were you satisfied with the quality of our product?" or

"Were you able to find what you were looking for?"
This way, you can receive meaningful feedback about your customer's perspectives regarding the quality of the product or website usability.
How to easily create an online form?
Online form builders are designed to help you create a form quickly and easily. Usually, modern form bulders contain multiple options and pre-made templates with the right questions for different types of research, which significantly contribute to precise results.
Here is how you can build a form with EmbedForms in just a few minutes:
1. Choose the suitable feedback form template that best fits your needs or start from scratch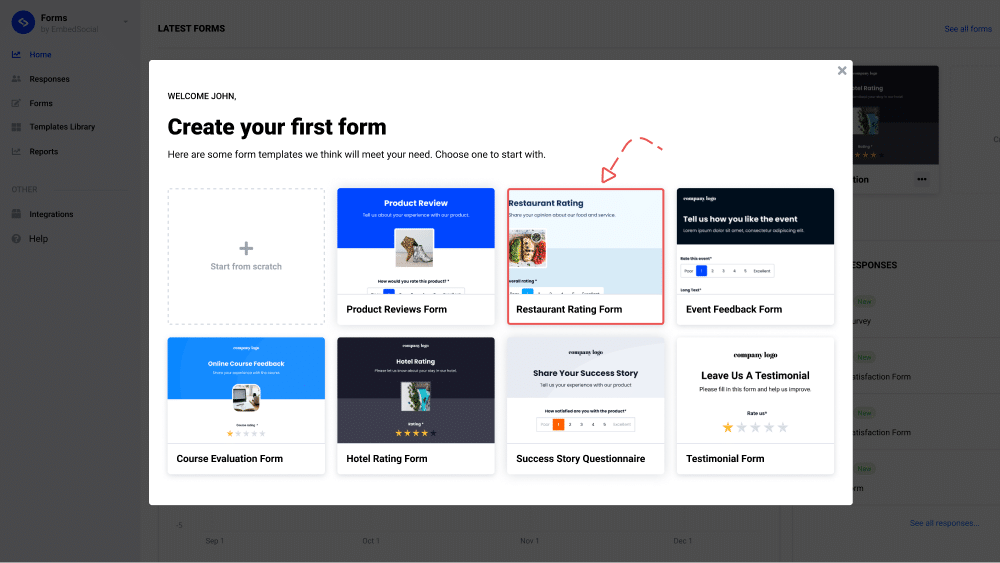 2. Customize your survey form by adding different questions, choosing form fields, applying a theme and a logo.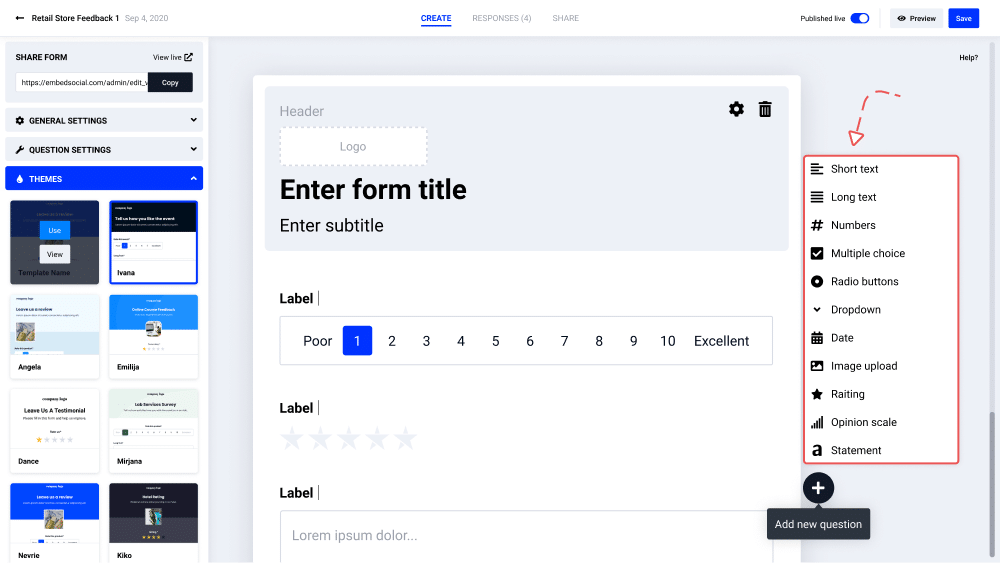 Customization regarding survey branding plays a big part in getting a higher response rate as well. Furthermore, you can design the form to have open-ended questions or closed-ended questions that can help you gather unique and insightful information from your respondents.
3. Save and publish the form so you can start collecting responses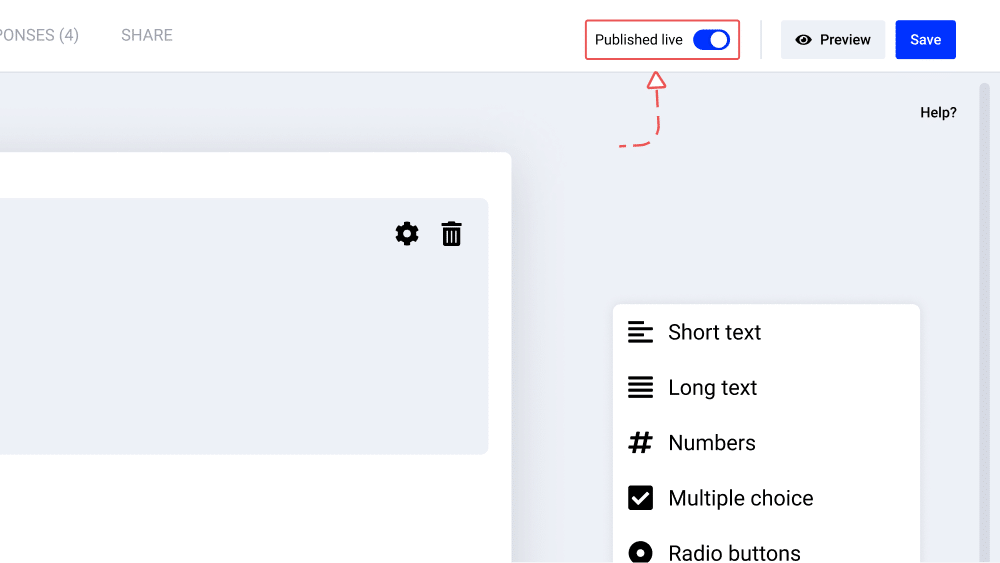 Additionally, distribute your form by embedding it on your website or sending its dedicated URL via email, social media, or SMS.
4. Export, share with colleagues, and analyze your results in Excel or Google sheets.
That's it. From template to live form in just a few clicks.
For more details check the 'How to create online forms' guide.
—
Furthermore, to get inspiration and use pre-built feedback forms check these five free templates:
1. NPS Survey
The Net Promoter Score or NPS has been proven to be a reliable indicator of how satisfied your customers are.
The metric is now the most used measurement for customer experience. It's essentially an easy way to measure whether you're turning new visitors into loyal fans through high-quality products, excellent service, and good business practices.
This customer feedback form includes only one question:
"On a scale from 0-10, how likely are you to recommend us to a friend or a colleague?"
Based on the results, the customers are classified into three groups:
Detractors
Customers who grated from 0-6, however, are considered detractors. These customers would probably not purchase again from you and potentially threaten the company's image through negative testimonials.
Passives
Customers who give a grade between 6-8 are considered passive customers. These customers are somewhat satisfied with the product or service but could easily switch to the competition. They would probably not damage the company's reputation by negative reviews; however, they are not eager to spread a positive word about the overall experience.
Promoters
Customers who rated the company from 9-10 are considered promoters. These customers would be happy to return to your business and spread positive comments to other people about your company.
Since it consists of only one question, the NPS survey is straightforward and user-friendly, so most of the respondents would be open to providing feedback with a single tap.
However, all surveys come with some setbacks. NPS survey, unfortunately, can't provide you with information about the reason behind someone's grade.
Nevertheless, you can always include some of the other survey templates we mention in this blog post for gathering feedback and further improving your business.
Start with this free template →
2. Customer satisfaction survey
Collecting feedback from customers can include different types of forms that can be used in different use cases. From simple NPS surveys, customer feedback forms to collect reviews, or entire satisfaction surveys.
Customer satisfaction surveys are questionnaires companies use to gather information about overall customer satisfaction.
The NPS survey mentioned earlier belongs to this category; however, businesses can run more thorough research with surveys that include more than one question.
The purpose of the customer satisfaction surveys is to gather actionable feedback about your customers' opinions and impressions, determine their criteria and needs, and detect problems you may not have been aware of.
In creating your own feedback form, you can include different types of questions like multiple-choice questions, rating scale questions, open-ended questions, and so on.
For example, event planners that need a post-event survey can include questions for the location of the event, organization, food, or the networking part and gather all sorts of event feedback.
Start with this free template →
3. Website feedback form
A well-designed and uncluttered website is a part of a smooth user experience.
That's why website feedback forms are essential for every business.
Owners need to make sure that their website is easy to navigate and not a reason for shopping cart abandonment.
Depending on the goal, the online feedback form can include only one question like:
"How easy was it to find what you were looking for?"
Website feedback forms can appear in different forms like for example, a pop-up. Also, you can embed website review forms anywhere on your site that you think would be most visible for the users.
Or you can include more questions for a larger amount of feedback data.
Here is an example and free to use website feedback form template:
Start with this free template →
4. Training feedback form
We know the importance of training, but what about feedback? Feedback is a crucial part of any training session that should be encouraged to help your employees grow.
For years, we've been told that feedback is necessary to improve performance and productivity. However, the form of feedback can be just as important as the frequency. A one-size-fits-all approach does not work for all employees and it's up to you (the boss) to determine what will work best!
Many people have been in the situation of attending a training session and feeling like they did not get their money's worth. This is often because the trainer didn't deliver the key points, or there was too much information to take in at once. In order to make sure that your employees are getting what you need from them, it can be helpful to use a feedback form.
Here is an example and free to use training feedback form template:
Start with this free template →
5. Employee feedback form
The saying happiness comes from within also applies to businesses.
The overall satisfaction of your employees is just as important as customer satisfaction.
Good feedback from employees means that they are motivated to work and are happy with the work environment and conditions you offer.
Employees are a driving force to every business, so giving them a voice can considerably improve many aspects of your business.
Also, they are multi-disciplinary fields, so you need to cover each of the fields with your survey beginning with the working environment, skills development, salary satisfaction, etc. 
You can survey your employees separately on each topic or include everything in one. It's really up to you.
When your employees are happy, your customers will be too.
Here is a free employee feedback form template that you can copy, right now:
Start with this free template →
Wrap up
The world is full of ambitious competition, and every business aims towards excellent customer satisfaction and a loop of returning customers.
Conducting the proper surveys can bring you a step closer to your goal and help you build everyone's new favorite business by finding out what your customers want and need.
Sign up now and get your forever free interative forms builder
Try EmbedForms and embed engaging web forms on your website, in seconds.
Forever free · Easy setup