Understanding your customers' needs and expectations is fundamental to building an excellent customer experience.
Feedback surveys can help us gather important customer information, making the customers feel valued and appreciated.
This article will show you how to easily create online forms with the forever free forms builder EmbedForms with feedback form samples to gather and improve customer experience.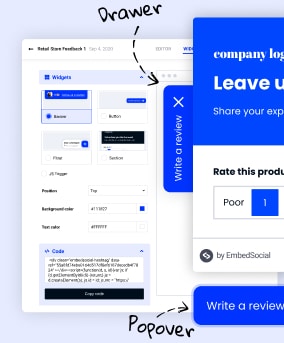 Build all your web forms for free
EmbedForms is the only form builder you will ever need to capture web leads, create surveys, or collect feedback on your website.
All PRO features | Cancel any time.
What is a Feedback Form?
Feedback forms or feedback surveys are a straightforward way to gather information from your customers.
They are a list of questions intended to pull out the most important data to help you improve your business.
They can also be online or on paper if you're more old-school.
Feedback forms can collect customer feedback and valuable insights about how people feel the businesses have treated them in terms of products, services, etc., which is why business owners rely heavily on them when it comes to making strategies on every level.
Here is one example of a customer feedback question:
"Were you satisfied with the quality of our product?" or

"Were you able to find what you were looking for?"
This way, you can collect customer feedback about your customer's perspectives regarding the quality of the product or website usability.
How to Create and Design a Feedback Form?
Online form builders are designed to help you create feedback forms quickly and easily. Usually, modern form bulders contain multiple options and pre-made templates with the right questions for different types of research, which significantly contribute to precise results.
Here is how you can build forms with EmbedForms in just a few minutes:
1. Choose the suitable feedback form template that best fits your needs or start from scratch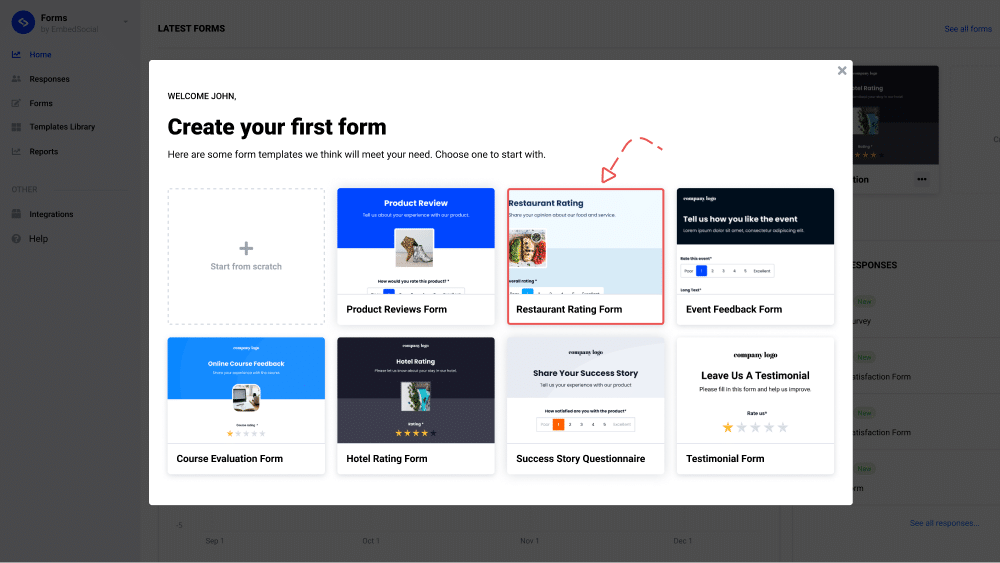 2. Customize your survey form by adding different questions, choosing form fields, and applying a theme and a logo.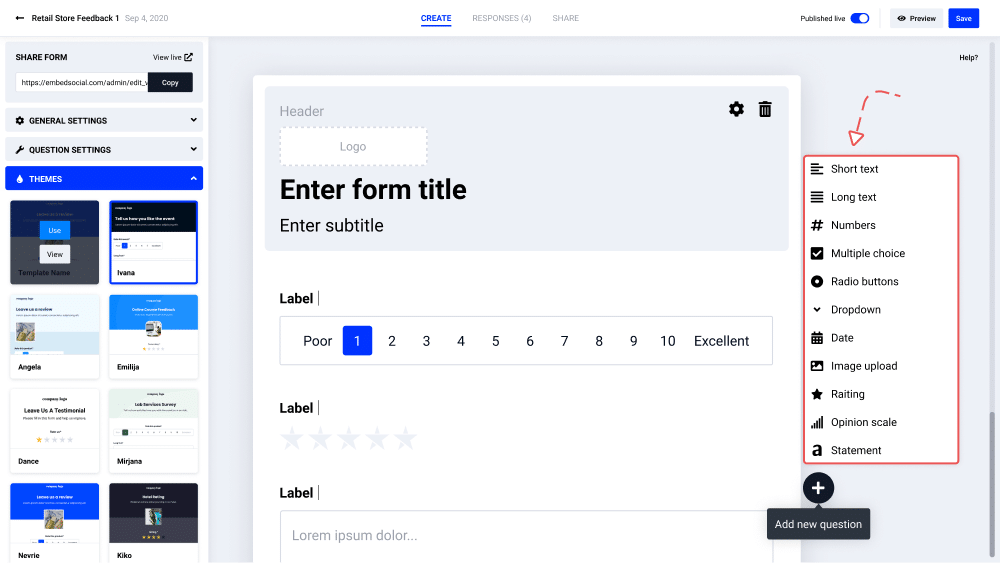 Customization regarding survey branding plays a big part in getting a higher response rate as well. Furthermore, you can design the form to have open-ended questions or closed-ended questions that can help you gather unique and insightful information from your respondents.
3. Save and publish the form so you can start collecting responses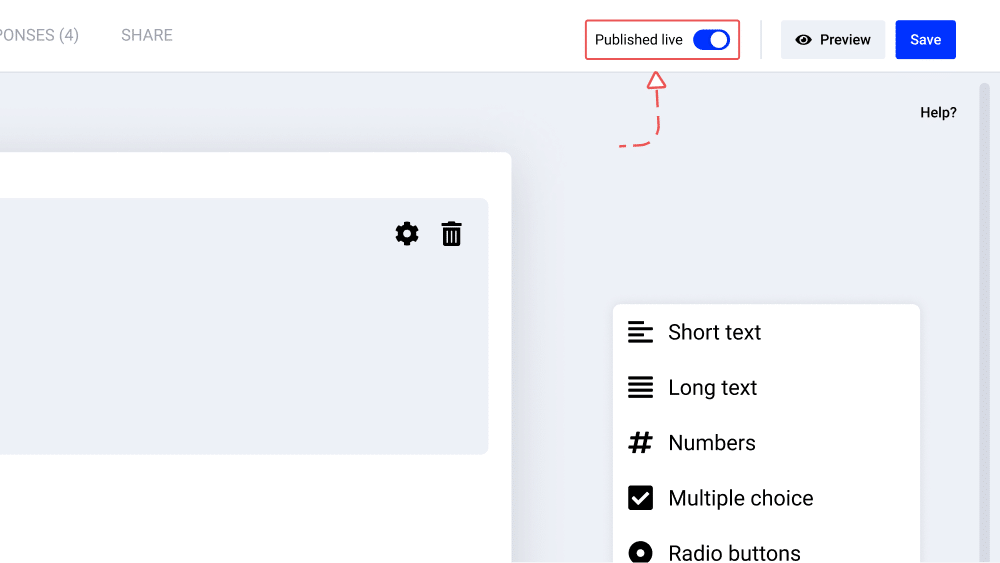 Additionally, distribute your form by embedding it on your website or sending its dedicated URL via email, social media, or SMS.
4. Export, share with colleagues, and analyze your results in Excel or Google Sheets.
That's it from template to live form in just a few clicks.
More details on how to create feedback form >
How to Display Customer Feedback Forms?
With the EmbedForms tool, businesses will be able to create feedback widgets and embed their feedback forms on different parts of their website.
Currently, the widgets available in the EmbedForms platform are the following:
Button – can be displayed as a button that looks like a fixed tab on the website's left, right, top, or bottom or a floating feedback button. When clicked, it opens a feedback form.
Floater – a widget useful for a sitewide display that also, when clicked, will open the form in a popup or inline popover.
Banner – a fixed banner that can be positioned on the top or bottom of the website, with a call to action and a link to open the feedback form.
The best, you can connect any type of form you build in EmbedForms to these widgets. For example, display a 'contact us floater,' which opens up your business contact form when clicked.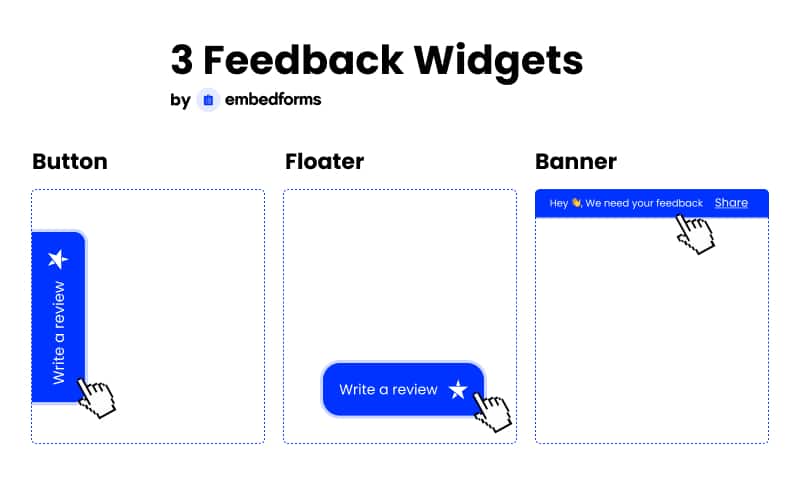 And finally, with the simple inline option, brands can embed the entire feedback form on any page.
Here is how to do this with one of the best form builder software, EmbedForms:
Step 1: Log in to your account and open your feedback form
Step 2: Click on the embed form link in the top left corner
Step 3: Choose the inline option and copy the provided code
Step 4: Paste the code in your website HTML.
Furthermore, to get inspiration and use pre-built feedback form templates, check these free forms:
1. NPS Survey
Calculating a Net Promoter Score or NPS is one of the main features of the popular survey makers and has been proven to be a reliable indicator of how satisfied your customers are. 
The metric is now the most used measurement for customer experience. It's essentially an easy way to measure whether you're turning new visitors into loyal fans through high-quality products, excellent service, and good business practices.
This customer feedback form includes only one question:
"On a scale from 0-10, how likely are you to recommend us to a friend or a colleague?"
Based on the results, the customers are classified into three groups:
Detractors
Customers who grated from 0-6, however, are considered detractors. These customers would probably not purchase again from you and potentially threaten the company's image through negative testimonials.
Passives
Customers who give a grade between 6-8 are considered passive customers. These customers are somewhat satisfied with the product or service but could easily switch to the competition. They would probably not damage the company's reputation with negative reviews; however, they are not eager to spread the positive word about the overall experience.
Promoters
Customers who rated the company from 9-10 are considered promoters. These customers would be happy to return to your business and spread positive comments to other people about your company.
Since it consists of only one question, the NPS survey template is straightforward and user-friendly, so most of the respondents would be open to providing feedback with a single tap.
However, all surveys come with some setbacks. NPS survey, unfortunately, can't provide you with information about the reason behind someone's grade.
Nevertheless, you can always include some of the other customer feedback survey templates we mention in this blog post for gathering feedback and further improving your business.
2. Customer Satisfaction Survey
Collecting customer feedback can include different forms that can be used in different use cases.
From simple NPS surveys and customer feedback forms to collect reviews or entire satisfaction surveys.
Customer satisfaction surveys are questionnaires companies use to gather information about overall customer satisfaction.
The NPS survey mentioned earlier belongs to this category; however, businesses can run more thorough research with a feedback survey that include more than one question.
Customer satisfaction surveys gather actionable feedback about your customers' opinions and impressions, determine their criteria and needs, and detect problems you may not have been aware of.
In creating your own feedback form, you can include different types of questions like multiple-choice questions, rating scale questions, open-ended questions, and so on.
For example, event planners that need a post-event survey can include questions for the location of the event, organization, food, or the networking part and gather all sorts of event feedback.
3. Website Feedback form
A well-designed and uncluttered website is part of a smooth user experience.
That's why website feedback forms are essential for every business.
Owners need to make sure that their website is easy to navigate and not a reason for shopping cart abandonment.
Depending on the goal, the online feedback form can include only one question:
"How easy was it to find what you were looking for?"
Website feedback forms can appear in different forms, for example, a pop-up. Also, you can embed website review forms anywhere on your site that you think would be most visible to the users.
Or you can include more questions for a larger amount of feedback data.
Here is an example and free-to-use website feedback form template:
4. Employee Training Feedback Form
We know the importance of training, but what about feedback? Feedback is a crucial part of any training session that should be encouraged to help your employees grow.
We've been told that feedback is necessary to improve performance and productivity for years. However, the form of feedback can be just as important as the frequency. A one-size-fits-all approach does not work for all employees, and it's up to you (the boss) to determine what will work best!
Many people have been in the situation of attending a training session and feeling like they did not get their money's worth. This is often because the trainer didn't deliver the key points or there was too much information to take in at once. In order to make sure that your employees are getting what you need from them, it can be helpful to use a feedback form.
Here is an example and free-to-use training feedback form template:
5. Employee Feedback Form
The saying happiness comes from within also applies to businesses.
The overall satisfaction of your employees is just as important as customer satisfaction.
Good feedback from employees means that they are motivated to work and are happy with the work environment and conditions you offer.
Employees are a driving force in every business, so giving them a voice can considerably improve many aspects of your business.
Also, they are multi-disciplinary fields, so you need to cover each of the fields with your survey beginning with the working environment, skills development, salary satisfaction, etc.
You can survey your employees separately on each topic or include everything in one. It's really up to you.
When your employees are happy, your customers will be too.
Here is a free employee feedback form template that you can copy right now:
6. Conference Feedback Form
This free conference feedback form helps organizers gather crucial insights from attendees, enabling them to improve their events and leave a lasting impression.
Capture valuable input on speakers, topics, and overall conference experience.
Additionally, this customizable form allows you to tailor the feedback questions to your specific event, making it easy to identify trends and common areas of concern, ensuring that future conferences are even more engaging and informative.
7. Event Feedback Form
Maximize event success with this free event feedback form, designed to help you collect attendees' opinions on various aspects of your gathering.
Use this template to gain valuable insights to plan better and more engaging events in the future.
Beyond gathering feedback on the event itself, this versatile form can also help you collect demographic data and preferences, allowing you to tailor future events to your target audience's unique interests and needs.
8. Free Delivery Feedback Form
Ensure customer satisfaction and optimize your delivery process with this delivery service feedback form. Collect customer feedback on delivery times, packaging, and overall customer experience to continually improve your services.
By including questions about delivery personnel and tracking systems, with this customer feedback template, you can also identify areas where your delivery logistics can be refined and streamlined, leading to faster delivery times and an enhanced reputation for your business.
9. Free Beauty Salon Feedback Form
Enhance your beauty salon experience with this free feedback form, created to collect client opinions on services, staff, and the overall salon atmosphere. Implement improvements based on these insights to ensure a memorable client experience.
Furthermore, this feedback form for beauty salons can help you gather information on client preferences and trends, allowing you to stay ahead of the curve and offer innovative services that keep your clientele coming back for more.
10. Free Meeting Feedback Form
Improve your business meetings with this free meeting feedback form.
Collect opinions on meeting content, organization, and effectiveness to make your team's collaboration more productive and efficient.
By incorporating questions about meeting duration, scheduling, and technology, you can identify potential areas of improvement, ensuring that your team can make the most of their time together and drive better results for your organization.
Here is an example of a customer feedback form template that you can re-use right now:
11. Free Car Dealership Feedback Form
Drive customer satisfaction and sales with this free car dealership feedback form.
Gather valuable input on vehicle selection, sales staff, and the overall buying experience, helping you fine-tune your dealership's offerings and services.
Additionally, this form can help you collect insights on your dealership's marketing efforts, financing options, and customer service, enabling you to create a seamless and enjoyable car buying experience that sets you apart from the competition.
12. Free Online Academy Feedback Form
Elevate your online education platform with this free academy feedback form.
Collect student insights on course content, instructor performance, and the overall learning experience to continually refine and enhance your offerings.
By incorporating questions about course materials, user experience, and platform functionality, you can ensure that your online academy delivers a top-notch educational experience that keeps students engaged and motivated to learn.
13. Travel Agency Feedback Form
Ensure a memorable vacation experience with this free travel agency feedback form.
Gather client opinions on trip planning, destination satisfaction, and agency services, enabling you to make improvements and deliver unforgettable experiences.
This comprehensive form also helps you collect feedback on travel accommodations, transportation, and excursion options, allowing you to fine-tune your travel packages and ensure that your clients enjoy the vacation of their dreams.
14. Fitness Center Feedback Form
Boost your gym's performance with this free fitness center feedback form.
Collect member feedback on equipment, classes, and overall facility satisfaction to identify areas for improvement and create a stronger fitness community.
By including questions about membership plans, staff friendliness, and cleanliness, you can gain a holistic understanding of your gym's performance, enabling you to create a customer service feedback form like this:
15. Software feedback form
Optimize your software's performance and user experience with this free software feedback form template. Designed to help you collect valuable insights from users, this form covers essential aspects such as functionality, interface, ease of use, and overall satisfaction. Gain a comprehensive understanding of your software's strengths and weaknesses, allowing you to make targeted improvements and deliver a seamless, intuitive experience for your users.
In addition, this customizable feedback form enables you to dive deeper into specific features, bugs, and user preferences, helping you prioritize updates and enhancements based on user feedback.
By incorporating questions about user support, documentation, and response times, you can also evaluate your software's overall customer service and support system, ensuring that users receive the help they need promptly and efficiently.
Why Use Customer Feedback Forms for Your Business?
Customer feedback forms play a crucial role in driving business growth and long-term success.
By collecting valuable insights from your customers, you can identify areas for improvement, enhance customer satisfaction, and ultimately boost your overall business. Below, we explore the importance of utilizing customer feedback forms for your business and provide real-world examples to showcase their impact.
Strengthen Customer Satisfaction and Retention
Customer feedback forms help you gauge client satisfaction levels and uncover any issues that may be affecting their experience.
For example, an e-commerce store can use a delivery feedback form to gather information on shipping times, packaging quality, and overall satisfaction. By addressing concerns promptly, you can foster customer loyalty and secure repeat business.
Improve Products and Services
By collecting customer opinions on your products and services, you can make data-driven decisions to enhance your offerings.
A fitness center, for instance, may use a feedback form to gather input on equipment quality, class variety, and instructor performance. This information can help the center make targeted improvements, ensuring that it meets the needs and preferences of its members.
Streamline Customer Support
A well-designed customer feedback form can identify areas where your support team excels and where it may need improvement.
For example, a software company can use a feedback form to evaluate response times, issue resolution, and overall satisfaction with customer support. This data enables the company to optimize its support processes and ensure that customers receive the help they need in a timely manner.
Enhance Employee Performance
Feedback forms can also be used to gather insights on employee performance, allowing you to identify top performers and areas where additional training may be needed.
A car dealership, for instance, can use a feedback form to evaluate sales staff, vehicle selection, and overall customer experience. This information can guide employee training and development, resulting in a more effective and customer-focused team.
Foster Brand Advocacy
Positive customer experiences often lead to word-of-mouth referrals and brand advocacy.
Using feedback forms to gather customer opinions and acting on their suggestions can create a better experience that encourages customers to recommend your business to others.
A travel agency, for example, can use a feedback form to assess client satisfaction with trip planning, accommodations, and destination experiences, allowing them to create unforgettable vacations that inspire referrals.
Conclusion
In conclusion, utilizing feedback forms is essential for any organization aiming to improve customer satisfaction, enhance products and services, and foster growth.
By collecting valuable insights from your target audience, you can make informed decisions that drive success. EmbedForms offers user-friendly, customizable feedback form templates, making it easy for you to gather the information you need and elevate your business.
Explore the free feedback forms library today and unlock the power of feedback to boost your organization's performance.
With EmbedForms, you can create mobile-friendly forms and display them with a simple embed code for your website.
Sign up now and get your forever free interative forms builder
Try EmbedForms and embed engaging web forms on your website, in seconds.
Forever free · Easy setup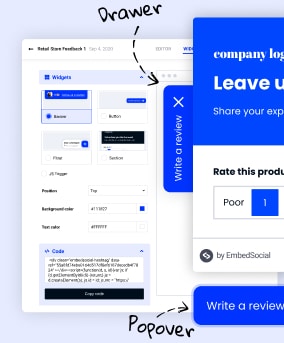 Frequently Asked Questions about Feedback Forms
Who can use these free feedback form templates?
These free feedback form templates are designed for a wide range of users, including businesses, educational institutions, event organizers, and service providers.

The customizable nature of these templates allows you to tailor them to your specific needs, making them suitable for various industries and purposes.

Whether you're looking to gather customer opinions, evaluate employee performance, or assess the effectiveness of a training session, these feedback form templates can help you collect valuable insights to drive improvement and success.

More free feedback forms >
What Is a 360 Feedback Form?
A 360 feedback form, also known as a 360-degree feedback form, is a comprehensive evaluation tool used to gather feedback on an individual's performance from multiple sources, such as supervisors, peers, subordinates, and sometimes even customers.

This form allows for a well-rounded assessment of an individual's strengths and areas for improvement, promoting personal and professional growth. The 360 feedback process aims to foster self-awareness, improve communication, and enhance overall team performance.
What Is a Student Feedback Form?
A student feedback form is a tool used by educational institutions to gather insights and opinions from students regarding various aspects of their learning experience.

This may include feedback on course content, teaching methods, classroom environment, and instructor performance.

Student feedback forms are essential for identifying areas for improvement and ensuring that educational institutions continue to meet the needs and expectations of their students.
What Is a Training Feedback Form?
A training feedback form is a document used to collect participant opinions on training sessions, workshops, or seminars.

This form allows organizers to gather input on the effectiveness of the training content, delivery, materials, and overall experience.

By using a training feedback form, trainers and organizations can identify areas for improvement and make data-driven decisions to enhance the quality and impact of their training programs.
Q: Can Google Forms give feedback?
Yes, Google Forms can be used to create and distribute feedback forms. Google Forms is a free, user-friendly tool that allows you to design custom forms with various question types, such as multiple choice, short answer, and scales.

Once you've created your feedback form, you can share it with respondents via a link or by embedding it on a website. The responses are automatically collected and organized in Google Sheets, making it easy to analyze and act on the feedback received.