Google Maps is the most popular mapping service online. It's free to use and can be a great resource for local businesses looking to attract new customers.
But what does it take to optimize your Google Map listing so you rank higher in the local search?
Keep reading!
What is Google Maps Marketing?
Google Maps marketing is a way to make your business easier for potential customers to find with having the main goal of ranking higher on Google Maps.
It's even more important for small businesses that might not have the financial resources of bigger companies.
Google Maps Marketing is not just about getting visible in Google searches, but also about positioning as a serious brand. So, make sure that you incorporate it into your digital marketing strategy.
Why your business needs Google Maps Marketing?
As Google says: "Over the last two years, searches for local places with the qualifier "near me" have grown 150%, faster than comparable searches that do not include "near me.".
I am sure that you want your business within the first group. To achieve that you have to optimize your Google Maps listings.
It's common sense that people use their mobile devices to search for businesses these days. But what you may not know is that searchers actually visit the businesses they found in the search engine results. Moreover, 88% of people who conduct a local search on their smartphone visit a related store within a week.
So, it's time to include mobile search optimization in your marketing efforts if you want to be positioned in the Google Maps results.
How does Google Maps Ranking work?
Now you know that the point of Google Maps Marketing is to rank as higher as possible in the Google Maps searches so local customers can find you easily when they look for your business category or similar type of business.
Let's take a look at the meaning of it.
Google Maps local results
The first parameter attached to your Google Maps ranking factors is the proximity of your business location. And since the most organic searches come from mobile devices it just took more power.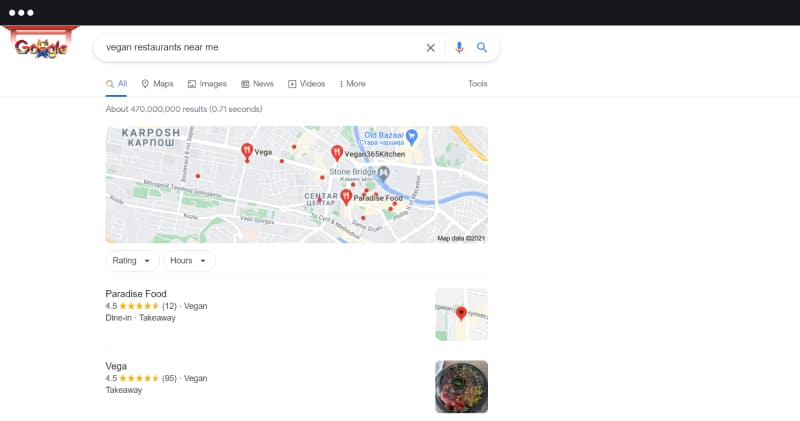 These ranking factors determine your online presence on the similar principle that Google ranks its local search ads using PPC formulas. The algorithm ranks the most relevant results on the so-called local 3-pack results, with "A" being the most relevant and close result, and "B" and "C" are considered the most relevant options.
Ranked Google Maps results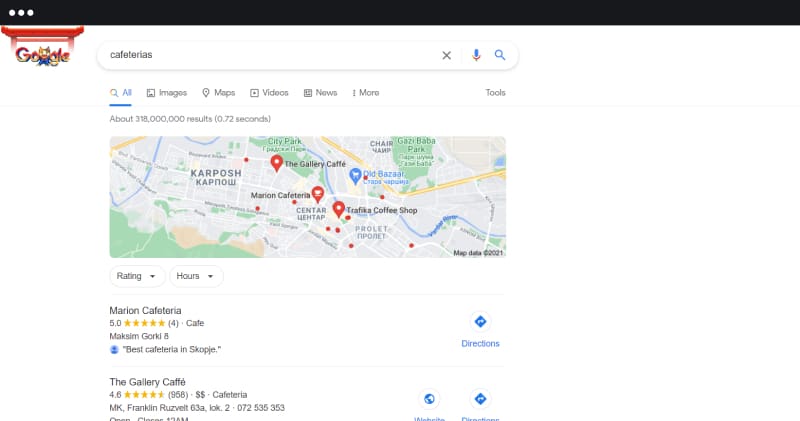 You don't need to be near a place for it shows up on Google Maps. Sometimes you'll see "ranked" results, which appear when looking up businesses by type in an area.
Some users don't have location-enabled searches on their devices or they just don't want to look for nearby places. This means "ranked" map results will sometimes show up with these other kinds of search queries that are not that connected with the local SEO.
So, a user can search for businesses across the country and they won't get the closest result in physical location first. So, what's what they get?
The result with the most optimized Google My Business listing.
Why do you need a Google My Business account?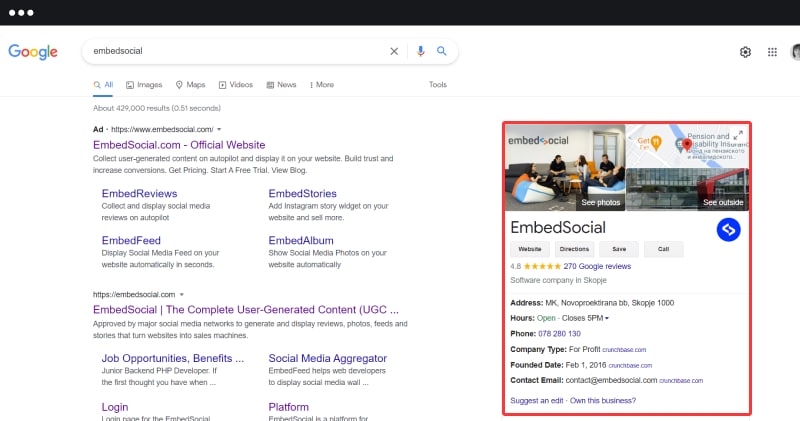 Google My Business is the best (and only) marketing tool to get your business on the Maps and SERPS.
GMB it's a unique tool that gives business owners and marketers more profound insights and metrics that yellow pages and social media can't provide.
So, in order to optimize your business for Maps rankings, you have to optimize your Google My Business profile. Here's how.
How to optimize GMB for Google Maps Marketing?
Fill in all business information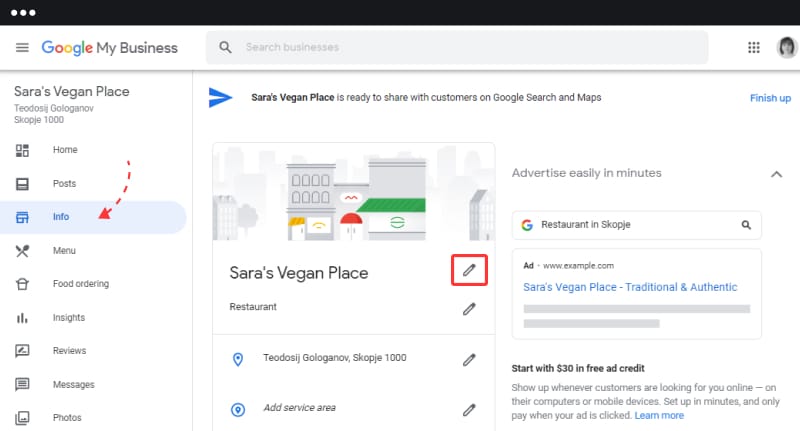 Filling out your company's information on your Google My Business page is the first and easiest way to improve your ranking.
Make sure your business page information is always up to date, including updated contact information, such as business name, business location, business category, phone number, website, hours of operation, etc.
Your business address is of big importance here. Ensure that it's aligned with the USPS information to make it easier for customers to find you.
Specify the service areas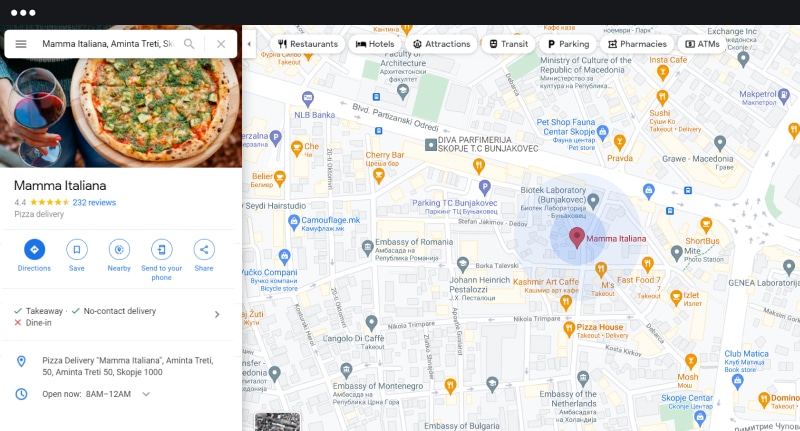 If you're a multi-location business you need to specify all the areas you're serving in. You can do it by specifying the concrete locations where you have stores, naming the city or area names, or if you can specify a km radius it's even better.
In case you don't serve customers at your main business location or you're serving only by phone calls, specify that too. It will help your optimization and the customer experience all at once.
List all the relevant business categories
One of the biggest mistakes you can make when creating a Google My Business listing is not including additional categories that are relevant to your business.
Yes, it's crucial to claim the main category of your business. But by listing the additional relevant categories for it, you're increasing your chances of higher rankings.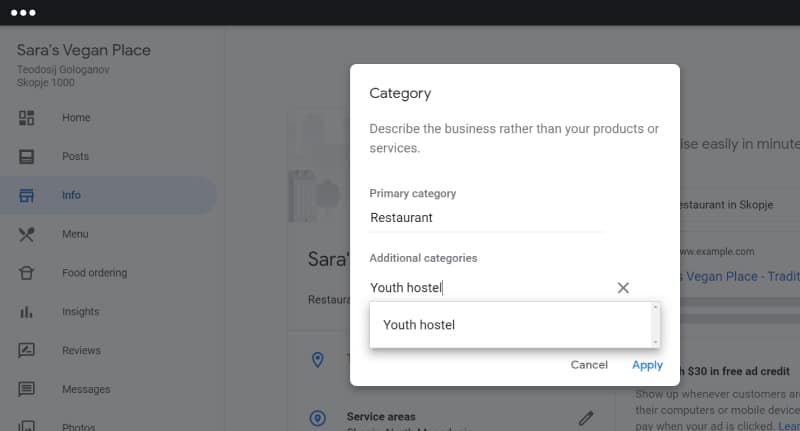 Keep this in mind: The more info you provide to Google, the more it likes you!
Include more photos and videos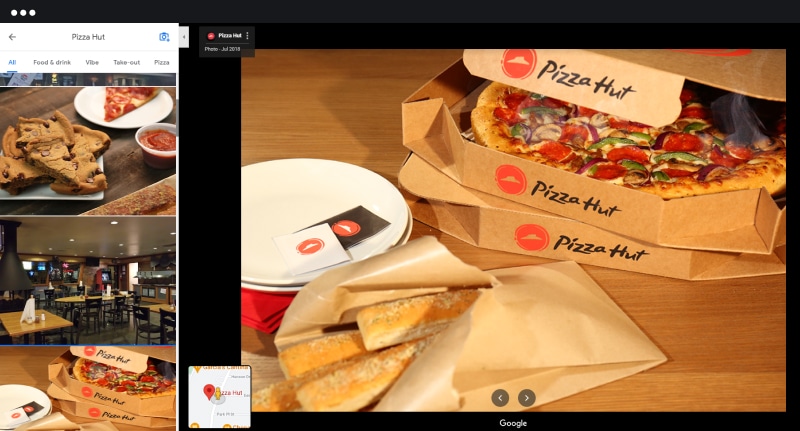 Google photos not only allow you to be an expert in your field, but they also create a connection between the business and its customers.
Adding and optimizing photos in your Google My Business account is essential for ranking. You have to pay attention at least to your profile and cover photo.
Think of your Google photos and videos as a strong selling point since they are presenting your offices, locations, products, and much more. And we all know that a photo can tell a thousand words, right?
Collect customer reviews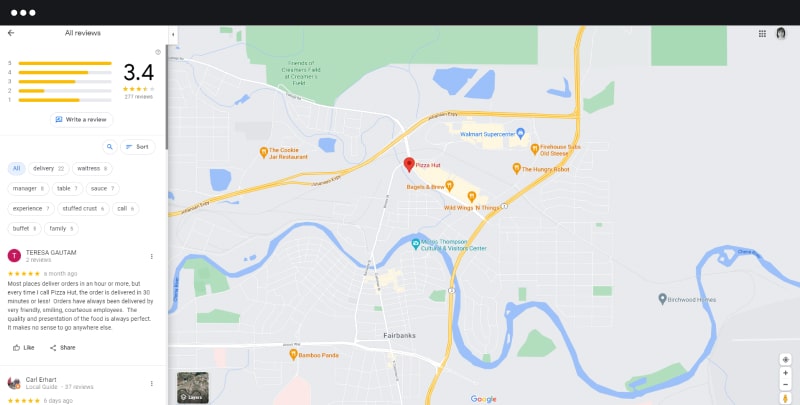 Reviews are a vital component for local SEO and potential customers. The more positive reviews you have, the better your business will rank in Google Maps.
Both, people and search engines pay great attention to your star rating, so you want to keep it high.
Your Google reviews are as important (or maybe even more) as your other online reviews, for example like those on Yelp.
This doesn't mean that some negative review from time to time will drain your business, but you definitely have to know how to manage online reviews to make an outstanding online reputation.
You can re-use your Google reviews in so many ways that can drive trust and sales for your business.
Use local keywords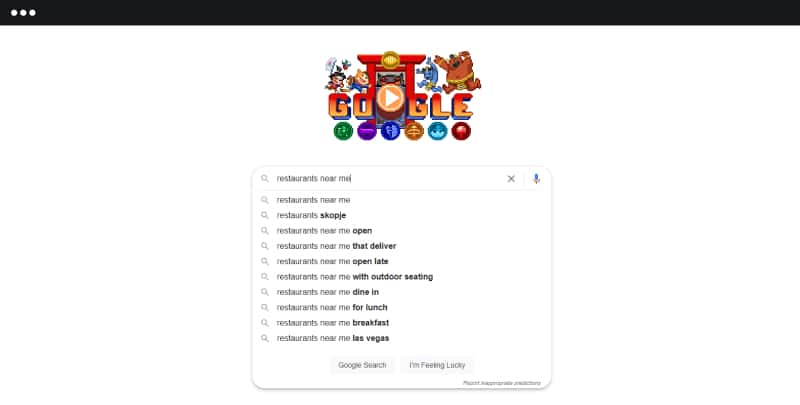 You should research which keywords are popular for your industry and local area, then optimize your content marketing efforts to include them.
Localized keywords like "near me" or "buy now" can't be missed!
Create local search ads
You should consider paid marketing too. By using ads, you can make your business stand out even more and keep current customers coming back.
Google ads can push your business to the very top regardless of the other parameters.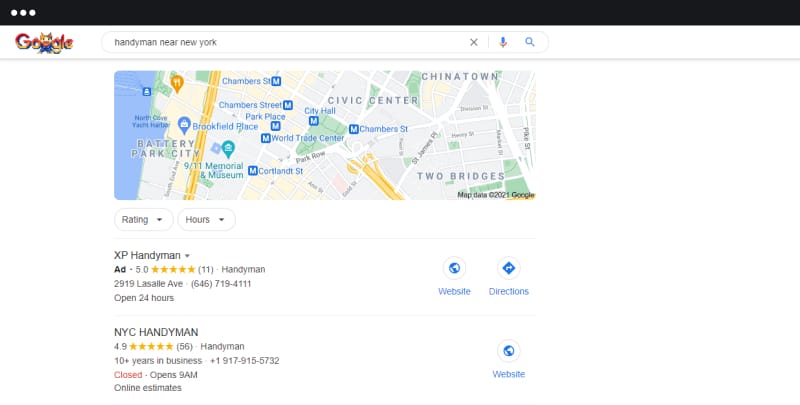 Note that this kind of strategy is not cost-free, since it's considered a form of paid advertising which includes paying a certain amount of money per click.
Google is pulling out a new form of Google Maps ads with four main features. They are amazing and they're all happening right now in your area. With Promoted Pins, customized business pages, local inventory search functions, and in-store promotions users will be able to instantly find what's nearby.
Bottom line
Google Maps is such a popular resource for finding a local business.
Take your company's Google Map listing and turn it into an ultimate guide to your services, how you can access them, reviews from other customers, etc., so that people will be more likely to convert when they find what they need in one place.