As a vegan, my food choices are very limited. I recently visited Berlin for the first time, and finding a vegan restaurant was one of my main daily activities. You guessed it! I hung out a lot with the Google Maps search bar. I would open Google Maps and type 'vegan restaurants.'
A list of nearby restaurants will pop up, and thanks to Google's rating system, my attention will focus on the top ones with the best Google reviews.
And in order to get a Google listing, these restaurant business owners use their Google accounts to improve their local SEO.
These accounts are called Google My Business, and in this guide, you will learn everything you need to know.
Need more reviews? Download free reviews plan >
What is Google My Business Profile?
Google My Business is basically a listing of information that any big or small business can provide for Google to use in Maps or search results.
GMB was previously known as Google Places, and now all Google Place accounts are automatically upgraded to Google My Business accounts.
Here is the official definition:
"Google My Business is a free and easy-to-use tool for businesses and organizations to manage their online presence across Google, including Search and Maps. By verifying and editing your business information, you can both help customers find you and tell them the story of your business."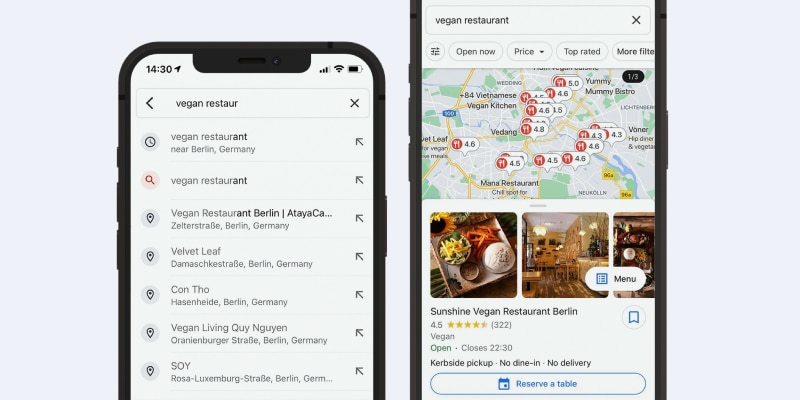 And here are the main features provided by Google My Business:
Receive and respond to Reviews
Post and get photos from customers
Post news
Create a free website
Insights
FYI: You can embed Google reviews widget automatically with EmbedReviews platform. Start a free trial and display your Google reviews now.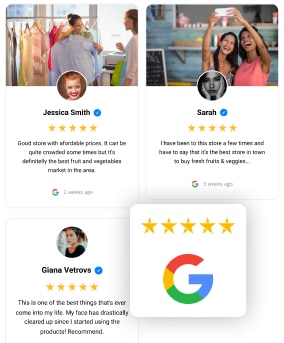 Generate & embed your Google Reviews.
Try EmbedReviews, generate Facebook and Google reviews, and display social media reviews widgets on your website. Automatically and in seconds.
All PRO features | Cancel any time.
Is Google Business Profile Free?
Yes, creating and managing a Google Business Profile (GBP) is absolutely free. This unique offering from Google allows businesses to boost their online presence and reach prospects effectively without any added cost.
By setting up a GBP, businesses can manage their information across Google's services, engage with customers, and share key updates about their products or services. It's a powerful tool that can help businesses save on marketing costs while promoting their brand effectively.
What is GBP Eligibility?
To be eligible for a Google Business Profile, a business must have a physical location or service area that customers can visit or where the business provides services. The business must also verify its location, which can be done through a process provided by Google.
This may include receiving a postcard at the business address or a phone call to the business phone number. It's important to note that certain types of businesses may have additional eligibility requirements.
Remember, a well-managed GBP can help your business reach new customers and engage with existing ones. So, start exploring this free tool and discover the benefits it can offer to your business.
Google My Business Benefits
Without it, your location will not appear in the Google Maps listings, especially for the main local queries when people search on Google from their mobile phones. The algorithm will not find you in the "local pack," and you'll lose potential customers. So, here's why you should start to manage now:
Google My Business (GMB) offers numerous benefits that can significantly boost your business's online presence. Here are some practical explanations of each benefit:
Increased Visibility in Google Search and Maps
GMB profiles appear across Google's ecosystem, including Google Search, Maps, and even Google Shopping. This increased visibility can help your business get discovered by potential customers. For example, suppose you own a restaurant called "Per Se" in New York.
After setting up a Google Business Profile, when someone searches "restaurants near me" or "Per Se New York" on Google, your restaurant appears in the search results and on Google Maps.
This increased visibility makes it easier for potential customers to find your restaurant, enhancing your online presence and potentially increasing foot traffic.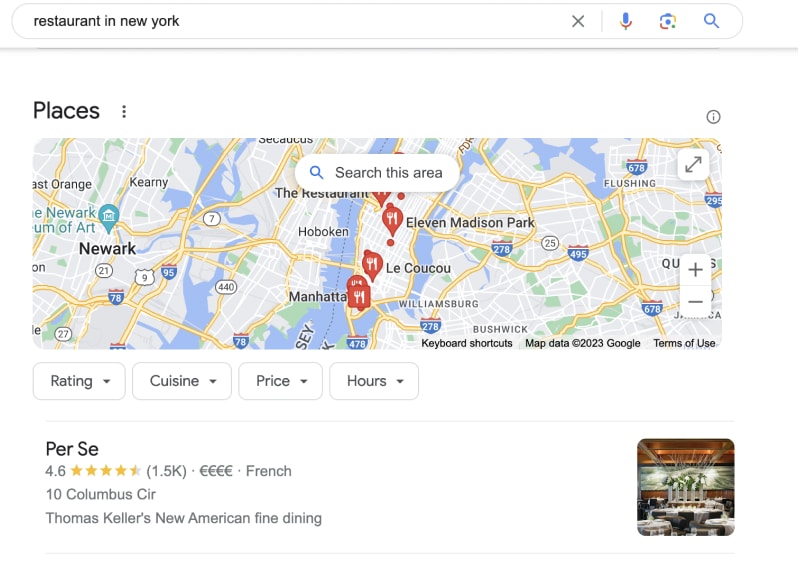 Improved Local SEO
GMB integrates with Google Maps, making your business easier to find for local customers. This can significantly improve your local SEO, making your business more visible to people searching for your products or services in your area.
When it comes to local, Google My Business is a remarkable free tool for digital marketing.
Google is very different compared to social media networks and enables unique metrics and insights for marketers.
Search is intent-driven, which means the user has the will and interest to do an action. And in some cases, such as the local search, they want to do that action NOW.
So that is why the intent-driven concept allows a business that can match the consumer discovery right at that moment, can win big in increasing conversions.
And suppose you already have accounts and manage Yelp, Linkedin, Facebook Business Page, Instagram profiles, or any other review sites. In that case, you must do the same and start managing your Google My Business.
Building Trust with Customers
GMB allows you to showcase customer reviews, which can help build trust with potential customers. Positive reviews can significantly enhance your business's reputation and attract more customers.
Increased Traffic
A well-managed GMB profile can increase traffic to your website. By providing accurate and up-to-date information about your business, you can attract more potential customers and drive more traffic to your site.
Customer Insights
GMB provides valuable insights about your customers, such as how they found your business and what actions they took on your listing. These insights can help you understand your customers better and optimize your marketing strategy accordingly.
Free Advertising
Essentially, GMB is a form of free advertising. By creating and optimizing your GMB profile, you can promote your business on Google without any additional cost.
Remember, leveraging these benefits can help your business grow and succeed in the online marketplace.
To sum up, if you invest enough resources to handle online reviews, manage photos, and post updates regularly, your Google My Business can turn into a new acquisition channel for your business. And this will have an effect on both Google Search and Maps too.
How to set up your Google Business Profile?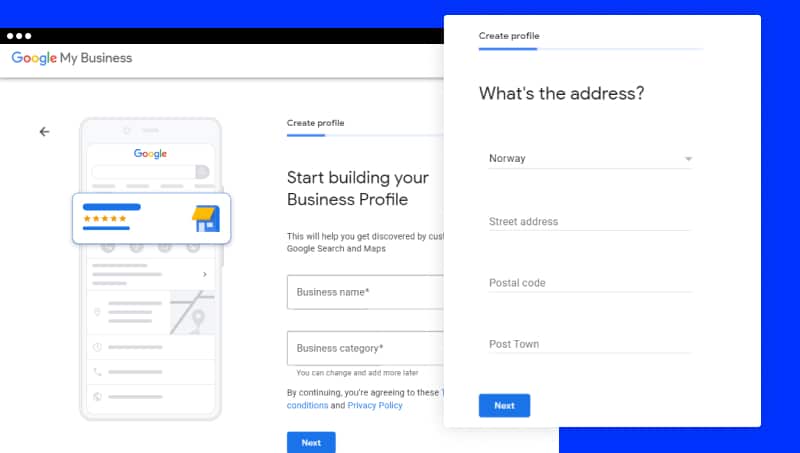 Setting up a Google My Business account is FREE. The GMB listing is not a substitute for your website, so yes, you should continue maintaining and promoting your website.
To get started, first, go ahead and do a search and try to find your business in the Google local search results by using Google Maps or simply by typing your business name in the Google search desktop version and check if there is detailed information about your company on the right side as a snippet.
If you already have a Google Business listing in some categories but are not claimed or verified, follow the steps below in this text.
Steps to create a new business on Google
If you still do not own one, you can create your Google My Business listing for free right now.
The account creation process is simple and aimed at any business, not just a local one.
Make sure you type the correct business address in the form or use the pin marker to find it on the Google Maps provided in the onboarding process.
Step 1: Write your business name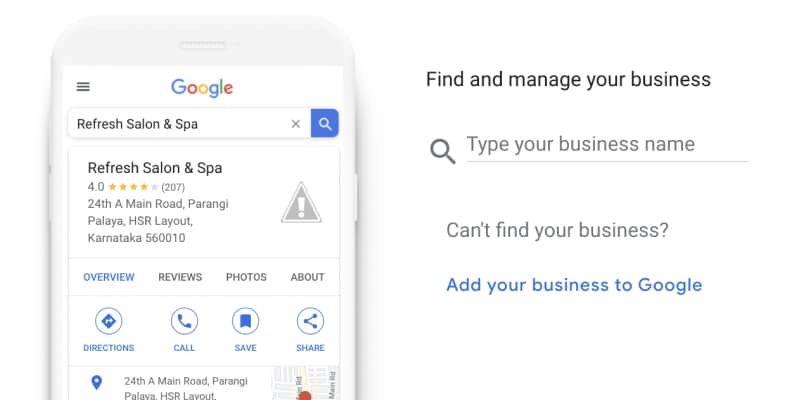 Step 2: Type 2
To get your information listed, Google requires verification of your business. So after you create your account, you will need to verify it.
How to Verify Google Business Profile?
Now that you have your business page, you have to verify it. Google will offer you three options for verification:
Option 1: Verification by mail
To do this, follow the steps below:
Sign in to your Google My Business account
Click "Verify" and choose mail as a verification method
Enter the name of the person on the verification postcard that should be mailed to
Specify the correct address where the card should be mailed to
Click "Send a postcard."
After a few weeks, you will receive a postcard with a verification number.
Click 'Verify Now' in the top red bar and follow the instructions where you will need to enter the verification code from your postcard.
Option 2: Verification by email
Sign in to your GMB page
Click "Verify" and choose to verify by email from the drop-down
Enter your email address
Enter the code you receive into your GMB verification page or click "Verify" within the email.
Option 3: Verification by phone
Sign in to your GMB page
Click "Verify" and click on your phone number
You'll receive a phone call, and the automated system will tell you the code.
Enter the code into the field.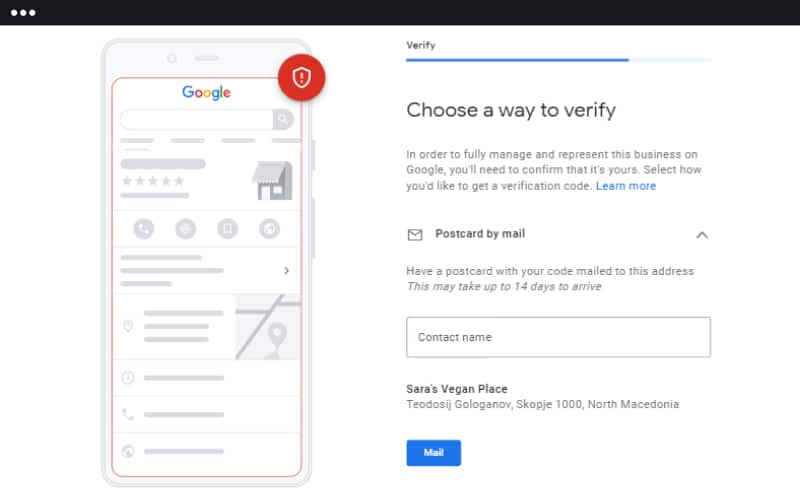 According to their guidelines, your information may take a few weeks to appear on Google.
Check the Google Verify My Business Guidelines for all details about the verification flow.
How to claim an existing listing?
Claiming an existing Google Business Listing is a straightforward process. Here are the steps to do so:
Find your business: Go to Google My Business (business.google.com/add) and sign in with your business email account. Enter the name and address of your business, then select it from the search results.
Request access: If the business listing has already been claimed, you'll see a message indicating this. In this case, click on 'Request Access' and fill out the form.
Submit the request: After filling out the form, click 'Submit'. The current owner of the business listing will receive an email about your request.
Wait for a response: The current owner has 3-7 days to respond to your request. If they approve it, you'll receive an email and will be able to manage the business listing. If they deny your request or do not respond within the given timeframe, you may have the option to claim the listing directly or appeal to Google.
Remember, claiming your Google Business Listing is crucial for managing your online presence and engaging with your customers effectively.
How to Optimize Your Google My Business Page?
Focus on the slightest details for better ranking and Google search visibility. Here are the tips:
1. Optimize Google My Business Listing
As a part of your marketing strategy, optimizing your listing for search engines and searchers is always a great opportunity.
To start with this right away, it is important to add as much relevant info and media as possible in the first days you are setting up your listing.
Here are some tips on how to set and optimize your Google My Business listing:
Choose an appealing profile photo and cover photo that will outstand on the list
Be as detailed as possible when entering contact information, such as business category, business location, phone number, website URL, hours of operation, etc.
Choose the relevant business type: storefront (restaurants, bars, hotels, etc.), service area (delivery, taxi service, transportation service, etc.), or brand (products, brands, causes, etc.)
Post lots of photos, especially if you are in the food business
Get reviews, so you will eventually rank at the top
To do this, go to your Google My Business dashboard, select 'Info', and then choose a section to fill out or update.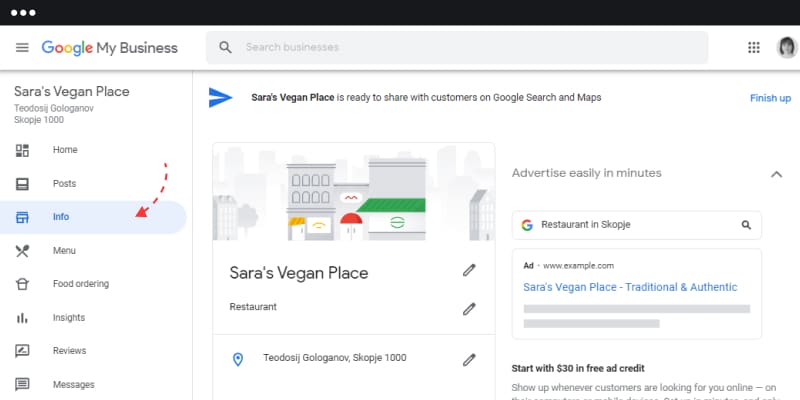 Here, you should edit and update all the required sections. The more information you add the better.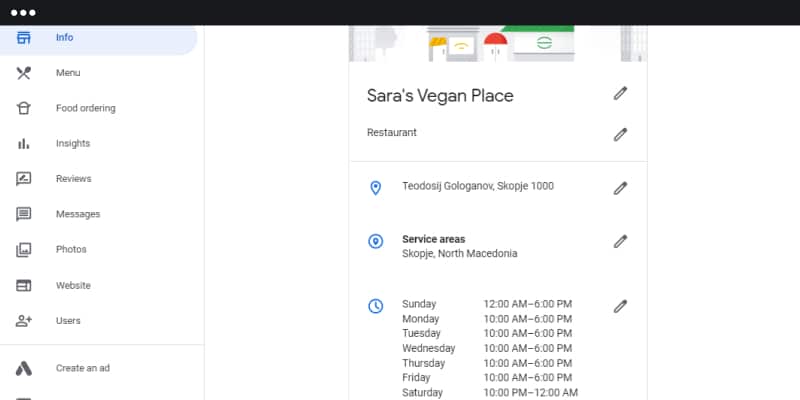 However, at any point in time, you can always edit your business listing to do further optimization or update your information.
Now, let's dive into how to edit and get the most out of the other sections in your Google My Business dashboard.
2. Optimize Google My Business Photos
Depending on your business case, Google Photos are one of the touching points for your new customers to discover your offer. If you are a restaurant or a hotel, the photos you will manage on your Google My Business account will be a strong selling point to get new guests on board.
The goal with photos is to make your Google My Business profile appeal live and make people feel that you are right there, ready to serve them.
Here are the Google My Business photos you should pay attention to.
Profile photo
Your profile photo appears when you post Google posts, updates, upload new photos, videos, or review responses. The most common example here is to upload your logo as a profile photo in an appropriate format.
Cover photo
The cover photo is one of the most important parts of the look of your Google My Business listing. It usually shows at the center of your listing when someone searches your business name in Google Search but often Google makes their own customization of the search results and may show other photos they assume are relevant.
Here are the required dimensions for your Google My Business cover photo:
Dimensions: 1080 x 608 pixels (minimum 480 x 270; maximum 2120 x 1192) Format: JPG or PNG.
Size: Between 10 KB and 5 MB.
Minimum Resolution: 720 px tall, 720 px wide.
You should upload other images along with your profile and cover photos to make your listing more informative and appealing. Today, uploading even your company's videos is also a great idea.
To make the most out of these photos and stand out from the competition, here is a list of a few ideas that you can do:
Hire a professional to capture the best moments in your local business
Make sure photos are authentic and updated
Post photos in a specific category, such as Exterior, Interior, or Team photos
Regularly post photos with your latest offers or menus
By sharing relevant photos, you will avoid customer reviews and comments that confirm that the dish was not like in the photos or that the room sizes are smaller than the photos you've shared.
Note that the users can actually post their own photos and give actual 'pictures' of what they've actually experienced.
3. Use Google Posts to Increase Organic Traffic
Google Posts are a recent feature added to the Google My Business Suite.
This functionality allows businesses to publish short posts with links to news, events or offers about their products and services directly in the Google search panel, which displays on the right side of the Google search results.
By making this small feature, Google actually wants to bring the social media component into the search results by allowing small businesses to push their latest news.
Here is how the Google Posts appear in search results: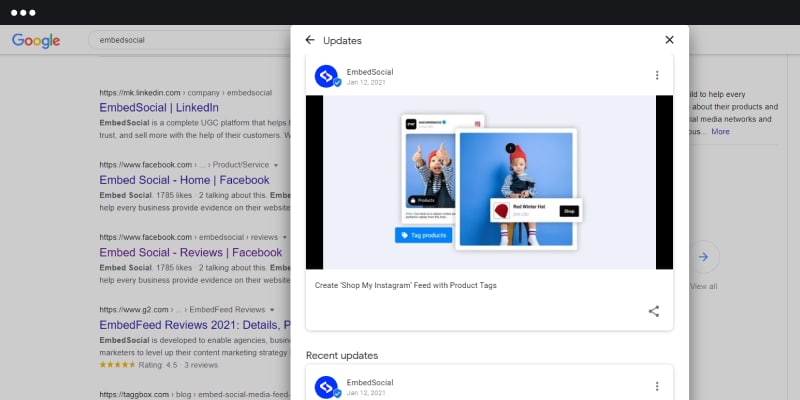 And here are the benefits of creating Google Posts:
Increase organic traffic
Disrupt the intent drive search and push instant value to the user
Increase conversions by providing a direct 'call to action' link
In the 'Posts' section of the Google My Business dashboard, there are 5 types of post templates available:
COVID-19 Update
Add Offer
Add Update
Add Event
Add Product
However, you don't always need to choose the right post template to share information. To write your first Google Post, log in to your Google My Business dashboard, and from the left menu, choose Posts and then go to 'Add Update'.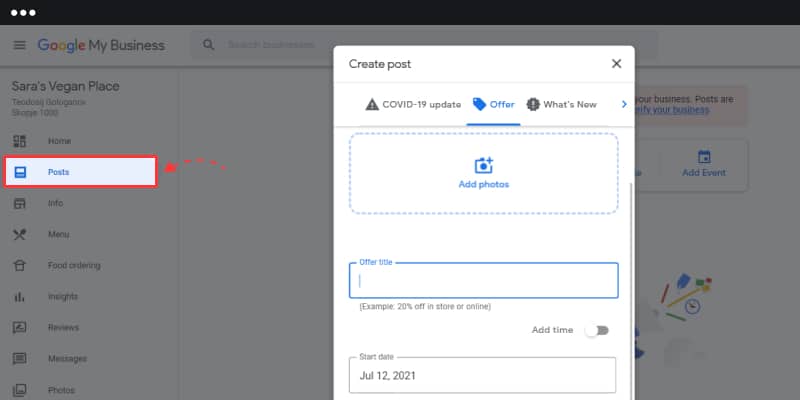 There, you will need to fill in the following:
Add a Google post photo with a rectangle size such as 800px x 600px or a 4:3 ratio
Write a post that can be from 100 to 300 characters
Choose a call to action button: Book, Order online, Buy, Learn more, Sign up, Get an offer
You can preview it, and if it looks good, click Publish
That's it.
Now, you might ask …
How will people see my Google Posts?
After you publish your Google Posts, it will immediately appear on the right-side panel (Knowledge Panel) in the Google search results when people search for your business.
Here an example of how our Google Post looks like in the Google search homepage results: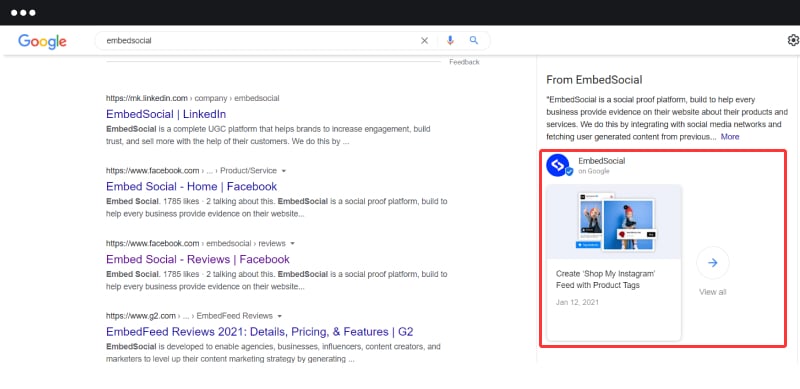 Here are a few more facts you need to know about Google Posts:
You can publish up to 10 Google posts
If you have multiple posts, they will be displayed as a carousel in the Knowledge Panel
Get analytics: Views (times your post was seen) and Engagement (times a customer clicked your button)
Google Posts are removed after 7 days, except for event posts that will be removed after the event date.
4. Get More Google My Business Reviews
I mentioned Google reviews a few times.
And here is why.
Reviews are one of the biggest indicators for Google to rank your location in their local listings.
With positive reviews posted by your customers, you can easily differentiate from your competitors in the Google local search and also potential customers can get a real insight into the quality of your offerings.
So basically when people search for keywords in your industry, especially when searching in Google Maps, Google most definitely highly considers the rank based on your average rating and the number of reviews.
Similar like to other review sites, one of the best practices to get Google reviews is to let your customers know that they can do this. And just ask!
This is proven by the 2017 Local Consumer Review Survey by BrightLocal:
"68% of consumers left a review after a local business asked them to"

Local Consumer Review Survey by BrightLocal
Sharing a simple link to your Google reviews form can initially get you the first reviews on Google. To get the Google My Business reviews link,
Type your company name in Google search and follow these steps:
In the Profile section, click on Get reviews
Please copy the link from the popup and share it with your customers.
Here is an example of this link:
https://g.page/r/CfO4tqbmA5_lEBM/review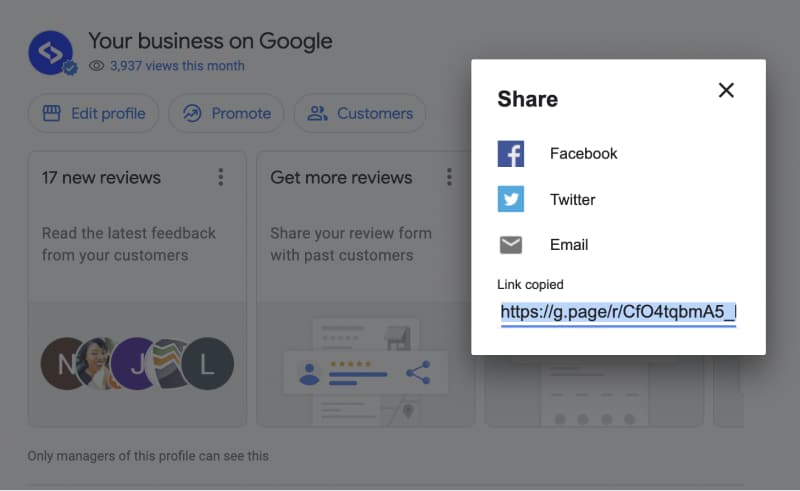 Follow this detailed tutorial on how to create a Google My Business reviews link.
To start collecting Google reviews, you can do these simple actions:
Send emails with the review submission form to your customers.
Share this link with other social media profiles.
Create a "Leave a review" button on your website.
Print a QR code with the link in your menus or fliers.
Create a campaign to incentivize customers to leave reviews.
5. Respond to Google Reviews
As your Google My Business profile starts collecting new reviews, you will need to consider a strategy for handling these customer reviews or answering questions posted in the Q&A section.
This means that you need to be proactive, prompt, and responsive.
So basically, your online reputation and rank will strongly depend on how you as a company will handle and respond to the Google reviews posted by your customers.
First, ensure the email you used to create My Business Account is always on. Or assign a person to your team and add him as a manager.
By doing this, you will make sure that you will never miss a review in your Google business profile manager. Every time somebody posts a review about your business, Google will send you an email notification.
Once you log in to view the review, you can respond to it by following the official user content rules.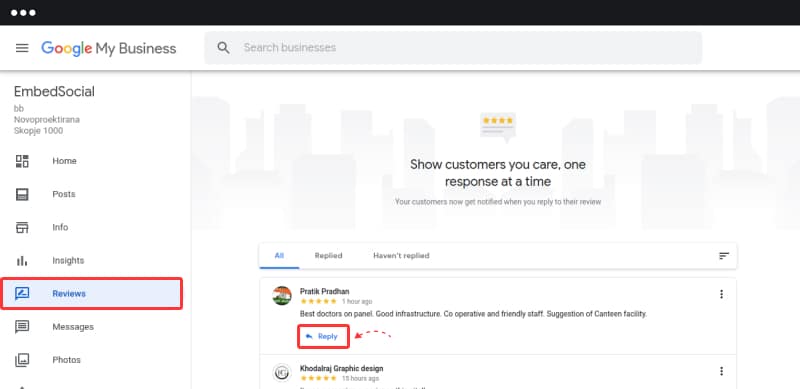 So, to respond to a received Google review, just click the 'Reply' button below the review and type your message.
That's it.
You can do the same by downloading the official Google My Business app on your mobile devices, where you will get direct notifications for all new reviews people post on your profile.
Please note to pay special attention to the negative reviews.
Unsatisfied customers can literally break or make your business.
You will need to have your customer team or a person dedicated to understanding, analyzing, and responding with details to every single negative review.
These negative reviews will definitely happen, so make sure to respond in order to handle negative reviews with greater success.
Believe me, you will wake up one day, go to work with a big smile, and boom! You might get a negative review.
If the review is not according to the Google content rules and is simply fake, you can flag it as inappropriate and Google will delete and remove it.
Here is how to flag a Google review:
Log in to your Google My Business account
Navigate to Reviews
Find the review and click the 3 dots in the top right corner
Click 'Flag as inappropriate'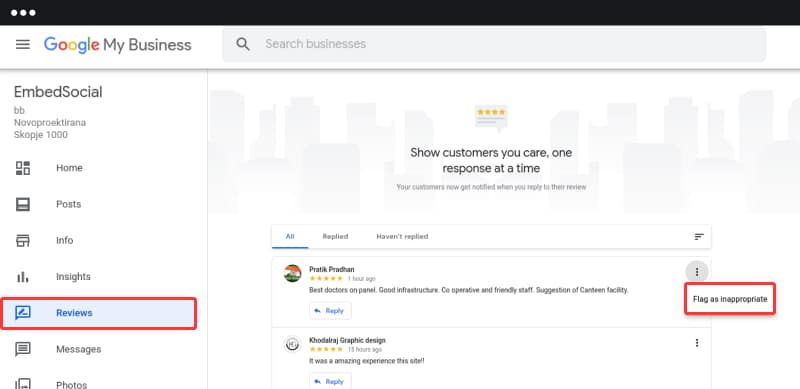 For more details read the full guide to flag inappropriate Google reviews.
Why are my Google reviews not showing?
Sometimes there can be problems with Google showing your customer reviews. And you'll ask yourself, "Why can't I see my Google reviews"?
But don't worry; many local businesses experience some of the issues.
Here is a list of the most common "Google reviews not showing" reasons:
Google disabled reviews temporarily – Sometimes Google decides to disable the reviews due to some reason. That was the case last year when the COVID-19 crisis started. If you still have this issue and your reviews are still not showing, contact the GMB after the COVID-19 guidance page.
Outdated listing information – Having an inaccurate listing can easily push away potential customers and reduce your chances of getting new reviews. So, go to your "Info" tab in your GMB account and update your current business information.
Inactive listing – Having an inactive listing will damage your reputation on Google. If you haven's shown any activity in a while, Google can receive a sign that your business is not active anymore and can revoke your verification status. Usually, they'll send you a notice before. But if you miss this warning from them and then become unverified, contact customer service right away before trying anything else at risk of losing your ranking altogether.
Brand new listing – When you're new it can be hard until you start engaging with new customers and the potential ones can see your reviews. It may take a while before Google starts showing off a full set of your online reviews. And this is the right time for you to start asking your customers to write you reviews.
Duplicate listings – You may notice that your Google reviews are disappearing. That's because there might be a duplicate listing. And your reviews are shown on a different account that you don't own. You can check for these duplicates by visiting Maps on the web or in mobile search, type in the business name or address, and see if any other listings pop up. You can report these locations to resolve this issue.
Changed location – If your business remains the same but changes location, Google should move your existing reviews to the new location. But sometimes it may not do that automatically. You can report it as a problem to Google and re-verify your listing.
6. Bonus Tips on How to Use Google My Business After Covid-19 Crisis
During the pandemic of Covid-19, most businesses were or still remain closed until further notice. These are businesses that heavily depend on actual foot traffic and people physically visiting their premises.
In order to reflect this new normal, business owners can use Google My Business to share updated and accurate information for their customers in these formats:
post about the updated working hours
post about options for delivery or pick-up
post about the safety and hygiene measures you're still taking
enable direct messaging via Google My Business apps
pay attention to managing your reviews more than ever
These are some of the things you can do to get closer to your customers and successfully come stronger after the coronavirus crisis.
Frequently Asked Questions
How do I see Google business reviews?
The best way to see your company's reviews is to log in to your profile and click on the left-hand Reviews menu. You will see all the published reviews on your Google profile on the Reviews page.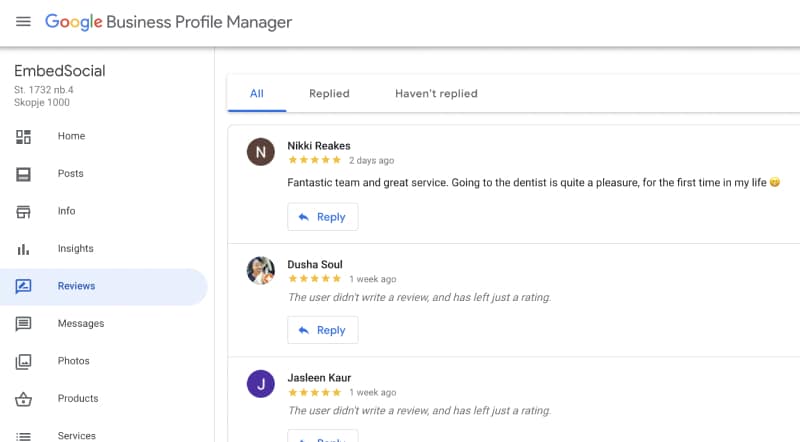 Is Google My business free?
Yes. You can create and manage Google Business profiles completely free.
How to remove bad reviews from Google my business?
You actually can't delete a bad review by yourself. But you can use the 'Flag' option to report a review that violates Google's community standards.
How do you download my company's Google reviews?
There is no free option in Google My Business Profile. But if you use a service like EmbedReviews to generate all your Google reviews, then there is an export to CSV option that you can use to download all the generated reviews.
Do Google reviews help with the ranking?
Yes. One of the factors to rank a local result is the proximity of the business and the number of reviews, which means that businesses that have more Google reviews rank higher than other similar businesses in the area.
What kind of business information can you add to your Google business listing?
You can add a wealth of information to your Google business listing to make it more comprehensive and helpful for potential customers.

This includes your business name, location, contact details (phone number and email), business hours, and website link.

You can also add photos to give people a visual idea of your business, products, or services. Additionally, you can share updates and posts, respond to customer reviews, and even add special attributes like if your business is women-led or offers outdoor seating. Remember, the more complete and up-to-date your information, the better it is for your online presence.
What is a Google Knowledge Panel?
A Google Knowledge Panel is an information box that appears when you search for entities (people, places, organizations, things) that are in the Knowledge Graph. It provides a quick snapshot of information on the search topic, which could include aspects like a brief description, photos, and key facts.

For businesses, the Knowledge Panel can display information such as the business name, location, operating hours, and customer reviews. It's a valuable asset for improving your business's visibility on Google.
Next Steps
Once you have your Google Business Profile up and running, you should focus on continuously updating the information by posting photos or just posting news with links to your website.
By doing this, you are increasing the possibility of being easily discovered in the local search, which will lead to increased conversions due to the intent-driven nature of the search.
Additionally, you can display the Google photos posted by your customers on your website and provide social proof about your service.
Similarly, you can embed Google reviews on any web page and literally use the user-generated content on your Google My Business account to make your website more trustworthy.
FYI: You can embed Google reviews widget automatically with EmbedReviews platform. Start a free trial and display your Google reviews now.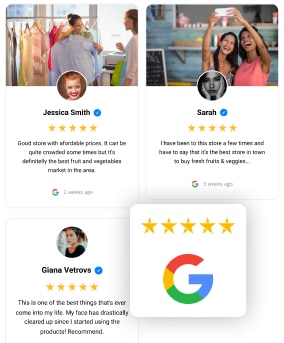 Generate & embed your Google Reviews.
Try EmbedReviews, generate Facebook and Google reviews, and display social media reviews widgets on your website. Automatically and in seconds.
All PRO features | Cancel any time.