The days when a brick-and-mortar store was enough to make your company successful are long gone. With so many consumers turning to their phones and tablets as their primary way of doing shopping, it's time for you to get on board with positioning on search engines.
Today, most people turn to Google when looking for products or services they need. With so many websites out there competing with yours, if you're not optimizing your site and using best practices like local SEO techniques, then getting found would be difficult.
If you are looking for a way to make your marketing efforts more successful, then read on.
Local SEO Fundamentals
What is local SEO?
Local SEO is the process of optimization of your website with the goal to be easily founding local search results.
The process mainly includes tactics like optimizing Google My Business listing, optimizing for local keywords, and managing online reputation.
Why is local SEO important for local businesses?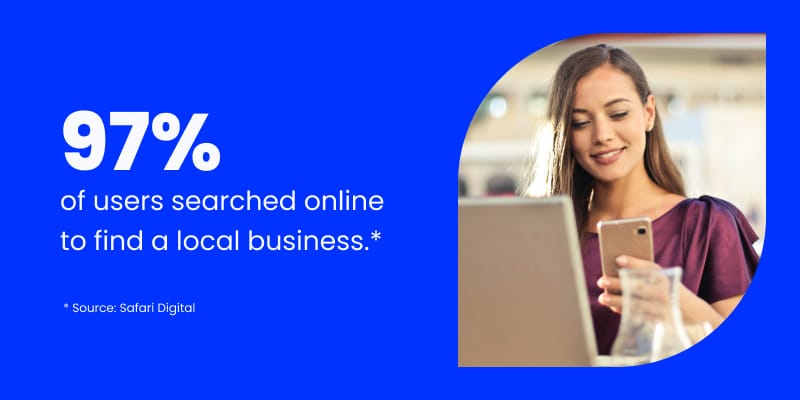 We live in a digital age and people are consulting the internet before they look for a product or service near them. And they want fast results. That's why most of them use local searches to find places near them?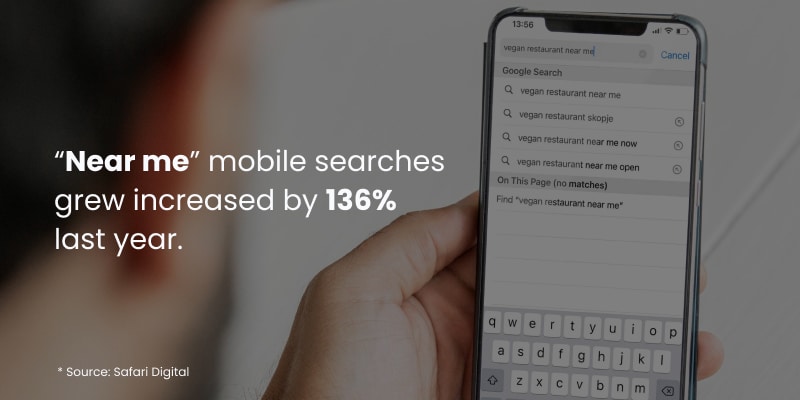 "Near me" and "buy now" phrases are becoming more popular day by day. You need to make sure to implement local SEO best practices if you want your business to be found online and visited at a physical location.
How does it work?
The term you should get familiar with is Google Local Pack. And its algorithm has its own way of ranking businesses on the local SERP.
This is the top section of a Google search that highlights three local businesses related to your query and can be incredibly useful for mobile searchers looking to quickly find nearby products or services without clicking through any websites. It gives Google Maps results.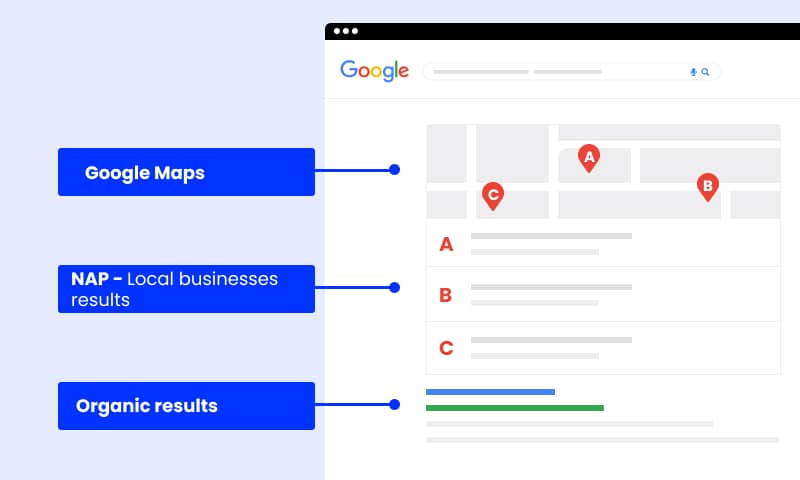 This is also called the Map Pack. And underneath the top three results, users will see the organic results.
Ideally, one of these three positions will be reserved for your business, and it'll appear on the Map Pack. 
So if you hope your business to be found in your local area, you'll have to pay great attention to the ranking signals, which we'll discuss in the following chapter.
Local SEO Ranking Signals
Top ranking signals
1. Google My Business
The number one ranking signal for small businesses is having a well-optimized local listing on GMB.
That's why we dedicated a whole chapter on how to optimize your GMB listing.
2. Online business directories
Having business profile listings on other directories and local sites like Apple Maps, Bing, Yelp, and Foursquare will positively impact your appearance on the results pages in your service area.
3. Review sites listings
Pay attention to other review sites that are important for your industry. Being present will increase your online visibility which will make you the local search engine's favorite.
You can check here the most important industry-based review sites you shouldn't miss.
4. Online reviews
Having positive reviews is crucial for the business. So, you should focus on collecting more positive Google reviews. But remember that it's against Google's policies to offer something in return for reviews, and you may face the consequences.
Also, Google pays attention to the way you manage and respond to your reviews—especially the negative ones. So, make sure to reply to unsatisfied local customers. It will not only improve the user experience but will also help your positioning in the organic search.
5. Consistent NAPs
Right off the bat, Google wants to ensure they are providing accurate information. Ensuring that your business name, address, and phone number are exactly the same across all listings makes it easy for customers to connect with you when online.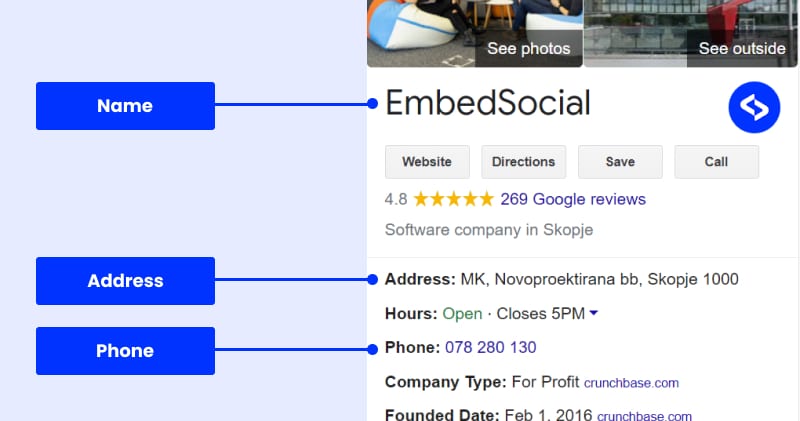 6. Mobile responsive website
In the indexing process, Google first crawls your mobile site's version, then the desktop. Since people are using more mobile searches these days, Google wants to make sure that you're optimized for mobile.
You've probably set this by now, but if you haven't, you can run Google's mobile-friendly test.
Other ranking signals
1. Structured data markup
Google will favor you if you use structured data markups like:
Working hours
Addresses of multiple locations
Menu of products or services
GPS coordinates
2. CTR of organic searches
Apparently, the click-through rate is one of the ranking factors. As a part of your local SEO strategy, you should pay attention to the meta descriptions and title tags.
That's how you'll attract potential customers to click on your result which later would lead to higher positioning.
3. Keyword research optimization
Optimizing for local keywords is important. You should research which keywords are popular for your industry and local area and optimize your content marketing efforts for them.
Of course, you can't miss keywords like "near me" and "buy now".
4. Local citations
Local citations were in the top SEO tips earlier. These days they are not as important as they were.
But you don't want to be the only local business in your industry that it's not mentioned across the internet, do you?!
5. The domain authority of your website
According to Moz, the domain authority (DA) of your website is one of the ranking factors you should pay attention to. Link building can help you increase your DA.
So, think again about building some backlinks and local links as a part of your search engine optimization strategy.
How to Improve Local SEO?
Optimize Google My Business
Set your GMB page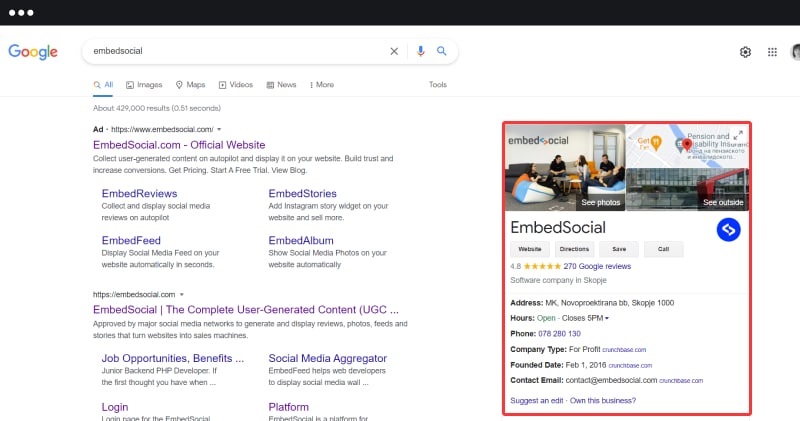 When it comes to your digital marketing strategy, optimizing your listing for search engines and searchers is always a great opportunity.
The first thing you should do is create and verify a Google business page for your business. It's easy and it's free.
You can check our step-by-step guide on how to set and optimize a Google My Business account.
Here are some quick tips you can use to optimize your listing on Google:
Insert appealing profile and cover photos
Have the latest business information about your business name, phone number, multiple addresses, website URL, and operation hours
Chose the most relevant and accurate business category
Post some photos of your business
Pay attention to collecting and responding to your reviews
Use Google posts
Collect, respond, and manage your Google reviews
Feedback is everything when it comes to how your customers experience you.
Positive reviews can help set you apart from competitors in Google Maps and increase your chances of being found by potential new clients who are looking for a business like yours.
When people search, they see the average rating stars beside a business's name on their map listing — which means that quality feedback could impact whether or not somebody lands at yours.
How to manage your Google reviews?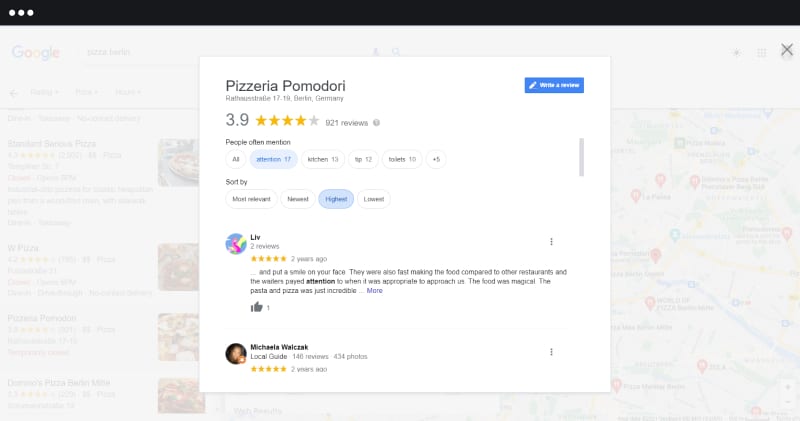 Google My Business is a great way to share your business with the world and attract new customers. However, if you are not paying attention to how people feel about your company online,, chances are they will find out what others think of it too.
Here are some tips on successfully managing reviews: firstly, monitor them daily as well as respond in the best possible manner when addressing negative ones, which can be tricky but necessary. 
No worries if you don't have a review management strategy because we're here to help.
How to respond to any Google review?
As we said, you shouldn't ignore your customers' reviews. To help you out, we're dropping the main tactics you should use when responding to each kind of review.
For more profound management, check our guide on Google reviews management.
How to respond to a positive review?
Marketers and business owners must know that showing customers gratitude is very important. Saying a simple "thanks" can significantly improve your reputation in your customer's eyes and local search ranking.
How to respond to a negative review?
Closing your eyes to negative reviews will not solve anything, so it is better for you and your company if you respond.
The best way to turn unhappy customers into loyal ones is by responding politely with a genuine apology or explaining why their issue may have occurred.
I know it's hard to put a response together in this situation, but I'm sure you'll find a suitable template in these bad review response templates.
How to respond to a neutral review?
People are often confused when they read a review that says "neither good nor bad" because it can be difficult to tell the person's opinion of your business and products. Neutral reviews range from positive to negative, which makes them hard for businesses and customers alike.
In this case, show your thanks for the positive moment and try to ask and understand why the negative segment happened. And don't forget to offer to make things right.
Our Google reviews guide will get you everything you need to build and keep an outstanding reputation (and position) on Google. So make sure you have it in your hand.
How to collect more Google reviews?
You already know that it's not easy-peasy to have great reviews. But that doesn't mean you should wait for the reviews to roll themselves to your GMB account.
Instead, you can use several outreach strategies, such as:
How to Optimize on-page SEO?
Now that you've set up your Google My Business listings, it's time to optimize your website. Many tools out there, like Google Analytics and SEO tools can help you make an audit and find which parts of your website need optimization.
Let's take a look at the best practices.
Create unique content
Having unique content is essential, and it's not something you don't know yet. 
But when you're a multiple locations business, you must be careful with the content. Every POS you have has its local marks and you have to optimize your website content for the local keywords, include local links, and even have an active presence on social media. 
Do your local market research and find every need and anxiety your customers have so you can adjust your content for local searches and SERPs.
Use schema code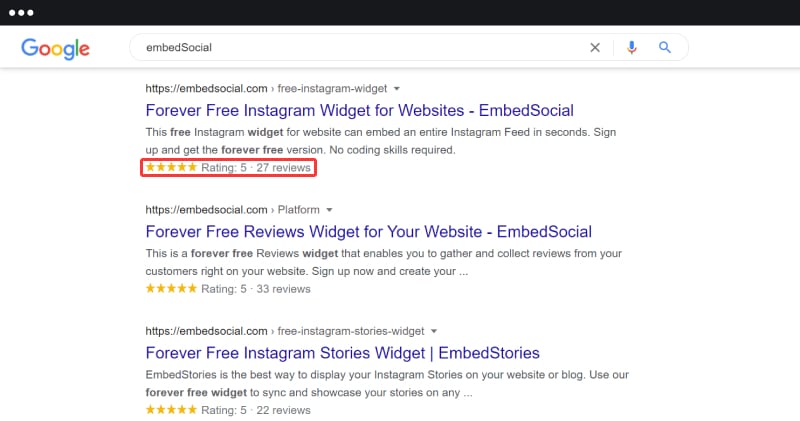 Well, the schema code gives you those little stars and review counts next to your website link in the organic results. They represent the aggregated rating of your business. 
Having this aggregated rating helps you in several ways:
Increases visibility and trustworthiness
Helps in local SEO performance
Increases your chances for higher CTR
It reflects Google Maps as well
You can use this SEO snippet tool and get your stars right now.
Pay attention to the title tags and cliffhangers
As I said before – having well-optimized title tags in the local search results will encourage users to click on your results.
Make it a practice to use clear title tag cliffhangers and the right tags.
Let's clear this up. H1 tag is not the same as the title tag! The title tag is what actually reflects, and it's visible on the SERP. H1 tags are visible only on your website.
The title tags are what visitors see, and search engines rely on for information about a page's content- so make them count. 
Also, do NOT exaggerate with the title characters. Google has a limit and will cut off your long titles with three dots which is a poor user experience and doesn't lead to clicks.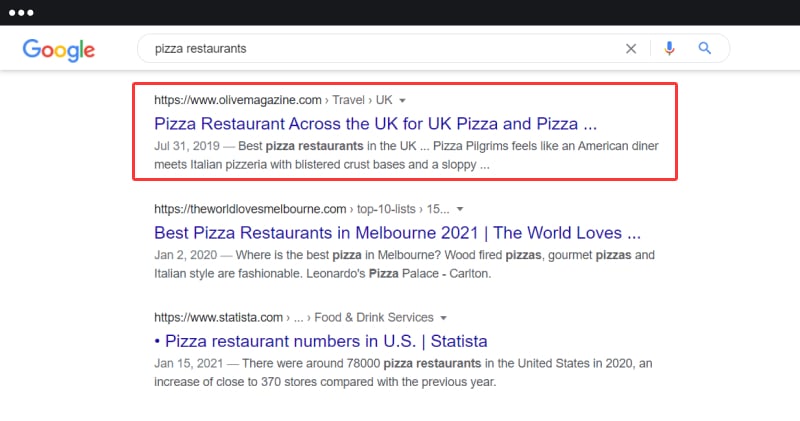 Containing more words than the Google limit (that's 500-600 pixels or 50 characters) gives you an edge in attracting clicks from human visitors and algorithms looking at their respective rankings. So make sure you pack up your title within that limit.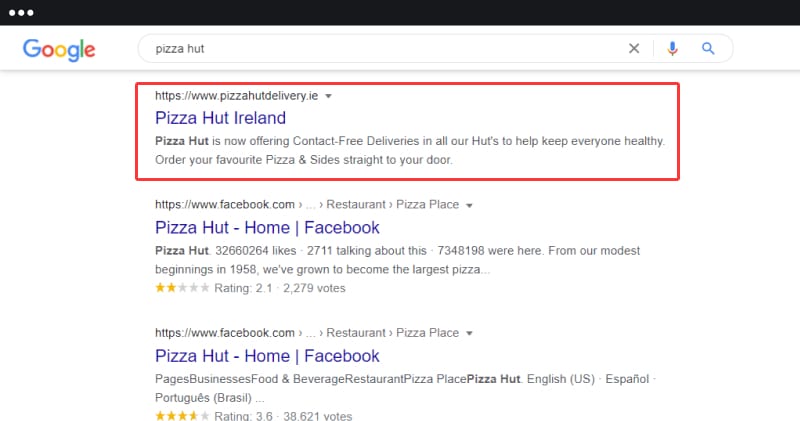 Types of Content to Boost your Local SEO
Location-based landing pages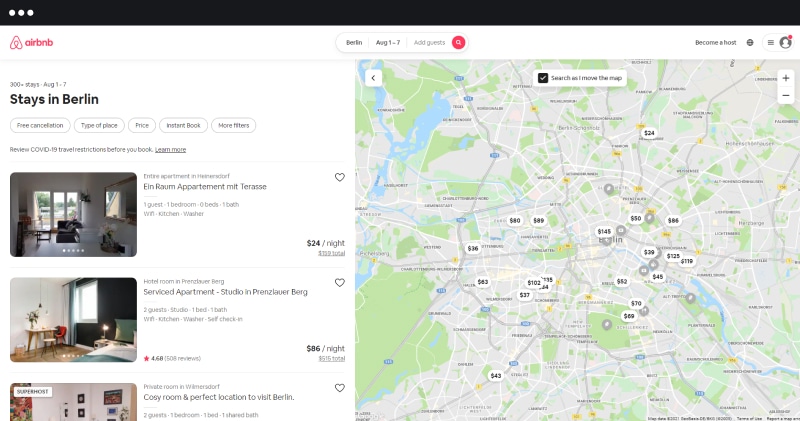 As I mentioned, having location-based content is a must to get your local SEO on point.
To achieve this you don't need to create multiple websites for each location. It's enough to create a dedicated location-based landing page. 
Blog
Having an active blog really helps local SEO for small businesses.
This will give you an advantage in positioning as the first to know it all in your industry in your city.
You can use the blog for industry novelties, tips & tricks, product releases, case studies, and everything you can think of.
FAQ page
With voice search becoming more popular, FAQs are becoming a top priority in local search engine optimization.
When searching by voice, customers are actually saying a whole question out loud. The search query is the question.
Think about having a dedicated FAQs page in which you'll list all the frequent questions you may think your users will need answers to.
Local events landing page
You can partner with or host local events and increase the value of your brand.
If you have this as a part of your overall business strategy, it's a good idea to create a dedicated landing page to promote and update about the local events in your city.
Press pages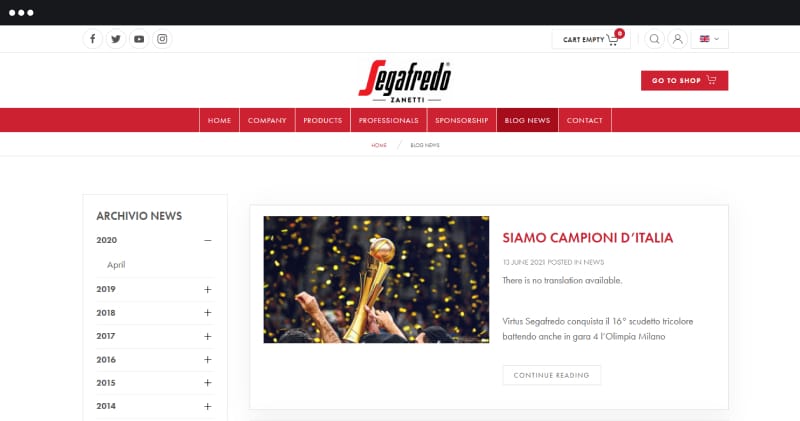 A page with the industry and your business novelties can make your website an everyday stop-by for your current and potential customers.
Don't you want to be the first one to spread the news over the place?
Advanced Local SEO Strategies
The one advice I'll give is ALWAYS to go that extra mile. That's why I included these advanced local SEO strategies – to help you stand out.
Embed a Google Map on your website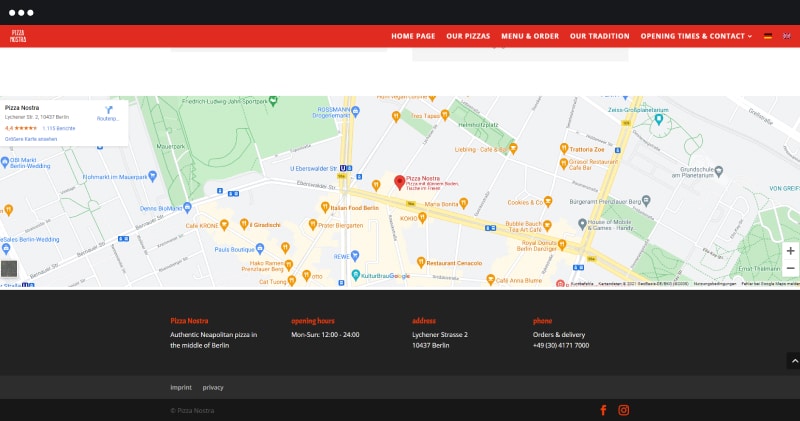 Sometimes people will go straight to your webpage and search for info and location there.
Having a Google Map on your website will give a more clear picture of where you're located. That way you don't risk losing their patience and bounce from your webpage. And in the same time, you increase the chances of them visiting your physical location.
You can pick up the code by just signing in to your GMB account and click on the "Share or embed map" button. Just copy the code and paste it on your website.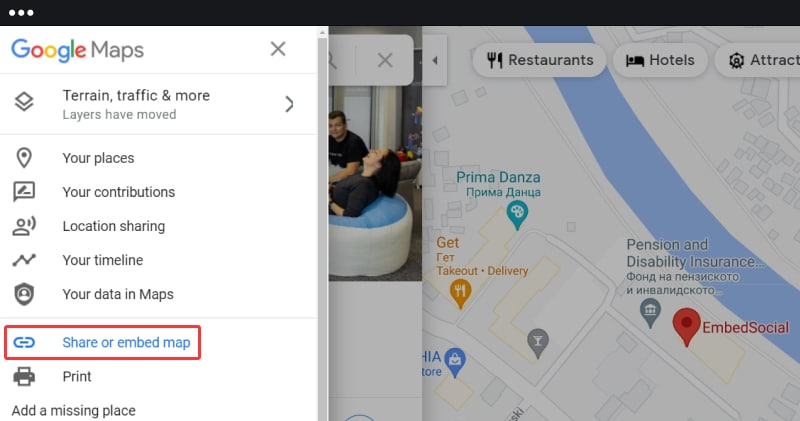 Place the local keyword above the fold
The local keyword has to be on point. Make sure to place it on top of your page and wrap it in an H1 tag to make it more outstanding.
When the user lands on your page the top of it is what they see in the first 2-3 seconds. That time is crucial to grab their attention. That's how they'll be sure they found the place they were looking for (or even a better one).
Embed Google reviews on your website
An outstanding tactic is to embed a Google reviews widget on your website. A fancy widget of your best reviews will strongly encourage your customers to leave their feedback too.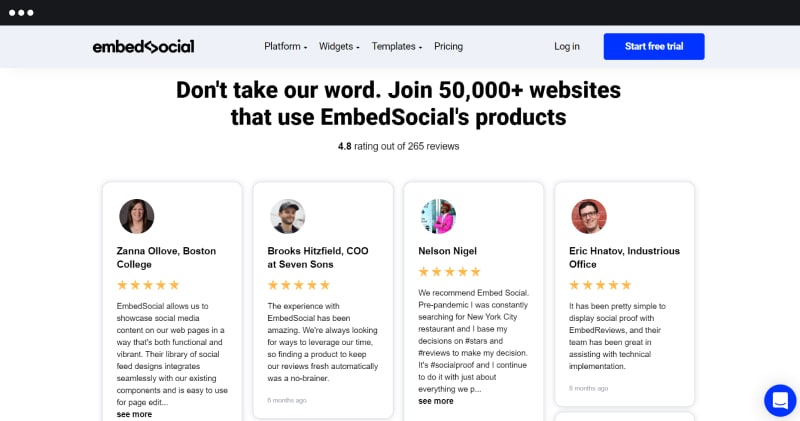 At the same time, publishing them will raise your reputation and give trustworthiness to your brand. 
Luckily for you, there are Google reviews aggregators that can do the work for you.
Use social media marketing
Integrating social media platforms like Facebook, Twitter, LinkedIn, and Instagram can bring you benefits in local SEO efforts.
Here's how.
Cross-promotion can cut your expenses and give you more online visibility and free mass publicity at the same time.
For example, combining Facebook recommendations and Google reviews on your website will give an impression that you're an accurate and modern business that fans all over the internet simply love.
The Future of Local SEO
Technology and the digital world evolve every second. Google's algorithm is constantly changing and adjusting, and we should be prepared to reconstruct businesses to suit customers' needs at the time.
I hope this guide and its strategies and tactics will help you rock in your local business field. 
Try it out, and don't forget to drop a line about how it went for you!
FYI: You can embed Google reviews widget automatically with EmbedReviews platform. Start a free trial and display your Google reviews now.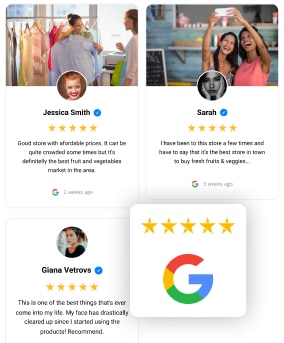 Generate & embed your Google Reviews.
Try EmbedReviews, generate Facebook and Google reviews, and display social media reviews widgets on your website. Automatically and in seconds.
All PRO features | Cancel any time.