Have you noticed a sudden and sustained drop in engagement and reach on your Instagram account? If you're reading this guide, you're probably frustrated and desperate to get your account back on track.
However, there is no need to worry; in our guide, we will cover everything you have to do so that you can reclaim your Instagram presence and get "the numbers back on track."
Here's everything we will cover:
What is Instagram Shadowban?
The term Instagram shadowban refers to a situation where an Instagram account experiences a sudden and unexplained drop in engagement, reach, or visibility on the platform. This is believed to be a result of Instagram's algorithms limiting the visibility of certain content or accounts, without notifying the affected user.
Most social media platforms have similar self-regulative mechanisms based on community guidelines that become active when accounts post content that violate these standards.
What does this mean?
Followers are not seeing your posts – and on your end, you will notice a huge drop in engagement (likes, comments, and shares) and visibility (reach). This can happen to both business and personal accounts.
You may be experiencing the effects of the elusive Instagram Shadowban, a sneaky tactic that limits the visibility of your posts without any notification. While Instagram's team and Adam Mosseri deny the existence of shadowbanning, the drastic drop you're noticing is a sign that you may have fallen victim to it.
Even though Instagram does not officially acknowledge shadowbans, many users and social media experts have reported experiencing them. Here is an example of how shadowban looks in the Instagram insights, reported by a user on Reddit: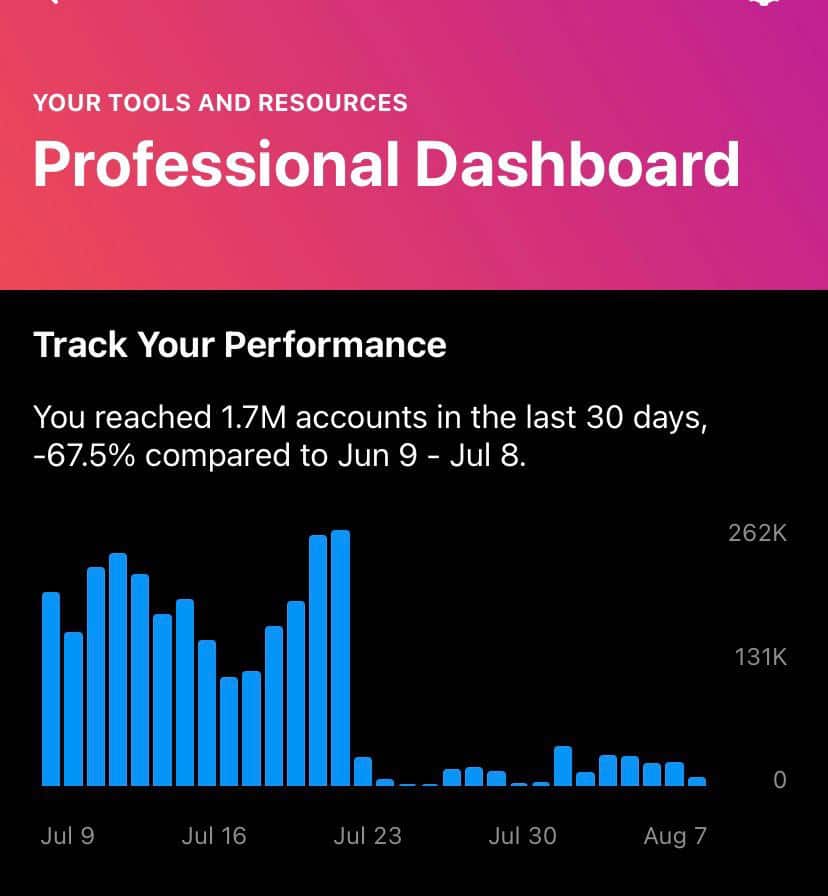 Although Instagram might have a valid reason to do this (and we will go into the reasons in a bit and how to fix it), the tricky part is you won't get notified about it.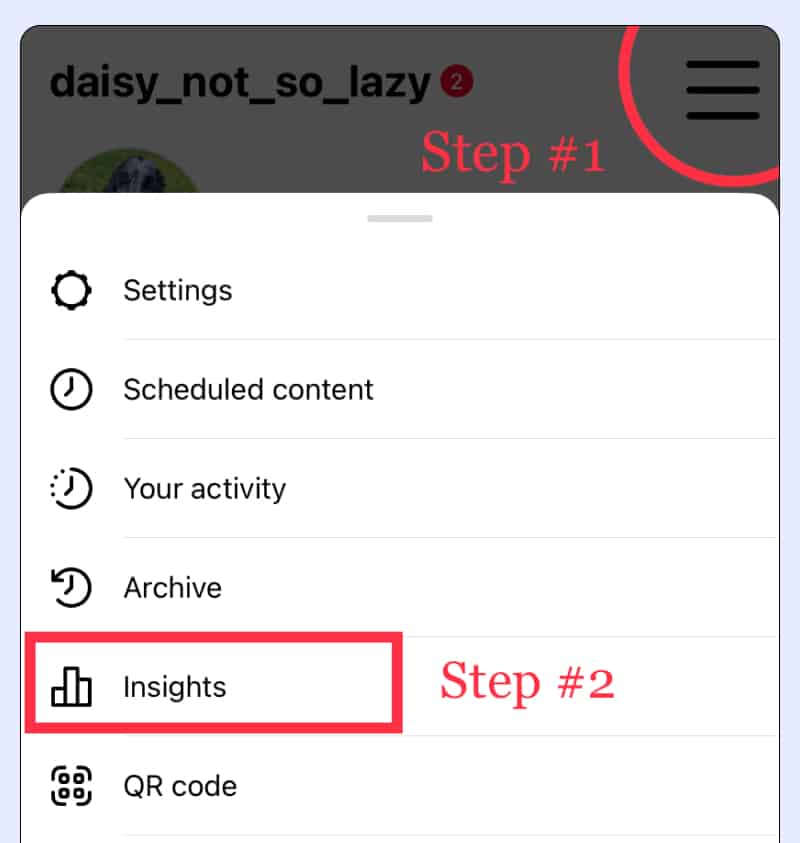 From there, you can check the data for specific days and analyze the trend. Instagram helps you do this by showing you a percentage marked with red or green according to the trend, if it's positive or negative.
How to Remove Shadowban on Instagram
Now that you've realized you've been shadowbanned, it's time you take action and remove it.
Although it may seem scary, we've got you covered with all the steps you need to take to lift the shadowban from your Instagram profile.
Step 1: Revoke permissions for any unapproved third-party apps
One of the most common reasons for shadowbanning is using suspicious apps, so it's why we'll cover this first.
Employing software that violates Instagram's policy is a strict rule established by Instagram.
Regardless of whether we're talking about the usage of third-party apps or automated bots used to "help you with growth" (the ones that generate fake followers, comments, and likes), or apps that go through your followers and tell you who unfollowed you – you need to be very careful, and some of their usages is forbidden.
Remember that you might lose not only your visibility but also your account.
You need to check if you have any unapproved apps that might violate Instagram's guidelines.
Here's a step-by-step guide for business accounts in Instagram settings on how to revoke permissions to third-party apps :
Go to your Instagram profile and click on the three horizontal lines in the top right corner
From there, go to Settings.
Next, tap Security.
Lastly, tap Apps and Websites.
Revoke access to any third-party app.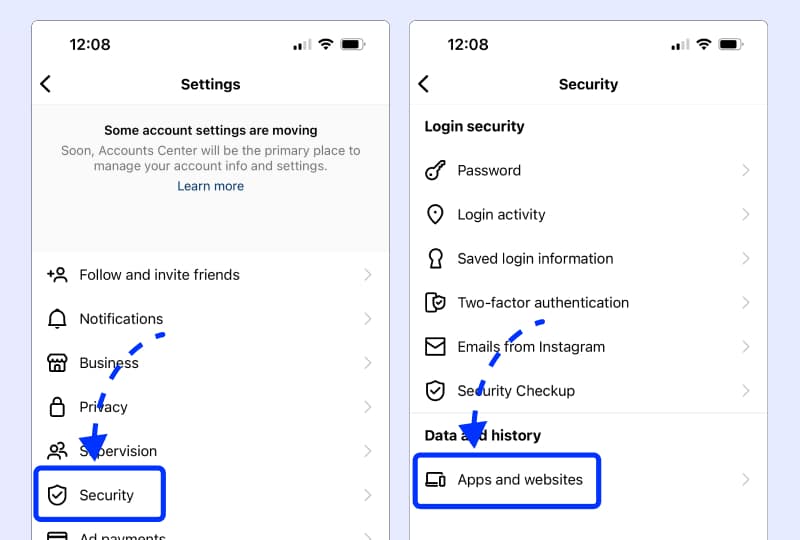 Step 2: Delete content that violates Instagram community guidelines
As a second step – you have to have a look at your content and remove any content that violates Instagram community guidelines.
Yes, we do know we're starting to get dull and tedious with them, but we assure you they are super important.
So make sure you remove any posts that violate Instagram's terms of service, such as hate speech, sensitive content, spammy content, or nudity.
Step 3: Delete banned hashtags
Another thing you could do when your account is shadowbanned is to delete forbidden hashtags from your profile and Instagram posts. We did mention how to double-check if a hashtag is banned (by typing it in the search bar).
Pro tip: make sure you do hashtag research in advance to know which hashtags to use and which to avoid.
Additionally, make sure you don't use too many hashtags per post or broken hashtags.
Step 4: Contact Instagram support
If you completed the previous three steps but still see no results on your business account, it's time you reach out to Instagram's support.
Here's a step-by-step guide:
Go to your profile and click on the menu icon in the top right corner
Go to "Settings"
From there, click on "Help,"; and lastly.
Report the issue and request assistance in removing the shadowban
How to Prevent Shadowban on Instagram? (8 Tips)
Now on to the few best tips and practices you must follow to prevent being shadowbanned on Instagram.
1. Follow Instagram's rules and regulations
The absolute simplest and best way to prevent Instagram shadowbans is to follow Instagram's rules and regulations.
Now although Instagram doesn't necessarily acknowledge Shadowbanned's existence, they do confirm that certain posts that disrespect community guidelines will be removed from the platform in order to keep Instagram an "authentic and safe place for inspiration and expression."
The official Instagram community guidelines are easy to read and understand. Here is a summary of the main points in these guidelines: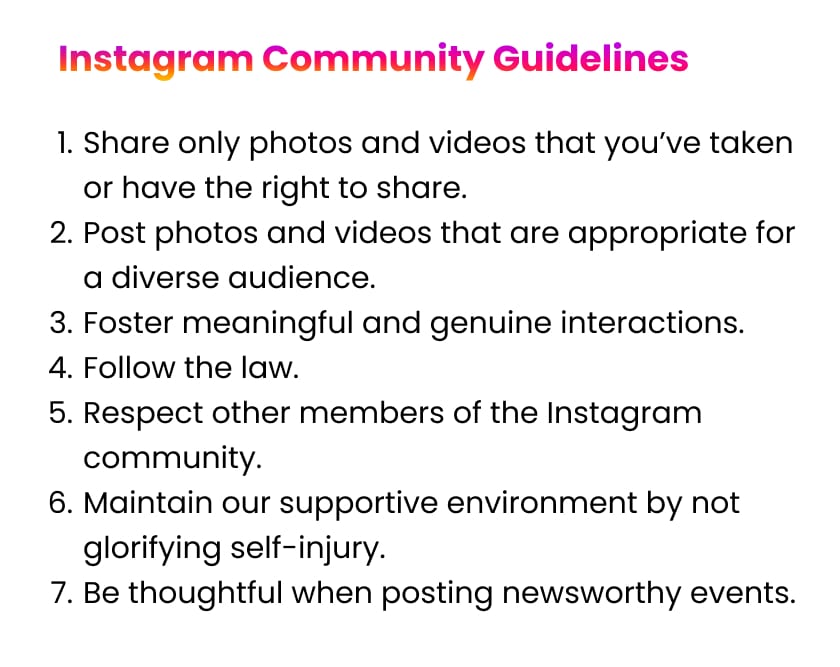 In short, Instagram will always "gravitate" towards making this social media platform an authentic and safe place for all people.
2. Avoid your Instagram account from being reported
Although you get no full control over this, there are a few things you pay attention to when it comes to "avoid getting reported."
Remember to:
Avoid posting inappropriate content or content that might be offensive or violate Instagram's community guidelines
Respectfully engage with your audience, and
Avoid spammy behavior, such as quickly responding and generating fake engagement with bots.
3. Remove apps that use Autobots
If you ever went "down this lane," – now that you're aware of the consequences, it's time you remove apps that use Autobots.
Tools of this kind are against Instagram's policies, and you could not only get shadowbanned but you could also lose your account forever. So, now it's the time to remove these third-party applications – and focus instead on growing your channel organically (by interacting with your audience naturally).
4. Avoid using banned or restricted hashtags
Banned hashtags are hashtags that, over time, got reported by users because posts using them violate Instagram's community guidelines (yes, it all comes back to respecting what Instagram's guidelines have to say).
In translation, these posts with certain hashtags contained inappropriate topics and content.
Using a banned hashtag is a "red flag" on Instagram's end, and it will result in getting shadowbanned.
So, before using any hashtags, do hashtag research, visit those hashtag pages, and double-check whether that hashtag is banned.
Something to remember – there is no list of banned hashtags created by Instagram (there are some unofficial lists where you can read them – but we highly suggest you do the research manually).
Pro tip: How to check if a hashtag is restricted?
Go to the search bar and type the needed hashtag.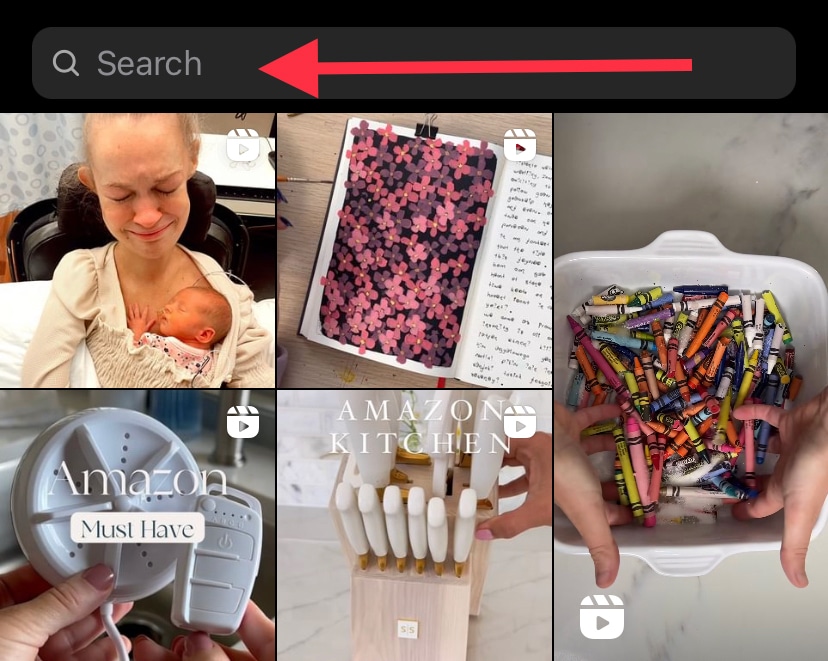 If the hashtag is banned – you will see the following message in the hashtag page:

=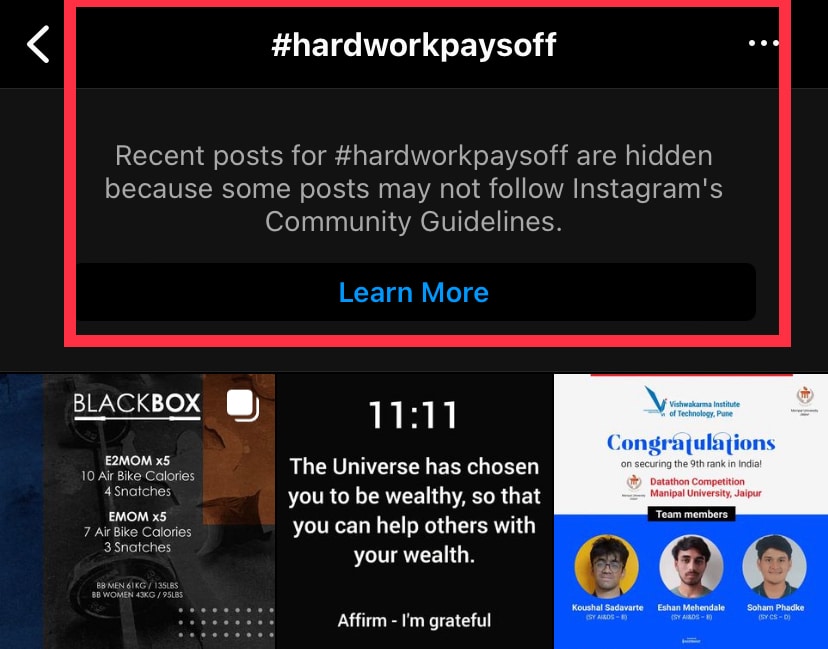 5. Post relevant, trending, and engaging content
Although this is obvious, we have to mention it at least because it's super important.
If you want to grow your Instagram profile steadily, post high-quality content that truly resonates with your audience. Besides creating relevant content, you also have to create trending and engaging content too.
Trending means you have to follow the latest trends so that you give your content a chance to go viral, too; and by engaging, we mean you have to encourage your followers to like, comment, and share since this is a main ranking factor for Instagram algorithm and Instagram SEO.
The bottom line is to stop posting problematic content that may lead your current followers to report your account and get Instagram shadowbanned.
6. Use a content warning when applicable
Whenever you post sensitive or graphic content, make sure you use a content warning so your account doesn't get reported.
Using a warning will literally warn your followers, so they could skip your content if they choose to, and by skipping your content, you might avoid getting reported since your content is sensitive or graphic.
7. Don't buy followers
Finally, our "how to prevent getting shadowbanned" is another common shortcut to "growth" that you should definitely avoid – buying followers.
Again, in order to avoid the risk of being shadowbanned, make sure you read Instagram's guidelines where they mention that this is a forbidden practice too.
8. Don't spam
And if you might wonder why this is a bad habit?
It is because it implies you might be using an automated bot to do all these actions. Because if you are a one-person managing an account, it will be practically impossible to do everything all at once, like follow 50 people in an hour, post new content, and respond to comments and messages.
So let's say it louder for the people in the back – avoid using automated bots and automating engagement at all costs because it might cost you an Instagram shadowban and lose your Instagram account.
This will also refer to using automated bots to publish too many posts in a very short period of time.
Instagram Shadowban Test
If you, too, suspect that you might be shadowbanned, here's how to double-check and know for sure (so that you take things into your hands and work on removing the shadowban).
What is an Instagram Shadowban test?
As the name itself states, the Instagram shadowban test is a simple test that will help you determine if you've been shadowbanned.
Here's a step-by-step guide:
Choose a unique hashtag that you haven't used before in your posts
Create a new post and use that specific hashtag
Wait a few hours until Instagram's algorithm "picks up" the post
Log out of your profile and switch to a different account
Search for the unique hashtag (with Instagram search bar)
Check if your post appears on the search page and explore page
If your post doesn't appear in the search results – it might mean that your profile is shadowbanned
Follow these steps, and you'll be able to determine if you've been shadowbanned or not in a matter of minutes.
Instagram Shadowban test online
Another way to check if you've been shadowbanned on Instagram is by using a tool.
These tools will provide you with reports on engagement and visibility; however, keep in mind they might not be 100% accurate nor 100% safe.
So it's not the option we'd prefer or recommend doing, and we will not share a test tool here until we are sure they work.
Check your account status
Another thing you could do is use the "Account Status" tool on Instagram.
Back in 2021, Instagram Adam Mosseri announced this new tool where people could get help and more insights about how to respect their guidelines. This tool is there to help you learn what you can post on Instagram and what you can do if your content violates their rules.
You can access this tool by going to Settings > Account > Account status.
Here's what the "Account Status" tool looks like + Instagram answering the most common questions about the "Community Guidelines".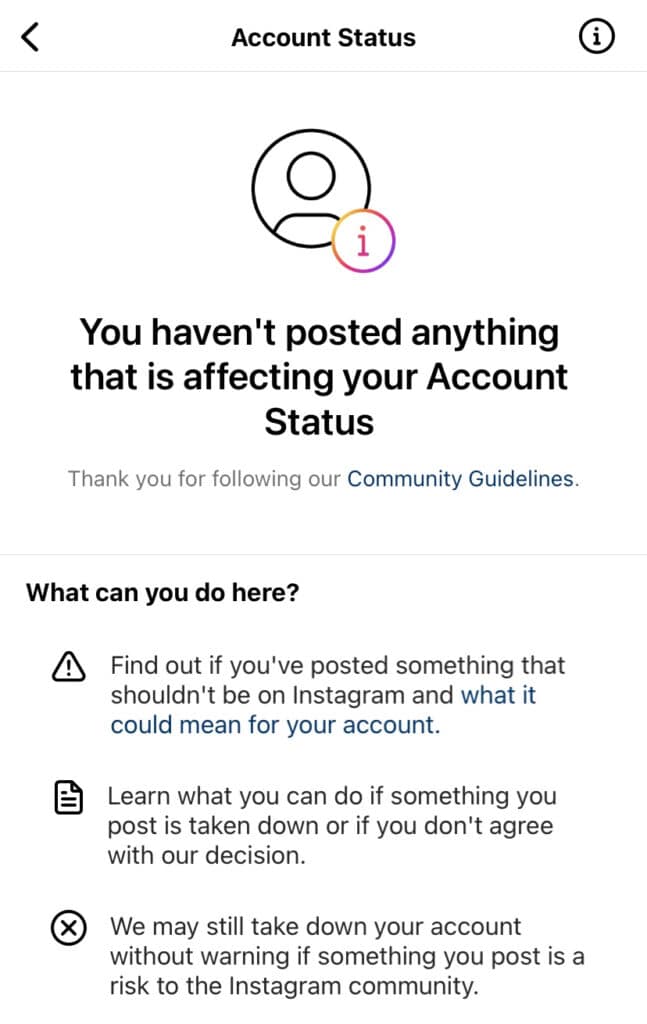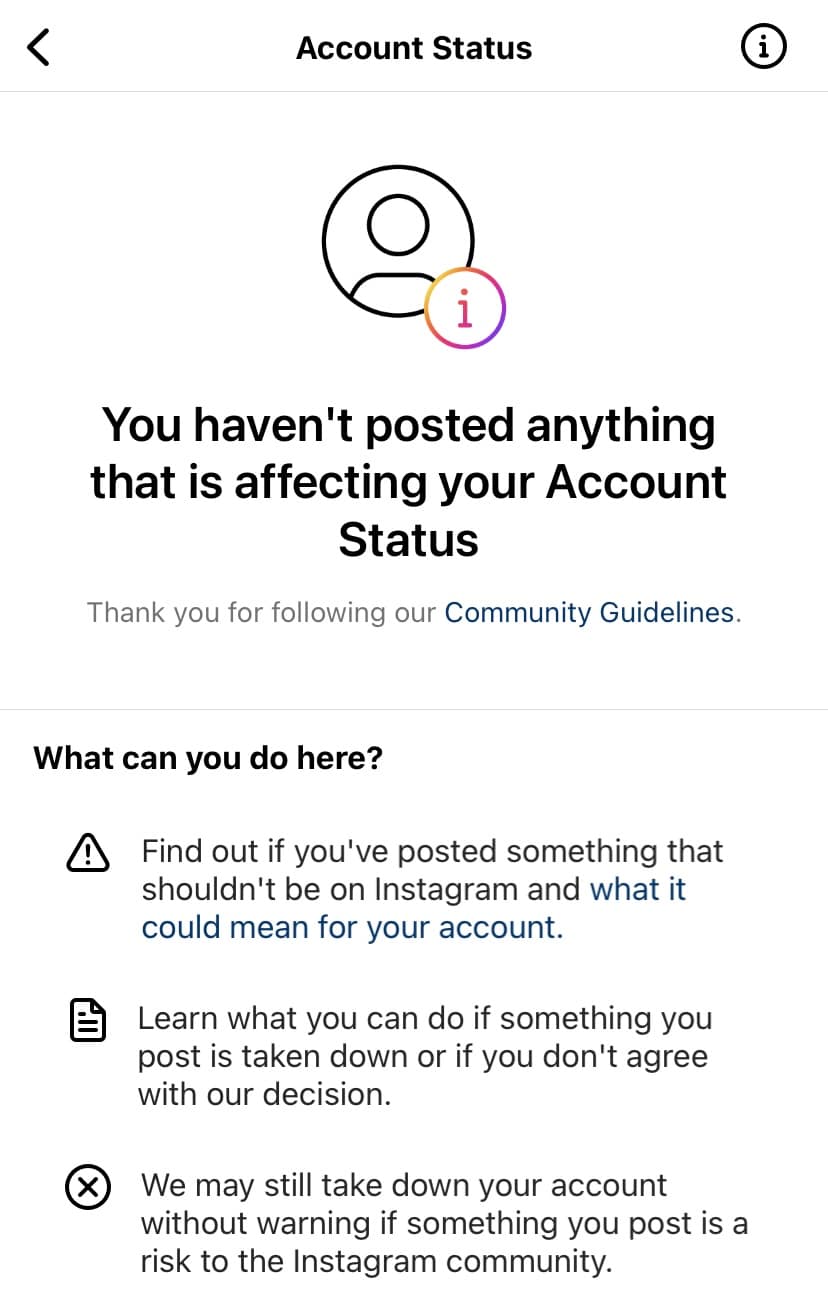 Key Takeaways
Many users think that using bots can increase their Instagram feed engagement or gain more users. Also, an Instagram bot activity is tracked by the platform and can be easily detected, which will lead to shadowbanning.
Being shadowbanned can be a discouraging and frustrating experience, especially after you've put in a lot of effort and time to grow your audience and create high-quality content.
However, you can prevent Shadowban from affecting your account by understanding its main reasons, respecting Instagram's guidelines, and following the best practices like doing proper hashtags research.
As a quick summary of the steps on how to get un-shadowbanned on Instagram.
Key steps to get unshadowbanned on Instagram:
Remove the post that triggered the shadowban.
Delete recent posts with hashtags to ensure they aren't causing the issue.
Take a break from posting for a few days to let the shadowban lift.
Review and improve your hashtag usage to avoid future issues.
Utilize Instagram Reels to engage with your audience and regain visibility.
Consider deactivating and reactivating your Instagram account as a last resort.
Boost engagement and reach by promoting a post strategically.
Good luck!
FAQs About Instagram Shadowban
How long does Instagram shadowban last?
Instagram shadowban can last between a few days to a few weeks. And if you don't do anything about it – it might be a permanent one too.
What are the main reasons for Shadowban on Instagram?
There are various reasons why Instagram shadowbans accounts, and in order to avoid falling victim to this frustrating issue, it is essential to understand the reasons behind it.

Here are the most common reasons why you could get shadowbanned within the Instagram app:

1. Violating Instagram's community guidelines
2. Frequent reporting of account
3. You've been posting, commenting, engaging, or following people too quickly
How can I avoid getting shadowbanned on Instagram?
We did mention seven tips above – but the most important one would be to – always respect and follow Instagram's guidelines.
What are the main community guidelines?
We've pulled the most important parts for you; here's what you need to avoid:

1. Share only photos and videos that you've taken or have the right to share
2. Post photos and videos that are appropriate for a diverse audience (this means avoiding posting nudity)
3. Foster meaningful and genuine interactions (this means avoiding artificially collecting likes, followers, or shares, or posting repetitive comments or content – or said avoid using bots for automating engagement)
4. Follow the law (this means avoiding supporting or praising terrorism, crime, or hate groups; or selling illegal services/products such as alcohol, tobacco, or sexual services).
5. Respect other members of the Instagram community (or more specifically – avoid using hate speech, posting content that targets and shames private individuals, blackmailing, harassing someone, encouraging violence, attacking someone based on their beliefs, or even sending repetitive, unwanted messages.
6. Maintain our supportive environment by not glorifying self-injury
7. Be thoughtful when posting newsworthy events (be careful when reporting important news because Instagram might shadowban you for posting content with intense graphic violence).1.
What can happen if somebody reports my Instagram account?
If users report your account repeatedly – that's a "red flag in Instagram's rule books". Frequent reporting can only mean you're posting content that's not appropriate or you're violating their terms. In this case, you could get shadowbanned on Instagram, or your account might be disabled.
Can I appeal for an Instagram shadowban?
We did mention Adam Mosseri, and Instagram denies Shadowban's existence. However, if you believe your content was mistakenly flagged, you can always reach out to them and explain the situation.
---
FYI: Embed Instagram widget automatically with the social media aggregator and UGC platform by EmbedSocial. Click below to try it for free: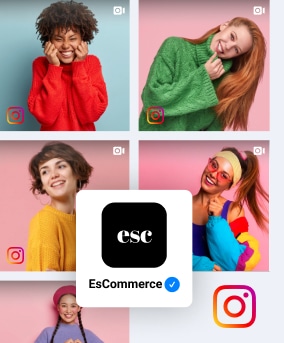 Embed Instagram widget on your website automatically!
Try EmbedFeed and display Instagram content from your feed, mentions, or hashtags on your website.
All PRO features | Cancel any time.