TikTok is one of the fastest-growing social media platforms this year, allowing content creators to build massive fan bases. They are the ones that create the latest TikTok trends.
More and more people, whether content creators or social media managers, choose TikTok for content creation because of its nature and pushing algorithm.
It's way easier to go viral on TikTok than on any other social media platform. Therefore, everyone wants to take advantage of it. TikTok videos are a kind of user-generated content that will help you skyrocket your growth stats.
If you want to post consistent content on TikTok and get fresh ideas daily, you should leverage the most popular TikTok trends and videos with which TikTok users prefer to engage.
---
FYI: You can embed TikTok widget automatically with EmbedSocial's UGC platform. Start a free trial and display your social media widgets now.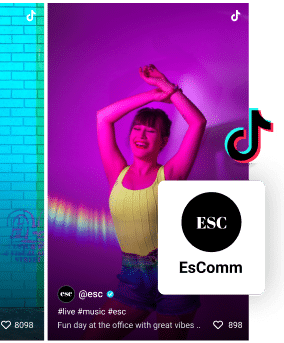 Show TikTok videos on your website automatically!
Try EmbedFeed and add TikTok videos, Instagram, YouTube or Facebook feeds to your website.
All PRO features | Cancel any time.
What are TikTok Trends?
TikTok trends are popular videos content creators post to keep pace with the momentum and get an organic search from thousands or millions of people on the platform.
Finding such viral trends can be quite challenging because it is not only about the content idea that users like.
The trending sound, hashtags, and video flow are also important factors for following the trends on your TikTok page. They will get you higher engagement rates from the audience.
If you don't know where to start and how to find the right TikTok trends, we will show you the most prominent ones for a concrete month, starting in April.
Let's check the latest TikTok trends together and see how to find them properly.
How do you find new TikTok trends?
Back in the day, to find a TikTok trend video, you just needed to open the For You page, scroll a couple of seconds, and find dozens of videos with the same challenge, song, or dance competing with each other for more views. Now, things are a little bit different but don't get disappointed because here is a list of the possible sources you can use on TikTok to find the most popular TikTok trends with ease:
Discover Page (For You Page)
The Explore Page on TikTok is a great place to start. It's where the platform suggests content based on your interests and the accounts you follow. You can scroll through the videos and see which trends are popping up frequently.
In order to determine what content is likely to attract engaged audiences, TikTok relies on data-driven algorithms. For TikTok users to stay on the platform and avoid Instagram's Reel competition, TikTok rewards them with trending sounds, hashtags, and effects.
A great resource on TikTok is the Discover page, which displays current trends and how others interpret them. It's easy to see how many times the viral TikTok trend has already been used by users worldwide.
Trending Hashtags
For decades, many people have been confused, debated, and even polarized by hashtags. In order to reach the right audience via social media, hashtags are essential features that you can use and research to achieve your social media goals.
Using trending hashtags to categorize your content and direct interested users to your TikTok account may be helpful. In this way, you can grow in the right way, reaching people who care about the same things as you in your niche. Trending TikTok hashtags are listed alongside other trends under the Discover tab. In order to maximize the benefits of hashtags, think strategically and include low and medium-content hashtags in your strategy.
Check hashtags with millions or even billions of views because they will most likely be used in the best TikTok trends social media managers want to find.
Check other creators
A strong awareness of what your competition is doing should be a core component of any social media strategy. You can identify trends and brainstorm content ideas by watching videos by other creators on Instagram and TikTok.
In particular, this is useful for finding trending sounds and audio. Feel free to watch as many clips as you like and take enough research time. Watch for patterns in the viral video content when scrolling through them. Have you heard the same song or audio clip repeatedly? It's most likely that they're going to become popular new trends very soon.
Also, check the audio title at the bottom of the video. When you click the song title on TikTok, an audio page featuring examples of videos that have used the sound will appear. It is possible to save sounds on TikTok for future use, so keep that in your mind before creating a TikTok video on your profile.
TikTok Trends February 2023
1. What Should You Do When…
This is a new video trend on TikTok suitable for all users and their everyday decisions when they have some money in their pocket. If you want to be a part of the TikTok community with this lip-syncing sound, describe a relatable situation using text overlay.
As soon as the audio says "Party," say what you wish you could do but shouldn't – like going on shopping instead of paying bills or rent, for example. There are nearly 40,000 popular videos today, and many famous influencers are a part of them.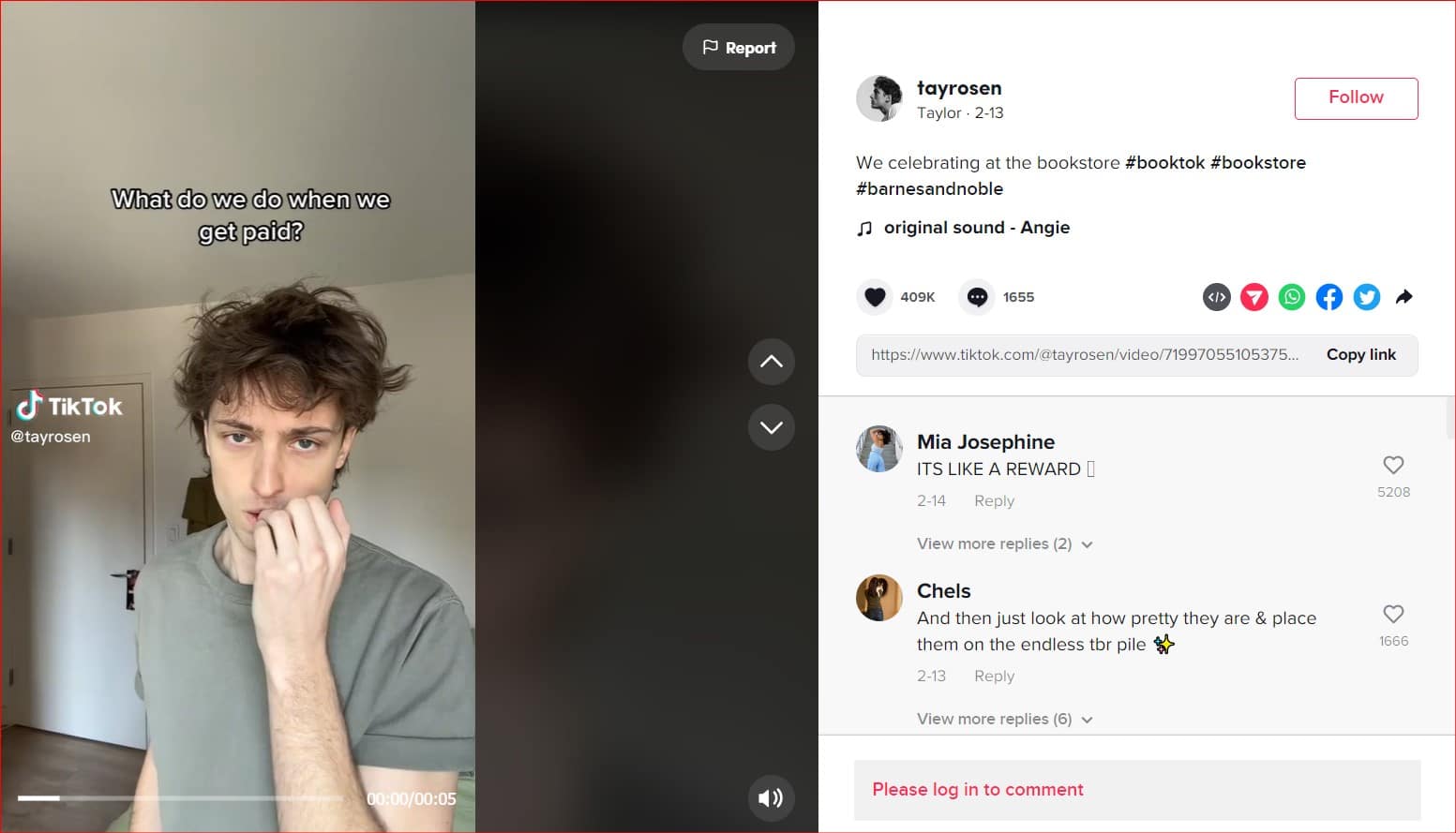 2. Barbie Dancing Dogs
The dancing dogs are a hilarious trend with cutouts of Sparkles and Lily from Barbie and the Diamond Castle. Most TikTokers make funny memes and share dance videos recreating their moves. Video soundtracks usually feature a version of Ice Spice's In Ha Mood, with over 700,000 TikTok videos till today.
3. You Got Me There
This is a fairly new TikTok trend when someone criticizes you for something you did, and you react to it. But as this audio shows, what you're doing isn't illegal, and you can highlight that using the text overlay on the video clip. You Got Me There sound has nearly 47,000 videos where TikTok creators make interesting meme videos going trending on TikTok with lightning speed.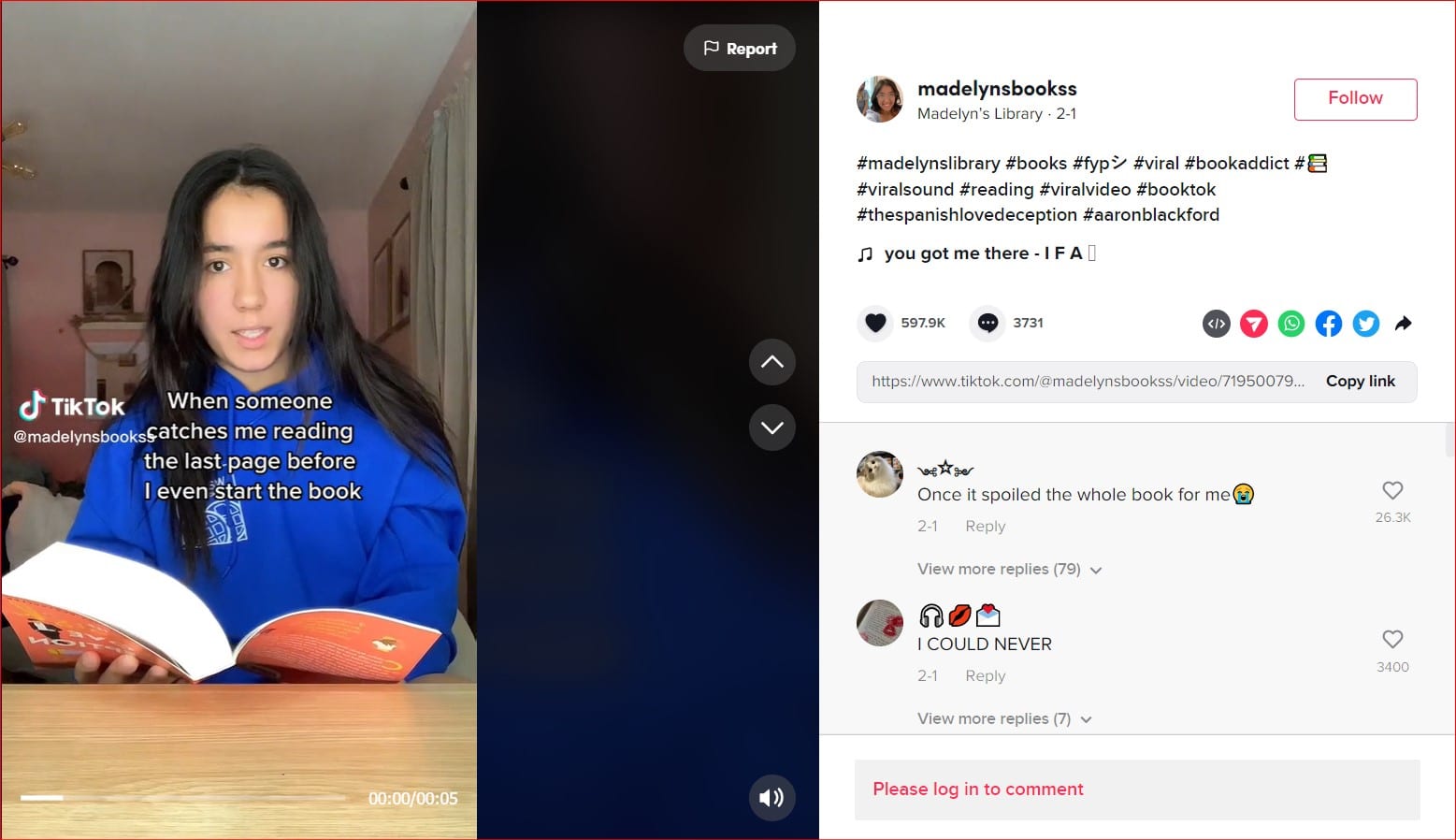 4. #BoldGlamoour Hashtag Trend
One of the most viral TikTok trends in the month of February is the TikTok face filter Bold Glamour which over 90 million TikTok users have used in the last 48 hours. This is a makeup filter, but its structure is more realistic than the standard face filters, without movement glitches and unmatched design. This TikTok trend takes a few seconds to create content in a video format that is the most suitable for you. Don't forget to use the trending hashtag #boldglamour and bring fresh content to the TikTok stage.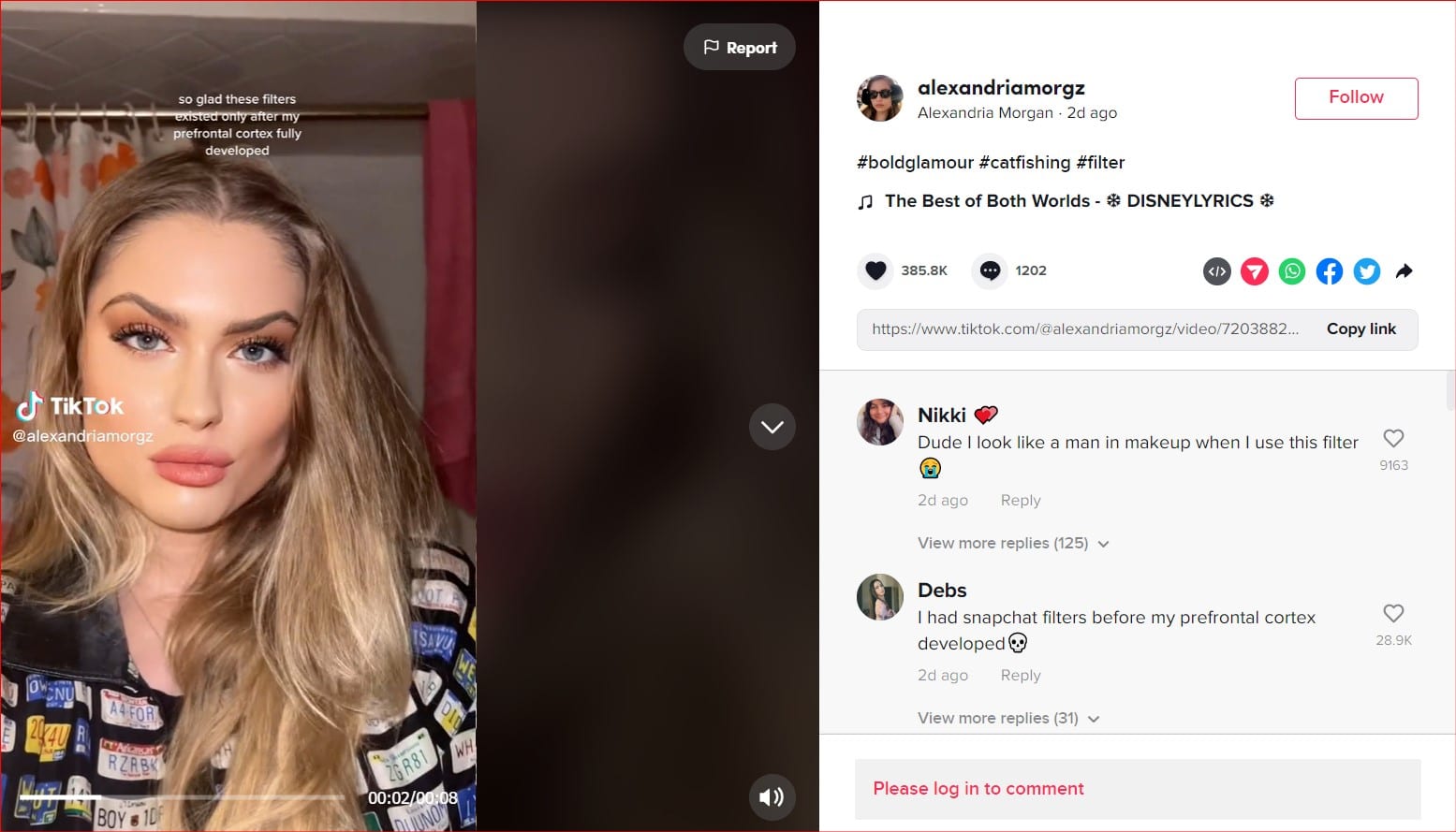 ---
FYI: You can embed TikTok widget automatically with EmbedSocial's UGC platform. Start a free trial and display your social media widgets now.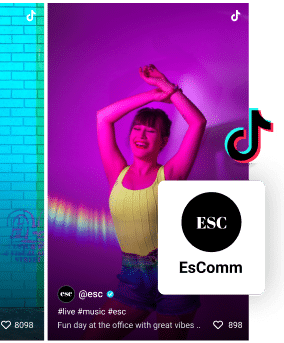 Show TikTok videos on your website automatically!
Try EmbedFeed and add TikTok videos, Instagram, YouTube or Facebook feeds to your website.
All PRO features | Cancel any time.
TikTok Trends January 2023
1. Reasons Why
"Reasons Why" is a cheeky trend on TikTok, having over 148,000 videos at the moment. Many videos you can find under this sound are pretty much with the same story – finding a reason why you shouldn't do something and regret it later, even if you were aware of the bad decision.
2. It Was Never That Serious
A catchy sound that boosts the thrill in the new year – "it was never that serious" makes a boom on TikTok for entering 2023. This TikTok trend has over 136,000 videos where TikTok creators recall a moment where they overreacted or took it too far.
Ultimately, the results are nothing special because it was never as serious as they could imagine.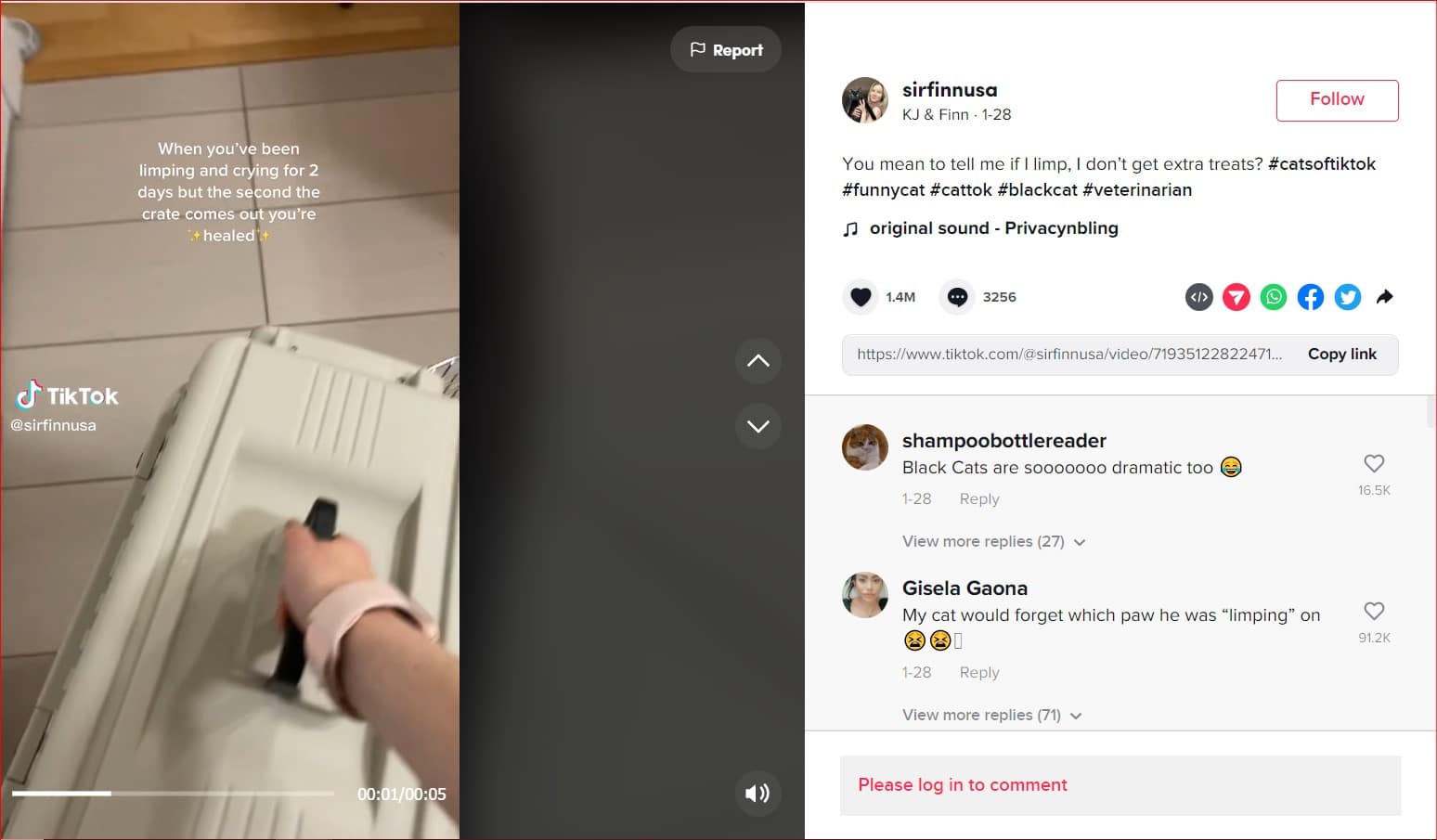 3. Flowers – Miley Cyrus
The world mega-hit that boomed on all social channels – "Flowers" from the famous superstar Miley Cyrus is one of the biggest trends in January this year. Till today, this TikTok trend counts 4 million videos, making it the top Tiktok trend that ever existed on the platform.
We all know that this song is dedicated to the pop star's breakup with his ex-boyfriend. So, most TikTok creators use this sound in the background to showcase what they do about their ex-partners according to the main part of the song.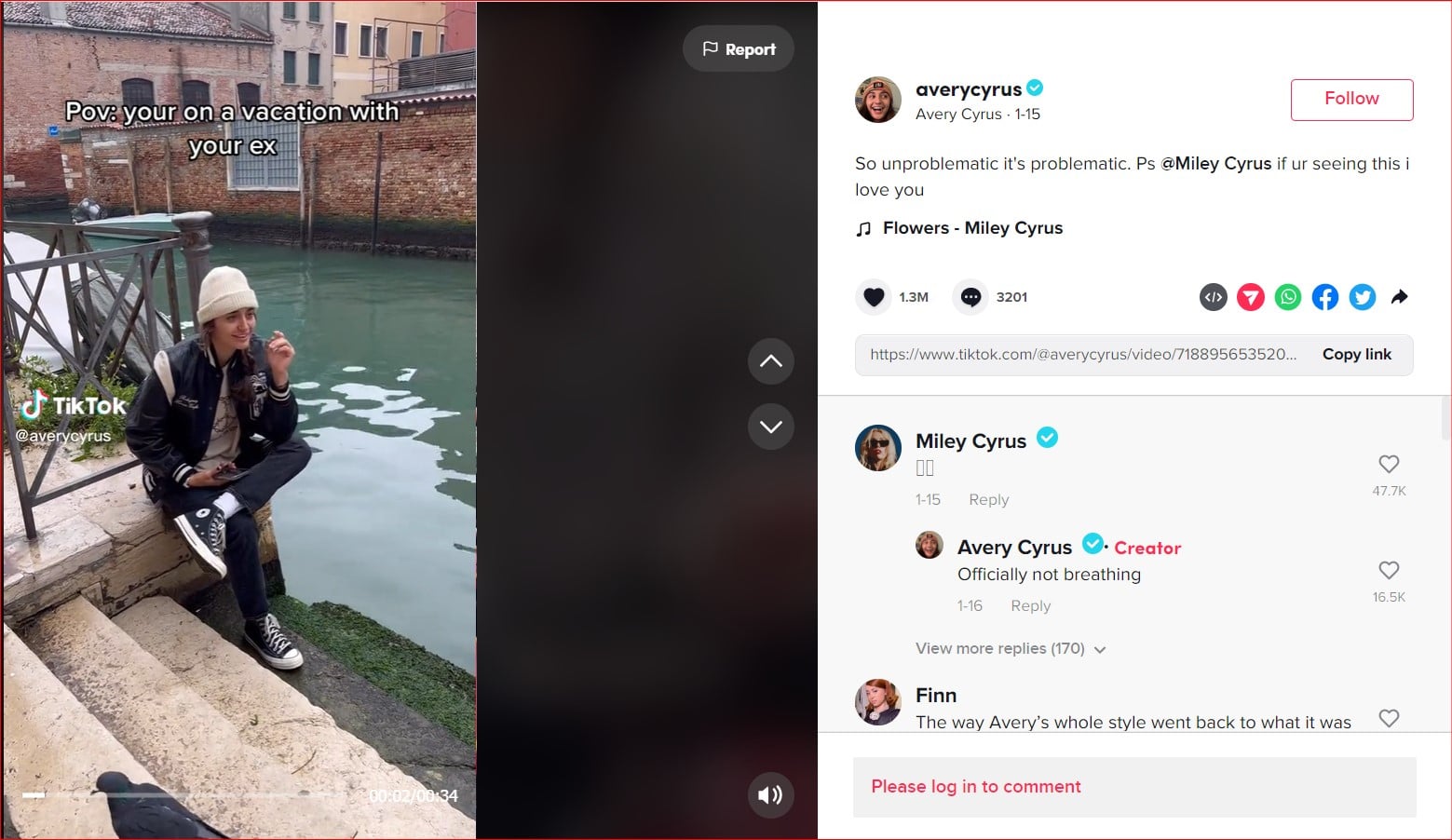 4. Before-and-After trend
With a template of Stranger Things actor Finn Wolfhard, many well-known brands are quick to jump on the new trend – using it to show before-and-after changes to their company logos, products, and services. This TikTok trend has nearly 2000 videos in less than a month, making it one of the most emerging trends in 2023. Many brands use such videos as user-generated content from social media users and use them in their marketing campaigns to attract new potential customers.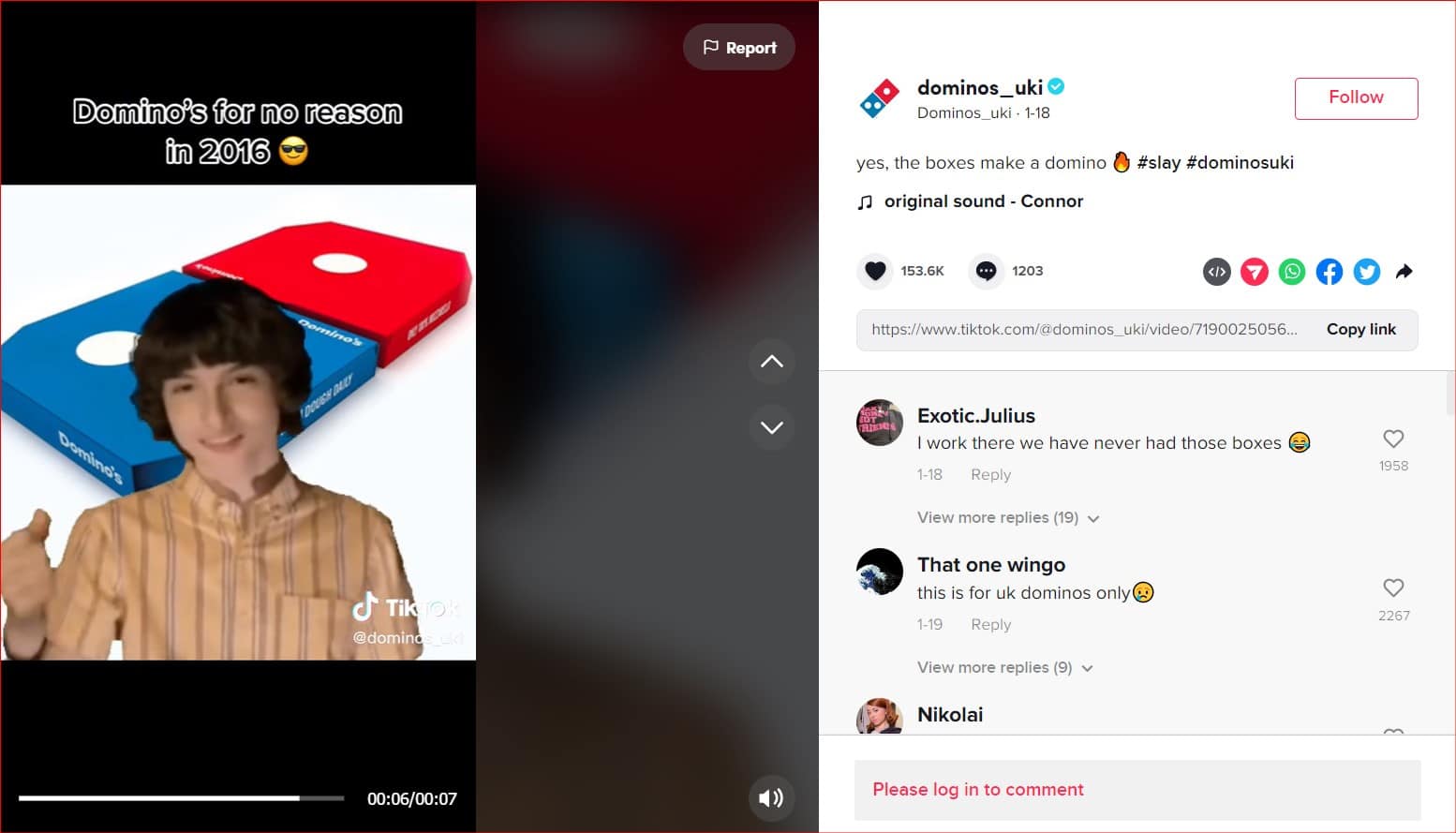 5. Shakira's Dance Challenge
Similar to the hit song from Miley Cyrus, Shakira has opened the new year with a popular trend mocking up her ex-husband Gerrard Pique. The main part of her song become a mind-blowing dance trend on TikTok, making it one of the most viral TikTok sounds recently. This viral trend counts nearly 4 million videos today, where all users create content dancing in the rhythm with Shakira.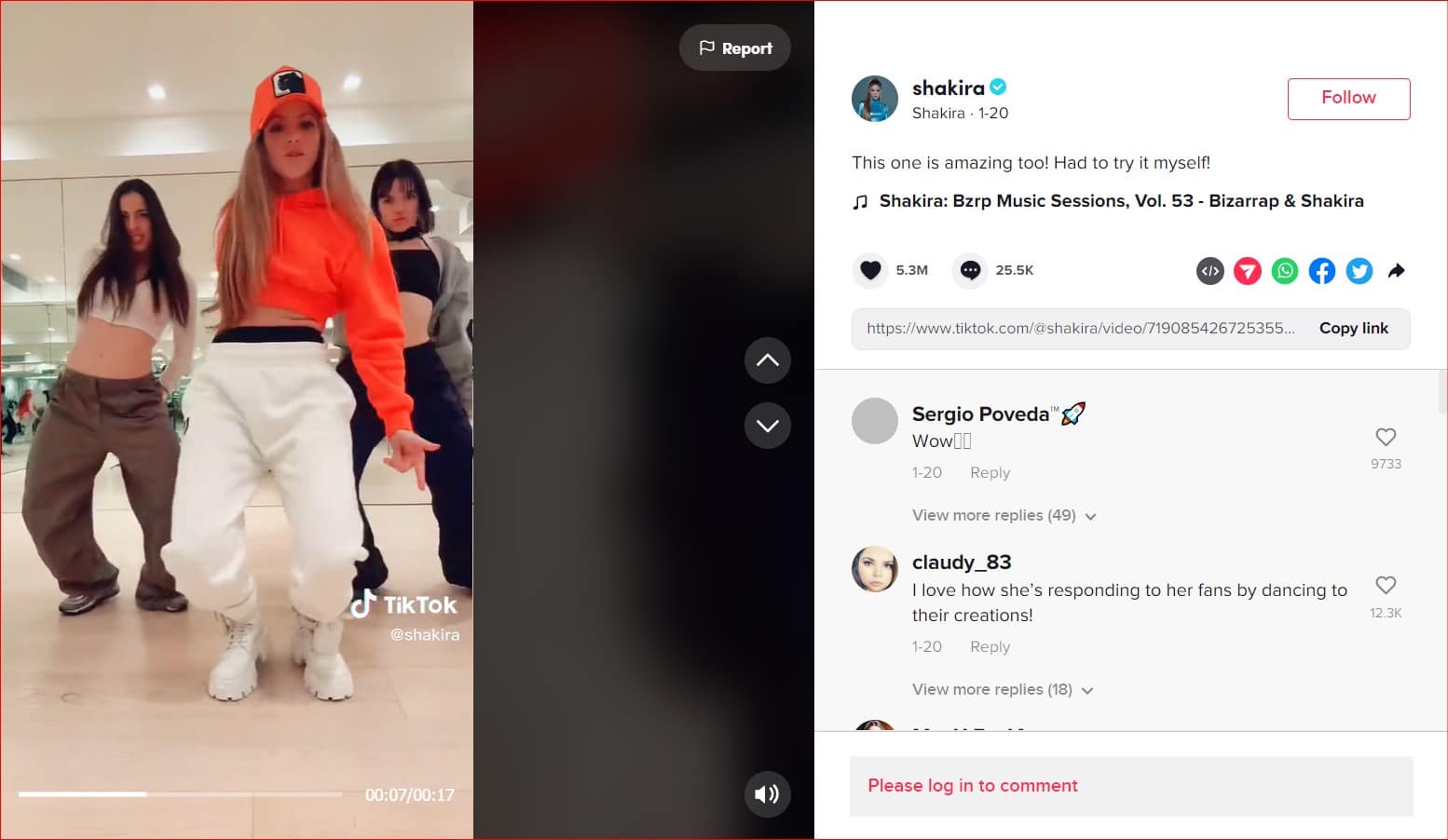 TikTok Trend December 2022
1. I am gonna make myself happy (A short clip from the "Friends" series)
One of the most viral trends in December 2022 was the "I am gonna be happy this year" reply from Ross Geller, the main character in the TV series "Friends." This TikTok trend has over 3300 videos in 2 months, making it a funny TikTok trend even for many big influencers.
It is all about recording a video pretending to be in January, at the beginning of the year, telling yourself that you would do everything to set your priorities and make yourself happy this year. Then, the video should continue like it is December, the end of the year, saying that you are still alive in a funny appearance with text overlay added.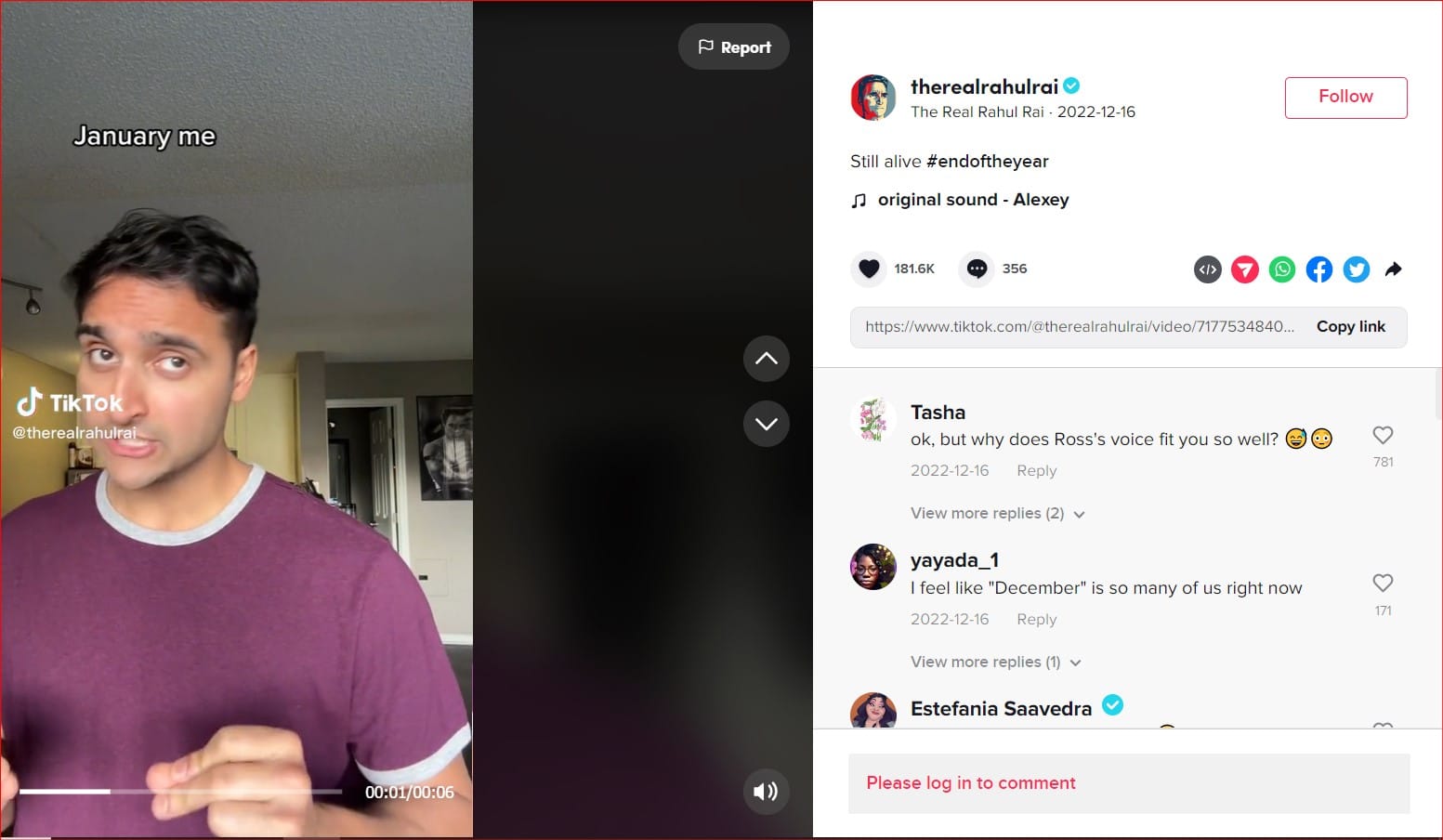 2. "Microwave Popcorn" Viral Song
An absolute trending sound on TikTok, Microwave Popcorn made a boom on the platform in December last year. This trend has over 370,000 TikTok videos till today, making it one of the most popular lip sync viral sounds. It's all about saying that you have used a microwave while someone is not giving you any attention, asking you unrelated questions.
It's worth mentioning that the TikTok algorithm loves catchy sounds, not just creating videos, so you should definitely check this one if you want to stay ahead of the viral video game on TikTok.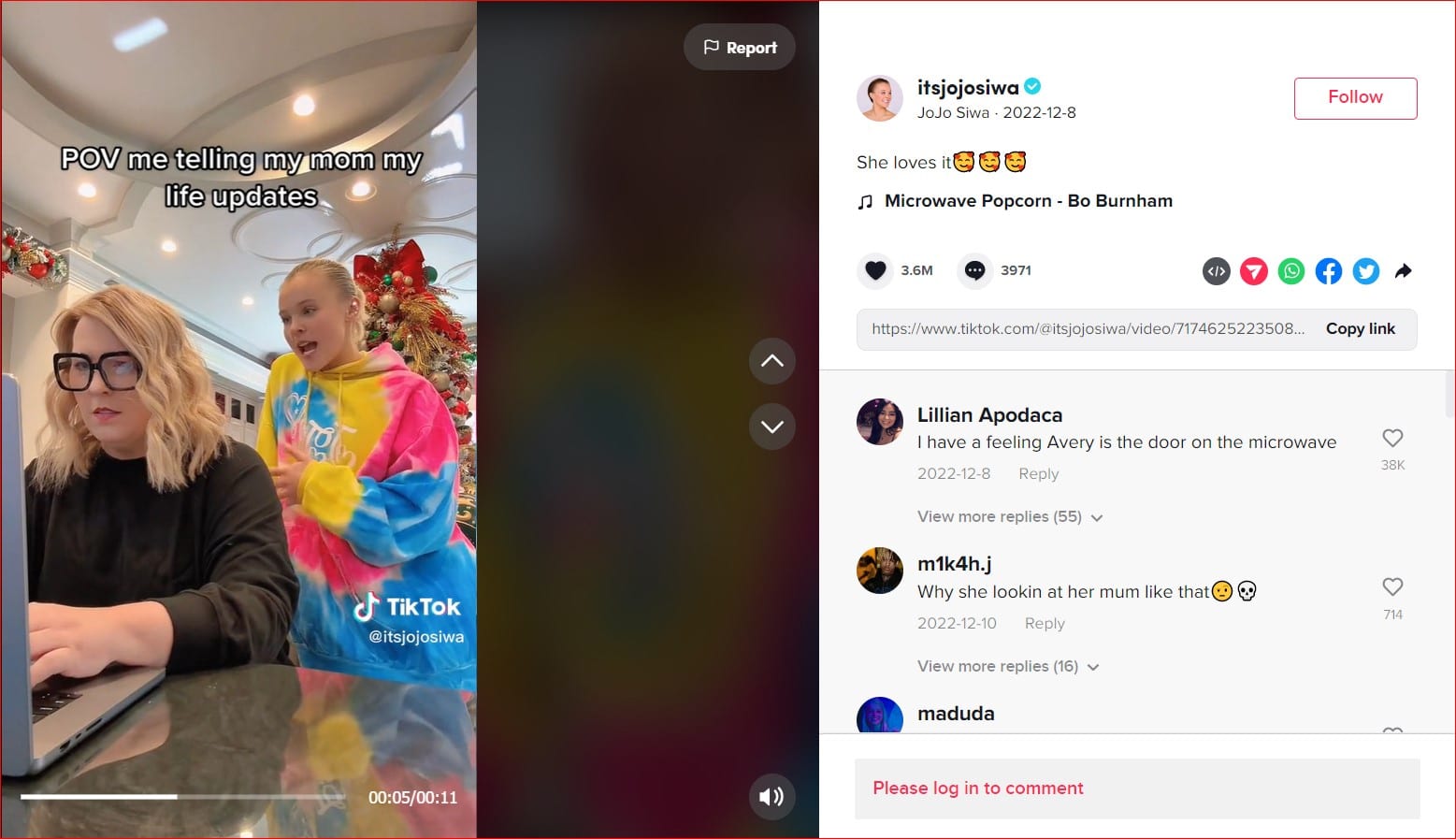 3. The Reality Check Trend
A TikTok trend with over 65,000 videos, the lip-syncing sensation for December is a reply to Alexis Rose's audio from the show Schitt's Creek. All you have to do is use the viral sound in the background saying, "There is no way you're getting tickets for that show. But I love your enthusiasm" from the aspect of "good try, but you will not get it."
Many TikTok users use quotes mentioning interesting situations with their future kids as parents, partners, and friends. Every TikTok user can feel free to create something unique with this sound, so why not be one of them?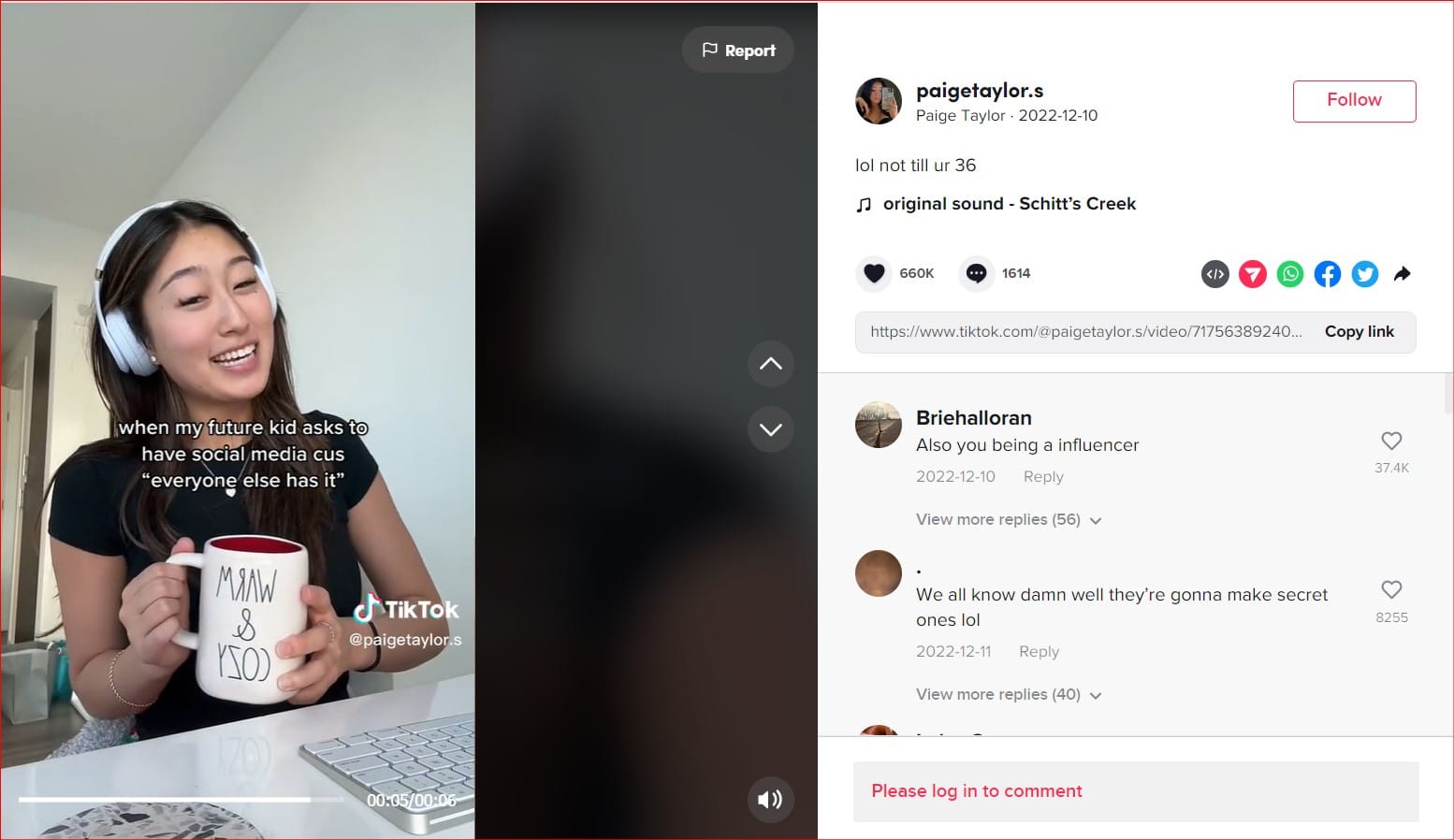 4. Rudolph The Red-Nosed Reindeer
Who said that short videos with your pet at home would not become a new TikTok trend for the Christmas days? Rudolph, the red-nosed reindeer, is an original sound used in the Christmas period on TikTok, where the pet owners put reindeer antlers on their pet's head. This is one of the cutest TikTok trends for December 2022, with almost 165,000 videos till today.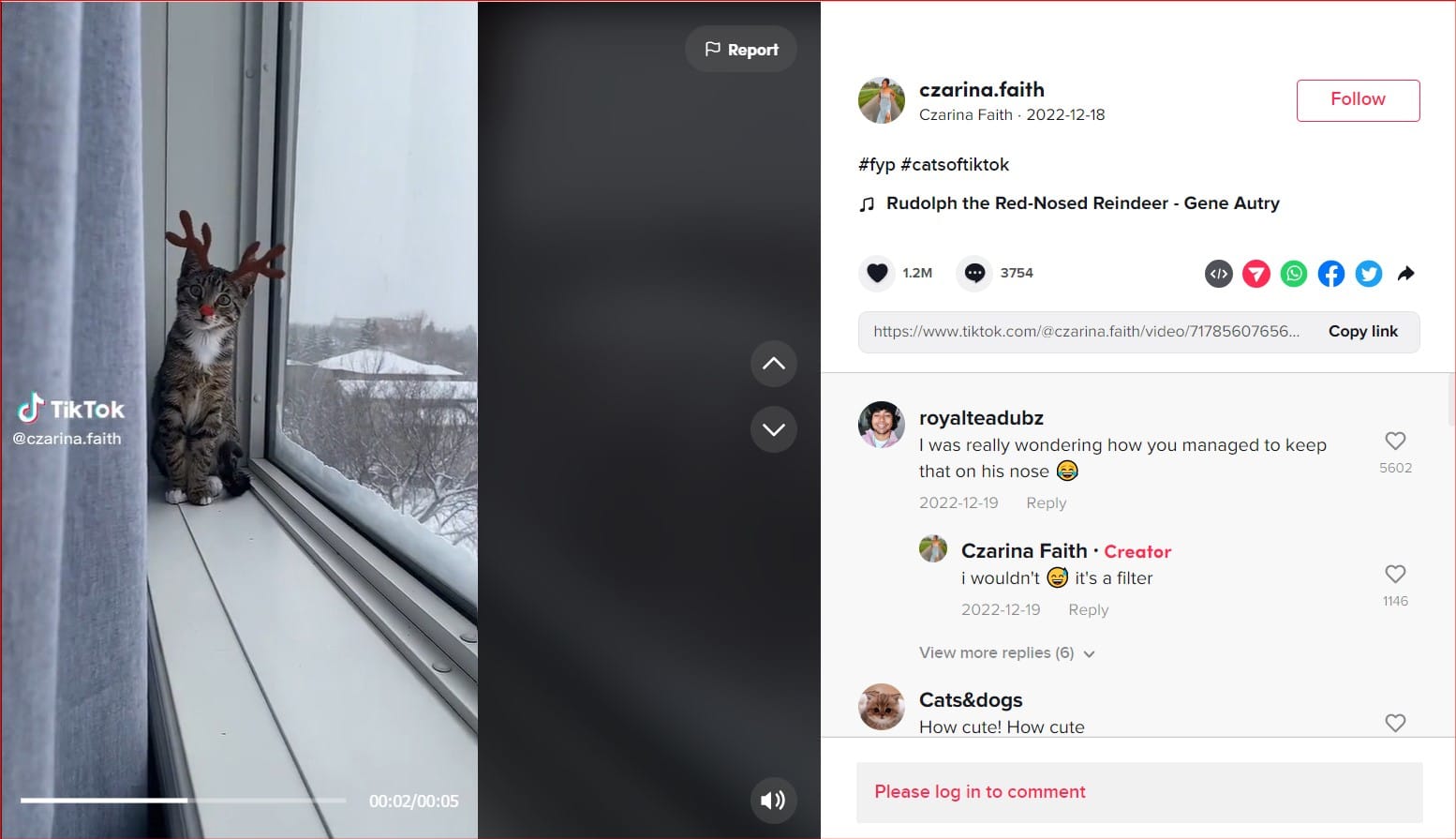 5. I still remember the 3rd of December
As the name of the sound suggests, this TikTok trend is all about the "words game," where TikTok creators share moments from their love life on the 3rd of December with this song in the background. There are over 33,000 trending videos, encouraging unique and creative TikTok content.
Most of the creators chose to share some sad and emotional moments in correlation with the song's nature, but many interesting videos show the bright side of this TikTok trend.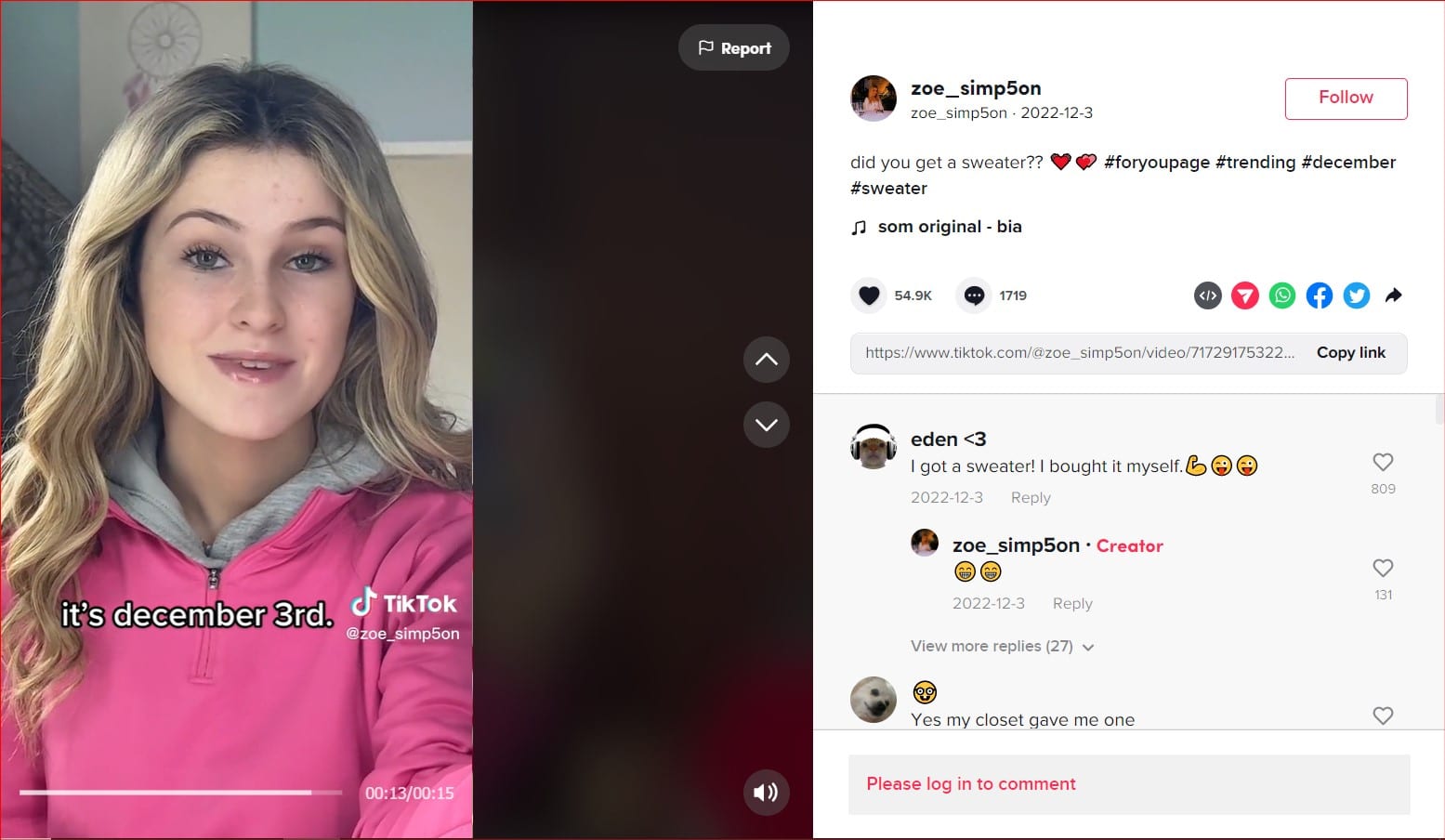 TikTok trends November 2022
1. Why You Asking All Them Questions
Counting over 520,000 TikTok videos, the trend of asking questions is one of the most interesting among the content creators using facial expressions according to basic questions. This TikTok trend is all about asking questions without opening your mouth, using only facial expressions to act on the actual question. The questions "Where, who, you been where, with who" are included in this TikTok trend, and some creators are so original in their videos doing it with their kids, pets, partners, etc.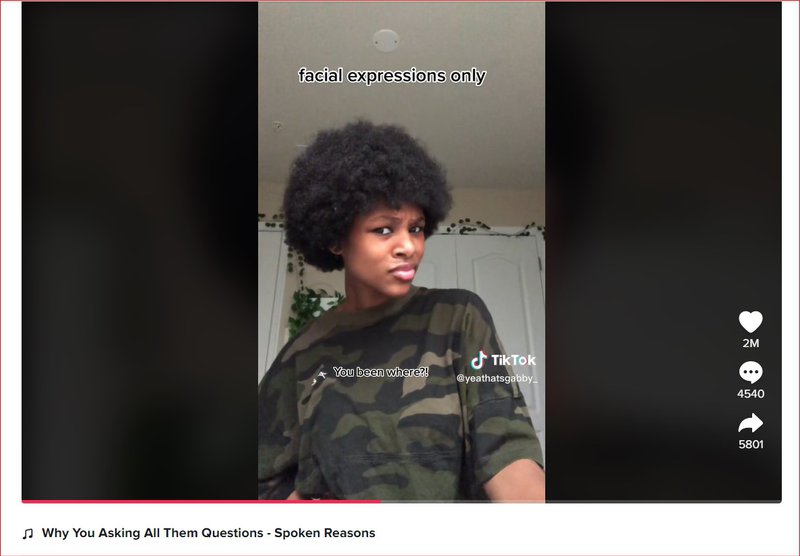 2. Hacker trend
Using the famous Greek song "Sirtaki" in the background, the hacker TikTok trend went viral this November with over 257,000 TikTok videos. This TikTok trend is about making fun of yourself when a computer hacker tries to extort money from them for the hacked stuff, threatening with photo leaking. After that, you should show your photo gallery funnily, telling the hacker that all the pictures are without a point and it's a total gallery mess on your phone.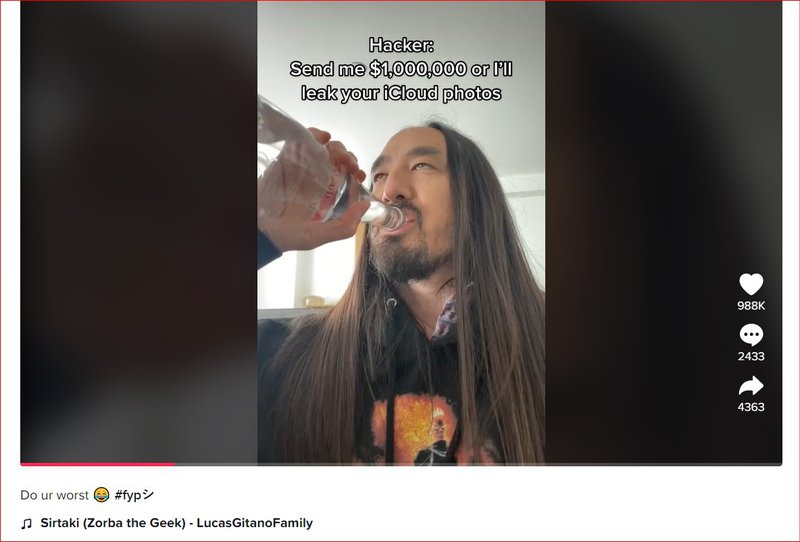 3. All I Want for Christmas Is You
New Year's eve is on the doorstep, and the Christmas preparations are just a month away. It's November, but this Christmas trend is one of the most popular on TikTok, with over 11 million TikTok videos. If you want to join this trend, you should record a video where you make a wish for Christmas and get a gift of the thing you wished for.
Most of the TikTok creators use their partners or family members as a Christmas gift, wishing to be all together and spread some warm moments together. The viral sound that is used for this TikTok trend is the famous "All I want for Christmas is you."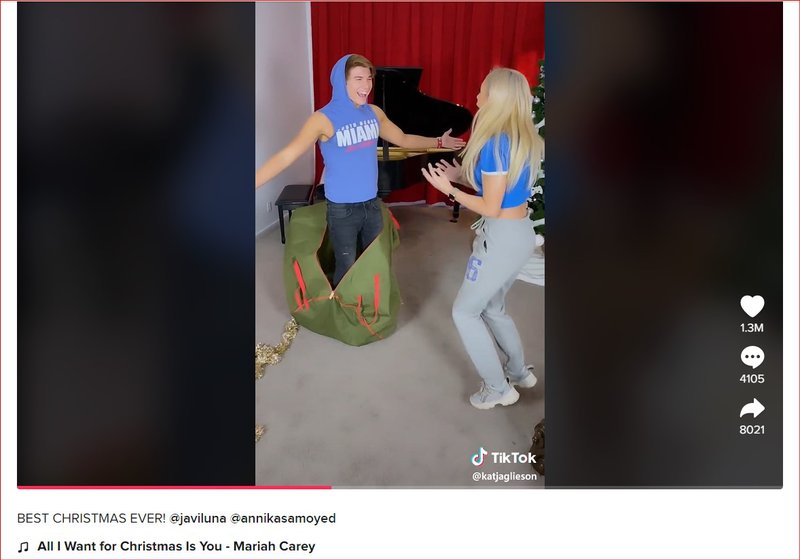 4. All Your'n Trend
What better way to ring in cuffing season than with this sound? Use this sped-up Tyler Childers's song to show off, and brag about your love life! There were over 220,000 TikTok videos only in November, which will continue to grow in the next year. The point of this TikTok trend is to show your love life, something you love and are happy about. Some TikTok creators include their pets, partners, parents, and beautiful places in these videos.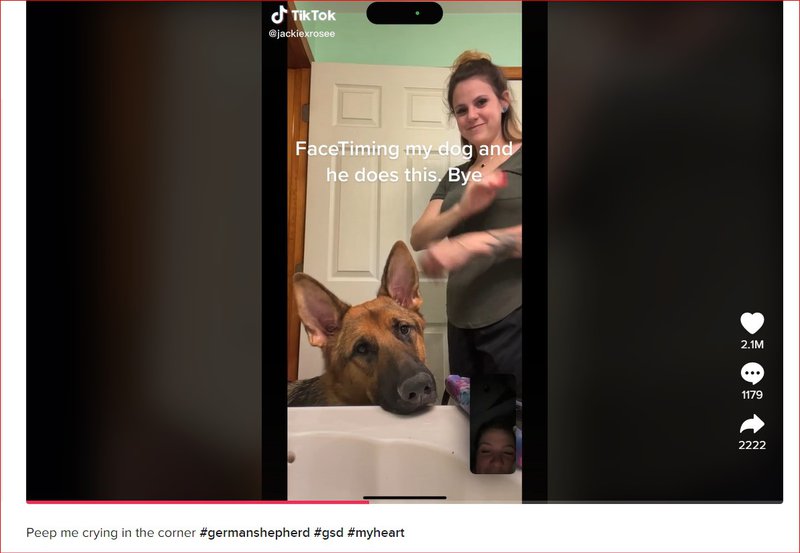 5. It's time!
A TikTok trend that allows you to be creative and describe moments that you finally experience in your life – "it's time" to enjoy something you love finally. This TikTok trend has over 87,000 videos where TikTokers scream, "it's time!" when they start doing something they couldn't wait to happen. Often, these moments are funny and describe our daily situations that nobody talks about.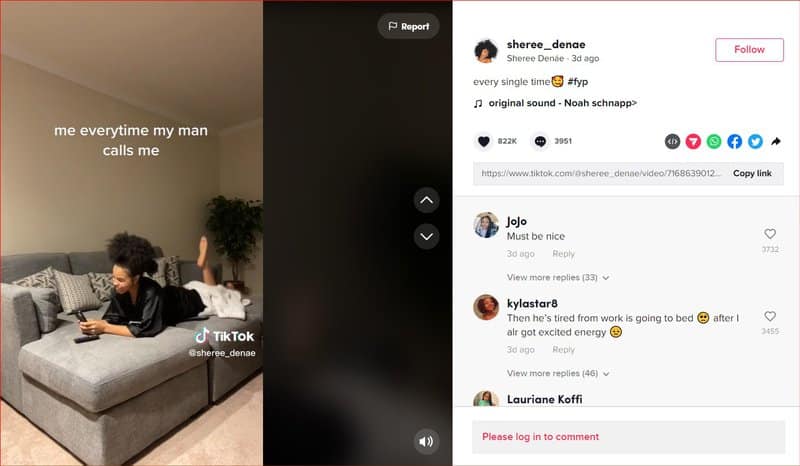 TikTok Trends October 2022
1. Calm Down
Maybe one of the most popular TikTok trends this year, Calm Down is definitely a game changer on the platform. With over 2 million TikTok videos, this is the most magical sound among the creators – an excerpt of the song "Calm Down" by the famous rapper Rema.
This TikTok trend is about unique dances and creative moves that creators have to have fun with in front of their audience. This TikTok trend is also firing up the platform in November, bringing a catchy vibe among TikTok users visually and audibly.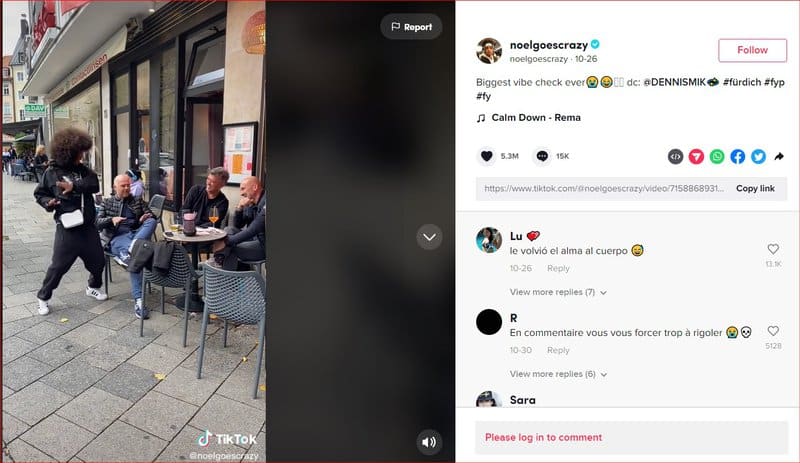 2. "Squirrel in My Pants" trend
Who said that screaming is irritating and cannot be beneficial? Try to scream in your TikTok videos because the "Squirrel in My Pants" trend has been an enormous hit on the platform since October.
This TikTok trend has over 1,6 million TikTok videos where content creators, mostly parents, act like they hold their kids inside their hands, achieving an interesting visual effect due to the distance between them and their children in the video. Also, content creators use this screaming sound during their pets' yawning, having fun with their partners and friends too.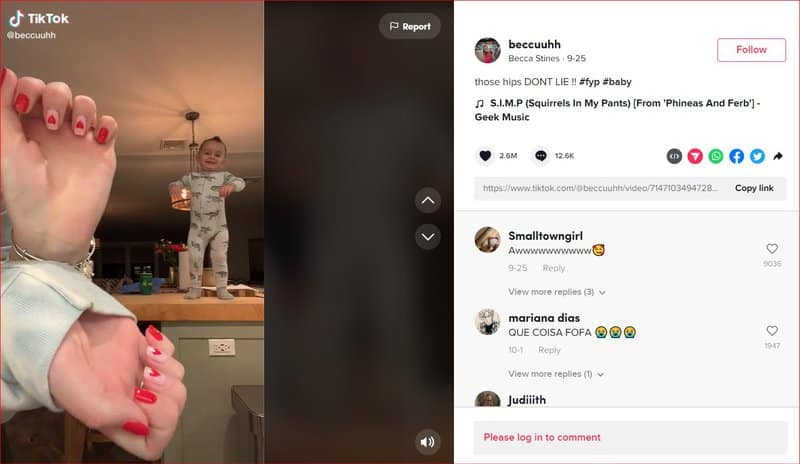 3. "I wanna kill my…" trend
No, it's not about any murder or death – it's about expressing frustration funnily for the miserable reason youngsters deal with their parents. This funny TikTok trend has around 57,000 TikTok videos where content creators creatively express "their frustration" because of a certain everyday citation with their family.
There are different funny reasons why youngsters get mad at their parents, starting from moving to a new house and living alone to giving them boring homework and a pocket money shortage.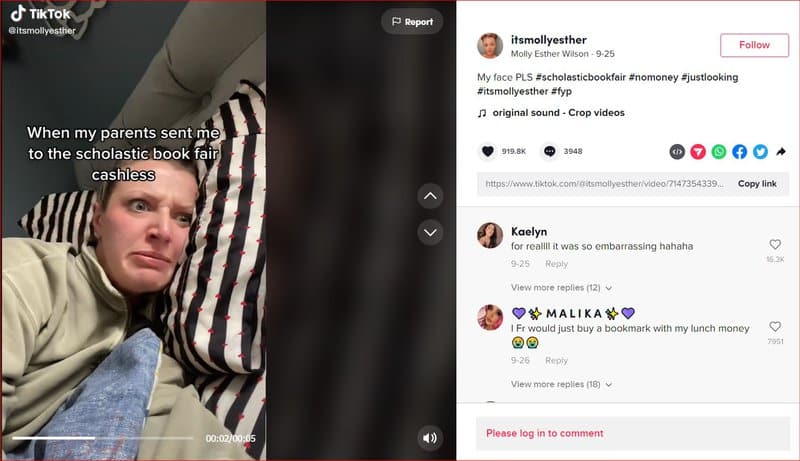 4. "Maybe I am in love" trend
Maybe I am in love is another popular TikTok trend for the month of October with a very interesting purpose and catchy sound. This TikTok trend counts 247,000 videos where content creators show their happy moments with their partners or some interesting love messages. It is most popular among teenage couples, but also, there are many adults making videos with their newborns and some elderly people showing their long-lasting love for each other.
This TikTok sensation is expected to last for a long time because it uses an evergreen sound that everyone loves and enjoys lip-syncing.
5. "If I was a…" trend
Maybe one of the rarest TikTok trends that require good editing skills and creativity, "If I was a…" fired the platform in October, and it will continue with it the next months. This TikTok trend is focused on telling your audience what you would like to be if you must be something different, letting your audience guess the answer according to the picture shown. It's more like showing your favorite things through a rhythmic picture animation.
For example, people use the template to let their audience guess the right answers, like "if I was an animal, I would be…" and a picture of their favorite animal would follow. A bunch of TikTok creators creates duel videos with this trend, guessing the answers to other content creators from the pictures that change in rhythm with the popular song "Run Boy Run."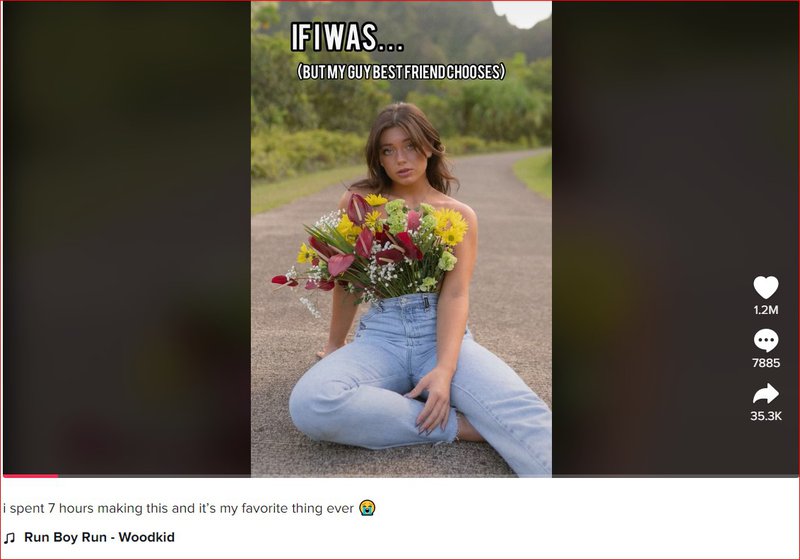 TikTok Trends September 2022
1. Super Freaky Girl (Nicki Minaj Song 2022)
September started with another hit song by the popular singer Nicki Minaj called "Super Freaky Girl," and it boomed TikTok. This TikTok trend is about dancing to Nicki's song, bringing fresh and unique moves on the TikTok stage and standing out from the crowd. There are over 1 million TikTok videos with different dance moves, creative synchronizations of the text in the song, and similar. Of course, Charli D'amelio takes the biggest advantage of this audio trend, being recognized as the most popular dancer among TikTokers.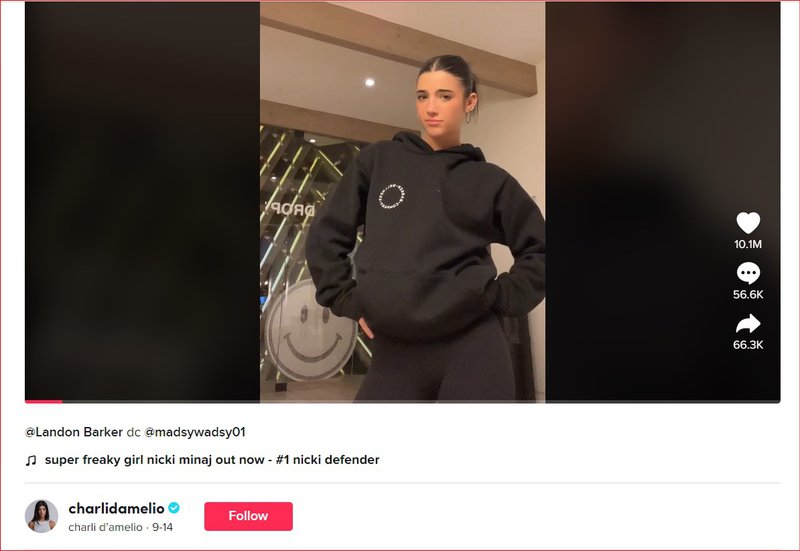 2. I put a spell on you
Inspired by spooky theater performances and movies using Annie Lennox's song, this TikTok trend is back after a long time. With over 6000 videos on the platform, this TikTok trend was a great opportunity for most make-up artists, DIY spooky-items creators and Halloween lovers to express their creativity and catch the wave.
It's about a replica used in many fantasy TV shows, performances, and movies during Halloween or the preparations during the spooky season. Many artists used this sound to do spooky make-up, show Halloween preparations, etc.,, which went viral for a whole autumn period.
Watch this audio trend on TikTok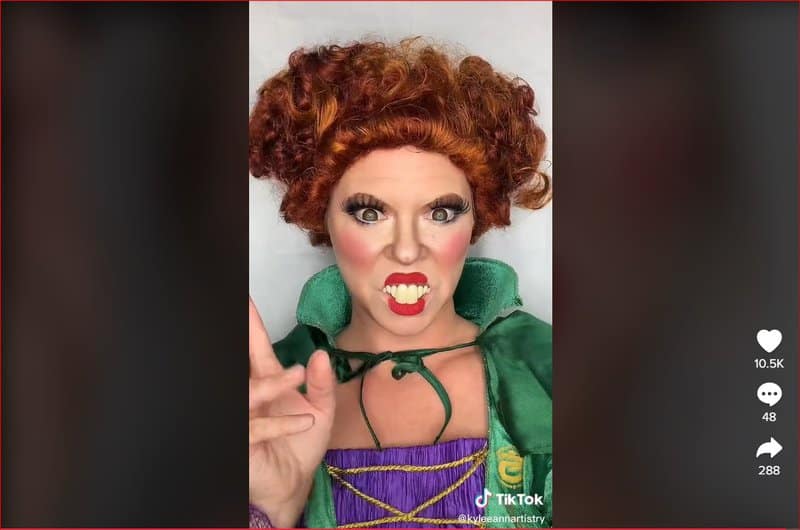 3. Labor Day Weekend
Labor Day Weekend is a very popular event in September where people celebrate labor and their working habits. TikTok very easily converted it into a trend, where thousands of people created content on this day showing their daily activities or recording something funny related.
The point of this trend is celebrating Labor Day, while the sound in the videos is in the second plan and totally differs from video to video. There are tens of thousands of videos under this TikTok trend, requiring all creators to be unique and creative during the content creation process on that day.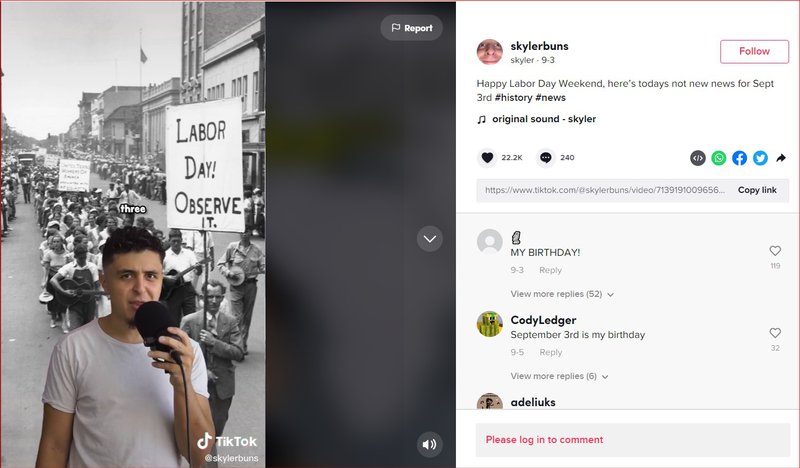 4. September (A song by Earth, Wind & Fire)
On TikTok, September was one of the most popular months this year thanks to the viral sound "September, " an excerpt of the original song from the music group Earth, Wind, and Fire. This TikTok trend represents the month of September, requiring people to express their creativity using this sound in the background. Over 100,000 TikTok videos with different contexts and ideas using this viral sound, like dancing videos, cooking tips, fashion inspiration videos, etc.
5. September Dump Collage
With over 5000 TikTok videos, the #SeptemberDump is another trend on the platform that highlighted September this year. This TikTok trend was mostly focused on creating TikTok videos in a form or retrospective of the most beautiful moments the creators had in September saying goodbye through the videos. Most of the September Dump videos are spiced with the famous "We Found Love" song, making them more engaging and lovely to the viewers.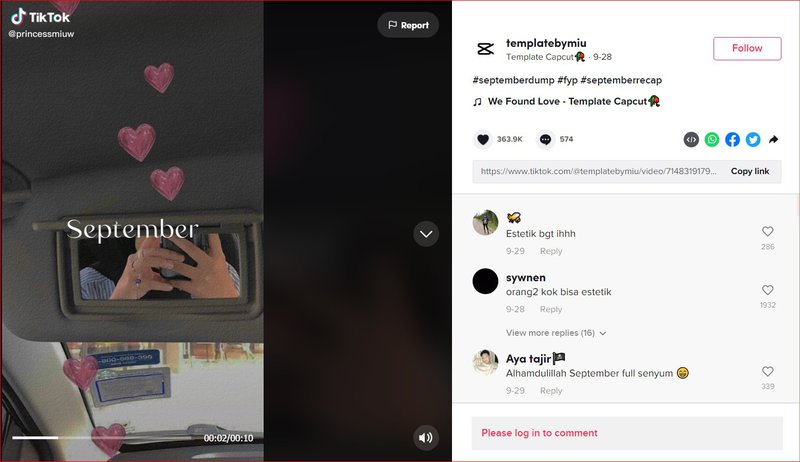 TikTok Trends August 2022
1. "August" (Taylor Swift Song 2020)
With nearly 70,000 TikTok videos with Taylor Swift's song "August," the beginning of August this year was highlighted with style on the platform. The point of this TikTok trend is different for every TikTok user. Most of the videos are based on showing the people's activities in August, or more concretely, how they spend the time in August and how the month is going for them.
Many videos are just dancing and lip-syncing the song's chorus, bringing positivity to the TikTok community and good vibes. Also, there are videos where people ironically "run" from this song which plays in the background, showing how often people use it in their TikTok videos. Looking at this trend, it's not about the videos – it's about the sound!
Watch an example of this TikTok trend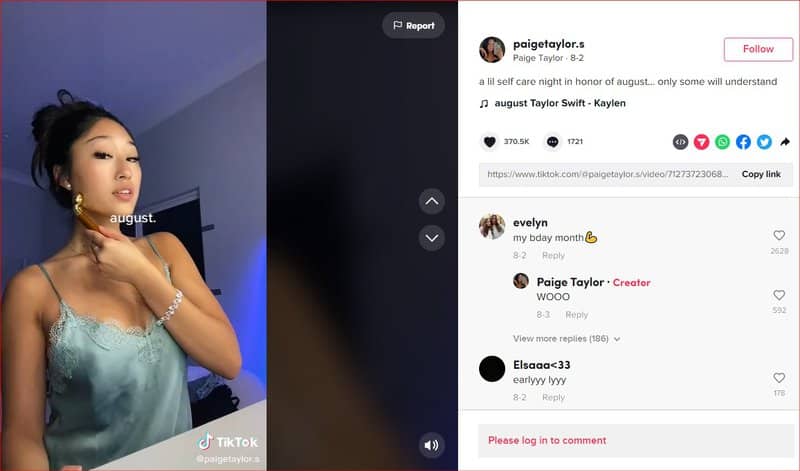 2. It's Corn
Do you like corn? One of the most viral TikTok trends of August was the corn trend, which is an excerpt of the song from the trio Tariq, The Gregory Brothers, and Recess Therapy. With over 1,4 million TikTok videos with this sound, "it's corn" represents question-like content that people answer with interesting facts about them, create corn-like content, show some cute stuff or modify the words of the sound with something original for them.
This TikTok sound starts with the words "For me, I like corn," but many people change the word "corn" with "socks," "daddy," "cat," "home," and "hugs," and relate with that further in the video by their own desire and creativity.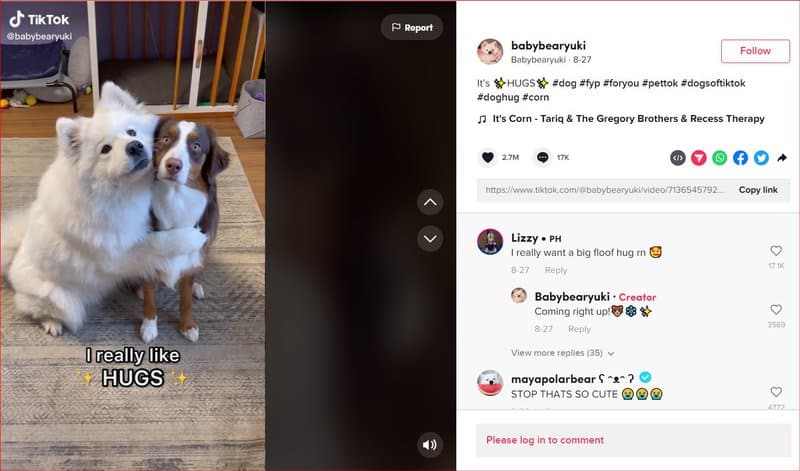 3. I am thirsty and refreshed!
This TikTok trend is for sure the most refreshing one just for the hot summer days in August. Counting over 411,000 TikTok videos, the "I am thirsty, refreshing" trend takes a high spot among the most viral TikTok trends this summer. The idea of using this sound is to show the hydration funnily, pouring a lot of water in the mouth and face and saying the word "refreshing" at the end.
Some TikTokers were so creative and went a step further, creating interesting videos on a beach using the big sea waves.
4. Uncomfortable Laugh
Maybe one of the funniest TikTok trends in the month of August – "Uncomfortable laugh" is a huge wave that most TikTokers took and skyrocketed their engagement rates. There are over 62,000 TikTok videos with the uncomfortable laugh sound, showing different uncomfortable life situations and thoughts in a self-mocking way.
People make fun of themselves for their physical looks, financial situations, unsuccessful college degrees, embarrassing everyday conversations, etc. That's why this TikTok trend went so viral and brought so much positivity to the platform.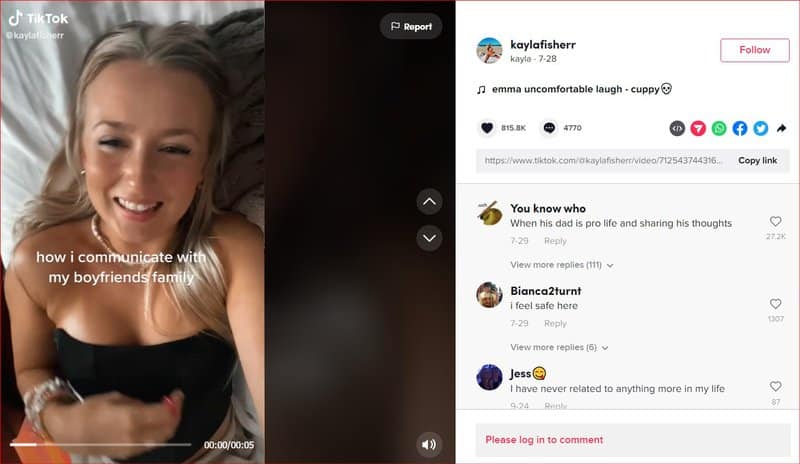 5. I Could've Said That
Everything started with Ariana Grande's famous interview, where she explains how she refrained from saying some things in a situation but said the lighter version for everyone to be satisfied. This immediately went viral among TikTok users, creating over 105,000 videos on the platform.
TikTokers create audio clips, lips-syncing Artiana's words, modifying the further monologue with their own desire and creativity. People usually show situations where they share what they truly want to say, then share what they say instead to avoid uncomfortable scenarios.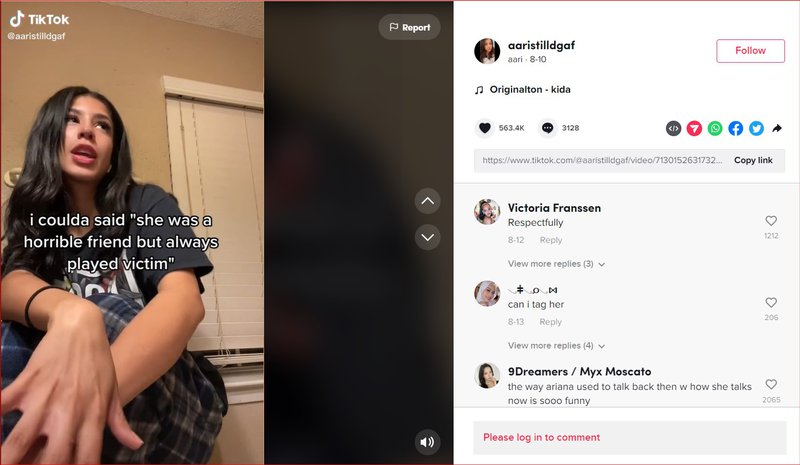 TikTok Trends June 2022
Well, that's my life!
This TikTok trend has had a huge rising momentum since the beginning of June.
It's all about lips-syncing this popular TikTok sound by saying, "Well, that's my life," showing a comic situation with ironic text in the video.
Till today, this TikTok trend has over 16,000 TikTok videos in the first week of June.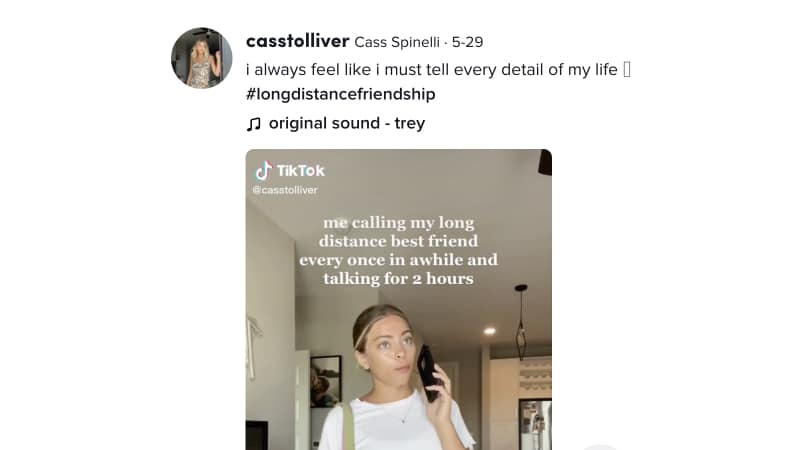 "Every day" trend
With over 25,000 TikTok videos at the beginning of June, this TikTok trend has rising momentum and goes viral daily.
The point of this trend is to ask your audience or use any interesting question starting with "How often do you…" and relate to it with something you do or think about every day.
Many TikTokers create comic videos with sarcastic questions. It's a good idea to engage with your audience and make them laugh at the same time.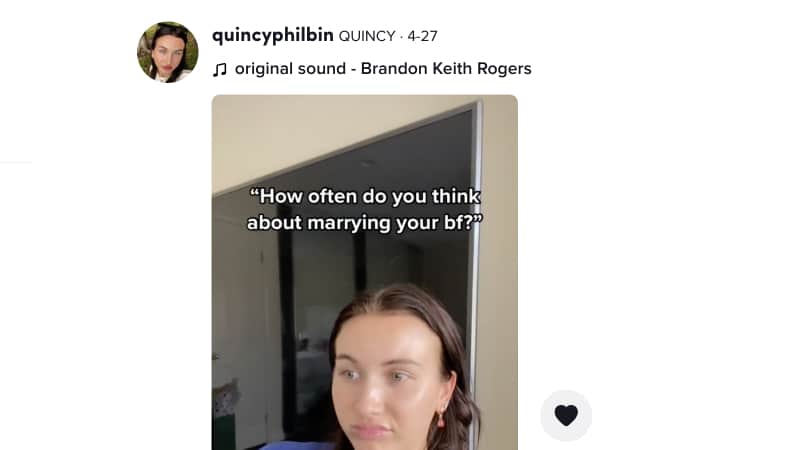 TikTok Trends May 2022
Damn time trend
With over 2 million videos created with this sound, the damn time TikTok trend is one of the most viral ones this year.
It's all about a video recorded by a TikTok girl known as @lizzo with an interesting and funny dance using her weight in a funny way.
Also, many people use the same sound from this dance for their cooking, makeup, and fitness videos too.
Most of the people who use this trendy sound are overweight and build self-confidence no matter their body shape. This is the main point of this dance trend.
Even the famous Shaquille O'Neal dances with Lizzo in one of her videos.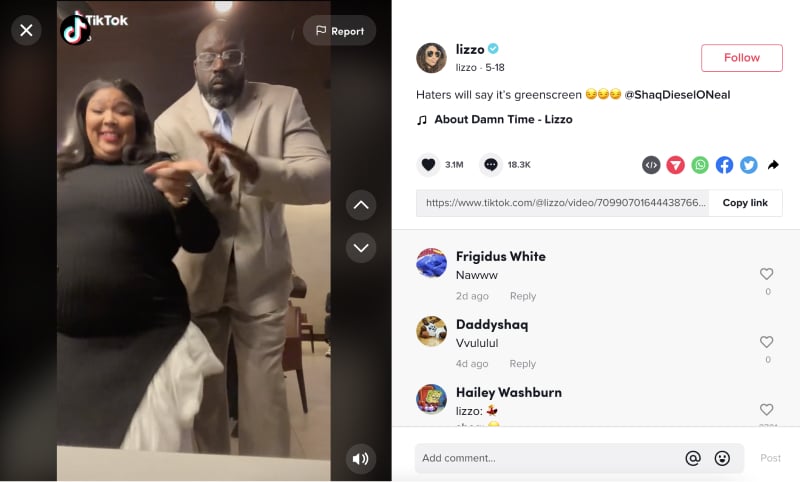 I meant to do this all day!
A TikTok sound that has more than 6000 videos till today has been going viral slowly but surely since May this year.
This TikTok trend is all about recording a video synchronizing the words from the TikTok sound, telling that you will not work today and get relaxed in a specific way.
Many people use the hot days to record this trend on the beach, swimming in the pool, walking in nature, and similar, showing what they meant to do all day instead of working.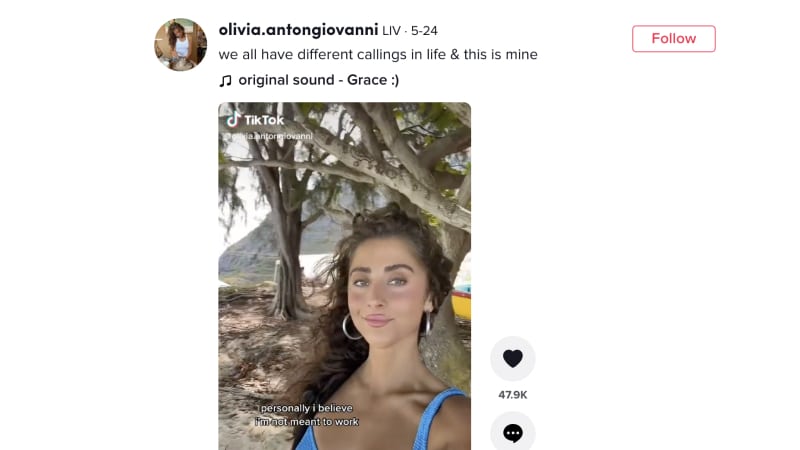 I will never be like you
This viral TikTok trend is one of the most positive ones in May this year. This trend is viral because over 400,000 TikTok videos are created with the same theme.
The point of this trend is to show the bad situations your friends, family, relatives, or random toxic people put you in that make you feel so sad.
Use this TikTok trend to share the bad things people did to you in a specific situation and tell them that you will never be mean like them. "Mean" is also the name of this viral sound. It is a message people send to all toxic people in their life.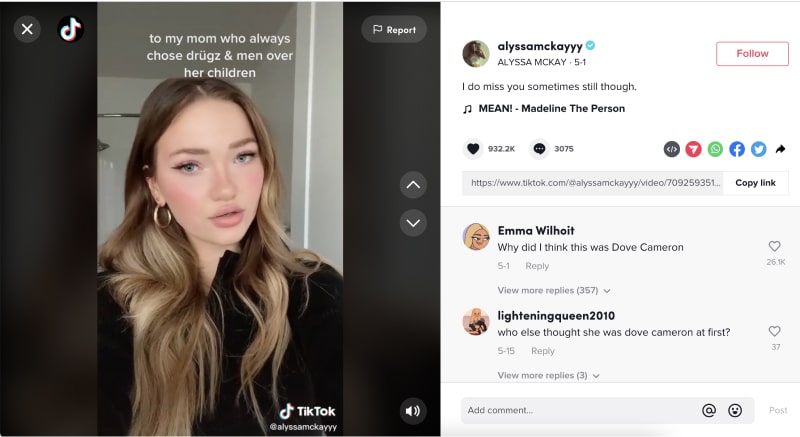 Loop video trend
Loop videos on TikTok are back, and they go viral as never before.
Use the momentum to record a loop TikTok video on your profile to confuse the audience with content that looks like it will never stops.
One of the most popular TikTok sounds for this trend is created by @lord..xp, with over 710,000 videos till today.
TikTok Trends April 2022
Will Smith's slap on the Oscars
Not just TikTok, but the whole internet exploded when Will Smith slapped Chris Rock on the Oscars night this year.
If you scroll through the TikTok discover page, you will still notice different videos from many content creators of different types, like funny memes, sketches, lore videos, and similar.
Also, the TikTok creators created specific sounds everyone can use in their TikTok videos to synchronize the voices of Will Smith or Chris Rock and effectively engage the audience with it.
Check such videos and save the hashtags. That way, you can use them if you plan to create such videos on your profile.
With an original sound made by Charlie Mosey, this trend is one of the most popular ones with over 300,000 videos on TikTok.
The point is in the sound where the TikTok creators try to synchronize the words "the best part of this plan is…no one can stop me" in many different ways and record something funny.
Most of the videos are ironic, where TikTok creators say the words "no one can stop me" while running from their friends, filming their naughty pets doing bad stuff at home, or synchronizing the sound to show a shameful situation.
[Insert a photo of this trend]
For April, seven evil exes are another viral TikTok trend with a very interesting theme.
It's all about filming a video dating a new person who accepts the seven issues (or traumas) in your mindset as a consequence of your bad life situations.
The point of this trend is to show the traumas from the past to the new person you met in a funny way, and please them to push them through in the name of love.
Also, you can use this video idea to show seven things that you love and ask your new potential partner to support them before starting a relationship.
It's more like a teenage sarcastic story trend, but keep in mind that TikTok has the youngest fan base in the world when it comes to social media users.
[Insert a photo of this trend]
The bumping sound trend
A TikTok girl known as @kateylorrell made a funny sound on her TikTok video when she bumped into her bed. That sound is used in over 87,000 videos today.
Other TikTok creators create a duel video where they react to her video, create memes, and similar interesting videos implementing her sound to use the viral momentum.
Who knew that bumping into a bed corner accidentally can be a viral trend on TikTok?
The trends can be everywhere, so try to spot them and catch the wave.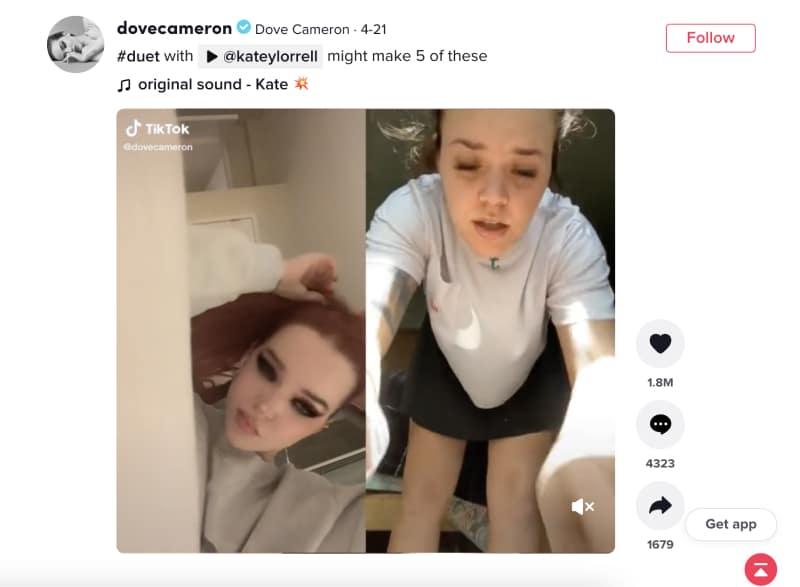 Presentation on a laptop
This TikTok trend has huge popularity. With over 27,000 created videos till today, giving an accent on the uniqueness of everyone's story.
It's all about showing your laptop with an introduction slide of a presentation, showing the title, which is a sneak peek in your video montage.
When the music starts, the TikTok creator needs to tap on the "space" button from the keyboard and the montage to start showing.
In the montage, you can include a slideshow of pictures or short videos mixed into one.
For example, show the laptop where the title "Going on a wedding be like…" stands, so when the music starts, let the slideshow of the most interesting moments from the wedding pop up.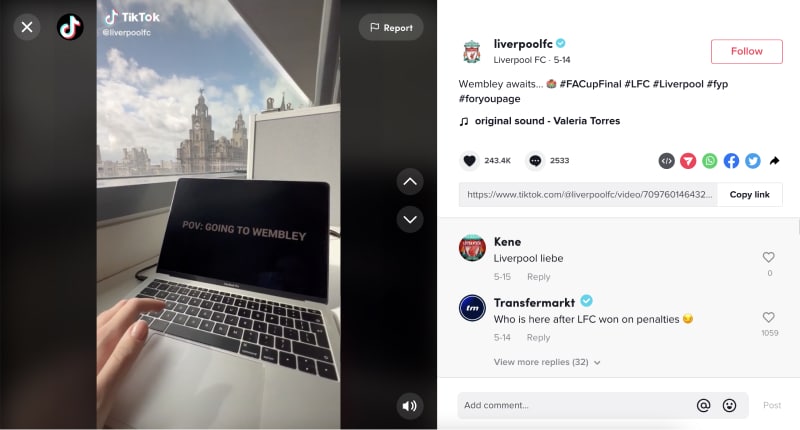 How to find a TikTok trend?
Following the TikTok trends means growing your TikTok page faster than you can imagine.
The searching process requires some proper steps to find TikTok trends that match your page and audience.
As we mentioned above, there are different factors you should consider, like sounds, hashtags, and challenges. Focus your research according to them.
On the other hand, some TikTok trends are obvious just before they go viral. However, for many, you will find it tricky to recognize.
Analyze the TikTok content
To spot a new trend and run into some viral videos, you should spend time on TikTok and see what's going on.
It's a fact that if you want to create TikTok videos that will be trending, you should keep up with the trends. Therefore, the discover page is the right place to analyze the whole content situation on TikTok.
On the discover page, you will have a chance to see many popular videos with specific sounds, hashtags, or challenges. You can also check the most used song by the TikTok creators.
Try to catch all the stuff from those recommendations and make your videos trending on TikTok.
Also, spot the hashtags used in the description of the viral videos and challenges. Then, try to use some of them on your videos before they get saturated.
Check popular TikTok users
One of the easiest ways to find current TikTok trends is to check some popular TikTok creators and be up to date with their content.
Big TikTok profiles are more likely to start a trend. That being said, one of your daily tasks could be to follow them and be in touch with their content.
When a popular TikTok creator posts a video or starts a new challenge, make sure to use the same sound, hashtags, or content idea in the next few days before they get overly saturated.
That's how the TikTok algorithm will recognize your content sooner and push it up in front of a wider audience.
Also, keep in mind to check the big TikTok brands and niche pages. If they release a new video that seems to be viral, make sure you save the idea. Then, post such content on your page relevant to your niche.
It will help you to skyrocket your engagement rates and keep pace with the new trends on the platform.
Check the sound on every video
Another way to spot a new TikTok trend video is to check the music on the videos. Go on the discover page or For You page and keep scrolling to check the TikTok recommended content.
Focus on the sounds that come with the videos. If one sound or music is repeated on and on, it's a clear sign of its popularity and a potential fun trend.
Use the moment to create a couple of videos with the same music in different ways. That way, you'll catch the wave of going viral with a new trend.
Bonus: Look for embedded TikTok videos on websites
TikTok's option to embed videos on websites allows users to spread their TikTok videos. Also, there is a practice for famous news portals to share TikTok videos about a current news cycle that can help you discover what's trending at the moment.
Check the popular magazines and their websites and look for TikTok videos embedded in their news pages.
FYI: EmbedFeed is a social media aggregator that helps you generate all your TikTok videos and automatically embed them in full gallery widgets for your website. Try it now >
Key Takeaways
Looking at social media trends, TikTok is the most popular social media platform among content creators. It is a big opportunity for building a massive audience and social media popularity.
More often people decide to include TikTok in their content strategy because of the TikTok nature and its fast-pushing algorithm, which is an opportunity for growth.
To be up to date with all popular content types and prevent placing boring content for your audience, you should keep pace with the best TikTok trends and be up to date with the popular videos on the platform.
That's how you will get the momentum of going viral organically and make millions of new people reach your TikTok content easily.
Keep in mind that it can be tricky to identify TikTok trends. However, remember these 5 key takeaways from this blog post:
In the very beginning, try to analyze the content you will face on the For You page or Discover page. On these pages, you will find many viral videos that TikTok recommends to you. Check their theme, the challenge, the sound, and the hashtags.
You can follow popular TikTokers and content creators with decent video views and engagement rates. Check their content and see what challenges they are using, the sound on the videos, and similar. Also, be up to date with every piece of their content on time before it gets oversaturated on TikTok.
TikTok sounds and music are the most important part of spotting a new TikTok trend. Check the popular sounds used in thousands of TikTok videos. Then, implement some of them in your content to catch the viral wave and use the momentum.
Always follow TikTok trends that are relevant to your audience. Imagine that you have a TikTok page about fitness, so you can't post a makeup-related trend on your profile just because it is a trend.
Keep in mind that TikTok is a social media with the youngest fan base in the world. Therefore, expect most of the TikTok trends to be teenage-related. Also, there are many TikTok trends related to specific dance, lipsing, a sound used in many variations, memes, etc.
---
FYI: You can embed TikTok widget automatically with EmbedSocial's UGC platform. Start a free trial and display your social media widgets now.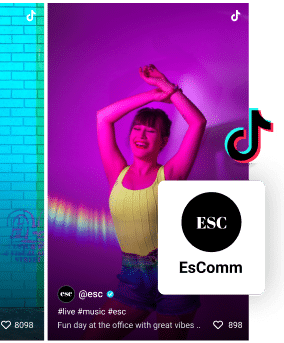 Show TikTok videos on your website automatically!
Try EmbedFeed and add TikTok videos, Instagram, YouTube or Facebook feeds to your website.
All PRO features | Cancel any time.