TikTok is one of the fastest-growing social media platforms in 2022 with the youngest audience among the social platforms. Looking at different TikTok stats from both sales and marketing aspects, marketers and business owners can feel free to launch a new marketing campaign on TikTok, reaching out to a massive young audience and shocking engagement rates.
Related to this we also outlined a detailed post about Instagram statistics to help marketers make better decisions about where is their audience and their behavior on the social media platforms.
Marketers will easily take advantage of this social media trend because TikTok's fast-pushing algorithm keeps the users in touch with the content for longer periods and boosts the engagement rate with lightning speed.
Additionally by using tools like EmbedFeed you are able to re-use this content and embed the TikTok widget on your website, automatically. thus helping you to reach more people beyond the TikTok app.
Further, in this article you will find many marketing and sales TikTok stats you should check before taking any marketing action here in 2022, so please pay close attention.
TikTok stats by demographics
There are over 1 billion active users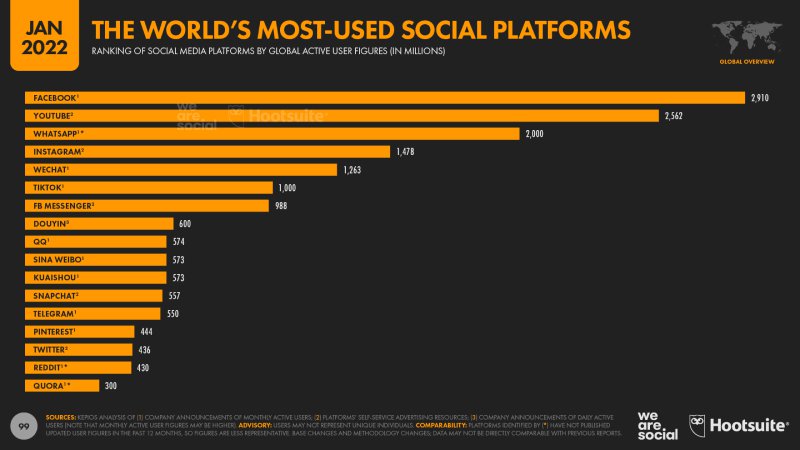 It's a fact that TikTok's growth is extraordinary and according to Digital Report in January this year, TikTok reached 1 billion active users. For a relatively new social media platform, this statistic is unbelievable and shows the marketers that TikTok is side by side with Instagram, Facebook, YouTube, and Whatsapp. Knowing how big the popularity is, social media marketers should focus on TikTok marketing and catch the wave to skyrocket the brand's growth in front of 1 billion monthly users.
59% of the TikTok users are females
The TikTok demographics by gender shows that 59% of the users are females according to Business Of Apps. It means that there are around 600 million female users. On the other hand, 400 million users are men or the other 39% of the total TikTok population. These TikTok stats are helpful for brands and marketers for launching marketing campaigns in women-related niches, such as beauty and makeup, fashion, jewelry, etc… because most women and girls are hanging out on this platform. But, brands with men-related products or services should never ignore TikTok, because there are over 400 million male users plus a fast-pushing algorithm – more than enough to hit a TikTok marketing jackpot for your business.
Most of the users are between 19 and 29 years old
35% of the total TikTok population are people between 19-29 years according to the same report from Business Of Apps. Next on the list come users under 18 years with 28%. Marketers and brand owners should consider these TikTok stats, because a big part of the total TikTok population are young people, and placing content relevant to them can bring serious engagement boost and profile growth. Brands should launch marketing campaigns on TikTok for products or services relevant to teens and young adults. Businesses that want to promote products for older audiences, like medications, medical assistance equipment, or similar, probably will not be that successful here.
Other age-related statistics are the advertising audience profiles aged 18+, where 18-24 years old group is the biggest.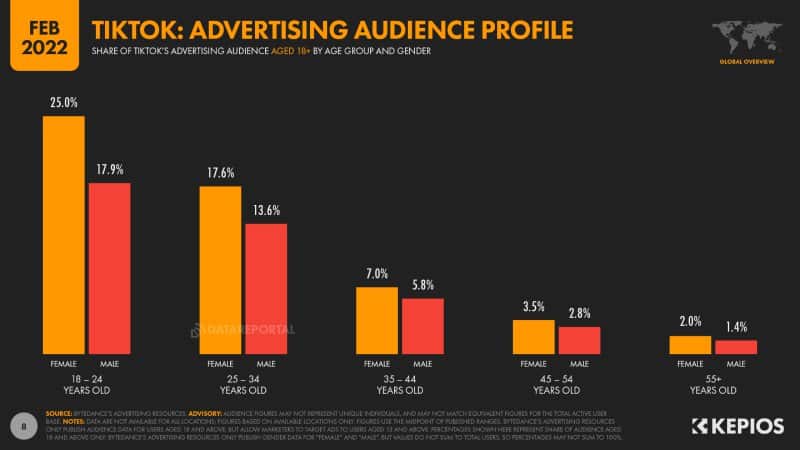 84.5 million TikTok users come from the United States alone
According to Statista, nearly 85 million TikTok users older than 18 years come from the United States alone, which makes this country with the highest TikTok usage in the world.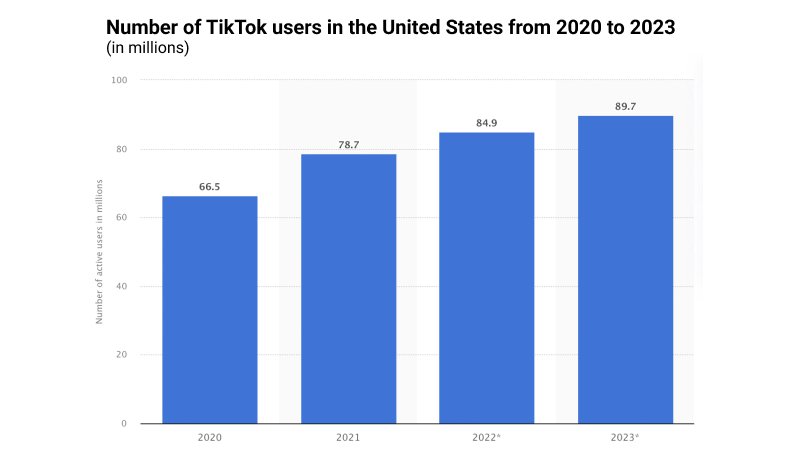 The Chinese version of this application, Douyin, has over 505 million users but is only available for the Chinese population. Other countries with the biggest TikTok usage are Indonesia, Brasil, Russia, Mexico, etc…which is a strong indicator that most of the people come from North and South America. Marketers will find these TikTok stats helpful for setting geo strategies for marketing purposes and placing products or services in front of targeted audiences in a specific country.
The total average time spent on TikTok is 66 minutes
People who use TikTok spend nearly an hour on this application watching videos according to the Business Of Apps report using Bloomberg as a source. The average time spent on TikTok per user is 66 minutes, while first on the list comes Norway with 74 minutes, next to the United States and Poland with 68 minutes, United Kingdom and France with 60 minutes in the end. So currently, Norway is the country with the highest time spent on TikTok in comparison with other countries from the list.
TikTok stats by engagement
83% of the TikTok users post videos
According to Wallaroom, 83% of the TikTok users post some content on their profiles. It means that they create videos and build an audience here daily. This information is important for the marketers to know that nearly 850 million people have active profiles, so promoting products or services here can be beneficial. It doesn't mean that the other 17% of the people who don't post will not interact with your videos. Maybe they don't post, but they still can watch videos and engage with the content regularly.
TikTok users watch 167 million videos every minute
Statista found that people watch 167 million videos per minute on TikTok. These TikTok stats show that TikTok has the highest rate of social media usage per minute, which is a strong indicator of how viral this social media platform is. This information can encourage marketers to post consistent content for their brand because the chances are high that your video will be one of these 167 million videos every minute of the day.
The most popular TikTok categories have more than 2 billion views
It's widely known that hashtags are evergreen engagement boosters and they are so important when it comes to TikTok marketing too. According to Statista, the most popular video categories on TikTok have over 2 billion views, thanks to the hashtags in many different areas, like dancing, entertainment, fitness, beauty, cooking, pets, and so on. Here is the list of some popular hashtags currently by category:
#love with 665.5 billion views
#dance with 378 billion views
#fun with 241.8 billion views
#prank with 240.7 billion views
#funnyvideos with 190 billion views
#fitness with 152.2 billion views
#fashion with 128.4 billion views
#pet with 88.1 billion views
#cooking with 74.3 billion views
#life with 73.1 billion views
Here is a bigger list of the most-used TikTok hashtags: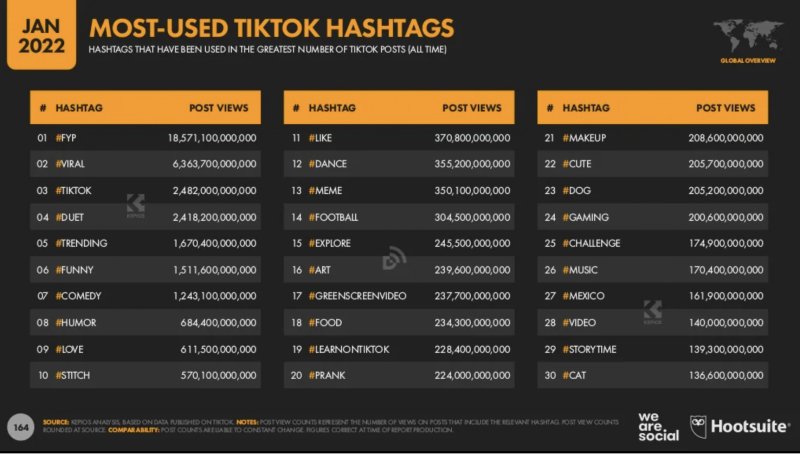 Also, TikTok users can use custom hashtags for additional content engagement if creating random videos with no niche, like #foryou with 14051 billion views, #foryoupage with 8986 billion views, #fyp with 20963 billion views, and so on.
TikTok is downloaded 850 million times in 2020
For both iOS and Android users, TikTok was downloaded by 850 million users in 2020 alone. This TikTok statistic by Sensor Tower can show marketers how viral this social media platform is and how massively people want to use this app on their devices. Brand owners and social media marketers can feel free to use TikTok for launching new marketing campaigns because billions of people are hanging out here, and at least millions of them can be your target audience from the first hand.
TikTok's highest engagement rates come from Saudi Arabia with 78.3%
Maybe it sounds weird and amazing at the same time, but the country with the highest TikTok engagement rate in the world is Saudi Arabia, according to the report of Arab News. Next on the list come Kuwait with a 75.2% engagement rate, the United Arab Emirates with 68.6%, and so on. These TikTok stats show brand owners that most of the people from the Arabic countries engage with the content consistently and help videos to go viral. Targeting an Asian or Arabic audience is always a good idea depending on your products or services. Chances are very high that your content will face higher engagement rates than usual.
TikTok stats by advertising
63% of the clicked TikTok ads put their message in the first 3 seconds
TikTok reports that 63% of the TikTok ads get the biggest Click-Through-Rates when the message is put in the first 3 seconds of the video. This information is important for marketers to focus on catching people's attention in the first 3 seconds of the ad, interestingly showing the product or service.
Catching people's attention from the start of an ad can boost the ad engagement rate and get a huge number of clicks, which can lead to increased sales for your brand as well. Here are some of the main tips that 61% of the most successful auction ads have in common: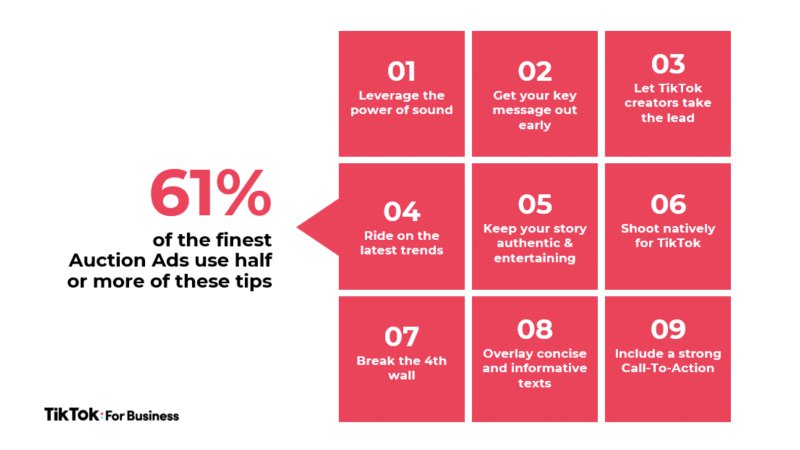 50% of successful TikTok ads spread positive energy
According to the same TikTok report, 50% of the highest converting TikTok ads strike a positive emotional feeling. Not just ads, but creating interesting content for your audience with positive energy in the videos can increase the engagement rate of the content and catch the users' attention. These TikTok stats are important for the brands to focus on creating entertaining content and bringing positive vibes through the videos.
TikTok ads with vertical video frames get 25% better watch-through-rate
Maybe it sounds funny, but vertical TikTok videos get a 25% higher watch rate than horizontal ones. According to the TikTok ads report, marketers need to shoot content and ads using vertical frames to get 6 seconds more watch-through rate on average. These 6 seconds mean a lot when it comes to TikTok, so always tend to shoot your videos in a vertical position to boost the engagement rate for the brand. The algorithm likes vertical videos, so feed them with relevant content and enjoy its benefits.
Talking TikTok ads convert 33% better
TikTok ads report shows that ads get a 33% better engagement rate when someone directly talks to the audience. These TikTok stats are helpful for marketers to create speaking ads and turn to their target audience face-to-face. Speaking directly to your audience and explaining to them about your products and services is so important for the potential users to be in touch with your brand and build trust. So, always prefer this kind of ads in your marketing campaign.
Sales TikTok stats (how TikTok Impacts the Path to Purchase)
Brands can easily build brand awareness and perfect customer relationships which can lead to consistent shopping from potential customers. According to the TikTok stats report about sales:
44% of the users engage with promo content with an entertaining nature.
74% of TikTok users say that TikTok has inspired them to find out more about a product or brand online.
66% of TikTok users agree TikTok has helped them decide what to buy.
67% of TikTok users agree that the platform inspired them to shop even when they weren't looking to do so.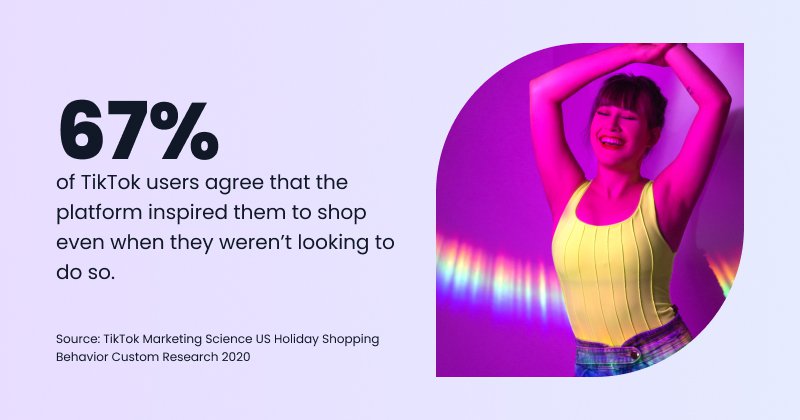 People are more willing to buy from someone they trust. Building trust with your potential customers on TikTok is a crucial step for increasing your sales and becoming a trustworthy shopping place. The nature of TikTok as a social media trend can impact the purchase decision.
It is the most popular platform focusing on retail discovery and consideration in comparison with others.
The same TikTok report shows that 84% of the people prefer to use TikTok as a source to review any product they are interested in, watching unboxing videos, tutorials with that product, how-to guides, etc…This process leads to building loyalty between buyers and brands and increased engagement rates. Additionally, people check relevant hashtags for their wanted product to research more information about it.
People are on TikTok to have fun, so brands should give positive energy to the potential customers and impact their buying decisions emotionally. Always tend to create long-lasting content with positive energy and turn your audience into your customers.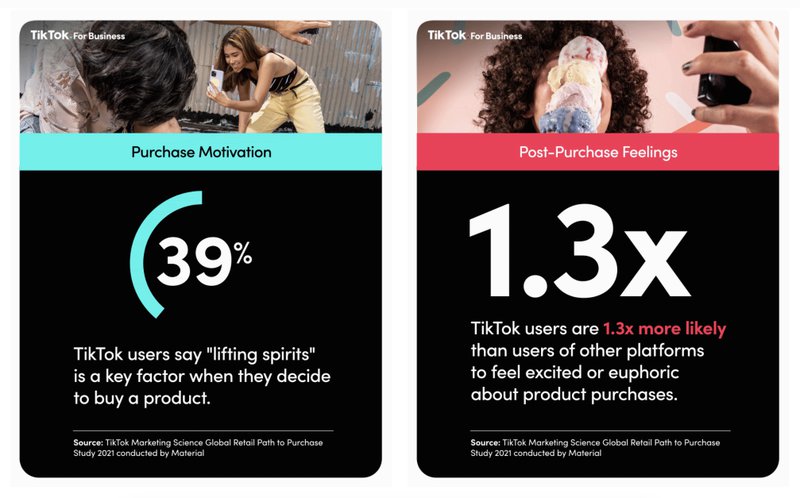 Key Takeaways: How can businesses use these stats?
In summary, it is key to know why people use TikTok, what is their unique behavior on the platform and how they act in terms of buying products. Here is a summarized look of the purchase motivations of the TikTOk users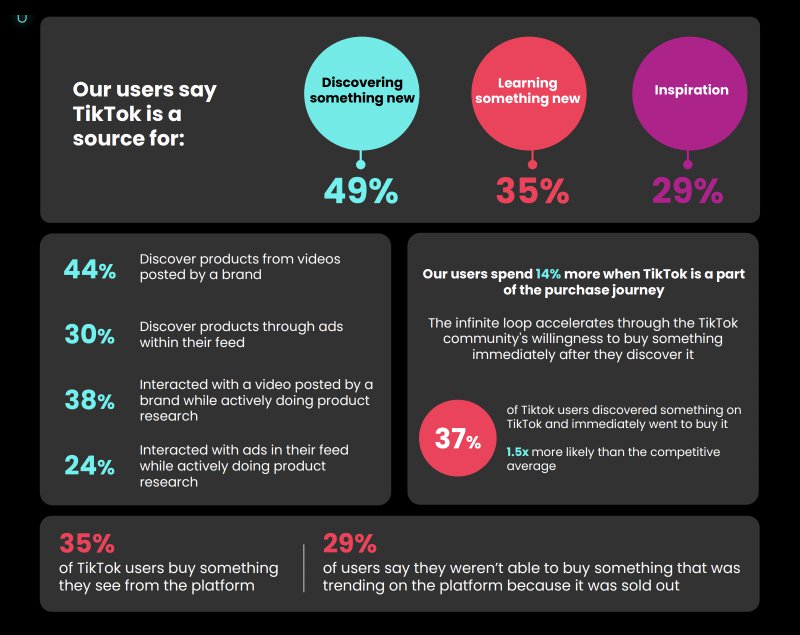 And if you are a business looking to define your strategy on Marketing on TikTok here are 5 things you can take away from all TikTok statistics we mention in this post:
If you have a market in Saudi Arabia, you might want to test a campaign there as it has the highest engagement rates.
Create content that will appeal to 19-year-old audiences as they are the numbered users on the platform. Shoot interesting videos showing your products relevant to youngsters, like gadgets and electronics, gaming stuff, fashion-related products, etc… to catch their attention and entertain them at once.
If you create an ad on TikTok, always put the message in the first 3 seconds. 63% of such ads get higher click-through rates, so prefer to tell the point of your promotion at the very beginning of the video.
Shoot your TikTok videos vertically as they get a 25% higher watch-through rate. People watch vertical videos 6 seconds longer, so such content is more likely to be pushed on the platform and get a higher engagement rate than usual.
Want to increase your sales? Create a speaking ad because TikTok users are more likely to engage with it. It's a good idea to speak directly to your audience in front of a camera about your products or services and get them to take an action for your brand.
Conclusion
Looking at the social media trends in the past 2 years, TikTok is the fastest growing social media platform in comparison with the others. Its entertaining nature allows brands to place fun content and promote their products or services in front of a relatively young audience.
TikTok has the highest engagement rates and it's a no-brainer when it comes to users' interaction. Its algorithm can easily push the content and make it viral if many people spend a longer time on a video. TikTok now has more than 1 billion users, so it's one of the most popular platforms nowadays to launch your new marketing campaign and catch the wave of this social media trend.
These TikTok statistics from the marketing and sales aspect will help you to learn more about how popular TikTok is, where your relevant audience is based, how to increase your profit, how to skyrocket your brand's growth, and similar.
Moreover, you are able to reuse this content and embed TikTok videos on your website, to expand its reach and get to more people beyond the TikTok app.
Keep in mind that you have a fast-pushing algorithm, so feed it with consistent content spreading positive vibes to entertain your audience at first, and then to turn them into high-paying customers.