If you're reading this, you already know what UGC (user-generated content) is and that it has been a hot topic on social media for quite some time now. But what about UGC platforms and their importance?
Suppose you're dealing with a marketing strategy through any digital channel. In that case, UGC platforms are simply a must – especially for your UGC campaigns, gathering customer feedback, and re-using UGC to gain trust on your website.
We asked marketing experts, CEOs, and company founders to share their experiences using UGC platforms and point out the most helpful platform for their needs.
Introduction to User-Generated Content (UGC) Platforms
User-generated content platforms are online tools that allow any business to collect, curate, and display user-generated content, i.e., authentic content created by their customers.
When we say user-generated content, we mean showcasing customer photos, videos, reviews, ratings, or any other form of customer feedback.
In plain words, UGC platforms are your loyal sidekicks to running successful UGC campaigns for your marketing strategy that, if done right, should significantly increase your company's revenue.
That said, let's take a closer look at why these UGC platforms are so important and how your business can benefit from using them to collect UGC.
1: EmbedSocial: Most Complete UGC platform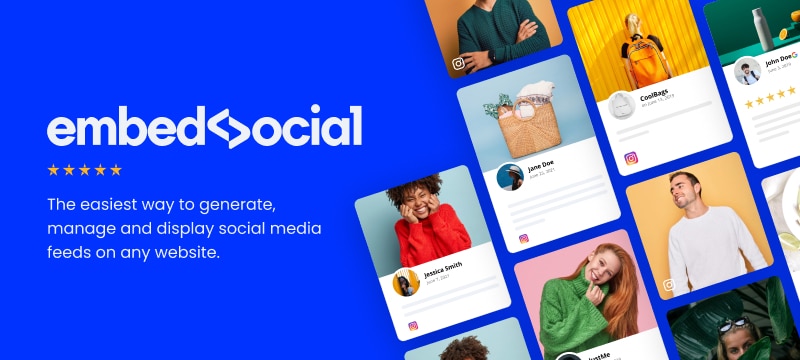 EmbedSocial is one of the complete platforms to empower brands to leverage UGC across different marketing channels.
It has unique integrations with all major social media channels that actually enable fast and easy UGC collection with just a few clicks.
The platform provides 2 major UGC sub-products: EmbedFeed and EMbedReveiews, which are explained in more detail below:
EmbedReviews
FYI: You can embed Google reviews widget automatically with EmbedReviews platform. Start a free trial and display your Google reviews now.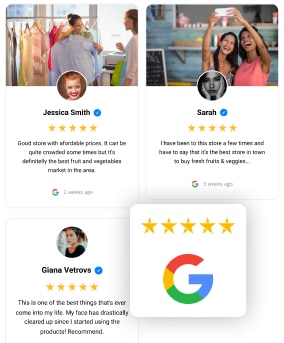 Generate & embed your Google Reviews.
Try EmbedReviews, generate Facebook and Google reviews, and display social media reviews widgets on your website. Automatically and in seconds.
All PRO features | Cancel any time.
EmbedReviews is part of the EmbedSocial platform, and it is one of the best platforms to easily gather UGC in the form of reviews. It specializes in collecting reviews from social media such as Facebook and Google, plus offers different capabilities to collect reviews via Email, SMS, web forms, etc.
The great thing about social media reviews is that you can authentically showcase customer photos and provide the actual link to the social channels where the review was published.
The main features include the following:
Automatic reviews generation from Google location
Automatic reviews generation from the Facebook page
Wall of love page to display all reviews in one place
Reviews forms to collect customer feedback on the website
Google reviews snippet
Unlimited reviews widgets to display on web pages
The pricing starts at $29 a month, and the plans depend on the number of Google locations or Facebook pages users need to connect to the platform and pull their reviews.
EmbedFeed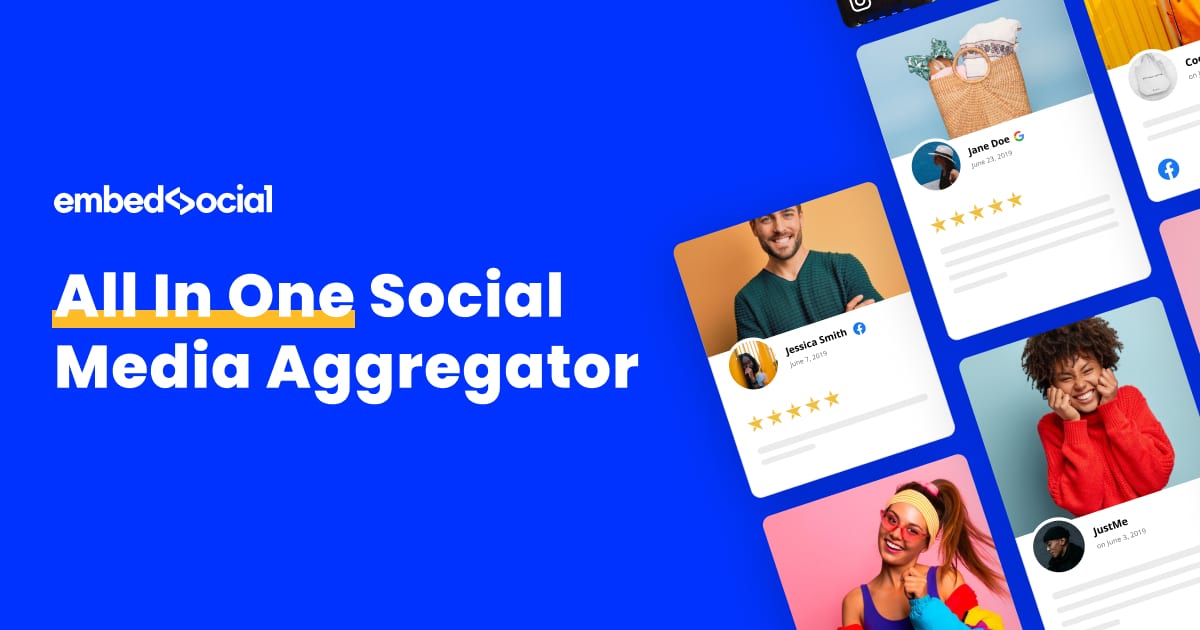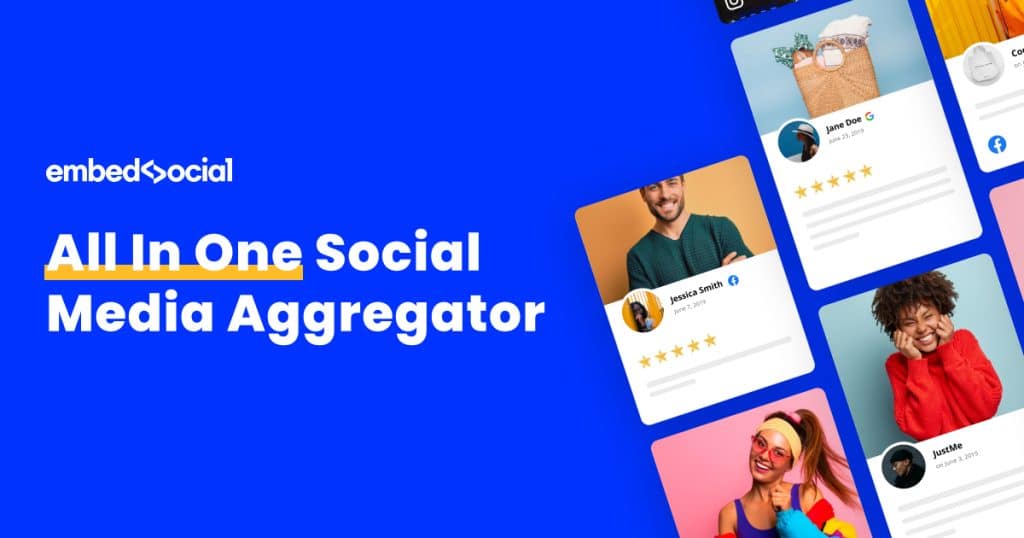 Another best-selling product within the EMbedSocial platform is EmbedFeed. This advanced social media aggregator helps brands aggregate UGC posts from various platforms, such as Instagram, TikTok, YouTube, Twitter, Facebook, and more.
The main use-case for users is the ability to pull UGC from a specified hashtag or video and photos that people published by mentioning the user's Instagram account.
EmbedFeed has approved integrations with all major social media aggregators that make it very powerful; it can sync content on the users' websites as soon as a customer publishes it on social media, plus the integrations allow thousands of content pieces to be pulled seamlessly, which makes it a very stable platform for bigger brands and enterprises.
And finally, users can choose how they want to display the UGC on their websites by browsing a large Templates library that provides pre-built widgets that they can reuse and embed on their websites in just a few clicks.
2: Social Native (Olapic)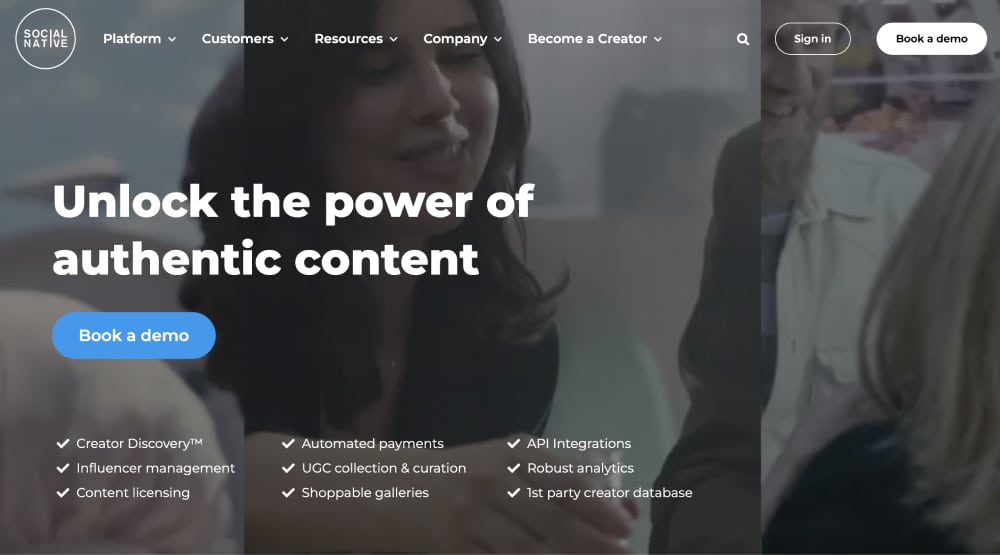 Social Native(former Olapic) is one of the top UGC platforms that collect and can curate user-generated content but also helps you discover influencers that best suit your business model (and strategy).
The platform is focused on collecting images and videos from Instagram and Twitter, and the method they use is through mentions and tags. The niches included are eCommerce brands, email marketing, social media, digital advertising, and more.
The most important features of this platform are:
Authentic content curation
Rights management
Onboarding and payments
Enterprise-managed services
Careful selection and evaluation of influencers and their content
We couldn't find pricing on their website, but you can book a demo for additional information.
Here is some of the experience shared by Damjan Tanaskovic, CMO of, Localizely who used this platform:
I've used several UGC platforms over the years, some of the more memorable experiences being Pixlee, Yotpo, and Olapic. They've all done a terrific job collecting, searching, and displaying UGC, with some of them even going as far as providing engagement options for interacting with customers.
The reason I jumped from one to another was that none of them had a content suggestion system that worked well for my needs, at least until I encountered Olapic.

Damjan Tanaskovic, CMO, Localizely
It has an AI-powered suggestion system that determines which content would best match a specific brand's marketing channels, making audience targeting an entirely automated and accurate process.

3: Yotpo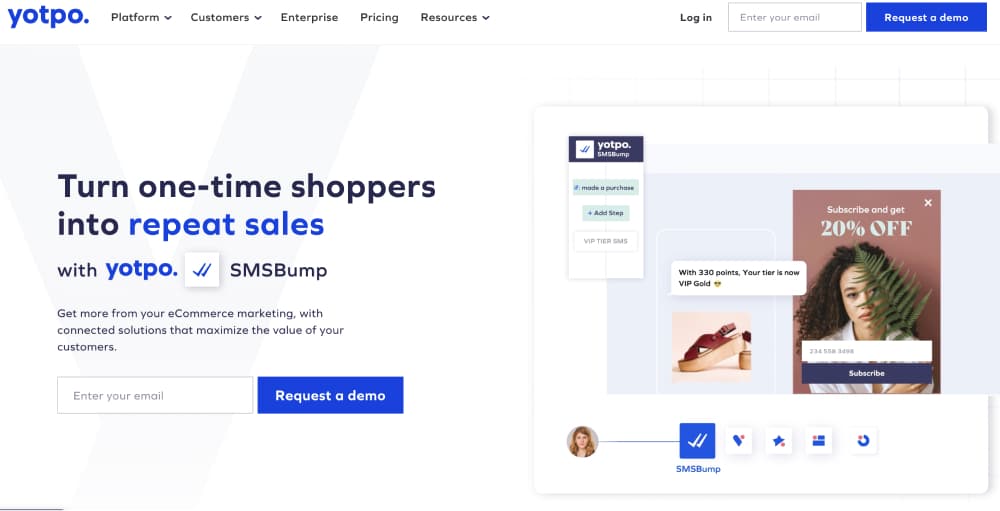 Yotpo is specifically designed for eCommerce marketing solutions. Its main focus is:
SMSBump
Loyalty and referrals
Reviews
Subscriptions
Visual user-generated content
After exploring a bit further, we found out that this platform checks out most of our requirements boxes like:
Ease of use and launch
Enterprise-grade security
Dedicated customer service
Consolidated billing
Regarding the pricing, they do offer a free plan that includes email marketing and has no time limit. As for the paid options, they are as follows:
Growth – starting at $19/month
Prime – starting at $59/month
Powerhouse – starting at $199/month
Enterprise – you'll have to request a demo
4: Qualaroo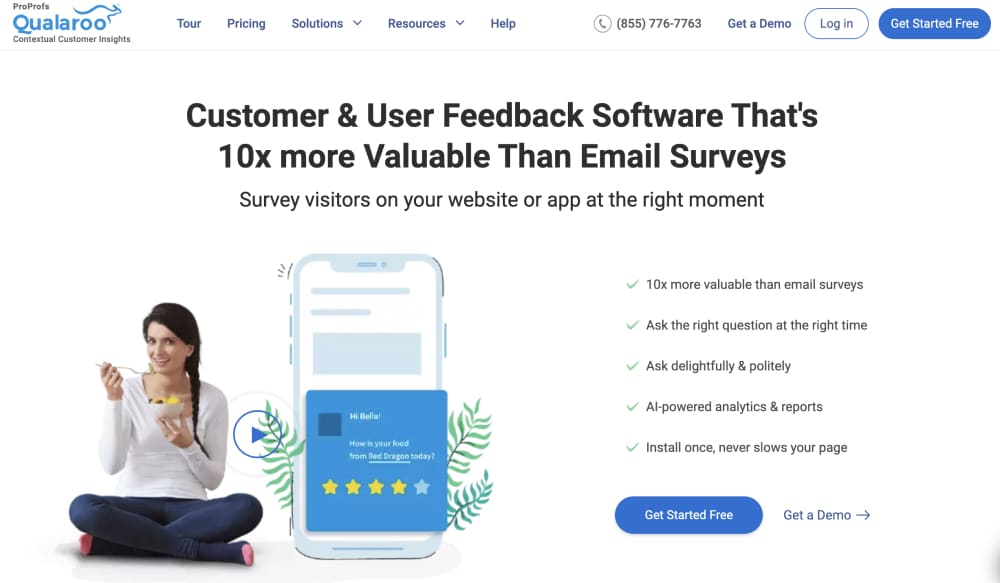 The Qualaroo UGC platform is focused on surveying specific users while they're reviewing your products/services. Its main features are:
Survey templates
AI sentiment analysis
Nudge for prototypes
Confirmation page surveys
Exit intent surveys
Question branching
A/B testing
Integrations
You can customize fonts, colors, logos, etc., according to your own brand. It's simple and easy to use, and you can even install a code to get feedback on websites, mobile apps, and products.
These guys don't offer a free plan, but there's a free 15-day trial. As for the paid options, here they are:
Essentials – $69/month
Premium – $149/month
$299+/month
5: Crowdriff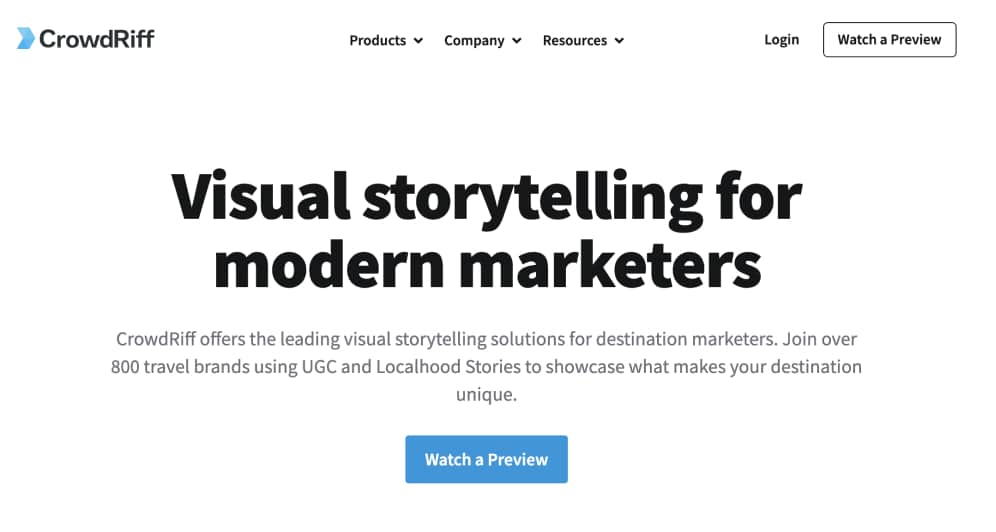 Crowdriff combines UGC discovery with global travel and tourism. As they state in their mission, they want to make travel good both for people and the planet.
They collect UGC that would inspire travelers to see the world from a different perspective and explore sustainably. The platform is a real visual content engine that focuses on travel brands.
Its features:
Ever-growing database of customer photos and videos
Secured ownership rights
Digital asset management (search, add, and drop content into your marketing UGC campaign)
Insights and analytics dashboard
Performance optimization
Easy to use
Here is an actual user experience of this platform shared by Benjamin Okyere, Data Engineer, Stress Reliever:
What makes CrowdRiff truly stand out from other UGC platforms is that it also offers comprehensive visual curation tools to help me create meaningful visual stories out of UGC that shoppers love engaging with.

Benjamin Okyere, Data Engineer, Stress Reliever.
The platform includes data integration tools for import/export and reporting capabilities, so I can measure how my visuals are performing and how they impact my overall business growth. All these features make CrowdRiff a powerful UGC platform for collecting, analyzing, and displaying user-generated content effectively.

6: UserTesting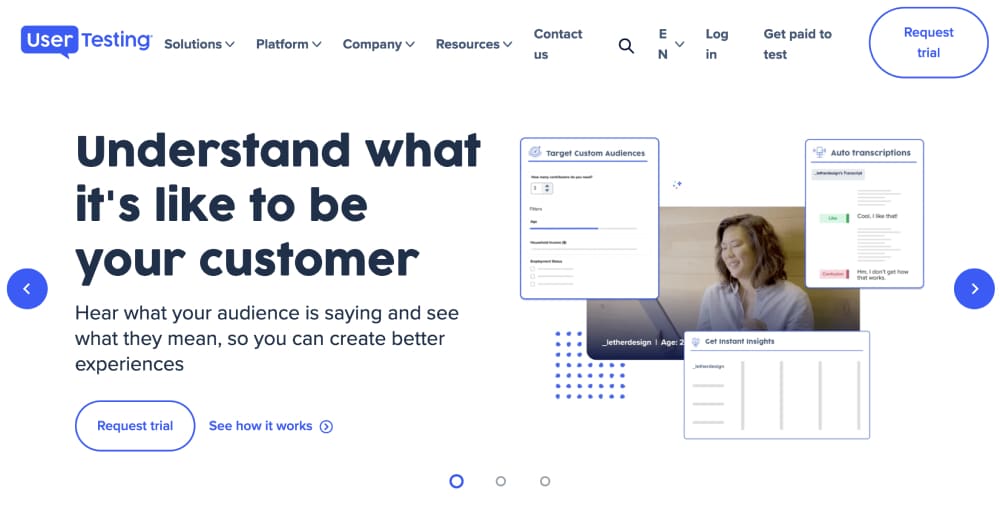 UserTesting is a UGC platform that works in many industries like automotive, consumer technology, eCommerce, financial services, gaming and gambling, healthcare, media and entertainment, and travel and hospitality.
Its main content focus is a video where you can see and hear how people engage with your services and products.
Its features:
CxN audience management
Customer experience narrative (CxN) core
Human insight management
Data and machine learning
The platform is suitable for: UX and design, executives, product, and marketing – basically all the greats.
As for the pricing, they don't have it on their website, but you can find their different plan options and their features here:
7: GetFeedback
GetFeedback is another of the top UGC platforms you can use to collect feedback across all channels and analyze them for trends. Their surveys are easy to access and use in whichever part of the customer lifecycle stage.
The platform's main features are:
Customization
User, Role, and Access management
Internationalization
Reporting and Dashboards
Integration APIs
Employee segmenting
NPS/CSAT Scoring
Regarding the pricing, they don't have a free plan, but they offer a 14-day free trial that includes Salesforce integration and up to 20 survey responses, and no commitment is required.
As for the paid options, they offer three versions: Essentials, Pro and Ultimate, but to get a quote, you need to fill out a form, as the price isn't given on their website
8: Trustpilot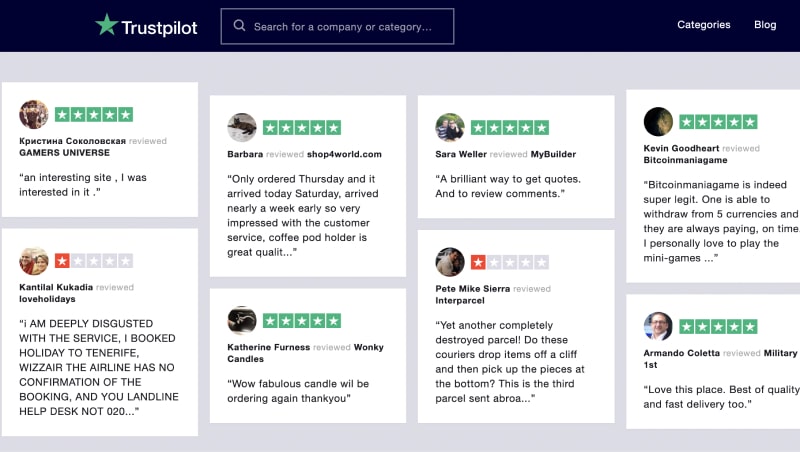 Another tool that's great for UGC campaigns, Trustpilot, is a customer review management software that can be used in many niches such as banks, jewelry stores, travel insurance, energy supply, car dealerships, real estate, insurance, fitness, pet stores, and many more.
Its main features are:
Consumer Intelligence: customer feedback, competitive intelligence, sentiment analysis
Corporate reporting
Dashboards
Social network monitoring
Social Media management
Collection: authentification, engagement, personalization
They offer no free plans, but you can book a demo for all of the paid options. Here are their plans:
Standard – from $225 per domain
Growth – from $600 per domain
Scale – from $900 per domain
Enterprise – pricing upon request
9: Feefo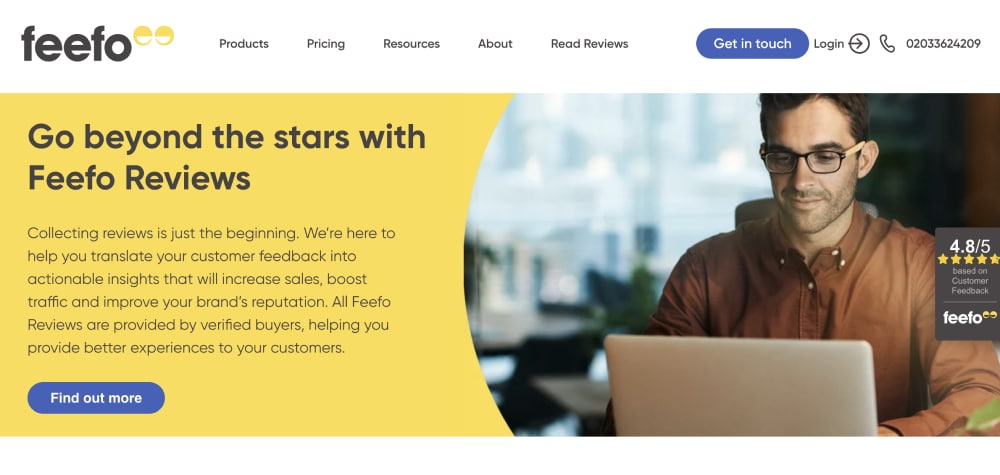 Feefo collects and manages reviews directly from genuine customers. Their main focus is on the following:
Collecting data
Managing feedback
Sharing experiences
Data analysis
Brand safety
What makes this software different are the following aces in their sleeves:
Invite-Only platform
Capturing video and photo reviews
Easily gauged NPS
Collecting both product and service reviews
Collecting data at any stage of the customer journey
AI-powered integrations
They don't offer a free plan, but three of their paid options give a free trial (except the Enterprise, which can be customized). Here are the details for the first three:
Essential – ₤79 (ex VAT) – up to 200 feedback emails per month
Essential Plus – contact for pricing – up to 500 feedback emails per month
Advanced – contact for pricing – up to 2,500 feedback emails per month
10: Bazaarvoice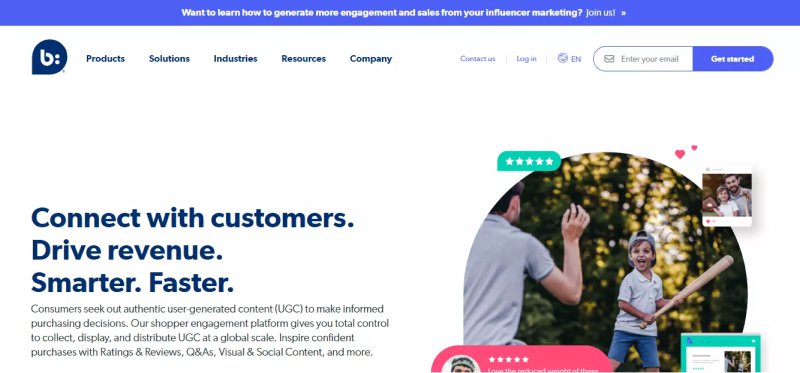 From ratings and reviews Q&As, social and visual content, and much more, Bazaarvoice is a great content curation tool that gives the total user control for collecting, displaying, and distributing relatable content. The industries it covers are apparel and accessories, consumer electronics, consumer packaged goods, food and beverage, health, and beauty.
Its features:
Sampling
Rating and reviews
Visual and social content
Retail syndication
In-store and digital activations
Social commerce
Social publishing
Insights and reports
Bazaarvoice hasn't shared its pricing on the website, but you can get started by emailing them through their form.
11: Reevoo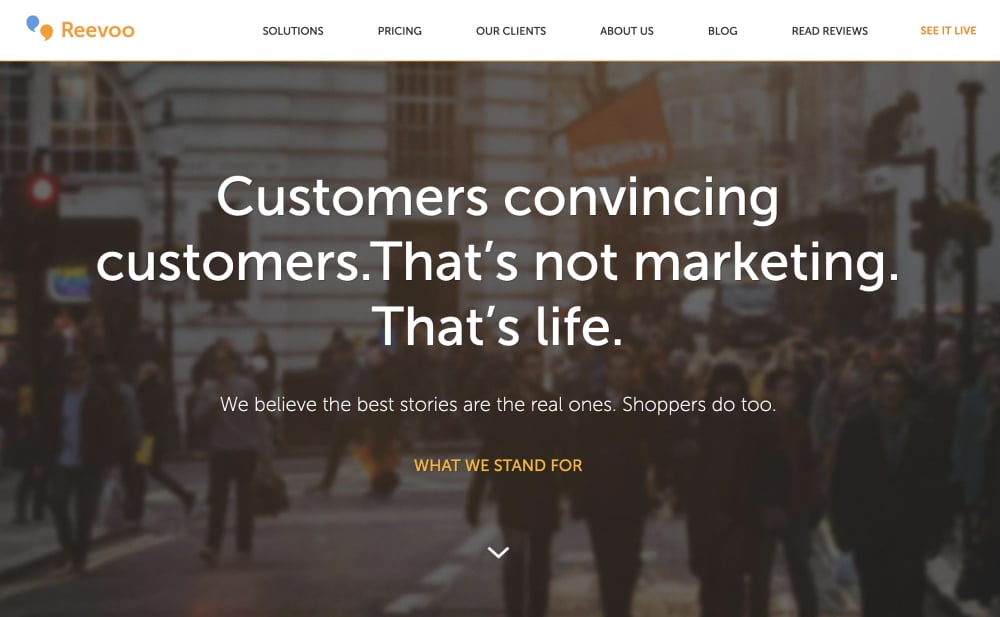 Reevoo is another user-generated content collector whose mission is to curate user-generated content that isn't boring. The software aims to generate authentic content that can later be curated across various marketing and social media channels.
This is what this software can do for you:
Boost conversion and SEO through authentic reviews
Proactive customer conversations – no waiting for engagement, but collecting constant flow
Gather user-generated content on demand – a new feature to create authentic content according to your brand's need
Customers who have used it say it works best for mid-sized companies and organizations with over 50 members.
As for their pricing, you can get in touch to get a quote specifically designed for you – depending on the amount of content you want to be collected.
12: Pixlee TurnTo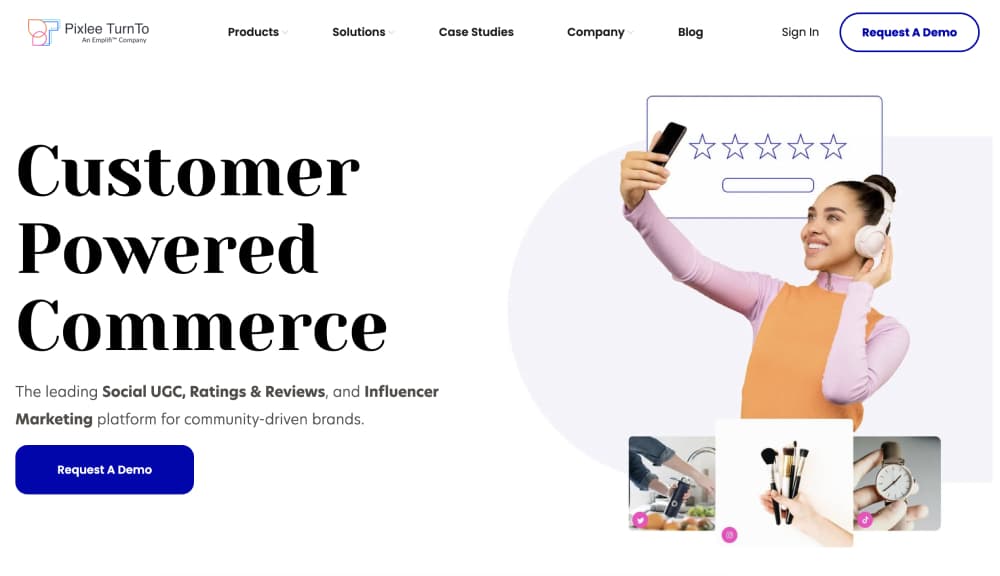 Pixlee TurnTo focuses mainly on commerce and not just any type but community-driven commerce. What differentiates it from the rest is that it's the only unified platform for Social UGC, Influencer marketing, and ratings and reviews. The platform has fast and customizable UGC widgets that are asynchronous and don't block loading the page.
Here are the features in a nutshell:
Social UGC from all the top channels (Instagram, TikTok, Facebook, YouTube, and many more)
Source ratings and reviews (community Q&A, check out comments, site reviews)
Community content and relationship management (visual search, smart tagging, AI recommendation engine)
Influencer management (tracking, campaign tools, influencer CRM)
Localization and personalization (language translation, smart tagging)
Analytics and metrics
There's no pricing provided on their website, but you can request a demo through their online forms.
13: Loox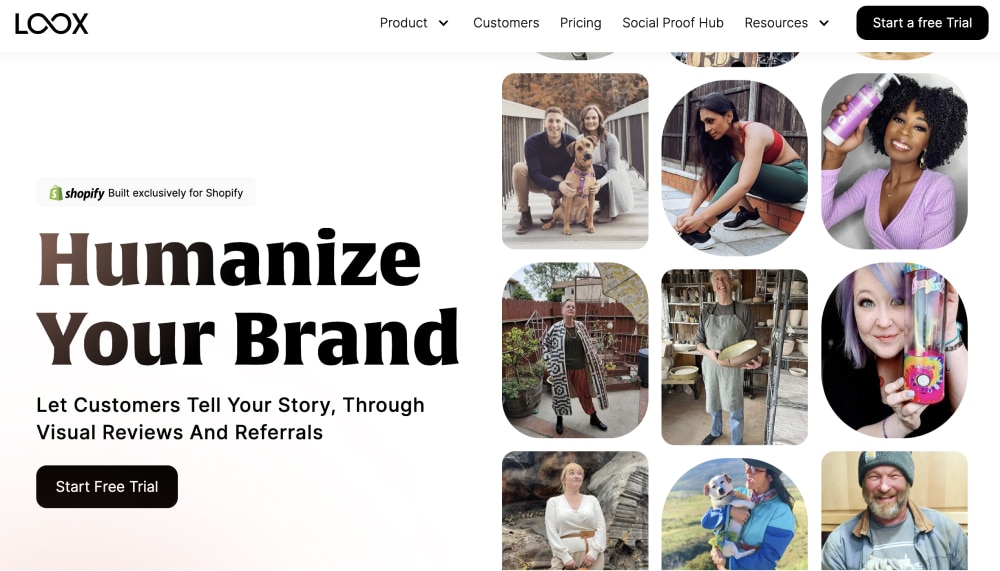 Another of the user-generated content platforms you can use to create UGC, curate, or publish it is Loox. This review app focuses on product reviews and customer referrals and mainly focuses on Shopify. No matter the size of your company, you can automatically collect customer reviews with photos and videos.
Loox's best features include the following:
Collecting reviews, photos, and videos through customizable email requests
Schedule by delivery time or status
Photo/Video reminders for text reviews
Customizable, 100% responsive displays
Next-purchase discount codes
Easy setup and 24/7 support
Available in 19 languages
Inline SEO
GDPR compliant and many more
All of their plans include a free trial, and here is what the paid option costs:
Beginner – $9.99/mo
Growth – $34.99/mo
Unlimited – $299.99/mo, a limited offer, otherwise $599.99
14. Stackla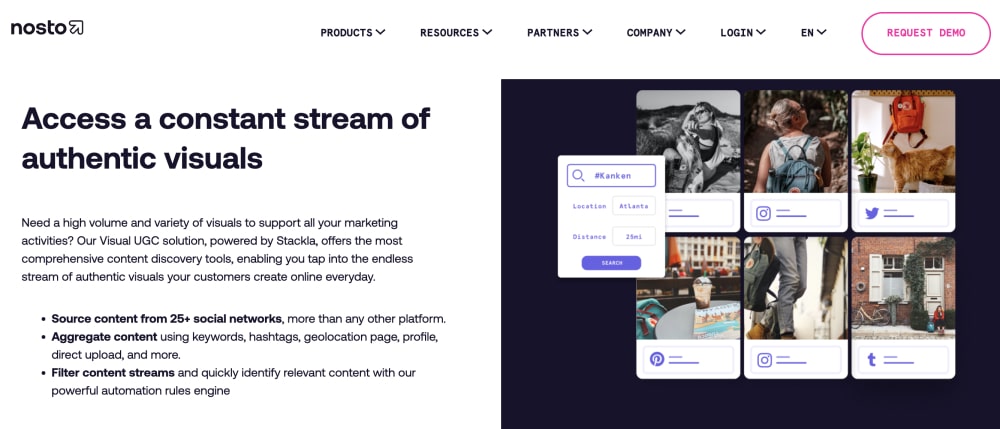 This platform was shared by Tristan Harris, Demand Generation Senior Marketing Manager, Thrive Agency, and here is his experience:
With Stackla (acquired by Nosto), you can easily find, curate, and publish UGC in real-time on your website, social media channels, and other digital properties.
One of the best features of Stackla is its powerful analytics capabilities. It provides detailed insights into the performance of your UGC, such as the reach, engagement, and sentiment of each post. This allows you to identify which content resonates with your audience and prioritize it accordingly.
You can also use Stackla's analytics to track trends in UGC and adapt your strategy accordingly. Stackla also has a wide range of integrations that make sharing UGC on various platforms easy. For example, you can integrate Stackla with Facebook, Twitter, Instagram, and YouTube so that you can easily post content on these networks.

15: Judge.me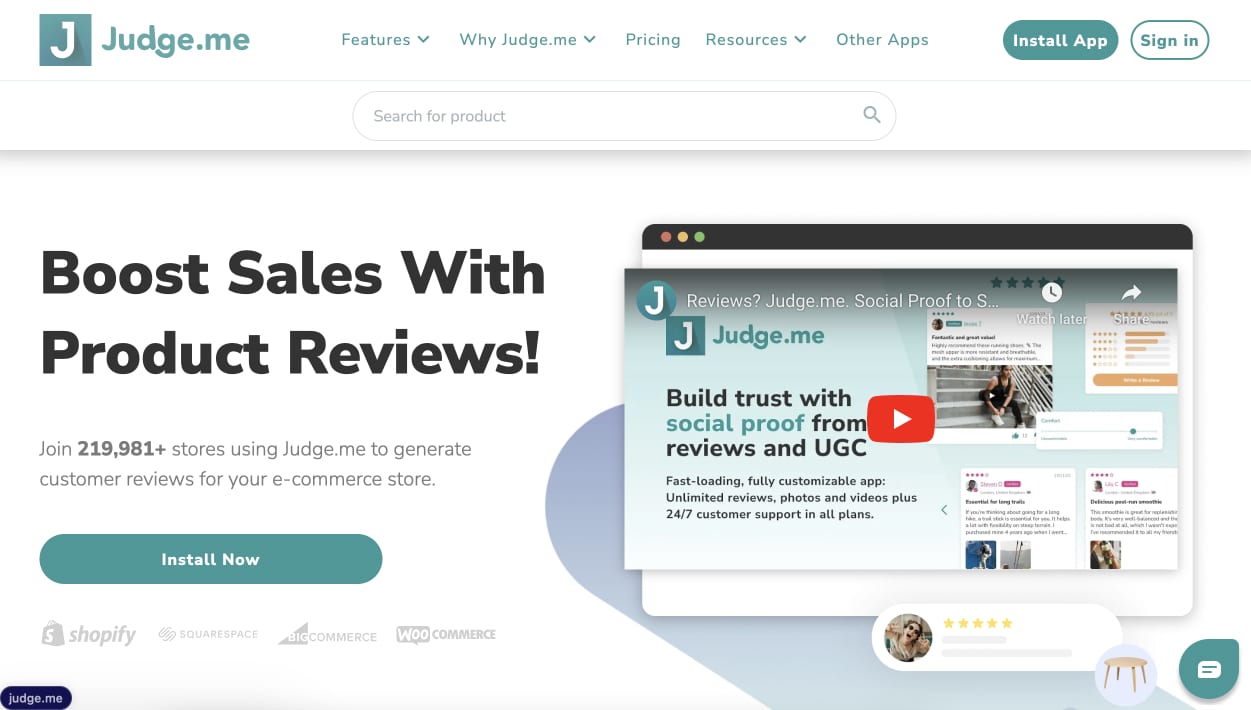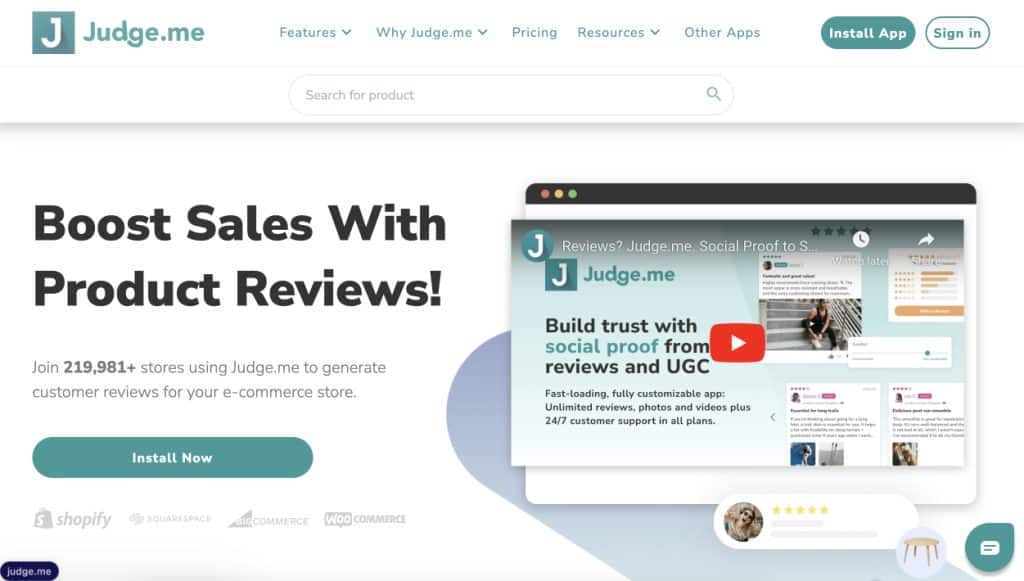 Another great platform best suitable for online stores, Judge.me is perfectly compatible with Shopify Online Store 2.0. With Judge.me, you can:
With Judge.me, you can:
Install and customize widgets
Manage reviews
Collect more reviews automatically
Share reviews across multiple channels
Customize as you go
Get onboard quick and easy
Get a 24/7 customer support
Here is an actual experience from Kevin Huang, Founder and CEO Ambient Home US, using this platform:
Kevin Huang, Founder and CEO, Ambient Home US
The widget is customizable, matching my online store's design, and displays reviews with text, photos, and videos. I can display reviews and star ratings on my product pages and a carousel of featured reviews on the home page.
Judge.me has many options that can cater to what I want with reviews. Curating reviews is easy because it can automatically publish after setting certain conditions to be met. We can reply to reviews publicly on the website or privately through email. Judge.me also detects spam reviews and inappropriate language to be dealt with accordingly.
16. Hootsuite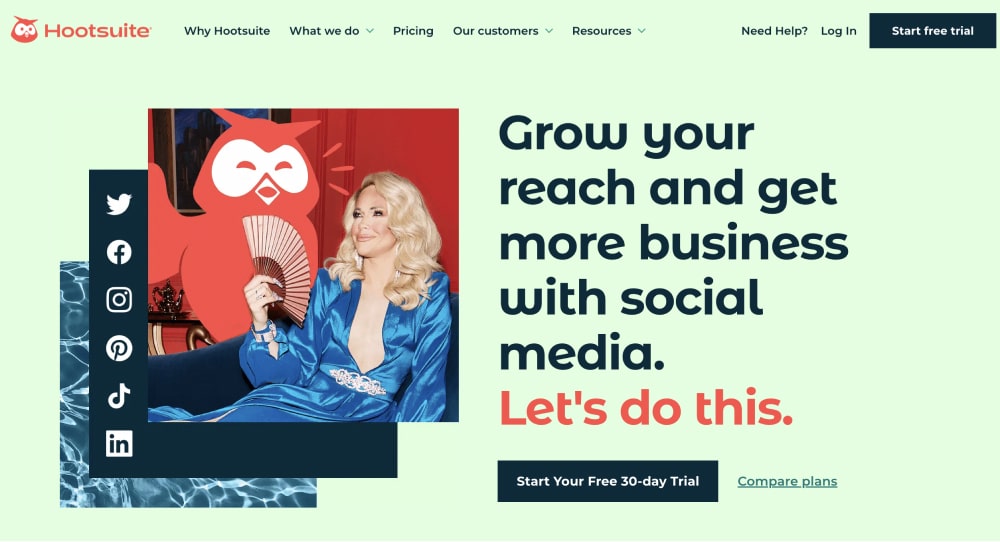 This tool was shared by Tasia Duske, CEO, Museum Hack, and here is his exact experience:
The best user-generated content (UGC) platform I have ever used is Hootsuite Insights. This comprehensive tool allows organizations to collect, sort, and analyze UGC from various sources, such as social media platforms or blogs, while also providing detailed graphical displays of the data.
The most remarkable aspect of Hootsuite Insights is its ability to track conversations in multiple languages. With this feature, marketers can monitor public opinion on a product or service among both domestic and international audiences, allowing them to tailor their communications strategy accordingly.
Additionally, insights on user sentiment help give businesses valuable customer feedback, which they can use to improve their services and drive customer engagement. All these features make Hootsuite Insights the perfect platform for organizations that need to measure the success of their UGC campaigns.
17. Greenfly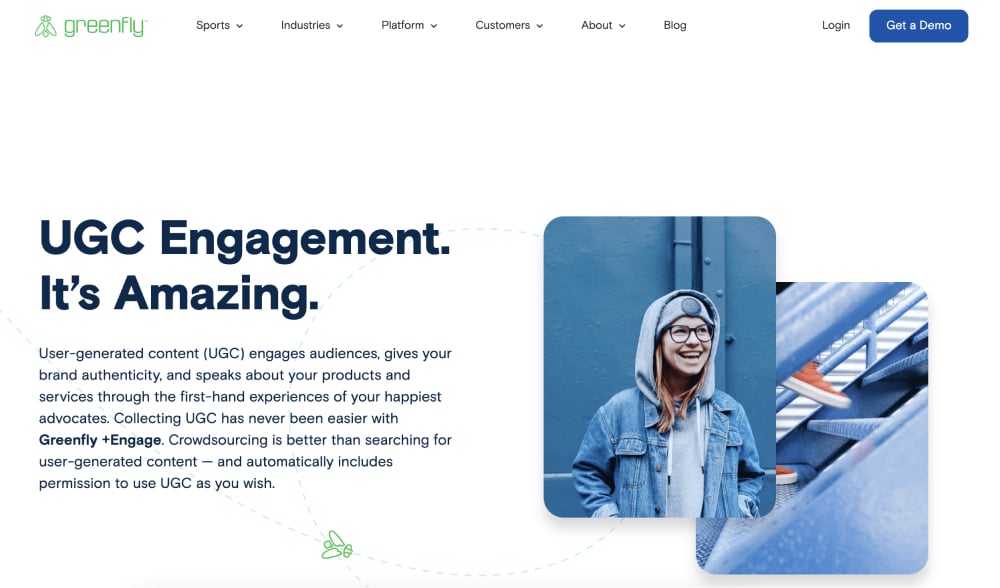 Greenfly is a Greenfly is a platform that helps companies to automate the collection, organization and distribution of digital media. Its aim is to help brands gain the power of the most loyal brand advocates to increase social media reach and engagement and attract broader audiences.
Greenfy was shared as a UGC platform by Joe Flanagan, Founder of 90s Fashion World. Here is in more details about his experience with Greenfy:
One of the main reasons I prefer Greenfly is its ability to allow me to easily collect and distribute UGC from brand advocates and influencers. The platform makes it easy for me to identify and engage with brand advocates, and to give them the tools to create and share high-quality UGC on my behalf.
This can be a powerful way for me to expand my reach and tap into my advocates' networks. Another advantage of Greenfly is its scalability. I can easily manage and track the performance of multiple UGC campaigns simultaneously across several channels and platforms.

18: Shopify Product Reviews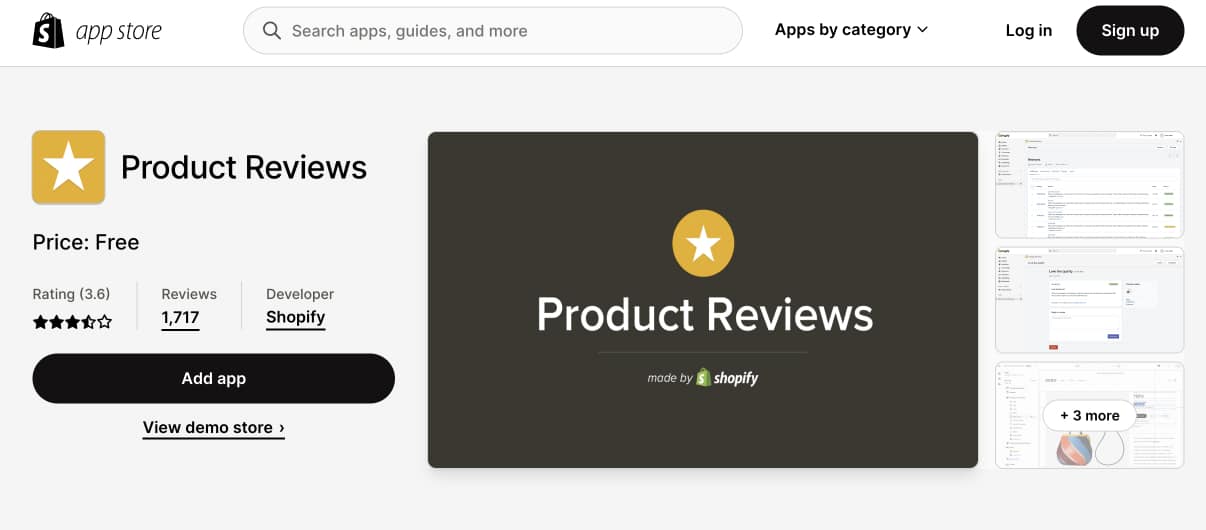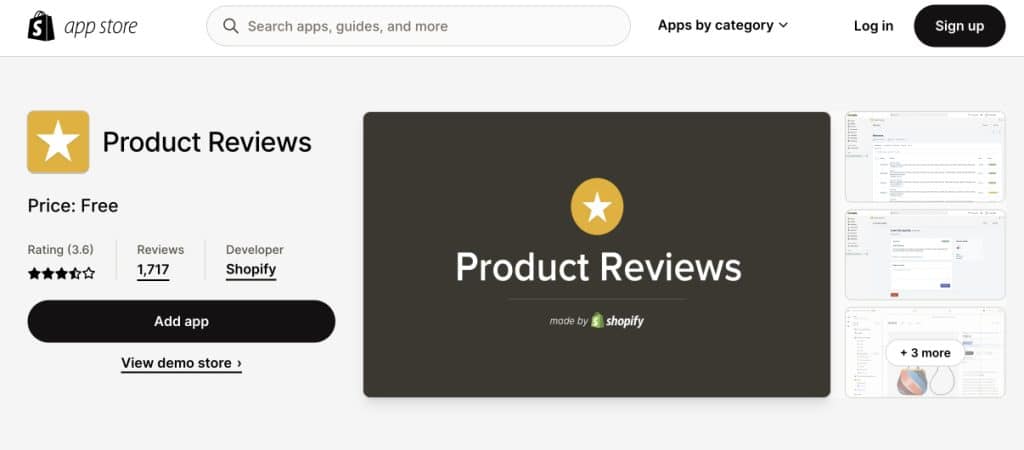 Last but not least, the good old Shopify Product Reviews is the app to have if you want to highlight what customers love about your products. You can collect and then share customer reviews on your online store's product pages.
The platform's best features:
Theme-friendly design – reviews automatically match your brand style
Easy customization
Bulk actions
CSV import and export
SEO-friendly review scores
It's free to use
Here's what a customer is saying about the app:
"Reviews are HUGE for any store owner looking to build trust and loyalty throughout the products you offer. Very happy I found this app! A MUST HAVE to compete with the big boys!"
19. Disqus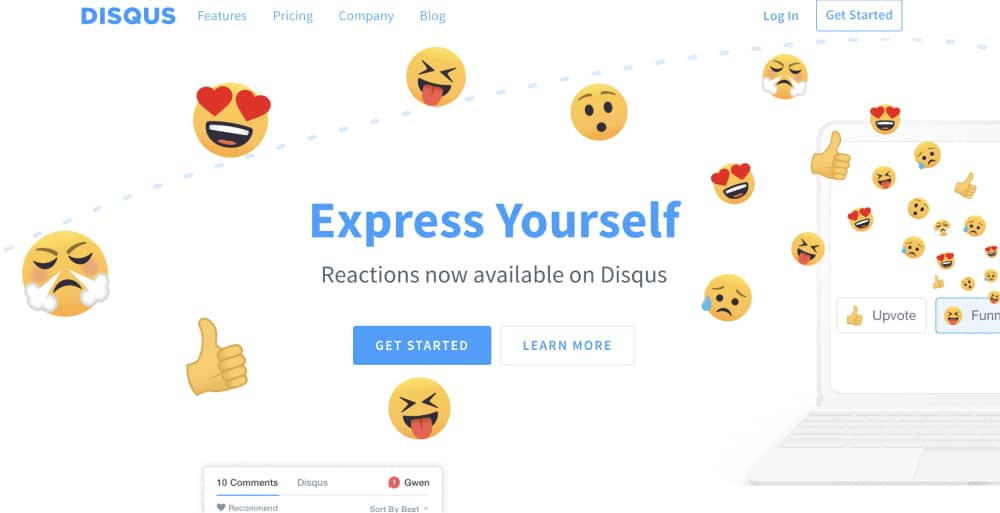 Disqus is not a typical UGC platform, but it can be listed in this category mostly because it provides news and media brands direct communication with their readers, who are able to submit their feedback, opinions, or topics for the articles that news brands share.
Here is an experience by Brenton Thomas, CEO of Twibi Digital Marketing Agency:
Disqus provides an easy-to-use platform for managing user-generated content, allowing users to create posts and comment on existing posts. It also provides powerful tools for analyzing and filtering UGC, making finding the most relevant and meaningful content easier.
Disqus also provides various customizable features and settings, allowing users to easily customize their UGC experience to meet their individual needs best. Disqus provides users with unparalleled control over their UGC, from moderating comments to controlling user permissions, making it the ideal platform for collecting, analyzing, and displaying UGC.
What Are the UGC Platforms' Key Features?
When considering which UGC platform to choose, there are several key components you need to consider- those depend on the type of campaign you want to run and the type of business you're running that campaign for.
Some platforms even have specific features specifically designed for business use – think analytics, ads, etc.
Here are the key features to look for in a UGC platform:
Aggregation: what type of content it collects
Content discovery: identifying the most suitable content for your campaign
Content curation: collecting all that content around a certain area or topic of interest (hashtags, channels, keywords, etc.)
Content editing: you should be able to edit the UGC that you've collected according to your needs (adding some photos if the UGC is plain text or re-purposing a review for an email)
Display: it should be able to display the UGC on various channels like websites, email, events, print, etc.
Influencer management: it should enable you to track verified creators of content and connect with them if you want to push an influencer marketing campaign
Analytics: you should be able to see insights into user engagement and how your whole campaign is performing – otherwise, why even bother, right?
How to Choose the Right UGC Platform for Your Business
Tightly connected with the previous section, this part will focus on the things you should be looking for when choosing a UGC platform for your business.
Accuracy
The only thing worse than having no data is having inaccurate data. The UGC platform should collect accurate data from all social media channels.
Be careful, though, if some of the data is duplicated – meaning that some content might be too similar. Look for a platform that has a deduplicate feature.
Ease of use
Nobody wants to waste time on complicated software. The platform should make it easy for you to collect relevant UGC and save you time so you can focus on other parts of your campaign.
Customer support
When choosing a new tool, always pay attention to its customer service. They should be able to solve any issue that has risen instantly and efficiently – or at least make it super easy for you to learn to solve it yourself. Constantly active customer support is a very important feature you should be looking for in a UGC platform.
Security
Needless to mention that this one should be another of your priorities. See if the tool comes with security policies, how secure it is against hack attacks and data breaches, and how safe is the file upload.
Customizability
Not all UGC you collect will be of high quality, so the platform has to be able to customize it to the optimal point. And to do that, it has to have a rights management feature, so you don't end up in a custody battle with the content owners.
It should also be able to add elements like banners, announcements, and any designs to make your campaign more attractive.
Pricing
This, of course, depends on the features the UGC platform has. It also depends on your budget. Make sure you know your priorities for the UGC marketing campaign and choose the UGC platform that best meets your criteria and your pocket.
The good news is that some of these platforms have a free trial, so you can test out their features before making a decision.
The Importance of UGC for Businesses
In a world where everyone has a voice plus a platform to share it, user-generated content has become a crucial part of a marketing strategy for any business.
User-generated content allows brands to connect with their audiences more personally and authentically.
But how, when user-generated content is created by users and not by brands? Well, that's just the point.
The customers share their experiences with a certain brand and give their opinions about them. When all this feedback is shared with the customer's audience, there's your word-of-mouth marketing.
In other words, your brand gets the social proof – the official stamp of approval, if you will.
In recent years, we've witnessed an absolute explosion in user-generated content's popularity – and let me tell you, brands have noticed it.
This is what you need to remember when we talk about the importance of user-generated content:
User-generated content builds trust and credibility
Stats about how people trust recommendations from people they know and about how they trust online reviews even from strangers – which makes the brand more relatable, which in turn can cultivate customer loyalty.
Increases click-through rates
According to UGC statistics, when user-generated content is incorporated into email marketing, the click-through rates increase by 78%.
Also, web conversions increase by 29% when user-generated content is included, and user-generated content-based ads see four times higher click-through rates.
Increases reach and engagement
When people see friends and family sharing positive experiences with a certain brand, they are more likely to buy from that brand themselves.
92% of consumers say that they trust recommendations from people more than from brands. Also, UGC posts on social media channels have a 28% higher engagement rate than branded content. (Source)
UGC drives sales
The most important point of all, increasing revenue, is what the whole marketing strategy is all about, right?
User-generated content plays a crucial role in this department too. An astonishing 80% say they would buy from a brand that uses user-generated content.
Conclusion
UGC is a very valuable tool enabling brands to connect with their audience in a more authentic, more personal way. With the right UGC platform, you can increase trustworthiness as a brand, increase reach and engagement, and build stronger relationships with customers – but above all, drive sales like never before.
Just make sure you explore the options we've presented in this article and choose the right UGC platform for your business.
Embed user-generated content on your website automatically. Start a free trial today >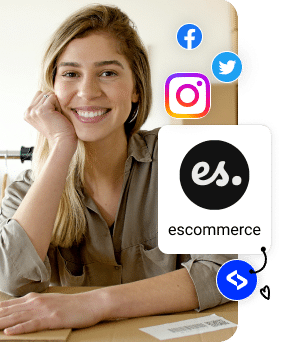 Collect social proof & user-generated content with the #1 UGC platform
Try EmbedSocial and automatically collect, monitor, and display UGC on any website.
All PRO features | Cancel any time.