We've gone so deep into the digital age that by now, even your grandparents should be saying, "Honeypie, what was the shortcut for Send Form in Google Forms, again?". And we think that's beautiful.
Do you know why?
Because technology software was created to make our lives better and easier. We live in a fast-paced world, and it's only logical for our tools to be (at least) as fast. Think fast internet. Think of apps like forms builders that substitute hours of work with just a few clicks. Google Forms – or the whole Google Workspace, for that matter.
There's hardly such a thing that isn't related to Google these days – uploading and saving important data, email communication, website integration, the list is long. But that's just the beginning. How about creating your own data through conducting research and surveys, gathering feedback, or just plain student pop quiz creation?
This article will show you everything you need to know about Google Forms – when to use them, what the benefits are, how to use them, free vs paid versions, and even solid alternatives to them.
Let's dive in.
When to use Google Forms?
Google Forms is a perfect tool for any small business owner, freelancers, agencies, event planners, tutors, HR managers, teachers – basically, anyone that needs to do research and collect specific data or feedback.
For example, let's say you run an online business and want to get potential customers' information, or you need feedback on your product. Google Forms allows you to use ready-made (and free) templates to collect your data. And since it integrates with all the rest of Google products, it makes it super easy to analyze the collected results.
You can also use them to create job applications, event registrations, free surveys, and so much more. The best part is that everything can be done on your mobile device – you're not limited to your desktop or your laptop – and you don't need any special software installation. Google Forms are so easy to use, even children and students can make them part of their homework or research.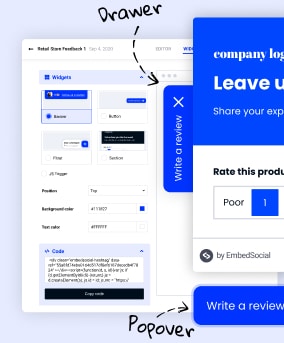 Build all your web forms for free
EmbedForms is the only form builder you will ever need to capture web leads, create surveys or collect feedback on your website.
Free forever | Live support available
What are the benefits of Google Forms?
Needless to say, the benefits are countless. But because we need to keep this article within a reasonable length, here are the most important benefits of using Google Forms:
Google Forms save time
Because Google Forms are freakishly easy to use, it's only logical that it takes less time to create them. You don't need any prior experience or knowledge – the average user will spend around 10 minutes creating a form.
Google Forms save money
If you stick to the basic plan that comes with every Google account, you don't pay anything for Google Forms – just as you wouldn't pay for Gmail or Google Docs.
However, there is also a paid option – Google Workspace, for bigger businesses and organizations – that can be costly. But for smaller businesses, school activities, or university students, there's no need to spend money on the basics.
Automatic saving in one place
You only need one (Google) account: the forms are integrated with Google spreadsheets, so you have easy access to your data – all in one place. This means that the responses you get from the surveys are automatically saved to one file.
Mobile-friendly software
Google Forms are compatible with different platforms so you can easily use them from a desktop, laptop, tablet, or even your smartphone. And the friendlier the software, the higher the response rate.
Security
Finally, all files that are created in Google Forms are secure and protected, following HIPAA regulations. The submissions are not public, and only the owner of the form can see the results until they are shared. Data is encrypted in transit and at rest, making it safe against hackers or other data breaches.
Google Forms Features
Keep in mind that this might not be the most powerful software for form building or the most customizable – but its ease of use can compensate for a fair amount of the other lacking features.
All the forms available to you (the pre-made templates) and the blank start-from-scratch version have the same features, so you won't have to go back and forth from form to form to find the one specific feature you need.
That said, let's see what you can actually do with Google Forms:
Unlimited creation of forms
Yep, you can create as much as you want as long you have a Google account. You can create as many quizzes, event registrations, customer feedback forms, and many more as you want. You can even save them for future references and share them with others or make a copy of them.
This is perfect if you're a small business owner, a teacher, or a non-profit organization – you won't have to worry about things such as a limited number of forms. It's your choice how many forms you need to have.
Multiple types of questions
This cool feature allows you not to bore your target audience to death by repetition. When creating a survey or even a test, you can choose the type of options like linear scale, multiple-choice option, short answers, paragraphs, etc.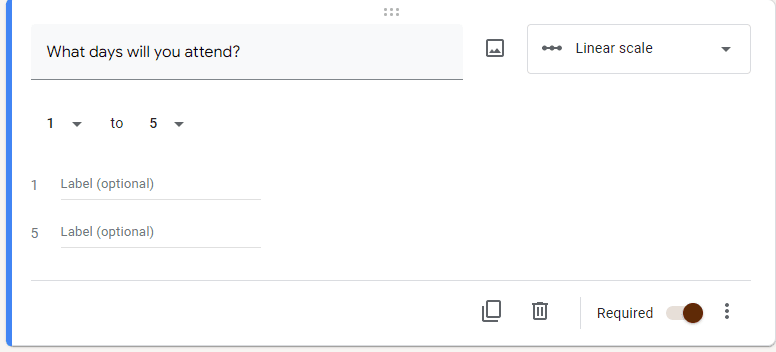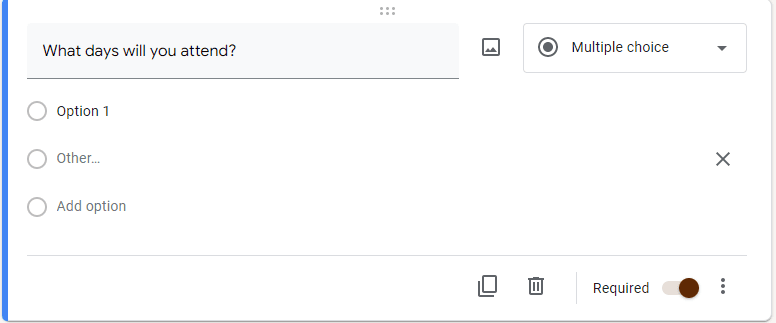 Conditional logic
With the conditional logic feature (or logic branching), you can customize the form according to the answers people give in the previous section. Based on your target audience, logic branching can help the respondent navigate to a page relevant to them instead of reading general (and excessive) material that has nothing to do with them.
For example, you can add different sections after the existing one and choose where to go next:
Shareable results
Depending on the specific needs, you want your form to be shareable, for example for emails, websites, or social media. This comes particularly handy when it's more people involved in the process, and you need everybody's take on it. You simply add other collaborators, as many as you want, and share the form and results with them.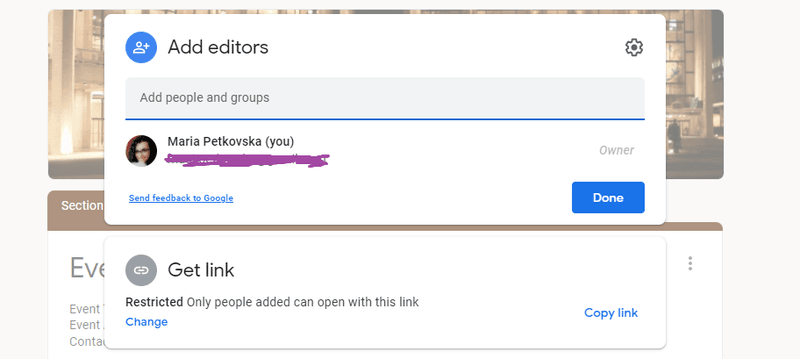 Email notifications
Google Forms also notifies you via email when you get responses on surveys, RSVPs, or any other notifications you'd otherwise have to check manually.
All you have to do is go to Settings and activate the option Get email notifications for new responses.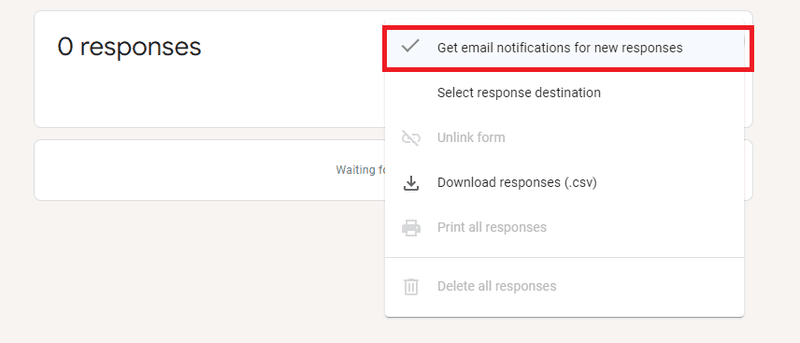 Collect email addresses

With Google Forms, you can collect all the email addresses that you get with the responses. This method may be crucial for your sales pipeline.
In order to collect email addresses, go to your Google Form, go to Settings, then Responses, and click "Collect email addresses."
Once you gather the email addresses, you can export them to Google Sheets or download them as a CSV file. Click on "Responses," then on the 3 dots in the upper right corner, and choose "Download responses."
And now you are ready to go!
How to create a form with Google Forms
Assuming you'll want to use the free version of Google Forms, there are 2 steps you can take: a) you choose to create your form from scratch, and b) choose from an already made template.
For option A – blank form:
Choose "Blank," and you'll see an untitled form materialize on your screen. From here, just click this and click that until you create the form you need.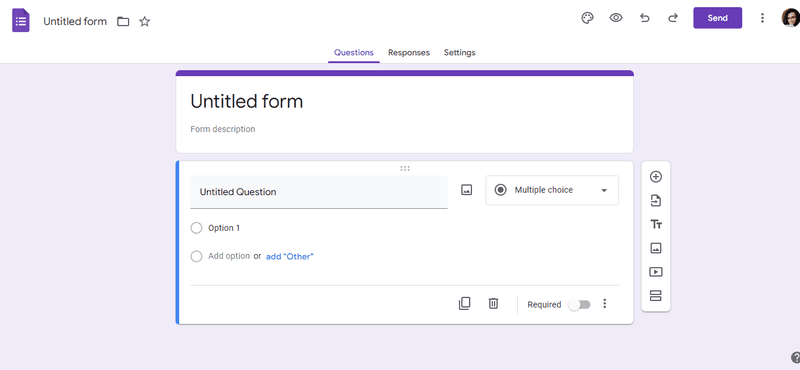 For option B – pre-made template:
If you need a pre-made template, there are 3 categories to choose from:
Personal forms:
Contact Information
Find a Time
RSVP
Party Invite
T-Shirt Sign Up
Event Registration
Forms for work:
Event Feedback
Order Form
Job Application
Time Off Request
Work Request
Educational forms:
Blank Quiz
Exit Ticket
Assessment
Worksheet
Course Evaluation
All forms (including the blank) have the same design, so you won't get confused if you need to use several of them.
At the top right corner of the form, you'll find the features for: customizing the theme (color), preview, undo and redo. And if you want to see more options for the form, click on the 3 vertical dots, and a whole menu with additional features will show, including Add collaborators and Add-ons.
Also, at the top (in the middle), you'll find sections for Questions, Responses, and Settings. The Questions section offers you a whole list of types of questions that you can choose for your form. To see the list, simply click on the part you want to edit. Not only can you add as many questions as you want, but you can also import questions from the other templates.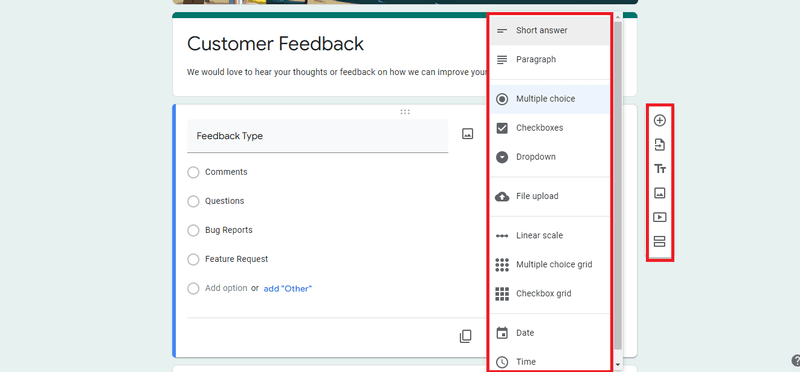 The Responses tab shows you the number of responses you've got for that form. You can also create a spreadsheet, and from the 3-dot menu, you can choose to get email notifications for new responses, select response destination, and download responses.

In the Settings menu, you'll find some more cool features for customizing your form. For example, if you're giving a quiz to your students, you can select how to release grades, how many points to give, if students have answered the questions correctly or not, etc. You can also select how the responses will be collected, presented, and protected.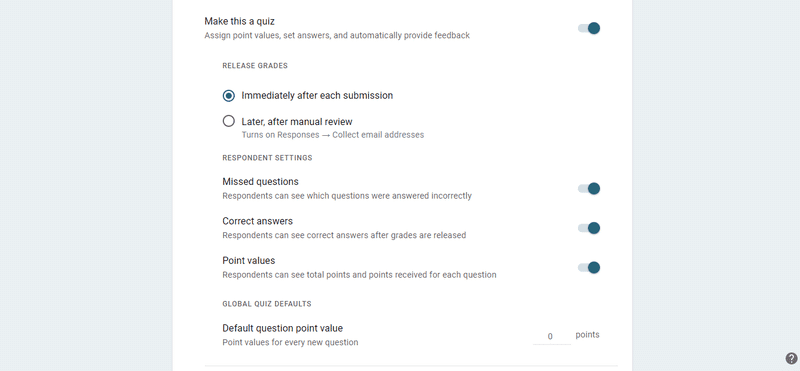 That's it. If kids in middle school can do it, there's absolutely no need to stress out about it. Now let's make sure you know where to find these forms.
How to start using Google Forms?
It comes without saying that in order to use Google Forms, you need to have a Google account first. Here's how to do it:
Step 1: Go to https://docs.google.com › forms
Step 2: Sign in with your account (or register if you don't have one. Pay attention if you need a personal or on Workspace – these are completely different, and Workspace is the paid version)
Step 3: Start creating your form
Google Forms free vs. paid plan
The free version is what you get when you go to Forms with an already existing Google account. You can create as many forms as you like with the already given templates. Everything we've covered so far has been taken from the free account.
However, if you need an upgraded version with many additional apps and integrations, you'll want to check out Forms for Work as part of the Google Workspace business profile. Here you'll find all the familiar apps like Gmail, Docs, Sheets, Drive, Cloud Search, Jamboard, etc., but with added security and management like Admin, Endpoint, Vault, and Work Insights.
You can try Google Workspace free for 14 days, and then choose from these 4 Business programs:
Starter for $6 USD/user/month
Standard for $12 USD/user/month
Plus for $18 USD/user/month
Enterprise (contact sales for pricing)
Google forms alternatives
EmbedForms – Best Google Forms alternative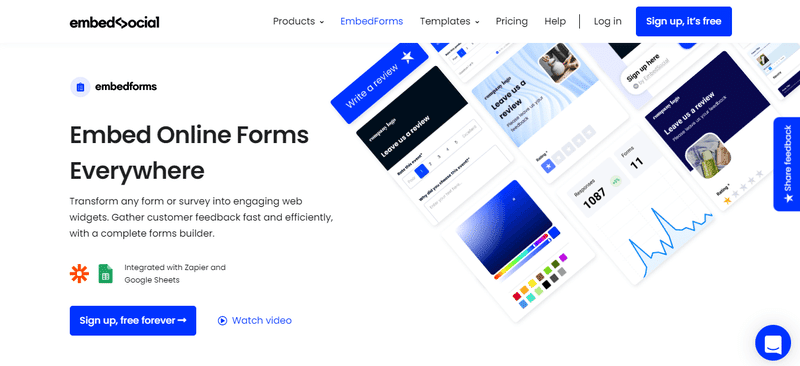 Now, if you want to spice it up a bit – still at no charge level – why not try EmbedForms? You'll get an unlimited number of forms together with skip logic, feedback widgets, export of data, and integration with Google Sheets and Zapier.
Also, did you know that even the widgets in EmbedForms come in different shapes? You can add them as popups, floaters, or buttons. Take that, Google Forms! Seriously, though, check them out – EmbedForms come with a forever-free plan.
Typeform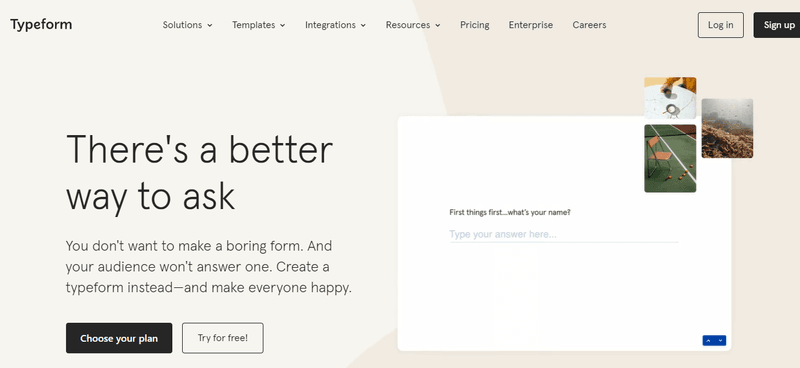 Another software that comes with a free plan, Typeform really pays attention to both design and functionality. Also, they stick to a very friendly writing tone which makes the UX top-notch.
Their paid plans start at $25/month.
Jotform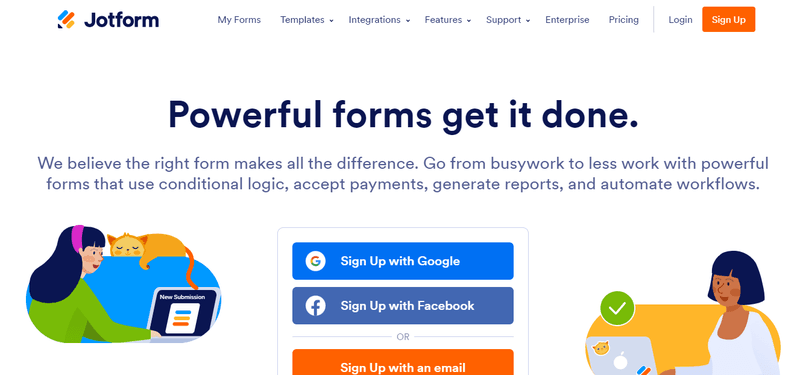 Simple in design, Jotform integrates its forms with Hubspot, Dropbox, Mailchimp, Zoom, and some other fancy names. You can choose from 10,000 free templates, easy to use and customizable.
The sour part is that their free plan gives you only 5 forms and 100 MB of space. But other than that, it's pretty decent software if you're looking for simplicity and ease of use. Paid plans start at $24/month.
FreeOnlineSurveys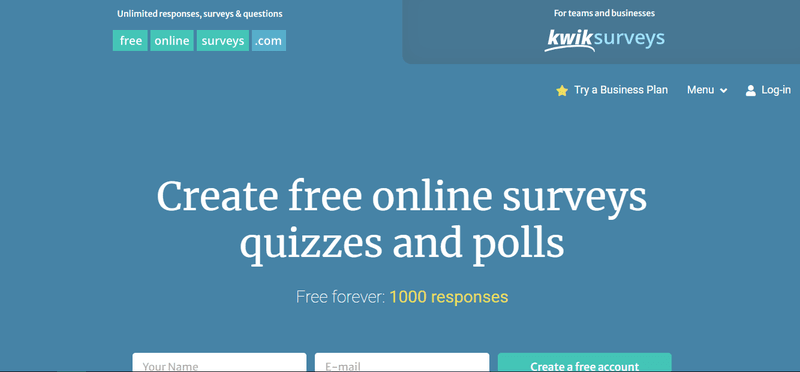 Great tool if you want the website-building experience. You customize your form in full screen with 14 different options just for the standard customization, and then you move to split testing, image choice, themes, colors, etc.
Even their paid plans come at super affordable prices, which makes FreeOnlineSurveys great for businesses on a budget, students, non-profits, etc.
SurveyLegend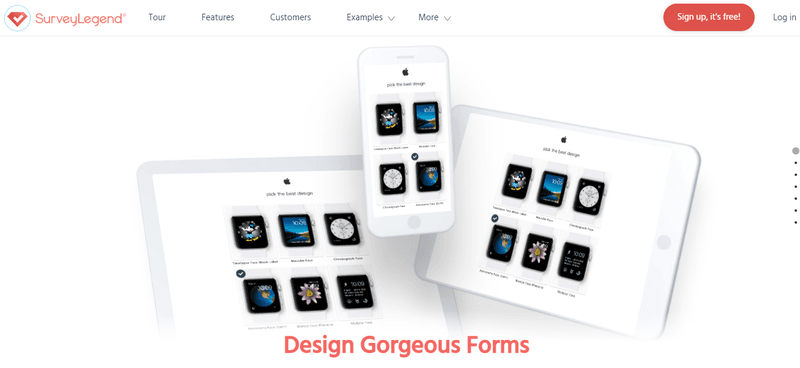 Their forms have very good design and are easy to navigate – drag and drop style. All the basic features are available in the free plan – however, if you want integrations or data export, you'll need to upgrade to one of their paid plans. On the upside, SurveyLegend is another affordable software both for businesses and for individuals.
FAQs about Google Forms
What are Google Forms?
It's cloud-based survey software that allows you to easily collect data/feedback.
Are Google Forms free?
Yes, they are. However, there's Google Workspace for bigger businesses, which offers 4 different business packages.
Can Google Forms be used offline?
No. You need to have internet access.
How to see who responds to the forms?
Open the form and go to Responses at the top of the form. If you have chosen the option to get notifications via email, you will be notified there also.
What type of questions can be asked in Google Forms?
You can choose from short answer or paragraph; multiple-choice, checkboxes, or dropdown; linear scale, multiple choice grid, checkbox grid; date; time.
What is Google Forms best used for?
It is used for collecting data in the form of answering questions – surveys, quizzes, contact information, etc.

How many questions are allowed on Google Forms?
There is no limit to the number of questions.
Who is most likely to use Google Forms?
Google Forms can be used by anyone that needs to collect information for personal or business purposes: teachers, freelancers, HR managers, small business owners, students, event planners, etc.
Can a Google Form be used more than once?
Yes. Just copy questions from the existing form to a new one.
Can Google Form collect email addresses anonymously?
No. Because forms are answered anonymously, a person doesn't need an email address to fill out the form.
Key takeaways
Whether you need Google Forms for personal use or for work, there's no doubt that it's one of the most popular form creators out there. Its easy-to-use templates enable even beginners to feel comfortable.
All options such as the multiple types of questions, color themes, export options, image, and video adding are included in all forms, so you don't have to go back and forth for each form – everything is in front of you.
The free version is more than enough for any smaller business, freelancer, or even a teacher, as it offers an unlimited number of forms. But if you need those extra upgrades, the business models come at affordable prices.
That said, Google Forms isn't the only affordable option – there are other form creators that offer the same features plus some extra benefits while offering integration with Google. Like our EmbedForms, for example, which offers customization with your own Call to Action and a tab widget – to name just a few.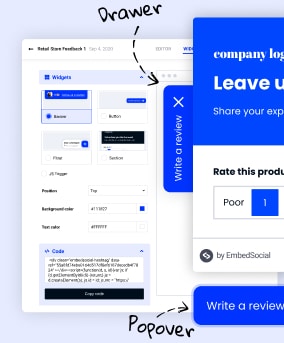 Build all your web forms for free
EmbedForms is the only form builder you will ever need to capture web leads, create surveys or collect feedback on your website.
Free forever | Live support available