Whether you're a small business, a freelancer, or even a student, there will come a time when you'll Google "free survey maker or best free survey makers." Why? If you're serious about what you do, you'll need to collect other people's opinions or customer feedback – unless you don't give a monkey's tush about what they think of your research paper, product, service, or your overall work.
Since you're reading this, we know that you're serious about what you do, and that's why we've created this amazingly detailed list of free online survey makers to help you choose the right one for you.
Our team has tried and tested all of them, so you don't have to. Read on and find out what makes a good survey builder and some of the best ones online.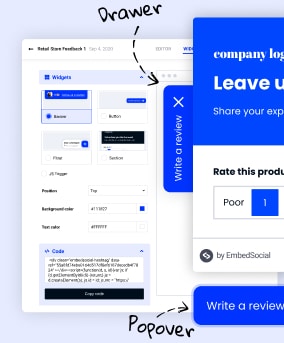 Build all your web forms for free
EmbedForms is the only form builder you will ever need to capture web leads, create surveys, or collect feedback on your website.
All PRO features | Cancel any time.
What is a survey maker?
We all had to fill out some kind of form or a survey at least once in our lives.
For example, you most probably received a survey in some of these situations:
Buying a product, and the seller wants to get our feedback and an overall customer experience
the HR department sends a questionnaire to understand the overall employee satisfaction
After you attend an event, you will usually get an email with an event feedback form.
the doctor wants to know your medical record before you go into their office for a checkup
Heck, even the phone company surveys once in a while to ask if we like their services.
All these forms are probably created by a tool that helps design, distribute, and analyze the collected data.
Simply put, a survey maker collects information from people (usually customers) so you can adapt and adjust your business to be more successful.
Today, all free survey makers are digital and easy to use on any device. Because of their simplicity, people are happy to participate because it offers them a quick way to share their opinions about a service or a product.
How to choose a free survey maker?
You know best what you want to accomplish; no mistake about it. But when it comes to creating surveys and choosing survey software, it's best to be aware of what makes a good survey tool and what features to look for.
The good news is most of the survey makers out there are free or offer an affordable price – so you don't have to worry about straining your (limited) budget.
To consider some of the must-have features to create surveys for free, below you will find a short and detailed list of the main features a survey system needs to provide.
Must-have features:
Provides a simple survey-building process
A dedicated form link that can be easily shared on social media or via email
Offers survey templates
Options to create multiple surveys
Ability to create a simple Net promoter score form
Options to add multiple questions perform
Results section to collect responses and analyze survey results
Provide all question types required to build a questionnaire, such as Likert scales multiple-choice, then upload files, etc.
And here's a detailed list of key factors you should consider when hunting for that perfect free online survey tool:
Embedded surveys
It's simple: You want people to stay on your website, not go to another site to complete the survey.
That's why choosing a free survey maker that allows you to embed that survey on your website is smart.
Sources show that embedded surveys have a higher completion rate – plus, they work wonders regarding lead generation.
Integrations
The best free online survey makers have integrations with your email, marketing automation, CRM, or analytics tools. The point here is to simplify the implementation and analysis stages and connect your forms builder with multiple channels where you can send the collected data.
For example, with this feature, you can sync all the data received from your form to a specific service, from a simple spreadsheet tool to more sophisticated CRMs or data storage tools.
Tip: Look for survey software that integrates with an extensive popular websites and apps network. Especially look for a webhook integration with Zapier that will allow you to have the flexibility to build your own integrations.
Design
You'd be surprised how many brands face customer dissatisfaction just because they hadn't paid attention to the design of the survey tool. Stats say that 94% of first impressions are design-related.
If you don't have an experienced team member who can dedicate time to good UX to make the survey a mobile-friendly, easy-to-use factor, it's best to leave it to a professional.
Tip: Look for a survey tool with many pre-defined designs so you won't need to customize your form heavily.
Type of questions
This means that you choose the kind of questions that are most relevant for the specific survey. For example, they can be open-ended questions where the respondents write their own answers, multiple-answer questions where they choose one of several answers, questions to collect numerical data, options to give responses in the form of a picture or a video, and so on.
Look for free survey makers that offer a mixture of the above.
Skip logic
Also known as logic branching, conditional logic, or personalization, this feature allows you to create customized follow-up questions for the specific respondent. In other words, they can skip those questions that are irrelevant to them.
For example, if the question is "Do you drive a car?" and the answer is "Yes," then the next question would be "What type of engine does your car have?". If the answer is "No," they can continue answering questions unrelated to driving. Or cars.
This feature is essential if you want respondents to complete the survey and not feel like they've wasted their time.
Segmentation
This feature enables you to choose which category of participants is relevant to the specific survey. You target a market audience with the highest chance of becoming customers, right?
To not bother every visitor on your website, you can automate the survey to show only to visitors from a specific demographic like location, returning visitors, or completely new visitors to the website.
Data analysis
Expect simple solutions for this. An excellent free survey tool should simplify extracting the collected data and the reporting. For example, the tool should easily count percentages or figures from the survey answers or transfer that data into other sheets for graphic purposes.
And whichever data you choose to analyze, the tool should allow you to do everything in one place and automatically, instead of going through an answer by an answer and writing everything down.
20 free survey makers
1. EmbedForms – Create surveys and forms for any website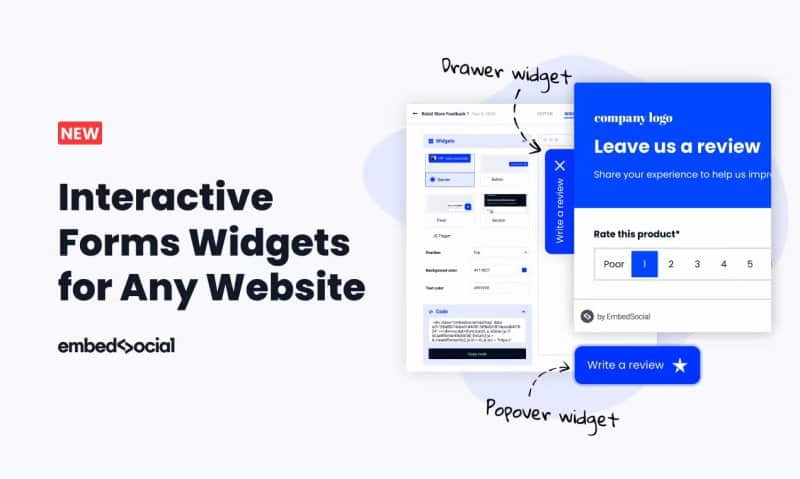 Not to brag or anything, but there is a reason why we put EmbedForms at the top of our list – you get all of the key features mentioned above – and a bit more – at a crazily affordable price.
Translation: the packages start at a "forever free" plan. No, that wasn't a typo. It's free, like, forever. Bonus points go for the free trial offered with all the other plans.
Each package offers an unlimited number of forms, skip logic features, photo upload options, export of data, feedback widgets, and Zapier and Google Sheets integration.
The customer feedback form templates are incredibly awesome because their design is entirely customizable with layout and themes you can choose by yourself. And for that extra touch, you can even select different widgets for your form – they come as banners, popups, buttons, or floaters.
Also, the system regularly checks for new responses, and you can even set email notifications for every time there's a response. To access unlimited responses, just upgrade to any paid plan.
Here is a demo of a customer satisfaction survey, to see in action:
2. Google Forms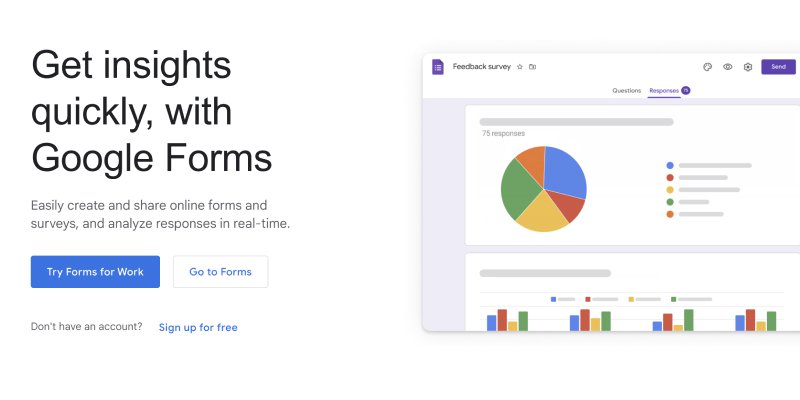 Probably one of the most adored free survey makers out there, Google Forms is 100% free both for personal and business needs. It offers unlimited surveys and respondents, lots of themes to choose from, skip logic, and complete integration with Google Sheets – you know, the one that can handle 2 million cells of data.
The beauty of Google Forms is that all of the key features we discuss above are included, making this survey maker perfect for individuals or small businesses. And because this tool is integrated with anything and everything Google – you get an awfully lot of sweet features from the very beginning.
Now, if you use Google Forms for personal needs, you're probably familiar with all the templates available to you, from party invitations to work requests. They're simple in design and easy to use, you don't get caught up in features you can't even pronounce – there are only three sections to fill in: questions, responses, settings.
However, if you want to use the forms for work, Google transfers you to Workspace, where you'll need (or have to buy) your own domain to register and proceed with the forms. Of course, you get much better features here than from the personal site.
3. JotForm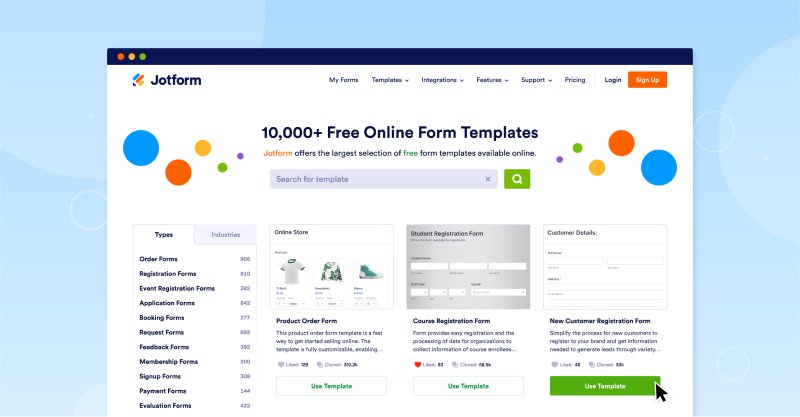 Jotform is an online survey tool that offers over 10,000 free templates that you can customize according to your needs. It integrates with some of the enormous names like Hubspot, Mailchimp, Dropbox, Zoom, Slack, to name just a few.
Their forms are simplistic in design, but you can customize them according to your email needs, conditional logic, integration, mobile version, and much more.
The only downside is that the free version gives only 5 forms and 100 MB of available space. Also, the questions in the free versions are somewhat monotonous, one type of question seems to prevail the form, but if you're looking for an easy-to-use – and to customize – survey tool, Jotform offers great settings.
Paid versions start at $24 a month, and they offer a 30-day money-back guarantee plus a bonus discount for nonprofits and educational institutions.
4. Typeform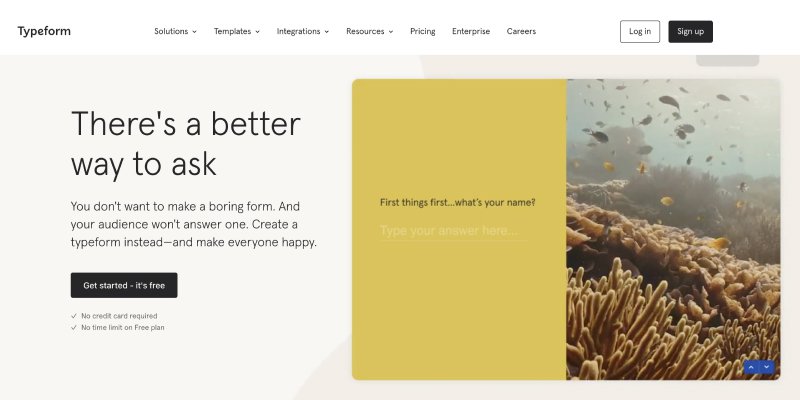 Their surveys' copywriting is one of the best we've come across – the conversational tone is unique and addresses the respondent warmly and cheerfully. Typeform probably has the best copywriter on the team or somebody's just really creative in designing the "dialogue" between the question and the answer.
Design is something they take very seriously – you probably won't find a template that you don't like. And if such a thing happens, they do offer customization.
With a free plan and paid plans starting at $25/month, Typeform's survey maker is undoubtedly one of our top favorite tools – especially when it comes to design and copywriting.
5. Hubspot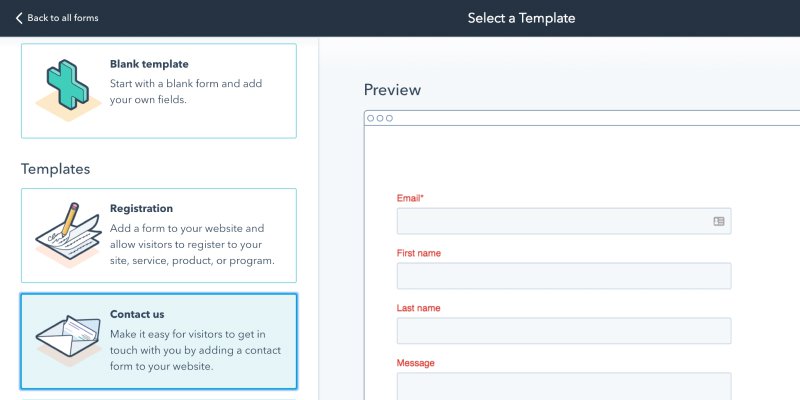 Simple to use and minimalistic in design, Hubspot's free survey maker offers up to 1,000 forms by using a dozen different field types. As part of its free CRM, all surveys you create automatically transfer the data to your CRM.
Hubspot also offers paid plans through their Marketing Hub, but their free tools – including the form builder – are more than enough if you're freelancing or running a smaller business.
Downside: even if you want to use the free version, you have to register with your company's name and website. That said, it can be a bit annoying not to be able to use their tool unless you're an official business – Beginners, you might want to try a different tool at this stage.
6. SurveyMonkey – Free online survey maker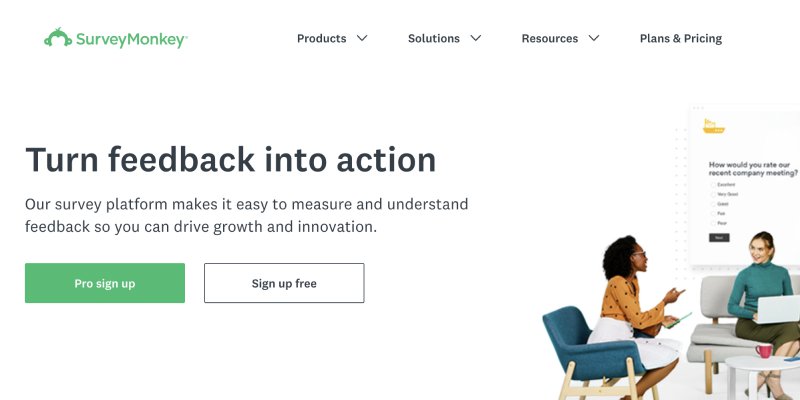 Another tool with a minimalistic design is SurveyMonkey. It works for small businesses with few clients and large enterprises that create surveys for conducting extensive research. They are easy to use and offer multilingual forms.
You can start building your survey from scratch or choose one of the templates. Additional points for the option to choose how the form will look on a computer, tablet, and mobile phone. You can even see the time needed to complete your survey and sample results from respondents who have previously completed that particular form.
Their Basic plan is free, but it's constrained by the number of responses and the number of questions allowed in the form.
7. Zoho Survey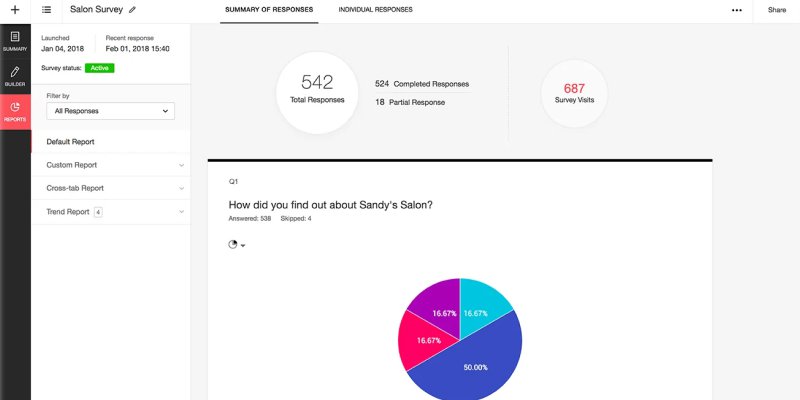 Their free plan includes plenty of features for a tiny business, such as unlimited surveys, export of data, over 250 templates, 26 languages, password protection, and a few more.
Zoho Survey has paid plans that offer pretty good deals, as their most expensive one – Enterprise – is €75/month.
You need to sign up to see even the free plan, and once registered, you can choose how to build your form. For example, multiple-choice with one or many answers, dropdown with one or many answers, rating scales or star ratings, and quite a bit more.
Here's what people are saying:
8. Survey Planet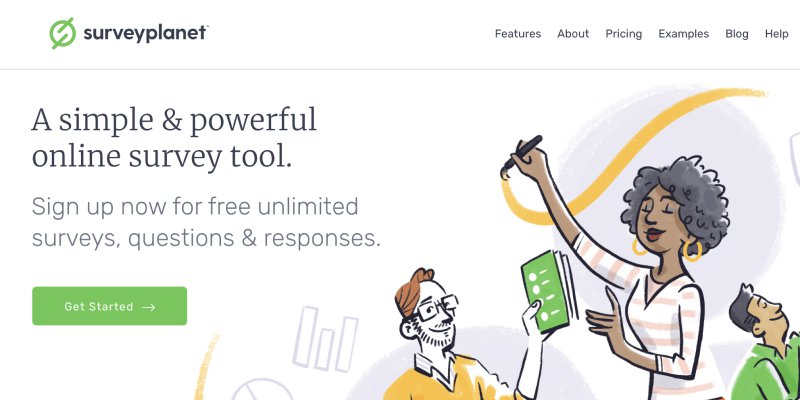 Their free version offers quite a list: unlimited surveys, survey questions, and responses, basic themes, over 30 languages, in-app reports, and survey embedding, to list only a few.
However, if you want to upload images, export results, customize themes, and more, Survey Planet offers paid plans that start at $20/ month.
All in all, it's a decent free survey maker, especially if you don't want to bother with styling but rather get the job done and reach out to respondents. You can easily see the results – individual responses – but the free version has limitations regarding customized questions.
Here's what one user says:
"It's free and has a lot of options under the free plan. So far, it has an unlimited amount of surveys, which is beneficial when you are on a budget. The platform is also very simple and straightforward to use."
9. SoGo Survey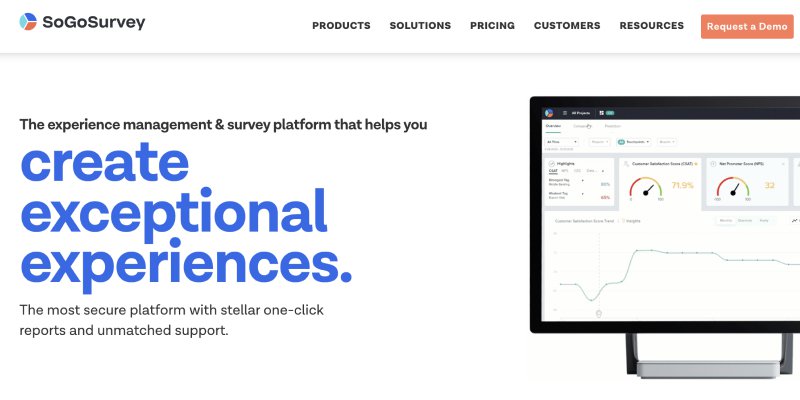 One of the most popular survey-making brands, SoGo Survey offers a free basic plan, paid and customized plans.
There are limits to the free version, so if you want a full-scale survey, you should get a free trial. As we are writing this post, their basic account allows 100 email invitations and responses per survey per year and a maximum of 200 email invitations and responses per year.
Also, their templates library is quite extensive, but if you go for only a basic account, you will have a hard time finding a template, and you will need to spend some time creating a survey from scratch.
10. Wufoo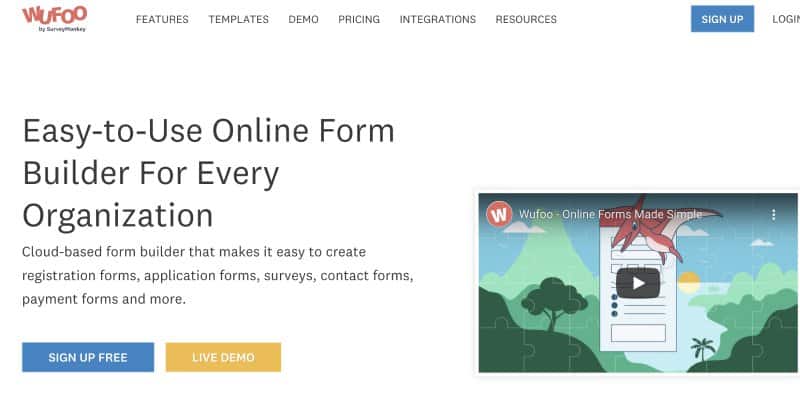 Another free – and affordable – survey software, Wufoo covers every survey need you might have. When you choose to create your own form, you get to choose from a Standard form like single-line text, numbers, checkboxes, etc, and their Fancy Pants form where you can add file upload, rating, website, etc.
There are certain features – like Google Analytics tracking or collecting IP addresses of respondents – that you can include, but you'll have to upgrade to a paid plan in the middle of the survey creation.
The only two downsides are the minimal features of their free plan and the very basic template design. However, if you choose one of the paid versions – and aren't nitpicky design-wise – you'll get a pretty good bargain for your money.
11. FreeOnlineSurveys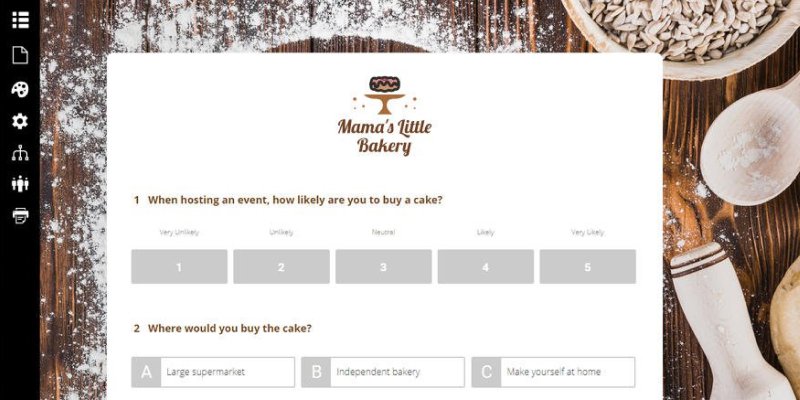 Once you register with a free account, you'll see how the whole tool looks like a website builder. FreeOnlineSurveys takes up the whole screen, making it super easy to navigate and giving you the sense of creating something really worth your while.
You even get to choose subsections: for example, there are 14 options just for the standard options, and then you go to multi-factors, image choice, and split testing – to name just a few. There's also an option for managing pages, themes, colors, and even pseudonymization.
However, some features will only work as you upgrade your template to a paid plan – for example, the removal of their logo or selecting a minimum number of responses.
All in all, it's very good value for the money, and you get to choose from a palette of plans. They also offer crazy good deals for students and nonprofits, $2.99/month and $19-pro-discount/month, respectively, to access these plans.
12. Crowdsignal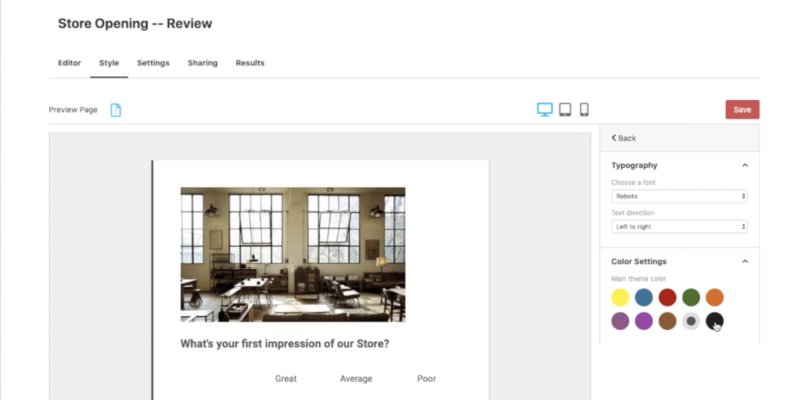 Crowdsignal is another free survey maker for creating online surveys and pools. Here are some of (but not limited to) the most excellent features you can get:
Custom style for your brand
Use your own domain to share the survey
Deep data analysis and export
24/7 support
Interactive email surveys
Instant feedback on rating
Prices start at $15/month, but they also offer a free plan. Remember that you'll have to create a WordPress account to use their surveys.
The free version gives you 2,500 signals, i.e., responses to a question, poll, form, or a rating. You can also edit your survey in terms of the number of pages, free text or multiple-choice, style, survey navigation, and reports on results. The downside is that there is no data export in the free plan.
13. Survs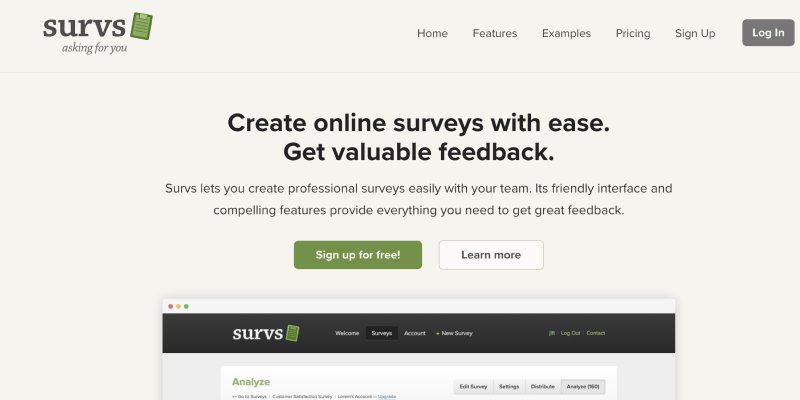 Best for formal surveys; don't expect any flashy design or witty copywriting here. Their formats are clean and to the point, with multiple types of questions included in one sample. You can use this tool when you want to gather a lot of information from more respondents.
Their free version includes:
2 users
100 responses per Survey
5 questions per survey
Unlimited surveys
Standard support
The downside: no exporting data, file uploads, skip logic or custom URL variables. The upside: prices start at as low as €19/month.
Here's what people are saying about the paid plan:
"So easy to use and it has a lot of features available to users. I like that it pre-populates information so you don't have to keep putting it in. Easy to upload info."
14. SurveyLegend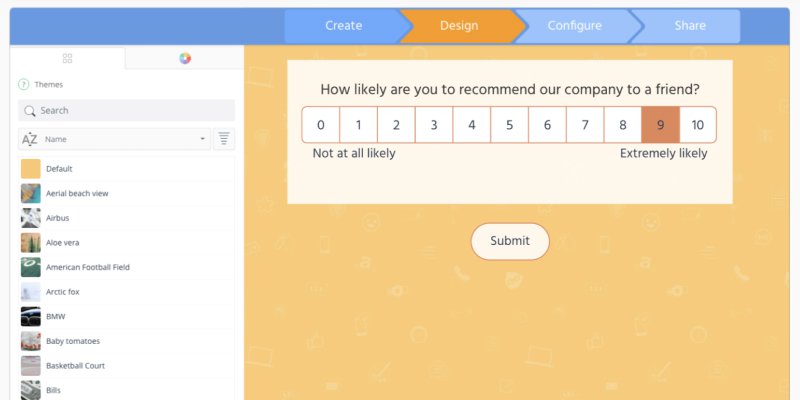 SurveyLegend did such a great job listing ALL the details in their features that the only thing left for you to do is jump over to the website and start comparing plans.
They offer a free version, but the paid options are also quite affordable whether you're an individual or a business. Features such as net promoter scores, file uploads, and opinion scales are available in the paid plans.
Once you register, you get to create your own survey in a drag-and-drop style. The export of data and integration only comes with a paid version, but the basic features are at your disposal.
It's super easy to navigate, and you can see that they've paid attention to design. The only downside would be that it might take quite some time before you completely build the survey. Then again, if you're experienced – or a fast learner – all the options can only come as a bonus point.
15. ProProfs Survey Maker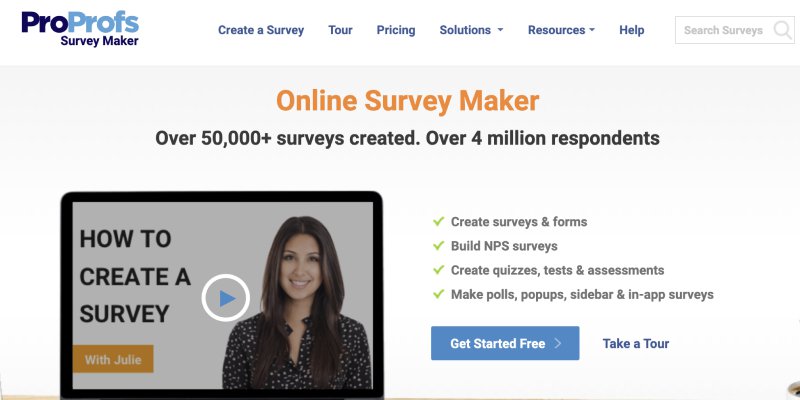 You can choose from more than 100 templates or build one from scratch – ProProfs Survey Maker even offers a guide on how to create a survey and what to include for maximum response.
That said, it's a free survey maker that is easy to use; nothing complex here: you can even customize your questions depending on your professional needs, and, with the paid plan, you automatically collect participants' demographics. Also, they offer quite a selection of templates. Once you choose your template, you can even customize it in 3 different views:
You can register for a Free plan, Essentials for $0.05 response/month, or Premium for $0.10 response/month.
"The process of designing and creating NPS Surveys with ProProfs Survey Maker has been a piece of cake with their professionally designed NPS Survey templates. They also provided us with a set of NPS sample questions to customize the survey as per our business objectives."
16. Survicate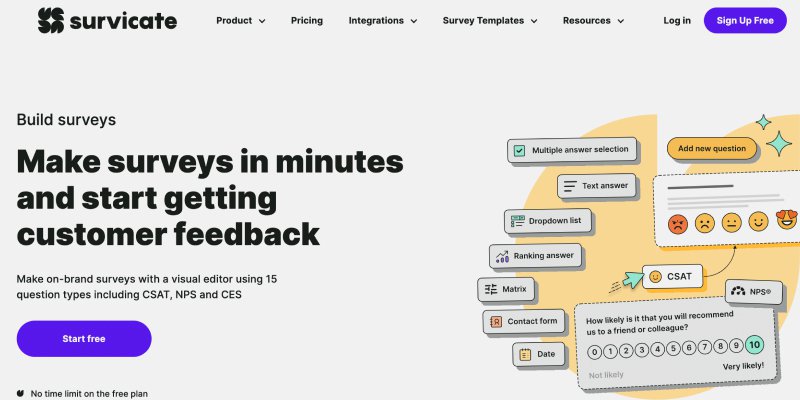 Survicate is a free survey maker providing beautifully designed forms to capture data. Here are some of its main features:
Unlimited free users and surveys
Multi-channel surveys
NPS, CSAT, and CES
Native integrations
Unlimited questions
Partial submissions
What people seem to like the most about this tool is that it's a simple tool to use and hugely customizable, plus the great customer support:
"Survicate's questionnaires are incredibly customizable, making them suitable for nearly all forms of customer inquiry. We primarily use Survicate for our NPS and genuinely feel they provide the best tool for this. Their integrations with major platforms such as Slack, Intercom, and Hubspot is a huge bonus too!"
17. SurveySparrow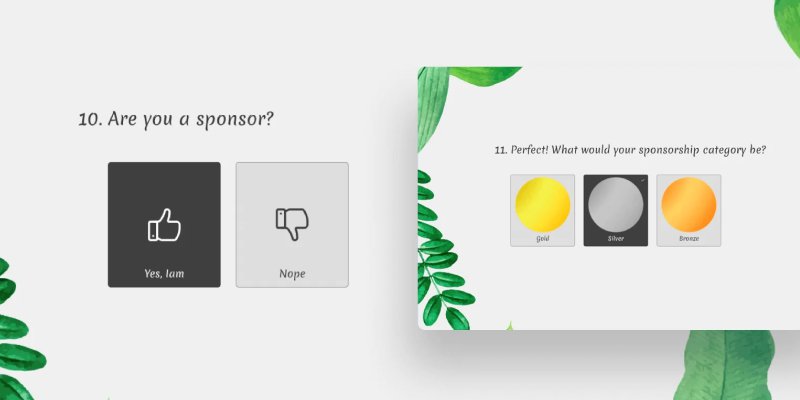 We love SurveySparrow because they have clearly defined info on the types of surveys they offer – they even list all the industries they work in – making it easy to decide whether you want to choose them.
Their templates are super friendly and welcoming, with some good copywriting there:
They offer numerous options for editing the templates, which might be a bit overwhelming at the beginning, but if you have the time (and expertise), you'll enjoy all the features this tool offers. Special attention is paid to multi-language survey creation, with options for global variables you can add.
The bitter pill here is their price: packages start at $99/month. They don't offer a free plan, but you can try their most expensive plan for 14 days with a limit of up to 100 responses.
All in all, it's a sophisticated tool to use, and we recommend you have at least some prior experience in survey building tools if you don't want to use much time.
18. QuestionPro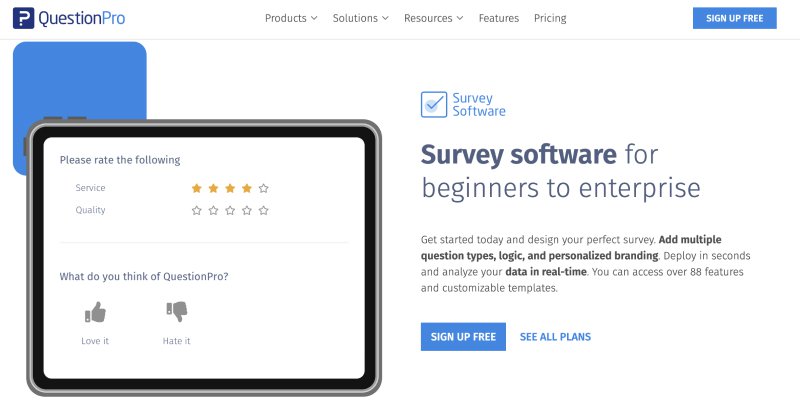 QuestionPro has a free plan that offers some essential features like conditional logic, exporting data, unlimited surveys, quota management, 24/7 support, and quite a few others – which is more than some of the others on our list.
Once you register, you get to choose from a library of templates, or if you're feeling inspired, you can start building from scratch. Again, like some of the more sophisticated tools on our list, make sure you have the time to build your survey.
Upside: even the build-from-scratch method offers a simplistic design, so you can't go wrong with it. It's a very good alternative to the more complex website-lookalike-builder.
Downside: The paid plan starts at $129/month.
19. Survio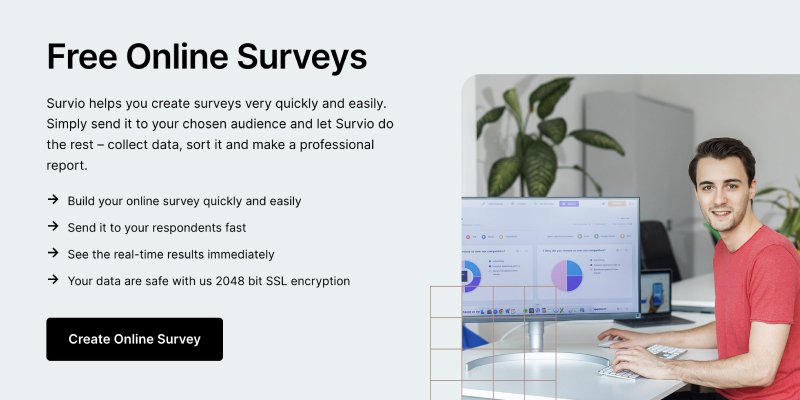 Survio is another tool with a great design and is very user-friendly. Once you start building your survey, you can choose from basic settings like deadlines, language, question numbers, etc, and advanced settings like response notification, custom URL parameters, indexing, etc.
The tool integrates with:
Zapier
Google Sheets
Google Analytics
Google Drive
Dropbox
Onedrive
We couldn't agree more with this review:
"I really like, how many variables and how many options are there. It's not just a simple survey you can really work and be creative with creating forms. Not only in terms of practical aspects but also in terms of design."
All of their plans include:
Unlimited number of surveys
Unlimited number of questions
Mobile-ready surveys
Extra-secure Survey (SSL)
Bonus points for the option to create a free survey anytime, without contracts or obligations. Paid options start at $36.58/month.
20. 123 Form Builder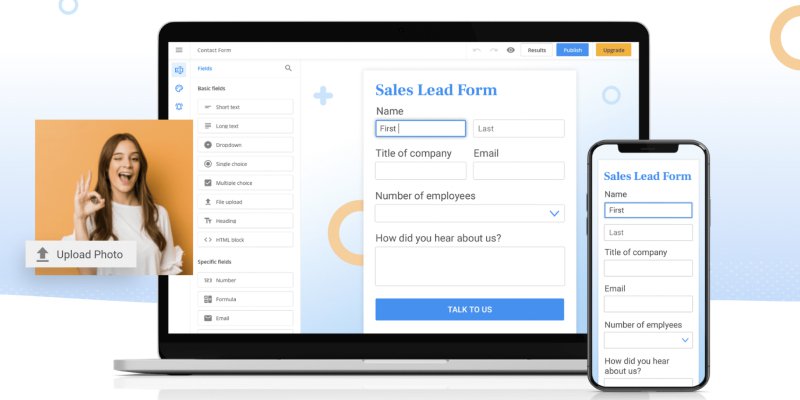 All of the 123 Form Builder plans include:
Drag and drop form builder
Email notifications
Data collection management
GDPR compliance
Paid plans start at $19.99/month and include a wide range of integrations, with Zapier Apps offered as a completely different section. Also, their security section is quite extensive ranging from added passwords to spam protection and captcha settings.
"The flexible WYSIWYG editor is amazing. It is really easy and intuitive. I have been using this product for many years. It is very simple and easy to keep it going. Managing and Testing 123 forms is really easy. You get notifications emails etc as per your requirements. Personalizing the forms is really quick. I have also used their Salesforce app to do the integration. It is very seamless to pass the data."
21. Survey Anyplace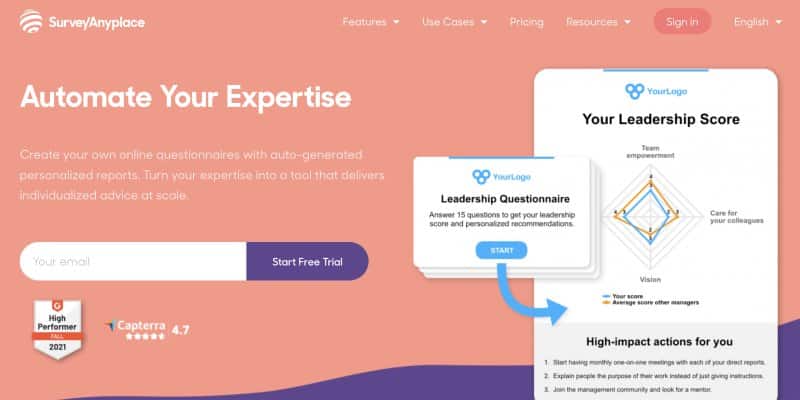 Another of our favorites when it comes to creativity and design. The guys at Survey Anyplace make sure their interactive survey maker isn't boring and offer additional features such as:
Custom scoring
Personalized End Screens
Formulas
Personalized PDF reports
What is a bit offputting, though, is that you have to use your business email to register, otherwise the system won't create an account for you. But you do get a branded design template once you register with your company email, so that's a plus.
That said, this tool is best suited for bigger businesses, as their pricing starts at $39/month. They don't offer a free plan, but there's a 7-day risk-free trial.
22. WP Forms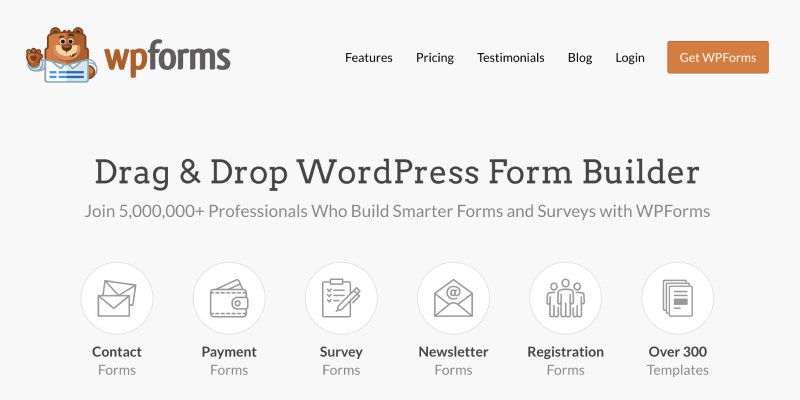 WP Forms is a WordPress plugin that doesn't offer a free plan or a free trial, but it does give an unconditional 14-day money-back guarantee. The packages start from as low as $39.50/year for a basic plan best suited for beginners and freelancers to a $299.50/year elite plan for agencies and scaling businesses.
Each plan includes all the standard features like pre-built templates, notifications, file uploads, spam protection, standard support, and a few more – and then the features get more and more diverse as the package plans evolve.
Here's what people are saying:
"WPForms has allowed me to do the unthinkable with my website. I couldn't imagine how all our form integrations would be working if it were not for WPForms. Its countless integrations and features have allowed me to design the essential parts of our website including the contact and free class request page. I've been able to set it up so that it emails me when a user fills out a form and submits, and it also emails them a confirmation. No other plugin offers as many features as WPForms, especially in the free versions."
23. Zonka Feedback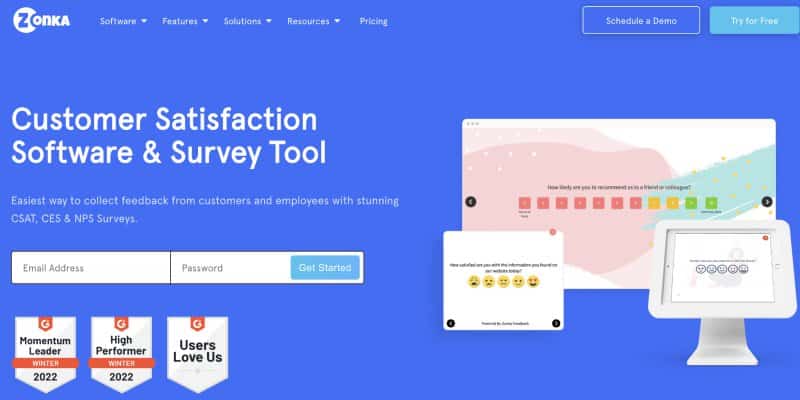 You can find anything here from offline surveys, website surveys, email surveys -to name just a few – and you can use CX metrics for all of them.
The Zonka Feedback survey maker integrates with:
Zapier
Slack
Mailchimp
Twilio
Plivo
Webhooks
We tried the Starter package – minimalistic design and easy to navigate. The Editor section allows you to have a welcome and an exit page, while the variables include survey, contact, and hidden version. Bonus points for the multi-language option.
What we especially liked was the clear division on the site: separate offline and online surveys section; under the Distribute section, you'll find a web section, apps/kiosk, email, SMS, and Slack, while alerts and integrations are completely different sections. Thumbs up for the very neatly defined parts.
The one bummer is that they don't offer a free plan, but they do give a 15-day free trial. The pricing starts at $24/month.
24. Survey Maker – WordPress survey plugin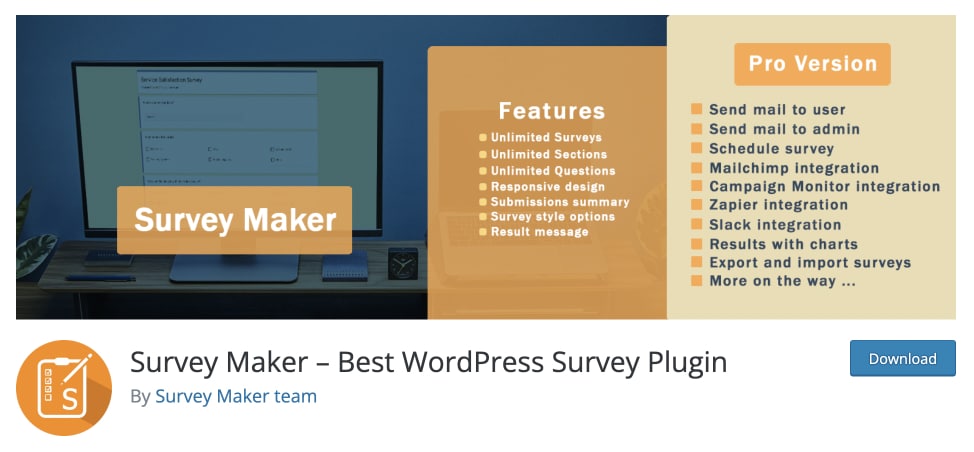 One of the best and most uncomplicated WordPress survey plugins offers you free business and developer packages with too many benefits. One of which is creating limitless surveys with limitless questions with 16 different types of questions, so you have a wide choice.
A WordPress survey plugin is a great tool for creating surveys as it offers you pre-built templates as well. You can create not only attractive surveys with the help of tools of Style settings but also you can create Contact Forms.
You can schedule your survey, export and import it with one click, and create multi-page surveys. If you want to create more personal surveys, you should use the function logic jump. With this function, you can show or hide questions based on the user choice made in the previous question. You can send emails to your users who have already completed the survey and receive email notifications that they completed it.
The developer version's Paypal and Stripe integrations allow you to create even paid surveys.
Do you think that creating a survey is too complicated? Do not worry, as the survey maker plugin gives you an opportunity to create surveys without any coding skills.
Conclusion
Boy, oh boy, was this an extensive list of free survey makers. This means you have tons of choices and different ways to create online surveys, collect customer feedback, and uncover insights about your brand's customer satisfaction levels.
Remember that these free online survey makers will not suit everyone equally. You know what you need and how much you are willing to pay if you need more advanced features or need to receive unlimited responses.
All of these tools do a great job in creating surveys – it's up to you to decide which one resonates best with you. Pick one, create a free account, and explore for yourself.
Hope this list will help you make informed decisions.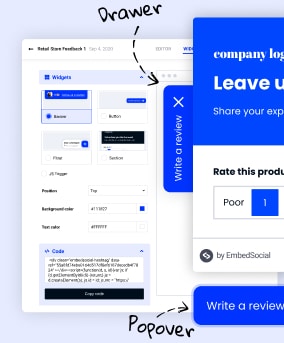 Build all your web forms for free
EmbedForms is the only form builder you will ever need to capture web leads, create surveys, or collect feedback on your website.
All PRO features | Cancel any time.