Collecting customer feedback can be a challenge, but we still need to collect it to improve customer satisfaction, customer experience, and customer loyalty. Luckily, today's innovative technology and software solutions can significantly ease this process of collecting customer data.
The simple yet powerful survey software tools offer different ways of collecting feedback on many places like web pages, messaging mobile apps, social media, and email without the need for advanced technical skills. And all users have to do is create an account and start dragging and dropping premade elements to create a survey, form, or even interactive form widgets.
In this blog post, we'll go through the features of the top 10 best customer feedback tools for 2021 and some basic information about the importance of feedback tools, so you can choose the one that works for you and get feedback easily.
Let's dive in.
What is a Feedback Tool or Software?
Feedback tools or feedback platforms help collect candid customer reviews, opinions, and impressions to help us understand what customers like about our product/service or if there are any problems preventing them from becoming paying customers.
There is no better way to diagnose a problem, enhance an already existing feature, and increase conversions than by asking for product feedback from the ones who use it the most.
As explained multiple times before, customer feedback is the backbone of the success of every business. No matter how much statistics and data analysis you have done, giving your customers a chance to express their thoughts can give you valuable and actionable insights that none of the analytical apps can.
"Why do customers abandon the shopping cart? ", Why do they give up just before hitting the submit button on your e-commerce website?
Analytics tools can't give you these answers, but online survey tools can and website feedback widgets can.
The best part about feedback tools is that you don't always have to gather feedback with boring questions. Instead, you can use interactive quick surveys with emojis, checkboxes, or radio buttons.
Most Common Types of Feedback Tools
Customer feedback can come in many forms.
Sometimes images are better than words, NPS survey (net promoter score) feedback can be more valuable than real-time feedback made through live chats, and gathering feedback on social media can be better than on-page feedback.
The good thing is that business owners can gather feedback anywhere and at any time.
The most used methods for gathering feedback are classical customer satisfaction surveys, online reviews, forms shared on social media, email, or forums, feedback forms embedded on a website, forms that support visual feedback (screenshots), live chats, and the good old questionnaires.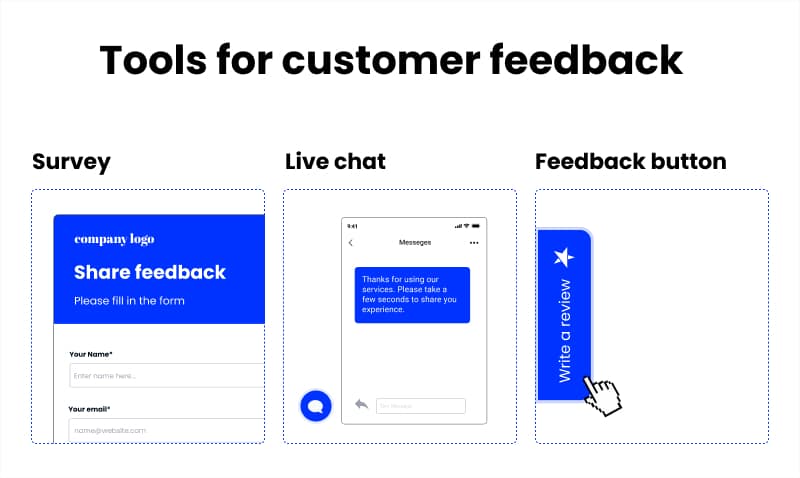 The following section will go through the online feedback and follow-up tools that offer all these options and more, so you can easily choose the one that will help you gather feedback and increase customer retention.
List of Customer Feedback Tools
The below list outlines the best feedback tools that provide advanced functionalities to collect feedback.
1. EmbedForms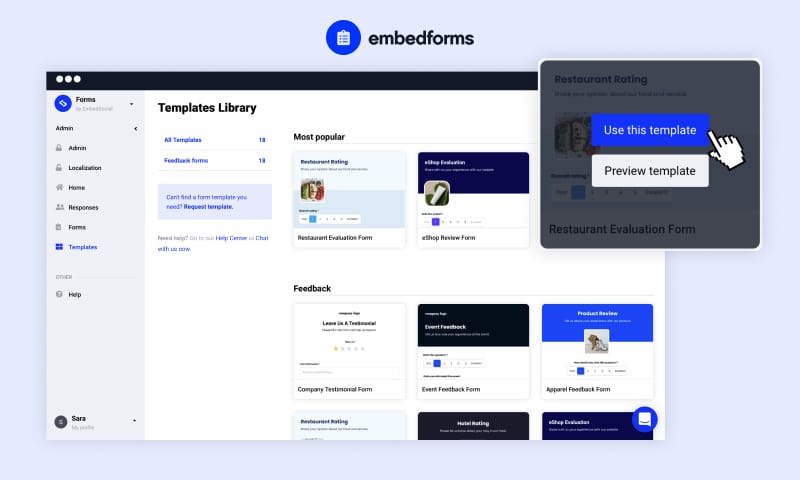 Price:
Free unlimited plan (Includes EmbedSocial logo)
Paid plan: $39/Month
Overview:
EmbedForms is one of the newest online form builders for gathering feedback on the market. The feedback tool has a flexible form editor that allows anyone to create feedback forms, contact forms, or any form in seconds.
The most vital asset of EmbedForms, as the name suggests, is the embedding of the form on any website.
The platform automatically generates a code that users can embed on any website created with web builders like WordPress, Wix, or others.
With EmbedForms, you can design beautiful, customizable web forms and interactive form widgets.
You can also design the widget by choosing a color, copy, format, and position.
Feedback widgets are great for feedback collection from every touchpoint of the customer journey, as well as for showing your visitors that their feedback is welcomed any time they interact with your specific page on your website.
To start using EmbedForms, just create an account or start by checking out our knowledge base first.

Other features:
Premade form templates
Flexible editor
Advance form fields
Header customization
Images upload component
Form submissions redirect
Unlimited surveys and form submissions
Email notifications
Integrates with management tools and other apps
Dedicated customer support
Works for Ios and Android
2. Google Forms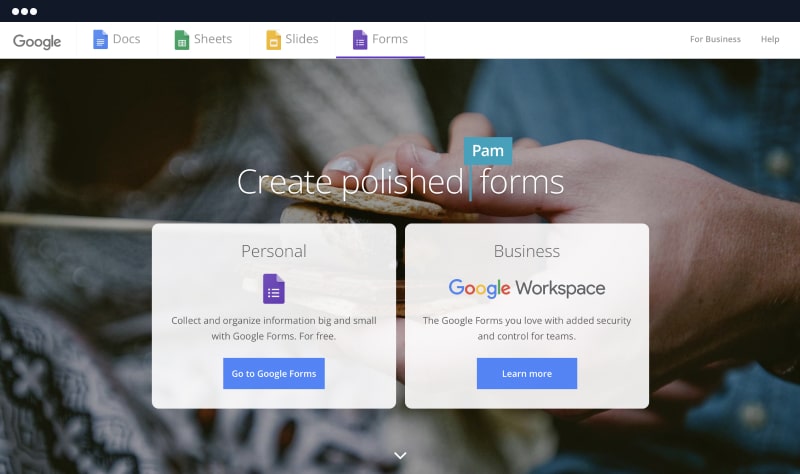 Price:
Free plan: Completely free for individual users
Overview:
If you are looking for a quick and easy way to create forms and surveys without modifying them, Google Forms should do the job. Similar to the most used search engine globally, Google Forms is an intuitive tool created for everyone. With Google Forms, you can create CES (customer effort score)NPS or CSAT metrics feedback surveys, quizzes, or assessments for free and collect data that can be used as a benchmark to compare your results.
The disadvantage of this form builder is the lack of options for modifying the forms. Still, it is excellent for creating questionnaires for various researches where branding is not of great importance, start-ups with small budgets, or from companies that like to evaluate employee engagement.
Other features:
Library of templates
Multiple field options
Sharing options
Collaboration option
Add ons option
3. Typeform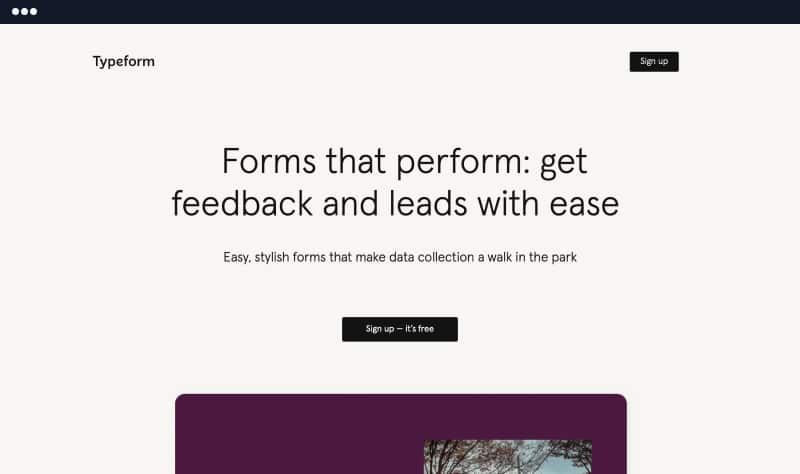 Price:
Free plan: Limited responses
Paid plan:

Plus: $59/Month
Basic: $29/Month
Business: $99/Month
Overview:
Typeform is another well-known form and survey maker. Typeform offers multiple premade industry-based survey templates that are professionally designed but can be customized to fit anyone's needs. Typeform gives tons of options that make user feedback collection engaging and fun for both Typeform's users and the respondents. Next, you can share your forms, surveys, or polls on Facebook, Twitter, Linked In, Buffer, or as a QR code.
Other features:
Multiple integrations
Payment options
Webhooks
Email notification
Custom meta description and more
Configure field types
4. Survey Monkey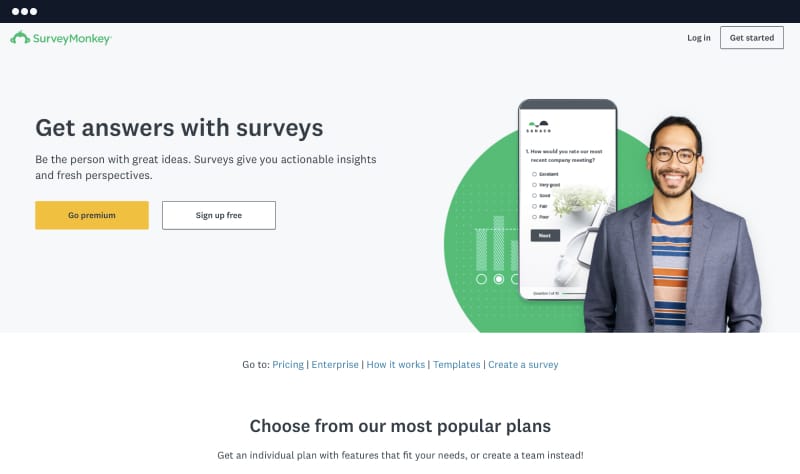 Price:
Team plans:

Team advantage: €30/Month
Team premier: €75/Month
Enterprise: /

Individual plans:

Premier annual: €99/Month
Advantage annal: €38/Month
Standard Monthly: €39/ Month
Overview:
SurveyMonkey is probably the company that comes first to mind when the word survey is mentioned. SurveyMonkey is great for creating market research surveys, gathering stakeholder feedback, and completing quizzes and polls for your respondents. And this is no accident since this survey software has a library full of professionally created survey templates for almost every area and industry that their users want to explore.
Like many other feedback tools with Survey Monkey, you can share your survey via weblink, email, mobile chat, and social media.
Other features:
Analysis Tools
Email Distribution
Feedback Management
Online Polling
5. Mopinion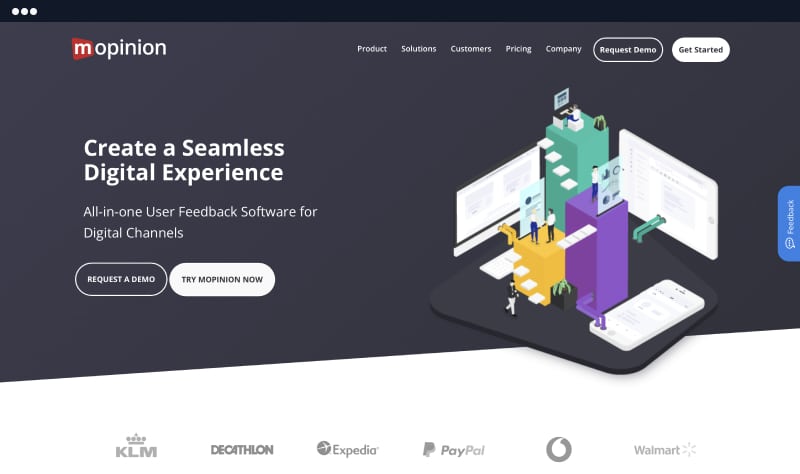 Price:
Free plan: 14-day free trial
Paid plans:

Growth: $289/Month
Turbo: $699/Month
Enterprise: /
Overview:
Mopinion is a comprehensive feedback tool that allows users to collect, analyze, and segment online customer feedback from one place. Furthermore, this tool provides users with a friendly user interface and can create all kinds of forms and feedback buttons. The best part about Mopinion is its analytical tool that visually represents all the feedback data that is fully customizable.
Other features:
Visual feedback
Feedback widgets
Feedback forms
Text analysis
Online collaboration
6. Qualaroo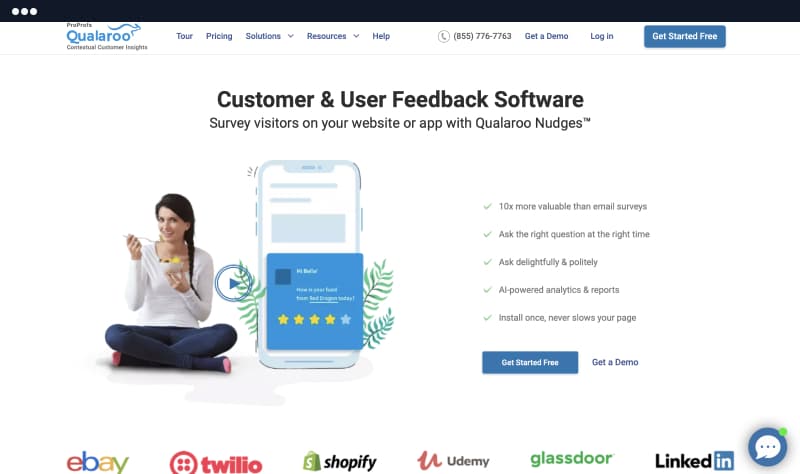 Price:
Paid plans:

Essentials: $80/Month
Premium: $160/Month
Enterprise: Custom
Overview:
Qualaroo is a customer feedback software that allows users to create pop-up user research surveys called Nudges. Users can collect customer feedback by adding demographic questions, behavioral questions, or other screening questions. Qualaroo's goal is to allow users to gather real-time feedback without coming up as intrusive or annoying. Qualaroo's forms can pop up while users are scrolling the page and thus get a higher customer response rate.
Their customer surveys can be implemented in digital products for gathering different types of feedback in SAAS products, mobile apps, websites, and even prototypes in Figma, InVision, Marvel, AdobeXD, and Axure.
Other features:
Advanced targeting
Customization options
Professional templates
AI Analytics & Reports
Premade questions
Sentiment analysis
Integration with API, Zapeir, Hubspot, Slack, CRM, Zendesk, and more
Export options: CSV, XLS, PDF, PPT, and SPSS.
In-app feedback
7. Hotjar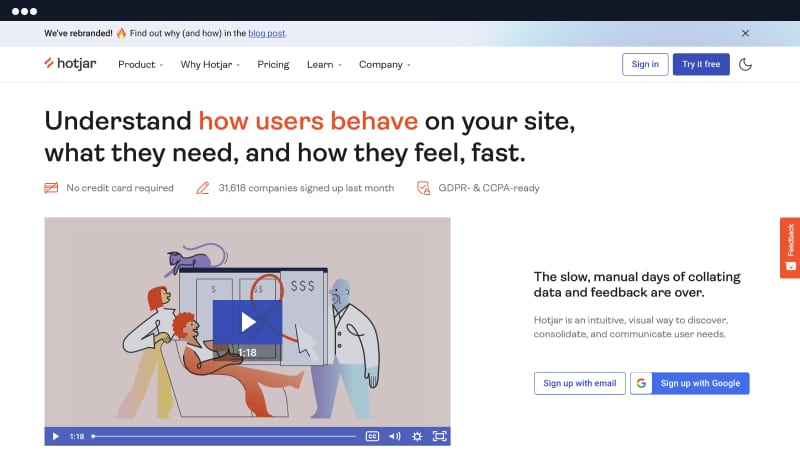 Price:
Free basic plan
Paid plans:

Pro: $39/month
Business: $99/month
Scale: $389/month
Overview:
Hotjar is an all-in-one user testing tool that helps you gather the voice of the customer data with both surveys and advanced analytical tools for measuring usability.
Hotjar offers heat maps, which according to many, is the main reason Hotjar is the most suitable feedback software for User experience designers.
Hotjar includes scroll maps, clicks, scrolls, etc., which gives organizations valuable visual insights about how users behave on their webpage.
By the same token, Hotjar offers a function for survey building allowing its users to gather customer insights via email, social media, or on their websites.
Other features:
Unlimited team members
Multi-device support
Export and share and more
8. UserEcho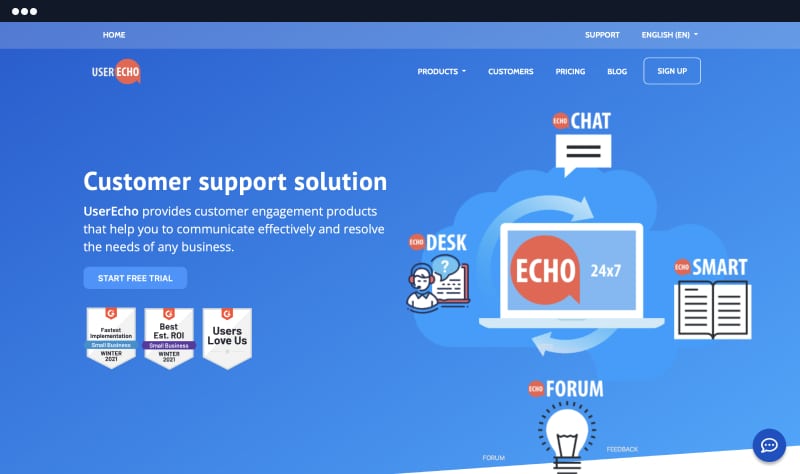 Price:
Free: 15-day free trial
Paid: universal price $19/month
Overview:
Feedback can be collected anywhere as long as your customers are open to spare a few moments for sharing their opinions. And forums are no exception. That's why UserEcho helps its users create community forums where people can interact, share ideas and engage with each other. This software solution also includes tools like a knowledge base, helpdesk, live chat, and voting systems to help you discover what your customers like or dislike. UserEcho also funnels all communications from a website, email, or social media into one place that eases the everyday workflow.
Other features:
Easy authorization
Automation search
Requests with sensitive information
Targeted feedback
9. UseResponse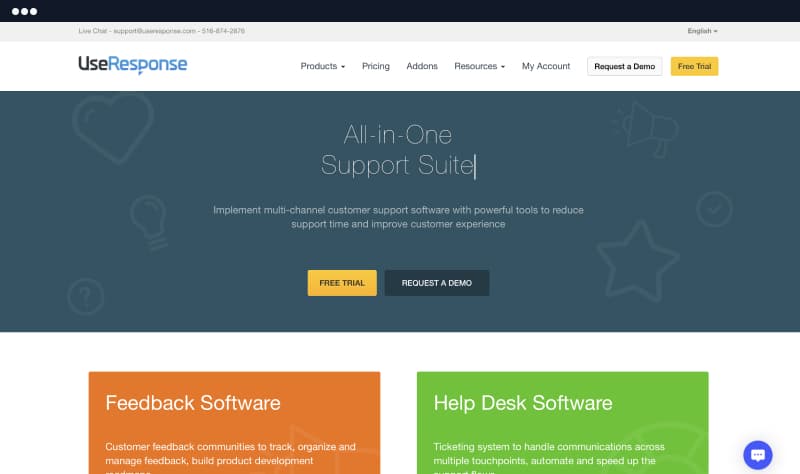 Price: starts at $149.00 per month
Overview:
Another community feedback tool is UseResponse. Like UserEcho, this customer feedback tool offers several different ways of collecting feedback like feedback communities, help desk software, knowledge base software, and live chat with messengers. UseResponse also offers customizable feedback widgets, so your website visitors can give responses without leaving your website.
Other features:
Analytic and trends
CSAT
Internal notes
Conditional fields
Community lock
Votes limiter
Deadlines
10. Intercom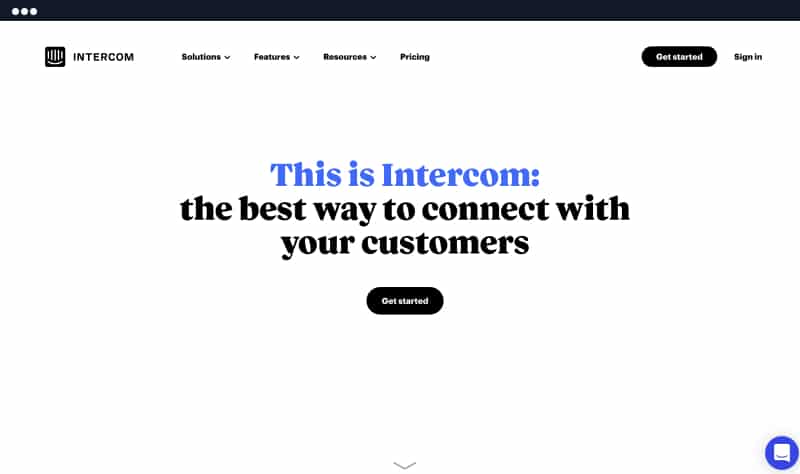 Price:
Intercom offers different packagers but for small businesses, the price begins from $79/Month.
Overview:
Intercom is an all-in-one customer communications platform offering business messenger, management software, customer data platform, apps, and integration.
Intercom provides information such as who is using your website and can send email based on the user's behavior. Plus Intercom's users can manage support requests and questions that come from any channel via inbox.
Live chats, in general, are great for gathering direct real-time feedback. Costumers communicate directly with technical support and product teams, so it is easy to diagnose their dilemmas regarding a specific product or service. This way, you get great feedback that you can later apply to other business decisions.
Other features:
Live chat for support
Team inboxes
Help articles
Conversational bots
Push messages & notifications, and more
List of Website Feedback Widgets
Some of the mentioned tools provide options to create widgets that are usually embeddable on websites or SaaS products, providing easier and fast feedback collection.
Feedback widgets are great for gathering feedback on specific pages, plus it is an interactive and engaging way for your customers to leave opinions.
Take a look at 5 feedback widgets from the feedback tools we mentioned earlier:
EmbedForms
HotJar
Mopinion
TypeForm
SurveyMonkey
1. EmbedForms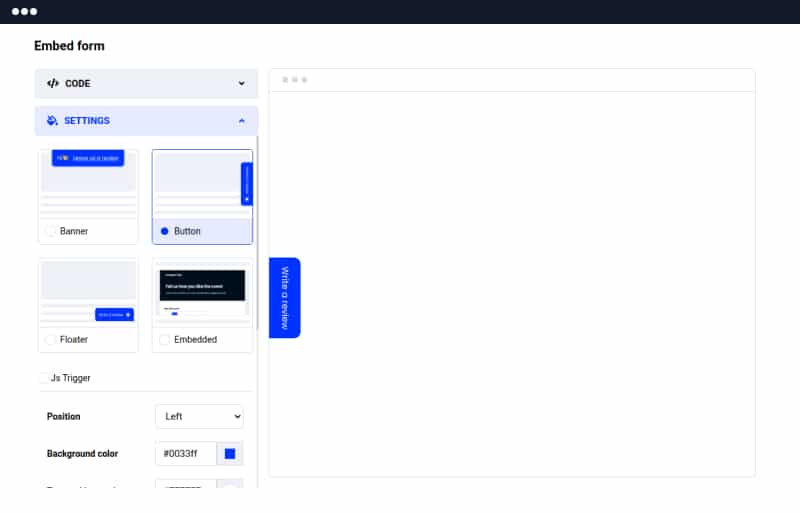 2. HotJar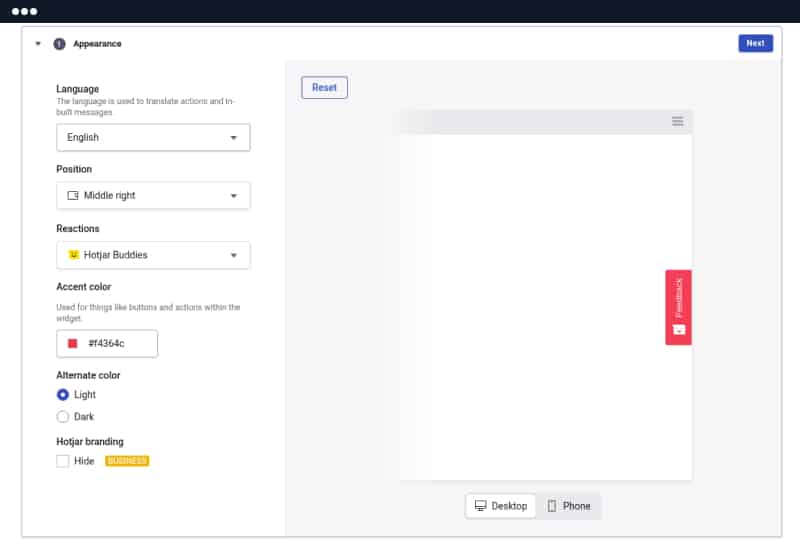 3. Mopinion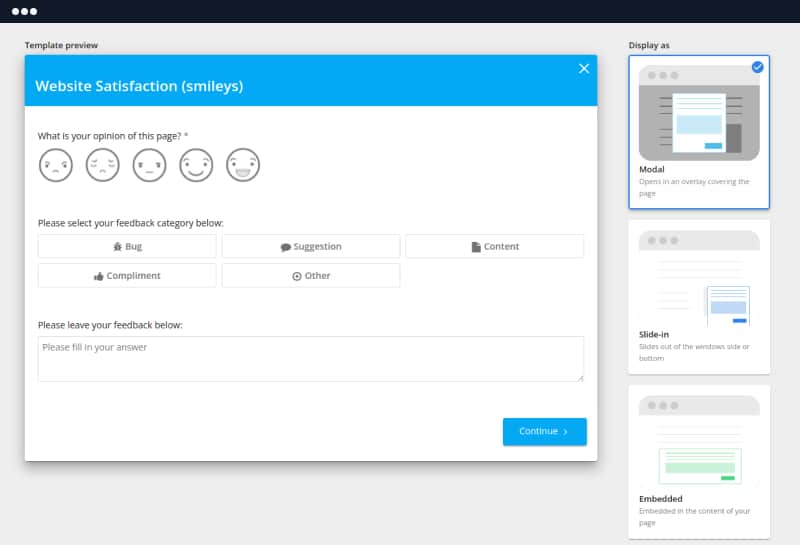 4. Typeform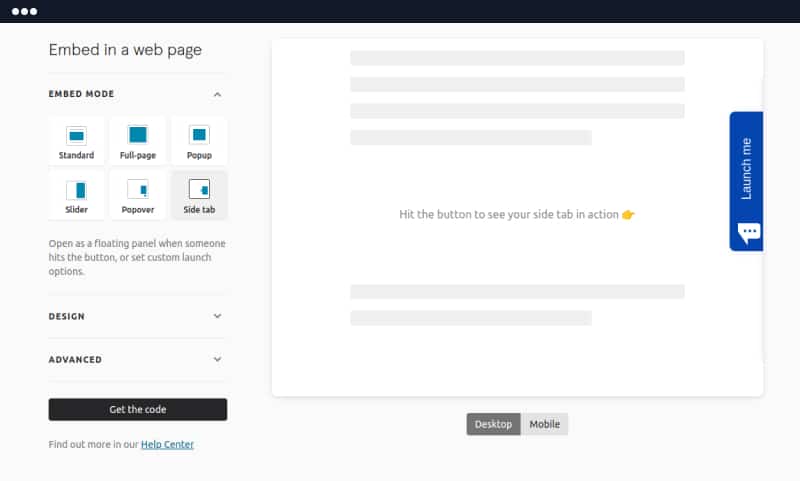 5. Qualaroo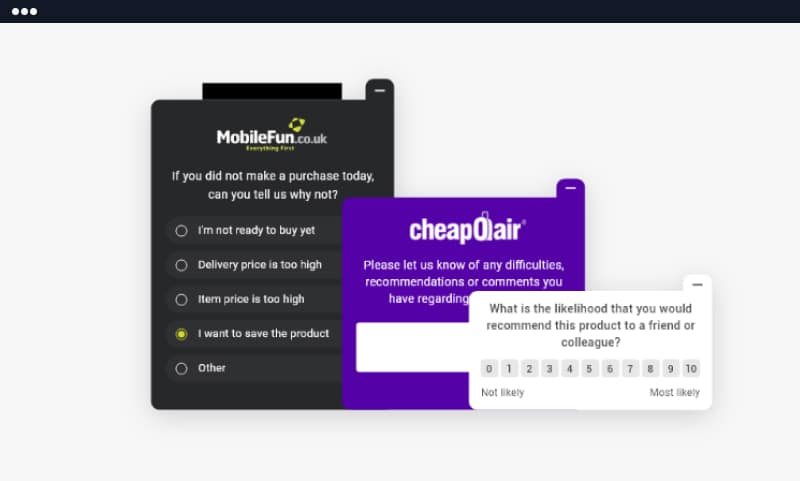 Wrapping up
Feedback tools are constantly improving and adding new features to improve the customer feedback request process, ease the customer journey roadmap creation and help you improve your products and services based on insightful feedback.
Choose the most suitable feedback tool from our list and start gathering feedback today.
Create web forms and feedback widgets fast and easy
Try EmbedForms and create any website form in few seconds.
7 days free trial · Easy setup · Cancel any time