Since the Instagram Creator Marketplace launches on an invite-only basis, there has been a lot of speculation and questions about this new feature and how it works.
Even though influencer marketing was initially seen as a trend, Instagram introducing the creator marketplace tells a different story. It looks like it's here to stick.
This is a wise move from Instagram, considering that 93% of marketers use influencer marketing in their campaigns, and Instagram leads the pack in this area. The platform aims to provide marketers with new methods to engage with the creative economy while also giving creators options for income.
But it's a win-win situation where brands and creators can make quick deals. Collaborations with creators allow companies to develop and foster closer relationships with customers. For creators, on the other hand, this is a great opportunity to grow their brands and earnings.
This blog post will outline everything you need to know about Instagram Creator Marketplace—what it is, how to use it, and most importantly, how it can benefit you.
Let's break it down.
What is the Instagram Creator Marketplace?
Instagram Creator Marketplace is a feature by Instagram that creates matches between creators and brands. Here, creators can find brands for collaborations, while brands can search for creators for their campaigns.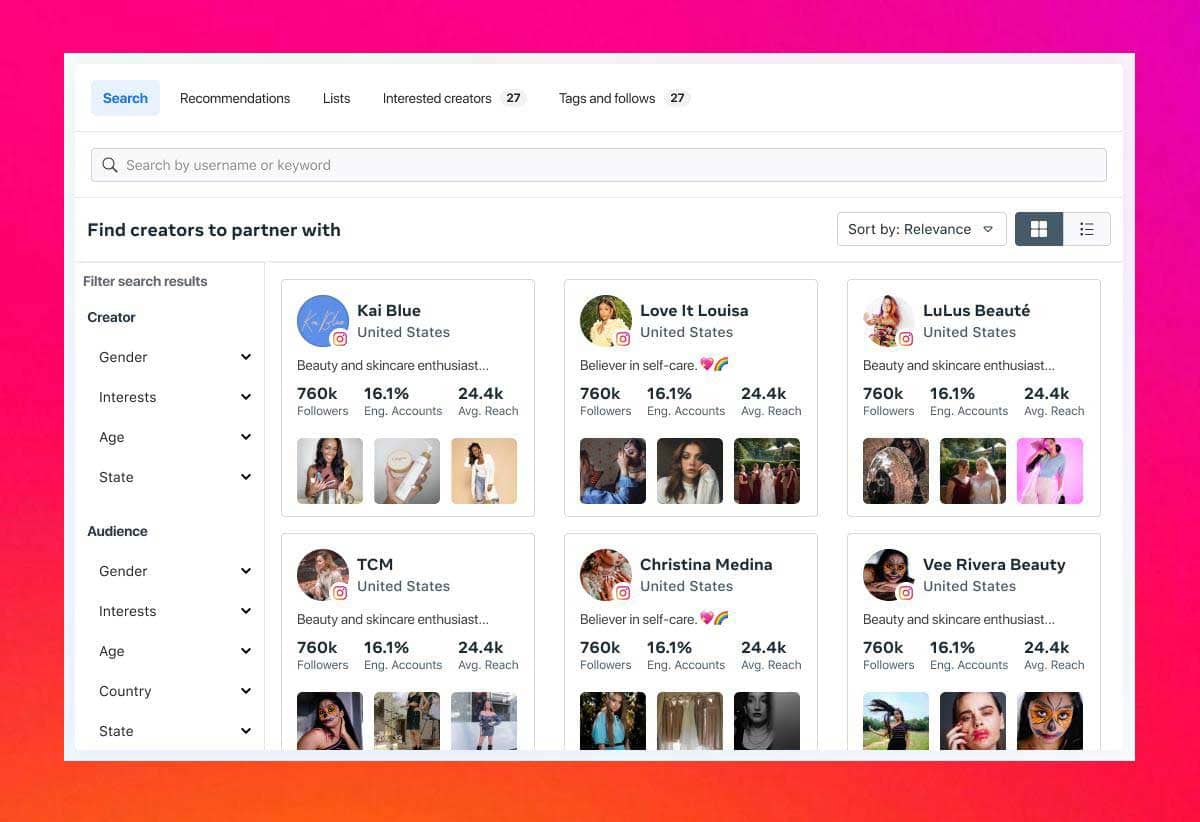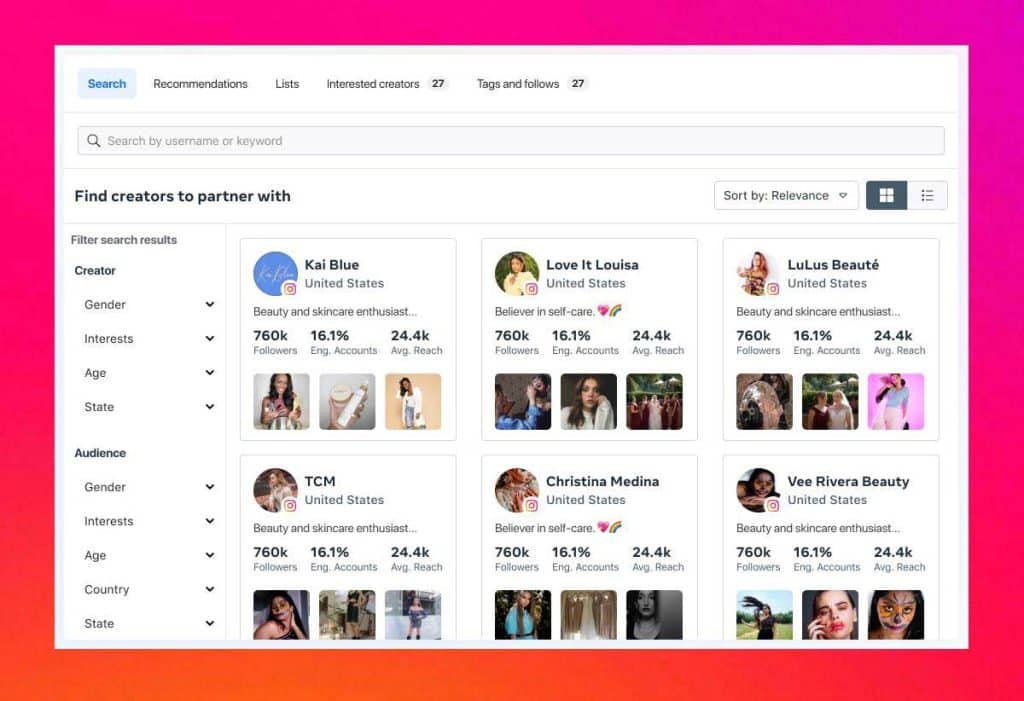 With this feature, Instagram wanted to foster the relationship between creators and businesses, allowing them to partner up without leaving the app. Creators can also get paid through the app for the work they do for brands.
This isn't the first creator marketplace ever launched. TikTok also has its own creator marketplace, where brands can do creator discovery, campaign management, and get reports for their campaigns.
Leading influencers are easily discoverable for businesses, and creators have direct access to brand deals, agreements, and collaborations.
Like TikTok, Instagram offers companies and influencers immediate access to tools, statistics, and a channel for conversation. Furthermore, using and/or paying for a third-party platform is unnecessary.
How does the Instagram Creator Marketplace work?
Here's how the Instagram Creator Marketplace works:
A brand can use Instagram's discovery feature to browse through creators and find the best ones for their campaign.
After they identify the best match, the brand can use Instagram's partnership messaging feature to contact them with a collaboration offer. This is a separate folder in Instagram DMs that groups all partnership request the brand has sent.
Then, businesses could provide project information without involving any third-party platform. This information could include essential deliverables, pricing, and payment assistance.
How is Instagram's Creator Marketplace different from the Instagram Creator Studio?
The Instagram Creator Studio is part of the Meta business suite, where users can manage their Instagram profiles more effectively. It provides them with more configurable profile controls, streamlined messaging, and more growth tools than regular profiles.
With Instagram Creator Studio, creators can publish and schedule user-generated content. Moreover, they get relevant and detailed data related to their published content.
Instagram Creator Studio is dedicated to enabling creators to upload, manage, and assess the effectiveness of their posts. With payments handled directly within the app, Instagram's creator marketplace is all about establishing relationships between businesses and creators and developing sponsored content partnerships on Instagram.
How can I join the Creator Marketplace as a creator?
You must adhere to Instagram's branded content policies and partner monetization policies to be eligible for the Creator Marketplace as a creator.
Check your account settings to see whether you qualify for the creative marketplace. If you fulfill all their requirements, use the professional dashboard to sign up for the Creator Marketplace.
To see the professional dashboard at the head of your profile, you must have a professional (business or creator) profile.
To join the Creator Marketplace, follow these steps:
Go to your professional dashboard
Select Branded content tools
Click Join creator marketplace
Accept the following three pages to allow businesses to contact you through a new Partnership communications folder and make your information about you and your insights accessible to them.
Click Accept Changes
Read and comply with the terms.
Now, brands can find you in the marketplace. To provide them with additional information about you, you can also choose your favorite brand partners, add sponsored content interests, and build up your creator portfolio.
How can I create my creator portfolio?
Setting up your creator portfolio is crucial to get better chances for brands to choose you for their campaign.
Here's how to do it:
Go to Your tools and choose Branded content.
Tap Creator portfolio
Upload a cover image
Add key information about your work, like textual descriptions of projects, posts & reels you've created, profiles of brands you've worked with, and insights about past campaigns.
Once you've entered all information, tap Save.
To make your creator portfolio discoverable for brands, you need to set the visibility to Public. This way, you can also copy the link to your portfolio and share it directly in a message.
See a demonstration by @griztriz—he's breaking down how to set up a portfolio to position himself for future brand partnerships:
Features of the Instagram Creator Marketplace
From what we have described so far, you've probably identified the most important features of the Creator Marketplace.
Let's take a look at the tools Meta released to help brands and users build relationships smoothly.
Creator Portfolio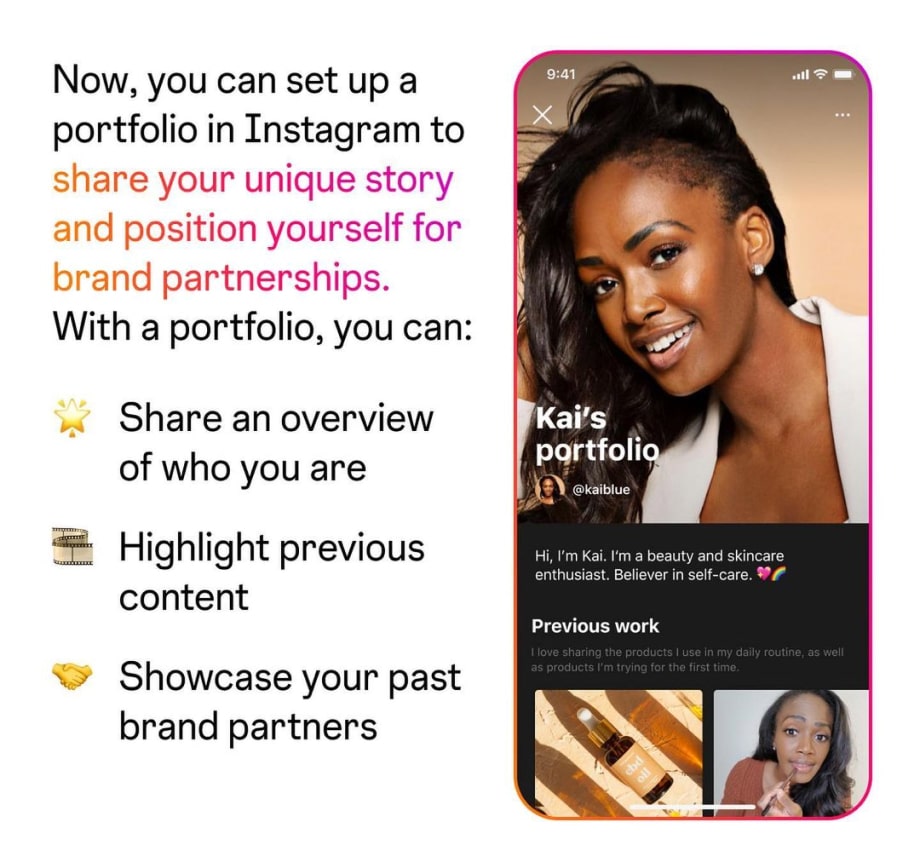 Discover creators by interests
Brands now don't have to spend hours searching the internet for the ideal influencer. Instead, to match relationships that connect with both sets of consumers, Instagram has streamlined the process and introduced the discovery function.
Brands may use this platform to find and interact with artists that align with their niche and brand messaging. Additionally, creators can select hobbies and themes related to their work niche.
Watch below a walkthrough from @awedbymoni on how creators can add their interests and select brands they're interested in working with:
Partnership messages folder
This feature allows both companies and creators to have all their inquiries organized. This is a separate section at the top of the primary tab. It organizes all messages related to partnerships and separates them from other messages.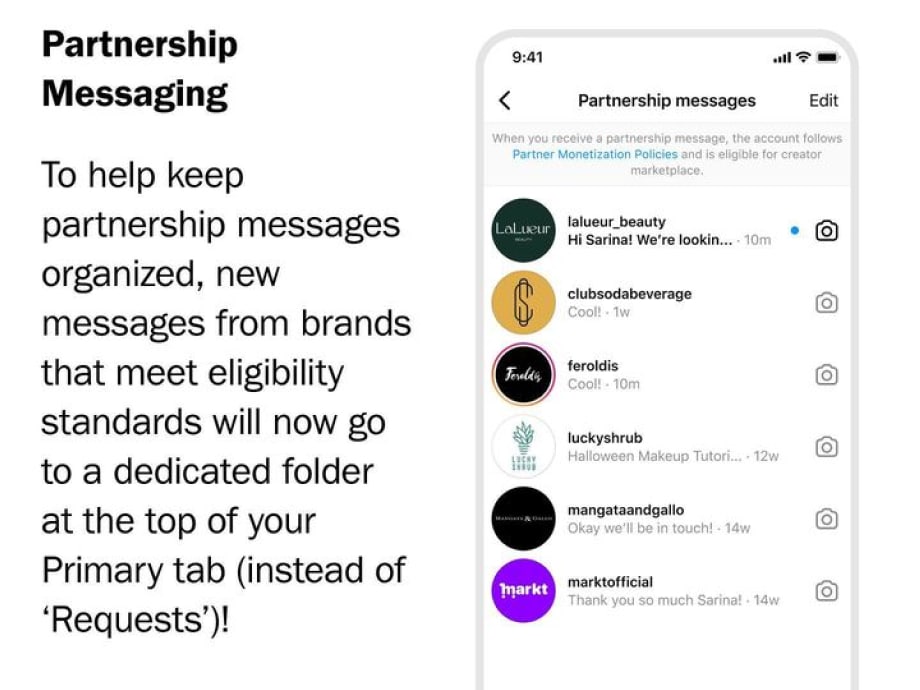 Projects
The project tool on Instagram will include all pertinent project information, details, specifications, and costs.
This means that companies can create a project with a description and the rate, and creators will be able to get this type of projects in the Partnership Messages folder.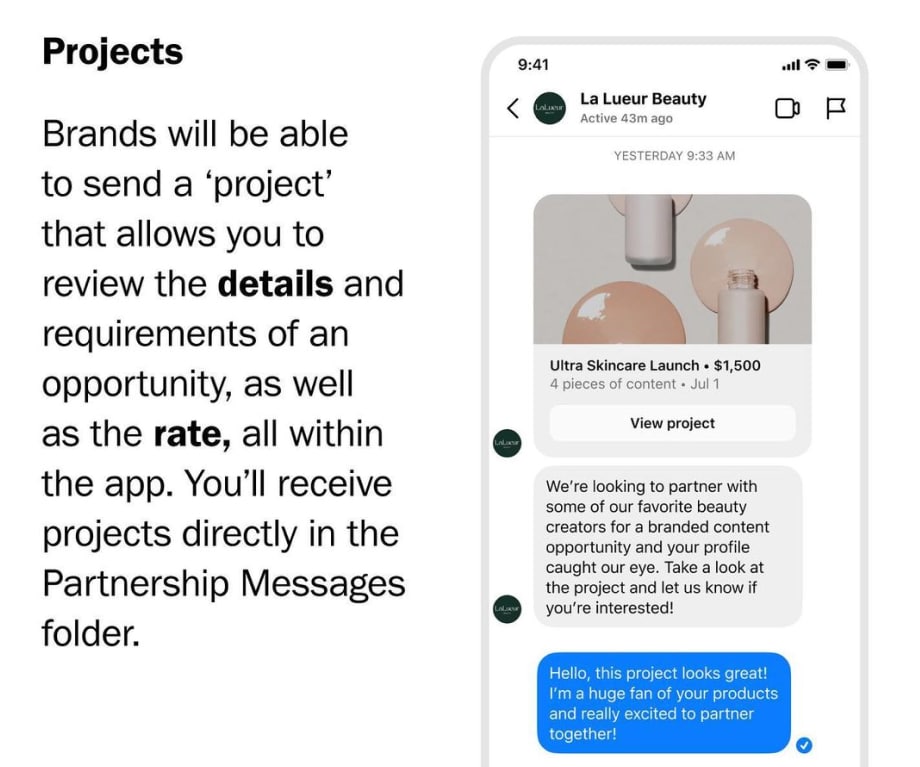 Discoverable projects
The best is that creators can discover projects that fit their profile and easily select projects that match to their profile.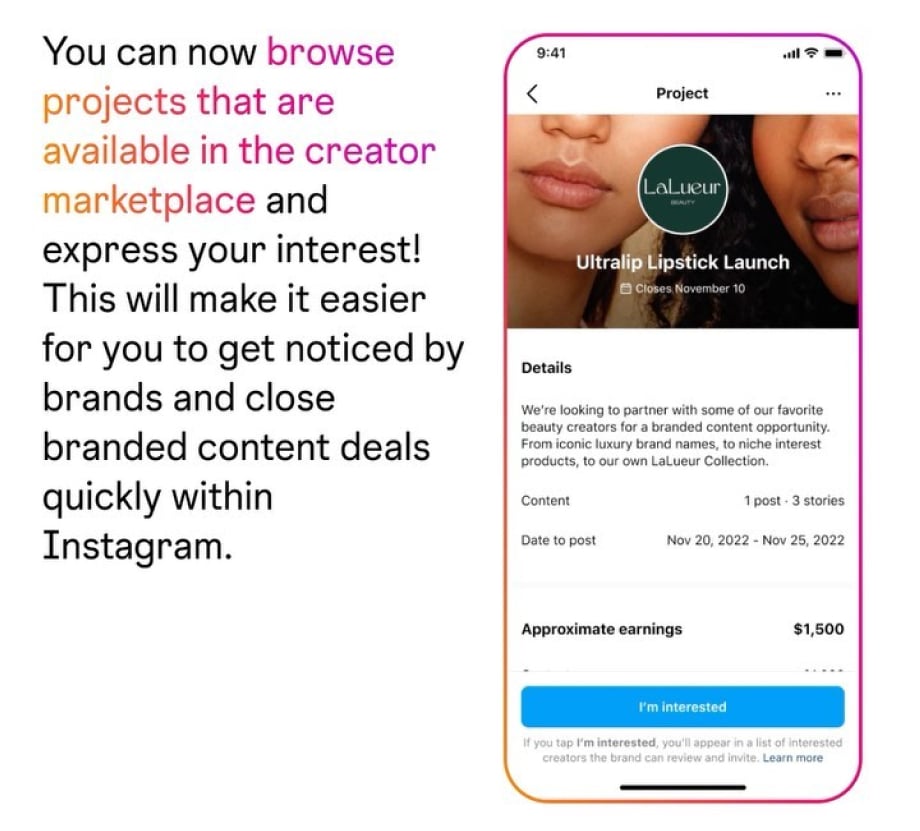 Once they express interest, they can further manage the projects in the Professional Dashboard, where they can see the Projects that are in progress and the ones that they expressed that they are interested in.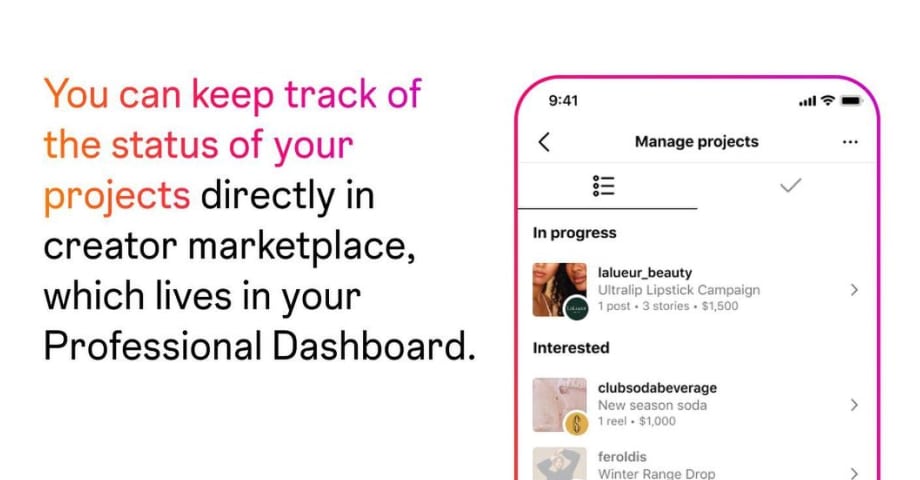 Payments
Brands can pay creators once the project is finished through the Instagram app. Additionally, the feature will enable payment tracking inside the Dashboard's Tools area.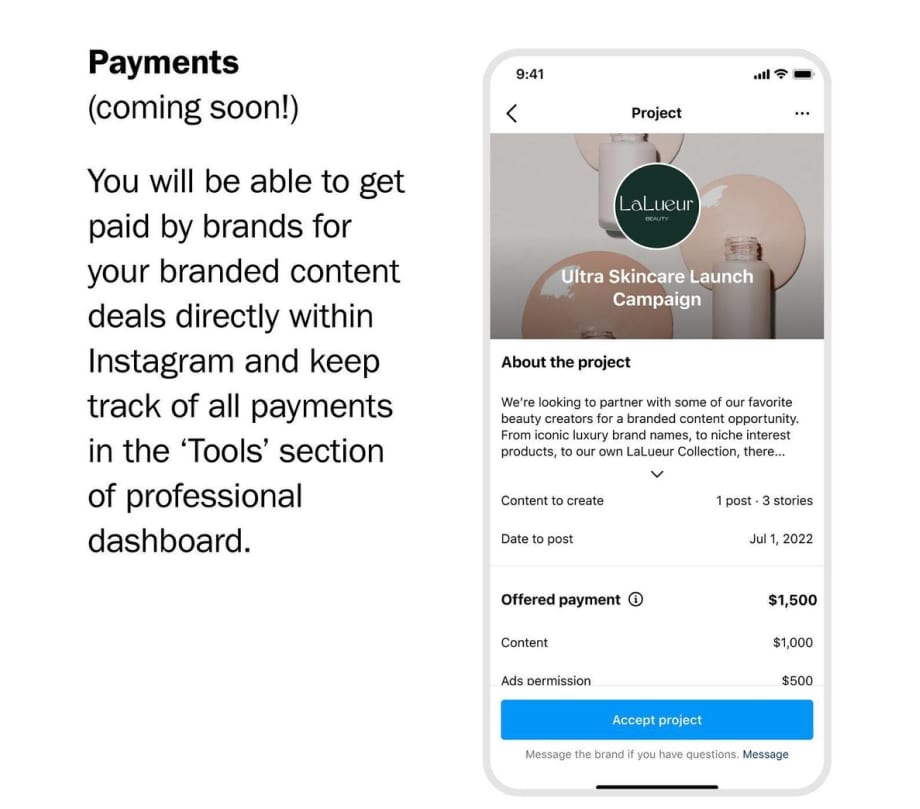 Benefits of the Instagram Creator Marketplace for creators
Here are the biggest benefits of the marketplace for creators:
New income opportunities
Instagram's new features are all about creators. The company's team is certain that UGC creators are the future, and they want to give them all tools that will make them successful.
The marketplace will provide you with interesting new options to monetize on Instagram if you're a content creator, influencer, or have a personal brand. Brands can discover you and get the possibility to collaborate on more campaigns than before.
No need for other apps
It fosters requests, messages, deadlines, and other campaign details in one place. They even have the feature to process payments.
You can quickly accept sponsored content assignments and obtain new partnership prospects without ever leaving Instagram. No need to manage countless conversations on WhatsApp, Messenger, and other apps.
Access to more projects
Projects are now visible to the individuals who fit a brand's requirements. Soon, users will be able to express their interest in the possibility to companies. Brands may now contact numerous creators at once via a prioritized partnership messaging inbox, which also increases project and creator discoverability.
Showcase portfolio
With this feature, creators can create a portfolio to convey their own stories and position themselves for brand collaborations. They may summarize who they are, promote prior material, and highlight companies they worked with. On the other side, companies can search for creator accounts and find creators that expressed interest in branded content partnerships.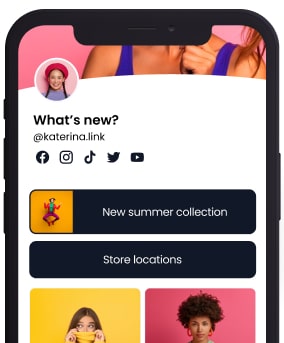 Forever free link-in-bio page with your own .link domain
Get Feedlink and build a complete social microsite for all your important links.
All PRO features | Cancel any time.
Benefits of the Instagram Creator Marketplace for brands
The new creator marketplace opens a whole new world of partnership opportunities for brands, which can filter creators and find similar creators to their engaged audience.
Here are some of the biggest benefits:
Projects are up & running in no time
Registering and starting a project on the marketplace takes just a few clicks. The entire process is very simple once a creator is selected for a campaign.
For everyone engaged, the specialized partnerships mailbox tools change the entire way of collaboration. Brands and creators will be quickly informed of fresh chances to move the ball faster instead of getting partnership requests lost in the message request inbox.
No third parties
Without depending on other partners, brands can directly search for the appropriate profiles while maintaining complete control over the process. Direct relationship with the creators is the only method of communication. This means that managers or agencies are not involved at any step of the way.
Great overview of projects
This new market is an excellent method for brands and companies to increase their use of influencer marketing. The creator marketplace provides brands with a customized list of sector-specific users who are willing to create content about the brand's niche or business, saving lots of time that previously would take to spend hours searching through possible influencers on Instagram.
The tool allows viewing creator profiles that fit specific needs, which might be hundreds. This applies to both their analytics and content.
The separate inbox also allows brands to have all partnership requests in one place, keeping track of accounts that are contacted/started collaborating with.
Campaign analytics
Brands may gather, analyze, and use the data whenever they choose because the Creator Marketplace also provides a view of the campaign's desired deliverables. It is possible to see the best campaigns and identify the creators who gave the most successful outcomes.
Unique brand codes
Instagram also announced that soon, creators would be able to give brand partners a special code that brands may use to display creator material as advertisements, making it simpler for companies to promote organic creative content.
Message multiple creators at once
Companies may now contact numerous creators at once via a prioritized partnership messaging inbox, which also increases project discoverability. The messages brands send creators can now present projects with set offers that artists can assess and approve right away, making it simpler for them to conclude branded content transactions swiftly. This will make managing the branded content partnership messages more efficient and time-saving.
FAQs about the Creator Marketplace on Instagram
What is the Instagram Creator Marketplace?
It is a new destination where companies and creators can connect. Here, companies can search for influencers for their campaigns while users can discover brands for partnerships.

Instagram intended to strengthen the interaction between influencers and companies by enabling them to collaborate without having to leave the app with the help of this feature. Through the app, creators may also get compensated for the work they perform for businesses.
How do you use the Creator Marketplace?
Companies can use it to discover influencers who are a good fit for their campaigns. From here, they can message them through the separate partnership inbox, send them projects and other details, and pay them.
How do you qualify for the Instagram Marketplace?
To activate the creator marketplace, you need a business or creator profile. This way, you can access your professional dashboard and enter the marketplace.

You may also check the branded content policies and partner monetization policies and adhere to them to become eligible for the Instagram marketplace.
How to join Instagram Marketplace as a brand?
To get access to Instagram marketplace you will need to register your interest in using Instagram's creator marketplace. To do this businesses can request to join and get the steps via email.
Key takeaways
Instagram appears to be especially targeting content creators with their latest releases. The platform aims to provide marketers with new methods to engage with the creator economy while also assisting creators in generating more income.
With this new feature, creators get:
New income opportunities
The ability to easily manage all inquiries from one app
Access to more projects
Creator portfolio
For brands, the benefits are also huge:
Fast project setup
Direct communication with creators
Great project overview
Campaign analytics
Unique brand codes for campaigns
The ability to message multiple creators at once
These benefits are brought to creators and brands thanks to the features of the creator marketplace:
Easy discovery of new creators
A separate folder for partnership messages
The ability to organize projects
Payments processor
Instagram is a great place to express your brand's creativity right now because it is growing and supporting the creator economy. Instagram's creator marketplace is a potent tool for both companies searching for skilled creators and influencers interested in working with new brands. There will be no more manual partner-finding. You can swiftly plan Instagram marketing campaigns, collaborate with top creators, and ultimately connect with your audience more efficiently with the aid of a creative marketplace.