I know that most of you have switched resources to Instagram and have revamped your digital marketing plans to accommodate Instagram as much as possible.
The reasons are numerous but one of the biggest factors why marketers switch to Instagram is definitely the lower reach of the Facebook Page posts that pushed the companies to find a new channel to organically communicate with their audience.
Another factor that also makes Instagram popular is the Instagram stories that are used by 500 Million+ accounts every day.
Instagram stories are definitely IN and the stats are showing that they are here to rule the marketing trends (well, most surely for the long run).
If you still haven't started with Instagram stories, here is why you need to switch to Instagram marketing ASAP:
The algorithm still favors branded content unlike the Facebook Newsfeed
The stories format provides greater placement for better engagement and reach
The discoverability of Instagram stories and Instagram Highlights is a powerful opportunity for viral content
Knowing the above benefits, now is the time when you will need great tools that will help you optimize and get the most out of your Instagram stories.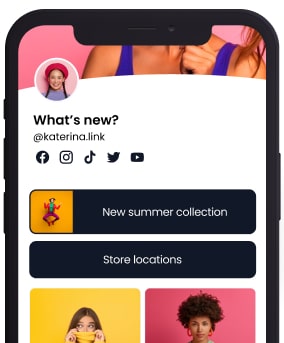 Forever free link-in-bio page with your own .link domain
Get Feedlink and build a complete social microsite for all your important links.
All PRO features | Cancel any time.
In the past week, we explored dozens of Instagram tools to help marketers create a robust and eye-catching presence on their Instagram profiles.
We realized that you don't need to invest thousands of dollars in a design firm or software to create the perfect Instagram Stories – there are plenty of fantastic free tools to get you started.
We figured out that these are the main tool functionalities your Instagram marketing stack should have:
Instagram stories maker
Instagram stories animator
Instagram stories scheduler
Instagram hashtags generator
Instagram stories ads tool
Continue reading our findings below to learn why these tools showed us to be worth trying.
1. Canva: Design Instagram Stories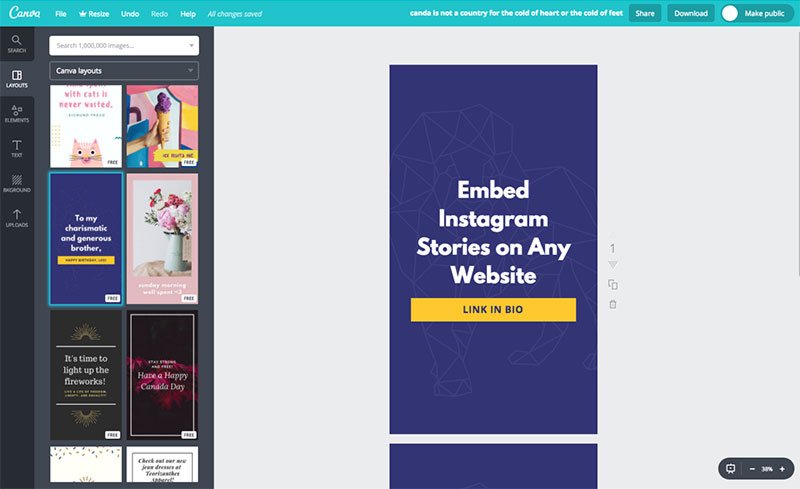 Best used for Design Instagram stories.
Free trial: Forever free (250,000+ free templates)
Price: Paid plans from $12.95 – $30 per person monthly
Available on: Desktop, iPhone, Android, iPad.
Instagram allows you to upload photos and videos from your camera roll and create an Instagram story.
This means that you can pre-design the story images and upload them to your phone.
Well, to do this, the best tool out there is Canva.
Canva is one of the most powerful but still simple-to-use, template-based graphics design apps that I have ever tried. There are literally hundreds of thousands of templates, graphics, and photos you can use as part of the free plan.
To create Instagram Story in Canva, you have 2 choices:
Pick out a ready-to-publish Instagram Story template
Create your own Instagram Story with a drag-and-drop editor
To start creating a story in Canva, follow the steps below:
1. Log in to your Canva account or if you are a new user, create a new account

2. Once logged in, create a new layout with dimensions that are specific to the Instagram story by navigating to Use custom dimensions > type 1080 pixels width x 1920 pixels height or 9:16 ratio > Click 'Design'.
3. Or, click the search bar in the top right of the screen and type 'Instagram'. You will be presented with hundreds of possible templates for Instagram Stories, highlight covers, ads, videos, reels, photo collages, and much more. Or, to see more specific ideas for Instagram Stories, I typed 'Instagram Stories' and got 2.807 templates just for that.
3. You will be redirected to the design canvas view, where you can use ready-made templates to design the Instagram stories or upload your own photos.
4. To make your story with multiple photos, use the options to add more story pages.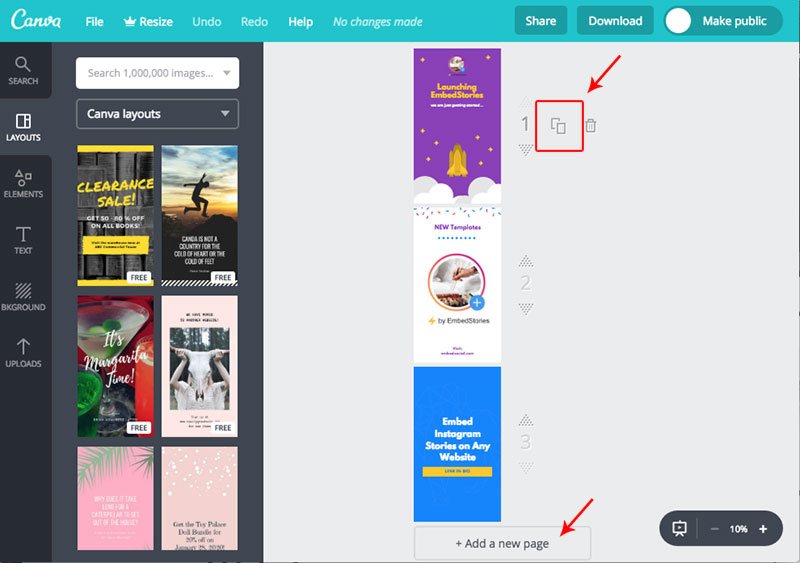 5. Once you are finished, Canva will allow you to download the full zip of the story images you've just created.
4. Send your stories to your phone camera roll and upload the photos when creating the Instagram story.
That's it.
The best part is that Canva lets you share your work and collaborate with others. If you need a second pair of eyes on your design, click the Share button in the toolbar and add your co-workers' email addresses.
In case you have accidentally included any premium assets, you need to pay to remove their watermarks (usually $1 per asset) or go back and eliminate the item from the graphic itself.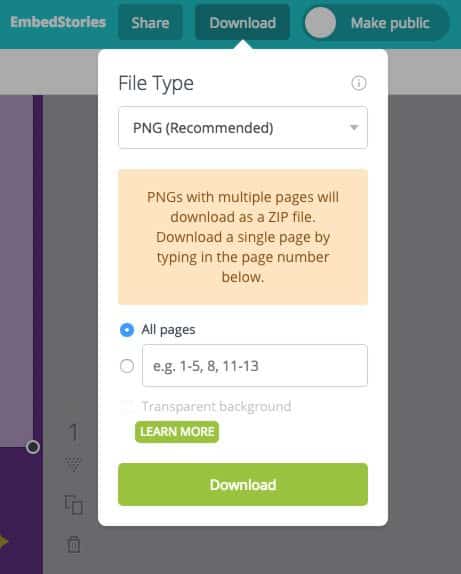 Start designing an Instagram Story with Canva.
Adobe Spark, CutStory, Hype Type, Hyperlapse, Photoshop,  VSCO, Clipomatic, Life Lapse, Mojo, StoryLuxe, and Design Kit are other useful photo and video editors for IG Stories you should consider. You will find most of them within your app store or their desktop version.
2. Unfold: Instagram Story Templates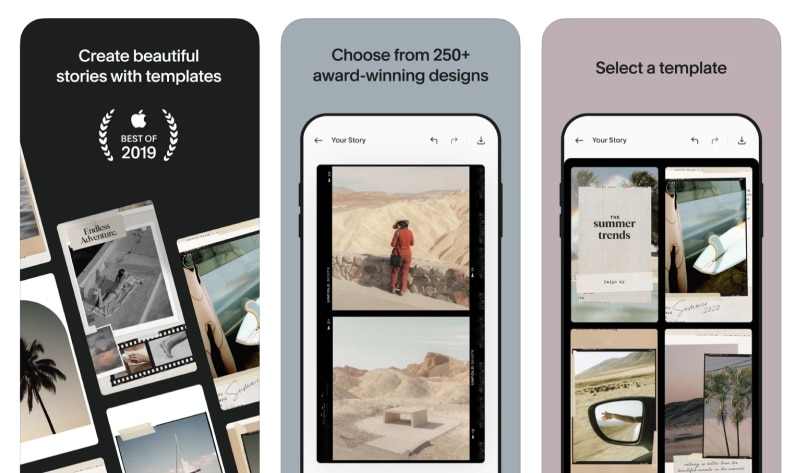 Best used for: Design Instagram templates for Stories
Free trial: Forever free
Price: Paid plan starting from $19.99 per month
Available on: iPhone and Android
In comparison with Canva, Unfold doesn't have thousands of Story templates. Instead, there is a library of 300+ beautiful Story layouts and collections you can choose from, including Retro, Clasico, Film Frames, Ripped Paper, Journal, Artist, etc.
It's pretty simple to use. Just download the app on your mobile device. Once you open the app, you won't get lost in the search. There will be an empty dashboard in front of you where you can add your photos and videos into the frame. Type the name of the Story, and select some of the beautiful layouts at your disposal.
The thing here is that many of the layouts are reserved for paid options. So you can either pay for that piece of template or join the paid Unfold club. However, there are plenty of gorgeous layouts that you can use for free.
No matter which option you choose, make your graphic stand out with different photo editing options like filters, stickers, textures, emojis, and backgrounds to create a perfectly stylized Story.
Later on, you can share your design on social media networks like Instagram, Snapchat, WhatsApp, Facebook, and TikTok.
3. Boomerang: Instagram stories animator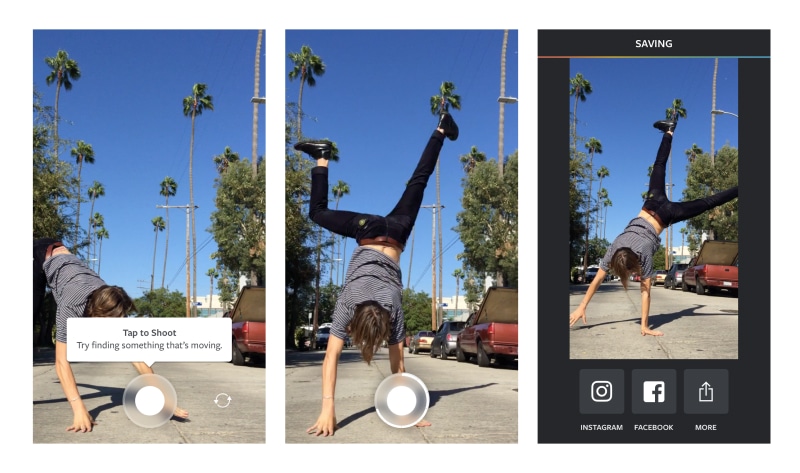 Best used for: Animate Instagram stories
Price: Free
Available on: iOS and Android
If you want to make your Instagram Stories even more, fun and unexpected, Boomerang is the video editing app you need. Instagram itself develops this app, but you can download it as a separate app for other platforms.
Boomerang allows you to create your own GIFs and short video clips.
There are 3 ways to do this:
Create a video of something (or someone) moving
Switch to the front or back-facing camera and create a video (or selfie video)
Import video content from your camera roll and use the video editing tool
There is just one button you need to click, and Boomerang will do the rest:
Takes 10 photos and stitches them together;
Speeds up the video;
Loops it back and forth.
The result: A delightful mini video your Instagram audience will adore.
You can share it on your Instagram or Facebook app straight from this app, or save it for later.
4. Pond5: Videos for Instagram Stories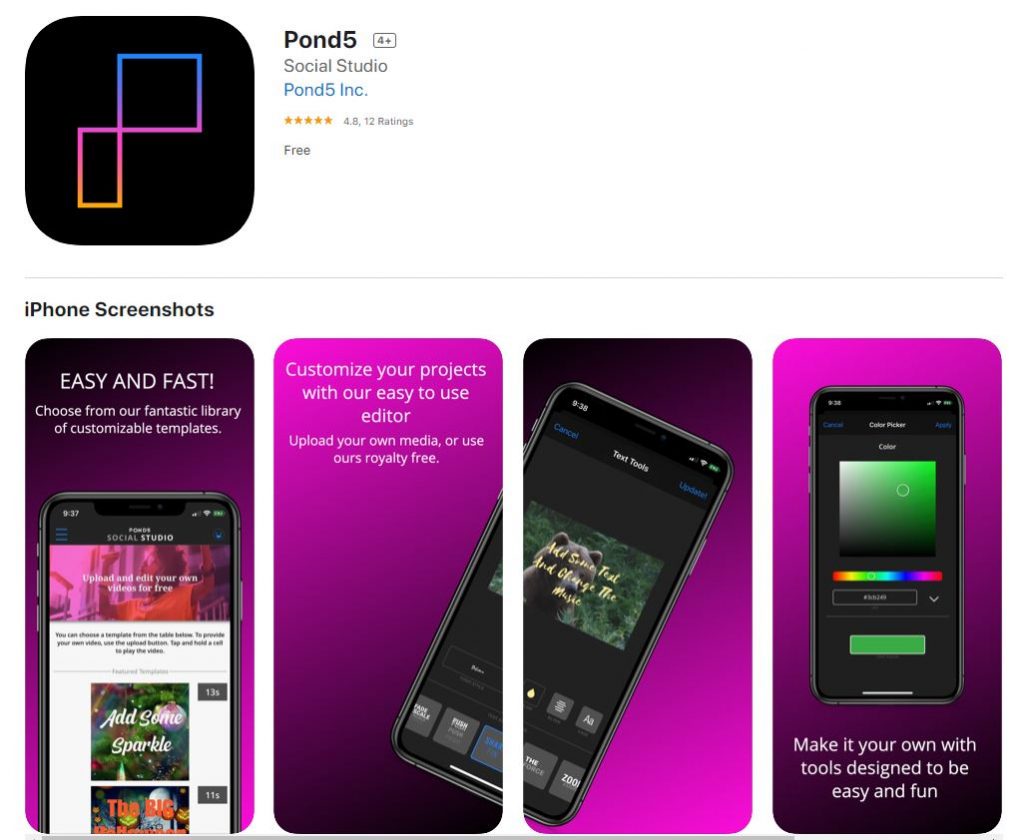 Best used for: Create videos for Instagram stories
Free trial: Forever free
Price: /
Available on: Desktop
I was in search of a simple and affordable tool that can help my team to create videos that we can easily use for our Instagram Stories when I ran to Pond5, a tool that can create stunning, on-brand videos for Snapchat, Instagram, Facebook, YouTube, and more.
It really works and also provides you with the options to try it for free or use the PRO version that offers:
250M+ Royalty-free premium images and videos (like Storyblocks and others)
900K+ Music tracks (Audioblocks)
Will definitely recommend it if you want to post cool Instagram stories and make your life easier at the same time.
Create vertical videos using a library of pre-made videos
Easily edit and include your own branding and design elements
Save the video and use it to create the Instagram story in just a few clicks
To post your videos and photos to Instagram stories or Snapchat, save your video or photo from Social Studio to your camera library. 
Check these tips on how to make more creative vertical videos for social media:
Best used for: Generating relevant hashtags
Price: Paid plan from $59 – $89 per month
Available on: Dekstop
You have figured out the perfect captions for your Instagram posts and Stories but still have issues with what hashtags to use each time you upload. The Hashtag for likes tool can be your time-saver!
This is a powerful Instagram hashtag generator that will literally take your guesswork out of hashtags.
Depending on your goal, this tool will help you identify easy, medium, and hard hashtags. As a result, you will get a higher exposure on Instagram and rank on explore pages.
Simply enter a topic keyword in the search field, and you will have the most relevant top trending hashtags at your fingertips in a matter of seconds. You can see their difficulty scoring, how many times they were used, their reach and likes received, and save favorite hashtags for future usage.
Please note that this tool doesn't have a free version, so if you want to attract real targeted niche followers with up-to-date hashtags, they offer you an affordable paid solution.
6. Buffer: Post and schedule Instagram stories
Best used for: Schedule and publish Instagram stories
Free trial: Free for up to 10 scheduled posts
Price: Paid plan starting at $15 to $399 per month
Available on: Desktop, iOS, and Android
Recently, Instagram announced that it will allow third-party tools to create posts with direct integration with their API.
This actually means that now you can use tools on your desktop and post on Instagram. Previously this was not possible, and you had to download а mobile app and still manually post on Instagram. And for sure, this was a hard task if you ever wanted to automate Instagram scheduling.
There are many tools out there that can provide Instagram scheduling and management, which most marketers use on a daily basis.
In this article, I will present the capabilities that are provided by Buffer and especially their transparency in publicly sharing their roadmaps.
Once your Story design is all set and done, try Buffer to re-arrange and preview your Stories easily, so you will be confident that they are posted in the right order. 
No matter if you are on the go or sitting on your desktop computer, this tool helps you easily plan and schedule story posts from the desktop and mobile devices (using the Buffer mobile apps).
They have still not rolled the automatic posting directly from Buffer to Instagram, so here is a step-by-step process for posting an Instagram story from their mobile app.
Open your Buffer mobile app and navigate to your Instagram Account
Tap the + plus button to create a new post
Write the post text, upload the image post and click 'Share' or to schedule it click on 'Buffer. '
Then tap on the button Open in Instagram
And tap 'Story'
That's it. You will be redirected to the Instagram story screen, where you can add stickers and text. You can create the posts and schedule them once they are due to be posted on Instagram; you will receive a notification, so you will need to repeat the steps from 4-5.
Or if you are on a desktop, create a Buffer profile, connect your Instagram account and navigate to the Buffer Publish dashboard under the Stories tab to get started.
Open the Stories composer and upload your video and photo content. You can upload up to 10 media files for a Story. Next, drag and drop your media files in the preferred order, and preview your Stories. If you are happy with what you see – pick the day and time you want to post the Story.
The best thing about Buffer is that you can set it and forget it. This tool will save you some time and effort to prepare and schedule Stories while freeing you more time to think about your content and Instagram goals.
7. EmbedStories: Display stories on your website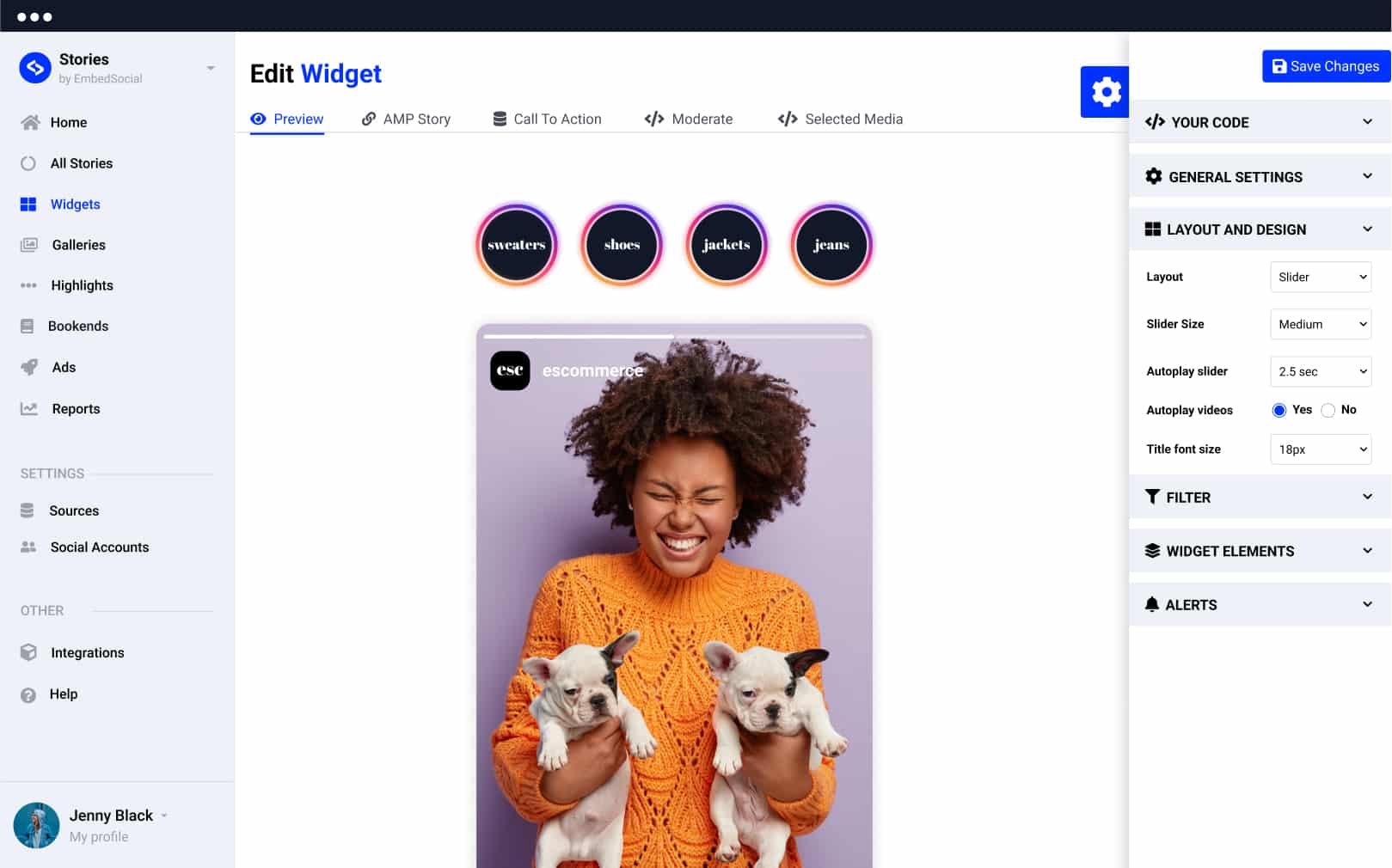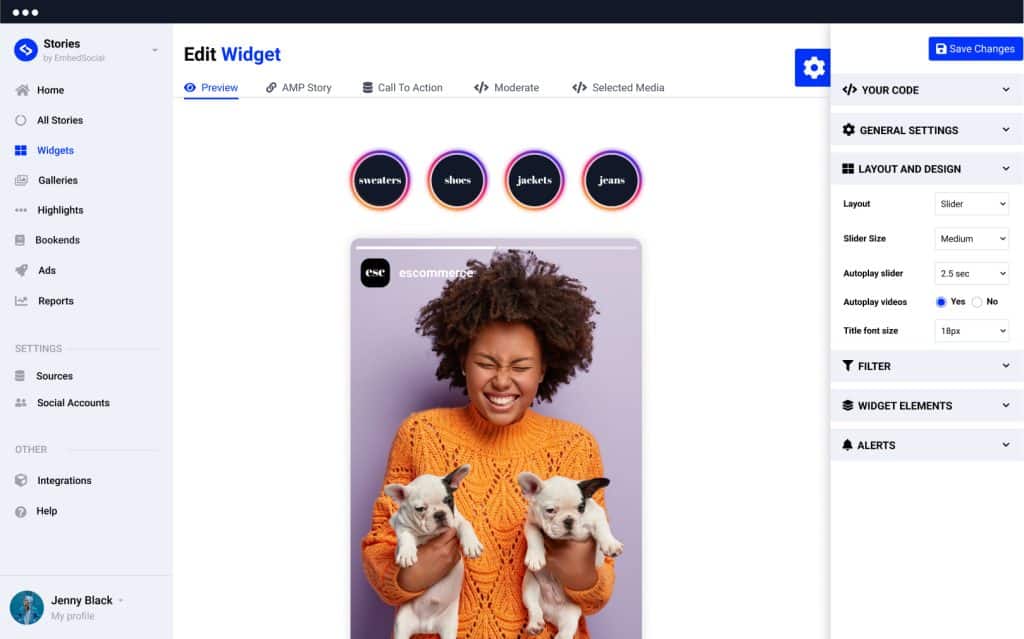 Best used for: Show Instagram Stories on a website
Free trial: Forever free (up to 1 Instagram account)
Price: Paid plan starts from $29 to $99 per month
Available on: Desktop
If you want to bring the exposure of your stories beyond your Instagram account, EmbedStories can land you a hand. This tool will help you exceed the reach of your Instagram Stories beyond Instagram.
We all invest great resources to create that beautiful Instagram story, and for what? To be gone after 24 hours. ?
Well, it's not that bad considering the reach and interaction with your followers but it will be great if you can do more with your Instagram stories, right?
EmbedStories is a professional tool that can help you do more with your Instagram stories:
You can fetch and save your Instagram stories
Display your Instagram story on your website
Create a gallery with multiple Instagram stories and embed it on your website
Customize the looks of the Instagram story slider
Automatically publish your newest Instagram story on your website
You can use the settings to make the layout of the Instagram story fit your website design and get an embeddable code to add Instagram stories widgets on your website.
Marketing agencies and web designers who are seeking to give their clients greater results in their digital marketing efforts can use EmbedStories to provide extensive exposure and engagement with web visitors who are not following the clients' brand on Instagram.
There are so many options for marketers with EmbedStories.
Once you log in and connect your Facebook and Instagram accounts, you can create your desired Story widget in a matter of minutes.
Just explore the multiple layouts and play around with a variety of customization options. You can even add Bookends to provide related links to the end of your story.
Next, copy the code and display your Story widget on any website. The number of Story widgets you can show is unlimited.
EmbedSocial provides you with advanced options such as making your Instagram stories shoppable, converting stories into AMP format to help them rank higher in Google searches, and even the opportunity to create Story ads within this platform.
Basically, the platform will save you tons of time and resources in content production.
For more details, check the tutorial on how to embed Instagram stories..
If you use WordPress, use the official Instagram Stories WordPress plugin.
8. AdEspresso: Instagram Story Ads
I love AdEspresso and the knowledge they bring to the marketers' community by sharing all the latest trends on Facebook and Instagram advertising.
Their latest update includes the options to create Instagram Story ads. These are ads that appear as vertical ads between Instagram user stories for up to 15 seconds, or until the user dismisses the ad.
If you do not want to use an external tool you can create Instagram story ads with Facebook Ads Manager.
First, let me convince you why you will want to publish an Instagram Story Ad.
Here are the biggest benefits and features provided by the Instagram story ads:
Immersive, full-screen ad format
Targeting and reach capabilities that make ads personally relevant to the target audience
Measurement tools that give detailed insights into the performance of the ads
Before you start advertising with Instagram Stories, you might want to know the specifications and what creative formats are supported.
Upload the highest resolution source video without letter or pillar boxing (No black bars).
Most file types are supported. However, they recommend H.264 compression, square pixels, fixed frame rate, progressive scan, and stereo AAC audio compression at 128kbps+.
FYI: You can embed Instagram stories widget automatically on your website. Start a free trial and display your Instagram stories now.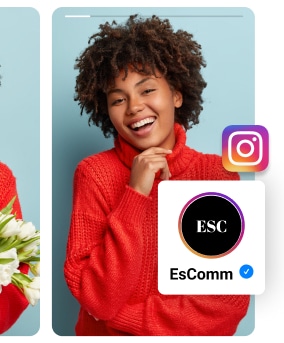 Display your Instagram stories on any website automatically
Try EmbedStories to capture, save, and embed Instagram stories on any website!
All PRO features | Cancel any time.
Other specifications:
Video resolution: at least 1080 x 1920 pixels
Maximum Video Ratio: 9:16
Maximum Video Duration in Seconds: 15
Video File Size: 4GB Max
Video Length: 1 to 15 seconds
Video Captions: Not available
Video Sound: Optional
Video thumbnail images that consist of more than 20% text may have reduced delivery
Technical requirements
Minimum Video Width in Pixels: 500
Aspect Ratio Tolerance: 1%
Ok, so now we know how to create and design an optimized Instagram story.
Next, let's see how we can create the Instagram Story ad with AdEspresso:
Log in to your AdEspresso account
Go to New Campaign
Type the Campaign Name

In the WHAT DO YOU WANT TO PROMOTE section choose Instagram Story
In the ad settings view fill in the required data and click "Proceed"
What is cool with AdEspresso is that you can import the Canva story you've created and directly import it into the ads settings view.
Over to you
Do you have a favorite tool that you use for your Insta Stories?
Please note that we are continually updating this article with new Instagram Story tools. If you believe there is an app that will give our readers value, don't hesitate to reach out to us, and we will be happy to include it in our list.
FYI: You can embed Instagram stories widget automatically on your website. Start a free trial and display your Instagram stories now.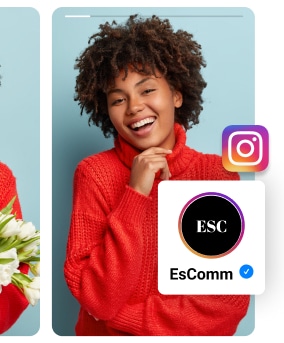 Display your Instagram stories on any website automatically
Try EmbedStories to capture, save, and embed Instagram stories on any website!
All PRO features | Cancel any time.