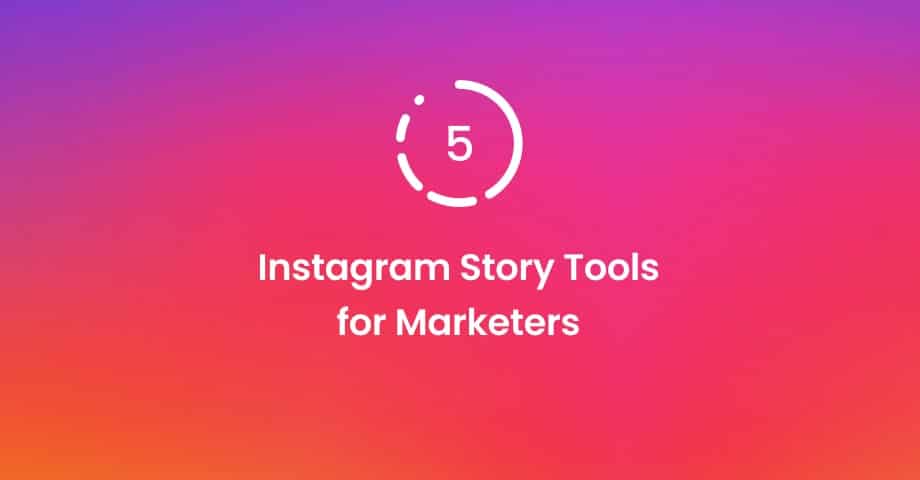 I know that most of you have switched resources to Instagram and have revamped your digital marketing plans to accommodate Instagram as much as possible.
The reasons are numerous but one of the biggest factors why marketers switch to Instagram is definitely the lower reach of the Facebook Page posts that pushed the companies to find a new channel to organically communicate with their audience.
Another factor that also makes Instagram popular are the Instagram stories that are used by 500 Million+ accounts every day.
Instagram stories are definitely IN and the stats are showing that they are here to rule the marketing trends (well, most surely for the long run).
If you still haven't started with Instagram stories, here is why you need to switch to Instagram marketing ASAP:
The algorithm still favors branded content unlike the Facebook Newsfeed
The stories format provide greater placement for better engagement and reach
Discoverability of Instagram stories is a powerful opportunity for viral content
Knowing the above benefits, now is the time when you will need great tools that will help you optimize and get the most out of your Instagram stories.
Here are the tools that can help you create great Instagram stories and do more for your marketing campaigns:
1. Canva – Design your Instagram Stories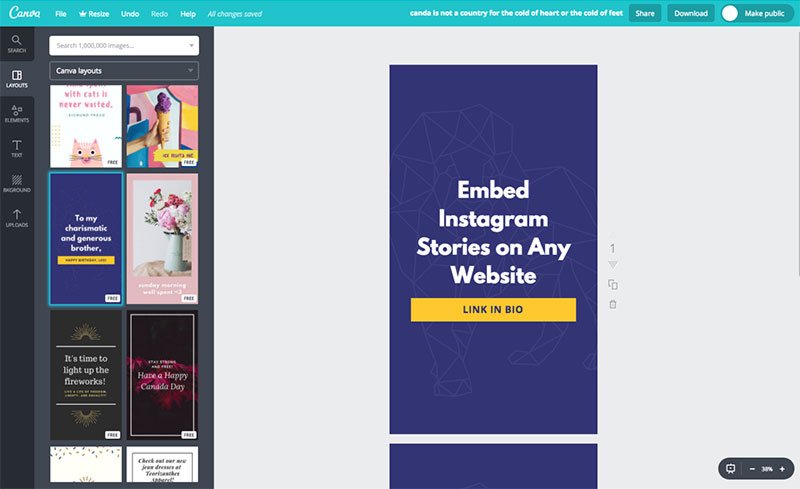 Instagram allows you to upload photos and videos from your camera roll and create an Instagram story.
This means that you can pre-design the story images and upload to your phone.
Well, to do this the best tool out there is definitely Canva.
To start creating a story in Canva follow the steps below:

1. Log in to your Canva account or if you are a new user create a new account
2. Once logged in, create a new layout with dimensions that are specific to the Instagram story by navigating to Use custom dimensions > type 1080 pixels width x 1920 pixels height or 9:16 ratio > Click 'Design'
3. You will be redirected to the design canvas view, where you can use ready-made templates to design the Instagram stories or upload your own photos.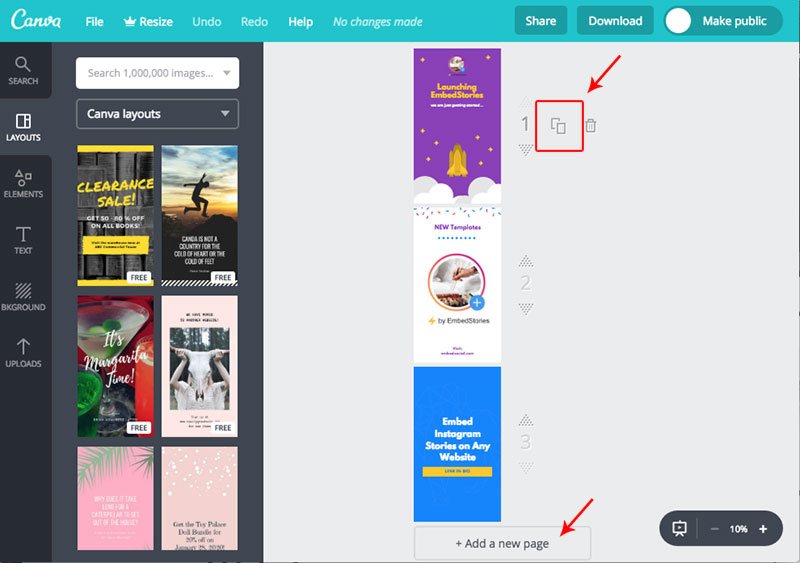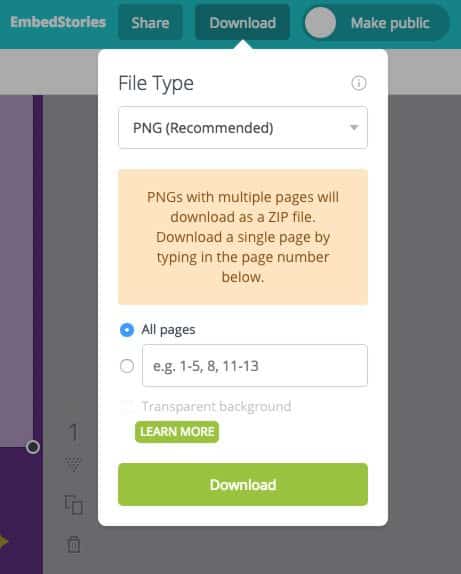 4. To make your story with multiple photos, use the options to add more story pages.
5. Once you are finished, Canva will allow you to download the full zip of the story images you've just created.
4. Send your stories to your phone camera roll and upload the photos when creating the Instagram story
That's it.
Start designing an Instagram Story with Canva.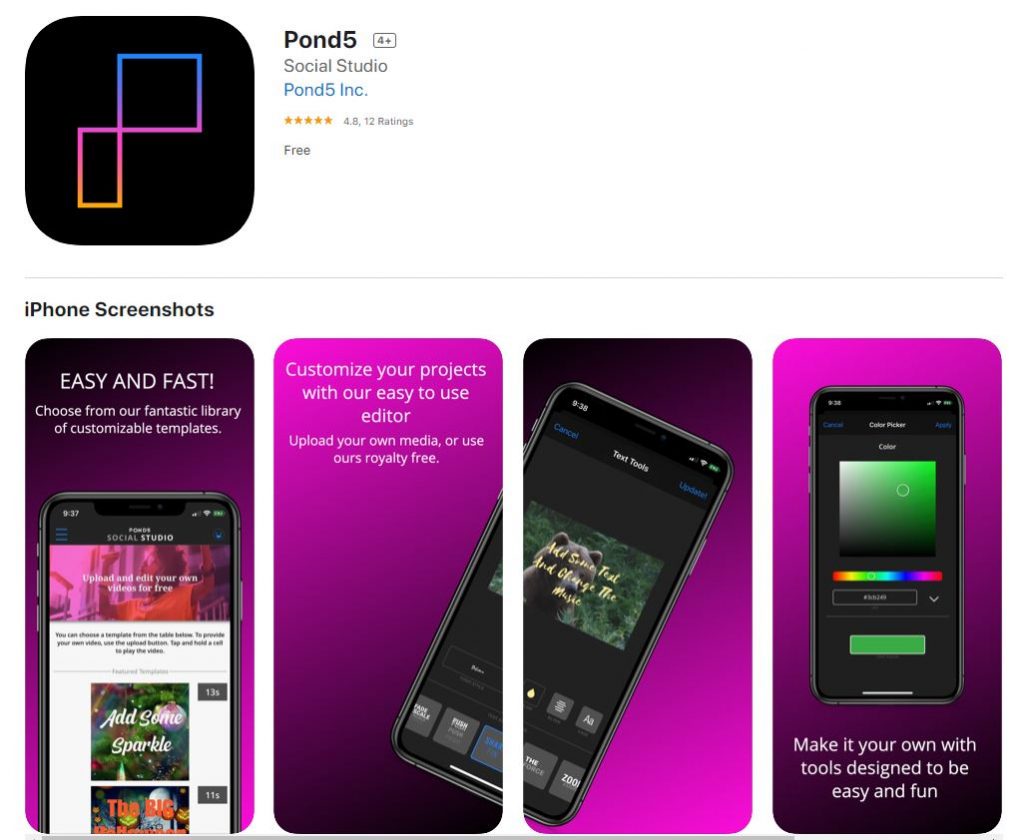 I was in a search for a simple and affordable mobile app, that can help my team to create videos that we can easily use for our Instagram Stories.
In the search on the App Store, I ran to Social Studio, a mobile app that can create stunning, on-brand videos for Snapchat, Instagram, Facebook, YouTube and more.
It really works and also provides you with the options to try it for free or use the PRO version that offers:
250M+ Royalty-free premium images and videos (like Storyblocks and others)
900K+ Music tracks (Audioblocks)
Will definitely recommend it if you want to post really cool Instagram stories and make your life easier at the same time.
Create vertical videos using a library of pre-made videos
Create the Instagram story without using a computer, just the mobile phone
Easily edit and include your own branding and design elements
Save the video and use it to create the Instagram story in just a few clicks
To post your videos and photos to Instagram stories or Snapchat, just save your video or photo from Social Studio to your camera library.
Check these tips on how to make more creative vertical videos for social media:
3. AdEspresso – Instagram Story Ads
I love AdEspresso and the knowledge they bring to the marketers' community by sharing all the latest trends on Facebook and Instagram advertising.
Their latest update includes the options to create Instagram Story ads. These are ads that appear as vertical ads between Instagram user stories for up to 15 seconds, or until the user dismisses the ad.
If you do not want to use an external tool you can create Instagram story ads with Facebook Ads Manager.
First, let me convince you why you will want to publish an Instagram Story Ad.
Here are the biggest benefits and features provided by the Instagram story ads:
Immersive, full-screen ad format
Targeting and reach capabilities that make ads personally relevant to the target audience
Measurement tools that give detailed insights about the performance of the ads
Before you start with advertising with Instagram stories you might want to know the specifications and what creative formats are supported.
Upload the highest resolution source video available without letter or pillar boxing (No black bars).
Most file types are supported. However, they recommend H.264 compression, square pixels, fixed frame rate, progressive scan, and stereo AAC audio compression at 128kbps+.
Other specifications:
Video resolution: at least 1080 x 1920 pixels
Maximum Video Ratio: 9:16
Maximum Video Duration in Seconds: 15
Video File Size: 4GB Max
Video Length: 1 to 15 seconds
Video Captions: Not available
Video Sound: Optional
Video thumbnail images that consist of more than 20% text may have reduced delivery
Technical requirements
Minimum Video Width in Pixels: 500
Aspect Ratio Tolerance: 1%
Ok, so now we know how to create and design an optimized Instagram story.
Next, let's see how we can create the Instagram Story ad with AdEspresso:
Log in to your AdEspresso account
Go to New Campaign
Type the Campaign Name

In the WHAT DO YOU WANT TO PROMOTE section choose Instagram Story
In the ad settings view fill in the required data and click "Proceed"
What is cool with AdEspresso is that you can import the Canva story you've created and directly import it into the ads settings view.
Need a tool for Instagram Story Ads?
Instagram Story Ads platform that can create ads from your Instagram stories in one click.
4. Buffer – Post and schedule Instagram stories
Recently, Instagram announced that it will allow third-party tools to create posts with direct integration with their API.
This actually means that now you can use tools on your desktop and post on Instagram. Previously this was not possible and you had to download а mobile app and still manually post on Instagram. And for sure this was a hard task if you ever wanted to automate the Instagram scheduling.
There are many tools out there that can provide Instagram scheduling and management which most of the marketers use on a daily basis.
In this article, I will present the capabilities that are provided by Buffer and especially their transparency in publicly sharing their roadmaps.
They have still not rolled the automatic posting directly from Buffer to Instagram, so here is a step by step process for posting an Instagram story from their mobile app.
Open your Buffer mobile app and navigate to your Instagram Account
Tap the + plus button to create a new post
Write the post text, upload the image post and click 'Share' or to schedule it to click on 'Buffer'
Then tap on the button Open in Instagram
And tap 'Story'
That's it. You will be redirected to the Instagram story screen where you can add the stickers and text.
You can create the posts and schedule them once they are due to be posted on Instagram you will receive a notification so you will need to repeat the steps from 4-5.
5. EmbedStories – Display stories on your website
This tool will help you exceed the reach of your Instagram stories, beyond Instagram.
We all invest great resources to create that beautiful Instagram story and for what? To be gone after 24 hours 🙂
Well, it's not that bad considering the reach and interaction with your followers but it will be great if you can do more with your Instagram stories, right?
EmbedStories is a professional tool that can help you do more with your Instagram stories:
You can fetch and archive your Instagram stories
Display Instagram story on your website
Create a gallery with multiple Instagram stories and embed it on your website
Customize the looks of the Instagram story slider
Automatically publish your newest Instagram story on your website
You can use the settings to make the layout of the Instagram story fit your website design and get an embeddable code to add Instagram stories widget on your website.
Marketing agencies and web designers who are seeking to give their clients greater results of their digital marketing efforts can use EmbedStories to provide extensive exposure and engagement with the web visitors who are not following the clients' brand on Instagram.
Ready to make the most out of your Instagram stories?
EmbedStories makes it easy to capture, save, and embed Instagram stories on any website!
7 days free trial · Easy setup · Cancel any time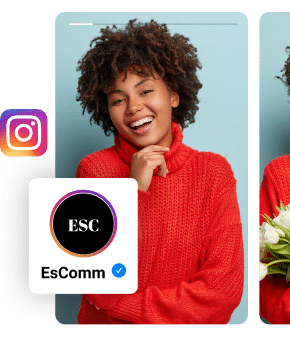 Now, back to you:
Do you have a favorite tool that you use for your Instagram Stories?