What do people see first when they open your Instagram profile?
Your bio information and, of course, right below one of the most useful Instagram features, the Instagram stories highlights!
They are front and center on your profile, serving as the perfect indicators to show users what your brand is all about. You can have the best Instagram stories that you re-share with your followers and build a perfect user-generated content highlight as social proof of your brand's quality.
Unlike Instagram Stories, which disappear after 24 hours, Instagram Stories Highlights can live permanently on your profile. This is why you should consider spending some time planning how to apply them to showcase and promote your brand.
In this guide, you will learn all you need to know to create Instagram Highlights to help you stand out.
1. What are Instagram Story Highlights?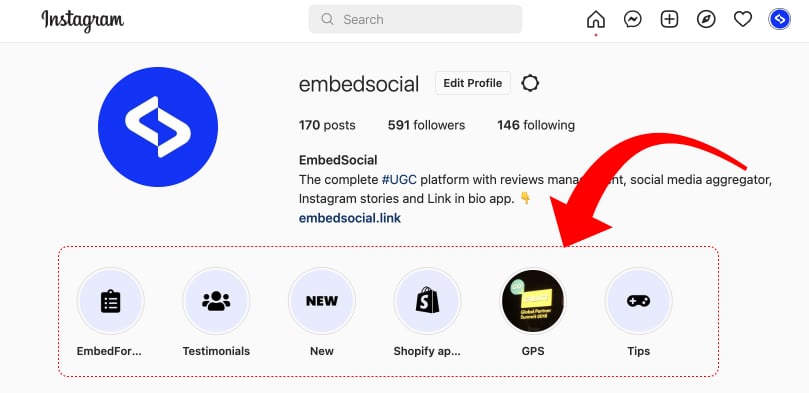 We all know that Instagram stories disappear in 24 hours. And in order to give the option for the users to save some of the stories and make them visible as a pin in their profile, Instagram has provided a feature called Highlights. The feature allows you to keep your stories content on your Instagram feed as long as you want.
Instagram Highlights are groups of stories that you can create as folder sections on your Instagram profiles.
This means that once you post a story, you can save it in a Highlight (like a folder) that will display on your Instagram profile, or you can activate the Archive option that will automatically save Instagram stories and, in the future, create highlights from the saved stories in your archive.
The main attributes of the Highlights are:
Highlights cover – option to add a custom image or an icon that will represent the topic of the stories that are saved inside;
Highlights name – the option to name the Highlight as you do with naming folders.
Note that, once you create the Highlights, they appear on your Instagram profile screen right below your bio text and profile photo.
---
FYI: Embed Instagram widget automatically with the social media aggregator and UGC platform by EmbedSocial. Click below to try it for free: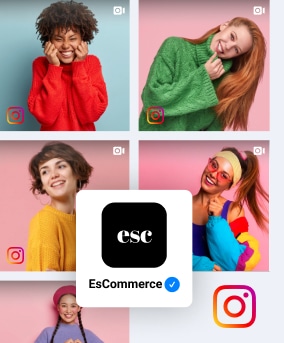 Embed Instagram widget on your website automatically!
Try EmbedFeed and display Instagram content from your feed, mentions, or hashtags on your website.
All PRO features | Cancel any time.
2. How to Create Instagram Highlight?
As mentioned above, you have two ways how to create an Instagram Story Highlights:
Create Highlight from the active story – Post a story and manually save it in a Highlight
Create Highlight from archived stories – If you have the Archive option activated, your stories will save automatically in your archive section, and in the future, you can choose which stories to be organized in a Highlight.
Let me show you how to create a Highlight with the first option:
Create Highlight from the active story
If you have an active story and you want to make sure this story is added to a Highlight follow these steps:
Tap on the active story to view it
Tap the bottom option Highlight
Tap the plus icon to create a new Highlight
Enter the name of the new Highlight
Tap the blue buttons Add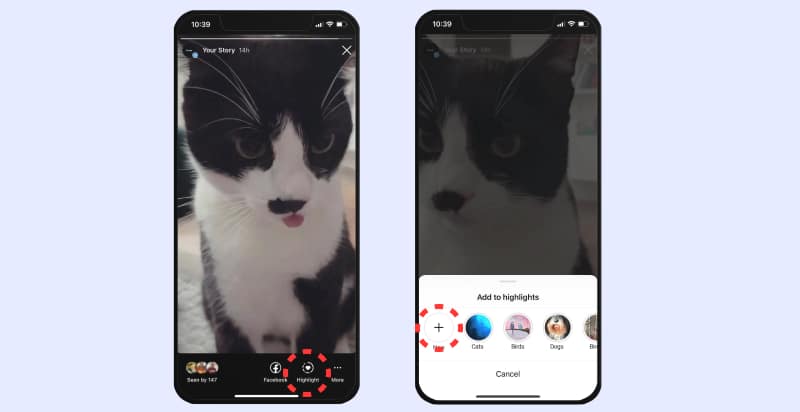 Once you do this, your new Highlight will appear on your profile photo, and your followers will be able to view it even after the 24-hour story lifetime.
Create Highlight from the archived stories
There is a possibility to create highlights from the stories archive as well. Using the story controls and options you can pull the stories you save to archive.
To add Instagram stories from your archive to a highlight and pin them on your profile, follow the steps below: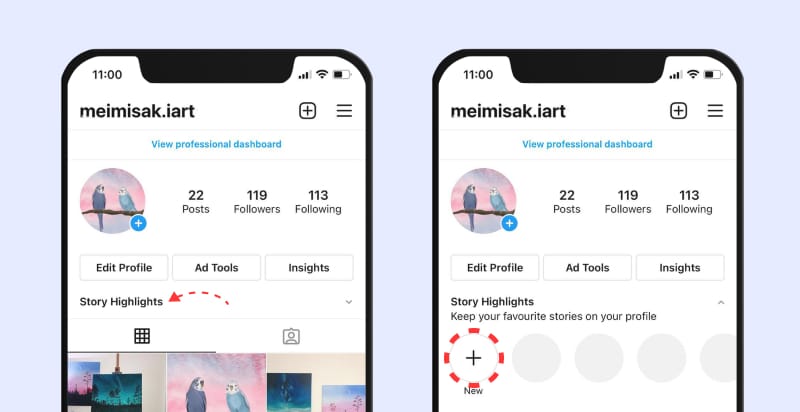 Go to your Instagram profile and tap Story Highlights below bio
Tap the plus icon
In the new window, tap and select the stories you want to appear in the Highlight and tap Next.
Tap 'Edit Cover' to choose which story will appear as a Highlight icon or upload an icon
Enter a name for your Highlight
Tap Add (iPhone) or Done (Android).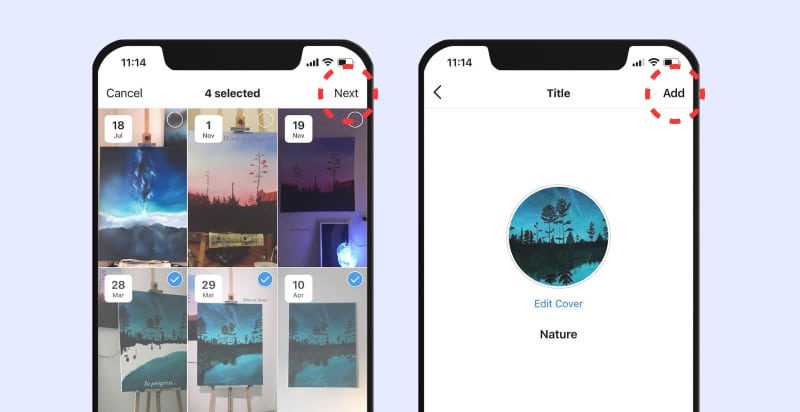 How to add more stories in a current Highlight
You can add more photos or videos to your highlight at any time by following these steps:
Go to your profile and hold your finger pressed on the Highlight you want to edit
Tap Edit Highlight
Choose the stories you want to add and tap Done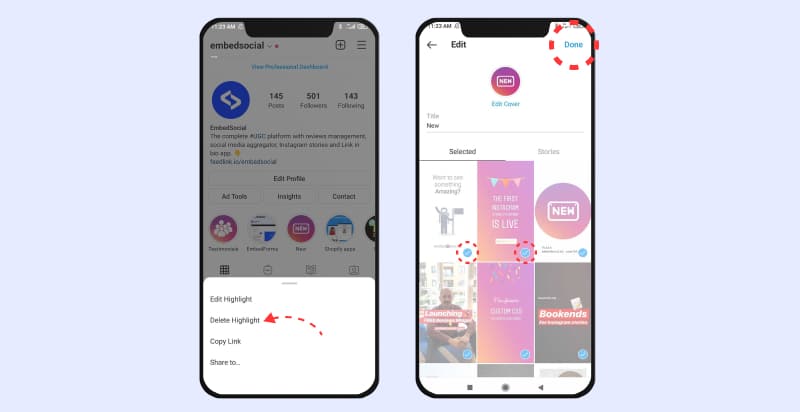 Also in this 'Edit Highlight' screen, it's text and it's the cover image. And if you want to delete the Highlight, just press and hold on to the Highlight you want to delete and choose the option 'Delete Highlight'.
3. Why are Instagram highlights so Important?
Instagram Stories have become one of the main channels for brands to connect, engage, and gain real results from their digital marketing activities. Understanding Instagram stories for business can be one of your main competitive advantages for your 2020 marketing activities.
Therefore, having hard-produced story videos or images saved for future followers to view at any time makes the Highlights feature very important for community managers and digital marketers.
The main reasons why you need to use Instagram Highlights are the following:
Use this new format to tell an ongoing story
Make the content of your stories accessible to new followers
Educate them about your previous activities posted in the stories
Showcase your products or services in a structured and categorized way
Provide library format of useful content that you've already shared
4. How to add Instagram Highlights covers or icons?
The covers and the text of the Instagram Highlights are gaining huge popularity due to the fact that these small icons are the first thing a new visitor to your Instagram profile will see.
You will notice that the cover images are usually those in the stories you've selected for that particular Highlight. But this tutorial will show you how to change the Highlights covers without sharing them in a story.
Before you start, please add the icon images in your phone's camera roll and follow these steps.
Go to your profile and hold your finger to the Highlight you want to edit
Tap Edit Highlight
Tap Edit Cover
Choose the photo from your camera roll
Tap Done
That's it! Now you have your Instagram highlight covers!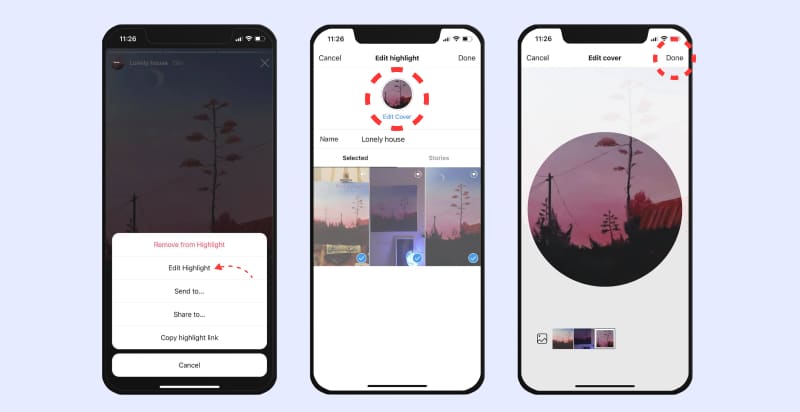 5. How to design Instagram Highlights Cover Icons
As for your other social media and Instagram feed, you can also design your own free icons for your Instagram stories.
For this challenge, I will definitely recommend Canva.
It is a very easy tool, and it already has predefined icons that you can easily reuse to make Instagram highlights covers.
You will only need to follow the steps below, and in a very fast time, you will be able to create your highlight covers:
Open Canva and click Create a design
Choose the Instagram story format
Choose any template, delete its content and change the background color
Go to Elements and in the search field type icon. Choose the preferred icon, set it in the middle and choose its color
Share this design to your email and save it to your phone's camera roll
Once you want to change the cover, choose this icon from your phone's camera roll.
6. Instagram Highlights examples to get inspired
Once you know how you want to create the icons, you will need to plan for the Highlights section's overall design. 
This is a current trend, and as you are probably aware, you want to make sure people coming to your profile click on these icons and check your great Instagram stories.
In the following section, you can find some interesting ideas on organizing the Instagram stories and designing the Highlights covers.
Here are few Highlights covers for inspiration:
1. Glossier Inc. is a people-powered beauty ecosystem – they use pink color only for their profile image (not a logo), and for the Highlights covers, they use only blank–white images or product-line images. Very minimalistic and very different than other accounts, which usually use icons or some product image covers they use only blank–white images. Very minimalistic and very different than other accounts, which usually use icons or some product images.
2. Carrots n Cake Flexible Macro Plans & Coaching – provides a very indebted structure about their content published via Instagram stories and uses all light-orange icons with the same layout to represent all different categories of the Highlights.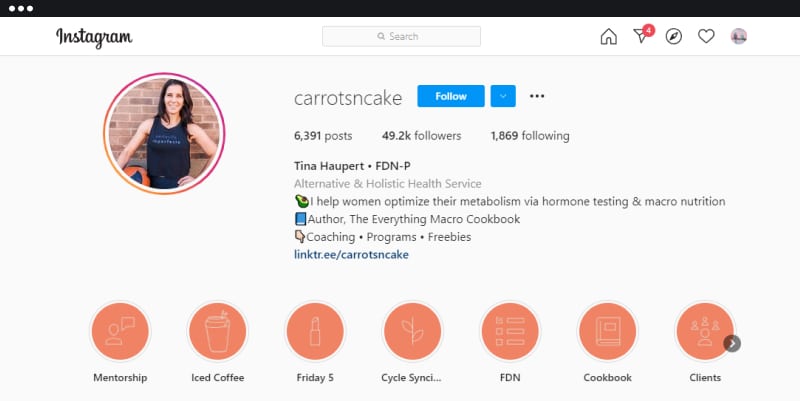 3. Starbucks Coffee – they use real people photos as they use real people photos or cute green product images as cover icons for the Highlights. This appeal brings the design of their profile to life, and it makes the visitors feel the user-friendliness of the profile.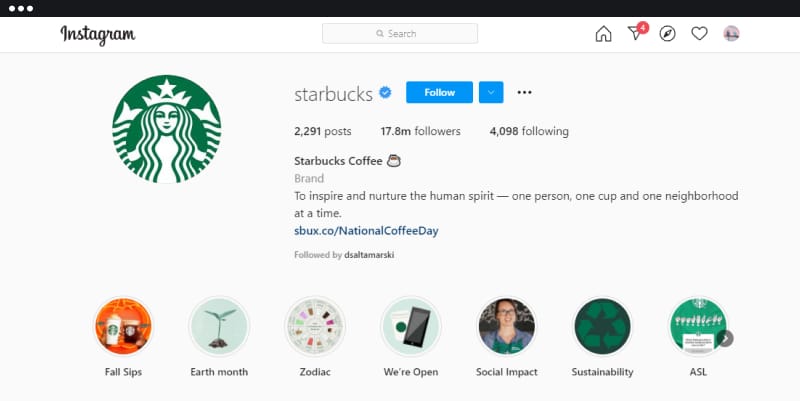 7. Tips for creating effective Instagram Story Highlight covers
Instagram highlights popularity has definitely resulted in them being an essential element of every Instagram profile.
So, to make sure you keep up with the latest trends, we combined some tips with real examples to showcase how you can design the Highlight covers to get the best of this Instagram feature.
Tip 1: Be innovative. Use words instead of icons or vice versa
When creating Highlight icons, make sure it is in line with your brand identity but still have fun, and try to be as innovative as possible to make that small space eye-catching.
For example, see how Instagram for business is doing this.
They use their colors but not for designing the cover icons.
They've literally swiped the spaces.
They use the actual icons for cover icons. Cool right?!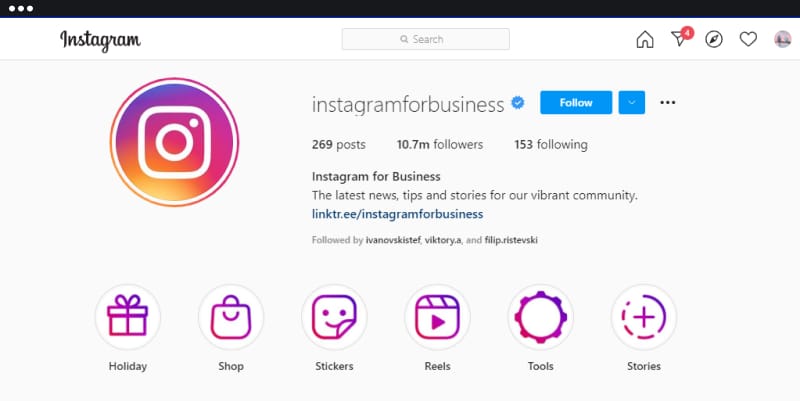 Tip 2: Use bold icons and text to emphasize your highlights
Take a look at how the French beauty chain Sephora is doing this.
They use simple, but cute icons to demonstrate their activities on Instagram, from posting stories about new products or categorizing these stories by a product type.
Tip 3: Use your brand colors
To make your profile have a cohesive look and keep your brand voice, try including your brand kit in your Instagram highlights covers.
See how the American chain of restaurants Shake Shack is doing this.
They use simple icons with green graphics to present their company activities.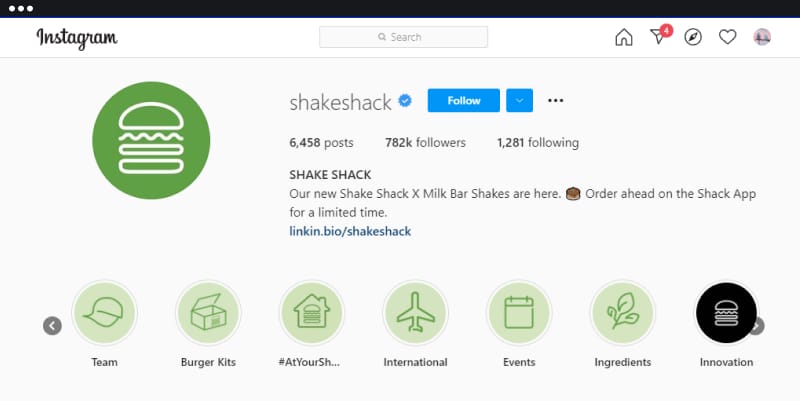 Tip 4: Showcase your product/services
Highlights are a good way to show Instagram users what you offer.
Check out how Florence by Mills does this. The cosmetics brand crafts eye-catching highlights (that also match its brand colors) to present their products and services.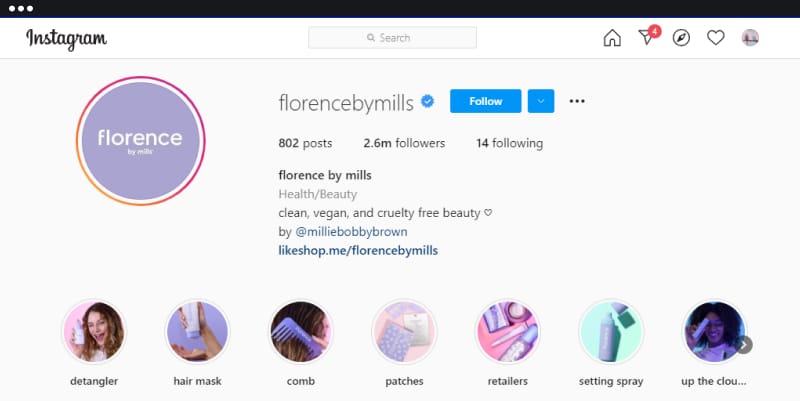 Tip 5: Use your brand ambassadors
See how Nike Women does that in practice.
The famous footwear corporation includes famous athletes as their brand ambassadors in their main story highlights covers.
The actual covers are a photo of the athlete, and the name of the Highlight is her name.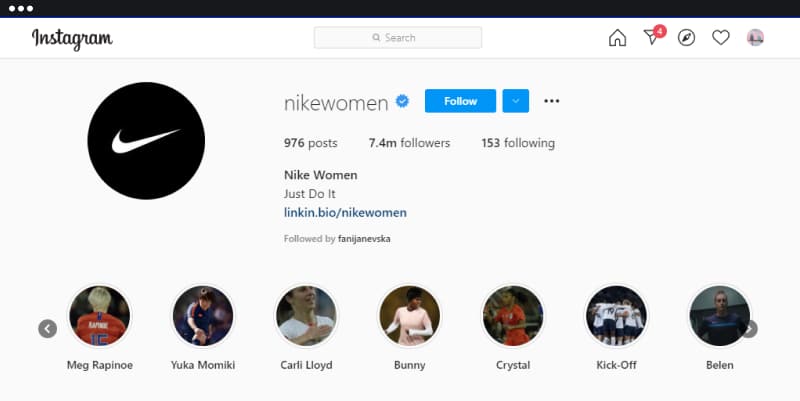 8. How to display Instagram Highlight on your website?
Once you are done crafting your unique Instagram highlights, why not show your creativity on your website too?
Please note that at this moment, Instagram does not have an API that will allow third-party tools to directly sync the websites with your Instagram Highlights.
The good news is that tools like EmbedStories can display Instagram stories on any website.
This means that you can embed Instagram Highlights but only for the stories that are already generated in the EmbedStories platform.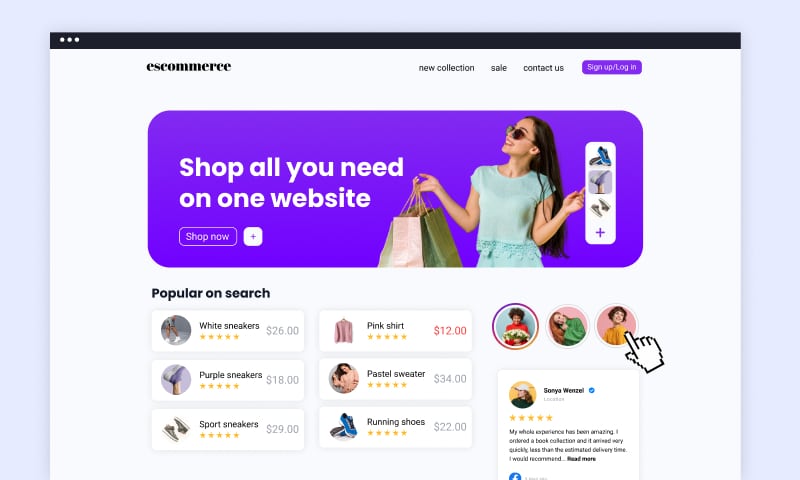 The archived stories can be uploaded manually by using the upload option for a custom story that you can later add to your stories Highlights menu.
For any information on how to embed Instagram Highlights on your website, feel free to chat with us.
Frequently Asked Questions about Instagram Highlights
Can I edit my Instagram Highlights?
Absolutely! You can add or remove Stories from your Highlights at any time, as well as change the cover image or title.
How many Instagram Highlights can I create?
There's no limit to the number of Highlights you can create, so feel free to curate as many collections as you'd like.
Are Instagram Highlights permanent?
While Instagram Stories disappear after 24 hours, Instagram Highlights remain on your profile until you choose to delete them, allowing your followers to revisit your favorite content whenever they'd like.
Can I share my Instagram Highlights with others?
You bet! You can share a link to your Instagram Highlights via direct message, email, or social media, making it easy for others to enjoy your curated content.
Key Takeaways
Instagram Highlights provide an incredible opportunity to showcase your best content, engage your audience, and establish a strong online presence.
By curating your favorite Stories into themed collections, you can create a visually stunning profile that truly captures your personality, brand, or business.
In summary, Instagram highlights help brands catch the eye of their followers and keep them engaged in a more creative way.
And from the looks of it, Instagram highlights popularity isn't going to vanish anytime soon.
So go ahead, embrace the magic of Instagram Highlights, and let your creativity shine!
FYI: You can embed Instagram stories widget automatically on your website. Start a free trial and display your Instagram stories now.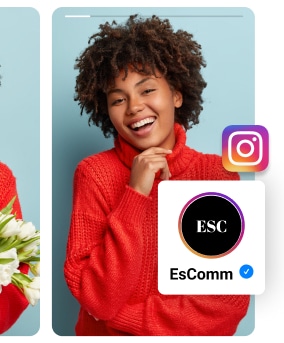 Display your Instagram stories on any website automatically
Try EmbedStories to capture, save, and embed Instagram stories on any website!
All PRO features | Cancel any time.