Is it hard for you to keep up with so many social media trends and features emerging continuously? Me too.
Still, one feature seems to have the throne in the last couple of years – Instagram Stories.
Looking for proof this Story format is definitely worth your time? Just watch how the Stories format is being applied to the most popular social platforms nowadays.
There is a lot to love about Instagram Stories, and Story templates make it easier to create excellent and engaging content that your followers will adore.
If you want to create Instagram Stories that stand out, Instagram story templates are a no-brainer.
We created this guide to show you how you can create branded content without the time-consuming process and doubts whether your new Story will resonate with your audience by using Instagram Stories templates.
What are Instagram Stories templates?
Instagram stories templates are editable image layouts where you can add text, captions, shapes, graphics, adjust colors, change background images, and much more.
Once uploaded to Instagram Stories, you can add even more text, filters, GIFs, stickers, buttons, etc.
You can find built-in customizable and free Instagram Stories templates in design platforms like Canva or create your own template on software programs Adobe Spark or Adobe Photoshop.
Whatever method you choose, you won't be wasting your time.
The benefits below will show you why.
Benefits of using Instagram Stories templates
If you are still doubtful about using Instagram Story templates, here are the top reasons why they can supercharge your business' presence on the Instagram app:
Consistent branding
Just like you want your website, social media posts, and email list to be recognizable, you want your Instagram Stories to have a cohesive look, too, right?
Using a Story template allows you to apply brand colors, fonts, and your logo to every Instagram Story.
Consistent branding helps your Instagram Stories make an impression on customers and gives them insight into who you are as a brand and what to expect from you.
Time saver
In addition to the branding benefits, using a template makes it easier to create dozens of Instagram posts at once. Since you aren't starting from scratch every time, this will divide the amount of time it takes to make your stories.
Please make sure to experiment with mockups because using the same one repeatedly can make you dull and lower your engagement rate. You don't want that.
Increased brand awareness
Followers will notice your consistency with the branded assets you are using through Instagram Stories templates. Using the same style throughout each Instagram Stories template will help users spot your content a mile off. That's incredible for brand awareness.
They will recognize your brand style elsewhere – no matter which other marketing channels you are in.
Can I create my own Instagram Story template?
Absolutely! Many design apps offer free templates using the drag and drop method. Our favorite template apps are Canva and Unfold. The best part is that you don't need any advanced graphic design knowledge to get started.
You can create great templates within your free account or, if needed, proceed with a premium subscription for more advanced design options.
No matter what program you use, don't forget the Instagram Story dimensions:
Video or image: 1080 pixels wide and 1920 pixels in height.
Aspect ratio: 9:16
We tested dozens of Instagram Stories apps for marketers. It includes tools for creating Stories templates, animating Story videos, scheduling posts, generating hashtags, creating Story ads, embedding Stories on your website, etc.
We summarized the findings in this guide where we bring you high-quality Instagram tools that proved with trying and some tips on getting started. Make sure to check it out and find the tool that will fit your needs best.
Best practices to create a great Instagram Stories template
Consider these tips while creating Story templates for your Instagram account:
Stick to the same colors and fonts, rather than picking on depending on your mood.
Follow a similar layout for each Instagram Story – show the brand logo, same headline format, similar borders for each image, etc.
Add finishing touches like locations, hashtags, mentions, GIFs, Q&A boxes, polls to engage your audience.
Instagram Story Templates examples to get inspired
Here are some brands I have encountered during the research for this guide. They are nailing the Instagram scene with their authentic templates and you can see why.
You don't need flashy images or details to encourage sales. Instead, use simple templates to create the finest shopping experiences. See how this fashion brand uses minimalist, robust borders, and simple text style throughout each template they are making.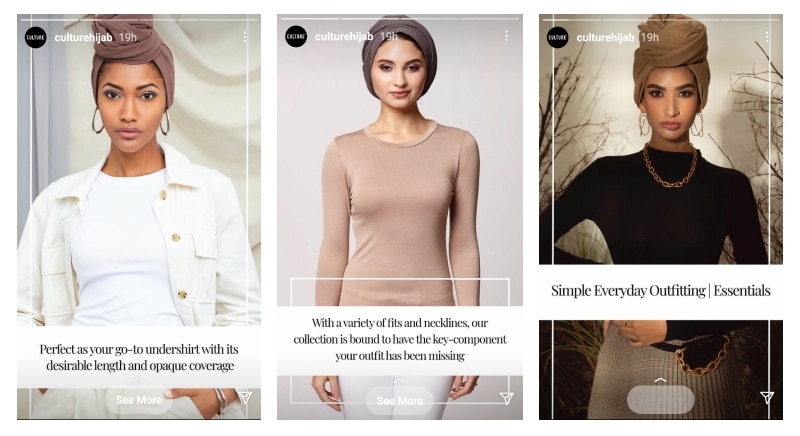 Story templates can be a great way to inspire others with stories that matter. Using eye-catching background and powerful quotes on the history of braids in order to honor Black History month, this cosmetics brand is mastering the storytelling.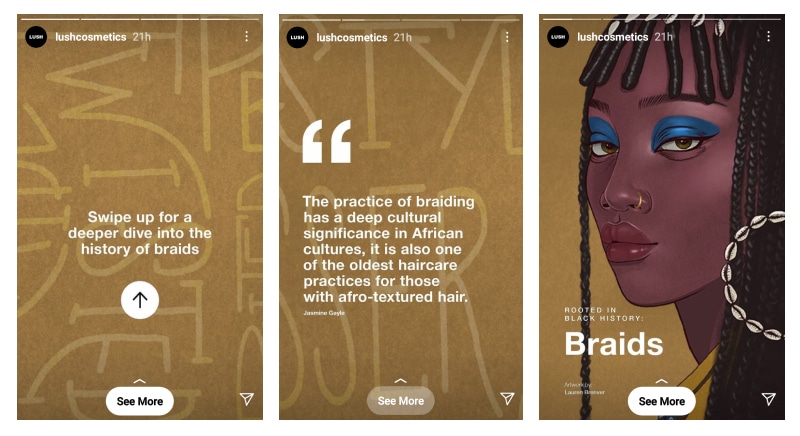 To acknowledge the great work of marketers that impacted the BIPOC (black, indigenous, and people of color) movement, this social media marketing platform uses catchy, colorful layouts and simple images to show their appreciation.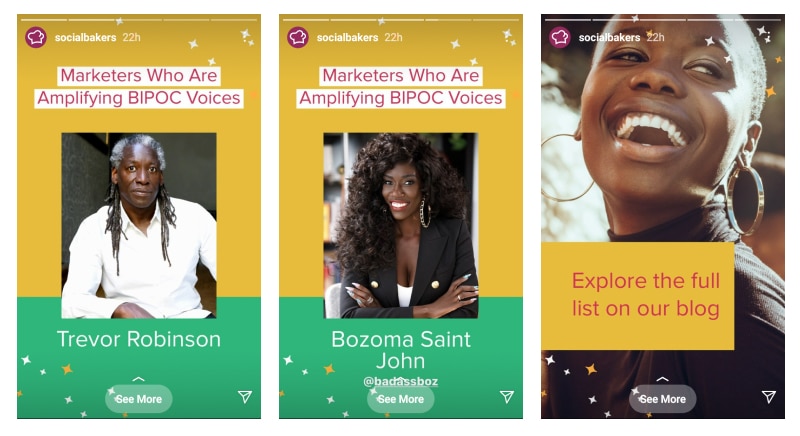 Airbnb Instagram Story Template
This vacation rental online marketplace company is always fun to follow. To show the most wish-listed Airbnbs in the USA, they create cartoon layouts with the most wanted types of houses by state.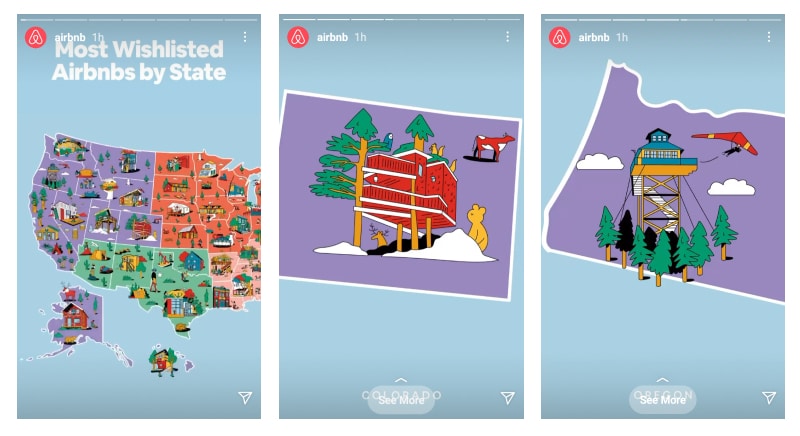 This clothing, accessories, and home retailer brand uses stunning collage layouts to promote their latest candle collections, including a powerful CTA at the end to swipe up to see more.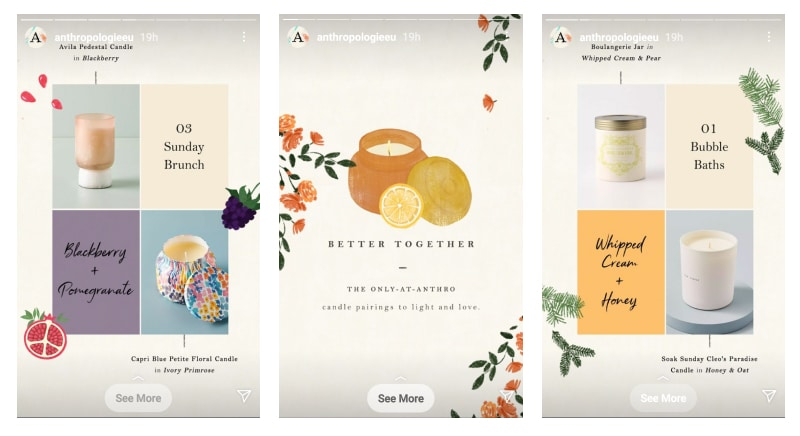 Do more with Instagram Stories: Embed Instagram Stories on your website
You have tried hard to create beautiful Instagram story templates, but they disappear in 24 hours. How can you bring them to life after that?
We got your back!
There are tools like EmbedStories that can help you re-use your Instagram Stories, such as displaying them on your website in the form of Stories or highlights widgets, transforming them into Story ads or shoppable content will bring you more sales. The opportunities are endless.
This can be an excellent solution for marketers, bloggers, influencers, large or small business owners that want to engage website visitors by implementing the format they love to see – Instagram Stories.
It's entirely mobile-optimized to work flawlessly on every Android and iOS device.
Here is how an Instagram Story widget will look like on your website: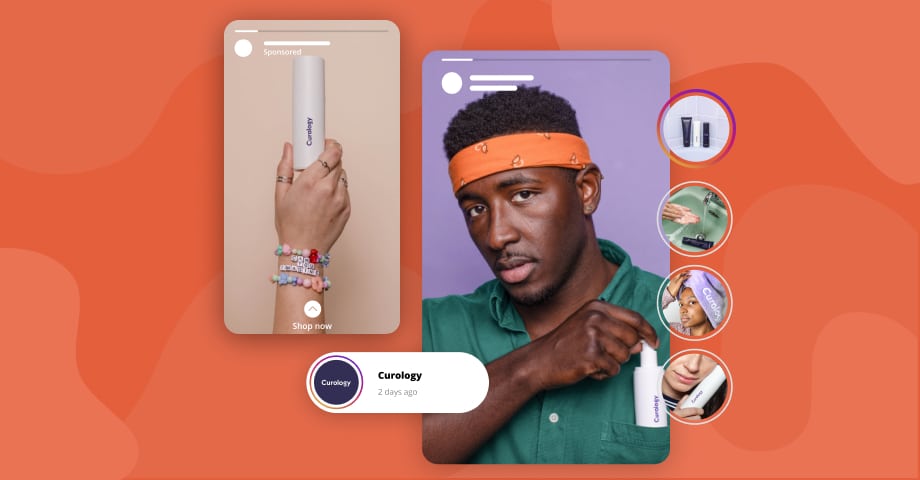 Check the stories widgets live demos >
Like what you see?
Here is a detailed tutorial with steps on generating Stories, creating a widget, and embed it on your website.
To wrap up
Now that you are aware of the power of using templates for your Insta Stories, it's time to get to work and start creating your own!
No matter if you are using pre-made, customizable templates or a DIY approach, remember to make every template consistent — in terms of the color palette, fonts, and logos.
At first, it can look like a considerable time investment to find your perfect template, but once you have a solid basis of templates, you will wonder why you didn't think of this before. This is why we are always here for you. 🙂
Ready to make the most out of your Instagram stories?
EmbedStories makes it easy to capture, save, and embed Instagram stories on any website!
7 days free trial · Easy setup · Cancel any time