In the past few months, the Covid-19 crisis has dramatically infused a switch to online purchases.
And previous customer's experiences have never been so important in giving the business a voice for building trust amongst new customers.
Especially for first-time businesses going online.
Perhaps it's the first time also for a customer to buy online.
So, having a real person to validate that purchase, can significantly influence their decision.
Regardless of the customer's experience of online buying, these previous customers' testimonials are becoming a critical pin in the digital order placement journey.
And in short, we can all agree that testimonials are critical in shifting customers' behavior.
Even though, most businesses have their social proof published on various networks, collecting all that data for one to understand if they need to purchase is a burden.
Until now.
One Reviews Page to rule them all
We at EmbedSocial, have worked hard for the past few months to understand the crisis and do what we do best for our users.
Build!
That is why today, we are releasing Reviews Page to all our EmbedReviews, Paid or Free – a unique space within our domain, where they can collect and publish ALL your customers' reviews!

Nikola Bojkov, CEO at EmbedSocial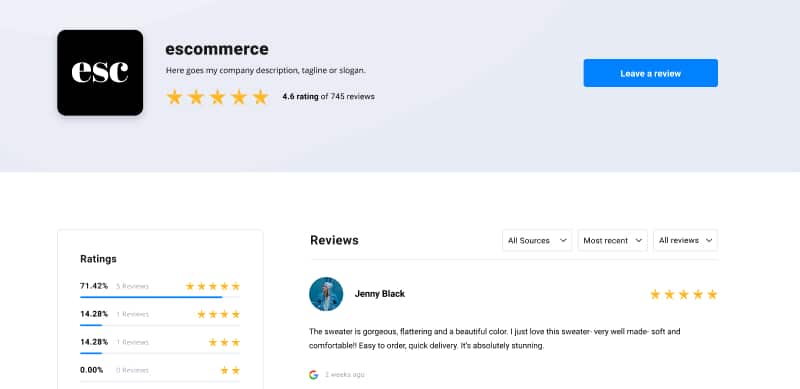 It is a dedicated URL within the embedsocial.com domain, that is hosted and managed by our servers.
Check the live preview here: Reviews Page Demo >>
So you don't need any coding nor programming skills to set it up.
It consists of the following:
Company logo and description section
Leave a review button that triggers a form
Rating data
Reviews filter by source
Table view of the reviews with reviewer info, date, source logo
What you can do with Reviews Page
EmbedReviews is a big platform for collecting and displaying reviews.
Having that said, you can do both on the Reviews Page:
Show all reviews from various review sources you have set up in the EmbedReviews platform
Collect reviews in a dedicated review form, specific for the Reviews page only.
Show reviews from various sources
You have tons of options for getting reviews in EmbedReviews, such as:
Bulk import reviews from third-party platforms
Sync and collect reviews from Google. Facebook, Twitter, Yelp
Send Email requests to collect reviews via email
Publish button or form on any website to collect reviews
Integrate with Zapier to collect reviews from any form software such as Google Forms,
Collect reviews on Magento or Shopify stores
Soon: Send SMS to collect reviews
That said, having all these options to stream reviews from multiple platforms in one place, gives your business the power to sort and publish them in your dedicated Reviews Page.
Collect reviews on the same page
The Reviews page has its own Reviews collect form. You can use the options to activate it or disable it on the page.
Here is how it looks like: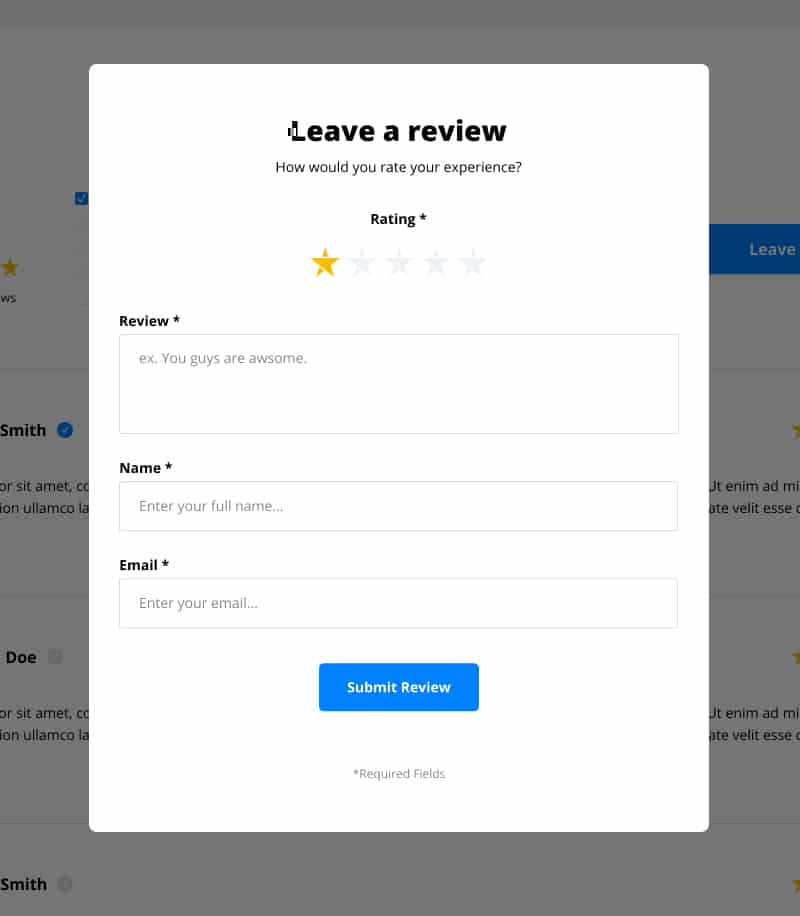 Once the user submits the reviews it will show on the Reviews Page within the defined source in the Reviews Page Settings.
How Reviews Page works
In the following text, you can see how to set up the reviews page in our admin platform.
1. Enter URL and Activate the Reviews Page
First step is to log in and navigate to your Profile Page.
Just enter the URL in the Reviews Page click Activate, as shown below: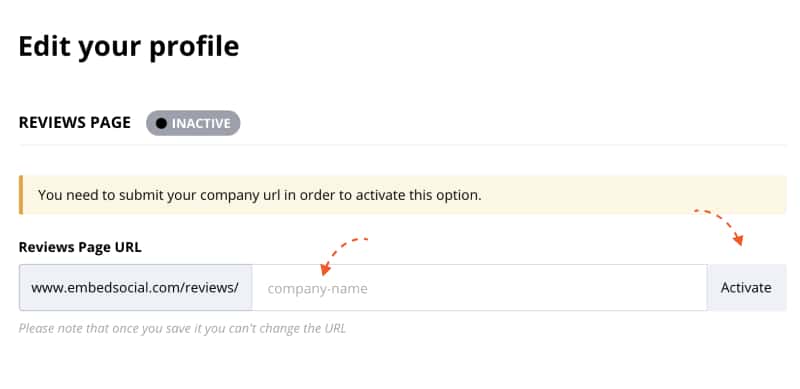 Once you do this, your page will be live on the URL link, you've entered.
2. Upload logo, write description
In the popup, you have the option to manage the look of the company info and logo.
3. Define which reviews to appear and where to collect the reviews
The most important part of the page is the option to hand pick which reviews sources to sync reviews on the page.
You can choose 5 sources that will be listed in the Sources filter.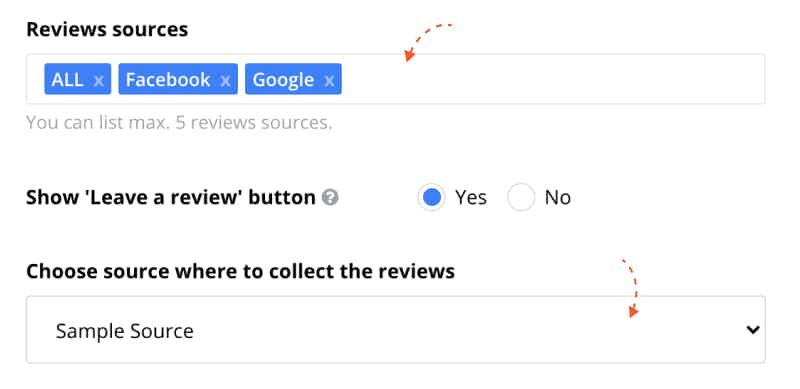 Additionally, you can choose 'All Reviews', that summarise all the reviews you have on the platform.
Get Started
Reviews Page is live now for all current and future EmbedReviews, free and paid users. Just go to Profile and set it up.
If you are not currently using EmbedReviews, you can:
And for any information, feel free to chat with us.
---
We how you will get great value from this new feature. Don't hesitate to send us your feedback and requests for future development.