Imagine walking into a store and being greeted by a crowd of past customers, each ready to share their story.
That's the power of displaying Google reviews on your website—it's a digital welcome mat, offering a wealth of experiences for visitors to consider.
But it's not just about having reviews; it's about showcasing them smartly to build trust and encourage action.
Drawing from thousands of customers who use EmbedSocial's platform to embed Google reviews, let's walk through the best practices for making Google reviews your website's most persuasive advocates.
We asked our customer success team to share their learnings, and here is a summary of what they see works the best.
FYI: You can embed Google reviews widget automatically with EmbedReviews platform. Start a free trial and display your Google reviews now.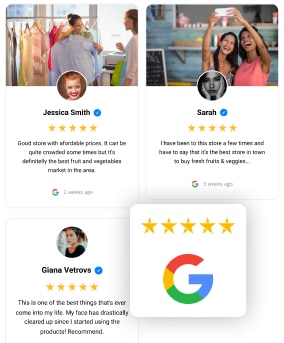 Generate & embed your Google Reviews.
Try EmbedReviews, generate Facebook and Google reviews, and display social media reviews widgets on your website. Automatically and in seconds.
All PRO features | Cancel any time.
#1: Embed a powerful widget on your homepage
Think of your review widget as your storefront window. You wouldn't hide your best products where no one can see them, right?
For instance, TrovaTrip, a travel website, saw a more than 10% increase in bookings simply by moving their glowing Google reviews to the top of their homepage. Reviews are your stars; let them shine where eyes land first.
Having the Google reviews displayed on your homepage makes your visitors land directly on the testimonials for your business. This way, the website visitor will have the first impression based on the great and real testimonials from other clients. And that's a great way to start a relationship with your potential client.
The Slider widget will totally do the job for you here and will automatically sync and showcase all Google reviews.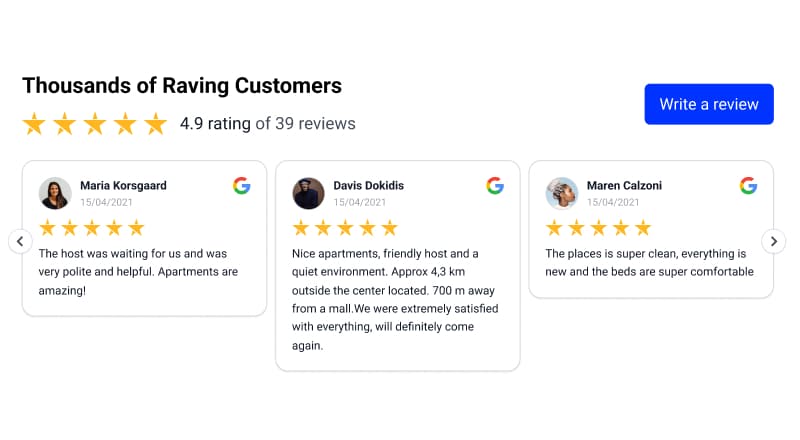 #2: Display a floating Google reviews badge
In addition to your Google reviews widget on your homepage, one of the great ways to showcase the amazing feedback that you received from your customers as well as increase your credibility is the EmbedSocial Badge widget.
Embedding the EmbedSocial Badge widget to your website will stand out, especially since few websites actually have the badges on their websites.
Plus, it only takes a little space from your website, and there's an option to display it just once per session with a button to link out to your Google reviews page from your website
Displaying a Google badge is like wearing a badge of trust in the digital world.

Teo, Account manager at EmbedSocial
#3: Curate Google reviews for relevance
Displaying reviews that mirror your visitor's concerns can be as reassuring as a knowledgeable salesperson.
For a tech retailer, highlighting reviews that answered common technical questions about a product right on the sales page helped reduce customer hesitation and increased sales. It's about choosing reviews that speak directly to the needs and worries of potential customers.
To do this, you can easily create tags based on specific topics about your business and create widgets that will only display the reviews based on the selected tag.
Here is how to create a widget with the reviews from a selected tag in EmbedSocial: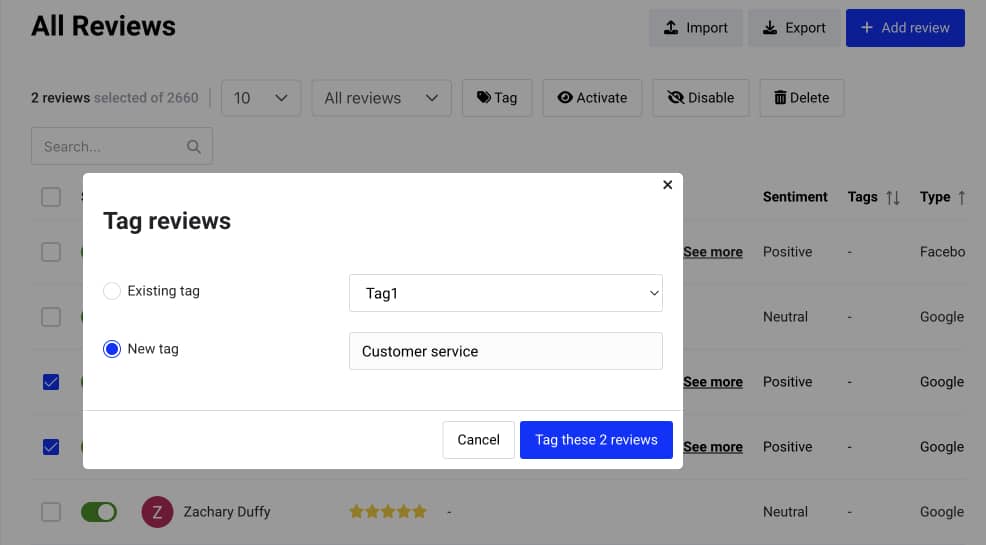 #4: Regularly update online reviews with automation
Use EmbedSocial's auto-update feature to keep your reviews fresh.
For example, suppose you don't have time to moderate the received reviews manually. In that case, you can set up the 'Auto add' option in EmbedSocial and select the filter to display only the 5-star reviews.
Also, you can add some keywords that will filter content that you dont want to appear on your website.
This automation ensures that potential customers always see the latest reviews, keeping the business's image current and trustworthy.
Of course, you should turn on the option to display the latest date of the collected reviews; it will have a positive impact on the potential customers.
#5: Encourage review generation to get more Google reviews
Leverage EmbedSocial's widgets to include a 'Leave a Review' button, making it easy for customers to provide feedback.
You can use a custom form to collect reviews or redirect customers to leave reviews directly on your Google business account.
It's a Google review link shortcut to your business profile on Google Maps.
This direct CTA minimizes friction for customers to share their experiences.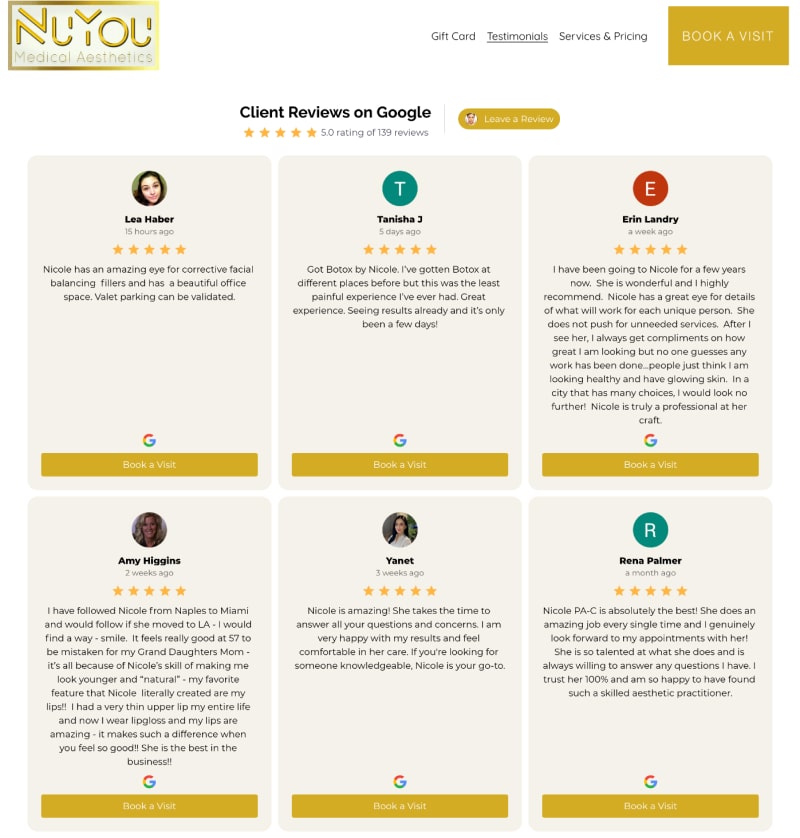 #6: Integrate reviews into the customer journey with strategic placement
EmbedSocial allows you to place widgets at various points on your website.
Embedding reviews on product pages or sub-pages is a powerful strategy.
By integrating reviews seamlessly into these pages, you provide visitors with valuable insights and social proof. Whether it's for travel or other products and services, these reviews serve as trust-building tools and decision-making aids.
Our Live chat manager, Didi, shares this Google review widget example from our user Go Ask Local. They place reviews on both the particular guide and destination pages, reassuring customers at critical decision-making moments.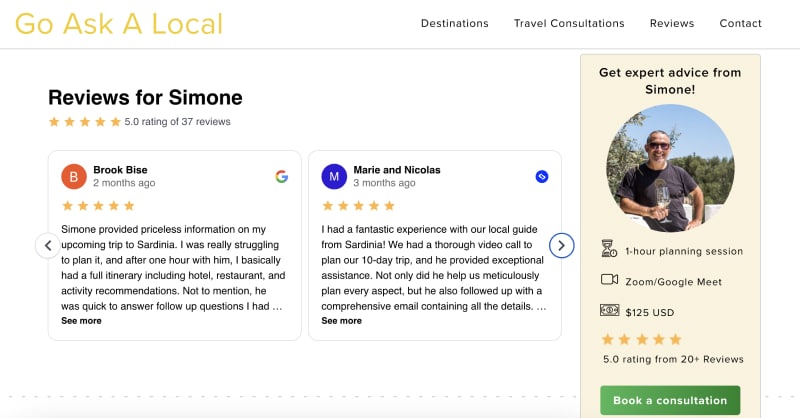 #7: Create a dedicated wall of love page
The best place to embed Google reviews is to incorporate them on a dedicated "Testimonials" or "Reviews" page.
This allows visitors who are specifically seeking customer feedback to find it easily without distractions.
Also, it's important to ensure that the reviews are presented in a visually appealing and easily navigable format for the best user experience.
Our widgets are responsive for mobile users as well, which is very important as this is a mobile-first world.

Antonia, Customer success representative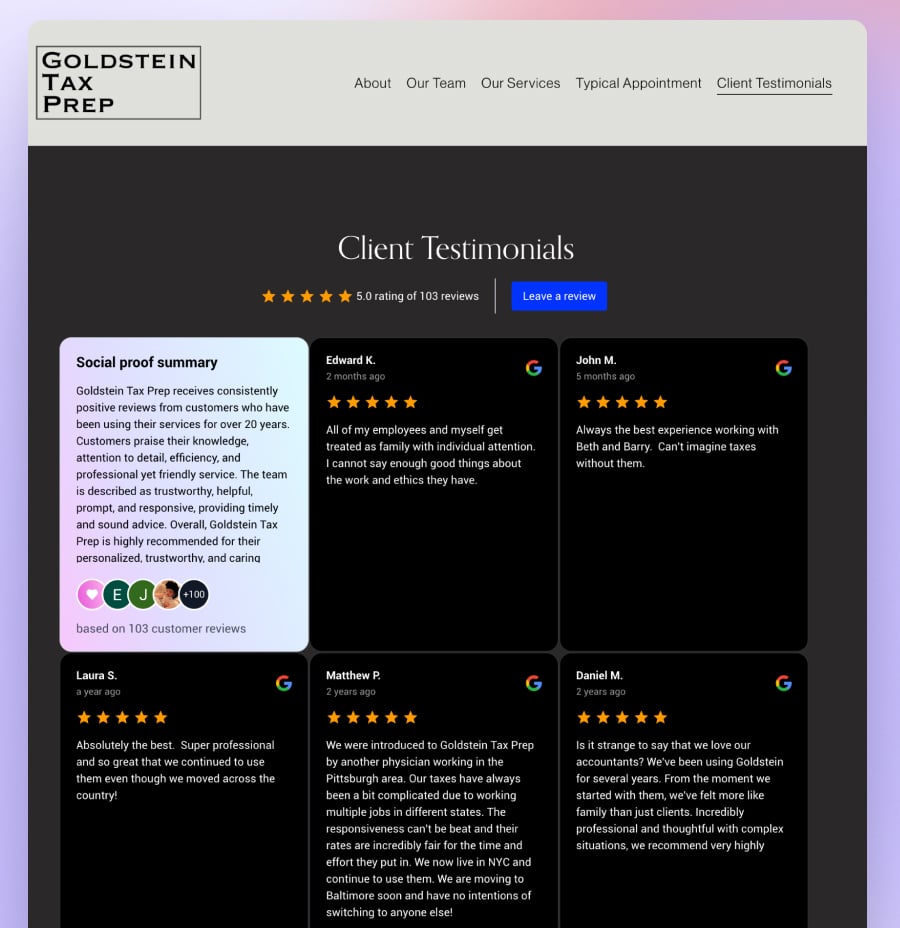 #8: Add CTAs within the reviews widget
EmbedSocial's widgets can be customized to include CTAs within your reviews.
For example, if you own a bookstore, you can include a 'Buy Now' button for each review mentioning a specific book, directly linking customer testimonials with the purchase process, which boosts sales conversion rates.
Here is an example of a Google review CTA widget: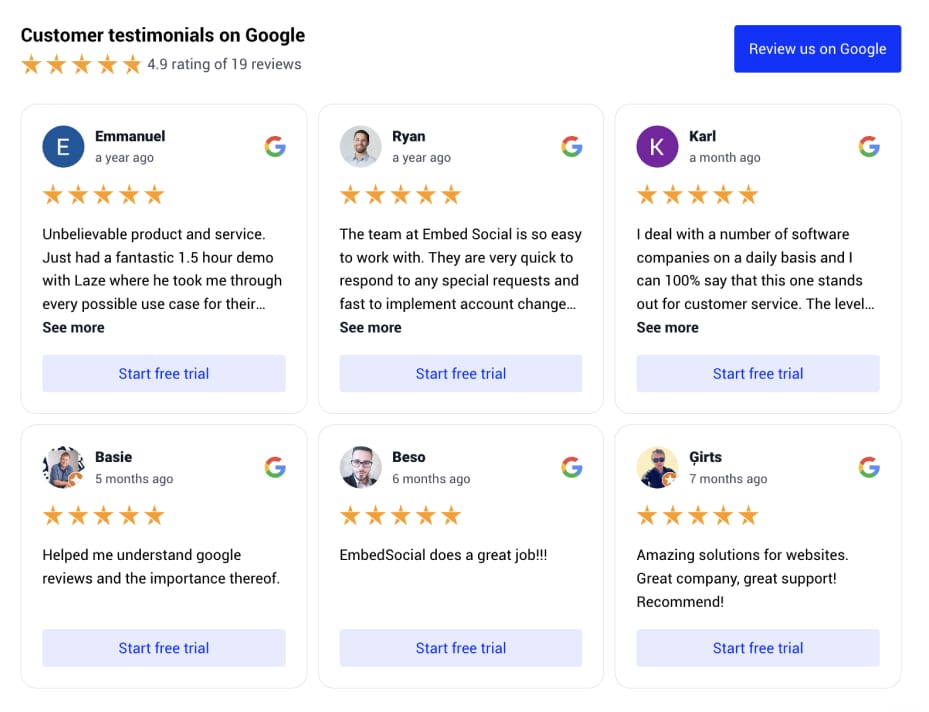 #9: Address negative reviews constructively
EmbedSocial's platform allows for the management and response to reviews. Usually, brands can connect multiple Google business accounts, and transparency can turn a negative into a positive by showing potential customers that you care.
Here is how to setup autoresponder and automatically respond to your Google reviews: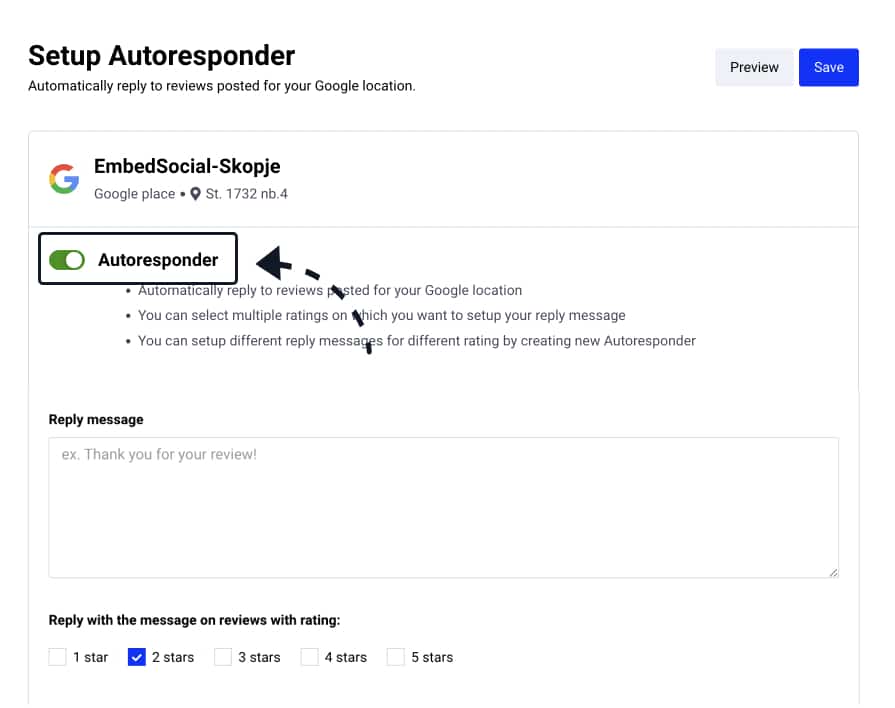 Best Practice #10: Measure the impact of reviews on your website
Utilize EmbedSocial's analytics to measure the impact of your reviews.
For example, if you own a fitness center, you can track the click-through rates from the review widget to membership sign-ups and find a direct correlation.
By analyzing this data, you could fine-tune their strategy for even better results.
Getting started: Embed Google reviews with EmbedSocial
The steps to embed Google reviews with EmbedSocial are simple and require just a few minutes.
Go to Sources and choose Google
Connect your Google business profile to generate your reviews
Select a template and create your Google Reviews widget.

Copy the provided code and embed it into your website.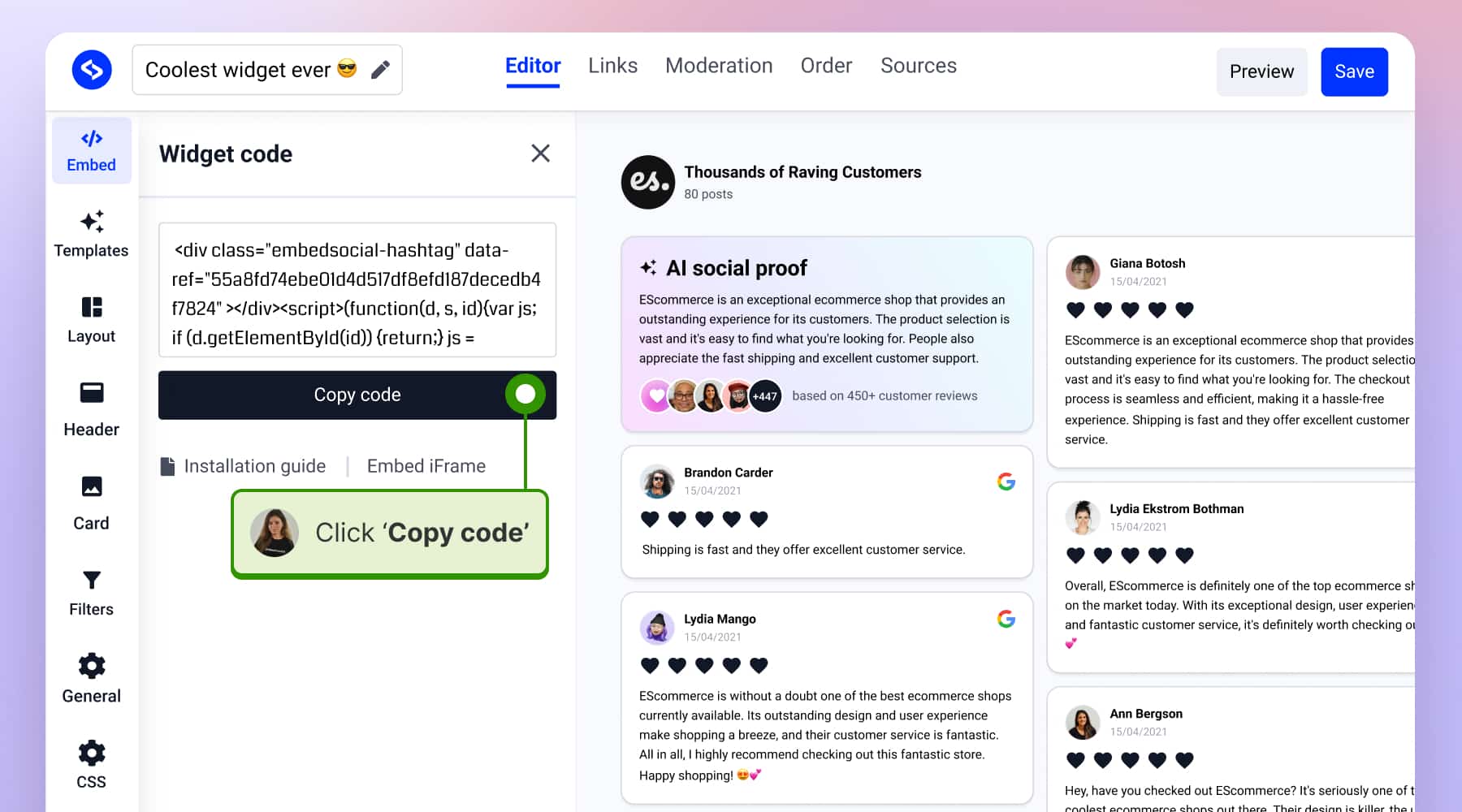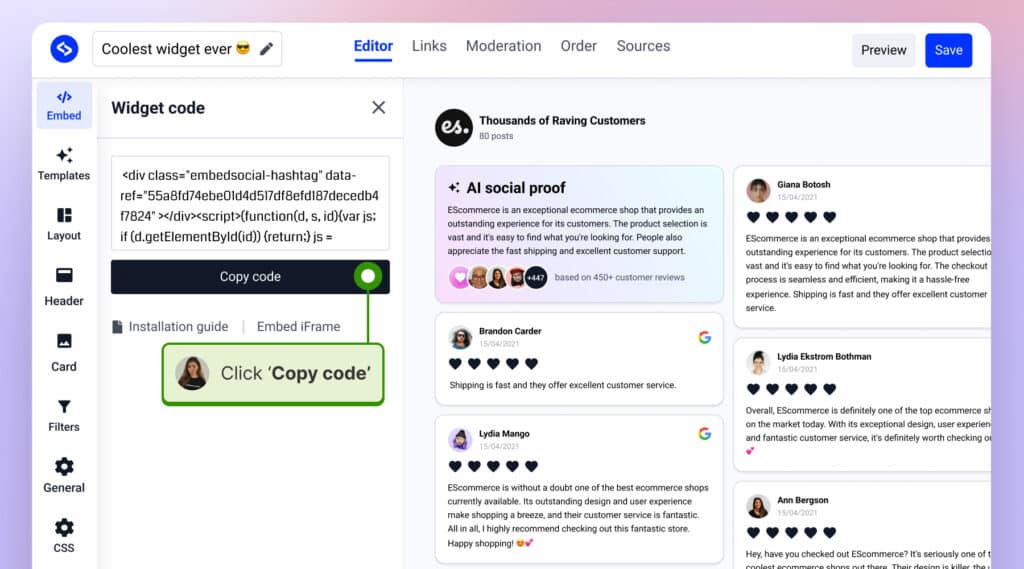 See the full tutorial to embed Google reviews.
Need to collect more reviews on Google Maps?
We have a detailed guide to help you get more Google reviews, including the options to run a Google review email campaign, post in social media posts, print a Google reviews QR code, or create an NFC business card with a direct link to your Google location.
Key takeaways
Having tons of Google business reviews helps you to stand out in a Google Search and on the Google Maps app.
Furthermore, embedding Google reviews on a website can help engage future customers to read valuable feedback and previous customer experiences.
By integrating these best practices with EmbedSocial's features, businesses can not only display Google reviews more effectively but also harness them to drive growth and build a robust online reputation.
FYI: You can embed Google reviews widget automatically with EmbedReviews platform. Start a free trial and display your Google reviews now.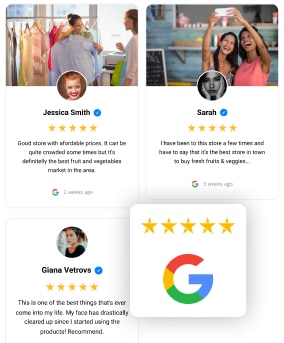 Generate & embed your Google Reviews.
Try EmbedReviews, generate Facebook and Google reviews, and display social media reviews widgets on your website. Automatically and in seconds.
All PRO features | Cancel any time.