We are publishing this article to reflect on how the latest changes in the Instagram Hashtag Search API might impact your future hashtag campaigns and, most importantly, how to better prepare for 2022 to achieve your goals.
The main topics in the article are the following:
Why do marketers use hashtag campaigns?
With the growth of Instagram's user base and the increased usage of hashtags, this little # sign has gained a valuable spot in the marketing campaigns for almost every type of business.
Having this in mind, the main purposes of Instagram hashtags and why marketers will continue using them are the following:
Launch a new product
Increase reach and engagement, thus resulting in follower increase.
Spread information about a cause
Increase overall brand awareness
Increase the participation of visitors in events
Monitor what users are talking about the business by using hashtags
Collect user-generated content about the business
Get direct results, such as web traffic or even sales
What are the hashtag campaign steps?
When you think about a hashtag campaign, you usually think about using some interesting brand keyword or keywords or maybe a related topic to the industry you are in to reach and engage with your audience on Instagram.
Once you have defined the purpose and the value you want to bring with the campaign, you will need an actionable plan divided into two-phase: Planning and Execution.
Hashtag campaign planning phase:
Create the hashtag with emotion and value in mind
Define the actual content plan
Produce the content
Find a tool to schedule the content, image, or video posts
Hashtag campaign execution phase:
List different outreach channels
Combine it with other social media networks and channels, beyond Instagram
If possible, bring it offline
Over-obsessed with the response to each comment you get
Do not forget to measure
Please note (although this step is at the end of the list) that as soon as you start defining your hashtag campaign, you must have in mind the possibilities to measure its success.
So, you will need to know which metrics to follow at the very beginning. For example:
Number of posts published with the hashtag
Engagement rate, including the number of video views, likes, or comments
The overall reach of the hashtagged posts
Once all this is defined, let's start with brainstorming about the actual hashtag.
How to create your branded hashtag?
Defining the hashtag(s) of the campaign is the key step in your campaign planning process.
But, what needs to be considered when planning for the new hashtag campaign is that the mainstream usage of hashtags, in many cases, results in overstuffing and over-usage of the hashtags. And this 'un esthetic' use of hashtags might not have any impact on the goals of the campaign, such as engagement, number of followers, or any other goal.
A recent study by Mention reveals that posts that have more hashtags have not gained any result in an increase in engagement. So, the finding is that the highly engaging posts contain 5.44 hashtags on average. Here are some of the hashtags that drive the biggest engagement: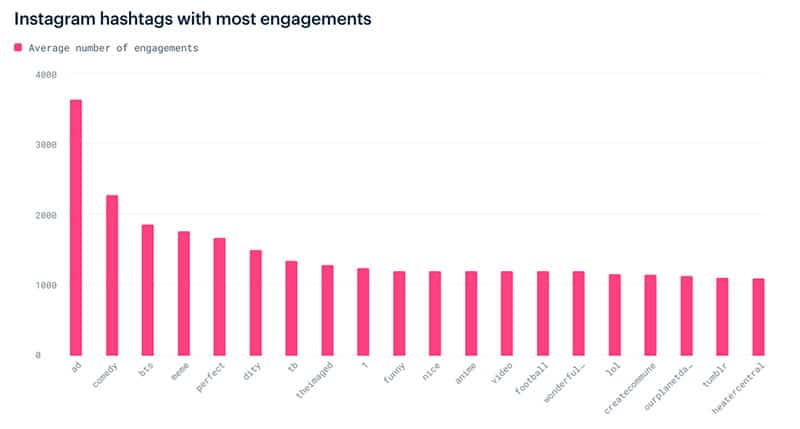 In order to avoid this, before you begin with your action steps remind yourself about the basic definition of a hashtag campaign:
A hashtag campaign is a brand tactic used to stimulate, reach, engage or drive direct results by providing value for users to participate in.
The key in this definition is "by providing value." It seems obvious, but sometimes brands think that they need to do a hashtag campaign because everyone is doing this, and they miss the core purpose of it. So, this phrase aims to define WHY hashtags should be used in your marketing efforts and make a more planned strategy that will not just include inventing some 'creative' hashtags and overposting with these hashtags.
Need an Instagram Hashtag Wall?
Generate and embed your Instagram hashtag feeds on your website
So let's brainstorm some 'value' items that can stimulate users to engage with your hashtag:
Create a very quality content that people will actually want to engage with or even save
Give a sense of a community and involve people in a movement
Invest in greater cause and things that matter
Organize giveaway contests, the most mainstream but can be effective
Once you define what you stand for and the purpose of the campaign, the best approach for this phase is to outline an initial hashtag planning document that will include some words or keywords that you usually use and search them directly on Instagram to find the number of posts published with this hashtags.
So when brainstorming the first list of hashtags, you need to have in mind the following:
Easy to remember and write
Fun, interesting, happy, bring an emotion
Represent a value, for example, #MBphotocredit,
Words that you or your customers frequently use about your brand
Check the hashtags of your competition
Check if something similar exists
Once having all the above in mind, let's start writing some potential hashtags and even categorize them by types, such as Branded, Campaign, and Topic hashtags.
If you have more people on the team, it will be great to involve all of them to see different perspectives, especially for collecting quantitive ratings that will help you make the right decision
So the plan will include these steps:
Create an Excel sheet with a list of 30 keywords – potential hashtags
Replace myhashtag in this link to check if they exist
Repeat step 2 to check similar hashtags and write down in the table the number of posts per hashtag
Look for posts in similar hashtags by the competition
Add a qualitative rating for each hashtag by team member.
Run a simple survey if possible, to ask current customers about their favorite hashtags -and write their rating for each hashtag
I've added the quantitive rating by the teammates in this process so you can easily narrow down to the top 3 hashtags and make your decision much easier. Also, the possibility of asking some power users on Instagram about their habits in using hashtags can be very helpful in decision-making.
Here is a list of hashtags for inspiration:
#dishpics by OpenTable
#mbphotocredit by Mercedes Benz
#MacysParade by Macy's
#PrimeDay by Amazon
#OneTimeInNOLA by Visit New Orleans
#MeetMeInTheGap by Gap
Define the content for your hashtag campaign
Once you've identified your hashtag and the overall theme of the campaign, it is time to define the content you will post or expect your audience to post while using the hashtag.
Here are a few tips:
1. Join the mainstream, too – I know that this might seem to defocus but you will need to fit your strategy to the most common and most natural content to Instagram, such as food, makeup, exercise, celebrities, (nudes), exotic destinations, motivation, design, vintage, art, furniture and similar.
2. Organize a giveaway – I know I know, it sounds non-creative (it doesn't have to be), but as mentioned many times, it gives results.
For example, the OpenTable reservation app uses the hashtag #dishpics to inspire people to share their dish photos.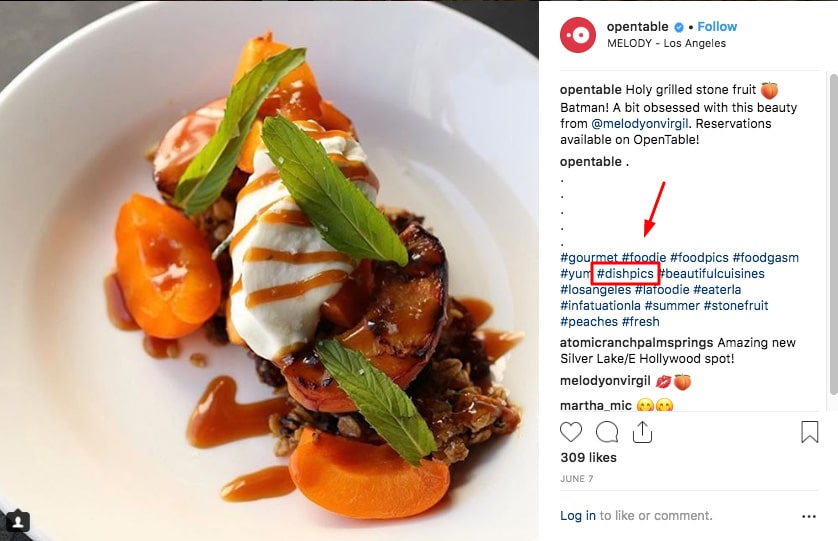 It is not a direct branding approach to the app but is very relatable with the common topics on Instagram and also the business domain of Open Table. Here are the Open Table giveaway rules for more inspiration.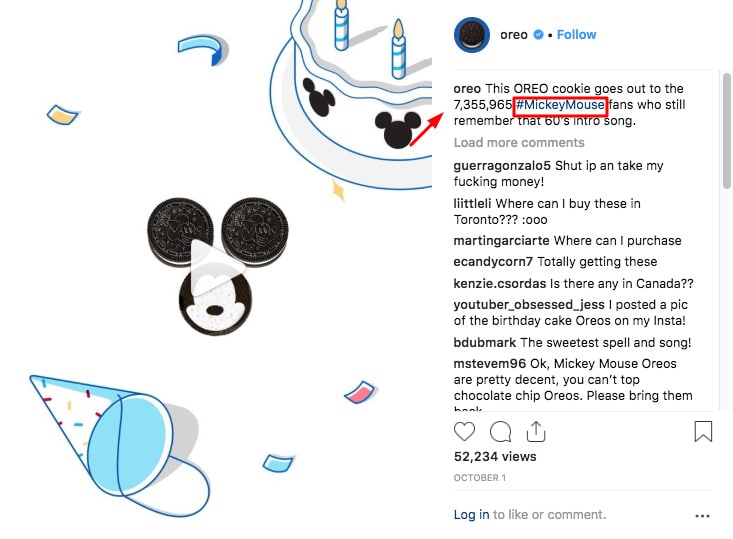 3. Find your unique style – a specific, new, and unique image or video format can have a tremendous impact on engagement. People on Instagram love esthetics and your fresh approach to delivering value through the content's design can be a great sauce for success. Here is an example of Oreo and how they uniquely target followers of different hashtags:
The famous cookie brand Orea has a unique shout-out strategy that is reflected by tagging specific hashtags and saying hi to all their followers. Here is an example of the post that shouts out to the #MickeyMouse fans.
4. Feature UGC – inspiring user-generated content is usually the easiest content and most effective content strategy. For example, Mercedes Benz uses the hashtag #mbphotocredit to credit photographers of their car models.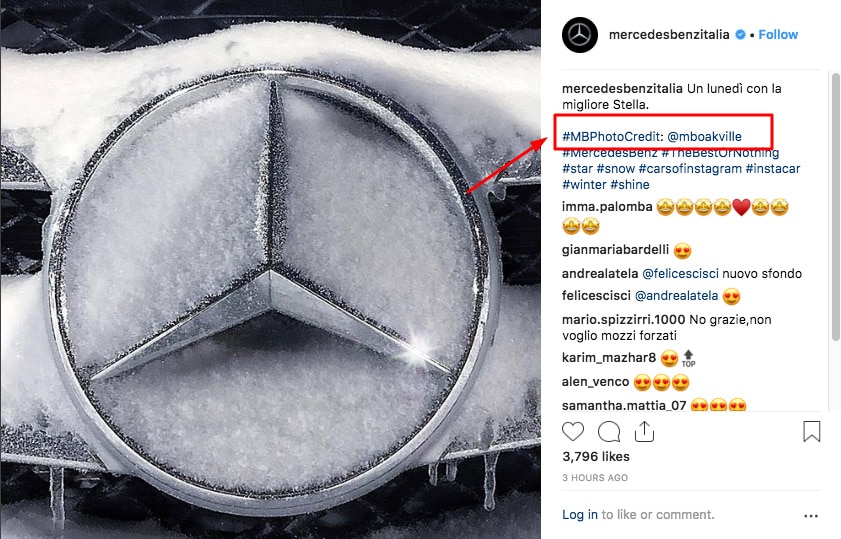 By using this hashtag the automaker Mercedes creatively engages with photographers and uses the hashtag to give them credit while reposting the photos in their official Instagram profile. The hashtag currently has 25,014 posts.
5. Include product in a contest – If you plan a contest that will involve people competing with their posts, please make sure it is unique and interesting for your audience. People are overwhelmed with contests, and if this is something that you want to proceed to do in 2021, check one of my favorite hashtag contests by Starbucks #redcupcontest featuring their famous holiday red cup: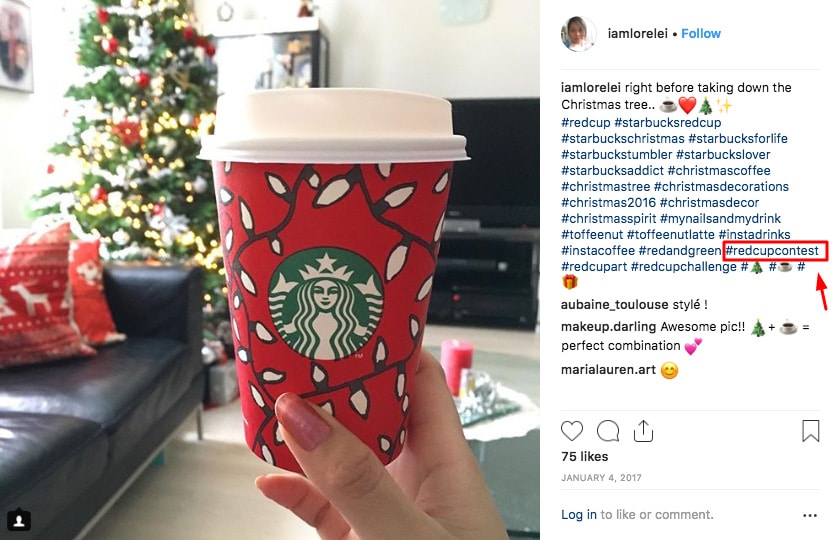 This is one of does campaigns that bring offline activities to a brand's online presence. Also, it gets people excited about the novelty of a product, makes them engaged, and also gives that moment of being the first to have tried a coffee in a red cup, an urgency emotion that usually works in marketing.
How to execute the hashtag campaign?
Here are 4 tips you can use to make sure your hash-tagged content resonates with your targeted audience:
1. Outreach through your current channels – send an email to your audience, post it on other social media profiles, and print it on menus, flyers, or posters to communicate the campaign's existence to your current audience.
2. Involve a celebrity or influencer to spread the word – if there is any possibility of contracting an influencer for the campaign, this should be one of your first steps to spread the information about your campaign.
3. Target trending hashtags – find trends in your industry and make sure you create compelling content. These hashtags can sometimes be related to an event, holiday, or some viral content. For example, events like Royal weddings or the Super bowl connect larger audiences. Or popular shopping days, such as #MacysParade or #PrimeDay. And think out of the box when trying to create an appealing photo or video that can reach to the people following these hashtags.
4. Take your hashtags offline – this is a common tactic for boosting initial engagement. The easiest way to spread the word around your hashtags is to make a cool offline happening that will incentivize and engage people to take photos and post directly on Instagram. Think of special, invite-only events, invite a celebrity or maybe create a unique product or packaging that selected customers will be first to see it or buy it.
5. Ask to tag you and get featured – Some brands, such as Merced Benz, use this strategy in a very 'productive' way. This only works if your brand has a long-term focus on keeping this hashtag and building a community around it. If done right, it can be great in your outreach efforts and getting help from the community to help you with spreading the word. Start by adding this in your bio: Here is an example: "Tag #MeUndies for a chance to be featured."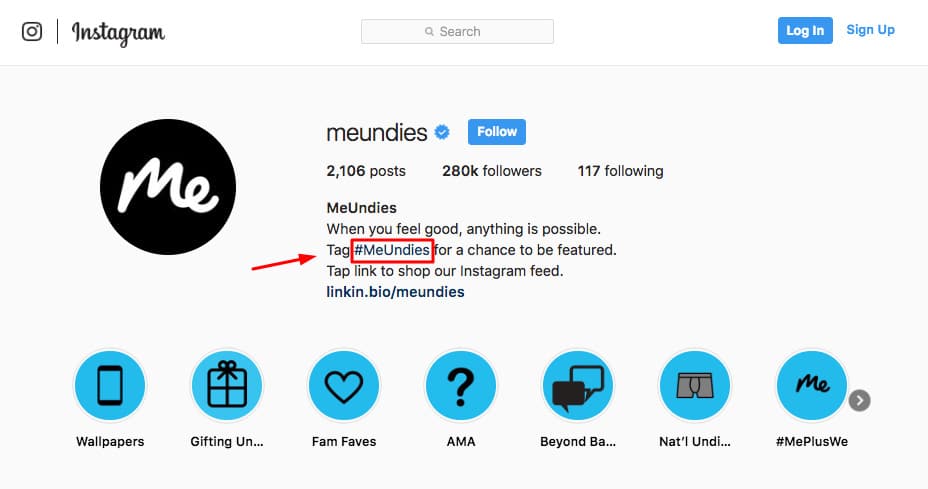 How to use hashtags to generate UGC?
This section is very important for your brand. The importance is becoming more obvious due to the latest changes in Instagram hashtags Search API. Now, Instagram will only allow generation hashtagged photos published over a period of 24 hours. Well, of course, you can always go to Instagram and search for your hashtag. Still, third-party apps such as EmbedFeed can safely store your brand's hashtagged content in one place and in an organized dashboard, allowing you to reuse this content for various purposes.
One of the main purposes is to create your website's social wall or if you ever want to showcase a user's activity around an event.
Generate hashtagged UGC with an app
I mentioned EmbedFeed Instagram hashtag tool, approved by Facebook to help you fetch and store all the user-generated content posted with your hashtag. The system works by requiring you to have an Instagram business account that needs to be connected with the app. That's it. No other requirements or hustles. The app will provide you with a simple option to submit your hashtag and pre-generate the posts in just seconds.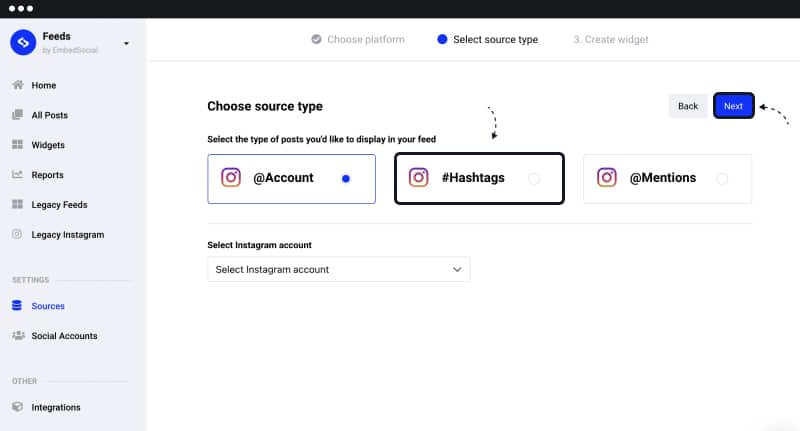 Embed hashtag campaign on your website
This common practice is very helpful in expanding the reach of your campaign beyond Instagram. It is also very effective that you give tons of value to your UGC and, on the other hand, make other people aware that you are doing this campaign, and they can also involve.
In order to fetch the hashtag you are using and display the photos, EmbedFeed can provide you with a simple code that works on any website and syncs all the posts published with your hashtag in a period of 24 hours.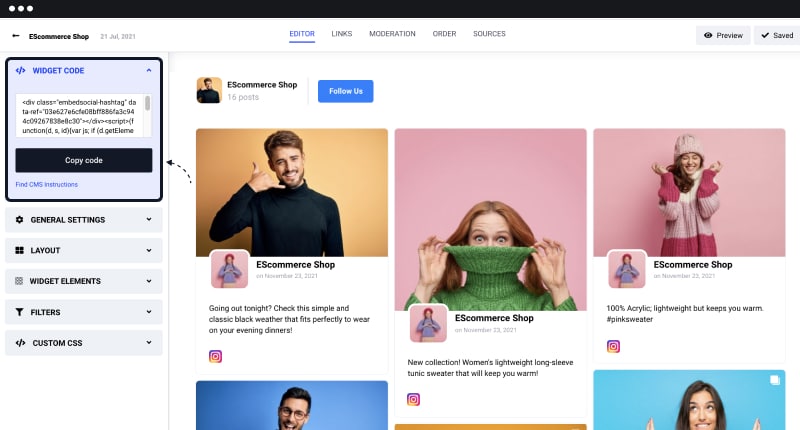 The best thing about using third-party apps is that you can filter, moderate or get more settings to manage your hashtag campaigns. To learn more about the
Top 3 Instagram hashtag campaigns
There are tons of campaigns that you can search for and get some inspiration. For this post, I've chosen these 3 because of their novelty, are happening right now, or are still active. And also are giving the value, the positive energy, and the feel of community that most of the campaigns lack.
1. Nike's iconic slogan as a hashtag
Nike is using their slogan #justdoit as one of the most recognizable brand values that inspire people to relate to the brand, achieving 15,857,590 posts using these hashtags. Here is an example of using the hashtag to demonstrate the amazing comeback.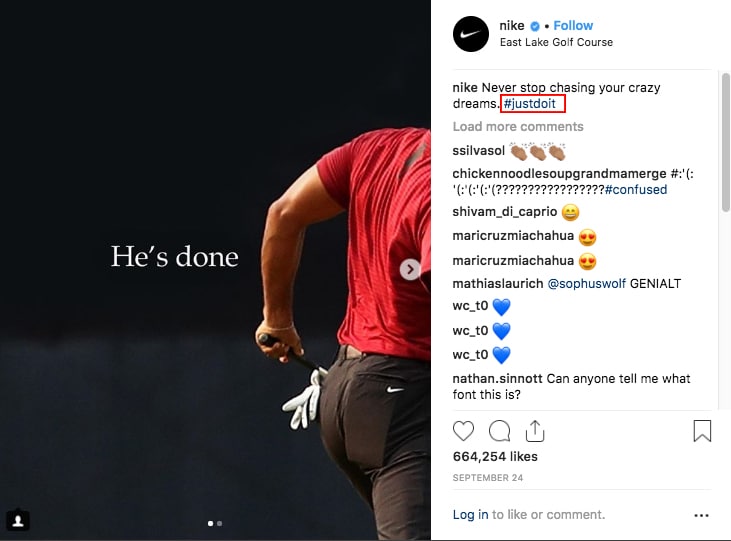 Please note that recently Nike had a PR problem with a trending negative hashtag. Their favorite slogan was used in another context. People who were not agreeing with their epic campaign featuring the NFL player Colin Kaepernick were using the hashtag #JustBurnIt to demonstrate their revolt. This is a good example of how a hashtag can affect people in demonstrating their voice, especially in exposing negative behavior from social media users.
2. Visit New Orleans shares user stories published with a hashtag
The official handle for NOLA tourism on Instagram uses the hashtag #OneTimeInNOLA to engage with the people who have visited New Orleans and share their interesting perspectives. The posts that are published with this hashtag are re-used by the official account in order to amplify other people's stories who had an amazing experience in New Orleans. The end goal is to showcase to prospective visitors the unique places, spirit, and style of the city shared by people who have really experienced this. The hashtag has attracted 71,507 posts till now.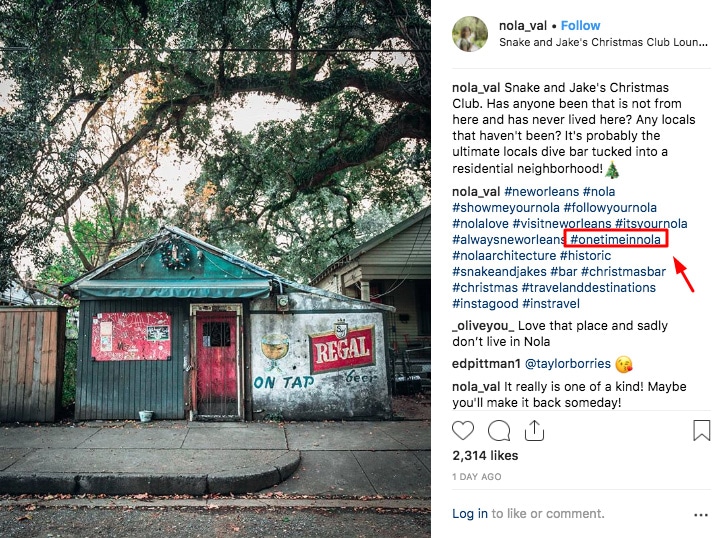 3. Coca-Cola engages followers to share kindness through a hashtag
To make the World Kindness Day more special, starting from November 13th, 2018, Coca-Cola is running a campaign to make the internet a more optimistic place. They invite everyone to use the hashtag #RefreshTheFeed and share their artwork of kindness.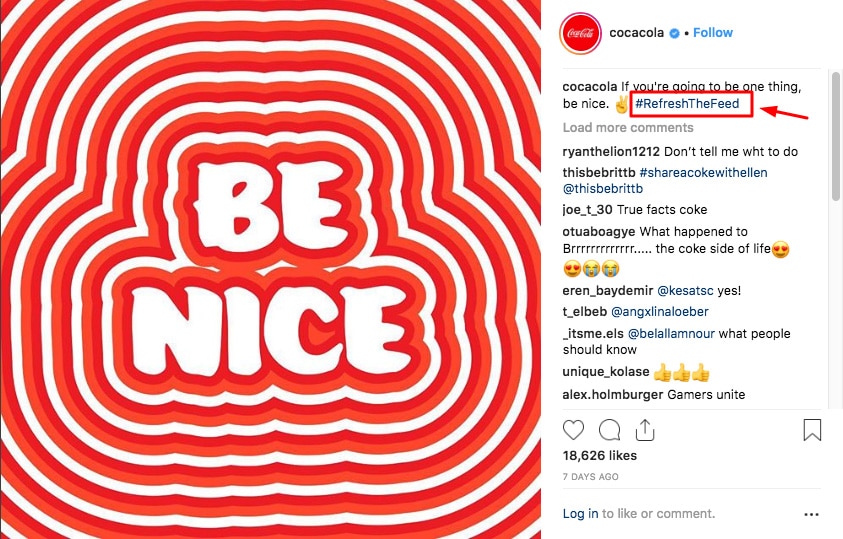 STAY UPDATED: Follow our blog post: New Instagram Updates and Features for Your 2021 Marketing Campaigns
Conclusion
Hashtags are a powerful way to bring people together around a certain cause or in stimulating user-generated content that brands can collect and analyze.
Additionally, brands need to be aware of the over-usage of hashtags that have especially skyrocketed in the past year that might not have any help in achieving the campaign results
Therefore, in 2021 hashtag campaigns will need to include more planning and more innovative ways of creativity in giving and bringing value through high-quality content and user empowerment.
---
FYI: Embed Instagram widget automatically with the social media aggregator and UGC platform by EmbedSocial. Click below to try it for free: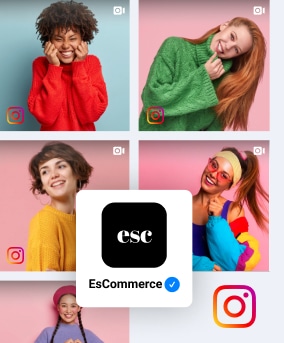 Embed Instagram widget on your website automatically!
Try EmbedFeed and display Instagram content from your feed, mentions, or hashtags on your website.
All PRO features | Cancel any time.