You might miss a sea of opportunities if your business is not on Instagram nowadays. 
For the past few years, Instagram has become the game-changer for any business that wants to engage with its audience and boost sales.
How did they do it?
Using Instagram stories!
Instagram has amplified its popularity among its business community by introducing the options for any Instagram business account to create stories, measure, and interact with its audience.
And other social networks are following the trend, as the latest rollout of LinkedIn Stories and Google Web Stories.
In this Guide to Instagram Stories for Businesses, we will outline the main functionalities and why you should include this format in your marketing strategy to drive sales and engagement. We will guide you through the whole process of creating branded stories and maximizing the results from them.
Let's dive in!
What is an Instagram story?
To properly capture you what Instagram Story is, I will quote the founder of Buck Mason, Sasha Koehn:
A canvas to tell a short story in a creative way.

Sasha Koehn, founder of Buck Mason.
Or, a story is a format that combines photos, videos, text, or stickers in a creative whole. 
It lives for 24 hours and disappears if it is not downloaded or saved in the Archive or Highlights.
Instagram stories appear at the top bar of the mobile app. 
They are the first glance your Instagram followers will see once they open the Instagram app.
Also, Instagram introduced Highlights options that will ensure you show archived Stories on your Instagram profile.
To get the point of Instagram stories using business lenses, consider them a new invention in content publishing and consumption. 
Primarily, stories were created by Snapchat, but its success tremendously multiplied when Instagram literally copied this new format into its app.
Continue reading to learn how to use Instagram stories for business to get the most value for consumers and your brand as well.
Why Instagram Stories for Businesses?
Suppose you are planning to include Instagram in your marketing strategy for 2021. In that case, it's good to know where you stand when it comes to Instagram statistics (according to the internal Instagram data presented at the latest f8 conference):
1 billion people use the Instagram app every month
500 million people use Instagram Stories on a daily basis
Active users spend, on average, around 28 minutes daily on Instagram
200 million people visit at least 1 business profile per day
130 million Instagram users watch and engage with shopping posts every month
Instagram's potential advertising reach goes up to 849.3 million users
Instagram influencers are paid between $100 and $2,085 per post
Interestingly, 2/3rds of the Instagram stories visits are from non-followers who want to learn more about the products and businesses on Instagram. This means people go to Instagram to discover businesses and learn more about their products.
These statistics make it very clear WHY companies want to manage Instagram profiles, resulting in more than 25 million businesses using Instagram for everyday communication with their customers and engaging with the potential ones.
Furthermore, the statistics show Instagram stories are the fastest-growing format on Instagram, with more than 500 million accounts that use Instagram Stories every day as of January 2019.
This is one of the most rapidly growing features in the history of Facebook/Instagram since the News Feed. It is estimated that it will probably outgrow the Feed based on the number of views.
Continue reading below to learn more details about how you can use Instagram stories for your marketing strategy:
Top 3 Instagram Stories Benefits
As you can probably see (numbers confirm it, too), Instagram is the fastest-growing platform in the world.
Why not benefit from it?
You can take a look at these top 3 Instagram stories benefits that make it clear why businesses should start using Instagram Stories ASAP:
1. Reach more Instagram users
Instagram stories are discoverable. This means that your stories can be found and viewed by people who are not your followers. You can use hashtags or tag other people or brands to expand the reach of your stories' content and drive traffic to your website.
Furthermore, if you want to expand the reach of your Instagram stories beyond the Instagram app, you can use EmbedStories and display your Instagram stories on your website.
2. Engage more with your current users
The story format provides endless possibilities for you to engage with your audience and provide them with valuable information they can interact with.
Here is what you can do:
Create visual 'How to' tutorials for your products
Provide free tips and tricks
Present the latest news about your products or news from your industry
Unveil 'behind the scene' content
Showcase an event or a trade show your business attended
Invite influencers for a profile takeover
Give special promotions, discount codes, last minute offers
So, now that you know how Instagram stories can benefit you, learn how to use them, starting today!
3. The Instagram story as a full conversion funnel
One of the main benefits that Instagram stories provide for their users is beyond just creating brand awareness.
Instagram stories are actually becoming a powerful solution for the lower part of the marketing funnel and provide opportunities for businesses to increase their lead generation and online conversions.
The flow is simple.
Once businesses create an engaging story, giving value to their followers, they can simply invite them for a direct chat in their Instagram messenger or provide a link in their Instagram profile bio (if they do not have the option to add links in the story) where the potential customers can go and actually purchase their product or services.
How to Create Instagram Story?
To create an Instagram story, you will need to make a few taps, and your story will be live in seconds.
There are several ways how you can do this after you open your Instagram account and make sure you are viewing the main feed screen:
Tap on your Story circle in your upper left corner
You can take a new photo or a video or use some of your old ones in your mobile gallery. You decide.
Tap the text icon to add text or the sticker icon to choose from the gallery
After you finish designing your story, click the option Your Story in the lower-left corner to publish it on Instagram.
Recently, Instagram introduced the option to share the Story with your close circle of friends/followers. To do that, choose the Close friends option in the bottom-left corner.
Read more below to learn how to brand your Instagram stories and Highlights:
How to create branded Instagram stories?
When it comes to creating social media posts, it's crucial to have a consistent brand design.
And Instagram stories are not an exception.
To have a memorable look and feel for your Instagram Stories, create your Instagram Stories Brand Kit.
So when your followers scroll through their Stories and see some of your Stories, they will immediately recognize that this graphic belongs to your company, even before they see your username.
Here is what you need to have and do to stay in line with your Instagram posts brand kit:
Apply your brand colors 
Use your brand fonts
Please choose an image filter and stick with it
Try using Instagram stories templates instead of creating a story from scratch
Use Stories to show your brand logo
Include your brand message
Use the 'swipe up' option to show the user where they can get more content
Use stickers and gifs
Note: If you want to really put your brand out there and make sure your Stories match your brand voice, the good idea is to look outside of the Instagram app and craft your Stories using apps like Canva, Over, Adobe Spark, Mojo, Storyluxe, and many more.
How to create branded Instagram highlights?
Now that you have created your brand Story, to give them more visibility and make sure they last longer than 24 hours, you can try the Instagram highlights option.
So, once equipped with your brand kit, as mentioned above, you have 2 ways how to create an Instagram Story Highlight that will match your brand voice.
Option 1: Highlight from an active story
Create a Story, publish it and then manually save it in a Highlight
Option 2: Highlight from an archived story
To use this option, you need to activate your Archive option (you will find this in the triple-bar menu). Previously archived, your stories will be saved automatically, so you can choose which Story you want to be shown as a highlight later.
To learn more about how you can start creating Instagram Highlights and use them to stand out from the crowd, check out our post Everything About Instagram Story Highlights.
How to get more Story views and boost engagement
Now that you are already familiar with how you can create branded Instagram stories and highlights let's dive into what you can do to boost your stories.
Use the Create mode package
If you are running out of inspiration, try Instagram's new Create mode developed for its apps
for iOS and Android. This includes creating and sharing polls, countdowns, questions, 'on this day', and many more features that will increase your followers' engagement.
Add hashtags
If you are not adding hashtags to your Instagram stories yet, now is the time to start.
Using hashtags will help you increase your organic search on Instagram because Instagram stories get their own space when someone searches for a particular hashtag.
Having this in mind, you can add up to 10 hashtags to your Instagram stories, even 1 clickable hashtag sticker.
If you want a competitive edge with your Instagram hashtags, check out the latest updates and look at our Epic Guide For Your Instagram Hashtag Campaign in 2021.
Add location tags
The same goes for location tag stickers.
Adding a location sticker in your Stories can help you improve your brand awareness. So the next time a user searches for locations, they can see the stories attached to that location. 
Everyone wants to check the location before they go there, right?
Using Instagram mentions in UGC marketing can be a win-win situation for establishing trust between the brand and the user.
For example, when an Instagram user mentions your brand publicly, you can see how users perceive and interact with your brand.
Make sure to reply to the user and repost their media to show them your appreciation. 
Use Instagram nametags
Another quick and easy way for users to find you on Instagram is to use Instagram nametags. 
The goal is to take users to your profile and allow them to follow you by scanning the nametag.
You might notice that this is very similar to Facebook Messenger codes and Snapchat's snapcodes.
If you are interested in discovering how to find and customize your Instagram nametag, read the full guide on how you can Get Started With Instagram Nametags.
Go 'Live' on Instagram
If you want an instant engagement boost from your target audience, you can go 'Live' on Instagram.
Your followers that are using the app at that time will receive a notification that you have a live broadcast and can connect with you in real time. 
Get ready for tons of comments and questions. 🙂
Note: Make sure to use this option when most of your followers are online. 
If you are interested to apply this in your Instagram marketing strategy, check out the Instagram guidelines on how to start a live video on Instagram. 
Try Instagram Reels
Another way to connect with your audience by sharing video content is Instagram Reels (former Instagram's TV channel (IGTV)). 
As the popularity of Instagram reels grows, this is a great way for companies to create engaging video content and grow their brand's visibility.
Try Instagram's stickers package
Instagram has been on a roll lately with a number of new features and updates. This includes many stickers that can be used to grab your followers' attention effectively.
Here are some of the most popular:
Questions sticker
Poll sticker
Emoji sticker
Quiz sticker
Chat sticker
Donation sticker
If you are interested in including stickers in your marketing mix, check out the official Instagram stickers guide.
To keep you up-to-date with the latest Instagram updates, we created this complete guide about the new Instagram features in 2021 that you can include in your marketing strategy.
Bonus: Top Instagram Stories Growth Hacks
As you can see, the list of opportunities for creating impressive and highly effective Instagram stories is endless. But to make sure you are distinct from the others and attract attention, check out the following growth hacks:
Create Instagram Stories AR Filter
As Instagram opened Spark AR Studio to the public, it made it easier for anyone to create and submit their own augmented reality filter to show on Instagram.
Unlike the features mentioned above, this tool requires advanced design skills, but when used regularly, it helps brands get wider exposure.
To get started, download the app and start experimenting!
Develop your branded GIFs
Instagram Stories that include GIFs are one of the best ways to add more brand personality to your content.
Although there is a huge selection of illustrations ready to post, why not create your own?
It's easier than you think.
Start by creating a Giphy brand channel, create a sticker and upload it as GIF files and wait for it to get verified.
Note: It can take a couple of weeks to get GIF verification (but it will be worth it).
Allow someone take over your Instagram account
For an immediate boost to your Instagram stories performance, you can try Instagram stories takeover. 
The name speaks for itself – you let someone take over your Instagram account. That can be an influencer, customer or even your employee. Let them give a unique and fresh perspective to your followers.
Yeah, you need to trust them with your login credentials too.
For more tips How to Effectively and Strategically Create Instagram Stories, check out our interview with Alex Tooby, an expert in Instagram marketing and influencer.
Sell more with Instagram stories
As the Instagram story format is becoming one of the most attractive conversion funnels, several features can help you boost your sales. 
Product stickers
Instagram made driving sales from your Instagram Story to your website easier. The Product sticker is the new game-changer! 
It allows you to tag products in your Stories (on both images and videos) that will lead your users directly to the page where they can learn more about the product and, ultimately, make a purchase. 
To get started with this feature, check out the official Instagram guidelines on adding Product Stickers to Instagram Stories.
Product Launch sticker
And if you want to build excitement about a product that will be launched soon, you can try the new Product Launch sticker.
You can use this sticker to announce your upcoming product and cluster together an audience that is interested in that product.
To keep your followers even more excited about the new product release, use the Countdown sticker to build anticipation.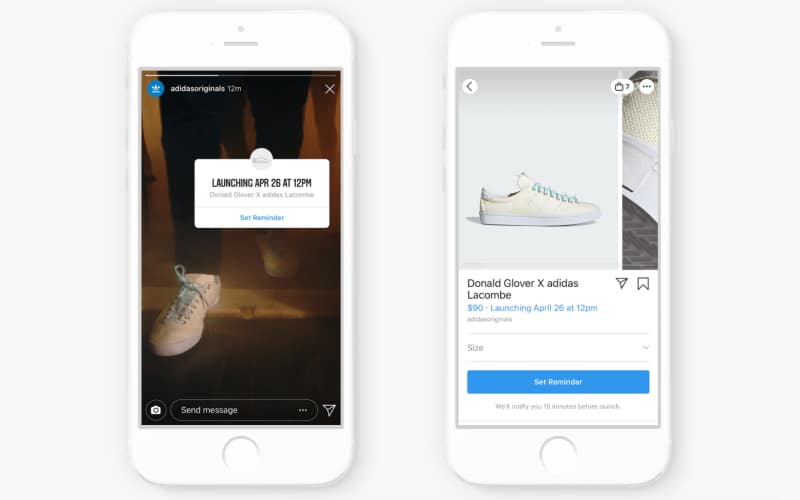 If you see the potential in selling on Instagram (as we do) and you are interested to make your Instagram stories shoppable, learn how you can create Shoppable Instagram Stories With Direct Payments.
Additionally, as shopping on Instagram is rolling globally, we created a step-by-step article on How to Set up Instagram Shoppable Feeds.
Get started with Instagram Stories ads
If you run out of options for drive sales organically with Instagram stories, you can always rely on Instagram Stories ads.
Unlike regular Stories that have 24 hours lifespan, Stories ads can run for as long as you wish. 
Yes, you might be skeptical because this is a new ad format, but many social media marketing enthusiasts already see a boost in their sales process thanks to it.
To help you get started, we created The Ultimate Guide to Instagram Story Ads that will give you real knowledge of why Instagram Stories can be your biggest asset in driving results and how you can start creating your first Story ad.
Instagram Stories Analytics
Instagram Stories Analytics is less than just seeing which photo or video story performed best but more about understanding what your audience craves for and using that to create a strategy that will work for your business.
Before you start looking into your Insights section, please make sure that you have an Instagram business account (in case you are not converted to a business profile, here is how you can do it).
Once you are here, you can dive into the Story insights option available in your Instagram profile.
Here are the main insights that you will encounter:
Reach of the post
Number of likes, comments, and shares
Number of saves of the post
Profile visits brought by this post
To help you understand Instagram stories analytics and get the best value from them, we created a comprehensive article about Everything you need to know About Instagram Stories Statistics and Analytics.
Top Instagram Story tools for marketers
Now that you are aware of the benefits of Instagram stories, you need to equip yourself with great tools to help you create stunning Instagram stories that will convert.
Here are some of the tools we recommend you try:
To get the details of what these tools can do for your Instagram stories, check out this article on 5 Instagram Story Tools for Marketers.
Or if you want to display Instagram stories on your website right now and for free, try our forever-free Instagram Stories Widget.
Examples of Instagram Stories
To help you understand how to use Instagram stories for marketing your business, we've outlined the top 3 Instagram story campaigns that we think are valuable for each type of business. The main reason why we selected these 3 is to serve you with inspiration for your Instagram stories campaigns, think about how you can achieve more with Stories Ads, and also pointed out the results that you might expect from these types of campaigns.
Story example 1: Activia
This is a very appealing Instagram story created by the brand Active Italy. It uses Instagram stories to showcase healthy rituals of eating Activia in the snack timeframes
during the day.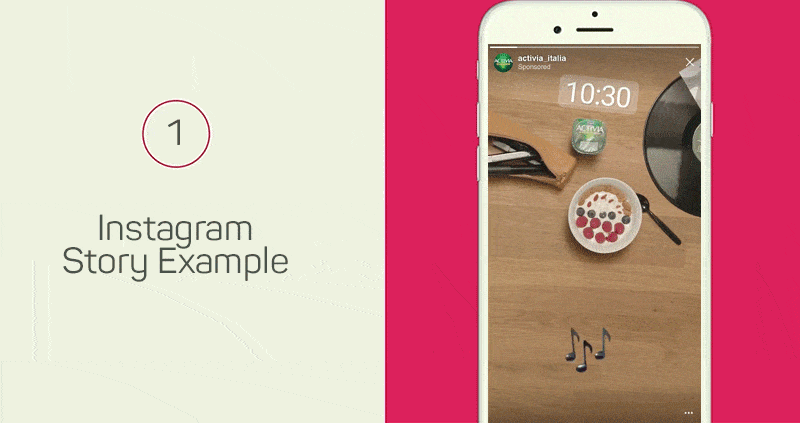 This is a video story that clearly showcases the amazing feature of the product that the brand tries to promote. In a simple boomerang type of video, this story shows the flexible-wear and neutral-colored T-shirts, allowing viewers to swipe up and shop from the brand's product catalog.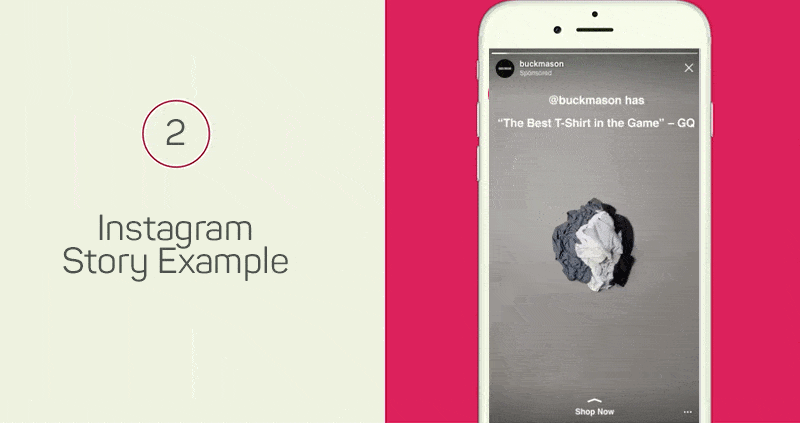 Story example 3: DriveNow
This is an example of a story campaign created by Drive Now, a German-based car-sharing service. It is a simple shot of the DriveNow car overlayed with a native story-type arrow and tag of the offer.
Do more: Embed Instagram Stories on any website
Instagram stories are the new organic promotional tool.
Unlucky, they will disappear after 24 hours if not converted into a highlight. Would it be great if they can expand their reach on other platforms?
To solve this common issue among marketers, we developed EmbedStories, a tool for Instagram Stories that will help you save and embed your stories on any website with just a line of code.
Watch the full tutorial on how you can Embed Instagram Stories on any website.
Instagram Stories' latest new features
At the 2019 F8 conference, the company announced interesting new features that will go live in the coming period. Here is a brief overview of these new updates:
Third-party apps integration – The Instagram platform is opening the app the Instagram stories format to third-party developers. This means that other apps can easily integrate their content with Instagram stories and allow users to share from their apps in stories. For example, Shopify users can share a song directly in an Instagram story where their followers can play it or navigate to Shopify to listen to more songs.
Camera effects platform for Instagram – Instagram has introduced new cool effects in the Instagram stories and is also making it available for other developers to build effects that users can use in their stories.
Focus option – This option is already available on the Instagram App. Users can just focus on a person's phase and capture an incredibly professional story.
FAQ for Instagram Stories
How do I add a link to my Instagram story?
Adding links on Instagram is a very limited feature, and there are only a few areas where you can add links and navigate followers to your website. Until recently, the links to Instagram stories were unavailable to all users. These links previously appeared as a 'See more' or 'Swipe up' text with an arrow icon at the center-bottom position of the story. According to the Instagram rule, only verified accounts with 10,000 followers could do this, but recently the platform finally removed this limit and allowed a 'Link Sticker' for all users.
Additionally, you can of course pay for an Instagram ad and choose to add a link to your Stories Ads.
What is the best resolution for an Instagram story?
The best Instagram story dimensions are with an aspect ratio of 9:16. For example, you can use:
Story photos size: 1080px width x 1920px height
Story high-definition video: 1080px width x 1920px height
How to know how many people saw my Instagram Story?
This is very important for businesses to understand what works and what doesn't. The native Instagram app provides an Insights section where businesses can view the stats for each of the stories they've published.
To view this information, just open your story and swipe up on the screen. In the Insights section, you will see the number of views and also the users who actually viewed your story.
How can I see who viewed an Instagram story?
Again this is related to the previous section, and as mentioned, you need to open the Instagram story and swipe up to see the list of Instagrammers who viewed the story.
How can I save or download Instagram stories?
There are few options on how to save Instagram stories and make sure you never lose your Instagram stories:
Save stories in Highlights
Archive stories in your Instagram account
Save stories in a web-based app
Save stories in your iPhones camera roll
What happens when someone mentions your Instagram account in their story?
When another person creates a story and tags your username, it will be visible in the story, and their followers can click on it and view your Instagram profile page.
If someone tags you in your story, you will receive a direct message with a preview of the story. 
You cannot ban people from mentioning you in their stories, but you can report their stories to the Instagram team for further review if they do not comply with their community standards.
If I take a screenshot of someone's Instagram story, will they be notified?
Yes. A mobile notification will be sent to the user that you've done a screengrab of their story.
###
Hope this guide helps you learn how to use Instagram stories for business, make the most out of them, and help your brand achieve its goals. Feel free to share your thoughts in the comments below.
FYI: You can embed Instagram stories widget automatically on your website. Start a free trial and display your Instagram stories now.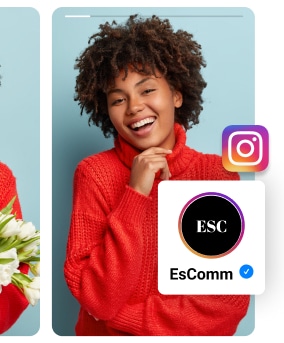 Display your Instagram stories on any website automatically
Try EmbedStories to capture, save, and embed Instagram stories on any website!
All PRO features | Cancel any time.