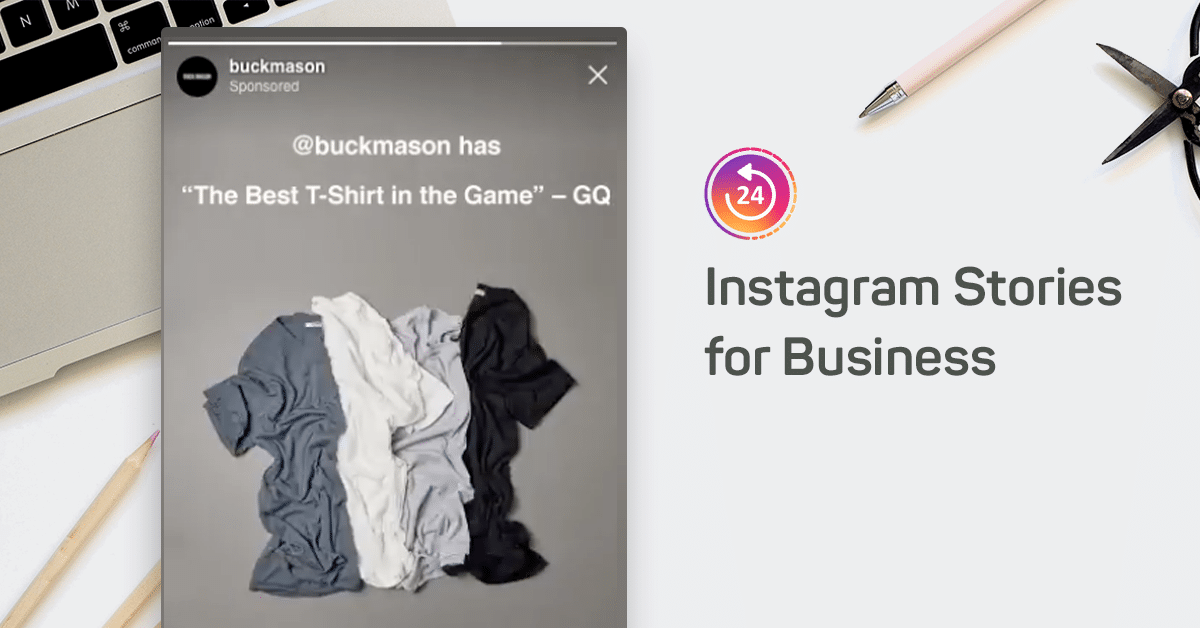 Think of stories like a new invention in content publishing and content consumption. It was created by Snapchat first but its success tremendously multiplied when Instagram literally copied this new format into their app.
Recently, Instagram has amplified its popularity among its business community by introducing the options for any Instagram business account to create stories, measure, and interact with their audience.
In this Guide to Instagram Stories for Businesses, we will outline the main functionalities, why you must include this format in your marketing strategy and look at some interesting case studies that will boost your creativity and get you started with your first Instagram story.
What is an Instagram story?
I will just quote the founder of Buck Mason, Sasha Koehn:
A canvas to tell a short story in a creative way.

Sasha Koehn, founder of Buck Mason.
Or simply, a story is a format that combines photos, videos, text, or stickers in a creative whole. It lives for 24 hours and it disappears if it is not downloaded or saved in archive or Highlights.
Instagram stories appear at the top bar in the mobile app and are the first glance that your Instagram followers will see when will open the Instagram app.
Why Instagram Stories for Businesses?
Instagram is used by more than 800 million people. And according to the internal Instagram data presented on the latest f8 conference, 200 million Instagram users visit business profiles every day.
2/3rds are from non-followers who want to learn more about the products and businesses on Instagram. This means that people go to Instagram to discover businesses and learn more about their products.
These statistics make it very clear WHY companies want to manage Instagram profiles, resulting in more than 25 million businesses that use Instagram for their everyday communication with their customers and engage with the potential ones.
Furthermore, the statistics show Instagram stories are definitely the fastest growing format on Instagram, with more than 400 million accounts who use Instagram Stories every day, as of June 2018.
This is one of the most rapidly growing features in the history of Facebook/Instagram, since the News Feed. It is estimated that will probably outgrow the Feed based on the number of views.
Continue reading below, to learn more details, how you can use Instagram stories for your marketing strategy:
Top 3 Instagram Stories Benefits
Here are the top 3 benefits that Instagram stories can provide for your businesses:
1. Reach more Instagram users
Instagram stories are discoverable. This means that your stories can be found and viewed by people who are not your followers. You can use hashtags or tag other people or brands to expand the reach of your stories' content.
Furthermore, if you want to expand the reach of your Instagram stories beyond the Instagram app, you can use EmbedStories and display your Instagram stories on your website.
2. Engage more with your current users
The story format provides you with endless possibilities for you to engage with your audience and provide them with valuable information that they can interact with.
Here is what you can do:
Create visual 'How to' tutorials for your products
Provide free tips and tricks
Present the latest news about your products or news from your industry
Unveil 'behind the scene' content
Showcase an event or a tradeshow your business attended
Invite influencers for a profile takeover
Give special promotions, discount codes, last minute offers
3. The Instagram story as a full conversion funnel
One of the main benefits that Instagram stories provide for their users is beyond just creating brand awareness. Instagram stories, are actually becoming a powerful solution for the lower part of the marketing funnel and provide opportunities for businesses to increase their lead generation and online conversions.
The flow is simple. Once businesses create an engaging story, giving value to their followers they can simply invite them for a direct chat in their Instagram messenger or just provide a link in their Instagram profile bio (if they do not have the option to add links in the story) where the potential customers can go and actually purchase their product or services.
How to Create Instagram Story?
To create an Instagram story you will just need to make a few taps and your story will be live in seconds.
First, open your Instagram app and make sure you are viewing the main feed screen.

Click the top left camera icon
Take a photo or a video
You can tap the text icon to add text or the sticker icon to choose from the gallery of
After you finish designing your story click Add to Story to publish it on Instagram
That's it.
Examples of Instagram Stories
To help you understand how to use Instagram stories for marketing your business, we've outlined the top 3 Instagram stories campaigns that we think are valuable for each type of business. The main reason why we selected these 3 is to serve you with inspiration for your Instagram stories campaigns, think about how you can achieve more with Stories Ads and also pointed out the results that you might expect from these type of campaigns.
Story example 1: Activia
This is a very appealing Instagram story created by the brand Active Italy. It uses Instagram stories to showcase healthy rituals of eating Activia in the snack timeframes
during the day.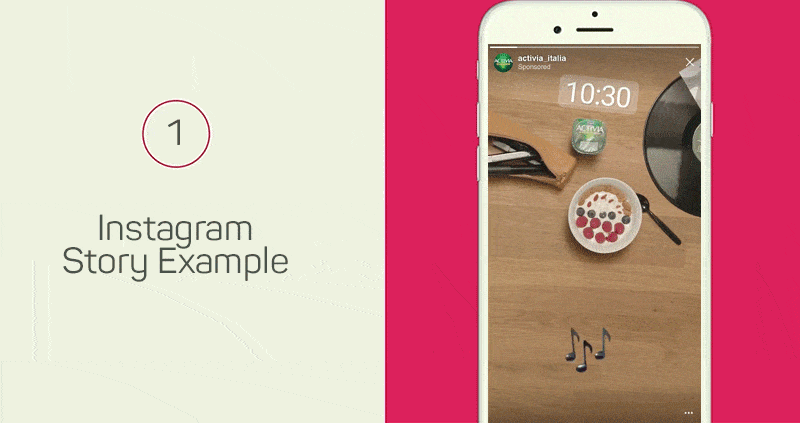 This is a video story that clearly showcases the amazing feature of the product that the brand tries to promote. In a simple boomerang type of video, this story shows the flexible-wear and neutral-colored T-shirts, allowing viewers to swipe up and shop from the brand's product catalog.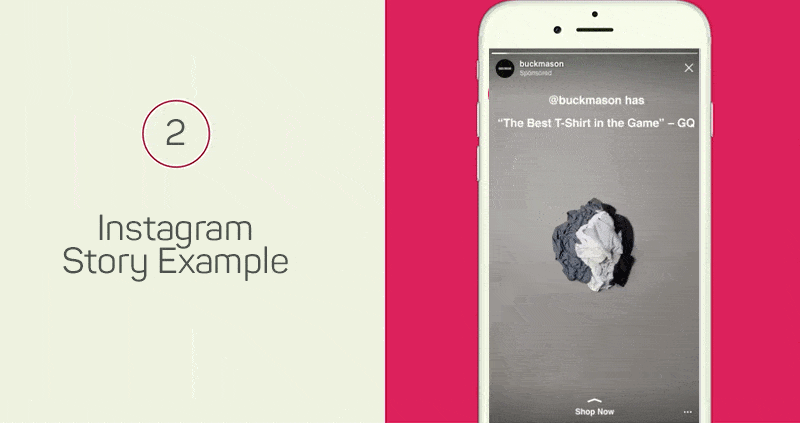 Story example 3: DriveNow
This is an example of a story campaign created by Drive Now, a German-based car-sharing service. It is a simple shot of the DriveNow car overlayed with native story type arrow and tag of the offer.
New features
At the 2019 F8 conference, the company announced interesting new features that will go live in the coming period. Here is a brief overview of these new updates:
Third-party apps integration – The Instagram platform is opening the app the Instagram stories format to third-party developers. This means that other apps can easily integrate their content with Instagram stories and allow users to share from their apps in stories. For example, Shopify users can share a song directly in an Instagram story where their followers can play it or navigate to Shopify to listen to more songs.
Camera effects platform for Instagram – Instagram has introduced new cool effects in the Instagram stories and is also making available for other developers to build effects that users can use in their stories.
Focus option – This option is already available on the Instagram App. Users can just focus on a person's phase and capture an incredibly professional story.
FAQ for Instagram Stories
How do I add a link to my Instagram story?
The links to Instagram stories are not available for all users. These links normally appear as a 'See more' text with an arrow icon at the center-bottom position of the story. According to the Instagram rules, right now, only verified accounts are able to add links to their stories.
But, you can of course pay for an Instagram ad and choose to add a link to your Stories Ad.
What is the best resolution for an Instagram story?
The best Instagram story dimensions are with aspect ratio 16:4. For example, you can use:
Story photos size: 1080px width x 1920px height
Story high-definition video: 1920px width x 1080px height
How to know how many people saw my Instagram Story?
This is very important for businesses in order to understand what works and what doesn't. The native Instagram app provides an Insights section, where businesses can view the stats for each of the stories they've published.
To view this information, just open your story and swipe up on the screen. In the Insights section, you will see the number of views and also the users who actually viewed your story.
How can I see who viewed an Instagram story?
Again this is related to the previous section, and as mentioned you just need to open the Instagram story and swipe up to see the list of Instagrammers who viewed the story.
How can I save or download Instagram stories?
There are few options on how to save Instagram stories and make sure you never lose your Instagram stories:
Save stories in Highlights
Archive stories in your Instagram account
Save stories in a web-based app
Save stories in your iPhones camera roll
What happens when someone mentions your Instagram account in their story?
When another person creates a story and tags your username, it will be visible in the story and their followers can click on it and view your Instagram profile page.
If someone tags you in your story, you will receive a direct message with the preview of the story. There is no option for you to ban people not to mention you in their stories, but you can report their story to the Instagram team for further review if they do not comply with their community standards.
If I take a screenshot of someone's Instagram story, will they be notified?
Yes. A mobile notification will be sent to the user that you've done a screengrab of their story.
###
Hope this guide helps you make the most out of Instagram stories, and help your brand active its goals. Feel free to share your thoughts in the comments below.
Instagram Stories Platform
Fetch, manage and display your Instagram stories on any website with shoppable links.