Recently, we were witnesses to a new digital innovation in the social media world known as Instagram Threads – a social media platform owned by Meta. This remarkable app that challenges Twitter brings a whole new dimension to the way we share, connect and communicate, centering around the power of text.
Threads enable you to connect with brands and creators who share their updates and passions in chronological feeds within the Instagram community and beyond. Moreover, this Twitter-like app can help you collect user-generating content (UGC) for your marketing campaigns.
So, in this blog post, we will show you real-life examples of how to collect UGC on Threads fast and easily. Let's start right below:
How to use Instagram Threads for UGC Marketing?
Using Instagram Threads app for UGC marketing can be an effective experiment to engage your audience, foster brand awareness, and generate authentic content. Although using hashtags so marketers can spread brand awareness is still not available in Threads, there are many other benefits on why you should collect UGC on Threads:
1. Increase brand visibility
UGC on Instagram Threads enables your loyal customers to become brand advocates. By showcasing their content, you empower them to feature their positive experiences with your brand and expand your reach organically. This way, your audience increases your brand visibility on Threads and shares your story by creating relatable content and getting featured on your profile.
2. Build a community
Threads create a dedicated space for your audience, allowing you to cultivate a highly engaged and active community. This sense of exclusivity encourages users to participate in your UGC campaigns, fostering deeper connections with your brand and other community members. The option for your followers to re-thread and reply to your threads open a chance to share opinions, pictures, and videos that can escalate to interesting communication between more people. This community-building aspect strengthens loyalty and encourages ongoing participation.
3. Get rich and unique content
Threads allow you to receive a wide variety of content formats, including text, photos, and video, as a reply to your posts. This diverse range of UGC provides you with extensive content to share as your main Instagram posts, show on your website, or other marketing channels. It also adds fresh perspectives, creativity, and relatability to your brand's content strategy that brings wider content options to share for your brand.
4. Gather insights and feedback
You can gain valuable insights into your audience's preferences, interests, and perceptions through UGC on Threads. You can gather detailed feedback, understand user sentiment, and identify trends that can be implemented in your future marketing strategies, product, and service development.
---
FYI: Embed Instagram widget automatically with the social media aggregator and UGC platform by EmbedSocial. Click below to try it for free: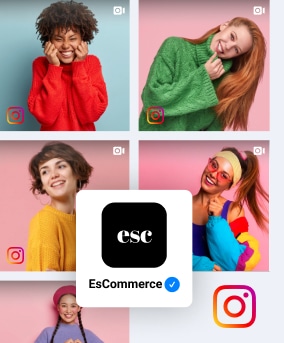 Embed Instagram widget on your website automatically!
Try EmbedFeed and display Instagram content from your feed, mentions, or hashtags on your website.
All PRO features | Cancel any time.
How to collect UGC on Threads?
Here are few ways you can collect user-generated content on the new Threads app:
Ask for it: Encourage users to share content relevant to your brand or product. This could be through a simple request or by creating a contest or challenge.
User tagging: Ask your users to tag your brand or use a specific hashtag (once hashtags become available) when they post related content.
Engagement: Make sure to engage with the content your users post. This could be through likes, shares, comments, or even featuring it on your own platform.
Incentives: Provide incentives for sharing content. This could be in the form of discounts, rewards, or even recognition.
Collaborations: Collaborate with influential users in your community for takeovers or shoutouts. This can significantly increase your reach and the amount of UGC.
Feature UGC: Regularly feature UGC from your community in your channels. This not only provides you with content to share but also incentivizes other users to create and share content about your brand.
Clear guidelines: Provide clear guidelines on what kind of content you're looking for. This could be a certain theme or format.
Permissions: Always ask for permission before using user-generated content. This is not only respectful but also legal.
Let the algorithm notice your brand – The algorithm takes into account the level of engagement a thread receives, including likes, comments, re-threads, and replies. Posts that receive higher engagement are more likely to be shown to a broader audience and go viral on the platform. A clear example of this is the famous American YouTuber Mr.Beast. He encouraged his followers to re-thread his post and participate in a huge giveaway for a Tesla car. This thread has over 140000 replies in the form of text, videos, and photos, which is by far the best post on his profile.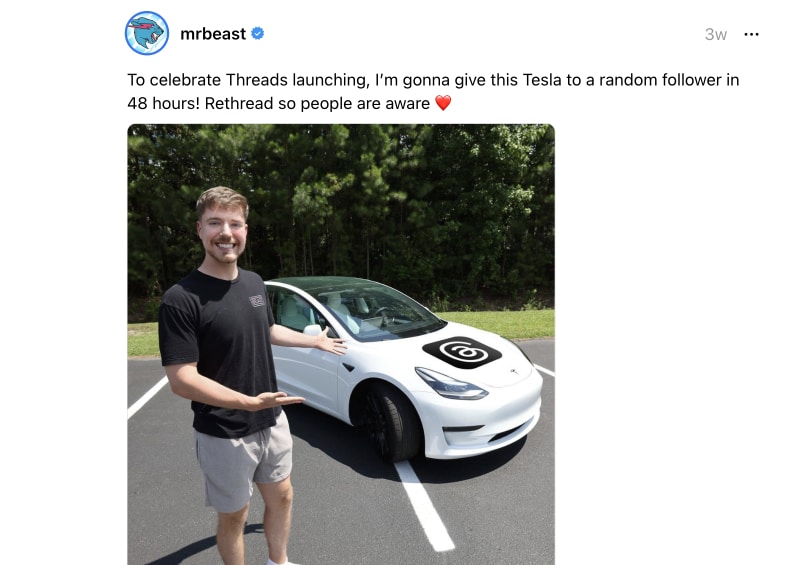 10+ Examples of UGC in Threads?
1. Glossier: Customers share their beauty looks
Glossier is a very social brand and, for years, has used social media to grow. The Glossier account on Threads is no different, and since the start of this social network, they've managed to engage with a significant following.
Customers share their satisfaction with the brand and tag Glossier on Threads for several reasons:
Unboxing and hauls: Users often share posts of their Glossier "hauls" or unboxing experiences. These posts typically include multiple products and offer a first impression or excitement about trying new items.

Product Requests and Comparisons: Some users tag Glossier to request specific products or shades or to compare Glossier products with those from other brands.

Community Engagement: Tagging Glossier also serves as a way to engage with the brand and its community. Users may tag Glossier in hopes of being featured on the brand's social media or to participate in discussions with other Glossier enthusiasts.

Makeup Looks and Tutorials: Users create and share makeup looks using Glossier products. These posts often include step-by-step tutorials, product lists, and photos of the final look.

Product Reviews and Recommendations: Many users share their personal experiences with Glossier products, including reviews, recommendations, and tips for use. These posts often include photos of the product in use, swatches, or before-and-after photos to demonstrate the product's effectiveness. As the example below: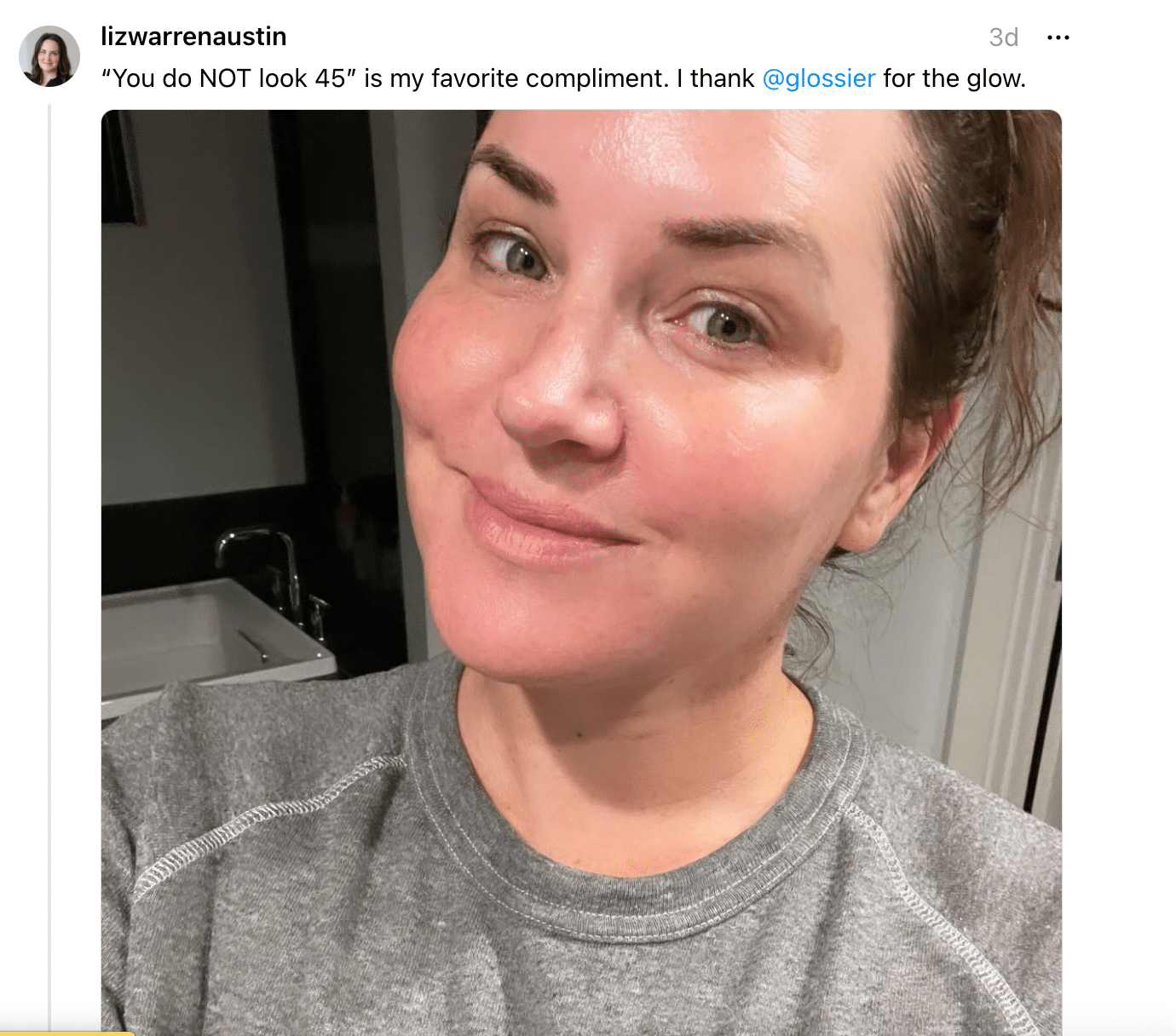 2. FashionNova: Loyal customers showcase wearing their products
FashionNova is one of the most popular fashion brands in the world, focusing on clothing for men and women. Their activity on social media is high, using different types of UGC, collaborations with social media influencers, fashion content creators, etc.
Their customers usually share their experiences and tag FashionNova on Threads for several reasons:
Product unboxing and hauls: People record their unboxing experiences and share try-on-hauls with the clothes from FashionNova.

Product reviews and showcases: Customers usually share their personal experiences with the FashionNova products and thoughts about the product's quality, prices, and final looks wearing the FashionNova clothes.

Community Engagement: People love to reply on FashionNova threads and

often share personal opinions there. They share photos and videos of their FashionNova orders and packages, generating unique content that others

can see.
For example, here is a post of a user showcasing their satisfaction with the FashonNova brand: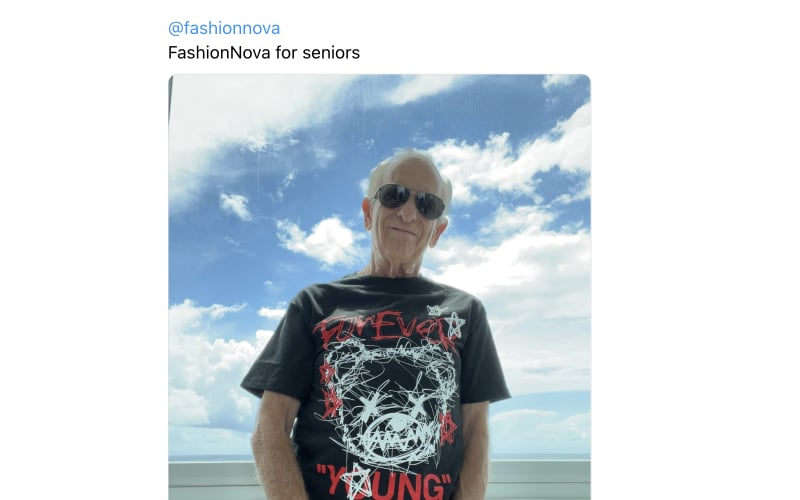 3. ButternutBox: UGC posts enriched with affiliate discount codes
Butternut Box is a UK-based pet food company that specializes in providing freshly cooked, personalized meals for dogs. The company aims to improve the health and well-being of dogs by offering nutritious and natural food options across different social media channels, including Threads.
The ButternutBox's Thread account is full of happy customers who share their dogs eating different food products. Also, the customers tag this brand for the following reasons:
Product unboxing and Showcasing: Customers also share photos and videos of ButternutBox's packages, their unboxing, and using the products.

Product recommendations: The happy ButternutBox customers post threads to recommend certain products from this brand to other dog owners. Also, they share discount codes where people can save money but still get some quality food for their dogs.

Product affiliates: ButternutBox has loyal ambassadors who share their discount codes together with interesting photos to capture potential customers and have them use the discounted codes. Below is a clear example of it: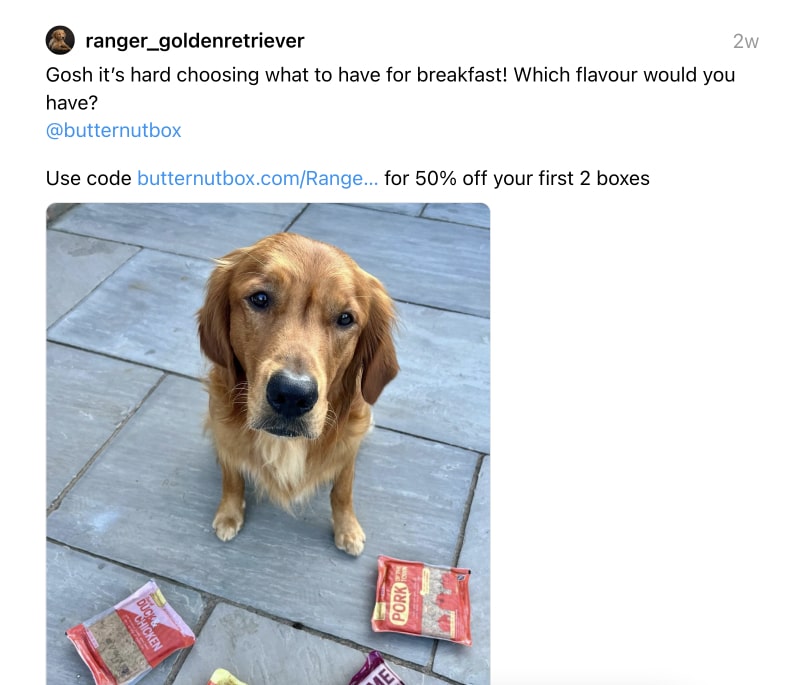 4. GoPro: Users share their experience of using the product in real-life
GoPro is a popular action-camera company offering different camera types, enabling 360-degree capture. The brand's popularity has grown significantly, and its cameras have become synonymous with action-packed adventures and stunning footage. Their way of collecting UGC on their social media is amazing, featuring all customers around the world with their stunning photos and videos. Here are some examples of how GoPro customers share their experiences on Instagram Threads:
Product reviews: GoPro customers write or create video reviews sharing their thoughts and opinions about their GoPro camera. These reviews often discuss the camera's features, performance, durability, and overall user experience, helping potential buyers make informed decisions.

Sharing product tips: Customers who are skilled in using their GoPro cameras often share tutorials, tips, and recording tricks on Instagram Threads. These posts provide guidance on how to capture better footage, utilize various settings, and edit videos for impressive results.

Personal experiences: The most common way GoPro customers share their experiences is through action-packed videos and photos. Using their GoPro cameras, they capture thrilling moments during outdoor activities, adventures, sports, or travel. These videos often showcase the camera's capabilities in extreme conditions, giving viewers a firsthand experience of what it's like to use a GoPro. Here is an example of how GoPro users share their experiences on Instagram Threads: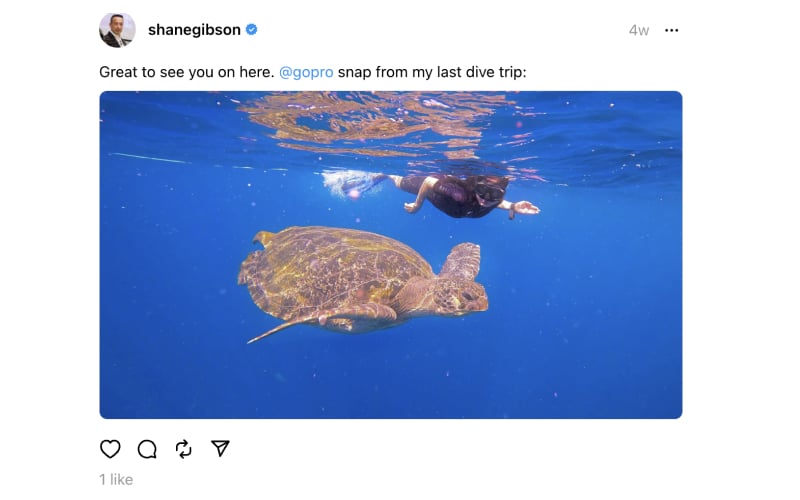 5. Coca-Cola: UGC for fun flavor recommendations
As the most popular brand for drinks, Coca-Cola has amazing UGC campaigns across social media. Consumers around the world frequently share their moments of drinking Coca-Cola drinks, creating a great opportunity for the company to spread its products online thanks to happy customers. That's the situation on Instagram Threads too, where customers post their experiences in different ways:
Personal Experiences: Coca-Cola consumers usually share photos and videos of their Coca-Cola drinks, how they consume them, or how they serve them at a dinner, family launch, beach, etc.
Product Recommendation: Many people tag Coca-Cola drinks as ingredient recommendations for a certain cocktail drink and similar drinks during the summer.
Community Engagement: People love to reply on Coca-Cola threads and often share personal opinions there. They reply and re-thread Coca-Cola questions, participate in emoji challenges on Coca-Cola Thread profile, etc.
This example shows how people share Coca-Cola drinks on Threads, asking for opinions and recommendations: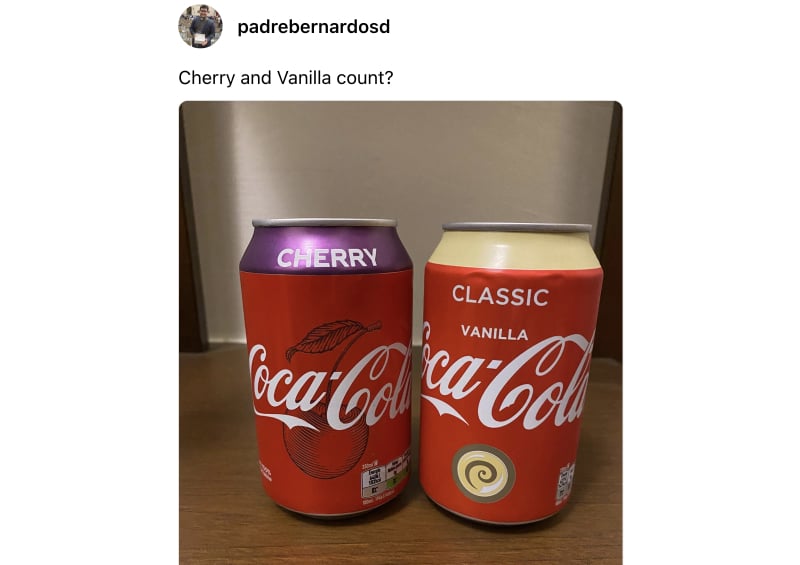 https://www.threads.net/@padrebernardosd/post/CukSGrnvuRc
6. Starbucks UGC Example of Community Engagement
Starbucks is another world brand that is popular for its UGC on social media. When it comes to Instagram Threads, customers share their experiences in various ways, celebrating their love for the brand and the unique moments they have with Starbucks drinks. Here are common ways Starbucks customers share their experiences as threads:
Product usage: Starbucks customers frequently post photos of their coffee and beverage orders on threads. These posts often showcase beautifully crafted drinks with personal names, creative latte art, and seasonal specials, sharing their coffee experience with their followers.

Starbucks cup collection: Many Starbucks fans love collecting and showcasing their Starbucks cup designs, especially limited-edition or seasonal cups. They proudly share their cup collections, displaying their loyalty and passion for the brand.

Starbucks stores and locations: Customers enjoy sharing pictures of their favorite Starbucks stores and locations, especially unique or iconic ones. These posts highlight the cozy ambiance, store decorations, and settings that make visiting Starbucks an enjoyable experience.

Community engagement: People love to reply on Starbucks threads, and they often share personal opinions there. They also share photos of Starbucks orders, generating unique content that other people can see with tagged threads profile, as shown in the example below: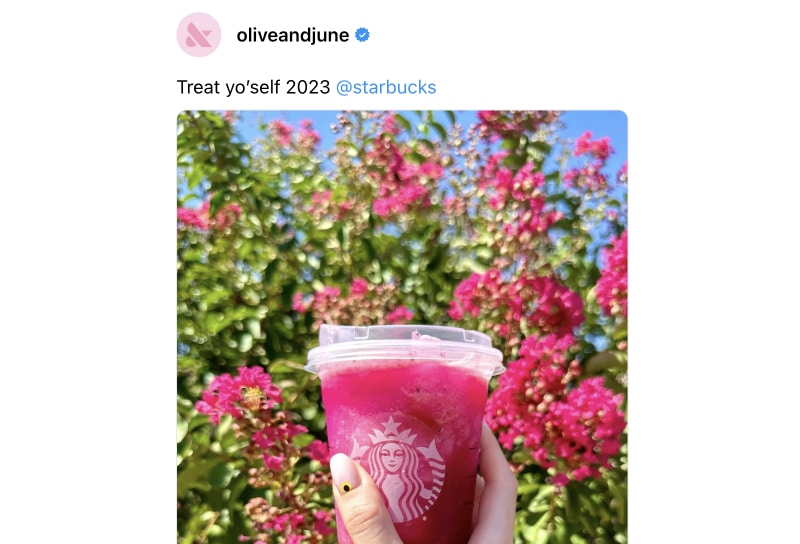 7. Doritos UGC Example of Creative Brand Communication
People love snacks, so Doritos is one of the brands that is the first snacking choice for more and more people worldwide. Fans express their love for the brand and their snacking experiences through various forms of content on Threads. Here are some examples of how fans engage on Doritos Instagram Threads:
Product Showcase: Doritos lovers often post mouthwatering pictures of their favorite Doritos flavors and varieties on Threads. These posts showcase the chips' vibrant packaging and enticing appearance, encouraging others to indulge in their snack cravings.

Product Reviews: Customers love to share their thoughts and opinions on different Doritos flavors they've tried. These flavor reviews offer insights into taste preferences and help others decide which flavors to try next.

Unboxing Videos: Doritos customers create unboxing videos when they receive special editions or new Doritos flavors. These videos add excitement and anticipation, generating engagement and curiosity among viewers on Threads.

Creative Snack Hacks: Doritos fans get inventive with their snacks, creating unique snack combinations or using Doritos in recipes like nachos, dips, and casseroles. They share their delicious creations, inspiring fellow Doritos lovers to experiment in the kitchen.
Here is an example of a UGC video of a creative and engaging way how Doritos fans communicate with the brand on Threads: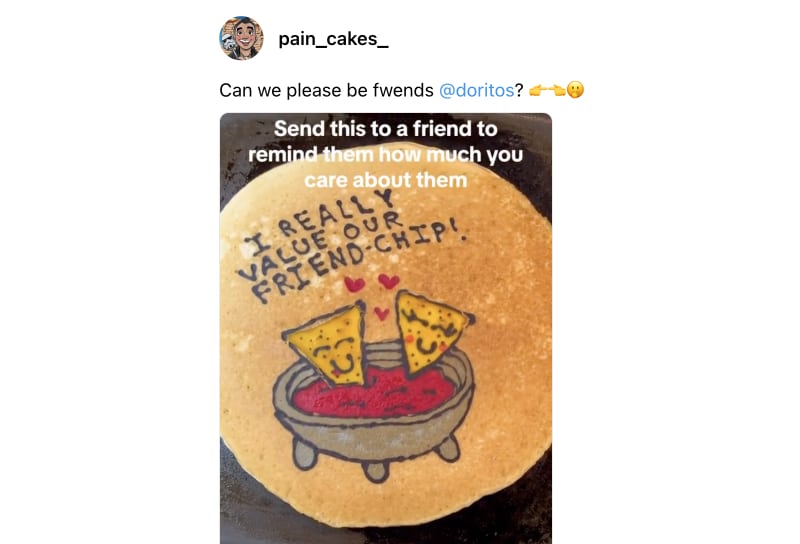 8. KFC UGC Example of Store Showcase
KFC (Kentucky Fried Chicken) fans enthusiastically share their love for the brand and their dining experiences through various forms of social media content. KFC's Threads profile is full of photos and videos from their customers, constantly sharing their orders on the platform. Their followers also show what they eat and share pictures from their favorite KFC stores and locations. Here are other ways how KFC customers share their experiences on Instagram Threads:
Product Reviews: KFC customers often post delicious photos of their favorite KFC meals as threads. These mouthwatering images showcase the crispy fried chicken, flavorful sides, and tempting desserts, enticing others to enjoy the KFC dining experience.

Product Recommendations: Customers love to share their honest opinions and experiences about their KFC meals on Threads. These reviews provide insights into menu items, taste preferences, and recommendations for other customers.

Nostalgic Memories: Customers often share nostalgic content related to KFC back in the day, reminiscing about their favorite childhood memories of visiting the restaurant or enjoying KFC with family and friends.

Sharing KFC Restaurants and Locations: KFC lovers often post pictures and videos of their visits to KFC restaurants, showcasing the ambiance, service, and unique features of different locations. Here is an example of it: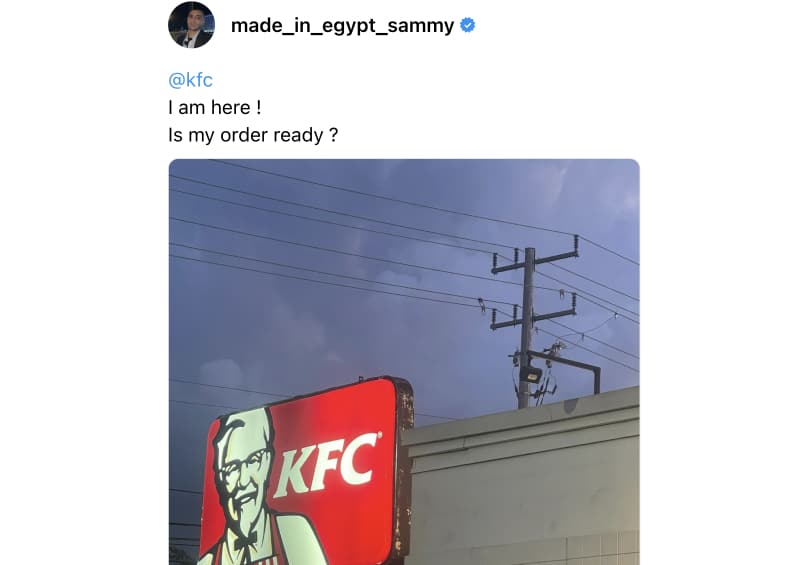 9. Spotify UGC for brand promotion
Spotify is one of the biggest music streaming platforms in the world, and millions of users use it to listen to their favorite songs. Regarding UGC, Spotify users express their love for the music streaming platform and their music experiences through various threads. Here are common ways Spotify customers tag Spotify on Instagram Threads:
Song and Playlist Shares: Spotify users frequently share their favorite songs and playlists, seeking opinions from other people on Threads. These posts allow them to showcase their music taste, discover new tracks, and connect with others who share similar musical interests.

Music Recommendations: Users love to recommend music they've discovered on Spotify to their friends and Threads followers. They share songs, albums, or artists they think others might enjoy, fostering a sense of musical community.

Spotify Wrapped Playlists: In addition to Wrapped reports, users may share their Wrapped playlists with their followers, providing them with a curated selection of their top songs from the year.

Podcast Recommendations: Spotify offers a wide range of podcasts, and users share their favorite podcast recommendations to engage others and encourage them to explore the diverse podcast content available on the platform.
Below is an example of how Spotify users share their songs and album wishes to find on the platform: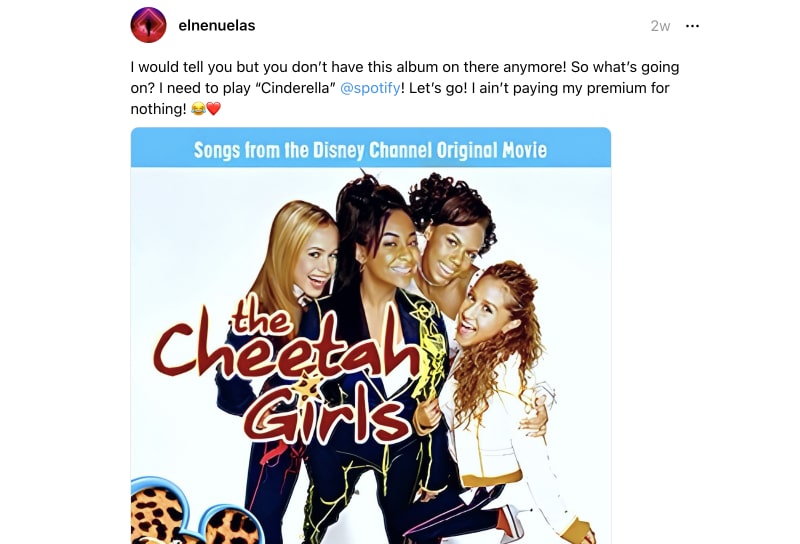 10. PlayStation UGC Example of Custom Product Showcase
PlayStation is a popular gaming platform developed by Sony, known for its cutting-edge consoles and a massive library of video games. With a global community of passionate gamers worldwide, PlayStation has become a household name on social media, shaping the gaming industry and delivering unforgettable adventures for players worldwide. This is a case on their Instagram Threads profile, where fans tag them and post photos for several reasons:
Gameplay Clips and Screenshots: PlayStation gamers frequently share interesting gameplay clips and screenshots. These threads highlight exciting moments, in-game achievements, or stunning visuals showcasing their gaming skills and favorite games.

Game Recommendations: Gamers love to recommend their favorite PlayStation games to friends and followers. They share their thoughts on threads such as storylines, gameplay mechanics, and overall gaming experiences, helping others discover new titles to enjoy.

PlayStation Consoles Customization: Players showcase their PlayStation console themes and personalized setups. They share their creative console backgrounds, avatars, and controller customizations, expressing their creativity and taste as gamers. Here is an example right below: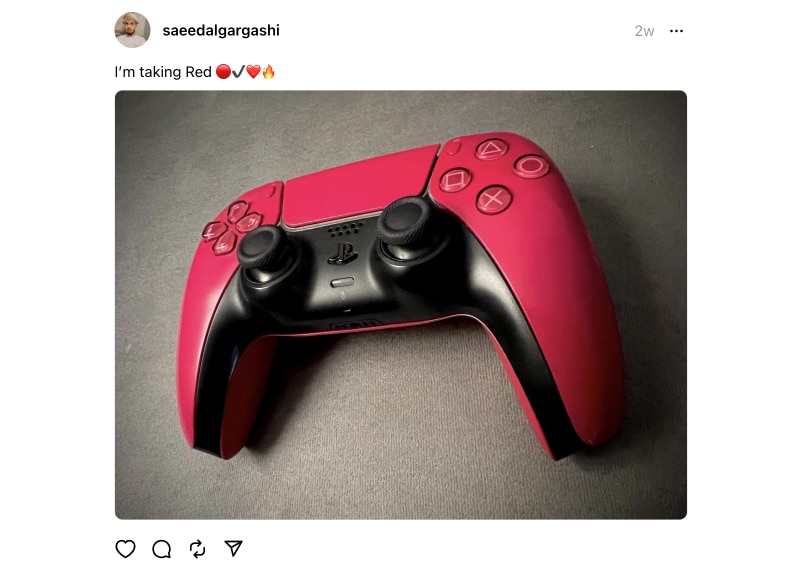 What is a good Instagram Threads social strategy?
A good Instagram Threads social strategy involves leveraging the platform's unique features to make deeper connections with your existing audience, reach other people with similar interests, and build an engaged community. Here are key components of how to produce a successful Instagram Threads strategy:
1. Share personalized content
Tailor your content to your Instagram Threads audience. Share behind-the-scenes footage, sneak peeks, or exclusive announcements to make them feel valued and part of an exclusive community. This personalized approach encourages trust and loyalty among your followers.
2. Make your Threads authentic
Use Threads to tell authentic stories about your brand, team members, or products. Authenticity resonates with audiences and encourages them to connect on a deeper level. Share interesting moments, challenges, and ask questions to humanize your brand.
3. Post frequently
Unlike regular Instagram content, Threads is designed for more frequent posts without overwhelming your follower base. Utilize this advantage to share daily snippets, short videos, or quick updates. The more frequent and consistent your posts are, the more likely your followers will develop a habit of checking your Threads regularly. However, ensure that your content remains relevant and valuable to maintain a good engagement rate.
4. Be expressive
Threads allows you to utilize a variety of creative tools, such as stickers, GIFs, emoji reactions, etc. Your followers can also reply to your threads with images, videos and tag your brand as well. Embrace these features to add personality and flair to your content. This will help in making your followers feel more connected, bringing authenticity and creativity with a stronger emotional bond.
5. Engage and respond
Actively engage with your followers by responding to their threads replies and commenting on their threads too. Show appreciation for their support and encourage discussions to strengthen the sense of community. That's how they will feel noticed and important, which is a key factor for building trust and brand awareness on Threads and all social media channels.
Embed UGC posts from Threads on your website
In the text below we will show you to ways to embed Threads posts on your website, native and with EmbedSocial.
Option 1: Embed Threads post with the native option
This option is great if you only need to embed one post on your website. It will showcase the entire post with the same design as from the Threads app. Here are the steps below:
Navigate to a post you want to embed and click the top right three dots icon
In the small popover, click Get embed code, and the code will be copied onto your Clipboard
Paste the code into your website; see the example below:
Post by @mosseri

View on Threads
Option 2: Embed multiple threads posts in a custom widget
If you need to embed more posts and create a custom widget that contains multiple Threads posts, it is better to use a UGC platform.
Although Threads is a very new platform, and EmbedFeed still doesn't provide an API integration feature, we can still provide a manual option to create Threads feed widgets for your website.
Before you start, make sure you have an account or sign in for a free trial here >
Go to Sources and pick Custom source

For the source name, write Threads, and in the source page settings, upload the Threads logo – you can find it here:

Click Add post and in the popup, continue to fill in the post text, the name of the user that published the content, and the date.

Repeat these steps a few times, as many posts as you like to include in the widget.
That's it. You will be now able to showcase the posts that mention your brand on Threads.
---
FYI: Embed Instagram widget automatically with the social media aggregator and UGC platform by EmbedSocial. Click below to try it for free: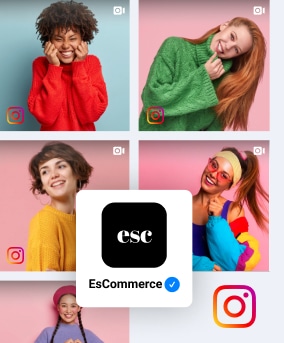 Embed Instagram widget on your website automatically!
Try EmbedFeed and display Instagram content from your feed, mentions, or hashtags on your website.
All PRO features | Cancel any time.
Conclusion
Instagram Threads is a new social media attraction that managed to attract millions of accounts and has proven to be a very serious competitor to Twitter (or X).
It's an exciting opportunity for marketers and content creators to use the power of user-generated content (UGC) like never before. For now, Threads presents a golden opportunity for brands seeking to strengthen relationships with their most devoted fans and customers. By curating exclusive content and sharing it with a select group rather than the vast Instagram community, brands can create a sense of exclusivity that resonates with their most loyal followers.
This personalized approach allows marketers to communicate consistently with their core audience, offering them unique insights and interesting opportunities to build a strong community. Sharing behind-the-scenes moments, exclusive offers, and asking interactive questions can also boosts brand advocacy and word-of-mouth marketing. As Instagram Threads continues to evolve, leveraging Threads' personalized approach can curate content that resonates with their most engaged audience.
FAQ about collecting UGC on Threads
What are the benefits of collecting UGC?
There are many benefits to collecting UGC. UGC can:

Help you connect with your audience. When you feature UGC on your Threads account, you are giving your audience a platform to share their stories and experiences. This can help you build stronger relationships with your followers.

Generate more engagement. When users see their own content featured on your Threads account, they are more likely to engage with your content, such as by liking, commenting, and sharing it.

Improve your content. UGC can give you valuable insights into what your audience wants to see. You can use this feedback to improve your content and make it more relevant to your audience.
What are the legal considerations of collecting UGC?
When you collect UGC, it is important to be aware of the legal considerations. You need to obtain the user's consent before you can use their content. You also need to make sure that you are not using the content in a way that violates the user's privacy or intellectual property rights.
How can I use UGC effectively?
There are a few things you can do to use UGC effectively:

Give credit to the creator. When you feature UGC on your Threads account, be sure to give credit to the creator. This will show your appreciation for their work and encourage them to create more UGC for you.

Use UGC in a variety of ways. You can use UGC in a variety of ways, such as in your posts, stories, and ads. You can also use it to create new content, such as videos or collages.

Promote your UGC. Once you have collected UGC, be sure to promote it on your Threads account and other social media platforms. This will help you reach a wider audience and get more engagement.