User-generated content comes in many forms, all of which can be used to promote your business with engaging blog posts, product reviews, thrilling ads, and other marketing initiatives.
We show you several such UGC marketing campaigns below, and they all capture the public's imagination, boost awareness for their brands, and help build valuable customer relationships.
Keep reading to see how you can get people talking about your company today!
What is a user-generated content campaign?
A user-generated content (UGC) campaign is a marketing strategy where brands encourage their customers, followers, or the general public to create and share content related to the brand or a specific theme or topic. This consumer-generated content can be photos, videos, testimonials, reviews, blog posts, tweets, or any other content shareable on digital platforms.
Here's a breakdown of what a UGC campaign must include:
Objective: Brands initiate UGC campaigns with a specific goal in mind, such as increasing brand awareness, promoting a new product, or building community engagement;
Call to Action (CTA): Brands also provide a clear CTA to their audience, prompting them to create content in the form of a contest, a challenge, or a request for stories;
Incentives: To encourage participation, brands might offer rewards, such as prizes, discounts, or the chance to be featured across the brand's official channels;
Platform: While UGC can be shared anywhere, brands often specify the platform depending on the methods they use to collect the user-generated content they need;
Moderation: Brands usually monitor and moderate the content to ensure it aligns with their guidelines and brand image to avoid potential negative publicity;
Showcasing UGC: The collected content can be showcased on the brand's official channels, such as their website, social media profiles, or even in advertising campaigns. Furthermore, the ability to embed UGC on a website will provide authentic content that builds trust and helps potential customers make better decisions.
Engagement: UGC campaigns often lead to increased engagement, as the content is relatable and created by peers or fellow consumers.
A successful UGC campaign combines strategic planning, genuine user engagement, and adaptability. By valuing and showcasing user contributions, brands can build stronger relationships with their audience and benefit from authentic endorsements. They drive sales, after all!
Did you know: UGC videos are the most impactful content to use in your campaign!
1. Coca Cola's "Share a Cocke" Campaign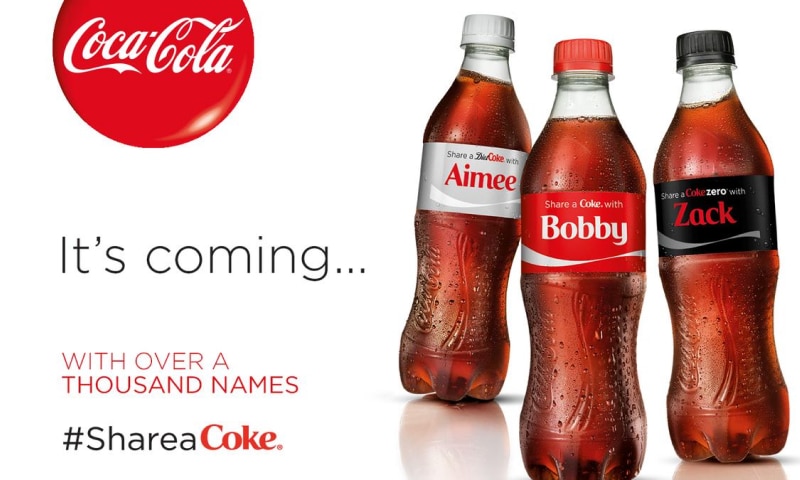 Coca-Cola had the most amazing UGC campaign of all time. Do you remember the "Share a Coke" campaign? Of course you do!
Their marketing team came up with the idea in 2011 when they decided to print around 150 most common male and female names in Australia and put them on their bottles. The idea was to encourage people to share a Coke with their loved ones.
And people went crazy about this trend! Everybody was buying personalized bottles, shooting thousands of photos, and sharing them on social media.
The idea was welcomed in 80 other countries worldwide, and people got really excited. Social media platforms were flooded with photos of people sharing a Coke.
---
FYI: Embed Instagram widget automatically with the social media aggregator and UGC platform by EmbedSocial. Click below to try it for free: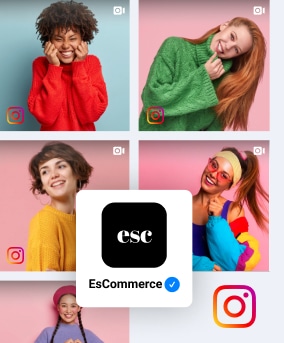 Embed Instagram widget on your website automatically!
Try EmbedFeed and display Instagram content from your feed, mentions, or hashtags on your website.
All PRO features | Cancel any time.
2. Apple's #ShotoniPhone Campaign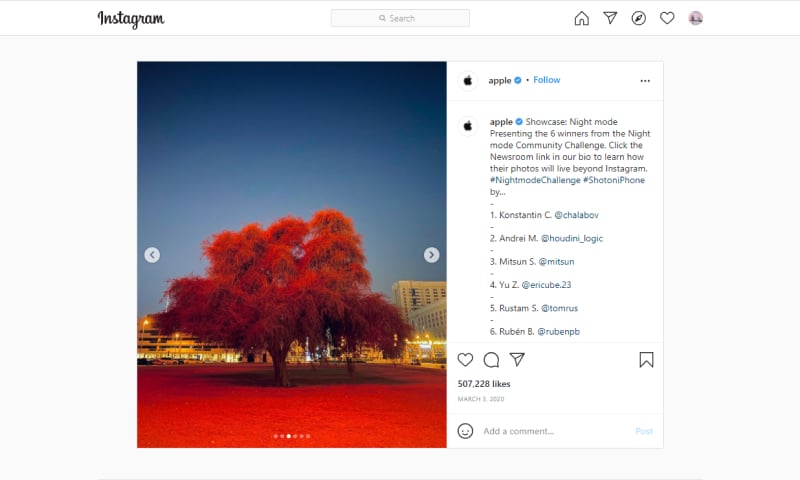 Remember when iPhone users were disappointed in the not-so-good quality of their cameras?
The company thought of an awesome way to make things right. Apple realized their customers were unsatisfied with the average camera capabilities of pictures in low lights, so they launched a campaign called "Shot on iPhone." The company wanted to redeem the trust they lost and bring attention to what makes an iPhone special: its ability to take great photos.
The final result? Pro users were taking photos in low light with their iPhones, then posting them online for others to see, especially on YouTube with the "Shot on iPhone" tag.
This campaign showcased some wonderful everyday visuals that can only be captured using Apple's amazing lens of the newest iPhone cameras.
3. Starbucks's #WhiteCupContest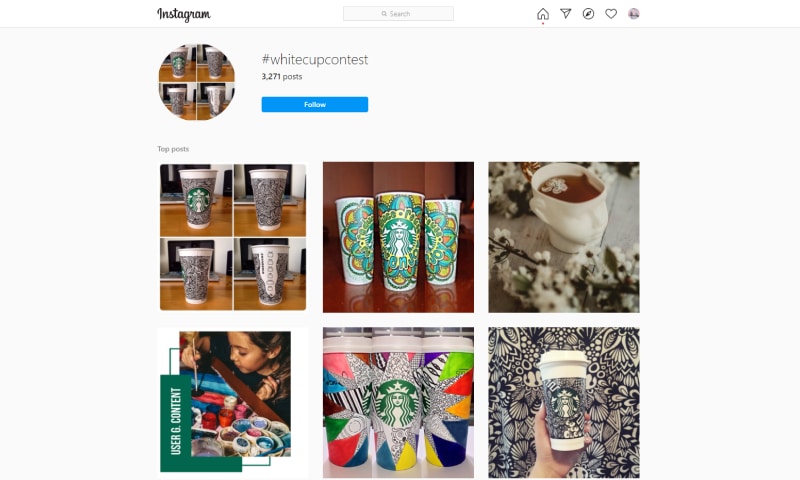 In 2014, Starbucks started a great campaign called #WhiteCupContest—it included a contest where customers were encouraged to draw something artistic and creative on their white cups.
The winning drawings would be used as templates for future cup designs by the company, which inspired people as it allowed them to create unique art in ceramic ware.
Due to the success of this campaign, Starbucks came up with a new contest named #RedCupArt challenge in 2016. Their second big campaign also got positive customer feedback from customers by generating huge social media activity on Twitter & Instagram.
Why? Well, anybody could participate, and it's related directly to the customer's favorite product, making this strategy super easy for people who love your company even more.
4. Glossier's UGC Instagram Hashtag Campaign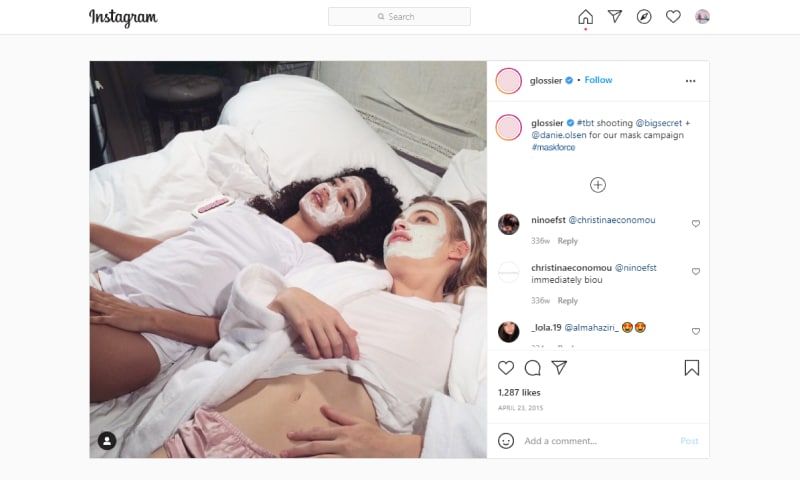 Glossier is a beauty brand that relies on customer-submitted imagery to get the word out. It regularly posts pictures of people using its products and heartwarming stories from customers who have fallen in love with the brand's affordable skincare line. After all, Glossier gives them back the self-confidence they lost and brings out their inner beauty to the surface.
Instead of expensive model and product shots, the company focuses on user-submitted photos shared only one at a time across social media pages – an emerging trend for beauty brands.
When the brand launched its Mega Greens Galaxy masks, thousands of its consumers shared their photos wearing them and using the #MaskForce hashtag under the photos. Glossier reposted the photos, which caused even greater engagement among its users.
5. National Geographic's #WanderlustContets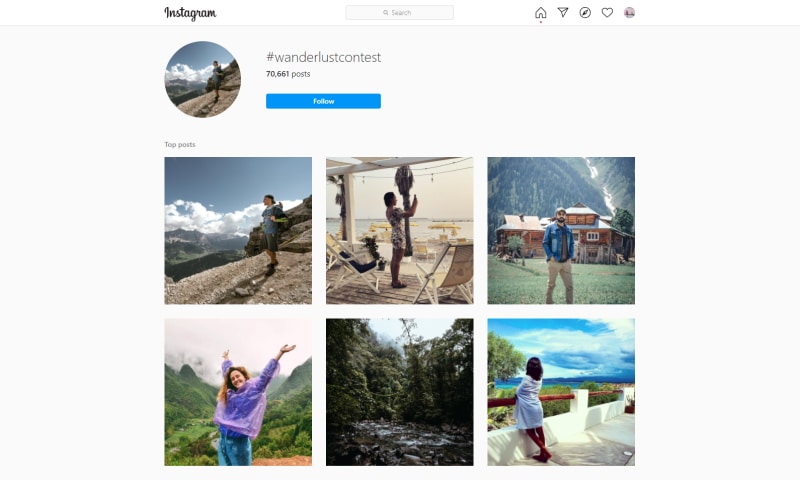 Even National Geographic created a powerful UGC campaign to gain followers and a high engagement rate. Best of all, they did it in a very original way.
Published under the hashtag #WanderlustContest, National Geographic promoted a healthy outdoor lifestyle by having users share their best nature shots.
The contest proved extremely popular, and the winner received an amazing 7-day trip for two adults exploring Yosemite National Park, which has some stunning views perfect for picturesque shots like the ones taken by the contest participants.
6. Calvin Klein's #MyCalvins Campaign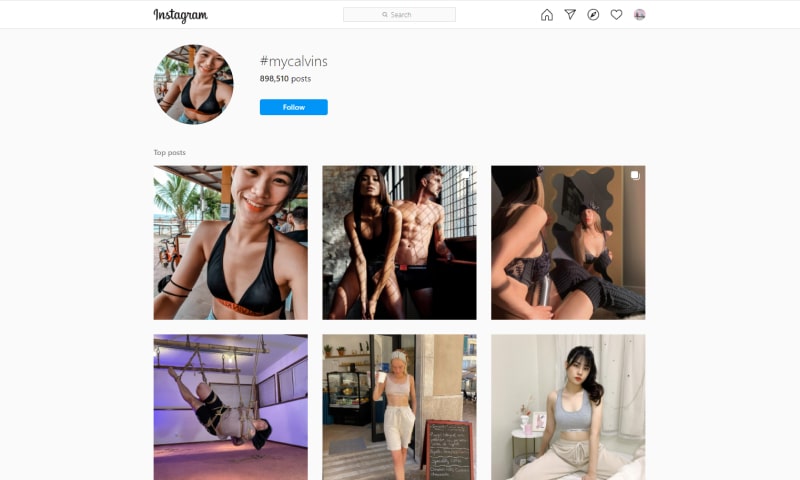 Creating user-generating content campaigns for fashion brands is one of the most effective marketing strategies around—it results in increased traffic, conversions, and ROI.
Fashion brands have quickly discovered these benefits and started using user-generated content to see a lift in conversion rates and reduced costs per acquired customer.
For instance, Brooke Shields uttered "Nothing Comes Between Me and My Calvins" in the 80s, making it possible for people worldwide to feel connected through their underwear.
Calvin Klein recently reused the tagline to come up with #MyCalvins—an Instagram contest inviting everyone to share photos of themselves wearing the brand's products for an opportunity to be featured on Calvin Klein's website gallery. Guess what? It went viral!
In just a few months, the hashtag #MyCalvins took over Instagram and boasted over 190,000 photos tagged by all kinds of UGC creators—both young and old!
In the end, this campaign connected more with the brand's audience than any influencer post or paid ad ever could, thus gaining them millions of followers across most social media channels.
7. GoPro's Ongoing Hashtag Campaign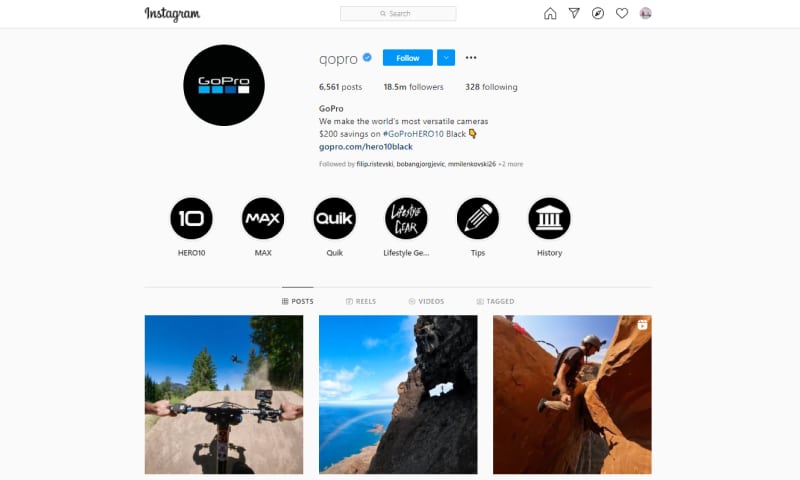 Did you know that the #GoPro hashtag has over 50 million posts? Apparently, people like sharing their own adventures and reading about other people and what they get up to!
This brand is a favorite among outdoor enthusiasts as it sells high-quality, durable cameras for those who want their thrilling outdoor lives filmed on camera – so naturally, many people are sharing gorgeous shots taken all across the world in all kinds of scenarios.
All this user-generated content points out exactly how GoPro enhances the way you capture images and videos from your explorations, thus helping convince potential customers to purchase their products and share their own creations with like-minded adventurers.
It makes you wanna have it, doesn't it?!
8. #AtTheMoxy Moxy Hotels Campaign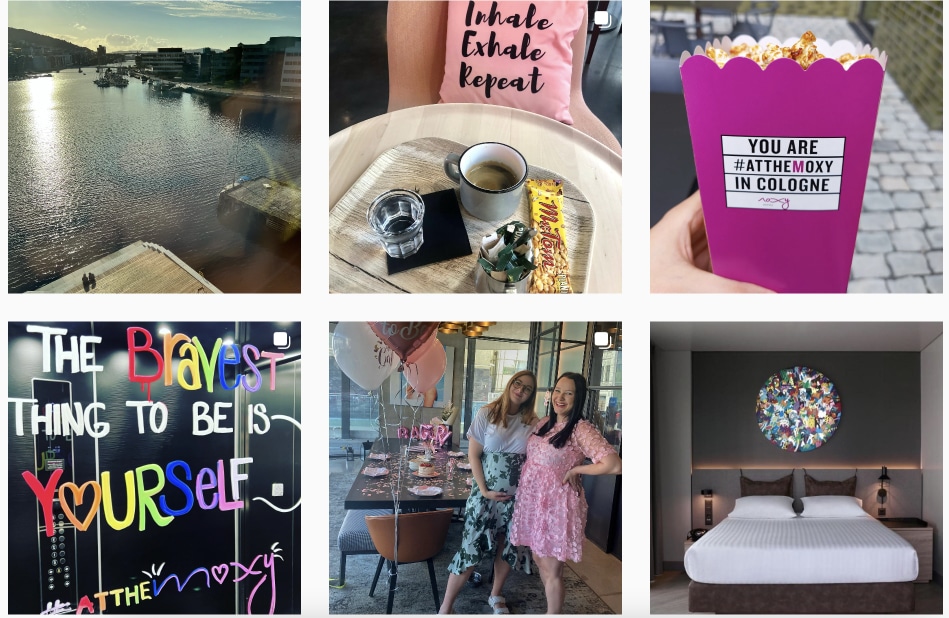 #AtTheMoxy is an ongoing Instagram campaign for Marriott International's Moxy Hotels, and it has one goal: to promote the new brand by encouraging followers to post photos of themselves using this unique hashtag for a chance to be featured on the brand's page.
The unique aspect of this campaign is the physical activation points spread across the hotel, like the elevators, toilet stickers to make selfies, TV screens with recent tags, and similar social media posts, all of which allow Moxy to connect with its audience and create brand-relevant content.
So far, the campaign has more than 80,000 photos posted using the branded hashtag.
9. Netflix – Stranger Things 2
How about an inspiring UGC campaign based on the hit Netflix series Stranger Things?
BFG Agency and Telescope promoted the second season of Stranger Things to increase fan interaction, and they chose to use uPic—an image uploader with filters and flare to build brand awareness—to allow fans to transform themselves into one of the show's characters.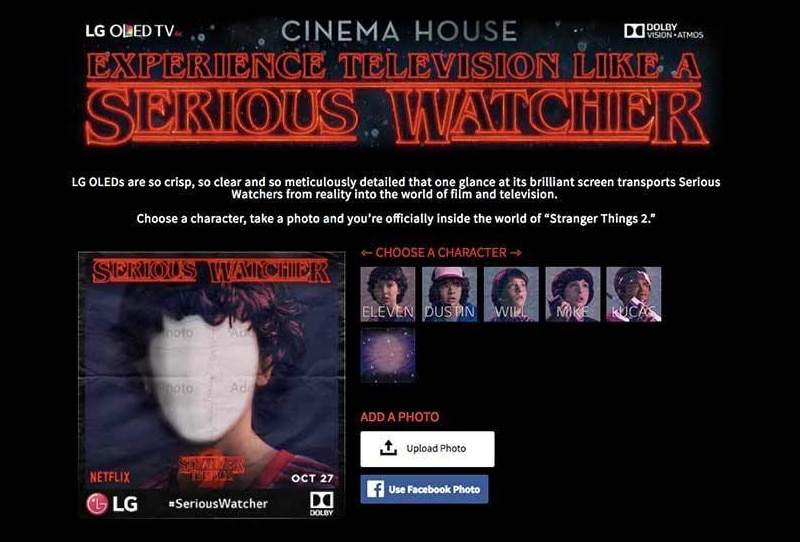 Are you a fan of the enigmatic Eleven or the down-to-earth Mike? No matter; you only had to provide a snapshot of your face, and you would have been transformed into either of them.
Moreover, you could scale, spin, and change the brightness to ensure the best fit and overall look match. Then, users were able to share their themed selfies to their social media accounts.
The images were also published in the show's official gallery for other fans to see.
10. Adobe – The Art Maker Series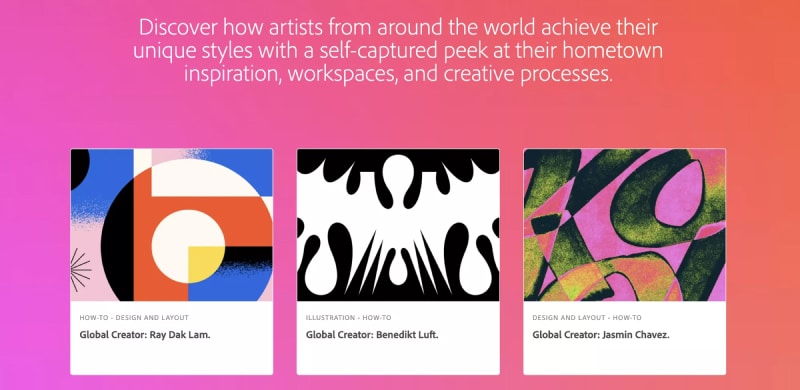 Adobe, the most popular provider of digital art software tools, had the brilliant idea to promote creative designers and artists through hashtags. Thus, they began the Art Maker Series. Here, Adobe invited creative designers to showcase their talents in quick-paced videos.
The main contest requirement: participants could only use Adobe's suite of tools, such as Illustrator, Photoshop, etc. Moreover, only original artwork was accepted.
One could say they hit the nail on its head since there's no better task you could give your creative target audience than to come up with fantastic artwork of their own.
Ultimately, the company used the content as user suggestions, for product marketing, and to create all kinds of other endorsements. Today, you can find all this work in Adobe's Creative Cloud program under the Global Creators label.
They also utilized the hashtag #AdobePerspective, which allowed selected designers to publish their original works and use those of other users, thus interacting with different creatives.
The main purpose of the entire campaign was to show off the vast capabilities of Adobe's products and empower new users to broaden their creative horizons and get inspired.
11. Chipotle – The Lid Flip Challenge
Chipotle actively works on engaging young people through its app, as evident from the various social media campaigns it organizes to engage zoomers and millennials with its brand.
For instance, in collaboration with the Day One agency, Chipotle organized a challenge to drive interest in their app. Why? Forecasts showed that digital orders will skyrocket soon.
For the so-called Lid Flip Challenge, thousands of creators were asked to put their creative spin on a method for assembling burrito bowls, as shown by a real Chipotle employee.
They created the aforementioned hashtag contest together with David Dobrik, who, in addition to being one of the most popular internet celebrities, is a Chipotle superfan.
All you needed to participate was a phone and a mouthwatering Chipotle burrito bowl.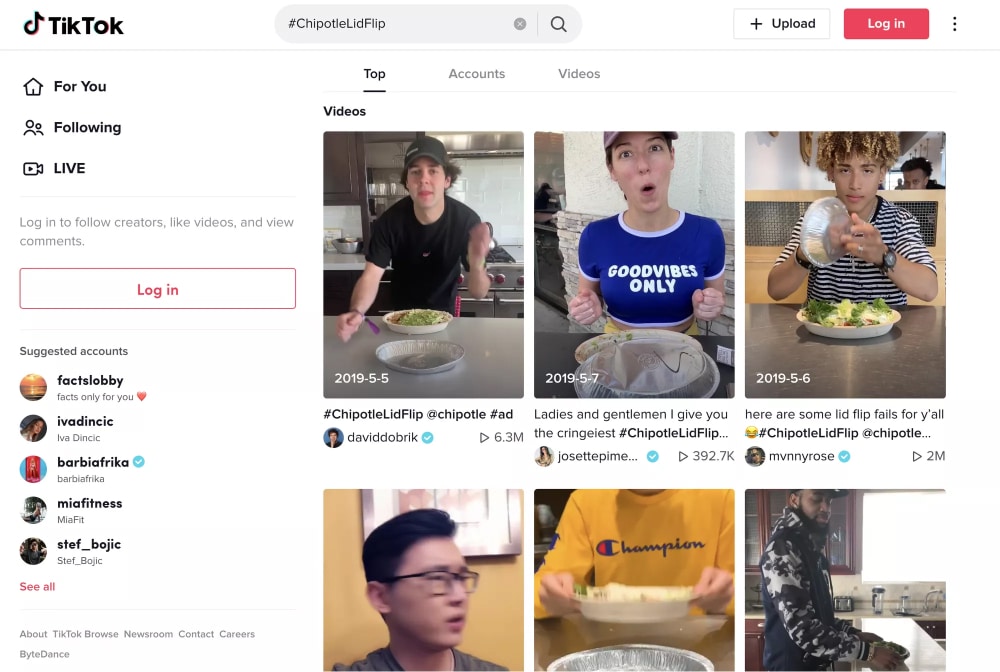 Over 111,000 videos were recorded in just the first six days, which resulted in a record-breaking online sales day, encouraging app downloads and online orders among Gen Zedders.
12. KFC – Chicken Sandwich
When KFC launched their new chicken sandwich, they wanted to expand their campaign to the larger community to generate demand memorably and entertainingly.
KFC already had an active and engaged TikTok fan base, which meant they had a good chance to create one of the most popular user-generated campaigns ever.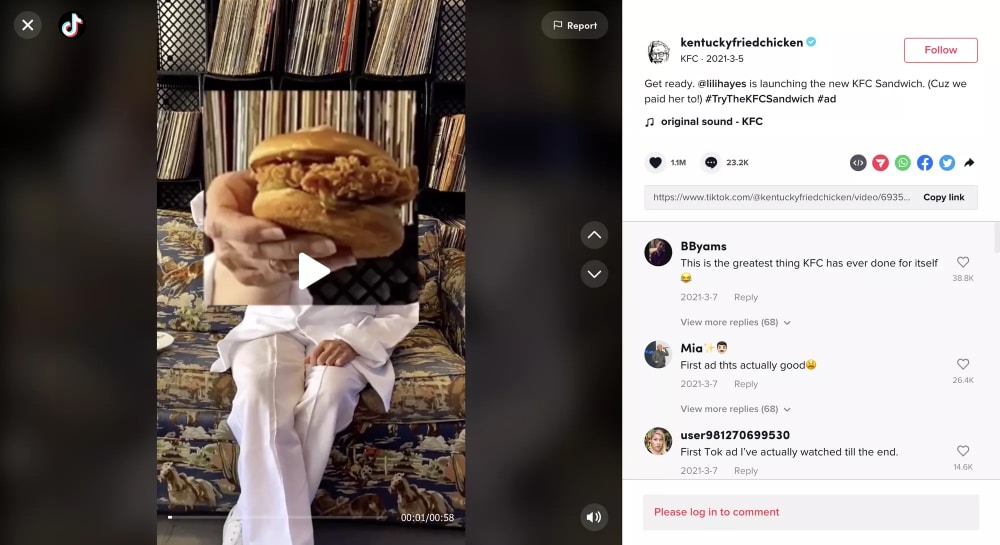 KFC sought to make a major impression to create widespread interest in and demand for their new chicken sandwich. They anchored the campaign with two TopView advertisements to make sure it had the most impact possible.
Note: the biggest marketing goal on TikTok is called TopView. It's the opening video for the app. Therefore, it's an excellent option for more critical launch events.
KFC collaborated with TikTok producers to bring their TopViews to life in a genuine way for their debut campaign in the US. The Internet's favorite granny, Lili Hayes, was the face of the campaign. She was the star of KFC's inaugural TopView, portraying Colonel Sanders and walking viewers through the scrumptious components and characteristics of the sandwich.
The brash 73-year-sardonic old's charm was on full show. As she marketed the more prominent, crunchier, and better-than-ever KFC Chicken Sandwich to her following of 4.4 million, Lili also produced several TikToks.
Finally, the campaign had 221 million video views and a TopView CTR of 13.8%.
13. Spotify – #FindYourFeels
The goal was to generate widespread interest in and demand for their new chicken sandwich, so they anchored the campaign with two TopView advertisements to increase its impact.
Note: the biggest marketing goal on TikTok is called TopView—the opening videos shown by the app. Therefore, it's an excellent opportunity for critical launch events.
KFC collaborated with TikTok producers to bring their TopViews to life in a genuine way for their debut campaign in the US. The Internet's favorite granny, Lili Hayes, was the face of the campaign and the star of KFC's inaugural TopView, portraying Colonel Sanders and walking viewers through the scrumptious components and characteristics of the sandwich.
The sardonic charm of this brash 73-year-old was on full show as she marketed the more prominent, crunchier, and better-than-ever KFC Chicken Sandwich to her following of 4.4 million. Additionally, Lili also produced several TikToks.
Finally, the campaign had 221 million video views and a TopView CTR of 13.8%.
14. Reddit – Maybe Together We'll
One of the largest social media networks opened a London-based office in 2020, and a year later, it tripled its advertising revenues and started its first consumer marketing campaign.
The Interpublic Group Agency R/hero GA's advertisement is the centerpiece of this campaign. They showed the ad on YouTube, social media, television, and even subway stations.
The "Maybe Together We'll" promo showcases Reddit's most popular subreddit communities. It also contains a mosaic of images and videos posted by users worldwide.
The promotion conveys Reddit's upbeat tone through its close-knit communities and demonstrates how effectively Reddit can resolve problems when "people join together."
This is one of the user-generated content examples that undoubtedly significantly impacted the platform's reputation, especially in light of earlier issues with user safety.
15. Asos – #AsSeenOnMe
Asos introduced the #AsSeenOnMe campaign in 2014, which asked customers who buy their clothing to post pictures on social media using the aforementioned hashtag.
Everyone benefitted from the campaign: UGC creators obtained social currency, consumers got the best social proof around, and ASOS successfully boosted its brand reach. After all, fun UGC campaign is more authentic in the eyes of up to 76% of the ASOS audience than traditional advertising.
Remember, consumers love bragging about their purchases and showing the rest of their audience what their favorite brands offer.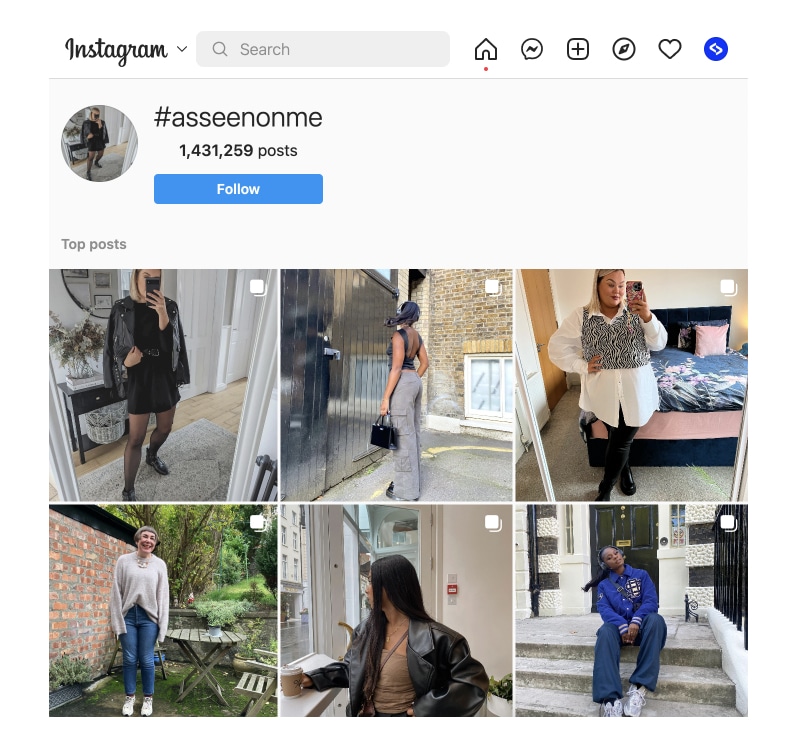 The brand saw improved penetration rates and increased sales. Also, its number of active consumers rose by an astonishing 25%, and the typical "shopping cart value" grew by 2%.
ASOS demonstrated that not every campaign requires a huge budget. Often, a straightforward, powerful concept may significantly alter the course of digital purchases.
16. CLUSE – #CLUSEwatches
In 2013, CLUSE was founded in Amsterdam to create elegant, simple timepieces for women. The group behind this popular company chose to portray CLUSE as a fashion brand rather than restricting it to just a standard watch brand.
Including social network information on their website was a strategy that CLUSE used to thank their consumers and boost engagement.
On Facebook, Instagram, and Twitter, the company invited consumers to post pictures and videos of their watches using the hashtags #CLUSE and #CLUSEwatches.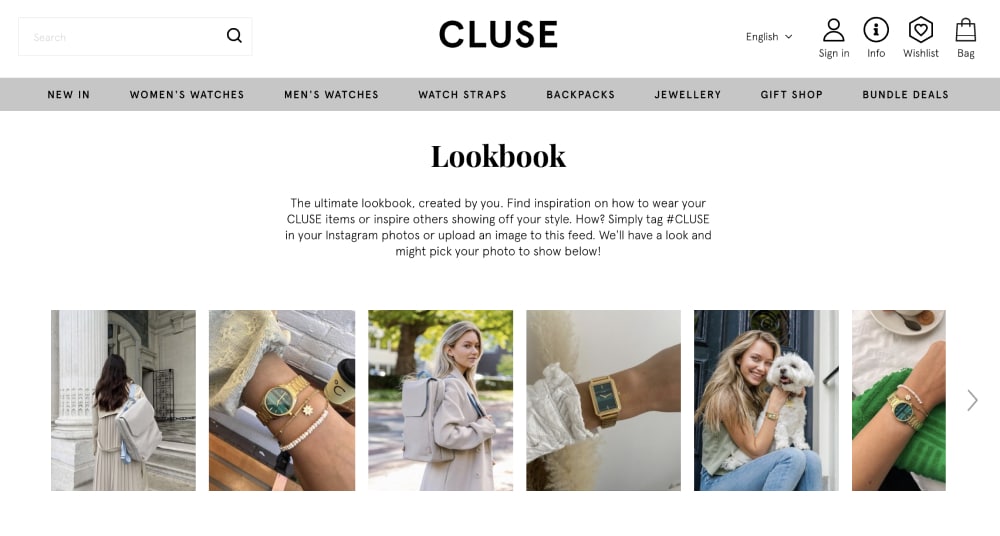 Photoslurp collected the hashtagged social media content and presented it as a Lookbook and a carousel on their product pages. Each image or video included a link to the watch's product page and the social media profile of the person who posted it.
With this campaign, CLUSE got 19,000 photos and videos from their online community, and their conversion rates increased by 19%.
17. National Geographic – #YourShotPhotographer
In 2015, National Geographic invited photographers to submit photos of people, places, and nature. They received over 13,000 entries from amateur and professional photographers from around the globe.
With this competition, National Geographic displayed amazing creativity. For a while now, the brand has relied heavily on photography for its promotional campaigns. Each year, some of the top names in the business ask photographers worldwide to enter their photos.
Additionally, they have started a photography contest for kids in National Geographic Kids and organized a different event in National Geographic Traveler.
And finally, for people who want to have the opportunity to share their work and be featured on the National Geographic platforms, they can follow @NatGeoYourShot and tag photos with #YourShotPhotographer for a chance to be featured. 
18. Citizens of Humanity – #WEAREALLHUMANITY
In Lóvua, a community in northern Angola where more than 13,000 refugees from the Democratic Republic of the Congo (DRC) presently reside, photographer Giles Duley first encountered Aunty Rose and Mimi. After violence broke out in the Kasai area of the DRC—one of the poorest sections in the country—they had to leave their homes.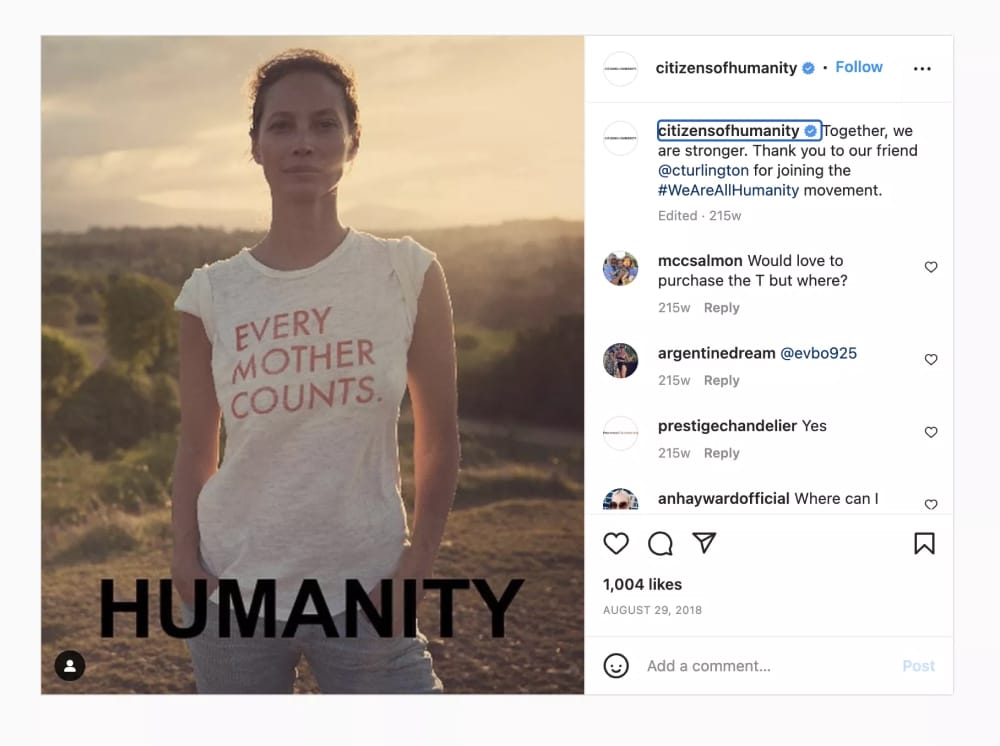 One of the editions of HUMANITY, a magazine by high-end denim brand Citizens of Humanity that emphasizes the commonalities and celebrates the differences that make up all of humanity, included a cover article about Duley's meeting with the ladies of Lóvua. Citizens of Humanity aims to bring about change via the magazine's content and community.
The hashtag had over 3,000 posts the first month after the campaign's launch.
19. La Croix – UGC on social media
LaCroix Sparkling Water creatively uses any content created or produced by any of its fans. The brand's distinctive esthetics include vivid colors, sunny scenes, and happy smiles.
And what do they do to collect all that UGC?
La Croix gives away branded items and other goodies and makes interactive displays that interest people.
20. Airbnb – Instagram feed
Airbnb probably has the most beautiful feed on Instagram. Their strategy is as simple as it can be—all they do is share photos of the homes offered on their platform.
There is nothing more to say than this strategy has brought them over 5 million followers on Instagram. But they also use Twitter to share engaging UGC.
Recently, they invited their followers to share their experiences using Airbnbs with their pets.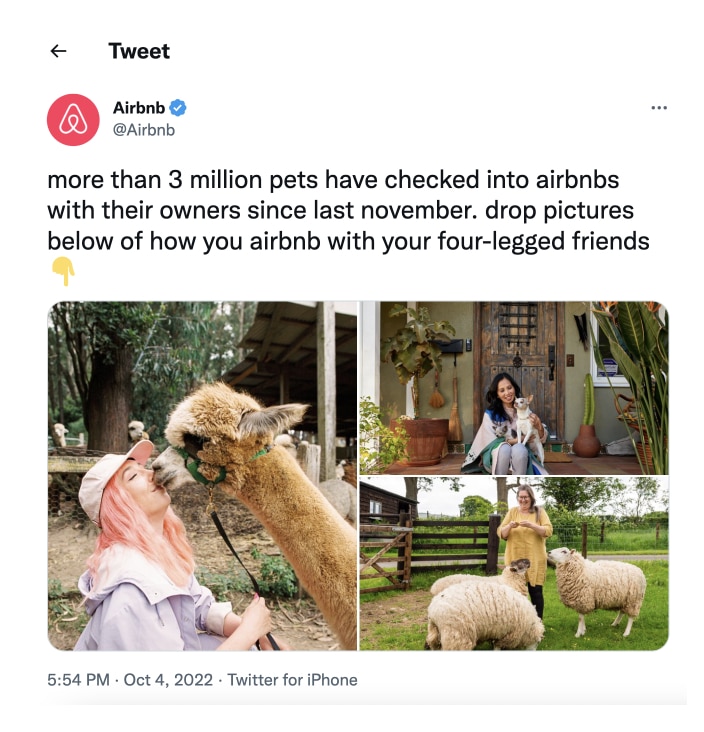 Isn't it epic that more than 3 million pets have visited Airbnb locations in the past year?
Aggregate your own brand's UGC
With the growth of community-driven and marketing efforts, consumers are looking for more than just ads. They want to feel part of something authentic and meaningful by engaging with other humans on a deeper level through participation in activities outside traditional advertising.
User-generated content platforms like EmbedSocial help you automatically generate and display UGC in a well-crafted widget that you can use to embed on your website or in advertisements.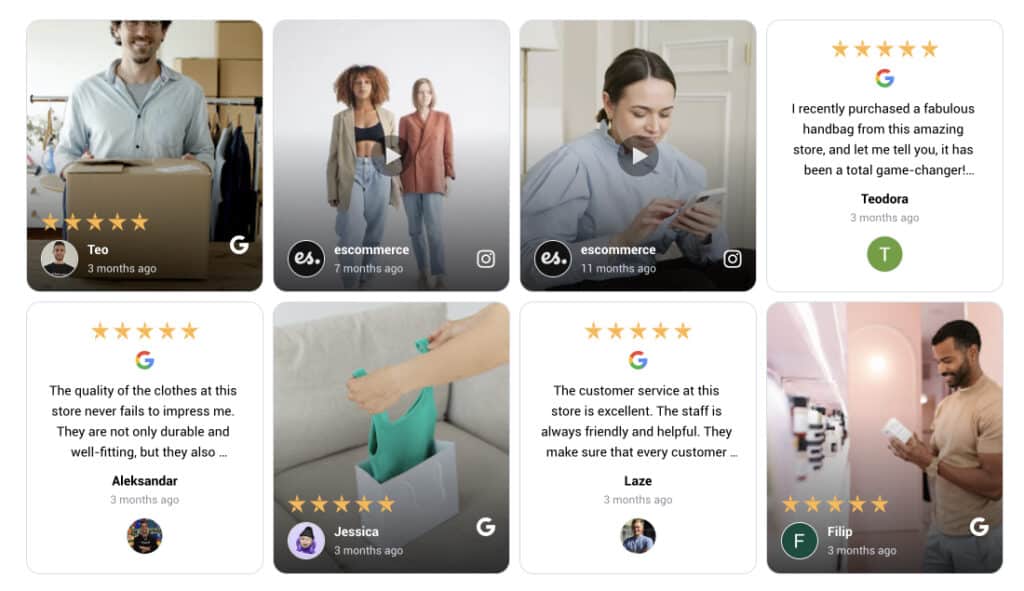 You only have to pick your favorite social media platforms and choose what to display – stories, albums, feeds, or reviews. Then, select the template you prefer and create a stunning widget.
Remember: you can generate even more sales by making your UGC widget shoppable, allowing people who have already purchased one of your products to find similar ones at no extra cost.
To get started, choose some of the following templates for Instagram widgets and create your next UGC campaign in seconds:
Benefits of user-generated content campaigns
An ongoing strategy for aggregating and displaying user-generated content is necessary to build your brand long-term and provide social proof to build customer interest and trust. Once you use that UGC strategy in your marketing campaigns, you'll also access a slew of other benefits:
1. Increase Engagement
User-generated content increases engagement on your website and social media pages since visitors are more likely to interact with and share content that they can relate to. Employee-generated content can encourage potential customers to stick around and interact with your brand.
2. Boost sales
UGC can also be used to boost sales. For example, if you launch a contest where the prize is a discount on your products, you're likely to see an increase in sales.
3. Free Marketing
User-generated content also constitutes free marketing. After all, when customers post about your brand, they give you free publicity, which boosts brand awareness and reach.
4. Improve SEO
Your website SEO and online presence are also improved through UGC marketing campaigns since such content is fresh and relevant—the factor that search engines most use to rank websites. So, by encouraging customers to post UGC on your channels, you'll get a nice bump in your site's online visibility.
5. Build brand trust
If you embed an Instagram feed with your customers' posts on your website, you will instantly provide top-notch social proof. Experiences from other customers will make your new website visitors feel more confident about your brand, which can lead to improved conversions.
How to create a user-generated content campaign?
Creating a UGC campaign is often an involved process that includes multiple steps:
Set clear objectives—decide what you aim to achieve: brand awareness, engagement, sales, or community building;
Choose the right platform—determine where your target audience is most active: Instagram, TikTok, Facebook, Twitter, etc.;
Establish guidelines—clearly communicate the type of content you're seeking, any themes or prompts, and any rules or restrictions;
Provide incentives—offer rewards, recognition, or deals to motivate participation;
Promote the campaign—use your existing channels, such as social media, email newsletters, and website, to spread the word;
Engage with participants—like, comment, share, and showcase user submissions to foster community and encourage more participation;
Moderate submissions—ensure content aligns with your brand values and guidelines. Filter out any inappropriate or off-brand content;
Measure and analyze—track metrics like engagement rate, number of submissions, and conversion rate to assess the campaign's success and gather insights;
Showcase the best content—feature top submissions on your official channels, giving credit to creators, thus celebrating the community and amplifying the campaign's reach;
Thank participants—once the campaign concludes, thank everyone who participated, and share the results or highlights.
Remember, the key to a successful UGC campaign is authenticity. So, encourage your audience to submit genuine content, which will help you build a meaningful connection with them.
Key takeaways
User-generated content campaigns greatly increase brand awareness and reach while improving your website's SEO and reaching new customers around the world.
Some examples of user-generated content include customer reviews, testimonials, social media posts, blog posts, and anything else consumers might create and publish online.
Successful UGC campaigns, like the ones listed above, all manage to increase their brand's awareness, engagement, and sales by being relevant, authentic, and creative.
Marketers must complete several steps when planning a UGC campaign, including defining their goals, understanding their audience, and designing the campaign.
For your UGC campaign, you can use social media aggregators like EmbedFeed to get the content shared via branded hashtags and create an Instagram wall on your website.
---
FYI: Embed Instagram widget automatically with the social media aggregator and UGC platform by EmbedSocial. Click below to try it for free: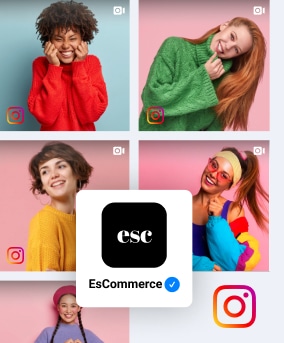 Embed Instagram widget on your website automatically!
Try EmbedFeed and display Instagram content from your feed, mentions, or hashtags on your website.
All PRO features | Cancel any time.
FAQs about UTC campaigns
What is an example of a successful UGC campaign?
Starbucks's "White Cup Contest" is the perfect example of a successful UGC campaign that received thousands of entries and massive social media engagement. It promoted Starbucks as a brand and highlighted the creativity and talent of its customer base. Overall, the brand got an authentic promotion campaign generated, while users got a platform to showcase their creativity.
What is the best type of UGC?
The effectiveness of your UGC marketing strategy depends on your campaign's goals, the target audience, and the platform you use. That said, reviews, testimonials, and visual content (photos and videos) are always engaging and effective in capturing the public's interest across all channels.
What are some UGC niches?
UGC can be found across a wide range of niches, each with its own unique characteristics and communities. That said, the top three niches to look for or create UGC for include beauty and makeup, fashion, and fitness and health, all of which are perfect for such content.