User-generated content comes in many forms and can be used to promote your business on social media, create engaging blog posts or product reviews, and other marketing initiatives.
The following blog post contains examples of companies successfully launching UGC campaigns that increased their brand awareness and created valuable customer relationships.  
This is a great way to get people talking about your company.
1. Coca Cola's "Share a Cocke" Campaign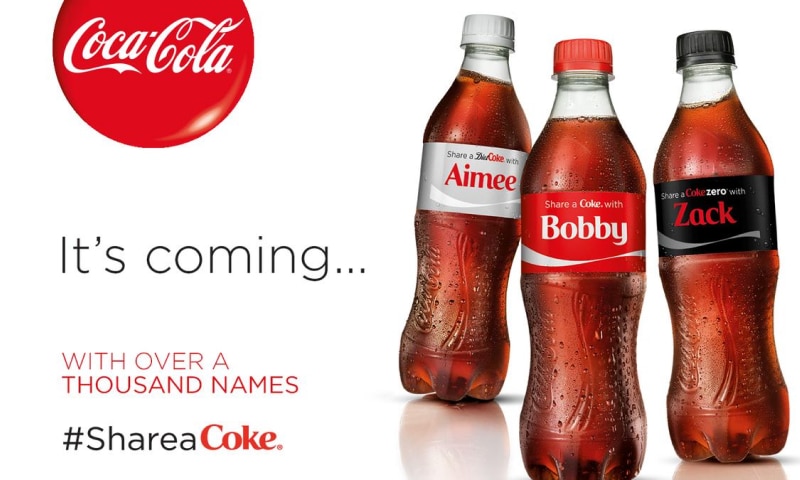 Coca-Cola had the most amazing UGC campaign of all time. Do you remember the "Share a Coke" campaign?
Of course, you do!
Their marketing team came up with the idea in 2011 when they decided to print around 150 most common male and female names in Australia and put them on their bottles. The idea was to encourage people to share a Coke with their loved ones.
And people went crazy about this trend!
Everybody was buying personalized bottles, and they were shooting thousands of photos and sharing them on social media. 
The idea was welcomed in 80 other countries worldwide, and people got really excited. Social media platforms were overloaded with people's photos of how and with whom they shared their Coke.
2. Apple's #ShotoniPhone Campaign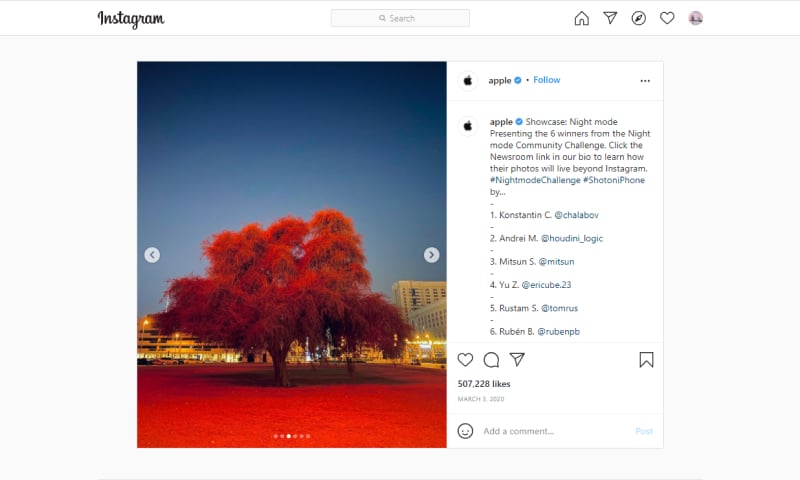 Remember the time when iPhone users were disappointed in the not-so-good quality of their cameras?
The company thought of an awesome way how to make things right. Apple realized that their customers were not satisfied with the average camera capabilities of pictures in low lights, so they launched a campaign called "Shot on iPhone". The company wanted to redeem this lost trust and bring attention back to what makes an iPhone special: its ability to take great photos.
Apple was giving a lot of importance to the campaign. The pro users were taking photos in low-light with their iPhones, then posting them online for others to see on Youtube under "Shot on iPhone".
This campaign mainly showcased some wonderful everyday visuals that can only be captured using Apple's amazing lens -The iPhone camera.
3. Starbucks's #WhiteCupContest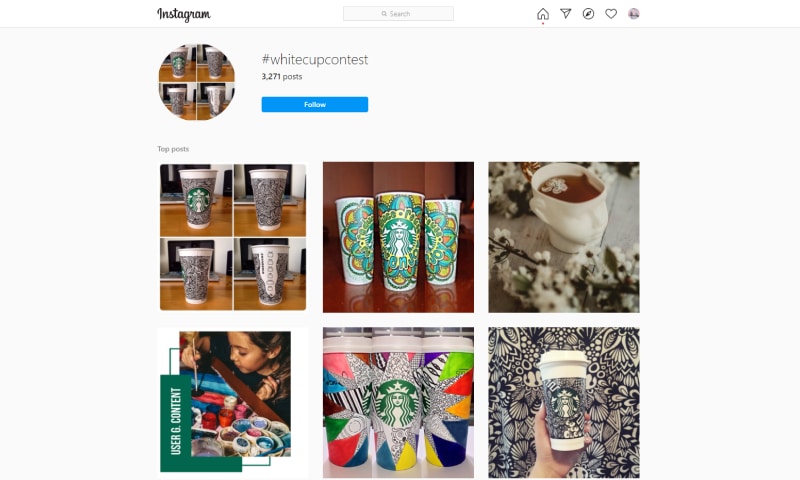 In 2014, Starbucks started the great campaign of #WhiteCupContest. They had a contest on Twitter where customers were encouraged to draw something artistic and creative for their white cups.
The winning drawings would be used as templates of future cup designs by the company! This inspired people greatly because it gave them an opportunity they may not otherwise have – unique art in ceramic ware.
In response to the success of its previous #WhiteCupContest, in 2016 Starbucks came up with a new contest named #RedCupArt challenge. The coffee giant launched it under the hashtag and again got positive feedback from customers by generating huge social media activity on Twitter & Instagram.
Another way to get success is by creating user-generated content campaigns. Anybody can participate and it's related directly to the customer's favorite product, making this strategy super easy for people who love your company even more.
4. Glossier's UGC Instagram Hashtag Campaign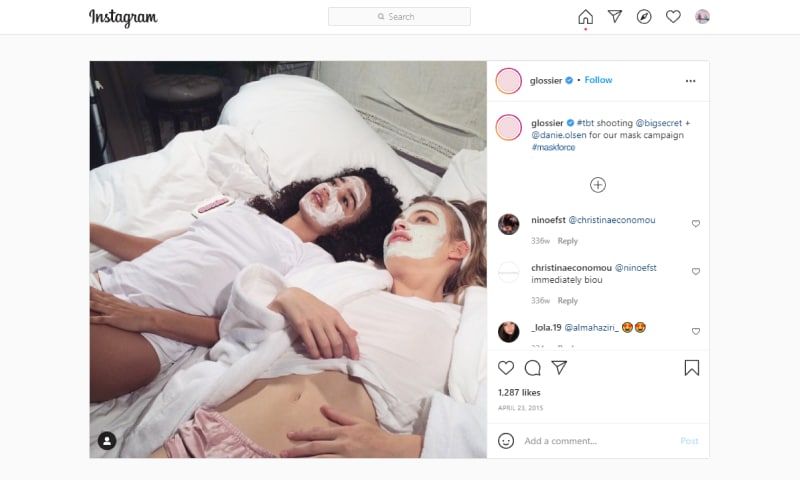 Glossier is a beauty brand that relies on customer-submitted imagery to get the word out. It posts pictures of people using their products and an assortment of heartwarming stories from customers who have fallen in love with Glossier's affordable skincare line because it made them feel beautiful again or gained self-confidence through wearing make-up every day after years without doing so.
The company focuses more heavily on user-submitted photos than they do expensive models and product shots which are usually shared only one at a time on social media pages where users can post publicly accessible content – something not everyone does eagerly enough for brands' benefit.
When the brand launched Mega Greens Galaxy Masks, thousands of its consumers shared their photos wearing the mask and using the #MaskForce hashtag under the photos. Glossier took advantage of that and reposted the photos which caused even greater engagement among the users.
5. National Geographic's #WanderlustContets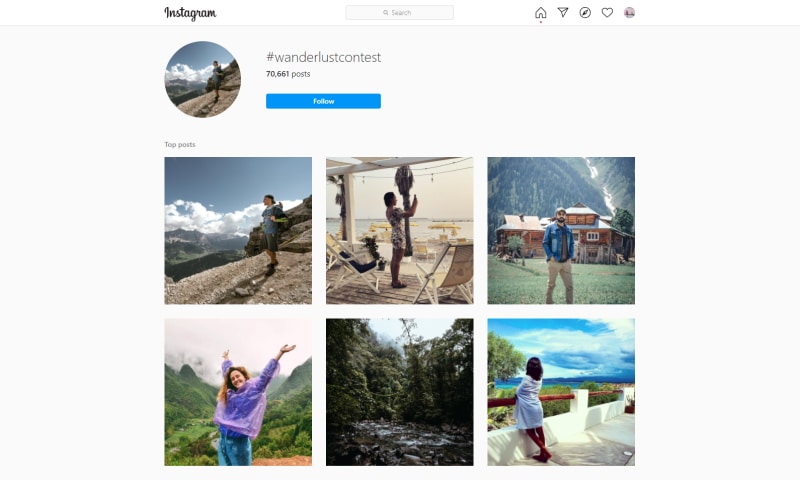 Even Nation Geographic managed to create a powerful UGC campaign and gain more followers, participants, and get a very high engagement rate. And they did it in a very original way.
The Wanderlust Contest from National Geographic is a genius way to get people involved in the outdoors.
To enter, users had to share their best nature shot using #WanderlustContest hashtags and I'm sure many took part because it was so popular. The winner received an amazing 7 day trip for two adults exploring Yosemite national park which has some stunning views that are perfect for picturesque shots like these ones taken by contest participants.
6. Calvin Klein's #MyCalvins Campaign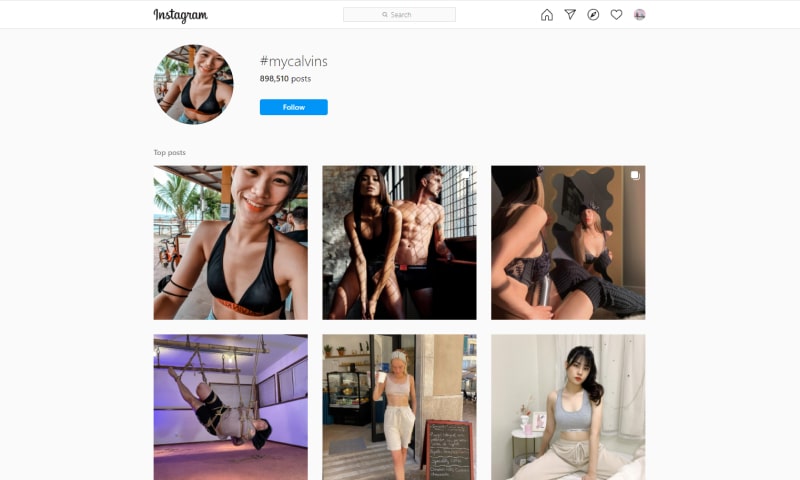 Creating user-generating content campaigns for fashion brands is one of the most effective marketing strategies. Utilizing UGC can result in increased traffic, conversions, and ROI. Fashion brands that use user-generated content see a lift in conversion rates and reduction in costs per acquired customer.
Brooke Shield's famous whisper of "Nothing comes Between Me and My Calvins" made it possible for people all around the world to feel connected through their underwear. 
This tagline has resurfaced again with Calvin Klein asking you what they mean by #MyCalvins on Instagram, challenging everyone who was wearing briefs to post a photo with the tagline: "I _____ in my Calvins.".
And it went viral!
In just a few months, the hashtag #MyCalvins took over Instagram and boasted over 190.000 photos tagged. 
Calvin Klein saw this campaign connecting more deeply with young people than influencer posts or paid ads ever have – gaining them millions of followers across Facebook, Twitter, and other social media platforms in no time.
7. GoPro's Ongoing Hashtag Campaign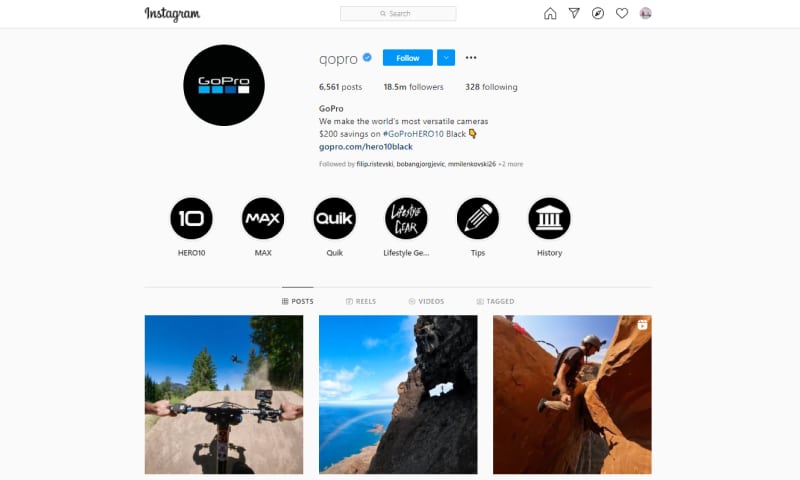 Stunning user-generated content is all over Instagram. The hashtag #GoPro has over 50 million posts that prove it's a great way to share your adventures with the world.
A favorite among outdoor enthusiasts, this company specializes in selling durable cameras for those who want their life filmed on film – so naturally, there are many people sharing gorgeous shots taken from across different parts of the earth.
All this user-generated content points out exactly why a GoPro can enhance the way you capture images and videos from your explorations. Helping convince potential customers to purchase, share their own creations with others or even just recognize that it's possible for other people in our society to do something remarkable. 
It makes you wanna have it, doesn't it?!
8. #AtTheMoxy Moxy Hotels Campaign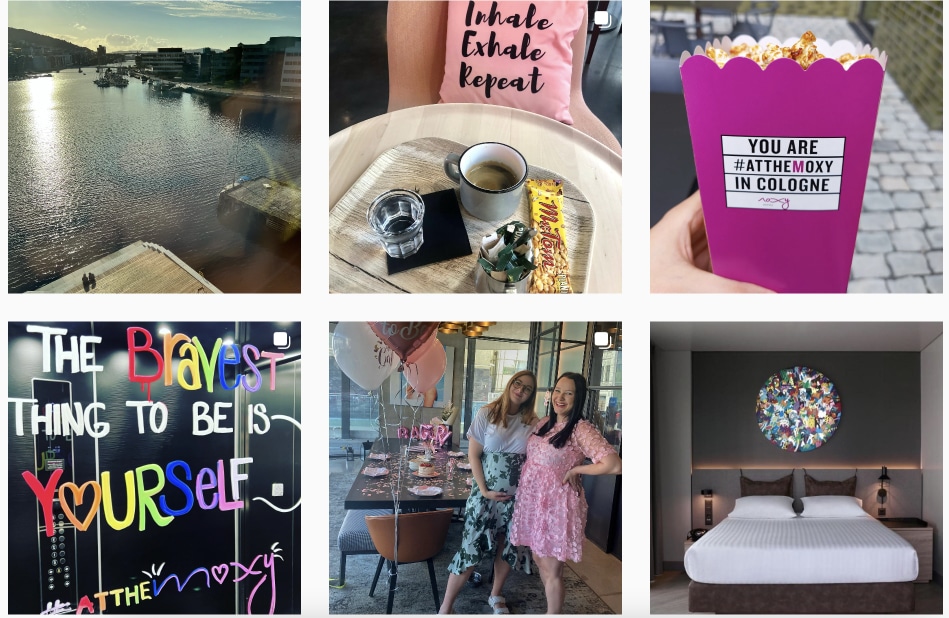 #AtTheMoxy is an ongoing Instagram hashtag campaign for the Moxy Hotels that encourages followers to post photos of themselves using the hashtag #AtTheMoxy for a chance to be featured on the brand's page.
They have an excellent hashtag, which is both unique and easy to remember: #AtTheMoxy. This allows them to track all of the posts that are made about the campaign.
Additionally, it is an interesting campaign with physical activation points spread across the hotel like in the elevators, toilet stickers to make selfies, UGC TV screens with recent posts, and similar posts.This allows Moxy to connect with its target audiance and create content that is relevant to its brand.
So far the campaign has more than 80.000 photos posted by using the branded hashtag.
Aggregate your own brand's UGC
With the growth of community-driven marketing, consumers are looking for more than just ads. They want to feel like they're part of something that's authentic and meaningful by being able to engage with other humans on a deeper level through participation in activities outside traditional advertising.
User-generated content platforms like EmbedSocial help you automatically generate and display UGC in a well-crafted widget that you can use to embed on your website or in advertisements.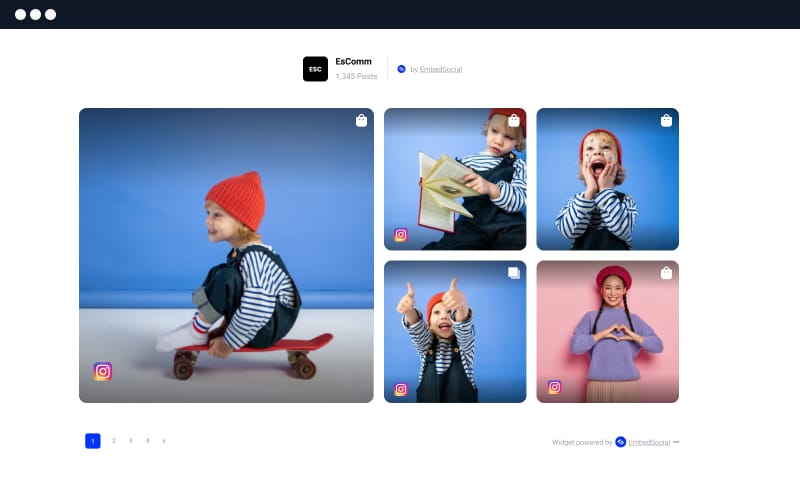 Just pick your favorite social media platforms and choose what you want to display – stories, albums, feeds, or reviews. Select the template you prefer and create a stunning widget.
The greatest thing is that you can re-use the UGC to generate even more sales by making your widget shoppable. This will allow people who already purchased a product from them for them also to purchase other similar products at no extra cost.
UGC campaigns benefits
Having a conitious strategy towards aggregating user-generated content is benefittial for building your brand on the long term and providing social proof to build customer trust.
1. Increase Engagement
User-generated content can also help to increase engagement on your website or social media pages. This is because people are more likely to interact with and share content that they can relate to. So, by featuring UGC on your site or social media channels, you're more likely to encourage people to stick around and interact with your brand.
2. Boost sales
UGC can also be used to boost sales. For example, if you launch a contest where the prize is a discount on your products, you're likely to see an increase in sales.
3. Free Marketing
Another great benefit of user-generated content is that its free marketing. When customers post about your brand, they give you free publicity. This can help to increase brand awareness and reach.
4. Imporve SEO
User-generated content can also help to improve your website's SEO. This is because fresh, relevant content is one factor that search engines consider when ranking websites. So, by encouraging customers to post UGC on your site, you're helping to improve your site's visibility in search results.
5. Build trust with social proof
For example if you embed an Instagram feed with your customers' posts on your website you will instantly provide a social proof. Experiences from other customers will help new visitors to your website feel more confident about your brand, which can lead to improved conversions.
Key Takeaways
User-generated content campaigns are a great way to increase brand awareness and reach while also improving your website's SEO.
Some examples of user-generated content include customer reviews, testimonials, social media posts, and blog posts.
To run a successful UGC campaign, we've seen some examples that consider offering incentives for customers to submit their content, adding physical activation, and making it easy for customers to create interesting content.
You can see more ideas to collect UGC video content and get inspired.
Finally, if you organize a UGC campaign, you can use social media aggregator like EmbedFeed to collect all the content shared via branded hashtags and create an Instagram wall for your website.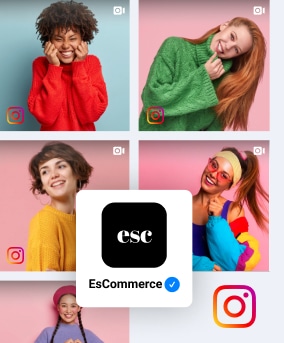 Show Instagram wall on your website, automatically!
Try EmbedFeed and add Instagram content from your feed, mentions or hashtags on your website, with just a few clicks.
All features included | Live support available