User-generated content comes in many forms and can be used to promote your business on social media, create engaging blog posts or product reviews, and other marketing initiatives.
The following blog post contains examples of companies successfully launching UGC campaigns that increased their brand awareness and created valuable customer relationships.
This is a great way to get people talking about your company.
1. Coca Cola's "Share a Cocke" Campaign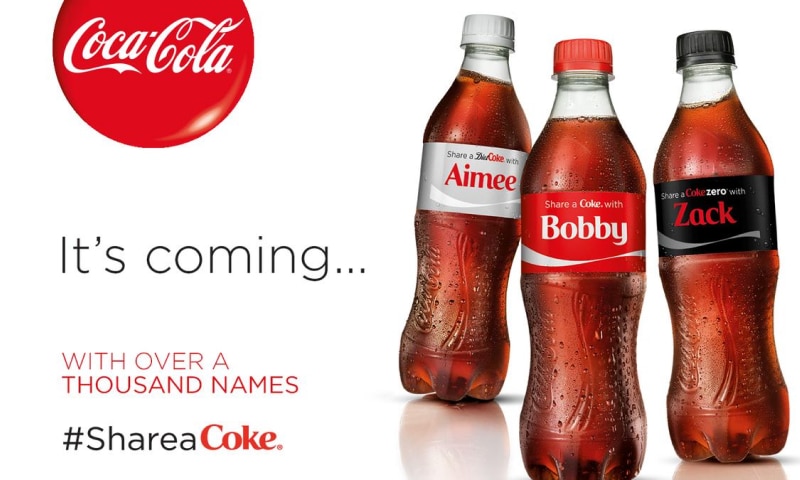 Coca-Cola had the most amazing UGC campaign of all time. Do you remember the "Share a Coke" campaign?
Of course, you do!
Their marketing team came up with the idea in 2011 when they decided to print around 150 most common male and female names in Australia and put them on their bottles. The idea was to encourage people to share a Coke with their loved ones.
And people went crazy about this trend!
Everybody was buying personalized bottles, and they were shooting thousands of photos and sharing them on social media.
The idea was welcomed in 80 other countries worldwide, and people got really excited. Social media platforms were overloaded with people's photos of how and with whom they shared their Coke.
FYI: You can embed Instagram widget automatically with EmbedSocial's UGC platform. Start a free trial and display your social media widgets now.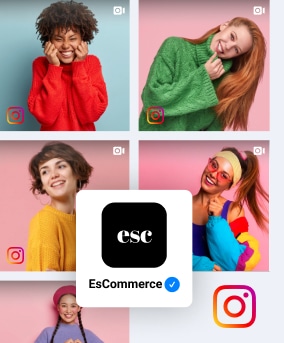 Embed Instagram widget on your website automatically!
Try EmbedFeed and display Instagram content from your feed, mentions, or hashtags on your website.
All features included | Live support available
2. Apple's #ShotoniPhone Campaign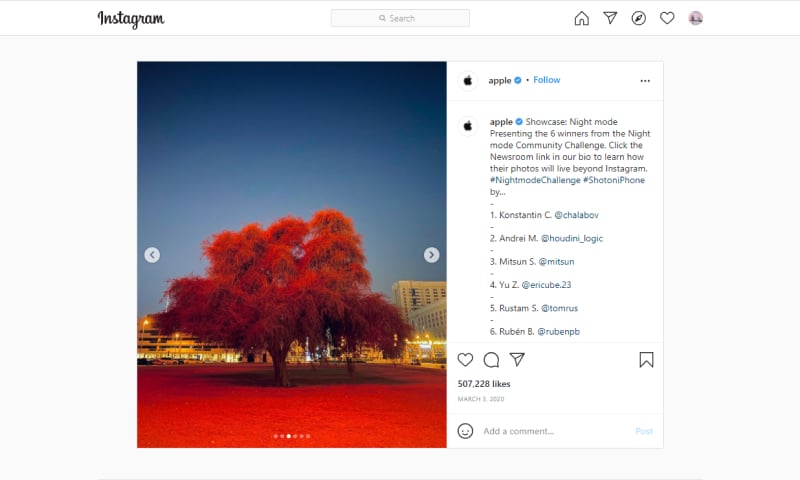 Remember the time when iPhone users were disappointed in the not-so-good quality of their cameras?
The company thought of an awesome way how to make things right. Apple realized that their customers were not satisfied with the average camera capabilities of pictures in low lights, so they launched a campaign called "Shot on iPhone." The company wanted to redeem this lost trust and bring attention back to what makes an iPhone special: its ability to take great photos.
Apple was giving a lot of importance to the campaign. The pro users were taking photos in low light with their iPhones, then posting them online for others to see on Youtube under "Shot on iPhone."
This campaign mainly showcased some wonderful everyday visuals that can only be captured using Apple's amazing lens -The iPhone camera.
3. Starbucks's #WhiteCupContest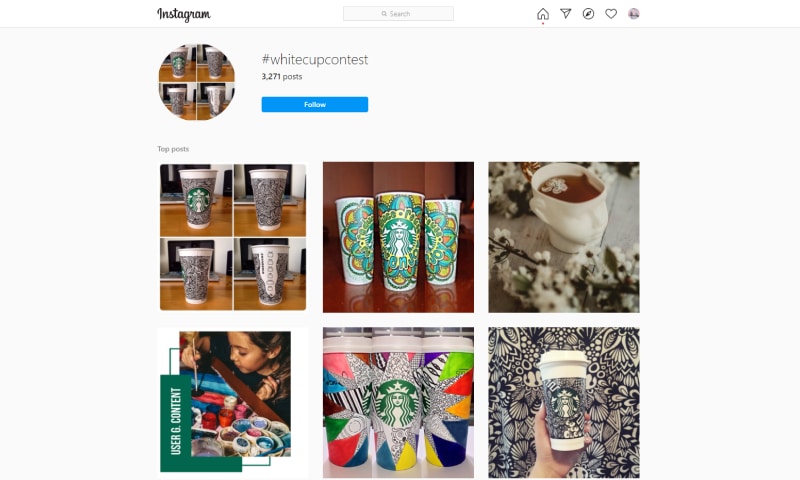 In 2014, Starbucks started the great campaign of #WhiteCupContest. They had a contest on Twitter where customers were encouraged to draw something artistic and creative for their white cups.
The winning drawings would be used as templates for future cup designs by the company! This inspired people greatly because it gave them an opportunity they may not otherwise have – unique art in ceramic ware.
In response to the success of its previous #WhiteCupContest, in 2016, Starbucks came up with a new contest named #RedCupArt challenge. The coffee giant launched it under the hashtag and again got positive feedback from customers by generating huge social media activity on Twitter & Instagram.
Another way to get success is by creating user-generated content campaigns. Anybody can participate, and it's related directly to the customer's favorite product, making this strategy super easy for people who love your company even more.
4. Glossier's UGC Instagram Hashtag Campaign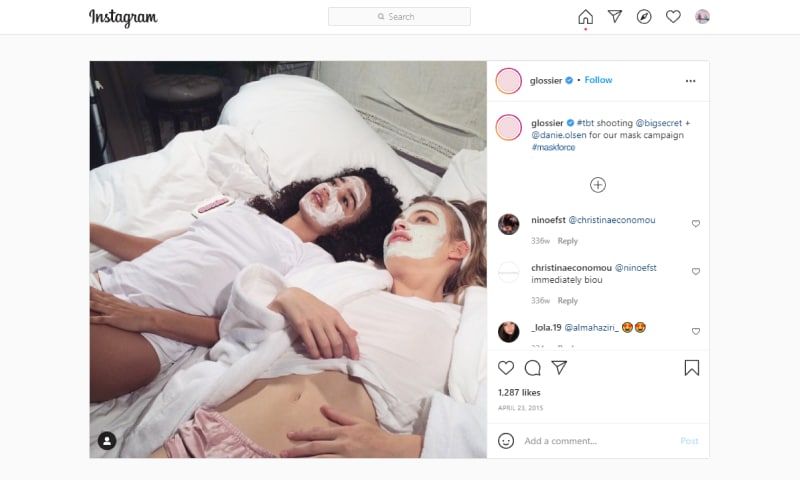 Glossier is a beauty brand that relies on customer-submitted imagery to get the word out. It posts pictures of people using its products and an assortment of heartwarming stories from customers who have fallen in love with Glossier's affordable skincare line because it made them feel beautiful again or gained self-confidence through wearing make-up every day after years without doing so.
The company focuses more heavily on user-submitted photos than expensive models and product shots, which are usually shared only one at a time on social media pages where users can post publicly accessible content – something not everyone eagerly does for the brands' benefit.
When the brand launched Mega Greens Galaxy Masks, thousands of its consumers shared their photos wearing the mask and using the #MaskForce hashtag under the photos. Glossier took advantage of that and reposted the photos, which caused even greater engagement among the users.
5. National Geographic's #WanderlustContets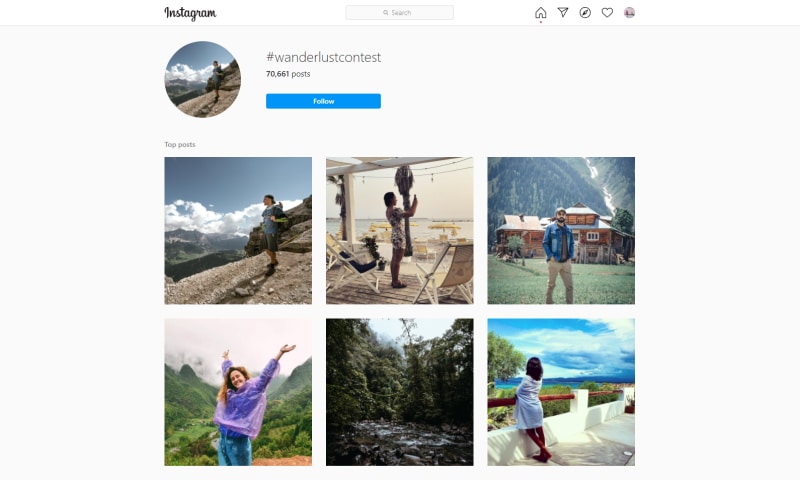 Even Nation Geographic managed to create a powerful UGC campaign and gain more followers, participants, and get a very high engagement rate. And they did it in a very original way.
The Wanderlust Contest from National Geographic is a genius way to get people involved in the outdoors.
To enter, users had to share their best nature shot using #WanderlustContest hashtags and I'm sure many took part because it was so popular. The winner received an amazing 7 day trip for two adults exploring Yosemite national park which has some stunning views that are perfect for picturesque shots like these ones taken by contest participants.
6. Calvin Klein's #MyCalvins Campaign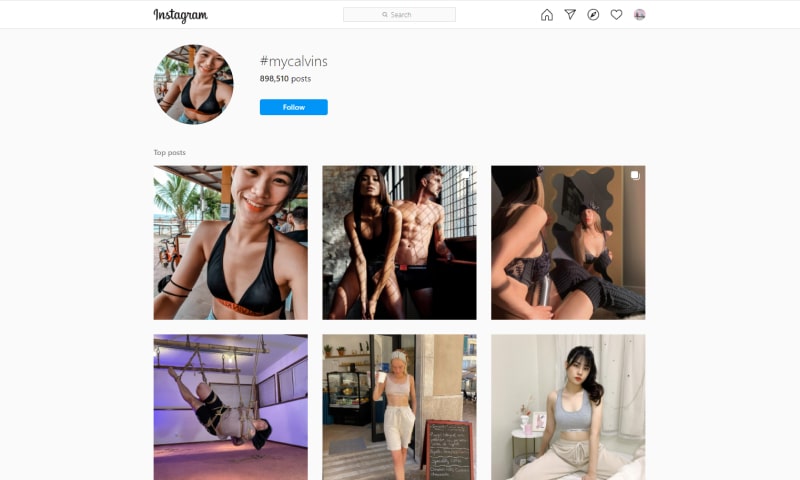 Creating user-generating content campaigns for fashion brands is one of the most effective marketing strategies. Utilizing UGC can result in increased traffic, conversions, and ROI. Fashion brands that use user-generated content see a lift in conversion rates and a reduction in costs per acquired customer.
Brooke Shield's famous whisper of "Nothing comes Between Me and My Calvins" made it possible for people worldwide to feel connected through their underwear.
This tagline has resurfaced again with Calvin Klein asking you what they mean by #MyCalvins on Instagram, challenging everyone who was wearing briefs to post a photo with the tagline: "I _____ in my Calvins.".
And it went viral!
In just a few months, the hashtag #MyCalvins took over Instagram and boasted over 190.000 photos tagged by young UGC creators.
Calvin Klein saw this campaign connecting more deeply with young people than influencer posts or paid ads ever have – gaining them millions of followers across Facebook, Twitter, and other social media platforms in no time.
7. GoPro's Ongoing Hashtag Campaign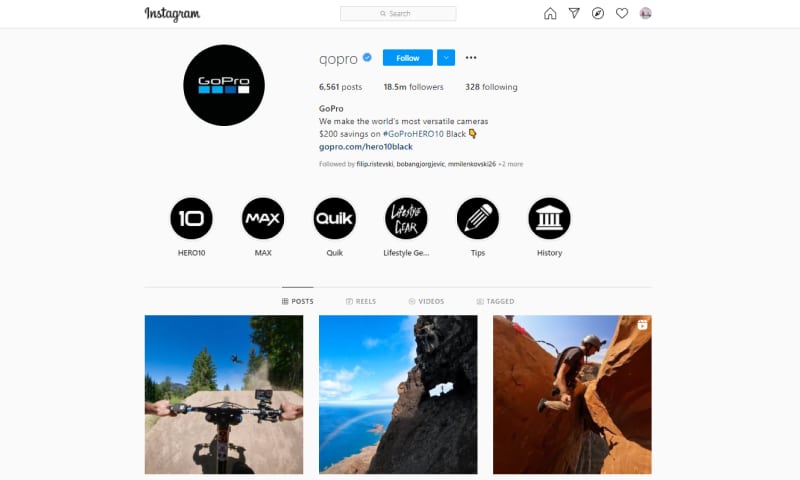 Stunning user-generated content is all over Instagram. The hashtag #GoPro has over 50 million posts that prove it's a great way to share your adventures with the world.
A favorite among outdoor enthusiasts, this company sells durable cameras for those who want their life filmed on film – so naturally, many people are sharing gorgeous shots taken from across different parts of the earth.
All this user-generated content points out exactly why a GoPro can enhance the way you capture images and videos from your explorations. Helping convince potential customers to purchase, share their own creations with others or even just recognize that other people in our society can do something remarkable.
It makes you wanna have it, doesn't it?!
8. #AtTheMoxy Moxy Hotels Campaign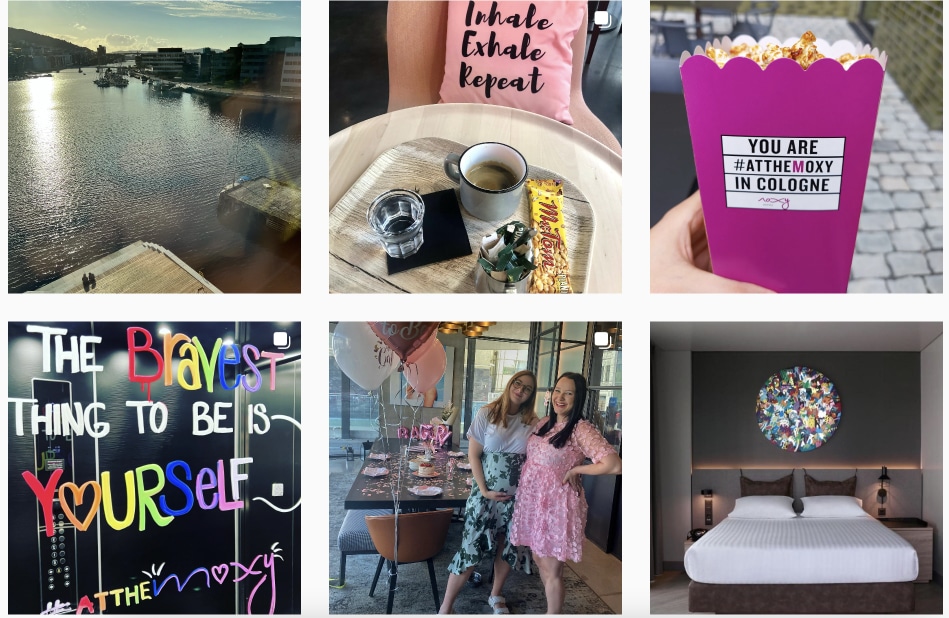 #AtTheMoxy is an ongoing Instagram hashtag campaign for the Moxy Hotels that encourages followers to post photos of themselves using the hashtag #AtTheMoxy for a chance to be featured on the brand's page.
They have an excellent hashtag, which is both unique and easy to remember: #AtTheMoxy. This allows them to track all of the posts that are made about the campaign.
Additionally, it is an interesting campaign with physical activation points spread across the hotel, like in the elevators, toilet stickers to make selfies, UGC TV screens with recent posts, and similar posts. This allows Moxy to connect with its target audience and create content that is relevant to its brand.
So far, the campaign has more than 80.000 photos posted by using the branded hashtag.
9. Netflix – Stranger Things 2
This is one of the most inspiring user-generated content examples.
Stranger Things, a Netflix series, had a hugely successful first season with viewers all around the world. By using the uPic product, which enables fans to transform themselves into one of the major characters with a simple and enjoyable selfie filter, BFG Agency and Telescope worked together to promote the forthcoming second season of Stranger Things to increase fan interaction.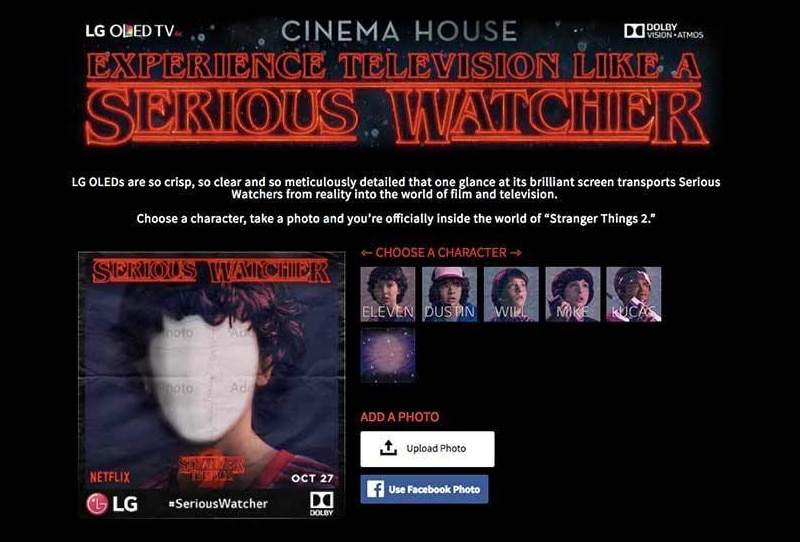 Fans could choose their favorite character from the show, such as the enigmatic Eleven or Mike, the group's leader, etc. Then, they either selected one of their Facebook profile pictures or provided a clear snapshot of their face. Users could scale, spin, and change brightness to ensure that the fit and overall look match. Once they finished, users could share the Stranger Things-themed selfie to any of their social media accounts.
The final photographs featured the partnership between Netflix and LG. They were also published in the official gallery for other fans to view.
10. Adobe – The Art Maker Series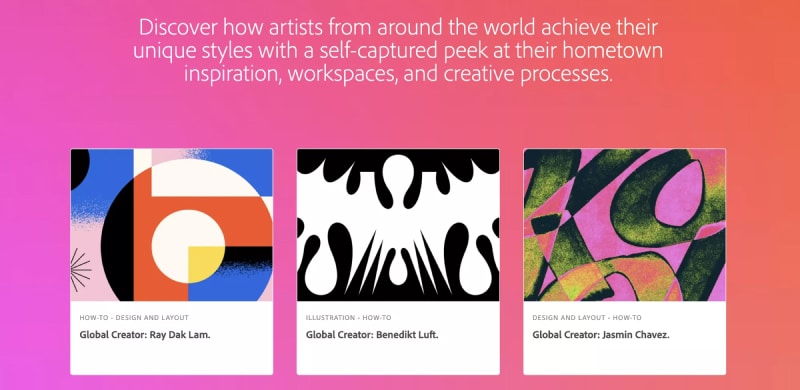 Adobe, the biggest design tools provider, had the brilliant idea to use a hashtag to promote creative designers and artists. They began the Art Maker Series. Here, Adobe invited creative designers to showcase their talents in quick-paced videos.
They had to use any of the Adobe programs, such as Illustrator, Photoshop, etc., and share their original artwork.
This is one of the perfect user-generated content examples for companies with a creative target audience.
The company used the content to create user suggestions, product marketing, and other specialist endorsements.
Today, you can see all this work in Adobe's Creative Cloud program under the Global Creators label.
They also utilized the hashtag #AdobePerspective, which allowed privileged designers to publish their original works and those of other users freely. Adobe saw this as a fantastic chance to interact with members of different other groups.
Many new users could struggle to understand what they can truly accomplish with their program until they see an example of this user-generated content. This content will therefore serve as a way to display the vast capabilities of Adobe products.
11. Chipotle – The Lid Flip Challenge
Chipotle actively works on engaging young people through its app and delivery system. This time, their focus was on Gen Z-ers, and they created one of the most popular user-generated content examples.
Day One came up with a Challenge, the cornerstone of TikTok, where thousands of UGC creators put their own perspective on a creative stimulus to help Chipotle kick off the campaign. Chipotle issued the initial Challenge itself.
They created the hashtag contest Chipotle Lid Flip Challenge in honor of a genuine employee with a true talent for burrito bowl assembly.
Intending to raise awareness of free delivery for online orders for Cinco de Mayo, Chipotle began its promotional efforts concurrently with the debut of YouTube celebrity and ardent fan David Dobrik's account. All you needed to participate was a phone and a mouthwatering Chipotle burrito bowl.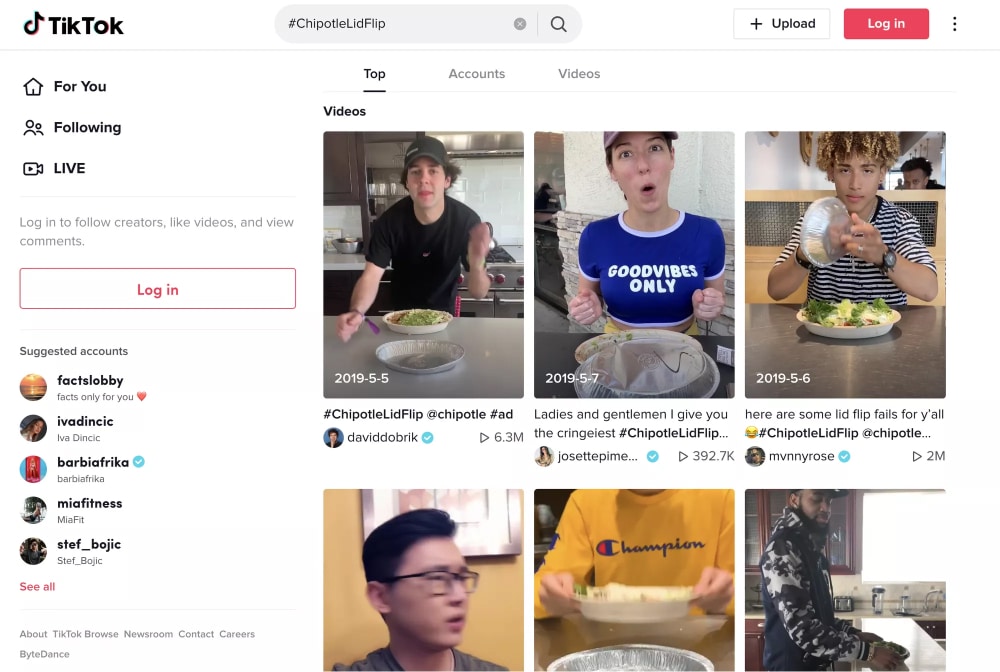 111,000 videos were recorded in just the first six days. This resulted in a record-breaking online sales day, encouraging app downloads and delivery among the important Gen Z demographic.
More than 300 million people have seen the hashtagged videos. This statistic is somewhat deceptive, though, as not all tallied videos included the actual challenge. Many TikTok users use hashtag spamming, which is part of the hashtag's shadow side.
Even though the video does not relate to the actual meaning, people add well-known hashtags to their videos in order to increase views.
As a result, searching for a certain hashtag doesn't always result in filtering the required information.
12. KFC – Chicken Sandwich
When KFC launched their new chicken sandwich, they wanted to expand their campaign to the larger community to generate demand memorably and entertainingly.
KFC already had an active and engaged consumer base on TikTok. This means that they had good predispositions to create one of the most popular user-generated content examples.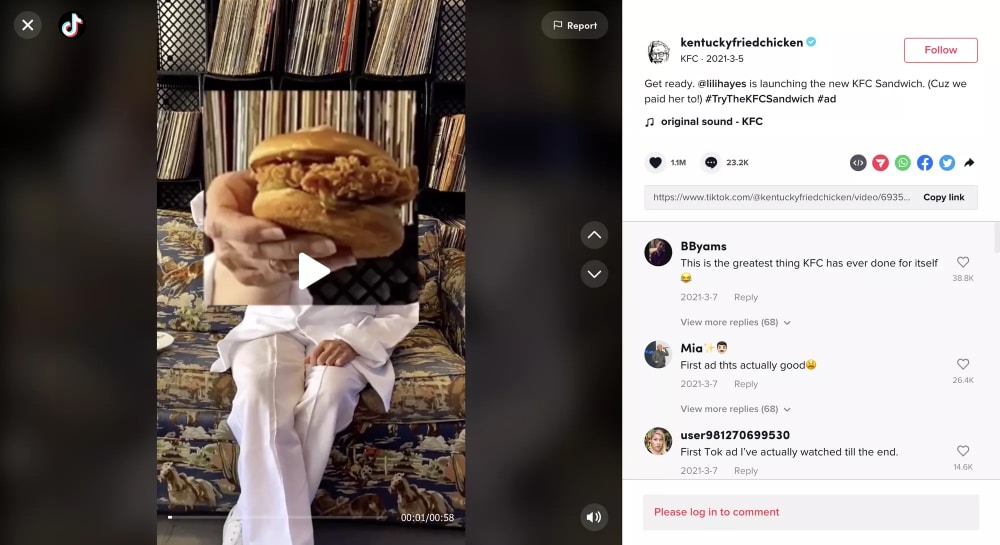 KFC sought to make a major impression to create widespread interest in and demand for their new chicken sandwich. They anchored the campaign with two TopView advertisements to make sure it had the most impact possible.
Note: the biggest marketing goal on TikTok is called TopView. It's the opening video for the app. Therefore, it's an excellent option for more critical launch events.
KFC collaborated with TikTok producers to bring their TopViews to life in a genuine way for their debut campaign in the US. The Internet's favorite granny, Lili Hayes, was the face of the campaign. She was the star of KFC's inaugural TopView, portraying Colonel Sanders and walking viewers through the scrumptious components and characteristics of the sandwich.
The brash 73-year-sardonic old's charm was on full show. As she marketed the more prominent, crunchier, and better-than-ever KFC Chicken Sandwich to her following of 4.4 million, Lili also produced several TikToks.
Finally, the campaign had 221 million video views and a TopView CTR of 13.8%.
13. Spotify – #FindYourFeels
In September 2021, Spotify developed a content-led influencer campaign that supported Gen Z in connecting with their emotions via the power of music in order to stop a fall in monthly active listeners and enhance brand love among this generation.
This is one of the most creative user-generated content examples that involves collaboration with influencers.
The dominant streaming company collaborated with powerful role models, providing them with a stage on which to discuss the significance of music in their lives. YouTube, TikTok, and Instagram were just a few of the social media sites that included audio interviews and video footage. The campaign's creative agency was Acne London, with Louis Bryant serving as the content director.
Gen Z can explore all the joyful, lively, messy, and embarrassing ways they're feeling by utilizing Spotify, which gives them the flexibility to listen to many genres, songs, and lyrics. This gives them the freedom to share their perspective and values with the rest of the world.
The campaign enhanced brand love among those ages 18 to 24 and increased monthly active listeners by 91K.
14. Reddit – Maybe Together We'll
One of the largest social media networks opened a London-based office back in 2020. A year later, it tripled its advertising revenues and started its first consumer marketing campaign in its fastest-growing area.
The Interpublic Group Agency R/hero GA's advertisement is the centerpiece of this campaign. They showed the ad on YouTube, social media, television, and even subway stations.
The "Maybe Together We'll" promo showcases Reddit's most popular subreddit communities. It also contains a mosaic of images and videos posted by users worldwide.
The advertisement effectively conveys the upbeat tone that Reddit desires by displaying a close-knit community and demonstrating how effective Reddit can be in resolving problems when "people join together."
This is one of the user-generated content examples that undoubtedly had a significant impact on the platform's reputation, especially in light of earlier issues with user safety.
15. Asos – #AsSeenOnMe
The "As Seen on Me" feature of ASOS's website was introduced in 2014. Customers who buy clothing from them may post pictures on social media with their garments on using the hashtag #AsSeenOnMe.
Through the use of social media, the campaign promoted its products by showing an "idealistic" way of life. It made it easier for consumers to brag about their purchases and showed the rest of their audience what ASOS had to offer.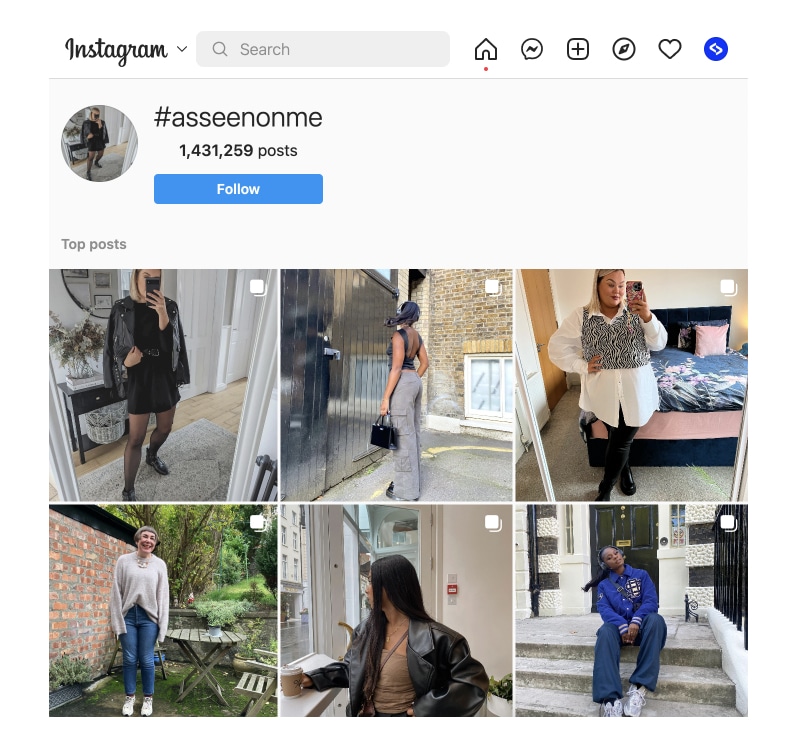 Observing actual consumers wearing ASOS clothing helped build trust by using "social evidence." User-generated content is more authentic in the eyes of up to 76% of the ASOS audience than traditional advertising.
They saw improved penetration rates, and their sales increased thanks to the promotion. Through penetration, the number of active consumers rose by an astonishing 25%, and their typical "shopping cart value" grew by 2%.
As a result, ASOS is a fantastic illustration of a company employing user-generated content to market its goods. It demonstrates that not every campaign requires a huge budget. Often, a straightforward, powerful concept may significantly alter the course of digital marketing campaigns.
16. CLUSE – #CLUSEwatches
In 2013, CLUSE was founded in Amsterdam to create elegant, simple timepieces for women. The group behind this popular company chose to portray CLUSE as a fashion brand rather than restricting it to just a standard watch brand.
Including social network information on their website was a strategy that CLUSE used to thank their consumers and boost engagement.
On Facebook, Instagram, and Twitter, CLUSE invited their consumers to post pictures and videos of their watches using the hashtags #CLUSE and #CLUSEwatches.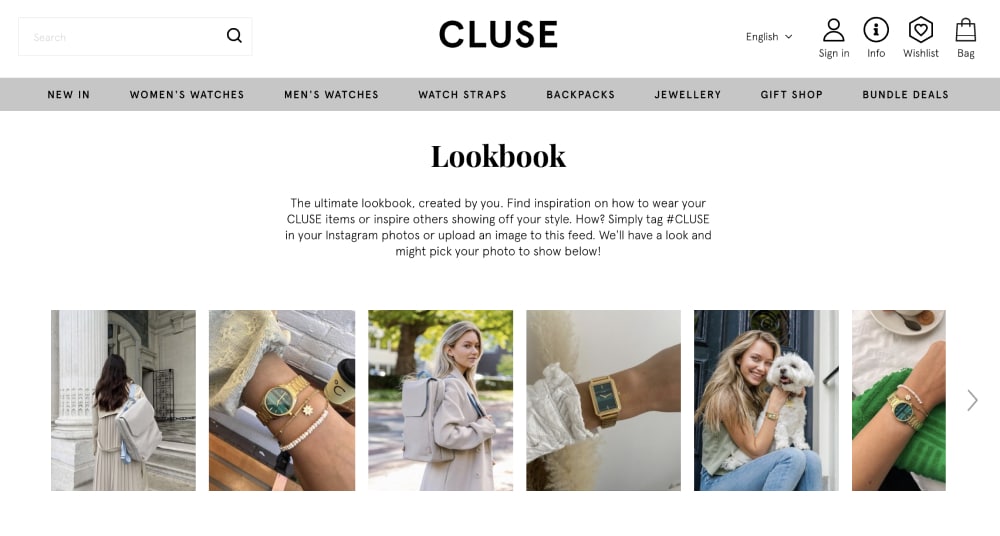 Photoslurp collected the hashtagged content and presented it on CLUSE's website as a Lookbook and as a carousel on their product pages. Each image or video has a link to the watch's product page as well as the social media profile of the person who posted it.
With this campaign, CLUSE got 19,000 photos and videos from their online community, and their conversion rates went up by 19%.
17. National Geographic – The Wanderlust Contest
National Geographic's #WanderlustContest campaign delved into the creativity of customers and the power of photography. The contest garnered remarkable publicity on various news websites and blogs, and the reward was awesome: a seven-day photo expedition in Yosemite National Park with a pro photographer. This was a terrific strategy to use if National Geographic wanted to elevate its brand even more in the eyes of consumers.
In just one month, the competition received hundreds of submissions. A quick hashtag search on Google or Twitter causes the phrase to flood the screen. The competition's requirements were kept fairly straightforward: participants had to be citizens of the United States and the District of Columbia and own an Instagram account that was accessible to the general public. After that, all that remained was adding the hashtag and getting the correct picture.
With this competition, National Geographic displayed amazing creativity. For a while now, the brand has relied heavily on photography for its promotional campaigns. Each year, some of the top names in the business ask photographers worldwide to enter their photos.
Additionally, they have started a photography contest for kids in National Geographic Kids and organized a different event in National Geographic Traveler.
18. Citizens of Humanity – #WEAREALLHUMANITY
In Lóvua, a community in northern Angola where more than 13,000 refugees from the Democratic Republic of the Congo (DRC) presently reside, photographer Giles Duley first encountered Aunty Rose and Mimi. After violence broke out in the Kasai area of the DRC—one of the poorest sections in the country—they had to leave their homes.
One of the editions of HUMANITY, a magazine by high-end denim brand Citizens of Humanity that emphasizes the commonalities and celebrates the differences that make up all of humanity, included a cover article about Duley's meeting with the ladies of Lóvua. Citizens of Humanity aims to bring about change via the magazine's content and community.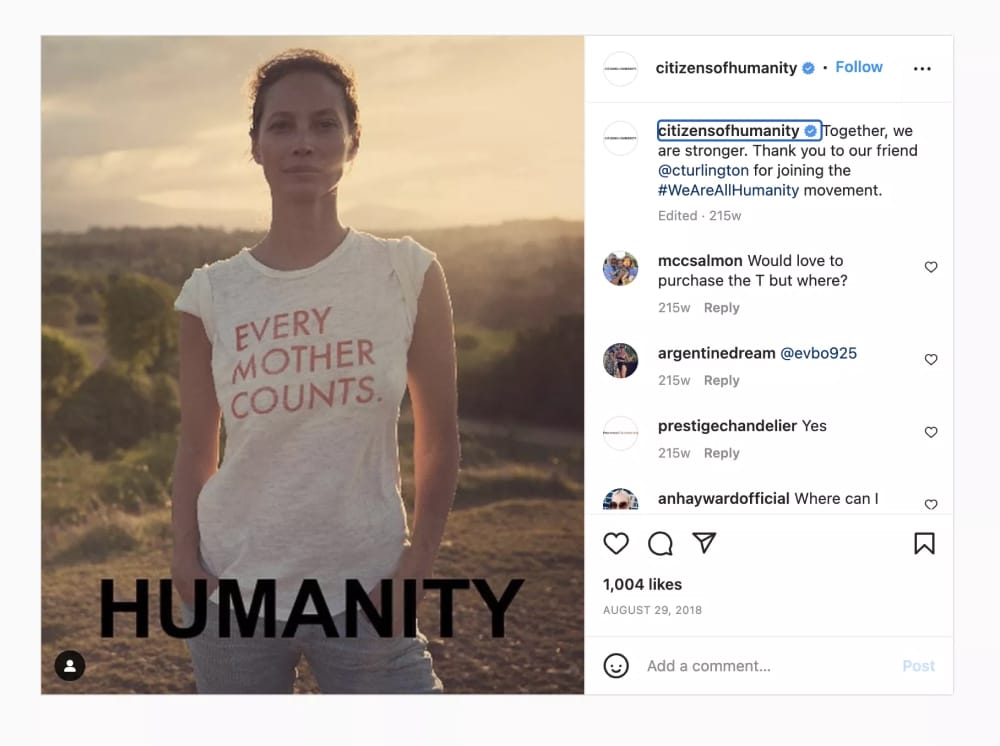 To raise money for the UNHCR, the #WeAreAllHumanity campaign asked people to upload an Instagram photo with the HUMANITY filter to receive a $10 contribution (up to $100,000). The campaign was in conjunction with HUMANITY No.12.
The hashtag counted over 3,000 posts in the first month after the campaign's launch.
19. La Croix – UGC on social media
Sparkling water La Croix uses content produced by people who obviously like their product to fill its streams.
And even if the material comes from a range of authors, La Croix is able to keep its distinctive brand aesthetic. You will repeatedly witness vivid colors, sunny scenes, and happy smiles as you go through its Instagram feed.
La Croix does this by giving away branded items, like the shirt you can see below, and by making interactive displays that interest people.
20. Airbnb – Instagram feed
Airbnb probably has the most beautiful feed on Instagram. Their strategy is as simple as it can be—all they do is share photos of the homes that are offered on their platform.
What else to say despite the fact that this strategy has brought them over 5 million followers on Instagram?
Additionally, they use Twitter to engage their customer by sharing UGC. Here is one latest idea they did;
They invited their followers to share their experiences using Airbnbs with their pets.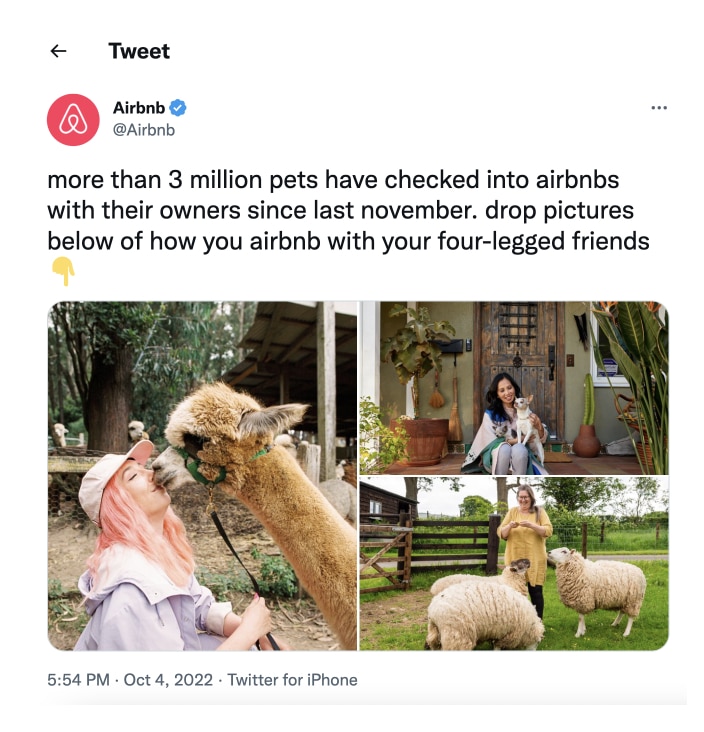 And it's epic that more than 3 million pets have visited AirBnbs in the past year.
Aggregate your own brand's UGC
With the growth of community-driven marketing, consumers are looking for more than just ads. They want to feel like they're part of something that's authentic and meaningful by being able to engage with other humans on a deeper level through participation in activities outside traditional advertising.
User-generated content platforms like EmbedSocial help you automatically generate and display UGC in a well-crafted widget that you can use to embed on your website or in advertisements.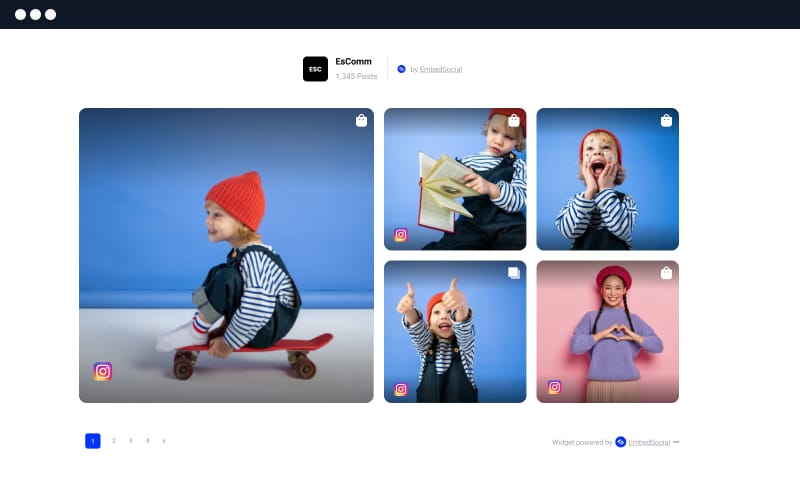 Just pick your favorite social media platforms and choose what you want to display – stories, albums, feeds, or reviews. Select the template you prefer and create a stunning widget.
The greatest thing is that you can re-use the UGC to generate even more sales by making your widget shoppable. This will allow people who have already purchased a product from them for them also to purchase other similar products at no extra cost.
UGC campaigns benefits
Having a continuous strategy towards aggregating user-generated content is beneficial for building your brand in the long term and providing social proof to build customer trust.
1. Increase Engagement
User-generated content can also help to increase engagement on your website or social media pages. This is because people are more likely to interact with and share content that they can relate to. So, by featuring UGC on your site or social media channels, you're more likely to encourage people to stick around and interact with your brand.
2. Boost sales
UGC can also be used to boost sales. For example, if you launch a contest where the prize is a discount on your products, you're likely to see an increase in sales.
3. Free Marketing
Another great benefit of user-generated content is that it's free marketing. When customers post about your brand, they give you free publicity. This can help to increase brand awareness and reach.
4. Improve SEO
User-generated content can also help to improve your website's SEO. This is because fresh, relevant content is one factor that search engines consider when ranking websites. So, by encouraging customers to post UGC on your site, you're helping to improve your site's visibility in search results.
5. Build trust with social proof
For example, if you embed an Instagram feed with your customers' posts on your website, you will instantly provide social proof. Experiences from other customers will help new visitors to your website feel more confident about your brand, which can lead to improved conversions.
Key Takeaways
User-generated content campaigns are a great way to increase brand awareness and reach while also improving your website's SEO.
Some examples of user-generated content include customer reviews, testimonials, social media posts, and blog posts.
To run a successful UGC campaign, we've seen some examples that consider offering incentives for customers to submit their content, adding physical activation, and making it easy for customers to create interesting content.
You can see more ideas to collect UGC video content and get inspired.
Finally, if you organize a UGC campaign, you can use social media aggregators like EmbedFeed to collect all the content shared via branded hashtags and create an Instagram wall for your website.
FYI: You can embed Instagram widget automatically with EmbedSocial's UGC platform. Start a free trial and display your social media widgets now.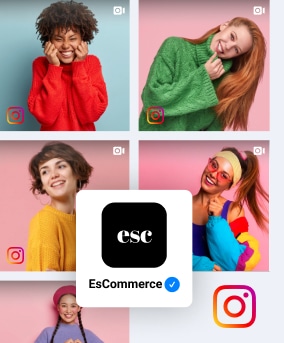 Embed Instagram widget on your website automatically!
Try EmbedFeed and display Instagram content from your feed, mentions, or hashtags on your website.
All features included | Live support available