With the introduction of COVID-19, customer behavior took an immediate and widespread turn for the worst as priorities shifted to health and safety first.
This caused customers to change their decision-making process, which changed buying behaviors – especially for the traveling and hospitality industry. As a result, UGC content creators and marketers now have to turn to user-generated content marketing more than ever before.
This blog post will help you determine the means that will help you "rise from the ashes" and let you know why a UGC platform will be your life-saver from now on.
The new reality of customer
Globally, consumers are feeling vulnerable for the foreseeable future. They feel less secure and in control than ever before because they understand that their lives will be very different from now on. So will their purchasing decisions process.
You, like hospitality or a traveling business, have to provide them better, safer, and more seamless interactions and experiences. That means boosting brand loyalty should be at the top of your marketing efforts. And everything you do has to provide a great brand image in every form of content you create.
To keep up with this new reality, you've got to create your services by the new rule book. Create the high-quality experience that your customers will actually want to have. So, to provide a great customer experience, build it by on these pillars:
Make it easy to find
This is a digital world, and everything is in front of your customers' faces. If you want to be their obvious choice, make sure they can find you easily. Use social networks, social media platforms, social media posts, and digital ad campaigns to reach them.
Make it accessible
Make sure to create your services with ease of use in mind. Don't put your users through the hassle of going back and forth to complete the action you want them to. If it's too complicated, you may distract them from the purchase decision.
Make it useful
Only create features that will bring some use and benefit to your customers. Don't waste their time with unnecessary and boring type of content.
Make it authentic
Authentic content and visuals are your synonyms for your content marketing strategy. ALWAYS give them a visual representation of how the product or service looks and works. This is the right moment to let your other customers tell the story.
The Five-Pillar UGC Steps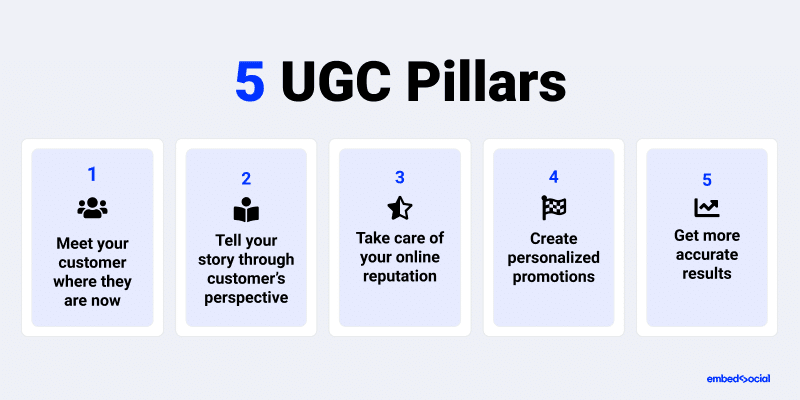 As the whole hospitality industry scrambles to regain business, they have the daunting task of ensuring customers are comfortable when the new reality comes.
So, what's going to help in positioning your business?
User-generated content! That's right.
A customer's experience with a business will determine the value of that brand. No one understands better than an existing customer what a business has to offer. Their experiences and satisfaction will have lasting impacts on future customers, so it's important that those are the best yet!
So, let's see how you can win the new reality with modern word-of-mouth – UGC.
1. Meet your customers where they are now
What used to be a simple trip for groceries or dining out has now become difficult, risky, and even prohibited. With so many people changing their patterns overnight, the demand has shifted dramatically too.
Consumers these days need at-home and low-contact options. The coronavirus has slowed, but it is not over yet, so companies should act fast and innovate in their delivery model before the pandemic ends completely. Especially the ones that want to attract millennials.
The digital-led experiences will continue getting more popular. Not because the virus will come back, but because of the consumers' new lifestyle and purchasing patterns. So, companies that take an innovative approach now may find themselves ahead of all other competitors once this disaster finally stops.
So, hotels have to consider digital check-in solutions to allow guests to go directly into their rooms and skip any line at reception desks. Guests can even access hotel services from within the app, including a map of all amenities available on-site as well as contact information should they need anything else during their stay.
If you're offering alternative accommodation services, you should also stick to the contactless check-in. Knowing that you may not have the means to develop your own app, you can use online software solutions like CheKin.
Are you a traveling agency or a tour operator? If yes, you have to be constantly bombing users with content online. And I don't mean just by ads. You have to find new ways to engage with them online apart from traditional marketing so they will fall in love with you again and get to you offline.
Going on virtual tours is becoming very popular these days. You can use this strategy to build a relationship with them during the lockdown. But once everything is back to normal, you've got them in your hand.
2. Tell your story from the customers' perspective
Budgets are cut, resources are limited, and yet the demand for online content is higher than ever. With this in mind, businesses have to abandon the idea of the perfect content they have and start embracing the human side of it.
The pandemic taught us that we are all real people and we are living real lives. This moment is the human element that brands should embrace to build trust and authenticity.
User-generated content can let you tell amazing brand stories that aren't possible with images or videos created by the brand itself. People love to share their experiences, so countless visuals are posted on social media during travel and hotel stays. You can curate these posts and harness them for your own UGC campaigns.
People are envious creatures by nature. Don't you wish you were there when you saw a beautiful view from an airplane window or a hotel room with big fancy pillows? I bet you do!
I'm saying that social channels and digital marketing are a sea of opportunities for any hospitality and traveling brand. One way to leverage these social benefits, and get your customers involved in the process, is by creating custom hashtags that they can share their experiences with on this platform using this hashtag.
Once you collect the fancy photos that your customers created, you can use a UGC platform to leverage user-generated content and display those feeds on your website where all your current and potential customers can see them.
Bonus: Influencer marketing can be your AS here. Including influencers to leverage UGC for you can bring you more content to play with.
3. Take care of your online reputation
The old adage "the customer is always right" rings true here.
Reputation is the key for revenue for any hospitality business as people look for the best hotels, restaurants, or travel options with an excellent reputation to get the best experience and value.
A hotel's customer reviews can be just as important to them – and potential customers looking at those online reviews will have confidence in what they're purchasing when it comes time to book their stay.
You have to make sure that your listings on the main traveling and hospitality review sites are all set. Make sure to develop a strategy to collect positive reviews from past and current customers. These reviews and testimonials can make or break your business in this post-COVID-19 world.
Of course, there will be negative reviews too. Don't be afraid of them – you just have to manage them. Employ a review management software to help you monitor and respond to the reviews you receive.
And what is a better way to collect more great reviews than displaying the ones you have on your website? You can create fancy widgets out of your reviews from multiple sites and let them shine on your website. Your product reviews on marketing channels will create higher brand awareness. And that will make a brand reputation that directly relates to customer satisfaction and loyalty.
4. Create personalized promotions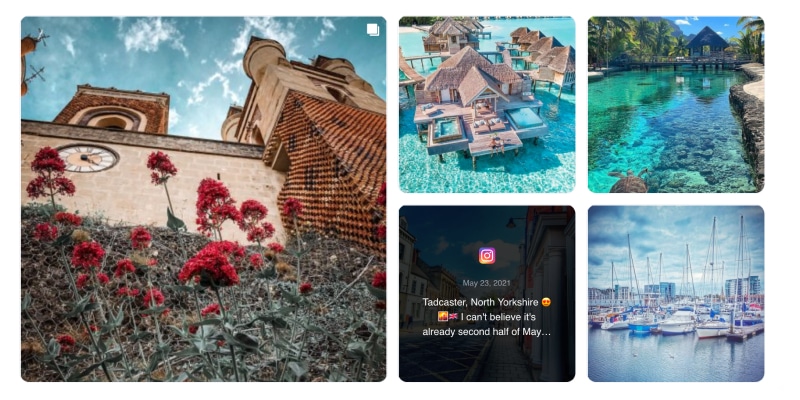 If you collect and use UGC, you can have insights into important metrics, especially what type of experiences each customer likes: their preferences and tastes.
Using these insights in your marketing strategy, you are more likely to reach out and connect with the right audience for your brand.
Both hotels or restaurants could send personalized communications that suit every traveler's needs around a certain period they like best; emails about special dishes also tailored according to user's taste & preference would make them feel appreciated by brands such as yours.
Traveling agencies can find out about the preferred destinations of their travelers and start organizing tours.
5. Get more accurate results
The ultimate wish of most marketing campaigns and strategies is to get results, mainly in the form of conversions. So it goes with integrating UGC into hospitality marketing campaigns as well.
People tend to explore what others post before traveling anywhere, booking a hotel suite, searching for a restaurant, and much more, leading them directly toward your brand.
Promoting UGC will help you reach more people and make your brand stand out. You'll be able to get greater exposure by reaching new demographics, driving traffic to your site through shared content on social media networks, and increasing conversion rates with targeted ads for customers who have shown interest in similar products before.
The best thing about user-generated content is that it influences consumers' purchasing decisions. When you use this type of media to engage your customers, they will be more likely to convert to your brand.
Conclusion
With the travel and hospitality industry being such a competitive environment, brands are challenged to engross experience and value part of their brand identity.
By integrating UGC strategies, they will ensure that they reach maximum potential consumers while building social proof, increasing engagement and conversions.
So, think ahead of time and consider involving the best-performing stone in your marketing strategy – user-generated content.