Dive into our latest blog post and discover how Facebook Reviews can be a game-changer for your small business.
By reading this post, you'll gain insights into activating the Reviews tab on your Facebook business Page, the change to Facebook recommendations, and how it can help you connect with potential customers and boost your online presence.
Explore the top benefits of Facebook Reviews and learn practical tips for managing and displaying them using tools like EmbedReviews.
What are the Benefits of Facebook Reviews?
Facebook Reviews, now in the form of Recommendations, offer several advantages for businesses looking to build trust and credibility among potential customers. Here are some of the key benefits of Facebook Reviews, along with examples to illustrate their impact:
Increase organic reach
Positive reviews and recommendations can help your business gain more visibility on Facebook, as they may appear in the News Feed of the reviewer's friends, or when someone asks for recommendations. This increased exposure can attract more potential customers.
How?

When a customer recommends your bakery on Facebook, their friends might see the recommendation in their News Feed, sparking interest in your products and driving more foot traffic to your bakery.

Example
Boost credibility
How?

A new user visiting your digital marketing agency's Facebook Page sees numerous glowing reviews from satisfied clients. This positive feedback instills confidence in the user, making them more likely to engage with your agency.

Example
Improve search engine ranking
Positive reviews can also help improve your search engine ranking, as search engines like Google consider user-generated content, such as reviews when determining search results.
How?

Your restaurant has numerous positive reviews on Facebook. When someone searches for restaurants in your area, your restaurant is more likely to appear higher in the search results due to the positive feedback.

Example
Gain immediate trust
When potential customers see a high volume of positive reviews, they are more likely to trust your business and feel confident in their decision to engage with your products or services.
How?

A potential client is considering hiring your home cleaning service. Upon seeing the numerous positive reviews on your Facebook Page, they feel reassured that your service is reliable and trustworthy, making them more likely to hire you.

Example
How to Add Reviews to Facebook Page?
If you have not yet received the invitation in your Business manager account to add the Facebook Reviews tab, no worries; navigate to your Facebook page and follow the step-by-step guide below on how to add reviews to Facebook Page:
Log in to your Facebook account and go to your business Facebook page
Navigate to the 'Settings' section
Click 'Templates and Tabs'


Find the reviews tab named 'Reviews' in the list of tabs and activate it

That's it! The Reviews tab will appear on your page.
It will show like the screenshot below on your business page: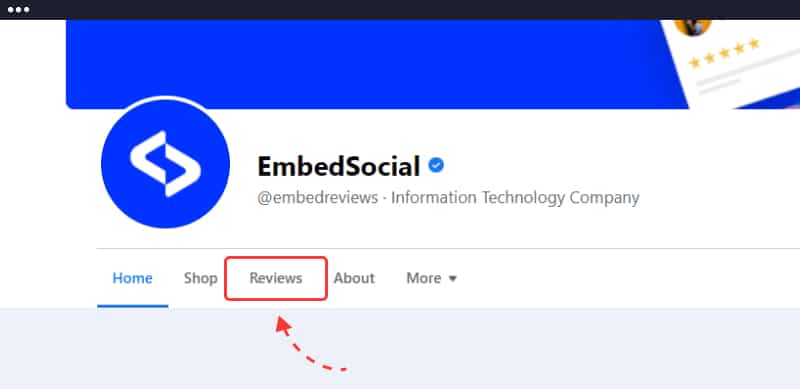 Please note: If this option is not available for your page, you might need to change your page category. Navigate to your page-> Click "About" -> Click Edit "Category" -> Choose any category that describes you as a business.
Here is a quick video about this:
Please note once you activate the rab and start getting feedback, you won't be able to delete Facebook reviews.

FYI
How to Get Your Facebook Review Link?
Google My Business has made getting a Google review link easy, but getting a Facebook review link will be a bit different.
No worries, I'll show you how.
Now that you turn on Facebook reviews, you have two options to get the link to the Reviews tab. Let's see them.
Option 1: Copy the reviews page URL
To get your Facebook Review link, follow these simple steps:
Log in to Facebook: Start by logging into your Facebook account.
Go to your business Page: Navigate to your Facebook business Page. You can do this by clicking on the Pages tab in the left-hand menu or searching for your Page using the search bar at the top of the Facebook homepage.
Get the URL of your business Page: Once you're on your business Page, look at the URL in the address bar of your browser. This is your business Page URL. It should look something like this: https://www.facebook.com/YourBusinessName.
Add the review endpoint to your URL: To direct people straight to the Reviews or Recommendations section of your Page, you add /reviews/ at the end of your business Page URL. It should now look like this: https://www.facebook.com/YourBusinessName/reviews/.
Now, you can share this link with your customers in emails, newsletters, or on other social media platforms, inviting them to leave a review or recommendation for your business on Facebook.
When you send the link, write a short explanation to your consumers on how to leave a review on Facebook for your product.
Here is our Facebook review request link: https://www.facebook.com/embedreviews/reviews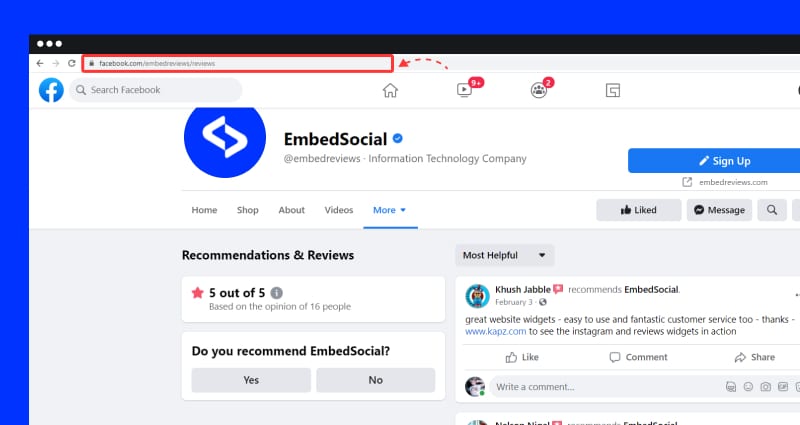 But not every single time, your users will be logged in to their personal or business account, so they may face a problem if you send them this link. That means if you send them this link, they'll be redirected to login first.
That may discourage the reviewing and purchasing decisions of some of your customers. To avoid that, you can use the other option shown below.
Option 2: Build your own direct Facebook review link
Take the homepage login URL -> www.facebook.com/login/
Put a redirect to your reviews page by adding "next" -> www.facebook.com/login/?next=
Convert your page URL into the corresponding equivalent in HTML and add it after the "next" component
You'll get something like this: https://www.facebook.com/login/?next=https%3A%2F%2Fwww.facebook.com%2Fembedreviews%2Freviews%2F
It's not complicated at all! Just replace the column (:) with %3A and the slash (/) with %2F.
So, whenever the customer logs in to their account – they'll be redirected to your reviews page. It works every time.
How to Write a Facebook Review?
In other words, educate your clients on how to post the first reviews or recommendations on your Facebook Page.
This flow is now changed, and it does not require to select a number of stars but to select whether you recommend or you don't recommend that business. The steps are the following: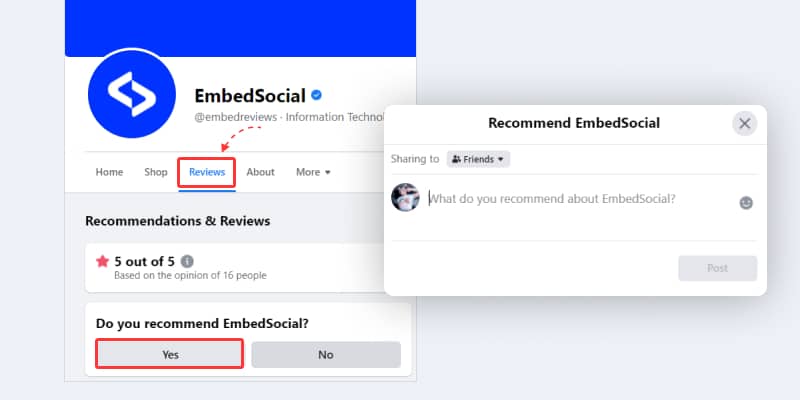 Go to: https://www.facebook.com/YourPageName/reviews or click the "Reviews" tab on the Facebook page
Click 'Yes' in the Do you recommend (PageName)? box.
A pop-up will appear with a text area where you can write your review
Click 'Post'
Note: The review should be more than 50 characters.
Once a user posts the review on your Facebook page, it will appear as a post on his Facebook timeline.
Also, with the new update of the Reviews system to Recommendations, you can also recommend a business by commenting on a friend's post asking for Recommendations or sharing a Page with friends.
How to Respond to Facebook Review?
Responding to Facebook Reviews, whether positive or negative, is essential for maintaining a strong online presence and building trust with potential customers.
To respond to Facebook reviews, usually, you will get a notification on Facebook or via email, and when you click on it, it will take you directly to that review, so you can directly write your reply. It is easy as writing a comment on a Facebook post.
Here are some practical review reply templates for effectively responding to Facebook Reviews:
Positive Reviews Response Example:
Hello [Reviewer's Name],

Thank you so much for your kind review! We're thrilled to hear that you had a great customer experience with our [product/service]. Our team works hard to provide excellent customer service, and we're glad to see that it's making a difference.

Warm regards,

[Your Name]

[Business Name]
Negative Reviews Response Example
Hello [Reviewer's Name],

We apologize for the less than satisfactory experience you had with our [product/service]. It's essential for us to maintain high standards, and we're sorry that we did not meet your expectations this time.

We'd like to learn more about your experience and find a way to make things right. Please reach out to us at [contact information] or send us a private message so we can discuss this further and find a suitable resolution.

Again, we apologize for any inconvenience caused, and we appreciate your feedback as it helps us improve and provide better service in the future.

Sincerely,

[Your Name]

[Business Name]

Negative Review Response Example
How to Report a Facebook Review?
Sometimes you may face scams and receive a negative review from a fake account. And naturally, you'll want to remove it. But, the platform does not allow the Facebook Page admins to delete a negative review or any other one. Still, the admin can report a review that does not comply with the Facebook Community Standards.
To do so, follow these steps:
Navigate to the negative review
Click the top right comment 3 dots icon
Select the Find Support or Report Recommendations option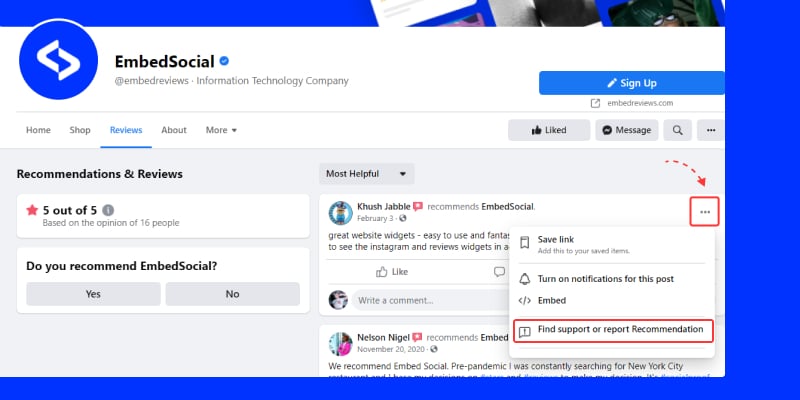 From the pop-up, pick the topic of your report and click 'Submit'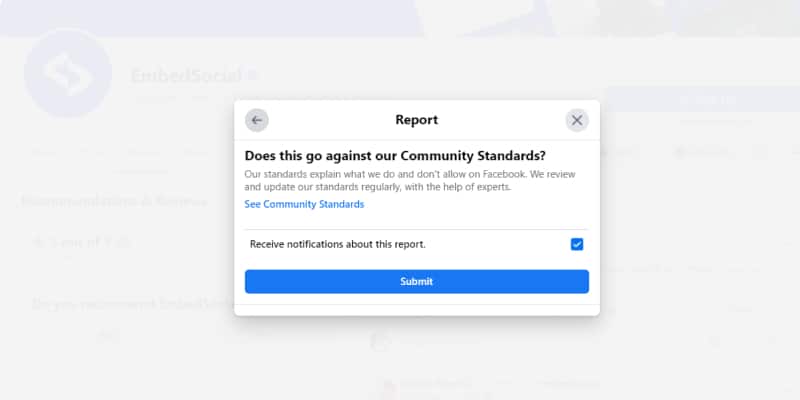 Until you wait for Facebook's feedback on the report, you can select to ban the reviewer or hide all the posts from them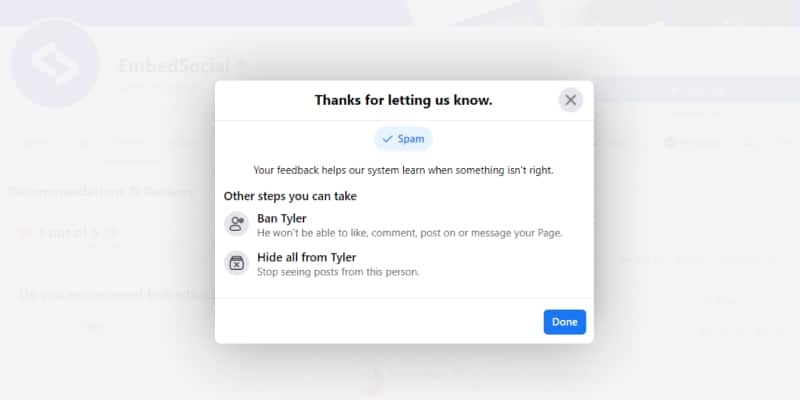 If you are on mobile, here are the steps:
Navigate to the negative review
Click the top right arrow or on mobile 3 dots icon
Click 'Find support or report Recommendation.'
Choose the reason and click 'Submit.'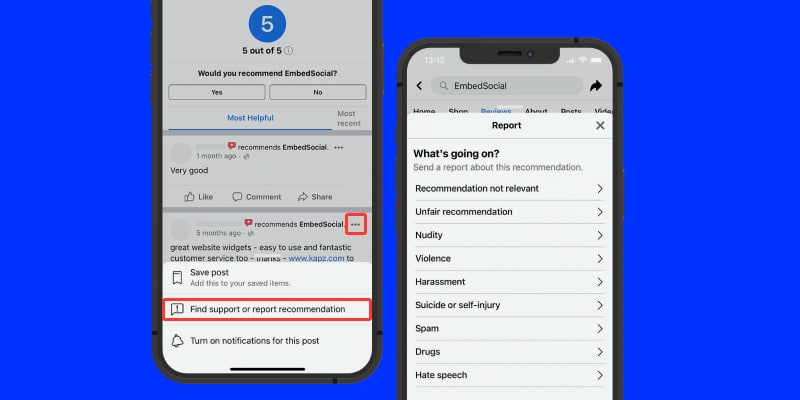 Or if you prefer, watch the video below with detailed instructions for how to report a Facebook Review on your Facebook Page:
How to Get Notifications for New Reviews
To make sure that you will never miss a review on your Facebook page, you should activate an option to receive a notification every time a new review is posted on your Facebook page.
To activate the notifications option, follow the steps below:
Navigate to the 'Settings' sections of your Facebook page.
Click the 'Notifications' tab.
Select the first option, 'Get a notification each time there is activity on your Page or an important Page update.'
Then, the 'New Reviews' notifications option will be, by default, turned on.
Here is a quick video explaining this:
How to Promote Your Facebook Reviews
So you've finally reached the fun part. This section suggests cool tactics that can help you reach customers willing to add a 5-star review on your Facebook page.
Important note: you can refer to a more detailed guide with 5 ways on how to get Facebook reviews or continue reading below for a few simple ideas on how to do this.
The actions you can easily do without ad spending can be online and offline.
Here are some interesting offline tips:
Add a sign to your business location, like on the counter, shopping window, tables, walls, or any visual part of your offline premises. Get the official Facebook 'Review US' stickers here.
Ask some of the regular customers if they can post a Facebook Review. Here is an example:
"Thanks for stopping by again [customer name]".

"Do you use Facebook? The reason I ask is that we have a Facebook Reviews section that we use to collect our customer's comments. Would you be interested in posting one?"

Here is our link

[link to Facebook reviews section]

Thank you so much.

[Your Name]

[Your Company Name]

Exampe of a review request email
"That will be great, thanks a lot!" (you can add a special discount if you want for any review posted by the customer)
Use Facebook Wi-Fi to ask visitors to check in at your place and post a Facebook review. In order to use this tactic, it will require some technical expertise, so in order to begin, you will need to purchase a router that supports Facebook Wi-Fi and follow the configuration instructions.
For your online promotional activities, you can embed a 'Review us on Facebook button on your website or thank you pages. (Get free HTML & CSS buttons here)
Use your Facebook Reviews to create Facebook ads for retargeting your initial leads. Here is an example: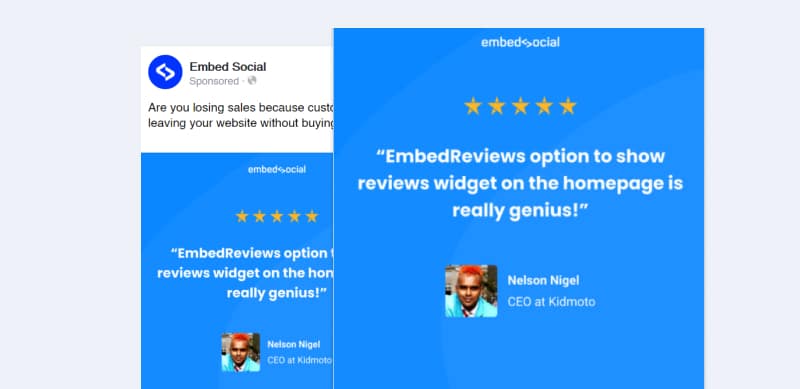 Create a Facebook contest – Ask Facebook fans to write a review and receive a coupon code or a discount.
Ask your customers to post a review on your Facebook page and display their reviews on the page. Here is an example: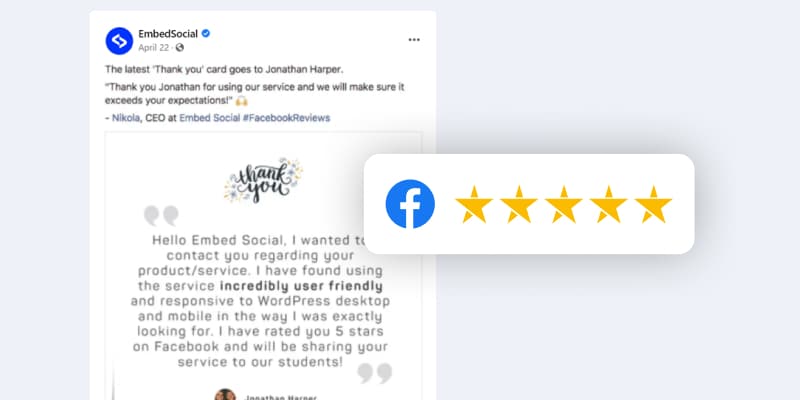 All the above details are summarized in our free Facebook Reviews eBook.
How to Display Facebook Reviews on a Website
As we mentioned before, the best way to collect more reviews is to promote them on your website and add a CTA button.
We got you covered!
EmbedReviews is a powerful review management tool that can generate and embed Facebook recommendations on your website in just a few clicks.
Just follow the steps below to start collecting Facebook page reviews with EmbedReviews:
Start a free trial for EmbedReviews
Connect your Facebook profile with the platform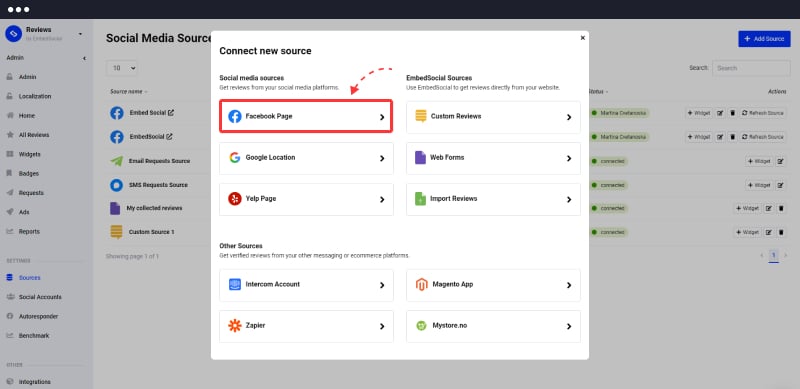 3. Choose the Facebook Page you want to pull reviews from and click "Create widget"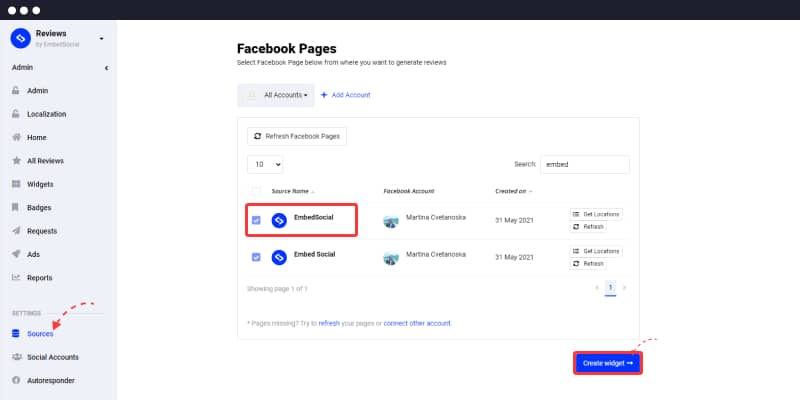 4. Customize and moderate the widget the way you want
5. Copy the provided HTML code and paste it on your website
It will show like this:
Awesome, right?
Read more: Detailed step by step guide on how to embed Facebook reviews
In case you are using a platform to build your website, here is good news: EmbedReviews plays well with all the most popular CMS and website builders, so click on your specific website builder to proceed:
To get started now, browse the Facebook reviews widgets gallery and pick a template that best fits your website:
How to Show Reviews from Multiple Social Media Sources
The good news is that you should not limit yourself to embedding Facebook reviews only.
EmbedReviews allows you to combine reviews from several different social media platforms and review sources like Facebook, Yelp, or Google reviews from your business listing into one stunning widget. Moreover, you can import reviews from 3rd parties or craft your own custom testimonials.
The process is pretty much the same as the one above.
The difference is that you select several social media platforms for your review widget.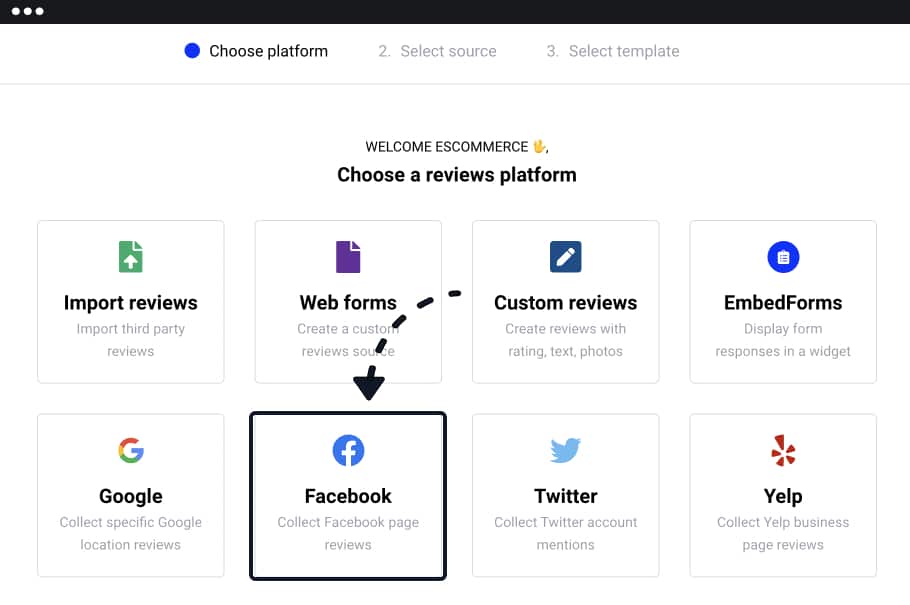 Conclusion
Congrats! If you have come this far, you are already a rising Facebook business reviews expert.
We really hope this guide for Facebook business reviews gave you some specific directions on improving your online reputation management and leveling your digital marketing strategy in a blink.
After all, getting more reviews on Facebook can take a little effort, but it's an investment that pays off (you'll see).
FYI: You can embed Facebook reviews widget automatically with EmbedReviews platform. Start a free trial and display your Facebook Page recommnedations now.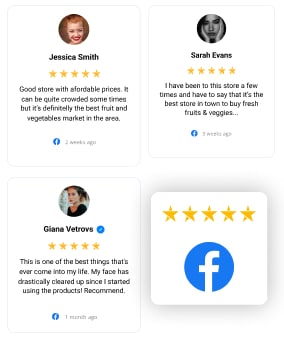 Embed Facebook Recommendations and Reviews on your Website
Try EmbedReviews, generate Facebook and Google reviews, and display a social media reviews widget on your website. Automatically and in seconds.
All PRO features | Cancel any time.
Frequently Asked Questions about Facebook Reviews
Are Facebook reviews private?
No, Facebook reviews are not private. When a user leaves a review on a business Page, it is publicly visible to anyone visiting the Page.

This allows potential customers to read about the experiences of others, which can influence their decision to engage with the business.

However, users have the option to adjust their privacy settings for their own activity, which may limit the visibility of their reviews to only their friends or a custom list of people.
Can I delete Facebook reviews?
As a business owner, you cannot directly delete Facebook Reviews left by users.

However, you can report a review if it violates Facebook's Community Standards or contains spam.

If Facebook determines the review is inappropriate, they may remove it.

Alternatively, you can disable the Reviews tab on your business Page, which will hide all reviews from your Page, but this may also make it harder for potential customers to learn about your business through reviews.
Can I remove a bad review on Facebook?
While you cannot directly remove a bad review on Facebook, you can take steps to address it.

First, respond to the review professionally and empathetically, offering to address the issue and rectify the situation. This can show potential customers that you care about their experience and are proactive in resolving issues. If you believe the review is fake, spam, or violates Facebook's Community Standards, you can report it to Facebook for review.

If they find it violates their policies, they may remove it.
Do Facebook reviews still exist?
Yes, Facebook reviews still exist, but they have evolved into a new format called "Facebook Recommendations."

Rather than using a star rating system, users can now recommend or not recommend a business, and share their experience in more detail. These Recommendations are visible on the business Page and can also appear in the user's friends' News Feeds when they ask for recommendations.

This new format allows for more context and encourages users to provide more valuable feedback, helping potential customers make informed decisions about business engagement.
How to see reviews on Facebook?
For users to be able to see reviews of a specific business, they will need to navigate to the Reviews tab on their Facebook page.